Artisan Japanese knife making | Why are they so special and expensive
I love creating free content full of tips for my readers, you. I don't accept paid sponsorships, my opinion is my own, but if you find my recommendations helpful and you end up buying something you like through one of my links, I could earn a commission at no extra cost to you.
Learn more
The battle of the best artisan knives has always been between the German knife-making tradition and the Japanese techniques.
Today, I want to discuss why Japan still makes some of the best kitchen knives in the world. After all, Japanese artisans are known for their superior craftsmanship.
Japanese knives are called hōchō (包丁), or bōchō.
There are a few things that set Japanese knives apart and that's the way that the blades and handles are shaped, the fact that the knives are crafted by hand by four artisans, and the high-quality steel blades.
Artisan knives are not only beautiful, but they are high-quality and usually made from stainless steel with a luxury finish. Each blade is perfectly made and undergoes four stages of production until it's created.
To ensure the highest quality and service, knives come with various shapes, edges, blades, handles, and finishes to suit all the different cutting needs a professional chef has.
Surely a knife must be beautiful but its main role is functionality.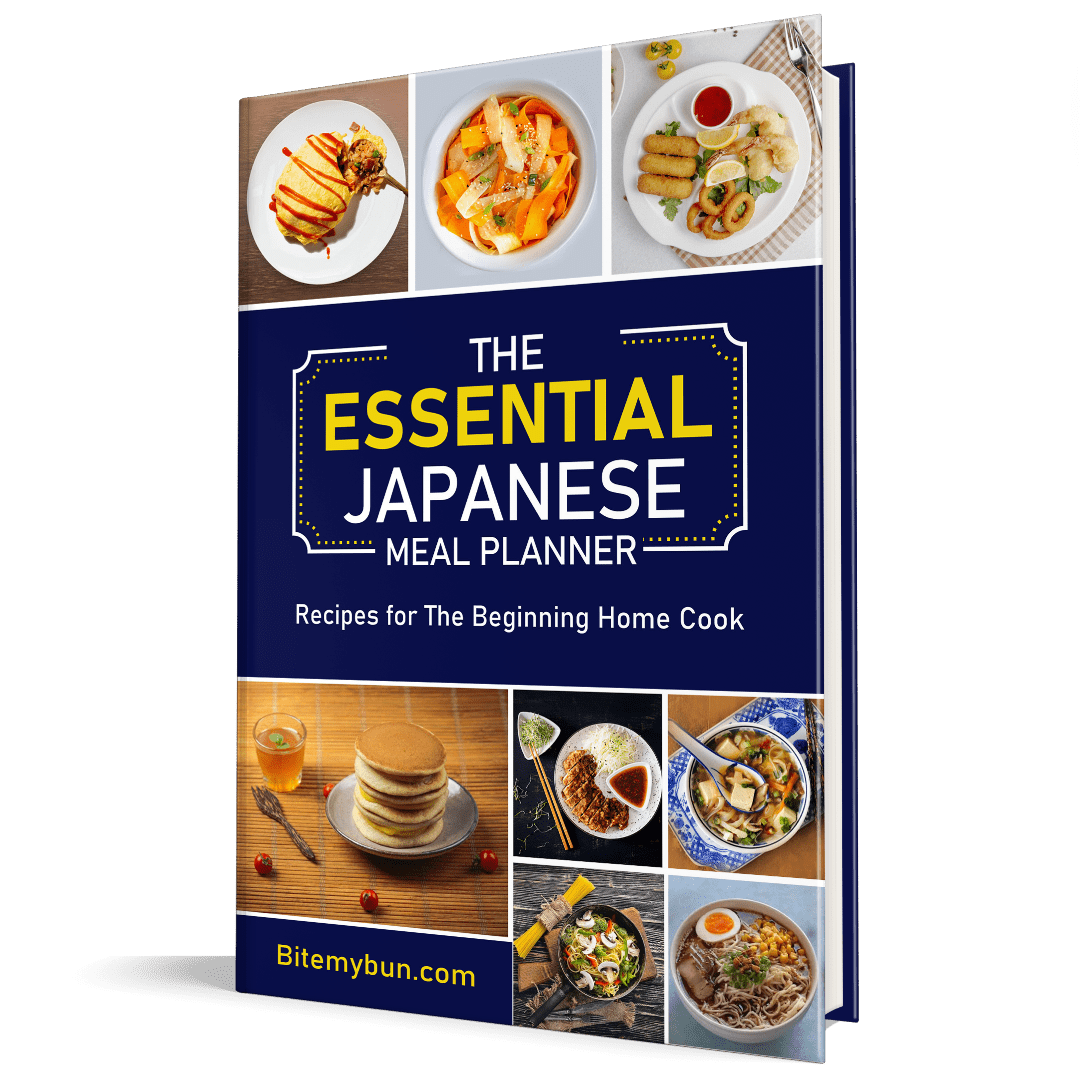 Check out our new cookbook
Bitemybun's family recipes with complete meal planner and recipe guide.
Try it out for free with Kindle Unlimited:
Read for free
What is a Japanese knife and why is it special?
There are many traditional Japanese knives available in different sizes and shapes. These knives can be used to cut vegetables (nakiri), meat (honesuki and gyuto), and fish (deba), as well as cut sashimi, eel, and blowfish.
Many Japanese knives are single-beveled knives and that means they are angled on only one side, whereas most Western knives are angled on both (double-bevel).
The blades taper to a tang which is then attached to a wooden handle.
Western knives are the opposite. They have the shapes that most American home cooks know (paring knives and chef's knives as well as bread knives).
They are also ambidextrous in design. The blades are sharpened symmetrically on each side for a double-beveled edge.
The classic Western knife handle is made of two pieces of wood, or composite material. These are sandwiched between the tang and secured with rivets.
Basically, the reason why Japanese knives are so special is that they are sharper and lighter to hold. Also, they have a thinner blade and so they retain the edge for longer.
This makes them very popular among professional chefs and dedicated home cooks that need precision cutting tools for every type of food.
Plus, there's a Japanese knife for every occasion. Need to cut Wagyu beef into thin strips? You've got the gyuto. Need to slice eels? You have the unagi knife.
Actually, there's a knife for everything in Japanese cooking!
How is a Japanese knife made?
Japanese knife making is a multi-step process. It is broken down into smaller tasks and several artisans work on each product before it's ready for sale.
First, the knife is forged out of steel, then it undergoes a grinding process until it achieves the necessary sharpness. Next, an artisan attaches the handle and finally, the knife gets its inscription.
It is important to understand that almost every Japanese knife has gone through at least four hands before you buy one.
Here are the four craftsmen that work on a knife:
There is a blacksmith who forges the carbon steel through a seven-step process into a blade.
Another craftsman sharpens and grinds the edges of the blade with wet ceramic and wood grinding wheels.
The handle maker custom-cuts magnolia, karin wood, or ebony into handles with buffalo-horn trimmings.
An assembler aligns the blade to handle and checks over the product to make sure it is of the highest quality.
I'm breaking down each of the processes and going into more detail. But please note that some steps may be different in each workshop, depending on the brand and knife style.
Watch master bladesmith Shigeki Tanaka make a knife:
Forging
The first step is the forging process which is done at high heat. This is performed by a professional blacksmith who works at extremely high temperatures to create and forge the blade shape.
To make a knife, the craftsman starts with blanks of steel. Next, he heats them up in the forge and pounds them with a power hammer, which is a large spring-powered rig.
Then, he cools them down in the water to harden them. The metal slowly takes on the form of a knife as it is used repeatedly.
In the most basic sense, the goal is to make blades that have a consistent hardness throughout. This will prevent any potential problems down the line.
Sometimes, the knife maker will combine layers of different metals to balance their strengths. This creates layers of cladding visible on the blade as beautiful ripples or waves.
The ideal knife has a straight spine all the way from the tip to the handle.
Since the forging process causes distortion of the steel, the artisan has to fix these distortions by quick grinding and sharpening. This is done with a small machine.
Kiln
The knives are kilned in the furnace on the second day.
For this step, knives are heated to a high temperature, then put through a calibrated cooling process. This helps to control the metal's hardness. It also reorganizes the molecular structure.
The metal isn't yet at its final hardness because of the fact that there's still much to be done in forging.
There's a final kilning. In this step, the blades heated again then placed in cold water to cool down. This cooling is what gives the metal its final hardness.
They can either polish the kilned blades for a shiny look or leave them as-is for a rustic, matte finish. Another machine is used to trim and finalize the blade's exact shape.
Grinding
The craftsman responsible for grinding has to remove any rough or uneven parts of the knife to give it the right thickness.
They use a special grinding wheel machine and this actually has to be done very meticulously. A chef can immediately notice if a knife is poorly ground and has rough edges.
The knives are finely polished to give them the desired edge and sharpness. Of course, some knives are sharpened to a higher degree than others.
Buffing and polishing
For the smooth or the Granton (ridged) finish, the blade is polished. They use a buff which is called a flapper wheel and it gives the blade this shiny finish, similar to a Samurai sword.
A Japanese blade is thin compared to most Western knives so there's lots of precision work required.
The type of finish depends on each particular knife type.
Attaching the handle
Another important part of the knife-making process is adding the handle.
The knife may be attached using rivets. Alternatively, it can be attached by heating the blade with a burner and then pushing it into the handle with a mallet.
There are wood, resin, plastic, pakkawood handles which either have a classic shape or an octagonal handle shape which has been a favorite of many generations of Japanese chefs.
Inspection and packaging
A final craftsman checks over and inspects each knife before it is packaged. If he notices any rough edges or errors as a result of the manufacturing process, the product is discarded.
The finish, blade thickness, and beveling must be perfect before it's sold.
Types of knife forging
Honyaki
Honyaki refers to the Japanese traditional method for making kitchen knives. It involves forging a knife in a technique that is most similar to that of nihonto.
A single piece of high carbon steel covered in clay is used to forge a blade. This yields upon quench a soft and resilient spine, a hard, sharp edge, and a Hamon.
Thus this is a knife that is forged from only one material which is usually top grade high carbon steel.
Kasumi
Kasumi is made of two or more layers of materials, "hagane", (hard brittle cutting and steel) and "jigane," (soft iron protection steel), which are welded together.
This knife has a similar cutting edge as a honyaki. This knife is also more forgiving and easier to maintain than the honyaki, despite its brittle nature.
Kasumi-forged knives can be a great choice for novice knife buyers or occasional cooks.
San Mai
San Mai, which means "three layers", refers to knives that have the hard steel hagane.
Japanese knife makers use more than 50 different types of carbon and stainless steel in making the cutting edge.
Jigane (soft pliable and soft steels) are used to form the protective jacket on the two sides of the brittle hagane. In stainless versions, this offers a practical and visible styling known as "Suminagashi" (not to be confused with Damascus Steel).
Suminagashi has the advantage of a sharp cutting edge and a resistant exterior.
In Japanese commercial kitchens you need to keep the edge free from corrosion and knives are sharpened daily (which can reduce the knife's life to less than three year).
Japan's top knife artisans – Who is the best Japanese knife maker?
There are many knife makers and some are more traditional than others.
There are, of course, many large knife factories in Japan, so I will list some of the best ones plus the remaining small workshops from all over the country known for artisan cutlery.
I am listing the best knife makers in Japan's prefectures.
Sakai
On the outskirts of the Japanese city of Osaka, there's a place called Sakai and it's probably the most famous place to get artisan-crafted Japanese knives. 90% of artisan Japanese knives are made in this small city of Sakai.
Sakai is a Japanese company that was originally known for making Samurai swords. Today, they take great pride in their work and don't compromise on quality.
Sakai knives are among the world's best and it's not surprising since they are extremely well-made and undergo a meticulous manufacturing process.
The Sakai knife-making tradition dates back about at least 600 years. For each knife to be made, at least four knife makers are involved. Thus, these artisan knives are expensive but they are premium quality and it's no wonder chefs from around the world go there to get their kitchen knives.
Walking along the streets of Sakai, you might hear the sound of hammering coming from the houses. Sakai's traditional blacksmith forgeries and sharpeners usually work out of small workshops attached to their homes.
To visit knife shops, head out to the Sakai northern region.
Best Sakai knife workshops
Sakai Kikumori
Sakai Kikumori is known for its attention to detail, and the fine finish of its blades.
Each knife is handcrafted using the highest quality materials. This creates a knife that blends professional craftsmanship with subtle aesthetic beauty. These knife-making processes are all based on the samurai sword-making technique.
Kawamura
The Kawamura shop is filled with knives of all shapes and sizes. It has a simple, down-to-earth atmosphere that gives you an idea of the way this business has been run for generations.
Toshio Kawamura (4th generation owner) will personalize your knife with your name. Since buying a knife this good is like investing in a family heirloom, this practice has become a common tradition.
This is a classic knife shop where you can watch the local craftsmen handcraft each knife using the old tools and tricks of the trade.
Jikko
Jikko displays its knives in a modern, avant-garde showroom. This is a stark contrast to traditionalists. So, if you like combining old-school quality with a modern twist and update, this might be the best knife shop to visit and shop from.
Jikko Cutlery was established in 1901 and is well-known for its unique blade designs, top craftsmanship, and exceptional customer service.
The special finishing process of "Hatsuke", which is used to make the blades sharper, and to keep them sharp for longer periods of time makes the knives very long-lasting.
This shop aims to bridge the gap between old products and younger buyers.
Toshiyuki Jikko is the owner and he works together with his coworkers on the ground level. They converted the upstairs space into a state-of-the-art shop.
Also, if you're in the area, make sure to visit the Sakai City Traditional Crafts Museum which showcases hundreds of years worth of specialty Japanese knives.
Echizen Uchihamono
Echizen has been known for making quality blades and classic Japanese kitchen knives since 1337.
Legend has it that the history of Echizen Uchihamono began in 1337 when a Kyoto swordsmith named Kuniyasu Chiyozuru moved from Kyoto to Fuchu (present-day city of Echizen).
He needed money and so he searched for the right place to learn his trade and open up a knife-making workshop. So, he started making sickles to sell to the local farmers.
Due to the Fukui Domain's protective policies, the craft went through further development during the Edo Period (1603-1868). It gained national recognition due to the numerous Fukui lacquer tappers who traveled the country collecting resin and selling Echizen Uchihamono products.
Echizen Uchihamono products today are still made using the same techniques that were used over 700 years. These include knives, gardening, and farming sickles, billhooks, and shears.
When it comes to kitchen knives though, chef's around the world are still buying these exceptional blades.
Popular kitchen knives & special forging technique
Echizen produces knives, billhooks, and other blades that can be divided into two types: single-bevel and double-bevel.
The Echizen kitchen knives are still very popular because their blades are of amazing quality and retain their edge well. If you want sharpness that ensures the most precise cuts, then you have to try these knives.
Forging steel layers onto soft iron is the first type. Sandwiching the steel between soft and hard iron is the second type. Each type serves a different purpose.
Echizen Uchihamono, despite mechanization in some areas, is still making their knives using traditional fire forges which are then finished by skilled craftspeople.
This shop's manufacturing process is quite unique.
The unique method requires that the craftsperson creates a groove in soft iron and then inserts steel into it. Finally, he or she forge welds it together to make a layered plate.
They then stack the two layers of plates on top of each other and hammer them flat. The forging process is much faster if you hammer both the front and back of the knife simultaneously.
A belt hammer is necessary because the thickness of the blade is now increased by layering. This prevents the knife from getting too hot and causing unevenness.
One of the bestselling knives is the classic Santoku, Brahma Ryuwa, also known as the chef's knife and it has a 175 mm blade.
Takefu Knife Village
Many of the best knife craftsmen are located in Takefu Knife Village. It was founded in 2005 by ten knifemakers, including Yoshimi Kato and Katsuhige Annryu.
They wanted to spread the art and craft of knifemaking to new generations.
This state-of-the-art facility is located in Echizen City (Fukui Prefecture) and houses workshops for each resident craftsman as well as a museum that educates tourists, students, and other visitors to Village.
Here are a few of the famous bladesmiths based at that location:
Yu Kurosaki
Takeshi Saji
Yoshimi Kato
Hideo Kitaoka
Katsushige Anryu
If you're keen on knowing about the best bladesmiths in Japan, these are some of the names to keep in mind.
Seki City
Iseya
Since 1908, Iseya knives have been produced by Seto Cutlery, Seki City in Gifu Prefecture.
These knives are handmade using traditional Japanese techniques and the highest quality steel.
These blades are hand-hammered, polished, and sharpened. They are a great choice and are loved by those who use them.
Misono
Misono was founded in 1935 to produce high-quality kitchen tools. They shifted to knives in the 1960s when home cooks started to look for premium hand-crafted cutlery.
Misono knives made in Seki City in Gifu Prefecture are handcrafted in-house. Each knife is a fine example of their attention to detail.
Kanetsune
This is one of Japan's oldest workshops and it is known for very high-quality premium products. The brand is a favorite among top chef's around the world.
In fact, Kanetsune is often nicknamed as the city of blades. Kanetsune Seki is a master craftsman and uses an ancient technique of sword and blade making called "seki-den."
For 800 years, this method has been used to make very sharp blades and today it is still used at this workshop.
Miyako
Miyako knives were created to reflect the beauty of traditional Japanese knives.
This stunning cutlery is made from Damascus Steel. Miyako knife makers have used the most effective methods to create razor-sharp edges.
The key characteristic of a Miyako knife is its subtle luster. This is achieved by applying a matte finish after polishing. This line of knives is a great choice for those who appreciate unique and fashionable designs.
The knives are definitely more sophisticated looking although they retain that minimalist Japanese style.
Miki City
Shigeki-sagu
This is a smaller brand but it shouldn't be overlooked.
Shigeki Tanaka is a young craftsman from Miki in Hyogo Prefecture. His passion for knives makes him one of the most skilled men when it comes to using the forge. It is amazing to watch him hammer steel into knives.
Tanaka began making knives and training in Takefu Prefecture. He has since created many blades under the Shigeki-saku brand. His knives are beloved by all because of their innovative design and exquisite craftsmanship.
Sanjou City
Tojiro
One of the most popular knife brands is Tojiro.
You can find tons of beautiful Tojiro knives on Amazon and you should check them out because they are mid-priced and well crafted.
Out of all the brands I'm listing, you're most likely to find these accessible Tojiro knives in kitchens in the West and East.
The brand's trademark symbol comes from 4 images of the famous Mount Fuji. It represents the mountain's four promises which are good faith, sincerity, appreciation, and creation.
Thus, the Tojiro brand promises that these wishes are at the root of each knife they make.
Toyama City
Sukenari
Sukenari was founded in 1933 and has a reputation for outstanding quality. Sukenari uses the same method as the other craftsmen who base their technique on the art of crafting samurai swords.
They have been certified to produce honyaki knives with unsurpassed edge retention, durability, and cutting edge. However, this technique is time-consuming and extremely difficult.
Sukenari now forges knives out of "high-speed steels", such as R2 or HAP40. This has allowed them to maintain the same quality and edge retention. Sukenari strives to improve the performance and quality of their knives but they're still relatively unknown in the West.
History of Japanese knife making
It all started with Sakai, Japan's main island. It's located near Osaka bay. It's also the place where the famous Samurai swords were once forged.
As early as the fifth century AD, the foundations of knife-making were laid. The Kofun, or great mounds, were constructed at that time. These tools were made by local craftsmen and required exceptional craftsmanship.
The city remained in its original position throughout the centuries. In the late 16th century they started making knives using the same process as the famous Sakana (Samurai) swords.
The knife making was a result of the Portuguese introduction of tobacco in Japanese culture and households. As more people were using tobacco, there was a huge demand for high-quality knives to cut tobacco.
Thus, Sakai was home to the first tobacco knives. They were quickly admired in Japan for their sharpness.
Japan has had blade-making for many years. The trend to make highly specialized cooking knives was first noticed in the 16th Century.
This was because blacksmiths who worked for the noble soldiers of Japan (the Samurai), competed to make the best knives and swords.
Tokyo's Kappabashi: a knifemaking & shopping district
If you are a true Japanese knife enthusiast, you can't skip a visit to Tokyo's Kappabashi district.
The name Kappabashi translates to something like "kitchen town" and that's because you can find cutlery, specialty and artisan kitchen knives, small knife-making shops, and all kinds of kitchen tools and supplies.
Just imagine walking through streets filled with everything you need to fully equip a home kitchen or restaurant. The streets are small but tightly packed and full of interesting oddities.
Where can I buy Japanese artisan knives?
The best place to buy knives if you're in the USA and Europe and can't visit Japan is online.
You can check sites like Amazon and find a vast selection of Japanese knives there.
But, if you're fortunate enough to get to Japan, buying knives there is your best option.
Visiting and buying knives in Tokyo's Kappabashi District
Kappabashi is easily spotted from the top of a low-rise office building thanks to a huge chef statue. It's quite an attraction and highly visible so tourists can clearly see that they're in the right place.
It is easy to navigate the Japanese transit system to get from Tokyo to Kappabashi. In fact, many signs are also written in English so that tourists can get around.
Kappabashi was created to serve a large number of people quickly. There will be stalls, shops, and whole buildings that have maze-like structures, floors of kitchen and home products, as well as open stalls.
You can start looking for knives if you aren't distracted by other high-quality products. It makes sense to visit only stores and stalls that have knives on display, as there are many knife experts in Kappabashi.
If a store has a wide range of products, it's not likely to be a knife specialist. You won't find the best deals or products.
It is best to start by walking the length of Kappabashi Dogu Street and then walk down each side, stopping at the side streets. The best Tokyo knife shops are the small dingy ones that are nestled tightly between other larger stores.
How to buy a Japanese knife in-store vs online
Buying a Japanese knife online is quite easy as there are plenty of options, especially on Amazon. You can see photos of the items along with all the features, specifications, and user reviews.
However, buying in-person at the store is harder, especially if you don't speak Japanese.
After you've looked around the neighborhood and some stores, you can start looking into buying Japanese kitchen knives.
Prices can vary from very affordable to quite expensive if you visit enough stalls and stores. Japanese shop owners are very serious about their reputations.
There is usually a reason why something seems so expensive. Keep an open mind and remember that artisan knives are hard to make and not cheap, so you can't expect to find amazing deals or discounts.
Anything priced over $500 is best avoided by amateur chefs or home cooks. These knives are specialty products that require care and maintenance.
Japan has a high food culture and the restaurant standards are ridiculously high. Chefs can spend thousands on one knife to ensure that their customers are able to see the quality of the sushi from the preparation stage to the final product.
Thus, those really expensive knives are usually bought by the pros.
Many chefs like to shop at Kappabashi. This means that their products are being mixed with more consumer-friendly products. There are many options even in the Japanese kitchen knife range below $500.
A western-style Japanese chef's knife is the best choice if you want a smart and efficient solution to all cutting, slicing, and dicing tasks. You will find high-quality products within the $100-300 price range.
Can you haggle when buying knives in Japan?
Japanese kitchen knives are known for their quality and craftsmanship. There is no room to haggle. These prices are fair and should not be questioned.
It is not a good idea to suggest that the kitchen knives of the merchant are worth less than they appear to be.
The good news is that the stressful process of haggling can be avoided and you can trust that you won't be ripped off. Generally, Japan prides itself on fair prices so you get a good price and value for the knives you purchase.
Many of these small artisan shops also offer extra services. Additional services include custom engraving.
A merchant will often be able to look up a non-Japanese person's name and then write it in Japanese before inscribing the name into the blade.
A Japanese knife's name or seal is an ancient tradition. This is because the sword maker used to place his signature on the blade in order to claim credit for his art.
A Japanese kitchen knife can be purchased as a gift. Inscribing the name of the recipient is a great way to make it memorable.
Why are Japanese artisan knives so expensive?
Japanese knives are very expensive as they are made from high-quality steel.
High-carbon steel is used by most Japanese knife makers. This steel is more expensive than other steel which is much softer. This makes the steel more durable and gives you a sharper knife.
The second reason is that there's a lot of work that goes into making a Japanese knife. More than one bladesmith is involved and each has one individual task during the production of a knife.
Remember these are not mass factory-produced products.
Takeaway
What's the best choice? Which knife is best? It all depends on what it does. Knives made from the hardest steel will hold their edge for the longest time.
It also depends on your budget. Some knives can set you back hundreds of dollars.
Each knife artisan is a good option because the Japanese craftsmen are very proud of their work and don't make bad products. So, whichever brand of specialty knives you choose you are making a fine selection.
As you've seen by now, knives undergo a rigorous and complex manufacturing and forging process and the quality is incomparable to mass-produced cheap cutlery.
Find the best Mukimono Chef's Knife for decorative carving reviewed here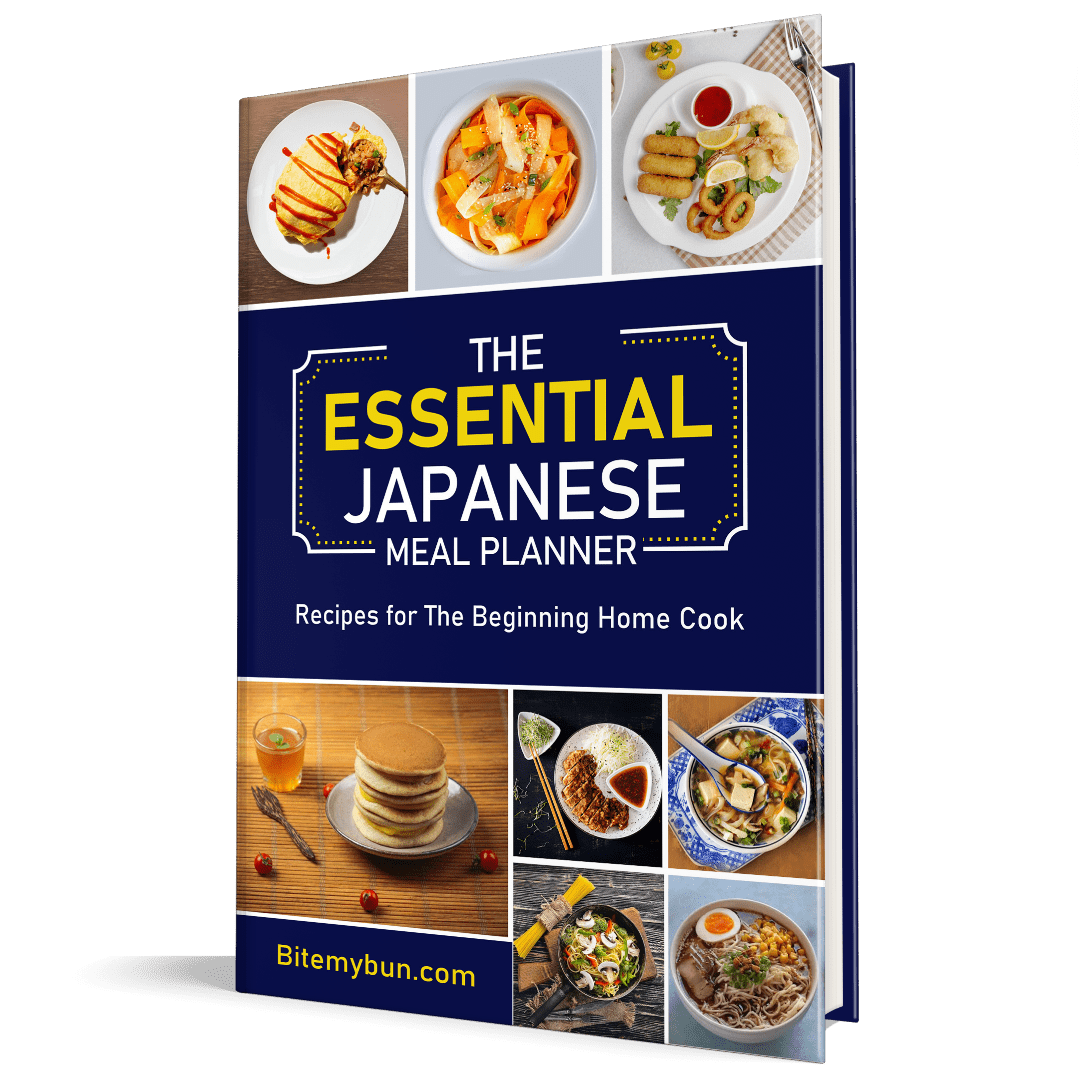 Check out our new cookbook
Bitemybun's family recipes with complete meal planner and recipe guide.
Try it out for free with Kindle Unlimited:
Read for free
Joost Nusselder, the founder of Bite My Bun is a content marketer, dad and loves trying out new food with Japanese food at the heart of his passion, and together with his team he's been creating in-depth blog articles since 2016 to help loyal readers with recipes and cooking tips.