Best cooling racks reviewed | This is the top 10 & its uses
I love creating free content full of tips for my readers, you. I don't accept paid sponsorships, my opinion is my own, but if you find my recommendations helpful and you end up buying something you like through one of my links, I could earn a commission at no extra cost to you.
Learn more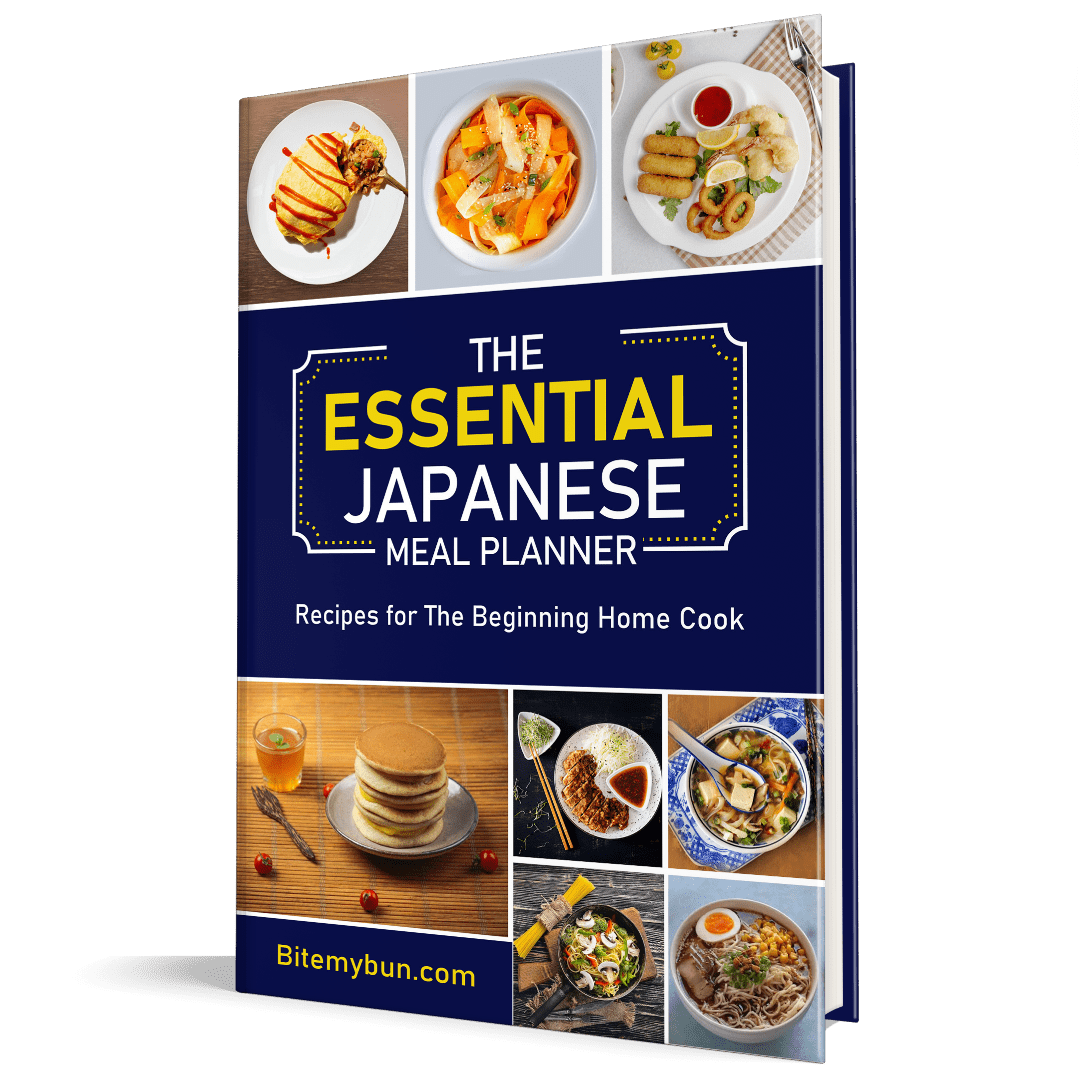 Check out our new cookbook
Bitemybun's family recipes with complete meal planner and recipe guide.
Try it out for free with Kindle Unlimited:
Read for free
Have you ever wondered which kitchen utensils are the most useful? Or the most useless?
Quite frankly I don't think any kitchen tool is useless, or else they won't get made or sold. I mean, who will pay for something that has no use, right?
If you'll say that the cooling rack is not as useful as the skillet, then you would be wrong. 
An often-overlooked kitchen essential is a cooling rack. It is especially important if you love to bake. The only way to avoid soggy food and crumbly pastries is to use a cooling rack.
But of course, it also helps you cool down piping hot food from the stove, grill, or oven. In fact, a cooling rack doubles up as a baking rack in most cases so it's extremely versatile. 
Here's an overview of the best cooling racks and then I'll get into the full reviews of the best cooling racks down below. 
10 Tips to Save a Bundle on Asian Ingredients!
Introducing our brand new FREE PDF guide: "Saving Secrets: Unveiling the Art of Saving Money on Asian Ingredients" It's your first newsletter email, so start saving today! 📚🧧
We'll only use your email address for our newsletter and respect your privacy
What is a cooling rack?
A cooling rack or wire rack is a kitchen utensil that is used to place foods that are freshly cooked, whether baked, grilled, fried, or anything that's piping hot scooped out of a frying pan, and allowed to cool down before it is served.
Cooling racks are often made of food-grade stainless steel wires that are woven (mechanically) into less than an inch multiple square-sized meshes, crisscrossing horizontally and vertically in order to let food be cooled easily, yet the spaces between the tiny bars are small enough so that food will not fall through and won't get soggy due to moisture retention.
The most common cooling racks are single-layer racks; however, there are multi-layered racks with 2-3 stackable tiers that can cool a batch of cookies, bread, cakes, or several pies at the same time.
Cooling racks come in all shapes and sizes – some are round, others are square, rectangular, or oval-shaped; there are even collapsible racks.
Roasting racks can also be used as cooling racks and these two are usually interchangeable but a true cooling rack has a grid pattern while the roasting rack can have a ladder design and that may cause food to slip through the grates.
Buyer's guide
There are certain features to look for in a cooling rack. At first glance it doesn't seem like a simple rack can have too many features but things like material, size, and coating are extremely important.
If you want a quality cooling rack, that can be used for cooling cookies, displaying your sponge cake jelly roll, or roasting cauliflower and chicken wings, then you need to opt for multi-use racks. Don't worry, I've got you covered down below. 
Here is what you should look out for: 
Material
Cooling racks can be made out of various materials, including stainless steel, aluminum, chrome-coated metals, or even wood although that's quite rare though. Usually, plated steel is the most popular because it's durable in the long term. 
For cooking and baking at home, regular single-level or double-level cooling racks are fine and these are usually made of stainless steel because they're corrosion and rust-resistant. Many are also dishwasher safe and easy to clean. 
Commercial-quality racks last a long time and won't bend or warp. Stainless steel promises rust resistance which is a must-have feature as no one wants rust in their food. 
Most professional bakers and cooks prefer aluminum for its heat conductivity. However, it is often Teflon coated.
You will often find wooden cooling racks in bakeries that hold the day's bread and pastries but wood is mostly for decorative purposes. 
Some models are made from wood and are then coated with chrome, iron, or steel to make them nonsticky. Be sure to read the label on heat resistance and care for coatings.
But for home cooking and baking you really don't need wood so it's more practical to get metal racks. 
The racks have "feet" for added stability and these are either part of the rack already or are foldable in the case of multi-level products. Some have two feet, some four feet, and then extra-large racks can have up to 6 and they are the most stable. 
Coating
Nonstick coatings are common on racks, but not all coatings work the same. The most common variety is polytetrafluoroethylene (PTFE), also known as Teflon. 
This material is very durable and will not stick to your rack. However, there are some problems with it. Teflon is a chemical and can cause food to stick to it. 
But, it's the superior surface coating to prevent sticking, so if your rack is purely for cooling or low-heat cooking, Teflon is a safe choice.
Ceramic is a coating that can withstand higher temperatures and still resist sticking. Some racks are coated with a silicone coating (usually black) that allows food to lift easily. However, these racks are not oven-safe and can flake over time.
Because of coating and materials, some racks are dishwasher safe while others are hand-wash only and it depends on how much time you have for cleaning and washing. 
Size
It all depends on how much cooking and baking you do but there is no perfect or ideal rack size, although a common one is a half sheet. However, that may be too small for some larger foods or batches of cookies. 
A quarter sheet

m

easures 9 x 13 inches. This gives you 117 square inches of cooking surface. Honestly, it's plenty of space if you cook for just one or two people.

 

Although 9 x 13 inches is the most common size, cooling racks these days come in all sizes so I wouldn't call this standard.

A half sheet

 is twice as long as a quarter-sheet pan, measuring 18 x 13 inches.

 

This is the most common size pan used in an oven at home, with a surface area of 234 square inches.

 The problem is that even half sheet cooling racks aren't quite this size so they don't fit the oven perfectly. 
Here's the thing, there is no one size that fits all. There are many options on the market for ovens, so the standard size is no longer relevant. 
If you intend to roast or bake in your oven, make sure to measure it before buying a rack. There's no need to buy a huge rack that doesn't fit the oven or can hold more food than you'll cook at once. 
Another consideration when buying oven racks is what pans you intend to use with them. You should check the sizes of your sheet pans to ensure that you don't buy a rack that is too small for your intended purpose.
The rack's intended use should also be considered. A larger model will be more useful if you plan to cool large quantities of bread or cookies.
You may be able to use a smaller model to save space and cook smaller batches. If you only make small pies, there's no need for anything larger than the 8×11 inch rack. 
Height
For a cooling rack to be effective, it needs to be at least 1/2″ off the table or countertop. The air has to circulate underneath the rack so it can cool off the food. 
You can find racks with different heights but the best ones are about 1 inch high and these cool off the fastest. However, anything 1/2″ or higher is functional too.
Then you can consider the space between the racks if you're looking for a multi-level cooler. For example, is there enough space for cakes or bread loaves between the levels? 
A multi-tier cooling grid can fit inside your kitchen cabinet if it's foldable or collapsible and can also fit more baked goods inside it once it's opened.
Is it oven-safe?
Look for the oven-safe rating to ensure maximum versatility when buying a cooling rack. This will allow you to use the rack as a cooling, baking, or roasting tool.
Most racks are oven-safe for use at temperatures up to 450 -575 degrees Fahrenheit although some claim to be safe for 1000 F those DO warp. 
Design
When it comes to cooling rack design, there are only two choices: grid or ladder. 
Basically, a cooling rack is designed to have enough space between the grates or wire mesh and underneath it so that air can circulate in all directions and cool food quickly, and prevent the food from "sweating" or else it gets mushy and soggy. 
The bars on the ladder ones are only horizontal whereas the grid styles have bars that run in both directions. This creates a hatch-style look.
Both models offer air circulation which keeps foods from becoming soggy.
However, some say that grid designs have the advantage because small food can easily slip through bars that run horizontally. This problem is solved by a grid. 
Also, when choosing a cooling rack, be aware of its size. You will experience the same problem with food getting through cracks if you buy one with large openings as with the ladder design.
Keep an eye out for a rack with a unique design like the Nordic Ware round cooling grid. Those are designed for display purposes or cooling cakes but many people search for these one-of-a-kind items. 
Top 10 best cooling racks
Okay, so you've just mastered the recipes that you want to try at home, but you have no idea which cooling rack to use.
Not to worry because we've compiled 10 of the best cooling racks for you.
It's the next logical step to take when you want to cook baked goods and pastries or baker's confectionary, you will need to prepare the right tools for the job.
And the obvious choice would be to include a cooling rack in your kitchen.
With a plethora of options available, you may be a bit confused about your choices.
Unless you have a trained eye for these things, you may not know that each cooling rack possesses unique benefits and qualities.
The rack height, cooling space, grid pattern, and what material it's made of are just among the things that you'll need to consider before you purchase one.
Already feeling overwhelmed by this?
Don't be, because if you keep reading, you'll find that there is a lot of useful information for you to find and purchase the best cooling racks that will fulfill your kitchen and baking needs.
You will be surprised at the amount of detailing that goes into designing these products.
Best overall cooling rack: 

KITCHENATICS Half Sheet Cooling Rack
dimensions: 11.8″ x 16.9″ inches
material: stainless steel
oven-safe: yes, up to 575 degrees
half sheet (12 cookies)
The best overall cooling rack is the Kitchenatics because it combines a high-quality stainless steel material with a tall build and close grid design which allows for much better airflow than any other rack.
The attentive design detail gives this cooling rack a great advantage in terms of air circulation for best results in baking and cooling.
Thus, this rack stands out from the rest because of the better air circulation and improved cooling capabilities. It's also non-stick and a good option for roasting vegetables, baking cookies, and cooling any type of baked goods or a pan full of food.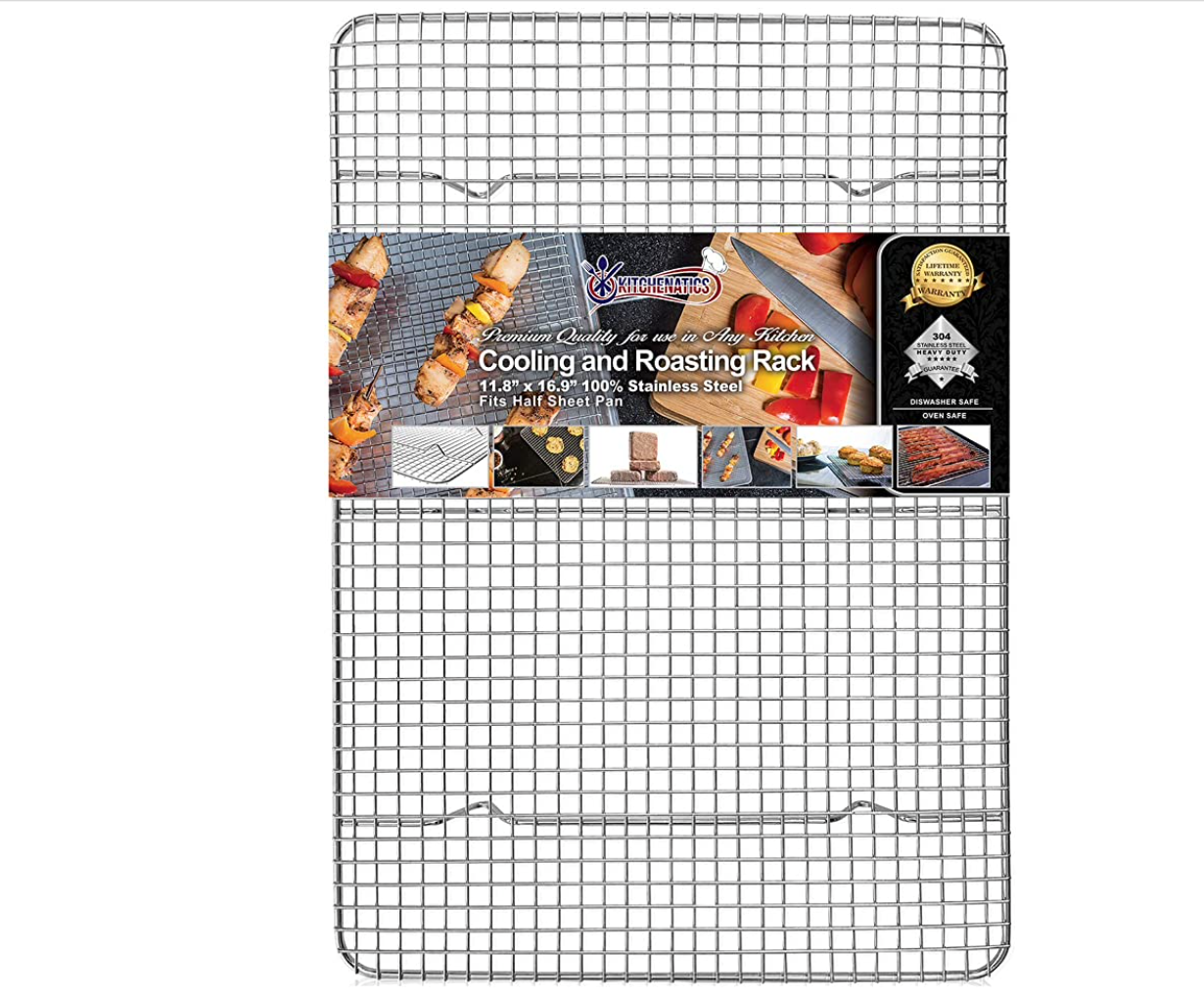 Unlike other grill racks, this one is more heat-resistant and you can use it for roasting or air frying in the oven at temperatures of up to 575 degrees F.
If you love baking, then you can cool your pastries, muffins, and cakes. But, if you prefer Japanese BBQ, then you'll be glad to know the Kitchenatics rack is perfect for BBQ. Many people use it for grilling meat, fish, and vegetables on gas or charcoal grills.
The rack is 1 inch tall, twice as high as nearly any many popular racks in the same price range. But what's great is that it also has sturdy feet.
According to the manufacturer, you can place up to 45 lbs of food on this cooling grid and it won't collapse. The six-foot rack part is welded to the gridded part so it's very sturdy and durable. 
However, this benefit can also be a disadvantage for some because since it's taller than other racks and the feet stick out more, the rack takes up more storage space. 
If you hate handwashing your racks, then you can be at ease because this rack is dishwasher-safe and easy to clean even with a sponge.
Thus, this grill rack ticks all the boxes: it's spacious, durable, oven-safe for up to 575 F, and dishwasher safe so you can't go wrong with it. You can tell it's a well-made item because it has smooth welds and no protruding steel bits. 
It's a better value purchase compared to similar cooling racks that also cost less than $20. But, this one doesn't warp, shed its coating, or cause the food to stick like its competitor HIWARE. 
Best budget cooling rack: HIWARE Cooking Rack
dimensions: 11.8″ x 16.5″ inches
material: stainless steel
oven-safe: yes, up to 1000 F
half sheet (12 cookies)
If you'd rather save money and go for a basic yet effective cooling rack, the HIWARE is a great option. It's a versatile rack you can use for cooling food, baking, grilling, smoking, and dripping grease. Thus, it can replace other pans you have but don't really use.
On one of these racks, you can fit a whole large bread loaf or more than a dozen cookies. 
The HIWARE rack is cheap but pretty well made out of 304 solid stainless steel. According to the manufacturer, it can withstand extreme heat in the oven of up to 1200 F. But other users wouldn't recommend using it at such heat because the coating can come off and the metal melts. 
So, it's best to use the rack for cooling only or baking at temps up to 450 F. You don't want any warping or the steel coating to come right off because that makes the rack sticky.
This rack has a neat bonus feature because it has a handle which makes it safe and easy to handle if the rack gets hot in the oven. By avoiding using oven mitts only, you get a better grip and you won't lose your balance trying to carry the hot rack. 
If you're wondering how it racks up in terms of stability, it's almost as good as the more expensive ones and also has 6 supporting feet. These are 0.8 inches high which is a great height if you want good air circulation. But, compared to 1 inch high racks, the airflow is not quite as efficient so it can take a few more minutes for the food to cool. 
HIWARE can also hold a whole roasted chicken without collapsing under the weight, so it's very sturdy. The grates are 1/2 by 1/2 inch grids and these are ideal because you can let the grease or sauce drip without any of the meat falling through the grates. 
The rack is rust-proof and you can also wash it in the dishwasher. Therefore, it's a versatile and low-maintenance kitchen accessory. 
Check the latest prices and availability here
Kitchenatics vs HIWARE
These are two comparable cooling grids of a similar size. The notable difference is the price and it depends on how much you want to spend on a cooling/roasting rack. If you're just looking for a basic rack that does the job, the Hiware is the best budget-friendly option. 
But, if you want a very durable rack made of stainless steel that lasts even when you use it for baking and roasting at high temperatures, then the Kitchenatics is the investment piece you should go for. 
I recommend the HIWARE more like a true cooling rack but the Kitchenatics is great for the oven too because it actually doesn't warp or get discolored like the HIWARE. That's because it's made of better materials and designed to be versatile and multi-purpose. 
This doesn't mean you shouldn't use the Hiware in the oven. In fact, the manufacturer says it can be used at up to 1000 F but after using it a few times, it can become deformed and ugly so it's not best for displaying on your countertop.
However, if you're only after utility, then it's a cheap and versatile product you can use. 
The bottom line is that you can tell why the Kitchenatics is a bit more expensive: the rack is sturdier and stronger. 
Best cooling rack with folding legs: Wilton Excelle Elite
dimensions: 15-7/8 by 9-7/8 inches per grid 
material: aluminum 
oven-safe: no
bake 3 cake layers at once
If you love to bake for the family, a half sheet pan-sized rack just doesn't cut it. In that case, you can use the Wilton Excelle 3-tier cooling rack with foldable legs for easy use and storage. You can easily cool up to three dozen cookies at once or even whole chickens and rib racks. 
This is not a baking rack, but rather a proper multi-level cooling rack made from heavy-duty aluminum with a nonstick coating. It's a baker's best friend especially if you batch cook and bake regularly.
All the legs are foldable and detachable so if you just want to use one or two racks separately, you can always do that. That's what makes this rack such a versatile one and a good value buy.
The legs are sturdy and don't fold under pressure as they can take on quite a heavyweight.
This type of design is great for small spaces. If you live in a small apartment and lack counter space in your kitchen, a tower-type cooling rack is the best solution.
Sturdiness is a key feature and it's very important because the last thing you want is a flimsy rack that falls over and destroys the delicious food and baked goodies. 
If there is one disadvantage, it's the ladder-shaped grates. It's easier for cookies and other smaller foods to fall through the grates with this type of design. But, the bars are close together so overall, it's not a big problem unless you're making very thin pastries. 
This cooling rack has a non-stick scratch-resistant coating finish which only starts to come off at the edges after frequent washing or if you use it in the oven. 
Don't worry, unlike cheap poorly built racks, the edges of this one don't snag because they're smooth. 
Overall, the cooling grid is very efficient and pretty quick at cooling the baked goods. The 3-inch clearance between the tiers allows for sufficient airflow so you don't have to worry about the bottom tiers heating up the top ones. 
dimensions: 17 x 12 inches per grid 
material: stainless steel
oven-safe: yes
bake or cool 20-24 cookies or put it into 18×13 inch pan
Are you a cookie lover? If you regularly bake lots of cookies or gingerbread men, you'll be delighted by the Checkered Chef cooling rack set.
It's a spacious 17×12 inch rack that lets you cool 20-24 cookies or gingerbread men. So, there's no need to worry about running out of space over the Holidays with this rack. 
This rack is made of strong stainless steel but there is no artificial coating, which makes it oven safe for up to 450 F. Also, since there's no coating,  and the rack doesn't flake and you can wash it time after time without worrying about flaking and rusting. 
This is the perfect multi-tray for baking AND cooling, depending on the situation. It has a grid design and since the grids are small, the food doesn't fall through at all. There's no chance of your cookies slipping through the gaps and breaking. 
Few cooling racks have attained a perfect score for stability, strength, and cleaning ease, but the Checkered Chef cooling rack aced it in all categories.
In case the previous cooling racks that you've been using easily twist and warp, then this cooling rack will not fail you.
This cooling rack has been strengthened with three crossbars and an additional central rod for preventing warping. So, unlike cheaper racks, these don't lose their shape at all and the edges don't tend to slope. 
Wilton vs Checkered Chef
The Wilton multi-tier rack with folding legs and the Checkered Chef grid rack are both great options for cookies. If you're the batch cookie baker, both of these products come in handy.
I've selected them both as must-haves because one is a 3-tier and the other a classic flat cooling grid. So, if you bake large quantities and lack counter space in your kitchen, then the Wilton 3-level rack is a natural choice. 
But, if you like to make just one batch of cookies regularly, then you might not need a multi-level cooling grid so the basic Checkered Chef one is a fine enough option. 
Another important difference is that the Checkered Chef doubles up as a roasting and baking pan, whereas the Wilton is a cooling rack only. 
Wilton's aluminum build and coating make it non-stick but if you put this rack in the oven, all the coating peels off and you damage the product. 
Thus, if you need a versatile baking grid and cooling rack all-in-one for your delicious shortbread cookies, the Checkered Chef is a budget-friendly option.
But, if you bake lots of cookies and have no space to cool them, then the multi-tier Wilton is the obvious choice. 
Best rust-free & stainless steel rack: Goson Bakeware Cooling Rack
dimensions: 8.5″ x 12″
material: stainless steel
oven-safe: yes up to 575 F
fits about a dozen cookies
If you want a durable stainless steel cooling rack with a non-stick chrome coating that doesn't rust after the first few washes, the Goson brand is one of the top choices out there. 
This budget-friendly model comes with two racks for the same price as some individual racks. People rave about this cooling rack because it's great for baking in the oven as well as cooling baked goods.
It is one of the few stainless steel racks that doesn't really warp or lose all of its plating after a few uses. 
The durable, oven-safe chrome-plated stainless steel can withstand temperatures up to 575 degrees. This design has the best feature: each hatch is spaced a half-inch apart and the elevation is 0.75 inches for maximum air circulation and no chances of food slippage.
In fact, the square cross wire pattern measures 1/2-inch that ensures proper ventilation and prevents food from sagging or falling through. The air circulates all around the food so there is no sogginess and I know how important that is for baked goods and bread. 
Even though this cooling grid is slightly smaller, it will still fit comfortably in your sheet pans for roasting, baking, and broiling.
It also works with oven pans, broiler pans, baking pans, cookie sheets, and baking mats. The rack also fits into most toaster ovens so it's truly a versatile kitchen utensil. 
Another great feature is that the coated steel is dishwasher-safe and has six feet of support welded to it. This model's chrome coating may rust after many, many uses, but compared to budget racks like the HIWARE, it's much more durable.
Compared to racks with six feet, this one only has 4, but it's still stable and sturdy but I wouldn't overload it just in case. That's the only disadvantage but since you get two racks in a pack, you can spread out your food. 
​Best round cooling rack: 

Nordic Ware Round Cooling Grid
dimensions: 13 inches
material: stainless steel & copper coating
oven-safe: no
ideal for bundt and round cakes
Do you mostly bake cakes? Then, you might be more interested in a round cake cooling rack. But, you're not limited to cake, as you can cool pies, quiche, pizza, and more! 
This Nordic Ware grid is made of durable steel with a beautiful and modern copper coating. It's the perfect cooling grid for taking photos and posting on Instagram because it looks stylish.
It doubles up as serve wear and you can skip the fancy plates and cake stands. 
The elegant rack has a tight grid design so that no food can fall between the grates. But, since you'll likely use it for round cakes and pizza, you probably don't need to worry about grate spacing.
It is pretty heavy-duty and has two legs that make it very stable. Your pizza or three-tier cake can cool off safely because this rack doesn't topple over. 
The copper coating makes this cooling grid non-stick and transfer-proof so you don't have to worry about that coating rubbing off on the food. 
There is one major disadvantage – this is not an oven-safe cooling grid so it's strictly used for cooling food, not baking. If you put it in the oven, all the copper plating comes off and seeps into the food.
Also, since it's a serve wear-inspired product, it is hand-wash only and quite delicate.
Goson rust-free vs Nordic Ware round rack
The Goson is the best rust and corrosion-proof stainless steel cooling rack. It's the kind of product best suited for heavy-duty baking and roasting needs. It doesn't lose its shape and color after washing and using.
So, you might wonder why it's being compared to the Nordic Ware?
Well, Goson and Nordic Ware are extremely popular bakeware manufactures and they make some of the best products in the world when it comes to high-quality, affordable cooling racks. You can expect performance from them and if they claim "no rust" it stays that way for many uses. 
The difference here is that the Nordic Ware has a round shape. Thus, it's the best kind of rack for those looking for something different than the regular rectangular racks.
This one is ideal for cakes and pizza, especially if you like to take photos of your food for social media, cookbooks, blogs, etc. 
In terms of utility, the round grid is mostly for cooling and display purposes because it's not oven-safe due to its copper plating.
The Goson, on the other hand, is heavy-duty and perfect for roasting and broiling at up to 575 F. So, if you need this oven-safe feature, it's the better option.
In this case, you have to decide between functionality and beautiful design. 
Best for bakeries: Linden Sweden 4-Tier Cooling Rack
dimensions: 13 inches (height)
material: metal
oven-safe: no
space for 4 pans 
Your bakery needs a versatile multipurpose cooling rack stand that holds 4 pans at once. Unlike a regular grid grate, this is a stand with 4 slots for up to 4 pans at once.
Therefore, you can cool cookies, pastries, muffins, small cakes, and bread or bread rolls. 
Whether you want to cool muffins on a muffin tin, or some bread rolls, you have 4 slots for your racks or pans. Therefore, this is a versatile cooling stand with plenty of space.
The Linden Sweden Baker's cooling rack is perfect for your baking sheets, muffin tins, and half-sheet pans. I know that you have lots of them in the bakery, so maybe getting a few of these stands is a good idea. 
This rack has 3 braces that total 13 inches high and can fit numerous pans all at once.
This means that not only can you bake multiple baked goods at the same time, but also free your table or counter space as well.
Best of all, it's easy to assemble and lightweight so you can move it around the bakery. There's nothing worse than a heavy useless stand, but this one is sturdy and stays in place. Even if you fill it up, it doesn't topple over so you can safely use it in your shop. 
Although the product is made of steel, the powder coating makes this stand a bit susceptible to flaking.
Some customers claim that it's a bit tricky to lock baking pans in place as the locking mechanism is stiff and difficult to manage. But, that usually occurs with pans that are not the right size. 
The coating may start to come off if exposed to high temperatures for a long time but the air circulation is quite good so the baked goods will cool off pretty quickly and uniformly.
What makes the Linden Sweden Baker's cooling rack stand out from the rest is its versatility and multipurpose design.
Its adjustable braces mean that it can accommodate more baked goods and have them ready in no time for eager customers or guests at your bakeshop or coffee store.
You can also use this rack to dry any non-food items that you need or to store everyday items when you're not using them.
Also read: these are the best copper skillets around
​Best heavy-duty cooling rack: Betty Crocker Nifty non-stick
dimensions: 13-1/2-inch by 12-inch by 12-1/2-inch
material: steel 
oven-safe: no
space for 18 cookies (420 square inches of cooling space)
Sometimes, you have to cook many pies and you need a heavy-duty cooling rack that's suitable for more than just cookies. It must withstand a heavier weight without collapsing or falling over. That's where the Betty Crocker 3-tier cooling rack comes in and saves the day.
The rack is ideal for baking heavyweight baked goods like pumpkin pies with lots of filling. There are 5.5 inches of space between the racks so you might want to place taller foods up top and cookies in the middle. 
This non-stick coated steel rack has three 140-square-inch racks, totaling 420 square inches of cooling space, so it's great for batch cooking at home. This rack is the only three-tiered, gridded rack that is super heavy-duty and durable. 
It also has an optional vertical brace, which can be used to support heavier items or to increase the rack's stability. After all, safety and stability are extremely important because you don't want your hard work to get damaged. 
There is one notable disadvantage: its design is confusing, clunky, and it's hard to assemble. When first assembling it, make sure to follow the direction. 
Also, you have to take it all apart when you want to store it if you don't have space for a 3-tier rack at all times. 
If you want something that's easier to assemble you might choose the Wilton 3-Tier Collapsible rack but that one is not as sturdy as this Betty Crocker one. I wanted to review the most durable one, and although it's not as practical it's fall-proof. 
The Nifty three-tier cooling rack is not for newbie bakers, but if you give enough time to teach yourself how to use it, then it can be your best friend.
But as for the seasoned bakers, then this cooling rack is perfect for you and you will instantly bond with it as you bake and cool the smallest candies and cookies on this non-stick cooling rack.
The good part is that your pies and cookies won't stick when you lift them, even if they're not completely cooled. 
The non-stick coating on this rack almost makes it impervious to food debris, but for sanitation's sake you still need to wash it – and it's dishwasher safe too.
Check the latest prices and availability here
Linden Sweden vs Betty Crocker
Both of these cooling racks are tall multi-tier stands. Technically, both are suitable for bakery (commercial) and home use, but it all comes down to the design. 
The Linden is a cooling stand with 4 slots for your pans or cooling grids whereas the Betty Crocker is 3 level cooling rack with a grid grate design.
They are similar in size, color, and material but there is one important difference: you need to buy the pans and cooling racks separately for the Linden Sweden one.
This is a major deal-breaker for those looking for a complete set but a bakery will already have pans and racks so it is a great stand.
However, if you want a sturdy multi-level cooling grid set, then Betty Crocker is an affordable option with great reviews. It's the kind of rack that you can set up and fold down for easy storage. Also, it doesn't take up lots of counter space so it's great for small spaces. 
Here, the choice is all about whether you already have some racks and you want to be able to use them too, or whether you want a complete product with all the components you need.
But both are great for display purposes if you want to show off your tasty baked goods.
Best large rack & best for bread: 

USA Pan X-Large Bakeable Nonstick Cooling Rack
dimensions: 19.75 x 13.62 x 0.5 inches
material: alloy steel
oven-safe: yes, up to 450 degrees
best for large baked goods like bread loaf, croissants 
If you like to bake more than just cookies, or you're a batch baker, you might be better off with a large cooling rack that can fit two smaller pans of cookies like the USA Pan X-Large.
This American-made premium cooling grid is made out of powerful steel and designed for larger baked goods like bread and croissants. You can easily fit two smaller bread loaves or one large one. 
The grid is oven safe for up to 450 F, so it really covers all kinds of baking. The only limit would be crisping or searing foods like meat at high heat, but this is more of a baking cooling rack. 
You don't have to worry about any food falling through this grid crosswise grate design. Food and baked items do not sog or fall through the wire grid while you cook them on this rack.
The grid design also allows for plenty of airflow from all directions and encouraged uniform cooling.
Another benefit is that this is a quick cool grid, so if, let's say, your guests are arriving soon, you can take out that cake and feel confident that it will be ready to serve in no time. 
I like this rack's stability and durability. It is made of strong steel and comes with two raised feet which ensure the cooling rack doesn't tip over.
Compared to similar large cooling grids like the budget Ojelay racks, this one has better sizing. With the others, you can fit 3/4 pans, not 1/2 and then the rack is either too small or too large, and this matters if you want to cool pans. 
In terms of coating, this is a great rack because the food doesn't stick to it. That's because it has a special Armericoat non-stick layer.
It is made of silicone that's free from all the harmful toxins like PTFE, PFOA, and BPA. As a result, this cooling rack is very safe to use and recommended for health-conscious households. 
Clean-up is also easy because the food doesn't stick so you don't have to scrub shortbread off when hand washing it. Simply use some dish soap and warm water and any remaining bits come off instantly and that's the advantage of the silicone coating. 
The sturdy design makes the rack impervious to warping and this is really important because you don't want part of the rack to warp on one side as that makes it unusable.
Best sheet with pan: 

Nordic Ware Half Sheet with Oven Safe Nonstick Grid
dimensions: 17 x 12 x 1 inch
material: aluminum
oven-safe: yes, up to 400 degrees
half sheet fits a dozen cookies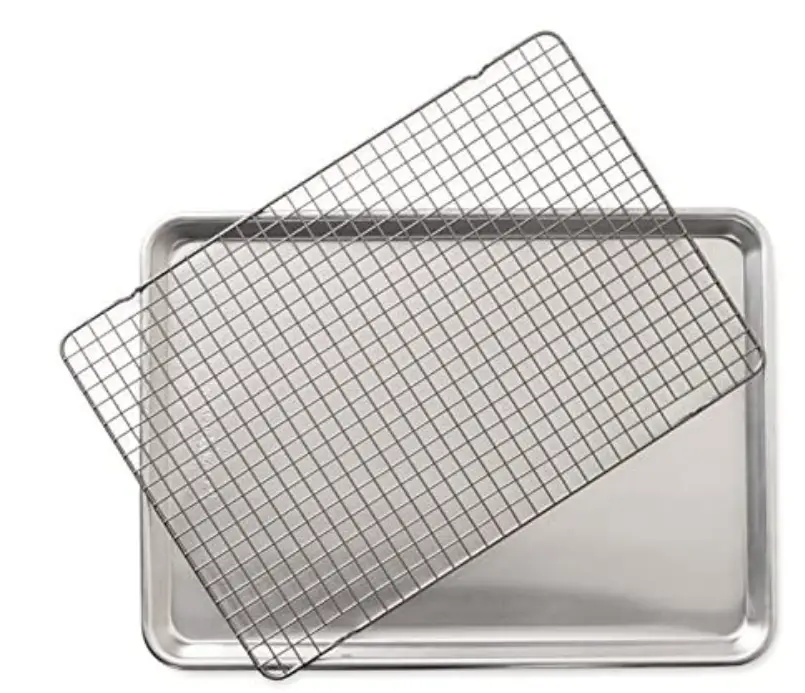 If you're looking for a value sheet and pan combo, then this Nordicware set is an excellent option because it's versatile and lets you bake foods like bacon, french fries, potato wedges, chocolate chip cookies but then you can also you use it to cool a bundt cake or brownies. 
The advantage of a set is that you can roast and bake in the pan, then take the food out once it's cooked and immediately place it on the cooling rack which is the same size, so you don't end up with mismatched pans and cooling racks. 
The pan and sheet are made of durable aluminum, which is the ultimate heat conductor and it never rusts. The aluminum construction ensures even heating so you don't have to worry about half of the food being undercooked or overcooked.
A rimmed baking pan is versatile because it's the perfect pan for making shortbread cookies and all kinds of baked goods and cakes. 
Add in the oven-safe rack and you now have the ultimate tool for roasting kale, crisping bacon, or draining a greasy roasted chicken. 
There are some silicone protective pieces that you must remove before you place the sheet or pan into the oven or else it will melt. Also, keep in mind that the coating on the aluminum comes off if you heat up the oven over 400 degrees. 
This also makes a great choice for baking gooey on the inside, crispy on the outside white chocolate chip cookies. 
You can bake your cookies in this pan without worrying about them getting warped or crumbly and they also won't fall through the grates because of the grid design.
The pan is large and roomy due to its half-sheet size so you can definitely roast meat, vegetables, or bake for up to 6 people. 
These Nordic Ware products are made in the USA and are affordable but compared to a half-priced set like Allnice, the Nordic Ware is much sturdier, more durable, and performs much better in the oven.
The only downside is that you can't use the pan in the oven for high-heat roasting over 400 degrees so you should choose another pan for roasting whole chickens, for example.
But of course, the cooling rack is perfect for cooling the chicken and draining the fat and drippings. 
Finally, I just want to mention the galvanized steel edge that gives the pan extra depth while maintaining its shape. Thus, you don't have to worry about warping or damage with this well-built set. 
USA Pan X-Large vs Nordic Ware Sheet & Pan Set
One of the challenges of finding the perfect cooling racks is sizing. Sometimes your pans and the rack sizes don't match up and so you can never fit the pan on the rack properly. But, the X-large rack can fix this issue because it's bigger so most of your pans fit.
If, on the other hand, you want a matching set you can always use together, you can get the Nordic Ware because then you can get rid of those odd-sized racks and pans that are cluttering your kitchen cabinet. 
These final two options are great options if you want high-quality products. Both Nordic Ware and USA Pan are top-of-the-line manufacturers with many 5-star ratings for their products. 
It all comes down to what you need in the kitchen.
The main difference is the size here because the USA pan is considered to be an extra-large. It's best for those who have larger ovens or don't want to put the cooling rack into standard-size pans. But, in terms of quality, both of these racks are just good. 
However, if you want a matching rack and pan set, then the Nordic Ware is the top option because you can be sure the sizing is perfect and you can use them together.
This set also makes for a great gift for the new or established baker in the family because it is one of the best value buys. 
Top reasons why you need a cooling rack
It's handy for bakers: If you love to bake, you'll get a lot of use from a cooling rack because it helps your baked goods cool down, thus they are ready to eat in no time. This is especially handy if you are batch baking because you can start making more as soon as you take the first batch out of the oven.
It's for amateurs and pros alike: The benefit of the cooling rack is that anyone can use it since it's so versatile. Pros will know how to maximize their use and reduce work time. Amateurs will be glad they can bake easily and eat the goodies almost immediately.
No additional cooking time: If you take food out of the oven and place it on another surface, the food will continue to cook inside for a few more minutes. This can actually ruin the food and make it taste burnt or overcooked. Once you place food on the cooling rack, the air begins to circulate immediately and stops the cooking process. Therefore, food has a better flavor and a more even texture.
Keeps food crispy: Did you know that if you use a cooling rack, it makes your baked goods crispier and textured? The same thing is true for other foods, such as chicken. It will retain that crispiness from the oven and won't go soft or mushy. When you bake cookies, for example, a cooling rack will help them keep their form and texture. Therefore, they don't go mushy.
Removes steam: The cooling rack allows air to circulate all over the food and during this process, the air removes the steam. Thus, food stays crispy on the exterior and juicy inside.
How to clean a cooling rack
One of the most asked questions is how to clean a cooling rack? They must be cleaned just like the other kitchen utensils in your home. Especially if you use the wire rack in the oven to cook, you need to give it a thorough clean.
Some cooling racks are dishwasher safe but read the product description to be sure. 
Here's the easy way to clean a cooling rack:
First, squirt some dish soap into a deep-rimmed baking sheet. Make sure it can fit your rack and it's tall enough to submerge the rack in.
Place the rack into the baking sheet and fill it with water.
Now, let the cooling rack soak for half an hour, or until all the food particles and grease is loose.
Then remove the rack and scrub it with a sponge or brush until it looks clean.
Make sure to scrub in the direction in which the wires run. That means crosswise on the top and lengthwise on the bottom side.
How do you get the rust off a cooling rack?
A rusty cooling rack is a danger to your health. It is also unpleasant to cook with. Imagine rust pieces seeping into your baked goods.
But don't worry, if your racks are looking a bit rusty, you can clean them in no time:
First, pour a few drops of dish soap into a bowl filled with warm water and stir.
Use a non-abrasive scouring pad or brush and dip it into the soap water. Now, rub your racks with this soapy water gently in a circular motion.
Keep dipping into the soapy water and keep rubbing until the rust comes off.
Cooling rack FAQs
Although the cooling rack seems like a simple kitchen utensil, many people are confused with regards to using cooling racks properly.
In the next section, we'll explain what other uses a cooling rack has and you'll see why it's so versatile. But first, we'll discuss some of the most important information about these racks.
Is a cooling rack necessary?
Yes, a cooling rack is necessary if you want to be efficient in the kitchen. Who wants to waste time waiting for food to cool down? It can take over half an hour for cookies to cool down, for example.
But, a wire rack allows the air to circulate under your baked goods which cools them down much quicker. So, as you can see, it helps when baking, especially batches of goodies.
Essentially, the cooling rack accelerates the cooling process, meaning you no longer need to wait around. And finally, this handy kitchen tool ensures you don't burn or ruin your countertops with hot food and bakeware.
Can you use a cooling rack to cook food?
Technically, yes, you can use the cooling rack to heat up or cook food. It is sometimes used as a baking tray or pan. When you cook meat and vegetables directly on a cooling rack, it basically works just like a big roasting rack.
It allows the hot air to circulate around the meat and veggies evenly. But beware, you can only use an oven-safe cooling rack to cook on.
Even then, you risk damaging the rack, so it's best to use it for its intended purposes…to cool down your food.
Is it safe to put a cooling rack in the oven?
You can only put the cooling rack in the oven if the rack is specially designed as "oven-safe". If it is, then place the wire rack straight on top of a sheet pan.
That way you can make delicious meals in the oven. A cooling rack is used just like a roasting rack.
What can I use instead of a cooling rack?
We advise that you buy a cooling rack to use as it's the safest way to ensure you don't burn countertops. However, there are two viable substitutes but you must be careful when using them.
First, you can turn a muffin tin upside down and place your hot cookware on top.
Second, you can use upside-down cardboard egg trays for the same purpose. But, note that this is not sturdy and stable, and your food can fall and even burn you.
Can you put a Wilton cooling rack in the oven?
It's best to check on the manufacturer's website to see which of their racks are oven-safe. But as a general rule, the black-coated cooling racks are NOT oven-safe, so don't use them in the oven.
Their chrome-plated grids are usually oven-safe and you can use them to cook and bake in the oven at a temperature of up to 450 degrees.
There is no specific amount of time to cool cookies. But, let them cool for at least 10 minutes before you transfer them.
When you take the cookies out of the oven, let them sit for a minute in the baking tray. Then, take a small spatula and transfer them to the cooling rack individually.
Be careful not to break and damage them as they can be fragile while hot. It's best to use a spatula because it keeps the cookies intact when they're warm.
If you want to transfer a cake, invert the cooling rack and put it on top of the cake pan. Flip your rack and the pan and the cake will transfer.
Why do you cool cakes on a wire rack?
The best way to cool a cake is on a wire rack because the design of the rack allows air to circulate all around the cake.
This means that your baked good (cake) cools down a lot faster than if you leave it on the baking tray, trivet, or on the countertop. Also, the cooling rack ensures the food doesn't become soggy due to condensation.
Can you put a cooling rack in the dishwasher?
If the product's packaging doesn't state that the cooling rack is not dishwasher safe, then you can probably throw it into the dishwasher.
You need to be careful though about where in the dishwasher you place it to ensure it gets clean. Note that most chrome-plated cooling racks are NOT dishwasher safe and they will RUST if placed there.
Cooling rack uses
It's not unusual for humans to display their resourcefulness and ingenuity whenever the need for it arises, and that statement has never been truer with how people use the cooling rack other than its intended purpose.
Apparently, cooling racks are not just for cooling hot foods anymore.
From cooking bacon to making a piece of art you can hang in your office, there is no end to the creative uses for the cooling rack.
Now step away from the kitchen for a moment, because we're going to explore how this kitchen utensil is being used for various purposes.
Cook bacon
You often cook your bacon in the frying pan, but have you ever tried cooking it on the cooling rack over the stove, a charcoal grill, or in the oven?
The results are crispier and juicier bacon strips as heat is evenly distributed, therefore the bacon cooks better!
Note: if you decide to cook bacon on a cooling rack, make sure to avoid non-stick materials on this kitchen tool, especially if you're going to use the oven.
Create a message board
If you keep missing out on your to-do list in your physical diary planner or the virtual one in your phone, then you can use the cooling rack to hang important upcoming events that warrant your attention.
Things you will need:
A to-do list (which I'm sure you have)
Clothespins or clip magnets
A Memo pad to write your daily/weekly/monthly schedules
Make chunky guacamole
Guacamole is an avocado-based dip, spread, or salad that was invented by the ancient Aztecs of South America.
It is mostly eaten with potato chips, but you can also eat it with tacos, unsweetened biscuits, or bread.
Guacamole is normally made by mashing together avocados in a small mixing bowl; however, you can just use the cooling rack to push the peeled avocados through and achieve the same results.
Here's a YouTube video on how it's done:
Chop hard-boiled eggs
You can also chop dozens of hard-boiled eggs by using the cooling rack just like how you can mush avocados for your guacamole.
Just follow the instructions on this video and you should be able to make your egg salad recipe in no time:
Drain dishes
The cooling rack can also be used as a tool for drying newly washed dishes.
In fact, most of the sailors who own a small sailing yacht and travel the world have a cooling rack set up beside their kitchen sink in the boat galley specifically to dry dishes.
This is a cheap, easy, and quick way to dry your dishes and have them ready for the next meal.
Jewelry organizers
Another way you can use the cooling rack is by turning it into your jewelry organizer.
Normally people put their jewelry (and everything else) in their cabinet drawers because it's safe and convenient.
Of course, it's the right thing to do, in fact, some people even have their own 5-inch thick metal safe to put their precious possessions in, but unless you own a $50,000 jewelry collection, then you can put them on display on your cooling rack that's hanging on the wall.
Not only will you appreciate their aesthetics, but you can easily pick any jewelry you want to wear in an instant.
Also read: these stockpots will look good in any kitchen
Hanging art
If your house, apartment, condo unit, or office needs more aesthetics, then you don't need to hire a professional interior designer to improve the overall look of your target location.
Behold the hanging art of A Beautiful Mess website!
They call it the DIY Oversized Fabric Chandelier and it looks classy and will look beautiful in your office or kitchen table.
Your family, friends, guests, and clients won't even notice that it is made out of a cooling rack and some fancy fabrics.
Lid organizer
Since they invented plastic food containers it had become a modern kitchen necessity and almost every home in America has a drawer full of Tupperware (and other brands) items.
But while the drawer keeps most of the plastic food containers in place, the lid that secures the food in the container can make a mess and will never stay organized.
You can use a plate holder and place the cooling rack on top of it, then turn it into a makeshift lid organizer of sorts.
It's a cool way to declutter your kitchen cabinet and make everything look nice and clean.
Shoe rack dryer
Nix the water puddles that are inherent to snowy and rainy weather. Dry shoes by resting them on metal cooling racks inside a large plastic tray in the mudroom or entry room.
Using a cooling rack to dry your shoes after a snowy or rainy day is just genius. No more soggy shoes for you!
Spice organizer
If you live a minimalist lifestyle, which is a new trend that many people find helpful especially for those who make a meager income, then you may want to know how to turn a cooling rack into your very own spice organizer.
Alkanet, basil, cumin, fennel, and many other spices are those little things that we often take for granted and yet are quite important in our lives – and you'll need a space to place them.
Using a simple tool like pliers, you can transform a cooling rack into the perfect storage solution for your spice cabinet.
Now you can have all the spices and herbs you need and save precious space in your home or apartment altogether.
Scarf organizer
The scarf is good for when the weather is chill or slightly colder than usual and it's also great fashion wear that enhances your overall looks.
But sometimes your closet may not have enough room in it to hang your scarves.
Again you can use the cooling rack to hang them and make it a rather aesthetically pleasing scarf organizer.
Fabric organizer
You can also use the cooling rack to hang your handkerchief, hijab, and other fabrics that you use occasionally.
They serve a similar purpose with the scarf organizer – save space, organize things, and add aesthetics to the surroundings.
Sunglass storage
Too often people use their cabinet drawers to put everything in including their eyeglasses and sunglasses.
But did you know that the cooling rack can also become your glass/sunglass storage neatly tucked on the wall?
You'll easily be plucking out your favorite glasses or sunglasses every time the occasion calls for it.
Homemade craft display
Do you love making arts & crafts even if they're for your own personal enjoyment and you're no longer making them for school projects?
Well, you can place them on a cooling rack and hang them on the wall for people to see.
What you'll get is praises and compliments from your guests and you may just give yourself a pat on your shoulder and enjoy it seeing it on your wall too!
Read more: looking for a copper pan look with non-stick surface? Check out Gotham Steel pans
Conclusion
Now that you've looked at all the cooling rack options, there's no doubt that you're convinced that you need one for your kitchen. After all, these racks are extremely handy for all kinds of uses.
Plus, if you use a cooling rack, you won't run into the trouble of soggy baked goods. Condensation and steam make your cookies taste mushy and nobody wants that.
So, the next time you bake, use a cooling tray to make your food ready to eat in a jiffy.
Read next: Best Substitute for Vegetable Oil | 9 alternatives  for frying and baking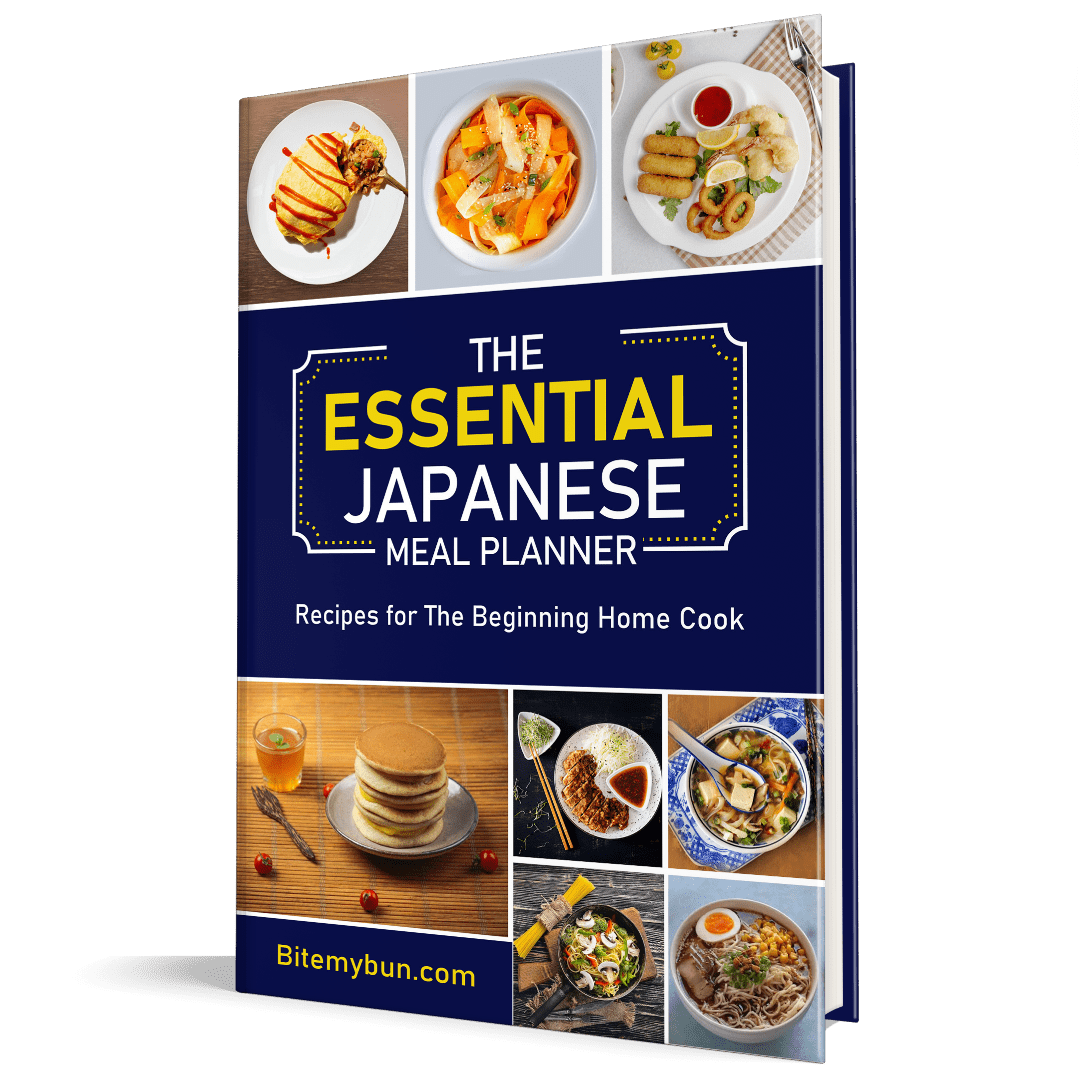 Check out our new cookbook
Bitemybun's family recipes with complete meal planner and recipe guide.
Try it out for free with Kindle Unlimited:
Read for free
Joost Nusselder, the founder of Bite My Bun is a content marketer, dad and loves trying out new food with Japanese food at the heart of his passion, and together with his team he's been creating in-depth blog articles since 2016 to help loyal readers with recipes and cooking tips.