Best Sticky / Sweet Rice | Buying Guide for Glutinous Rice Brands
I love creating free content full of tips for my readers, you. I don't accept paid sponsorships, my opinion is my own, but if you find my recommendations helpful and you end up buying something you like through one of my links, I could earn a commission at no extra cost to you.
Learn more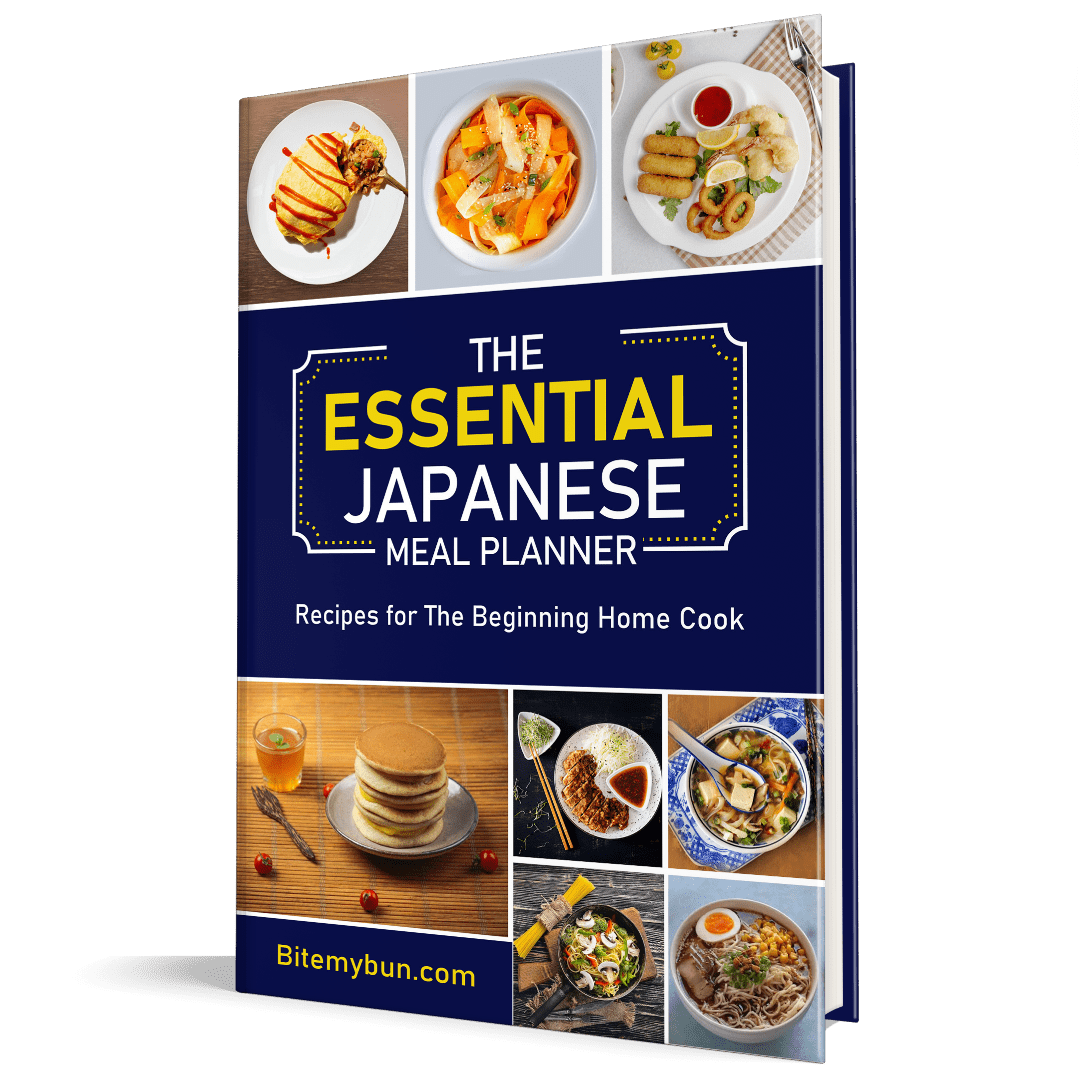 Check out our new cookbook
Bitemybun's family recipes with complete meal planner and recipe guide.
Try it out for free with Kindle Unlimited:
Read for free
Sticky rice is the heart of many Japanese, Filipino, and Thai dishes, and its glue-like texture makes it perfect for anything from sweet desserts to savory meals if you have the right type of rice for the job.
When we talk about the best that suits most dishes, I would easily pick the Three Rings Sticky Rice. The quality is there, the taste is mild, and the texture is also quite balanced, making it a versatile and economical choice for thrifty foodies like me.
In this article, I'll go through everything that goes into choosing your ideal pack of rice and recommend some of the best options there are.
Let's look at the top choices real quick. I'll talk about each in-depth after that.
10 Tips to Save a Bundle on Asian Ingredients!
Introducing our brand new FREE PDF guide: "Saving Secrets: Unveiling the Art of Saving Money on Asian Ingredients" It's your first newsletter email, so start saving today! 📚🧧
We'll only use your email address for our newsletter and respect your privacy
How to choose the best glutinous rice? Complete buyer's guide
With the popularity of Asian food increasing outside Asia, many brands have jumped into sourcing sticky rice to catch up with the demand and rack up some profits.
However, where it has made the availability easy, it has also left consumers like us confused as we are never sure what to expect in a pack of rice, especially in terms of quality. 
In this guide, I will tell you precisely what you should look for when buying a pack of glutinous rice for your pantry, and more specifically, which type of rice is better for your needs. 
Different types of glutinous rice
Sticky rice is any rice that has high amylopectin content and low amylose content.
So whether the rice is long, medium, or short grain, as long as the rice grains stick, it is classified as glutinous rice or sticky rice, despite what the package says.
Based on that, there are three fundamental types of glutinous rice you will find in the American or European market, which include:
Thai sticky rice
Thai sticky rice is a long grain with a unique, floral aroma. It is a staple ingredient in Northeastern Thai cuisine and Lao cuisine.
It is a very versatile form of glutinous rice, and people use it for sweet and savory recipes.
Japanese sweet rice
Also known as Japanese glutinous rice or mochi rice, it has a sorter grain than Thai sticky rice and a super sticky texture.
This rice is ideally used for many desserts, most famously the mochi cake. Japanese sweet rice is less popular for savory dishes. 
Black and purple sticky rice
This variety of rice is cultivated mainly in southeast Asia. This rice has a slightly nutty flavor and is often eaten for its high fiber content.
The bran on this rice can be either dark purple or entirely black. Just like white glutinous rice, it is also used mostly for desserts. 
Grain size
The grain you need depends on the dish you will make. I suggest going for short-grain rice if you are making a dessert and long-grain rice if you are making a savory dish.
The reason is simple. Short-grain glutinous rice is somewhat mushy, while long-grain glutinous rice is fluffy. 
Although desserts might look and taste good with all that stickiness of short-grain rice, savory dishes aren't as appetizing and feel unnecessarily mushy. 
In other words, choose wisely! 
Taste
You can identify the taste of glutinous rice simply from the color. The color actually determines the level of refinement.
As a rule of thumb, rice with brown color tastes nuttier compared to rice with white color. All you need to do is examine the pack and pick the rice per your preference.
Best-by date
OK! I know you have heard that glutinous rice has an indefinite shelf-life and will remain good to eat even past the expiration.
This couldn't be farther from reality. In fact, the quality of rice keeps deteriorating over time, and as old as the rice gets, it becomes more challenging to cook.
Therefore, choose a batch with the farthest best-by date when buying rice. This ensures that you get the best quality.
Not to mention, once you open the pack, keep the rice in the dark and dry place in an airtight container to keep it fresh.
Best glutinous rice to buy right now
Now that you know what makes the best sweet rice per your needs, let's jump straight into our list and check out some of the best selections you have at hand:
Best overall: Three Rings Thai Sticky Rice
When we talk about packaged sticky rice that does it all, nothing beats Three Rings sticky rice.
The rice is long, fluffy, and has just the right amount of stickiness to double your savory pleasures while still being entirely suitable for sweet delights.
Three Rings sticky rice has a mildly sweet taste.
It suits many Thai dishes, including the classic native dessert, Mango sticky rice. It is also quite a rich source of proteins and carbohydrates, with zero fat, cholesterol, and sugar content.
The rice is available in both 5 lbs and 10 lbs packages. Grab the one that suits your needs the best. You won't regret it!
Best white short grain rice: ROM AMERICA Sweet Sticky Glutinous Short Grain White Rice
Do you love Japanese desserts? If yes, I might have to stop you here because you might like to look at ROM AMERICA's sweet rice. 
Although grown in America, it has a perfectly traditional taste and texture.
Yup! This short-grain, traditional Japanese sticky rice has a delightful flavor, which is ideal for all your favorite traditional desserts.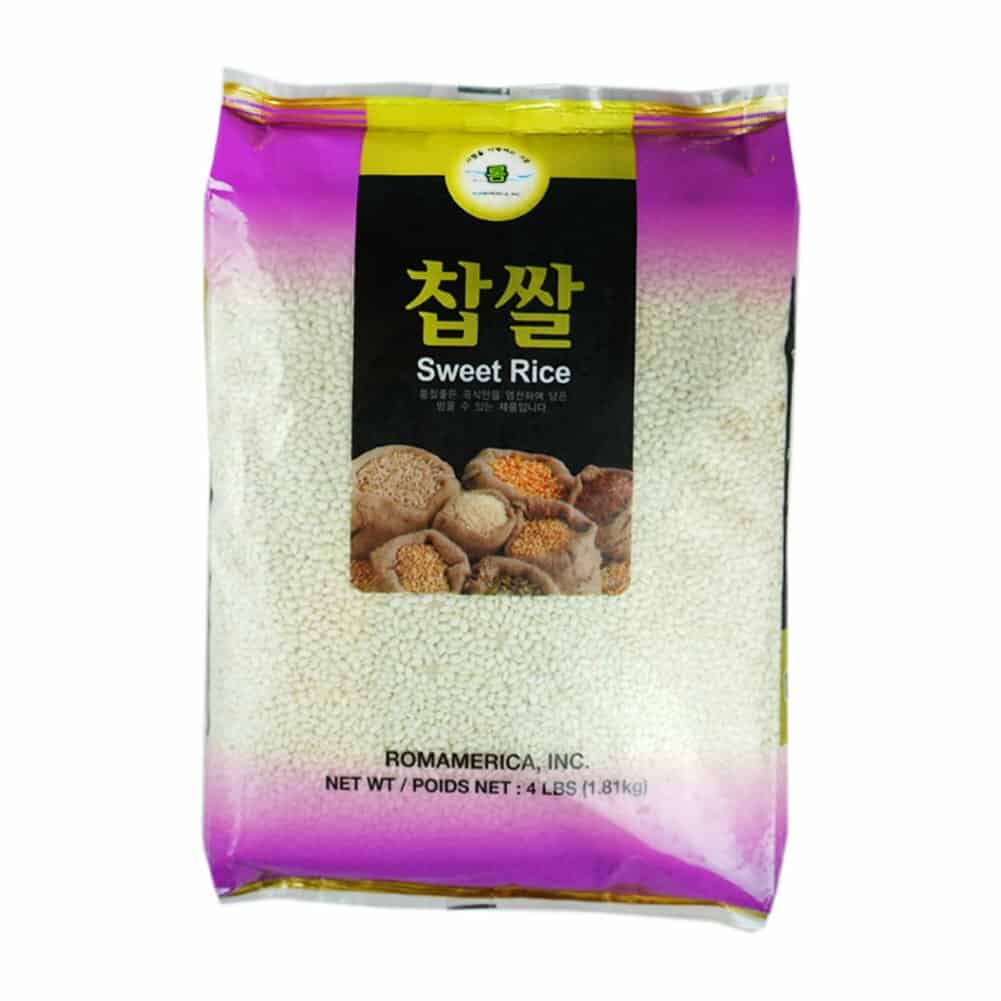 With these, you can make your all-time favorite (I mean, why not?) Japanese delicacy mochi, and a long list of other dishes, including puddings, tteok rice cake, Thai sweet mango sticky rice, etc. 
The only drawback is that you cannot use it for savory dishes.
If that's OK for you, then you aren't going to find any better alternative online in the white grain sticky rice variety, period!
Best brown short grain rice: ROM AMERICA Short Grain Glutinous Rice
Nutrient-packed, palatable, and versatile, brown rice is one of the most loved varieties of short-grain glutinous rice.
And when it's from a brand like ROM America, you know what you will get in the packet!
The rice is premium quality and has the most authentic taste, with the same distinct sweetness and nuttiness as any local variety.
Unlike the white variety that you can only use in sweet dishes, you can also use brown rice in savory dishes. 
The best part? It will taste as delicious!
This rice is much healthier and has more nutrients than any other glutinous rice variety, save the black ones.
You get all the extra fiber, antioxidants, and minerals needed for your body without compromising taste.
If you don't mind the nuttiness, brown rice is an excellent choice for everything, whether it's a healthy breakfast, an after-meal dessert, or your favorite Asian dishes.
Best long grain rice: Three Ladies Brand Sanpatong Sweet Rice
Want some authentic long-grain sticky glutinous rice experience? The Three Ladies Brand sweet rice is something you ought to try.
The brand is known for its superior quality and is loved by everyone who's into Asian and Thai food.
Unlike the Three Rings sticky rice, which has a mild flavor, this rice has a very defined sweet taste.
This makes it a great choice if you're into Thai desserts like Khao Neeo Mamuang and an excellent choice for savory dishes, thanks to all the fluffiness. 
The only thing that would make me think twice would be the price.
But who cares? You get to eat the most authentic Asian food on a fine weekend.
Best black rice: Three Ladies Black Glutinous Rice
If you have never used black glutinous rice before, it's time you get a pack.
Black rice is a powerhouse of nutrition, with much more protein than what you would get from ordinary glutinous rice.
Another thing that makes it unique is its distinct nuttiness that adds depth to the already fantastic taste of glutinous rice, making your dishes even more appetizing.
What's more, it's from the Three Ladies rice brand, so there are no questions about quality and authenticity.
It's simply an aesthetically beautiful bag of delightful goodness that tastes as great as it looks. No wonder why it held a special place in ancient Chinese culture. 
Best cooked rice: Annie Chun's Cooked White Sticky Rice
Sometimes, you don't have the energy to cook sticky rice; the soaking and cooking can alone take hours.
If not for those parts, most sticky rice dishes would take less than 10 minutes to prepare.
You can achieve that with Annie Chun's cooked rice and prepare a great dessert in no more than a few minutes.
The most effort you will have to put in is to get the rice in your microwave to warm it up, and voila! You have a delicious bowl of rice to enjoy.
Just so you know, Annie Chun's is a gourmet brand of pan-Asian foods dedicated to simplifying Asian recipes and taking the "mystery" out for everyone to enjoy these foods.
The rice sourced by Annie Chun's has a superior taste and quality, with zero fat and gluten content.
You can eat the rice on its own or make it into any of your favorite recipes.
Best organic rice: McCabe Organic Sweet Rice
When buying online, it's OK to be a little skeptical.
Though almost all the reputed brands source their rice from places with safe farming techniques, going for a name primarily known for its organic approach in the trade gives you much-needed assurance.
Having said that, McCabe is among the few certified organic food brands recognized by CCOF (California Certified Organic Farmers) and OCIA (Organic Crop Improvement Association).
The brand has a range of organic products, including sweet rice.
The enlisted pack contains a 70% concentration of sweet brown rice and a 30% concentration of sweet white rice.
Hence, you get a decent nutrient density and a unique mix of tastes from both varieties, making it suitable for both sweet and savory dishes.
My only concern about this rice would be the price point.
Although the quality is pretty decent, the pack sometimes contains powder, possibly due to the pressing process. If you don't mind that, you will love this rice.
Best non-GMO sticky rice: RiceSelect Sweet Sticky Rice
Although GMO foods haven't been proven to be responsible for significant health risks, it's always helpful to stay on the safe side when it comes to your and your family's health.
If you are one of the individuals who take GMOs seriously, you would like to get your rice from RiceSelect.
RiceSelect is among the few popular non-GMO project-verified brands in the American rice manufacturing industry and is extremely serious regarding food quality.
Their sticky rice is also certified as Kosher and gluten-free.
Cooking the rice is also super easy and doesn't require much effort. Just make sure to soak it before steaming or boiling it.
The rice has a balanced texture and taste, which is ideal for desserts. You can also eat it with sushi if you like. 
FAQs
What is unique about glutinous rice?
Glutinous rice is known for its unique, sticky texture after cooking. This is due to the high amount of amylopectin found in it.
There's also a common misconception that glutinous rice contains gluten. However, the name is given to the rice due to its sticky nature and has nothing to do with its composition.
How long can you keep glutinous rice?
Under suitable conditions, you can keep uncooked glutinous rice for as long as possible.
But remember that its quality will deteriorate over time, and cooking will become more time-consuming.
As for cooked rice, you would like to consume it within 3-5 days when refrigerated and 2 months when frozen.
Do you need to wash glutinous rice?
Like any other rice, glutinous rice needs to be soaked and appropriately rinsed before cooking. It ensures the rice is clean and maintains its unique texture once cooked.
Are there any health benefits of glutinous rice?
Sticky rice is associated with several health benefits, including improved digestion, stronger bones, and improved heart health.
Moreover, Sweet rice also helps boost metabolism, maintaining your health in its best possible condition.
Is sticky rice healthier than regular rice?
No, sticky rice has a weaker nutritional profile compared to regular rice.
This is because of the high starch content found inside, which, although it gives it a unique sticky texture, also lessens the other nutrients.
Conclusion
Though glutinous or sweet rice might all seem the same, there's a huge difference in quality when we move from brand to brand.
From origin to growing methods and even handling at the time of packing, everything matters as you look for the perfect pack of rice.
While many brands are supplying Japanese and Thai glutinous rice to consumers, only a few are at the top of the game.
And those are the names me, you and any Asian food lover can choose without a second thought.
In this article, I have enlisted all those brands I trust and have even tried.
All have top-notch quality, just the right taste to appetize your favorite dishes, and very reasonable prices for what you get in the pack.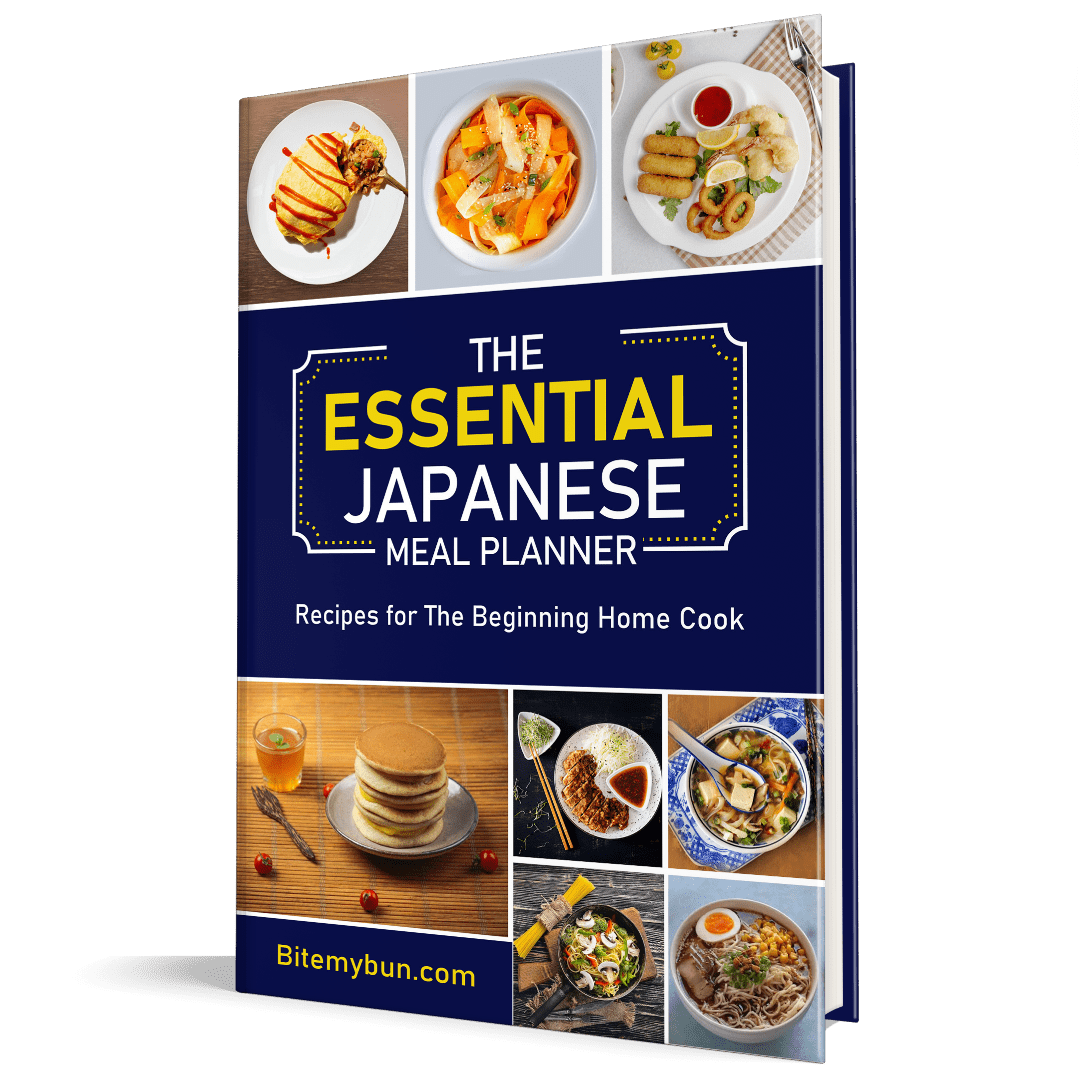 Check out our new cookbook
Bitemybun's family recipes with complete meal planner and recipe guide.
Try it out for free with Kindle Unlimited:
Read for free
Joost Nusselder, the founder of Bite My Bun is a content marketer, dad and loves trying out new food with Japanese food at the heart of his passion, and together with his team he's been creating in-depth blog articles since 2016 to help loyal readers with recipes and cooking tips.