Best Japanese Cookbooks | 23 must-reads from Sushi to Bento
I love creating free content full of tips for my readers, you. I don't accept paid sponsorships, my opinion is my own, but if you find my recommendations helpful and you end up buying something you like through one of my links, I could earn a commission at no extra cost to you.
Learn more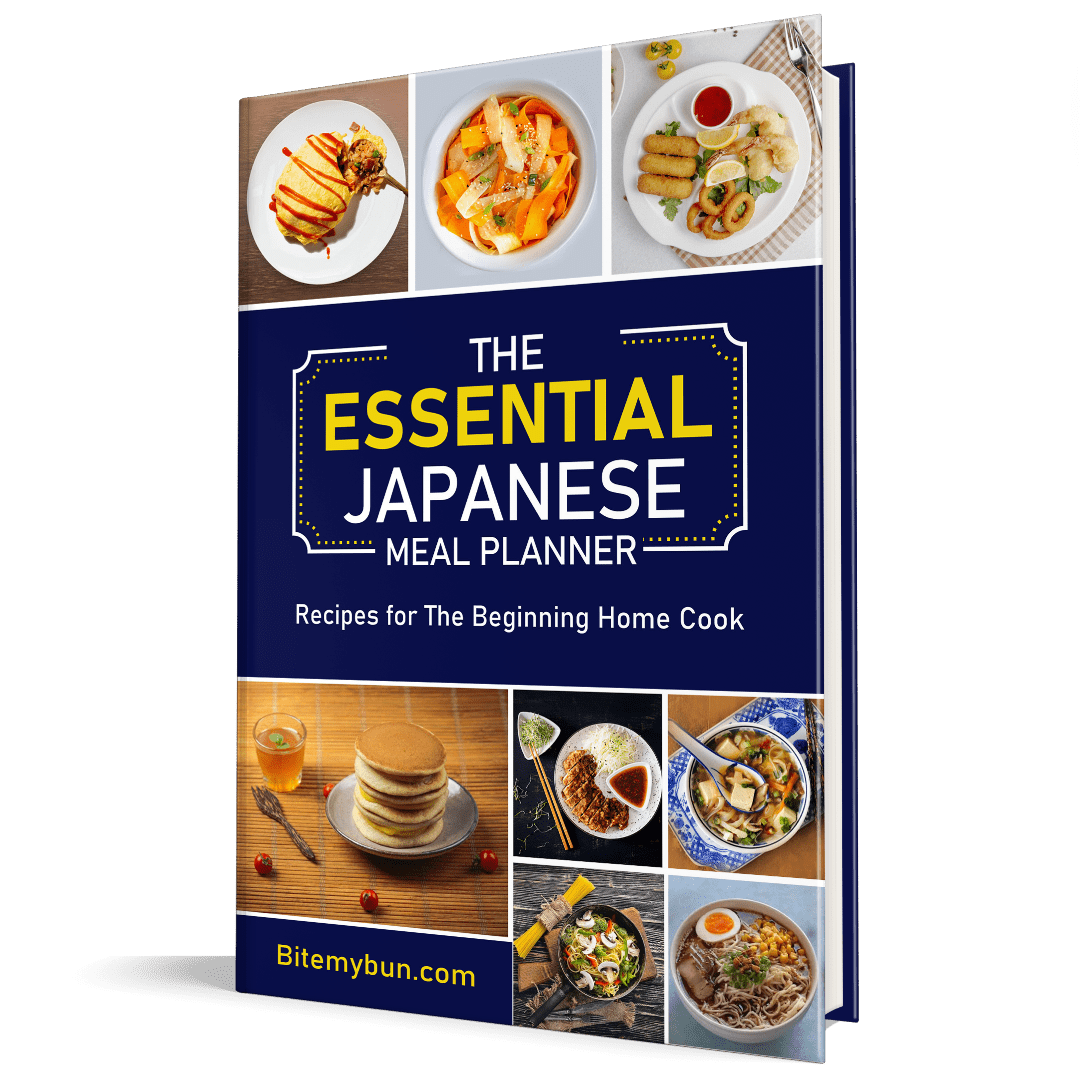 Check out our new cookbook
Bitemybun's family recipes with complete meal planner and recipe guide.
Try it out for free with Kindle Unlimited:
Read for free
If you've ever been to the Land of the Rising Sun (Japan), then you definitely will have a memorable experience!
Among the many things that will appeal to your memory includes the politeness and unrivaled sense of respect that the Japanese people show towards one another as well as foreign visitors.
Then there are also the great cities and scenic sights, the weird modern Japanese way of life, bullet trains, anime and of course, Japanese food.
10 Tips to Save a Bundle on Asian Ingredients!
Introducing our brand new FREE PDF guide: "Saving Secrets: Unveiling the Art of Saving Money on Asian Ingredients" It's your first newsletter email, so start saving today! 📚🧧
We'll only use your email address for our newsletter and respect your privacy
The Inevitable Longing
There is no denying it! Once your Japan vacation is over and you're back in your home country, you will miss some of the things that you've experienced in that Asian country – especially the food.
Speaking of which, have you thought to yourself that you might actually want to learn how to cook ramen or teriyaki or chicken yakitori?
Well to tell you the truth you aren't the only one reminiscing their Japanese escapade, and yes, there is actually a way to learn how to cook genuine Japanese cuisines.
The trick is to find authentic Japanese cookbooks from real life Japanese chefs.
Finding the Right Books
Fast food-style ramen bars and sushi joints are popping up all over the world as food junkies are obsessing over the health benefits associated with Japanese cooking.
But real Japanese food enthusiasts know that authentic Japanese cooking is more than just raw fish, sticky rice, various noodle types, and stir-fry vegetables.
So if you want to learn how to cook authentic Japanese foods like gyoza and tonkatsu, then keep reading because we will feature several rare authentic Japanese cookbooks in this article.
Of course, one could argue that there's plenty of Japanese cookbooks (e-books) that can be downloaded paid or for free easily.
However, not all of them may not contain authentic Japanese recipes, in fact, it is very likely that most of them are just a compilation of hit or miss cooking instructions by wanna-be chefs.
Authentic Japanese cookbooks are intricately written with every detail that you would expect from the chef down to the last letter of the cooking directions.
Great Japanese Cookbooks that You Should Own
If you want to truly prepare and serve authentic Japanese food to your guests (whoever they may be), then stop beating around the bushes and pick up a couple of these books mentioned below!
They contain traditional Japanese recipes with cooking instructions in detail that carries the true Japanese spirit.
So go ahead and read through our list of Japanese cookbooks and be on your way to become your very own Japanese chef and impress your guests with your cooking.
Each of these have their own unique experience from traditional home made recipes to desserts:
Japanese Cooking by Shizuo Tsuji
Sometimes the best sources of information are not found in recent times but are provided by those who have gone before us.
Published in 1980 Shizuo Tsuji's Japanese Cooking has long been the staple among Japanese cooking enthusiasts.
Tsuji's book is known for having the most informative foreword that describes different traditional ingredients, kitchen tools and cooking techniques in great detail, and is often considered as the "Bible" of Japanese cooking by many chefs and food experts.
The author emphasized the importance of color, texture and artful presentation in preparing Japanese food.
Tsuji also included 130 recipes for you to choose from that are simple and easy to prepare yet tastes great!
Where to buy: Japanese Cooking by Shizuo Tsuji – Amazon
Everyday Harumi by Harumi Kurihara
Japan's most famous cookbook writer, Harumi Kurihara, has intricately written a cookbook containing 70 of her hand-picked new home-style recipes for you to make for family and friends.
Among the best, yet very easy to prepare Japanese cuisines she showcased in her new book includes deep-fried scallops with mozzarella, steak in a miso marinade, three toppings rice and simmered pork in crepes.
Harumi Kurihara's goal when writing her book was to give ordinary folks and budding chefs that may not necessarily live in Asia the opportunity to learn about Japanese cooking techniques in a home-style fashion.
You will find Harumi's favorite ingredients in this book very satisfying which include recipes for soups, starters, snacks, party dishes, main courses and family feasts that are quick and simple to prepare.
Where to buy: Everyday Harumi by Harumi Kurihara – Amazon
Japanese Soul Cooking by Tadashi Ono & Harris Salat
The collaboration of Japanese chef and writer, Tadashi Ono and amateur chef and longtime reporter from America, Harris Salat, produced a well-crafted cookbook called, the Japanese Soul Cooking!
Salat was the one that convinced Ono to co-author the book as the latter is an expert in Japanese cuisines (one that especially rarely shown to foreigners which are basically Japanese comfort foods), while the former is a seasoned writer/reporter and he thought that people ought to know that there's more to Japanese food than sushi.
The book features 100 lesser known recipes from Japan described in a detailed step-by-step photo story.
Check out how to make your own perfect food photos for social media here
You will learn how to cook the gyoza, curry, tonkatsu, furai, chahan fried rice, and wafu pasta and make it a staple in your kitchen just like sushi, ramen, and yakitori.
Where to buy: Japanese Soul Cooking by Tadashi Ono & Harris Salat – Amazon
Sushi: Taste and Technique by Kimiko Barber and Hiroki Takemura
I think it's safe to say that a lot of you must have at least heard the term "sushi" in their lifetimes and know that it is a type of Japanese food, right?
Well, that information is only partially right, because to an average Japanese, sushi is actually an art form.
Sushi: Taste and Technique is sort of like a compendium of how to learn and master the art of making sushi and is also considered as the quintessential book for any sushi lover.
Learn about the history of sushi in this book as well as using the right equipment and finding the freshest ingredients to create that perfect sushi roll, makizushi, vegetarian variation, and many other sushi recipes.
Where to buy: Sushi Taste and Technique by Kimiko Barber and Hiroki Takemura – Amazon
Japanese Farm Food by Nancy Singleton Hachisu
A passionately written book about Japanese rural lifestyle as seen from the eyes of an American gaijin (foreigner) by the name of Nancy Singleton Hachisu.
Nancy lives with her husband, Tadaaki Hachisu and teenage sons in a farm which has been the property of the Hachisu family for almost a century now.
After spending 25 years of mastering home-cooked dishes that are mostly unknown to the outside world, the couple published their collection of delicious farm fresh recipes.
The couple developed and wrote about 165 bright, seasonal dishes with over 350 stunning photographs by Kenji Miura.
This is a great Japanese cookbook if you want to try other Japanese dishes that are not commonly known to many people.
Where to buy: Japanese Farm Food by Nancy Singleton Hachisu – Amazon
The Just Bento Cookbook by Makiko Itoh
You remember those colorful and cartoony lunchboxes that your mom gave you when you were a child going to school, right?
Well, the Japanese bento is just like that – a lunchbox – but with a healthier food prepared in it!
If you fancy on munching on healthy food minus the expensive menus in restaurants or junk food in fast food stores, then you definitely should try taking a bento to work or your college.
Learn how to prepare bento lunchboxes with over 150 recipes with every bento photographed in full color.
Aside from the great collection of bento recipes this book also teaches you how to prepare bentos in the most efficient manner, so you won't be late for school or work making them.
Where to buy: The Just Bento Cookbook by Makiko Itoh – Amazon
Ivan Ramen by Ivan Orkin
Talk about overcoming great odds! Jewish-American Ivan Orkin did just that when he went to Japan to set up a ramen shop.
What chances does a gaijin foreigner have against the flood of opinions from Japanese citizens who are very critical about their ramen?
Well, apparently he had more than enough opportunities to sway public opinion about his version of their ramen and he even got his own TV show to prove it!
Ivan became a Japanese icon overnight and today he even has his own brand of instant ramen with his face on it.
Learn more about Ivan's incredible journey in this cookbook and be inspired to live your dreams as well.
Where to buy: Ivan Ramen by Ivan Orkin
Takashi's Noodles by Takashi Yagihashi
The 2017 James Beard Award recipient for best chef, Takashi Yagihashi takes Japanese noodle craft to a whole new level.
Combining traditional Japanese influences, French technique, plus his 20+ years of cooking in the American Midwest, Yagihashi introduces ordinary Americans to essential Japanese comfort food with his simple yet sophisticated recipes.
His notably inspiring recipes such as the corned beef with rice noodles chilled, stuffed chicken wings, and crab and shrimp ramen salad are among the best in this book.
This Japanese cookbook will make you fall in love with noodles like you never knew you needed it.
Where to buy: Takashis Noodles by Takashi Yagihashi – Amazon
Momofuku by David Chang
If you're familiar with our history, then you would know that when different cultures of the world meet, a new sub-culture is bound to happen.
Sometimes they retain their identities and refuse to assimilate, and so what is created instead is an amalgamation of trade goods and food.
New food recipes came about when the Silk Road was established since 3,500 years ago; however, in the modern times crafty chef, David Chang, accomplished something new by combining American, Japanese, Korean and Chinese recipes and cooking techniques.
Restaurants in New York City like the Momofuku Noodle Bar, Ssäm Bar, Ko, and Milk Bar uses David Chang's Momofuku cooking style.
Learn about a diverse culture and the culinary arts that are associated with it in this great Japanese cookbook!
Where to buy: Momofuku by David Chang – Amazon
Nanban: Japanese Soul Food by Tim Anderson
The Englishman and winner of the 2011 UK's Masterchef show, Tim Anderson, has been riding his culinary success for almost 10 years now, and his new book Naban: Japanese Soul Food says it all.
The book bears the same restaurant name that he set up in London not so long ago offers lots of interesting things to eat.
This includes meltingly soft pork belly buns, gyoza full of umami and spice, and a bowl of ramen overflowing with toppings and texture and flavor.
You can learn how to cook those mouth-watering recipes from his amazing cookbook, and since he's accustomed to the ways of the Japanese, he's successfully translated all the necessary stuff so you won't have to struggle with the language barriers.
Where to buy: Nanban: Japanese Soul Food by Tim Anderson – Amazon
Washoku: Recipes from the Japanese Home Kitchen by Elizabeth Andoh
Elizabeth Andoh is recognized as the leading English-language authority on the subject of Washoku recipes and cooking.
Being a graduate of the Yanagihara School of Classical Cuisine in Tokyo she had the perfect opportunity to write about the subject back in 1975 for Gourmet Magazine.
According to the Milwaukee Journal Sentinel, this book was written for Japanese food enthusiasts and amateur chefs.
If you find yourself bored with the usual cuisines, then you may want to try soup recipes, rice dishes, noodles, meat, poultry, seafood, and desserts that are found in this Japanese cookbook.
Where to buy: Washoku Recipes from the Japanese Home Kitchen by Elizabeth Andoh
Japan: The Cookbook
Nancy Singleton Hachisu is back with her second book Japan: The Cookbook where she adds another 400 recipes for home cooking.
Like her other book Japanese Farm Food, this has detailed recipes and instructions as well as stunning imagery and helpful notes to coincide with the more complex recipes.
With over 400 unique recipes in this book, you can be assured that she pretty much covered every cuisine that is common and uncommon to most people, especially those who are new to Japanese food.
You will find simple and complex recipes about soups, noodles, rice dishes, pickles, one-pots, vegetables, and sweets for you to sample throughout this book.
Where to buy: Japan The Cookbook – Amazon
Donabe: Classic and Modern Japanese Clay Pot Cooking by Naoko Takei Moore and Kyle Connaughton
Japanese clay pot cooking or donabe in their native tongue is all sorts of delicious, especially if you'll read about the incredible recipes from this cookbook.
Naoko Takei Moore who is a cooking school instructor and Chef Kyle Connaughton collaborated to create this book and wrote down their best donabe recipes in it.
Recipes such as the sizzling tofu and mushroom in miso sauce and the dashi-rich shabu-shabu are just some of the few examples of exuberant donabe dishes.
They also included some California-inspired cuisines like the smoked duck breast with creamy wasabi–green onion dipping sauce, steam-fried black cod with crisp potatoes, leeks, and walnut-nori pesto, and many more.
Donabe recipes from luminary chefs such as David Kinch, Namae Shinobu, and Cortney Burns and Nick Balla were also featured in this cookbook.
Where to buy: Donabe Classic and Modern Japanese Clay Pot Cooking by Naoko Takei Moore and Kyle Connaughton
Japanese Cooking: Contemporary & Traditional (Simple, Delicious, and Vegan) by Miyoko Nishimoto Schinner
Miyoko Nishimoto Schinner an expert in Japanese and vegetarian food creates a cookbook detailing the traditional dishes that can only be found in the Kyushu and Hokkaido regions of Japan.
Being a vegetarian herself she draws inspiration from a vegetarian tradition among Buddhist monks where she often visits to pray in their temples and to participate in festivals.
Her genius in preparing cuisines that are usually incorporated with meat, but she now replaced with her own version of legume-based dishes is unbelievable!
You get the same exact taste (some claim her recipes are even better), yet there is no meat in it. Just tofu, seitan, and other vegetarian foods that are quite delicious even for the skeptics.
Where to buy: Japanese Cooking Contemporary Traditional by Miyoko Nishimoto Schinner
Japanese Women Don't Get Old or Fat: Secrets of My Mother's Tokyo Kitchen by Naomi Moriyama
Scientists and esoteric teachers agree that we humans have a symbiotic relationship with Earth and you can observe this fact by looking into the food preferences of people and how it affects their lives.
Or better yet, you can skip all that and just read Naomi Moriyama's Japanese cookbook and realize the secret behind the long and healthy lifestyles of Japanese women.
Her book embodies the perfect union of nature and culinary wisdom – Japanese home-style cooking.
If you've had enough of all those diet plans and workout routines that don't seem to work, then it's time to discover one of the best-kept and most delicious secrets for a healthier, slimmer, and long-living lifestyle.
Where to buy: Japanese Women Dont Get Old or Fat Secrets of My Mothers Tokyo Kitchen by Naomi Moriyama
Kyotofu: Uniquely Delicious Japanese Desserts by Nicole Bermensolo
Here is another example of cross culture synthesis that produces an outcome of great culinary delight.
Nicole Bermensolo who is a magna cum laude from Georgetown University and was also studying business administration in Sophia University (Jochi Daigaku) under the scholarship from the Japanese Ministry of Education shifted her focus on doing bakery and pastries.
This landed her an award for being the best baker in 2018 from the Baking Industry Awards right after she created her unique café house, Kyotofu which bears the same name of her book.
Try her rare recipes like nashi pear crumble, kinako waffles, black sesame caramel mousse, and green tea white chocolate cupcakes.
Where to buy: Kyotofu Uniquely Delicious Japanese Desserts by Nicole Bermensolo – Amazon
Let's Cook Japanese Food: Everyday Recipes for Authentic Dishes by Amy Kaneko
Amy Kaneko an average American woman who fell in love with Japan and its delicious cuisines when she first visits the Asian country.
So much so that she even wrote 3 Japanese cookbooks which she showcased 70 of her favorite recipes in this book alone.
The recipes are surprisingly easy to prepare and with the accompanying beautifully captured images, anyone can prepare these recipes in no time.
I highly recommend her best recipes tonkatsu, onigiri, daikon, miso, and wasabi. You'll have a wonderful time in the kitchen while preparing and sampling them.
Where to buy: Lets Cook Japanese Food Everyday Recipes for Authentic Dishes by Amy Kaneko – Amazon
Morimoto: The New Art of Japanese Cooking by Masaharu Morimoto
In Masaharu Morimoto's own words he describes his cooking as "global cooking for the 21st century."
Big words for a big culinary star in Fuji Television's hit TV series Iron Chef, but then again he has all the right to make such claims as his recipes are second to none.
Morimoto's inspiration is yet another example of cultural amalgamation that creates a new style of cooking.
The mixing of traditional Chinese spices and simple Italian ingredients presented in a refined French style serving makes for an appetizing cuisine every time.
Morimoto's unique cuisine is characterized by beautiful Japanese color combinations and aromas, which he improves even more when mixing ingredients that are borrowed from other countries' traditional dishes.
Where to buy: Morimoto The New Art of Japanese Cooking by Masaharu Morimoto – Amazon
Okinawa Diet: Recipe Book, Cookbook, Companion Guide by Wade Migan
Wade Migan capitalizes on his rich knowledge about the Okinawa Diet and was able to compile 50 great recipes in a book of the same name.
Okinawa recipes comprises of four categories, namely:
Featherweight
Lightweight
Middleweight
Heavyweight
The recipes in the book are based on these dietary categories and as their names suggest, you are recommended to choose the right category for your BMI (body mass index) in order to get the maximum amount of nutrients from your diet.
Learn more about Migan's Japanese cookbook as well as other books written under his name in Goodreads.
Where to buy: Okinawa Diet Recipe Book Cookbook Companion Guide
The Complete Guide to Sushi and Sashimi: Includes 625 Step-By-Step Recipes and Photographs by Jeffrey Elliot and Robby Cook
Learn everything there is to know about sushi, sashimi, and knives from two of the leading experts in North America, chefs Jeffrey Elliot and Robby Cook.
Sushi, hirame, maki, sashimi, tai, nigiri, oshizushi, tako and a whole lot more palatable Japanese cuisines are among the 625 recipes with over 500 stunning photographs that accompany them.
You will never get this much information from any other authentic Japanese cookbook like you'll get them here!
Plus there a ton of other seafood recipes that are not commonly found in any restaurant menus.
You'll see an overhaul in your kitchen once you start to practice cooking recipes from this cookbook.
Where to buy: The Complete Guide to Sushi and Sashimi Includes 625 Step-By-Step Recipes and Photographs by Jeffrey Elliot and Robby Cook
Also read my post on what not to do when eating Japanese food
The Decorative Art of Japanese Food Carving: Elegant Garnishes for All Occasions by Hiroshi Nagashima
Hiroshi Nagashima fully captivates the essence of the decorative art of Japanese food carving and he'll completely mesmerize you with his food art in this book!
The decorative garnishes and carvings called "mukimono" that adds the final flourish to a dish may come in the shape of a carrot disc, or plumb blossom.
Included in his book are 60 edible garnishes and food carvings for home dining, party foods for large crowds or professional celebrations and occasions.
There are dozens of carving designs and garnishes to delight the eye and the palate with its shape, color, and taste.
Buy this book and impress your friends and family with your Japanese food garnishes and decorative food carvings.
Where to buy: The Decorative Art of Japanese Food Carving Elegant Garnishes for All Occasions by Hiroshi Nagashima – Amazon
The Japanese Kitchen: 250 Recipes in a Traditional Spirit by Hiroko Shimbo
No other Japanese cookbook encompasses a wide range of traditional Japanese cuisines like Hiroko Shimbo's The Japanese Kitchen.
This is, by all measure, a must-have book for both aficionados and home cooks eager to learn more about Japanese cuisine.
Shimbo neatly wrote her book so that the first parts of it contain gives almost a cooking school lesson about Japanese ingredients, cooking methods, and implements, as well as rich advice on how to find alternative ingredients and shortcut techniques.
She also included all the essential recipes for sauces, stocks, dressings, and relishes, as well as rice and noodle recipes.
From her recipes and cooking instructions you can actually get creative and create a completely new Japanese recipe, and who knows? Even Japanese critics might actually like it too!
On the latter parts of the book she goes extravagant and doesn't hold back, and you will find that she's prepared a stunning feast of Japanese dishes that will absolutely blow you away!
Where to buy: The Japanese Kitchen 250 Recipes in a Traditional Spirit by Hiroko Shimbo – Amazon
Check out these as well: 2 delicious recipes with Japanese sweet potato
Izakaya: The Japanese Pub Cookbook
An izakaya is a type of informal Japanese pub. They are casual places for after-work drinking.
The New York Times claims that these izakayas are outperforming sushi bars, especially in downtown Tokyo, but that is still up for debate.
Regardless of what you believe one thing is for sure, Mark Robinson and Masashi Kuma have introduced us to the world of this newly established phenomenon in Japan.
Robinson also wrote instructions and tips on how you can set up your own izakaya pub whether in Japan or your home country and how to successfully run it.
He specifically mentioned 8 izakaya pubs in Tokyo that are quite famous and where people often hang out after work for some great food and drinks.
Where to buy: Izakaya The Japanese Pub Cookbook
The Japanese Considers Cooking as a Divine Form of Art
Japan has a level of obsession when it comes to food that's unlike anywhere else in the world.
To an average Japanese person, food is like running a business and they tend to be extremely meticulous when preparing, presenting, eating and especially appreciating it.
Some foodie fanatics go as far as considering the art of cooking as an offering to their Shinto gods that's why they feel they have to give it their 100% effort in preparing it.
It's no wonder why UNESCO included the "Washoku", traditional Japanese cuisine back in 2013, to its Intangible Cultural Heritage list to preserve this way of eating.
The Washoku is the only other national recipe honored by UNESCO after French cuisines.
Why Japanese food?
As I've stated earlier the Japanese consider food preparation sacred, which is why they tend to be meticulous in preparing and presenting it.
While we think of only four annual seasons, Japanese chefs consider dozens of seasons and carefully select ingredients that are in their prime with flavors that represent that specific period.
In a way chefs help, eaters connect with the past seasons from previous years that can go way back to decades or even centuries (if you're non-Japanese, then you may have to ask the chef the specific season that links the food he prepared).
Unlike other cooking styles, Japanese chefs try to season the food as little as possible in order to bring out its natural flavor and color.
A lot of Japanese cuisines are seared, boiled or eaten raw and minimally seasoned.
Also read: these are the 7 kinds of Japanese noodles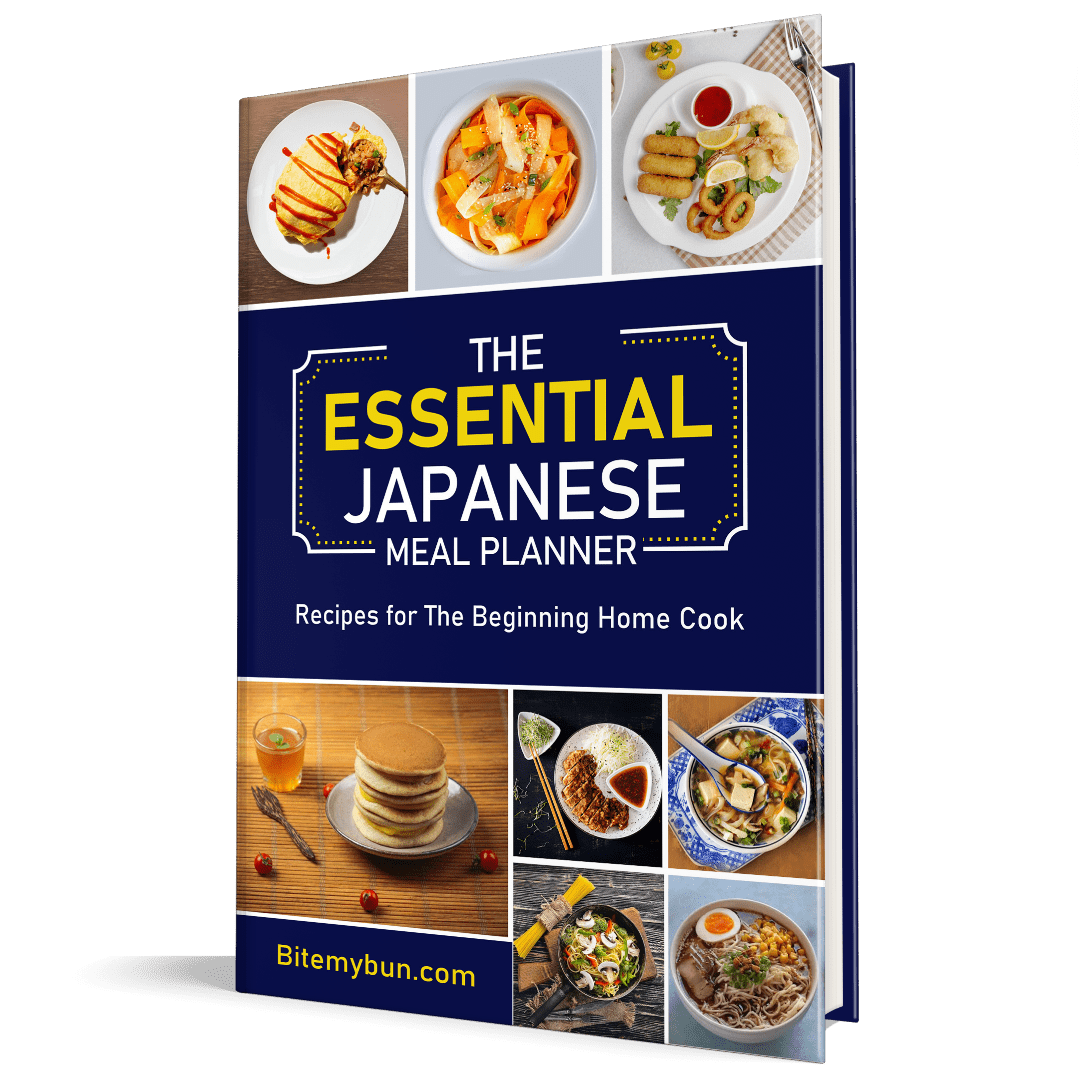 Check out our new cookbook
Bitemybun's family recipes with complete meal planner and recipe guide.
Try it out for free with Kindle Unlimited:
Read for free
Joost Nusselder, the founder of Bite My Bun is a content marketer, dad and loves trying out new food with Japanese food at the heart of his passion, and together with his team he's been creating in-depth blog articles since 2016 to help loyal readers with recipes and cooking tips.