I love creating free content full of tips for my readers, you. I don't accept paid sponsorships, my opinion is my own, but if you find my recommendations helpful and you end up buying something you like through one of my links, I could earn a commission at no extra cost to you.
Learn more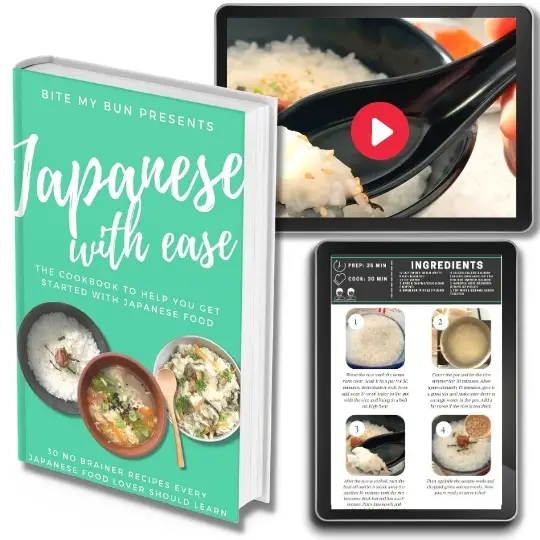 Ever had trouble finding Japanese recipes that were easy to make?
We now have "cooking Japanese with ease", our full recipe book and video course with step-by-step tutorials on your favorite recipes.
As a chef or cooking enthusiast, you know that your knives are your tools of the trade. So, you need to have your own knife roll or chef knife bag with your best blades handy.
A professional Japanese chef will have their own knives because you never know when you'll need them, especially when traveling or cooking at other restaurants. Not all kitchens own the same knives, so you need the ones that work best for you.
A knife roll is a special knife holder that folds into a compact roll so you can carry knives safely.
How else can you carry your knives with you without one? It's a discreet but, most importantly, safe way to carry knives around.
When you're traveling for a job or taking your knives to the restaurant, you can count on the strong cotton Yoshihiro knife roll. It safely holds up to 6 of your best knives so you can always have the ones you need at your fingertips.
I'm going to review the best knife rolls to store and carry your favorite Japanese knives.
So, if you need to cook up a quick meal, you can cut meat and vegetables without using someone else's dull blade.
Japanese knife roll buyer's Guide
There are several important features that you have to consider when shopping for a knife roll. There's nothing worse than buying one, only to discover that it's too small or that the material doesn't offer enough protection.
This buying guide is going to make your search for the best bag easier.
Number of knife slots
This is the most important aspect of a knife roll – how many knives can you place in it?
Think about the minimum number of knives you need to have with you. Your knife rolls should have at least 5 slots for a basic knife selection.
The ones like Dalstrong's 22-knife slot case are better if you have a huge collection and you know you'll be doing some serious cooking. If you cook at restaurants with diverse menus, you might need up to 10 different knives at once!
Don't forget about additional slots or zipper compartments for some other tools you might need besides the knives.
Also read: THE 13 essential accessories & tools you need for Teppanyaki
Size
Not all knife rolls are the same length and you might come to realize that your large 18-inch knife just doesn't fit.
So, while most rolls are made to fit most knives, there are special cases where you carry large butcher knives which require more space.
Material
Good materials are usually more expensive and for good reason.
You have two options when it comes to knife rolls: a soft cotton material that is not designed to be wear and tear-proof in all circumstances and then you've got the tear and abrasion-proof tough materials that you can't really destroy as you travel.
Depending on your needs you'll choose lightweight cotton or strong synthetic material. Regardless, look for durable, tear-proof materials that can stand the test of time and are also easy to wash and clean.
Keep in mind that Japanese knives are extremely sharp so you need a good bag that won't get pierced through or slashed because that poses a safety risk.
Portability
Think about how easy or not a knife roll is to carry. Some are more lightweight to carry and thus won't strain your back.
Then, consider the straps which should be adjustable so you can carry the knife roll in your hand, on your shoulder or cross-body.
Design
Look at the carrying straps, the safety straps, zippers, and extra pockets or pouches. If you need to carry more than just knives, extra pockets are very handy.
Zippers are easy to use but might get ruined over time.
Then, look at the aesthetics of the case and the design, and color. Does it look nice? Does it look too cheap?
Best Japanese knife rolls reviewed
Ever since Japanese knife rolls have become popular, people are constantly opting for these well-designed models. Let's look at the best ones from Amazon.
Best overall Japanese knife roll: Yoshihiro Cotton Knife Pouch
Japan not only makes some of the best kitchen knives but the best accessories too.
With 6 knife slots, the Yoshihiro is a great travel-friendly knife roll. It fits all kinds of knives, including Japanese knives such as santoku, nakiri, honesuki, and more.
Cotton is one of the most common types of knife roll materials because it's delicate and doesn't ruin the blades.
This type of pouch is mid-priced, but it is made in Japan, so you can count on the quality. The slots are pretty spacious, so you can even fit a cleaver like nakiri.
What I like about this cotton knife rolls is that it protects the knives from rust, dust, and scratches. This is important since I know how expensive some knives are.
For extra protection, the roll also has a safety strap that prevents the knives from falling out.
Best budget Japanese knife roll: Asaya Canvas Chef Knife Roll Bag
You won't believe this knife roll is actually budget-friendly when you see that it's made out of a thick ultra-strong canvas. It looks elegant and much more expensive than it really is.
I'm not surprised many chefs and customers around the world choose this Asaya knife roll. It is very spacious with 10 slots for your top ten knives so you can approach any cutting task.
Although it's a lightweight case that only weighs 2 lbs, it can hold up to 20lbs of knives.
This is the kind of portable product that you'll take with you everywhere you go because it also has an adjustable shoulder strap for maximum carrying comfort.
The Asaya also has a handy zipper pocket so you can squeeze in some extra kitchen tools and utensils like your best Japanese kitchen scissors.
According to customer reviews, this bag is very durable and holds everything tightly in place without loosening up.
Yoshihiro vs Asaya
The first obvious difference between these two knife rolls is that the first only holds 6 knives and the second holds up to 10.
But, considering the Asaya is an affordable product, it offers more space than the Yoshihiro and some of you may choose it because you want to travel with more knives.
When it comes to customer rating, the Yoshihiro is one of Japan's best knife roll manufacturers and their materials are outstanding so these products get a big thumbs up from us.
The cotton material is light, easy to clean, and acts as a gentle protective cover.
Asaya is made of synthetic material but it has nice look that imitates a brown leather knife roll. The material kind of feels like denim to the touch but it's not.
Both of these knife rolls do a good job at storing and protecting the knives from damage and keep them locked in safely.
It depends on your budget – if you want to impress, a traditional made-in-Japan Yoshihiro knife roll is the nicer option.
But, if you just care about utility and functionality, the Asaya is a great bargain.
Best small Japanese knife roll: Tojiro Canvas Knife Pocket
Not every chef wants to take a whole variety of knives on the go. If you want to continue working with only your best knives and don't want to take too many, then this 5 slot Tojiro Canvas case will surely please.
It's a beautiful off-white canvas that ties together with a strap. This is the type of delicate knife rolls that's lightweight and designed for easy portability.
After all quality trumps quantity and 5 sharp, precise knives are better than a host of mediocre ones.
I wouldn't recommend this as the strong travel knife roll that can withstand any wear and tear, but it's perfect for short trips and simply storing your favorite knives at home or at the restaurant.
Since not everyone needs large and bulky cases, this one is perfect. Just make sure that you cover the tip of your knives to avoid damaging the canvas material.
If you want the ultimate durable knife roll, you can't go wrong with Dalstrong's Ballistic series.
It's got 22 slots, which is enough space for a full arsenal of the best Japanese knives you can find. This is the type of knife roll any professional chef will appreciate.
People praise how tough this material is – you can travel with the knives and you can be sure there will be no damage since the knives are so well protected.
Each individual slot has a velcro adjustable strap that offers your blade some extra protection. But since there are not one but three interior layers, the knives won't poke through this case, that's for sure.
Thus, it's excellent for traveling and you can surely take this case with you in your luggage and still feel like your knives are safe.
There is also an exterior pocket where you can store extra accessories and other zipper pockets inside to store a whetstone and grater.
Honestly, this is the kind of case fit for your entire knife collection.
Tojiro vs Dalstrong
The Tojiro knife roll is best for a small number of knives while the Dalstrong is the ultimate product when it comes to the number of slots.
It depends – do you take all your knives or only a select few with you?
It probably depends on the type of chef you are. If you specialize in sushi, for example, the small Tojiro roll might be enough.
But you may need a whole host of blades if you're cooking up a complete menu for guests.
If you can spare the extra cost, I highly recommend the premium Dalstrong knife case because it's extremely durable. It's also travel-friendly, easy to carry in any position offers lots of protection against tears and damage.
But, if you like a simple, minimalist, and traditional type of knife holder, you can make do with the affordable Tojiro knife roll.
Japanese knife roll FAQs
What is a knife roll?
Knife rolls are storage systems for your knives. After all, knives are precious and often really costly, so they must be kept safe.
It is called a roll because once the knives are placed in their respective slots, the case rolls up and becomes a compact storage system.
Knife rolls are made out of heavy-duty materials that can withstand the sharp blades and thus they prevent the blades from cutting you while protecting the knives from damage.
Each knife roll has a certain number of slots where you place different-sized knives. Then, the roll also has some straps that you use to carry it.
What should be in my knife roll?
It depends on your level of experience. If you are an amateur cook or chef, you might not have a huge knife collection just yet.
But, if you've got many years of experience, you might be carrying 20 knives with you for a job. As you become an expert on knives and learn, you will be able to curate your selection.
The most basic knife is the chef's knife and it's the staple for your knife roll. Then, you can add whatever else you think can help you cut faster and more efficiently.
Some of the Japanese knives you use most often:
chef's knife (all-purpose)
santoku for meat, veggies, and precise cuts
paring knife for peeling and slicing fruit and smaller vegetables
prep knife for slicing everything, including meat, vegetables, cheese
Deba knife for fish and seafood
Watch this video for a run-down of Japanese knives and how to use them:
Why do chefs carry their own knives?
The knives are tools of the trade, and for each chef, the knife is a matter of personal preference. Thus, not all chefs will select the same knives for their knife roll.
The thing to note is that a knife has to fit well in the chef's hand. If, for example, you have smaller hands, you won't be able to use someone else's knife comfortably, and it can take a toll on your precision.
The balance of the knife is also important, as well as the sharpness of the blade.
If the chef can't hold the knife in perfect balance, it might affect how fast and swift the cutting motions are.
When a chef takes their knives on the road, it helps ensure that when it comes down to prepping and cooking, everything will work well, and there will be no cutting mishaps.
Takeaway
When you want a durable Japanese knife roll that can withstand wear and tear, protect the blades, and is still portable and easy to clean, the Yoshihiro will do a fine job.
It's the kind of knife roll that's great for everyday use and lets you store 6 of your favorite cutlery pieces.
So, if you want to protect your precious knives, make sure to buy the right protective case and avoid the disappointment of having the blades scratched or dulled.
Also check out the Most Used Hibachi Chef Tools you need to know about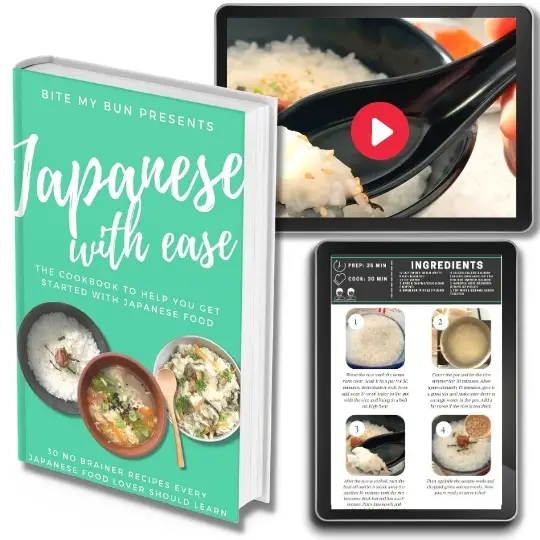 Ever had trouble finding Japanese recipes that were easy to make?
We now have "cooking Japanese with ease", our full recipe book and video course with step-by-step tutorials on your favorite recipes.
Joost Nusselder, the founder of Bite My Bun is a content marketer, dad and loves trying out new food with Japanese food at the heart of his passion, and together with his team he's been creating in-depth blog articles since 2016 to help loyal readers with recipes and cooking tips.