I love creating free content full of tips for my readers, you. I don't accept paid sponsorships, my opinion is my own, but if you find my recommendations helpful and you end up buying something you like through one of my links, I could earn a commission at no extra cost to you.
Learn more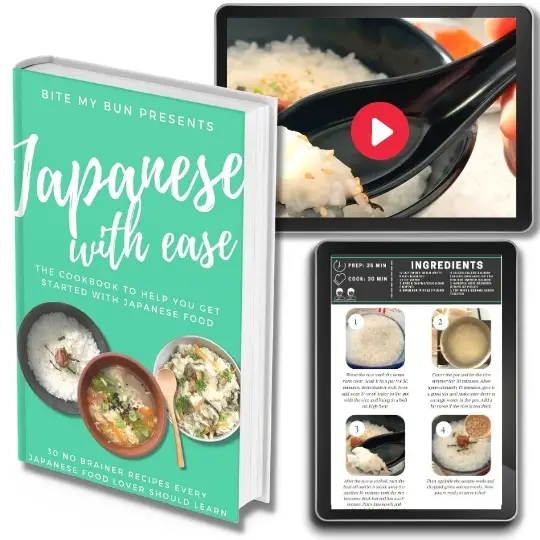 Ever had trouble finding Japanese recipes that were easy to make?
We now have "cooking Japanese with ease", our full recipe book and video course with step-by-step tutorials on your favorite recipes.
Did you know that the omelette was one of Napoleon's culinary delights? For thousands of generations, both kings and ordinary people have enjoyed this dish.
Who can blame them? All you need are some eggs, salt, pepper, a bit of garnish, and a good pan.
Mastering how to make an omelette will take you some time. There are several ways that you can ruin this dish. For instance, you might undercook or overcook the omelette.
But, if you want to make a great omelette, you need the kind of pan that makes it easier to flip and fry evenly.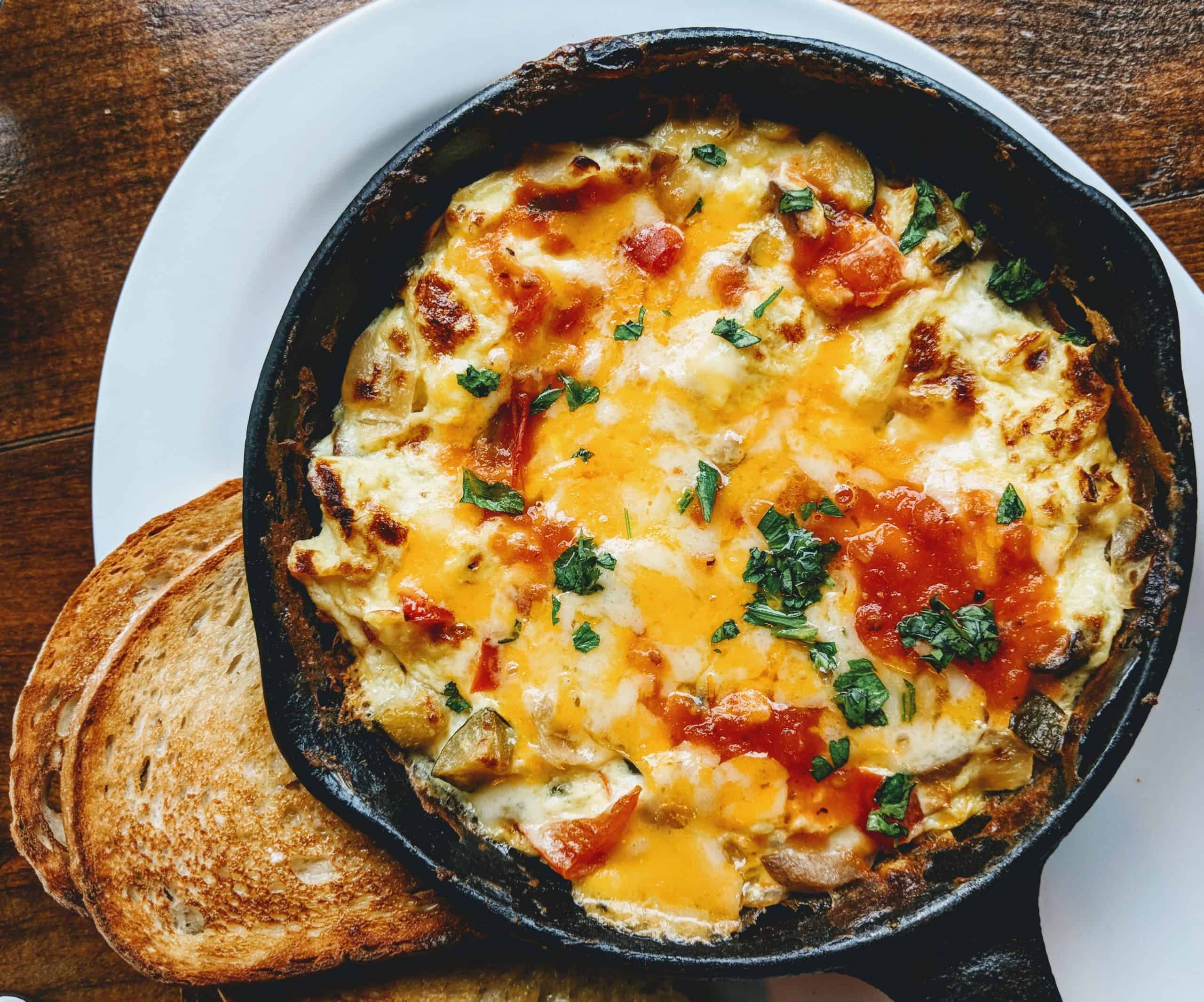 To achieve chef status, you will have to pay attention to your cooking. There IS such a thing as a perfect omelette.
An ideal omelette has to have the right kind of texture and crispness. The trick, however, is to control the heat and use a good omelette pan.
My ideal pan for this Calphalon Classic Omelette Frying Pan. It has a great size to it, especially for omelettes and it has a lid cover if you want to add some veggies to the omelette as well (as I like to do sometimes). Best of all, it's nonstick and the egg slips right off after it's cooked.
Dadreviews is really raving about the Calphalon as well in his lifetime warranty pan review here:
But how do you choose an Oscar-worthy omelette pan? You have to consider factors such as coating, shape, size, and durability. Calm down, it is not rocket science.
This article will show you the top 6 omelette pans that will help you create the perfect omelette, every time plus 1 must-have frittata pan.
Take a look at my product recommendations first, and then you'll find full reviews down below.
Omelette pan
Images
Best overall non-stick omelette Pan: Calphalon Classic Omelette Frying Pan
Best Japanese omelette pan: 

Tamagoyaki Japanese Omelette Pan

Best stainless steel omelette pan & best for induction:

Schönes Bauen Stainless Steel Frying Pan 8"

Best frittata pan: Lodge pre-seasoned cast iron skillet
Before we discuss the top omelette pans, let's take a quick look at the factors we considered when making the cut.
Buying guide
The question is what to look for in an omelette pan?
A bad pan will leave you with a nauseating and unappealing kind of omelette.
No matter how right you do everything else, the pan will ruin the aesthetic appeal of the dish.
If you don't choose the right pan, your omelette could stick, lose its shape, get burned, and even turn into a scramble. You must have the right pan for an omelette.
I'm sure you've seen plenty of reviews for the best set of cookware for the kitchen but very few mention the best omelette pan.
An omelette pan has other uses too, but for the best results when cooking eggs, you need to look out for certain features.
What's the difference between a frying pan and an omelette pan?
If you use a regular frying pan, your omelette could turn out okay but you should always use a pan that's ideal for eggs.
A frying pan has sloping sides and no lid, whereas an omelette pan has flared or sloped edges that allow you to slide the omelette out easily after cooking.
Now that you've decided that you need an omelette pan, here is what you should consider when choosing what to buy:
Material & coating
People always ask do I have to get a non-stick surface for my omelet pan?
The answer is not really. If you're a traditionalist and prefer to cook with high-end materials, you can get amazing pans that don't have a nonstick coating but you can still make great omelettes if you season them and use good cooking oil.
It is advisable to purchase a non-stick pan as they are easy to clean and convenient to use.
Some of the common ones usually have Teflon coating. This is relatively inexpensive and like granite, offers similar nonstick properties.
A pan made from the right material with a Teflon, ceramic, or stone coating will make it easy for you to flip the omelette. Also, you will not have to worry about the egg sticking to the pan.
Go for a pan made from durable material. This factor significantly influences conduction and cooking time.
The pans made from the following materials are recommended;
Aluminum:  pans made of this material are very affordable and popular. They have the advantage of being lightweight. Why aluminum? Because this material ensures the pan heats up evenly. Also, heat conduction is good. Aluminum pans usually contain at least 2 layers of a non-stick coating. The only con is that cheaper pans are not durable and they tend to scratch easily.
Anodized aluminum: This pan is a great option as they tend to be lightweight, easy to handle, durable, and strong. This pan can be used for heavy-duty tasks. However, the material is a poor conductor of heat compared to others.
Carbon steel: Carbon steel pans are great conductors of heat. They are lightweight, easy to use, and great at handling a variety of dishes. Carbon steel pans are highly popular across the U.S because they last for ages. They contain natural non-stick coatings usually made from beeswax. The only disadvantage is that they are not dishwasher safe and cannot be washed using dish soap. You also need to make sure to properly season your carbon steel pan.
Check-square stainless steel: They are affordable, light-weight, durable, and scratch-resistant. The only issue is that they are poor conductors of heat.
Check-square copper: beneficial as it allows quick heat distribution. The pans are lightweight, affordable, and easy to use. These pans are usually coated with another material that ensures your food won't stick. Unfortunately, this material is not advisable for use on certain foods as they may react negatively with the dish.
It is important to remember to buy a pan that fits your stove. You don't want to purchase something that you can't use.
Induction & oven safe
If you have a glass or ceramic induction cooktop, you can only use pots and pans with a metallic base layer. Many omelette pans are induction-safe, but not all. If you only have an induction stovetop, then you need to have this feature.
Also, if you want to use the pan in the oven, it can't have plastic components (like the handle). So, make sure the product specifications mention if a pan is oven-safe or not. Then, check how heat resistant it is and what temperatures it can withstand.
Thickness
Thick pans are advisable as they give time for the heat to spread out evenly as you cook. Your pan should be thick, even (meaning no bumps or lines), and flat.
However, since you're making omelettes, you'll need to look for a pan that is not too thick and not too thin.
Medium-sized pans made of copper or aluminum are responsive to heat changes.
Such a pan is easy to handle and assure you of a quick spread of the heat on the surface of the pan.
The two main types of coating are standard and non-stick. Each of these pans has its talents.
Non-stick pans tend to scratch easily. It is advisable to use wooden utensils such as a wooden spatula to prevent scratching.
Size
The model omelette pan comes in various shapes and sizes. You're probably wondering "What size should an omelette pan be?"
The size of the pan will depend on the number of people you intend to serve. You can never go wrong with a medium-size pan (about 6 to 12 inches), but an 8-inch pan is perfect for cooking a 2 to 3 egg omelet.
12-inch pans are also really good if you want to flip the omelette easily. The advantage of a 10 or 12-inch pan is that it's versatile and so you can use it for cooking many other types of foods, frying, and even searing steak!
Anything smaller than 8 inches will probably be too small unless you're cooking for yourself on a small stove.
The pan may be round, square-shaped (Japanese Omelette pan), or hinged. Each of these pans has its benefits and limitations.

The handle
Most people tend to ignore the value of the right handle. Opt for a pan that does not overheat when cooking.
Your pan should have a robust and sturdy handle that won't break.
Pans with plastic handles are popular and cheap. They are poor conductors of heat, as a result, they do not heat up when you are cooking.
One disadvantage, however, is that you cannot use them in the oven. Furthermore, the handle can get damaged easily.
Pans with metal handles are beneficial as they tend to be firm and stable. On the downside though they can heat us easily.
You can go for pans with cold handles. These handles are safe to use as they are poor conductors of heat.
The overall feel of the pan
When choosing an omelette pan, you need to ask yourself the following questions:
Is it comfortable/ easy to use?
When you hold the pan, does it feel sturdy or flimsy? You can go for a pan that has a metal, silicone, or stainless steel handle.
Is my pan too heavy?
Can I flip my omelette easily?
If your pan doesn't cause the egg to stick to the bottom and has flared sides, your omelette should be easy to flip.
Flipping omelettes takes some practice and a little bit of confidence. Don't worry about getting it right the first time.
But, you'll realize that if the pan is good, the egg will be easy to maneuver.
Durability & maintenance
Although cooking is fun, almost everyone considers cleaning up as a chore that's far worse than a prison sentence.
Cleaning can be particularly exhausting if you are dealing with a bad pan.
To avoid breaking a sweat while washing, opt for pans that are dishwasher safe, and have a non-stick coating.
Utensils & lids
The accessories that come with your omelette pan need to be top-notch. Go for a silicone spatula to help you shape and handle the omelette.
There are pans that come with a lid and there are pans that come topless. Choose the type that works for you.
Best omelette pans reviewed
With that said, let's look at the best omelette pans in each category:
Best overall non-stick omelette pan: Calphalon Classic Omelette Frying Pan
size: 12-inches
material: hard-anodized aluminum
handle: stainless steel
nonstick: yes
oven-safe: yes, up to 450 F
dishwasher-safe: yes
induction-compatible: no
comes with lid
Once you try cooking an omelette in a frying pan with a lid, you'll realize it's a game-changer. It helps the omelette fluff up and cook evenly throughout.
The overall best value omelette pan is this 12" Calphalon Omelette pan which has a nonstick surface and aluminum base for excellent heat distribution and retention.
When cooking with nonstick cookware, you should only use low or medium heat.
It comes with a tempered glass lid so you can use it on the stovetop and the oven so it's much more versatile and perfect for searing, braising, frying, and more, not just making breakfast foods.
The handle is long and stays cool so it's easy to maneuver and since the cooking surface is coated with the nonstick, flipping the omelette is quite easy compared to a cast iron pan, for example.
The pan has sloping and flared tall edges which is advantageous because it makes cooking eggs easier and there's no oil splatter. Basically, this design makes it easy for you to flip your omelette without damaging the shape of your masterpiece.
I don't use a lot of cooking oil when using this pan because the nonstick coating means that the egg doesn't stick to it. However, it's best to use liquid cooking oil and not an aerosol cooking spray because that absorbs into the coating.
A lot of nonstick pans claim to be scratch-resistant but after a few uses you realize it's not true. Calphalon is a renowned brand, and their nonstick cookware is some of the best because the nonstick layer doesn't peel off easily and is easy to clean.
Calphalon is usually compared to the All-Clad brand cookware. All-Clad is way more expensive and their omelette pan is coated with the same nonstick coating as Calphalon so there's virtually no difference.
And for an omelette pan, why should you spend more for the same performance and similar features?
The disadvantage of the Calphalon pan is that it takes about a minute or two longer to heat up than other pans because it has a dual-layer construction. But waiting a few extra minutes isn't really a major inconvenience for most people.
Also, this pan is designed for use on all cooktops except induction so if you have this kind of cooktop, you need to use a special induction disk.
But, overall it's a great pan at a good price and it can be used by a beginner or a professional chef.
Best budget:

YIIFEEO Nonstick Frying Pan
size: 8-inches
material: aluminum & granite
handle: imitation wood
nonstick: yes
oven-safe: no
dishwasher-safe: no
induction-compatible: yes
comes with lid
Want a pan that is similar to the Calphalon but cheaper and also induction-friendly? The Yiifeeo is a die-cast aluminum frying pan with a nonstick granite and stone coating.
It's a great omelette pan because granite is completely nonstick and the egg slides off so easily you can flip the omelette instantly. A glass lid is included too so you can make fluffy egg recipes and not just omelettes.
But, if you look at customer reviews, you'll notice people love using it to make tasty nonstick omelettes that keep their shape.
I also think it's excellent for egg dishes because you can sautee vegetables first and then pour the egg mixture on it or, you can make filled omelettes that are easy to flip over.
Granite is considered to be a healthy coating for cookware because it is toxin-free and there's no PFOA, PTFE, lead, or cadmium. But it also has a beautiful marble-like texture so it looks premium.
My favorite feature is this granite coating because you can cook without oil if you want to make healthier recipes and omelettes that are never greasy!
This might be great if you have picky kids who don't like to eat eggs if they are oily but you can also rest assured you're feeding them nutritious and healthy food.
The Bakelite handle is an imitation wood grain but the advantage is that it stays cool to the touch and you don't burn your hands when using it.
This pan lacks one important feature: you can't use it in the oven. If you just want a basic omelette pan though, you probably don't plan on making foods in the oven anyway.
Also, you have to handwash it with some soapy water and a non-abrasive sponge because it's not dishwasher-safe. This might put some people off but because the food doesn't stick to the pan, there's actually not much to scrub or wash off.
It's perfect for cooking for one or two people at once because it is smaller (8″) compared to some others that are 12″ wide.
So, if you want to cook for yourself or you're a beginner and want to start making tasty omelettes at home, then this affordable pan is a great budget-friendly option.
Calphalon vs Yiifeeo Nonstick
If you're searching for a versatile family-sized do it all nonstick pan, there's no going wrong with the Calphalon pan. It's a 12-inch nonstick aluminum pan with amazing heat retention and a fast heat-up time.
It's not an expensive pan but it's the best overall because it also has a sturdy handle and transparent glass lid so you can see how the omelette cooks.
But, if you want similar features (like the lid) and don't mind a granite nonstick surface, the Yiifeeo budget pan will surely be to your liking.
At 8 inches, it's significantly smaller than the Calphalon but it's ideal for singles, couples, and college students who just need a practical pan that doesn't make the egg stick and is also easy to clean.
Calphalon is a well-known cookware brand and their products are generally durable and well-built. The pan will outlast the cheaper alternative so if you're looking to invest in quality, it's a great choice.
The riveted handle is much better than the cheap plastic Yiifeeo one. Unfortunately, it's not induction-safe so if you have an induction cooktop then the Yiifeeo is the better option.
Both of these pans perform well when you cook an omelette and they're both suitable for newbies too. It all comes down to the size and price difference.
Best Japanese omelette pan: Tamagoyaki Japanese Omelette pan
size: 5.3″ W x 1.2″ H x 7.2″ L
material: aluminum-manganese alloy
handle: plastic
nonstick: yes (stone coating)
oven-safe: no
dishwasher-safe: no
induction-compatible: yes
You can prepare omelette in a variety of ways. But did you know that in Japan the omelette pan has a square shape as opposed to the classic Western round pan?
In America, we usually think of a traditional flipped egg omelette you make in a round pan.
Then, there is the French omelette that consists of eggs and fillings such as ham, sour cream, cheddar cheese, bell peppers, and much more.
Did you know there is even a Filipino omelette, called pinoy, with ham and cheese (recipe here).
There is also the Japanese omelette or as it is otherwise known, the Tamagoyaki. This is made in a small square pan with a handle.
The Japanese omelette is prepared by rolling together thin layers of well-seasoned eggs in a frying pan.
You season the eggs with soy sauce, dashi, or sugar. Preparing the Tamagoyaki requires a non-sticky Japanese type of pan.
The Tamagoyaki is great for breakfast and lunch. You can also use this dish as a topping for sushi (like Inari-zushi), or with a bento for breakfast.
The unique rectangular-shaped Japanese pan comes with flared edges. It has a unique sloped shape which makes flipping easy.
Its design makes it easy to roll the layers of the egg resulting in the perfect Tamagoyaki.
Other features that make this pan ideal include its aluminum material. Since the pan is made from aluminum, it has high durability and distributes heat well.
Another unique feature of the Japanese pan is that the bottom outer surface is made from stainless steel. As a result, the pan is great as an induction heater.
The inner surface is non-sticky and it is made of Maifanite stone and this makes it pretty scratch-proof and ensures the egg doesn't stick to the bottom or sides of the pan.
Therefore, clean-up is quite a breeze but you need to handwash the pan as it's not dishwasher-safe.
One downside is that it has a flimsy plastic handle so it's not the highest quality and it's prone to melting if you hold it close to high heat.
But considering the low price, it still makes good omelettes. Also, you can't use this pan in the oven so you're a bit limited to what you can cook with it.
The unique design of the pan makes it a great addition to your kitchen as it adds to the aesthetics of the kitchen.
The handle of the Japanese pan is ergonomically contoured. This design makes it easy to grip and comfortable to use.
You can use this pan to not only make omelette but other dishes as well such as pancakes and sandwiches.
Oh, and the great feature is that you can use this pan on all cooktops, including induction hobs.
Best foldable: TECHEF – Frittata and Omelette Pan
size: 9.5 x 9 x 3.5 inches
material: aluminum & Teflon
handle: stainless steel
nonstick: yes
oven-safe: yes, up to 450 F
induction-compatible: no
dishwasher-safe: no
If you hate flipping an omelette because you either drop it, or it sticks and loses its shape so it crumbles apart, you need to try this Korean foldable pan.
It is by far one of the best omelette teaching tools and even complete beginners who haven't cooked before can use it.
There are many ways in which you can use this pan. You can put all the ingredients, cook them and then flip the pan to the other side without opening the top. You'll end up with a tasty fluffy omelette or frittata.
Alternatively, you can cook the egg, add other ingredients, cook those, and then add another egg layer on top for the perfect stuffed omelette.
It's called omurice, a Japanese favorite and you can cook a healthy and nutritious egg dish in minutes.
The cooking experience with this type of pan is superior to the classic pan for two reasons.
First, the Teflon coating makes the entire pan nonstick. So, you can easily take the omelette out or flip it without opening the lid part. Customers are very pleased that the egg slips off instantly without having to scrape at it with a spatula.
Second, you can make fluffier stuffed omelettes with many additional ingredients. It won't overflow because the edges are very high and the pan folds securely with no gaps.
A common issue with similar foldable pans is that grease and hot oil can drip out while you flip it but this one doesn't really do that in most cases.
Although it's a budget pan, it's not gimmicky at all and has a beautiful finish. It also has very sturdy thick riveted handles so holding them is very comfortable and they stay cool.
A nice feature is that there's a silicone handle cover on the smaller handle. That's the one you use to flip the omelette and it is truly non-slip so you won't drop the pan when flipping it.
One of the features that I don't like so much is that the bottom of the pan has these grooves which are hard to clean and move around on smooth cooktops.
Also, the pan is quite large – it's actually a two-portion omelette pan so if you're just cooking for yourself and using fewer ingredients, they can lose their shape since they don't fill up the pan.
Overall, it's a great alternative if you don't feel like making a frittata in the oven and want a simple foldable pan with durable nonstick coating.
Best of all though, you can fill up your omelette with all your favorite ingredients and it won't come apart while cooking! After all, you're craving a great omelette not scrambled eggs!
Tamagoyaki vs TECHEF Foldable
The square Tamagoyaki and the foldable Techef pan are both amazing Asian omelette and frittata pans.
If you're not yet confident when making omelettes, I recommend the foldable pan which makes it very straightforward and there's not much that can go wrong.
But, if you consider yourself to be a pretty good cook, you'll enjoy experimenting with the Japanese square pan. The omelette is definitely harder to flip because there's no wiggle room but rolled omelette just tastes amazing and the work is worth it.
You have to use chopsticks to make each egg layer then push it and roll it to the side and then cook the next layer with the one you have inside the pan already. It's not an easy pan to use for beginners so I recommend it for those interested in making unique Japanese foods.
Both of the pans are nonstick but of course, the shape is very different. The foldable pan is like a semi-circle and you can close it and flip it knowing the contents are compact and safe inside.
On the other hand, the square pan is very useful if you also want to make sunny-side-up fried eggs.
When it comes to construction, the foldable pan is much more sturdy and it has a durable stainless steel handle whereas the square pan has a flimsy plastic handle. It's also more sensitive to high heat than the foldable pan.
Finally, I want to mention portions. The foldable pan is rather large and if you're only cooking for one or two people you might have some leftovers.
The square pan is versatile because you can make rolled omelettes to serve the family or a small portion for yourself only.
Want to get cooking? Check out this Filipino eggplant omelette Tartang Talong recipe
Best stainless steel & best for induction: 

Schönes Bauen Stainless Steel Frying Pan 8" 
size: 8-inches
material: stainless steel
handle: stainless steel
nonstick: yes
oven-safe: yes, up to 500 F
induction-compatible: yes
dishwasher-safe: yes
If you have a modern induction cooktop (like these great range here), you need a pan with a metallic base like this steel one.
But, stainless steel is also one of the top-performing pan materials and many professional chefs prefer to use such pans to cook omelettes.
In fact, stainless steel is often touted for its superior performance and general appeal – it looks so beautiful and well-made.
This pan is compatible with all cooktops and doesn't need much oil to fry the food. So, it's a great option if you want to cook in a healthy way and since it's PFOA-free, it's completely nontoxic.
The Schones Bauen German skillet is great for cooking all types of egg dishes, including omelette because it has a unique honeycomb pattern on the nonstick surface.
This patterned layer rises above the no-scratch surface and therefore you can use it to brown the omelette perfectly.
The pan has three layers, and one of them is an aluminum core which offers amazing heat distribution all around from the base towards the edges.
Like the cast iron Lodge pan, this one also has tall edges so it's very practical and won't let oil splatter all over the place. The egg stays in the pan and you can then cook safely on the cooktop and in the oven.
I also want to mention that the anti-scratch layer on this pan is no joke – it is very resistant to the wear and tear of cooking utensils.
It's recommended that you cook on medium or low heat because stainless steel gets very hot and you don't want to burn the eggs.
Also, some customers said that the pan turns black if you cook on very high heat on the cooktop and that can be problematic but if you stick to medium and low (which is what you need to cook omelettes), you'll be pleased that it holds up well over time.
You can also use it in the oven at temperatures up to 500 F (260 C) because it has a riveted stainless steel handle which is also heat resistant.
Clean-up is easy because the pan is dishwasher safe. Here's how you properly clean a stainless steel pan.
Best cast iron & best frittata pan: Lodge Pre-Seasoned Cast Iron Skillet
size: 12-inches
material: cast iron
handle: cast iron & side handle
nonstick: no
oven-safe: yes
induction-compatible: yes
dishwasher-safe: no
An omelette cooked in a seasoned cast iron pan has a flavor that's hard to beat. If you love to cook in a traditional way, you can't be a good old cast iron skillet and Lodge is known for making some of the best.
The good news is that this omelette is suitable for cooking all kinds of egg dishes (and non-egg too!) but omelette and frittata are amazing.
A frittata is an Italian egg dish similar to an omelette. It is like a quiche without a crust.
The difference between a traditional omelette and a frittata is that the latter is cooked slowly over low heat whereas the omelette is cooked quickly over high heat.
Cook the best frittata by baking the egg in the oven.
You can usually make an omelette with just 2 or 3 ingredients whereas frittatas generally contain vegetables, herbs, and cheese.
Traditionally, a frittata is made in a cast-iron skillet and baked in the oven. That's why you need an oven-proof skillet to make this delicious dish.
This Lodge 12-inch is the perfect size for a baked frittata and since it's naturally oven-safe you can bake the egg in minutes. Also, this pan has raised edges that prevent the egg from overflowing both on your cooktop and in the oven when baking.
This cast-iron skillet costs less than $40 and the price is fair because a well-seasoned cast-iron pan lasts a lifetime.
The pan is a perfect size (12 inches) for a frittata that serves an entire family.
It has a sturdy cast iron handle and a smaller assist side handle so you can easily take the skillet in and out of the oven.
The best part about this skillet is that it comes pre-seasoned with vegetable oil, which means that you don't have to season it yourself before use.
Cast-iron skillets are great because they distribute the heat evenly during the cooking process and this skillet has unparalleled heat retention.
Some customers who use this pan say that it takes a few tries to cook the perfect eggs because of the heat distribution.
Omelettes are temperature sensitive so you need to be careful not to burn them. But, once you get the hang of it, you'll enjoy how flavorful the omelette tastes.
Another thing to note is that this cast iron pan has a rough finish, not a smooth one so you really have to rub in that seasoning oil.
The skillet is truly multifunctional, it can be used on stovetops, induction stoves, ovens, and electrical stovetops.
Of course, you can use it for more than just frittatas, and cook meats and veggie dishes.
There is also no burn risk as the product comes with a silicone handle to ensure a safe grip.
Schönes Bauen Stainless Steel vs Lodge Cast Iron
Also read: can you make an omelette in a cast iron pan, or does egg stick to cast iron?
Stainless steel and cast iron are two cookware materials that you'll see chefs using. Both of these are perfect if you like to keep things classic and use healthy cookware.
The German stainless steel pan is best if you have an induction cooktop because cast iron has a very rough finish which can potentially scratch delicate ceramic cooktops.
If you love to season your pans and prefer that amazing cooking style and flavor, you'll enjoy using the cast iron pan to make omelettes on your cooktop and frittatas in the oven.
The advantage of the cast iron pan is that it also has a helper handle. But, on the other hand, it's much heavier than the stainless steel pan. So while it's easier to hold and maneuver, you need to use a bit of muscle power.
The Schones Bauen pan has a special nonstick honeycomb layer which is also anti-scratch. This is great for beginners or if you want to make the perfect omelette that doesn't stick or lose its shape.
In opposition, the cast iron pan is not nonstick so you have to use cooking oil to season it. Sure, it's extra work but you'll be able to make delicious food.
What you need to know though is that it takes a few tries before you can make the best egg recipes – don't be discouraged if you slightly burn the omelette because temperature control is hard.
Also read: Why should you buy a cast iron pan? Tips and best buy + seasoning tips
FAQs
There are many factors that go into deciding which pan is the best for cooking eggs. That's why people always have a lot of questions.
I'm answering the most common questions about omelette pans so you don't have to around doing research!
How to clean a pan that's not dishwasher safe?
Some non-stick pans are not dishwasher safe. If the pan is great but not dishwasher safe (cast iron, for example), gently scrub it using a cloth or scrubbing pads and cold water.
Don't use dish soap or detergent if the instructions tell you not to. You can end up destroying or damaging a good pan.
Most cookware is sold with cleaning instructions that ensure you're pots and pans last a long time.
What pans do chefs use for omelettes?
Chefs prefer to use very high-quality omelette pans to cook for patrons. They can't afford to serve a sticky and messy omelette.
The brand they turn to most often are Calphalon and Mauviel, both well-known and trusted cookware brands.
That's why I chose the Calphalon as the overall best omelette pan – it has great nonstick coating and is built to last a lifetime.
Conclusion
Now that you've had a read-through of your omelette pan options, it's time to decide what size and what material you prefer.
If you want a pan that is fail-proof, the Calphalon Omelette Pan is the perfect addition to your cookware collection.
It is versatile, nonstick, and comes with a lid which makes it easy to cook fluffy omelettes, even if they're full of delicious ingredients. Since the egg doesn't stick, you can flip the omelette without breaking it.
But if you really want to try to make various types of omelettes you can always give the square pan or foldable Korean pan a try and fill or roll the omelette with all kinds of Asian ingredients.
Omelette is such a simple and easy breakfast food and with the right cookware, it will surely become the family favorite each morning!
Also read: these are the best Teppanyaki plates for a party at home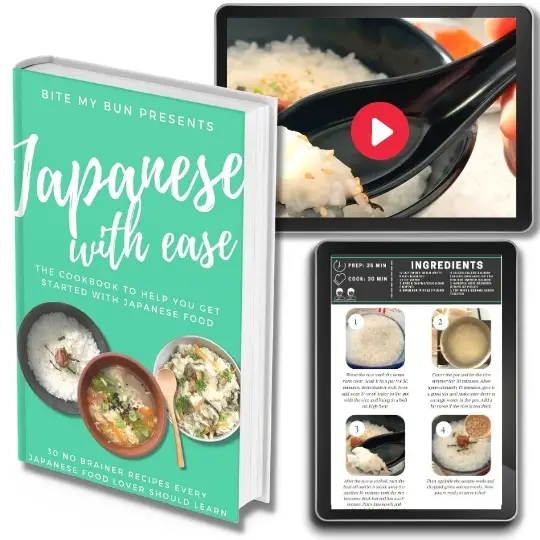 Ever had trouble finding Japanese recipes that were easy to make?
We now have "cooking Japanese with ease", our full recipe book and video course with step-by-step tutorials on your favorite recipes.
Joost Nusselder, the founder of Bite My Bun is a content marketer, dad and loves trying out new food with Japanese food at the heart of his passion, and together with his team he's been creating in-depth blog articles since 2016 to help loyal readers with recipes and cooking tips.