I love creating free content full of tips for my readers, you. I don't accept paid sponsorships, my opinion is my own, but if you find my recommendations helpful and you end up buying something you like through one of my links, I could earn a commission at no extra cost to you.
Learn more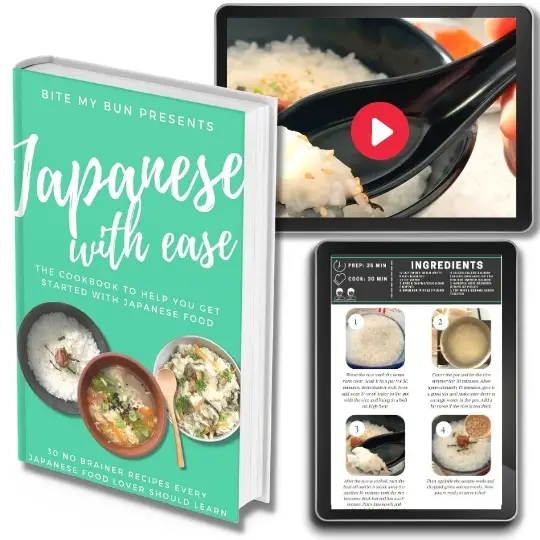 Ever had trouble finding Japanese recipes that were easy to make?
We now have "cooking Japanese with ease", our full recipe book and video course with step-by-step tutorials on your favorite recipes.
Portable induction cookers have brought a new lifestyle in cooking activities. If you are looking for the best one, most experts and users would recommend this Duxtop LCD 9600LS Portable Induction Cooktop.
It's so energy efficient that it's often also used for off the grid households and camping.
Here's The Hands on Channel using one:
However, this option might not be suitable for some people because each person may have different needs and expectations. To understand which portable induction cooktop is best for you, let's have a thorough discussion about it.
What is a Portable Induction Cooktop?
An induction cooktop works by inducting electromagnetism into the cookware. Although it gets the power from electricity, an induction cooktop is entirely different from the electric stove.
In an electric stove, the electricity will generate heat on the stove. Anything you put above the stove will get burned and hot. But with an induction stove, the device will only generate electromagnetic fields.
This electromagnetism will cause the cookware to heat up and cook whatever is in it.
Hence, you need specially designed cookware for the system to work. Induction cookware requires magnetic materials, or else they will not work.
There will be no heat generated. If you place your palm on the surface of the cooktop, it won't get burned or heated at all because there is no magnetism in your hand.
Cookware materials that can be suitable for induction cooktops are cast iron, steel, and magnetic stainless steel. Ceramic cookware can also work if they have a layer of iron inside it.
On the other hand, non-magnetic materials will not work unless the cookwares have a layer of magnetic material inserted.
I've written this entire post on the best cookware sets for induction which is a great read if you're deciding to buy one of these portable cooktops.
Induction cooktops are available in many variations for many purposes, from individual to commercial uses. One highly popular type is the portable induction cooktop, which offers many benefits that conventional stove can't do.
Let's look at them in a quick overview, and after that, I'll discuss each of them some more:
What Should You Consider Buying an Induction Cooktop?
This is one of the first and most important things to look at when checking out cooktops, induction, or any type. You want to be able to boil water and cook food at high heat quickly. But even with that, we cannot underestimate the importance of low heat cooking abilities too, the cooktop of your choice should be able to melt butter and chocolate without burning it.
Reliability
Some brands have already made names for themselves in this aspect, these brands have been known to produce very reliable designs of cooktops, of course we will recommend that you go for one of these brands but if you plan on going for another brand, then ensure that the products from that brand have been reviewed and proven to be reliable
Design
Obviously, your cooktop will affect the overall look of your kitchen, aesthetically. It is imperative to select something that will complete and improve the overall look and aesthetic of your kitchen and the appliances inside it. You don't want to place put a pink-colored cooktop in a kitchen with stainless steel or black colored utensils, they just won't go together, so you need to consider the color combinations and compatibility before selecting your induction cooktop
Features
Cooktops are not just about heating things up, especially induction cooktops, at least not anymore, there are a lot of brands out in th4e market battling it out for dominance, the best must-have useful features that are not available in the other cooktops. So when choosing the best induction cooktop, you must also look for extra features that are useful for you. Some of these features include; ease of cleaning, customizable layout, wireless connectivity, and other experiences that make cooking more comfortable and more enjoyable.
There are many intricate details that separate one induction cooktop from the other. It's easy for someone who has no experience with these appliances to assume they are all the same.
Well, they are not, and you must take extra care just to be sure you are buying something that will work for you. To help you out, we have compiled a list of some important factors to consider before buying an induction cooktop.
Here they are:
Precision
Precision varies a lot from one cooktop brand to the other. Naturally, lower-end brands will have as low as 6 heat settings. This does not give you enough versatility to better personalize your cooking experience, especially when you consider that some higher-end brands may offer up to 20 settings.
However, not everyone needs a high precision cooktop with dozens of settings. These higher-end brands are designed for people looking for a little finesse in the way they cook. Think of chefs and culinary artists who aim for perfection. But for the average Joe, lower-end low precision cooktops should do the job.
Power
As we have already noted above, induction cookers use electricity as their main power source. However, the power needs of different cooktops vary. But mostly, the wattage required will range between 1000 W and 2000 W. The wattage determines the highest temperature a cooktop can hit. You will notice that many brands have almost the same temperature range. However, you cannot hit higher temperatures if the cooktop has low wattage.
Despite this, higher wattage cooktops still have a few shortcomings. For example, they may need a special outlet installed in the kitchen to cater for their power needs. This may lead to additional unforeseen costs. And there is also the obvious issue of power consumption. Higher wattage cooktops also tend to consume more energy. In the end, you may have to pay a little more in your bills.
High wattage cooktops are also not that versatile. They can only be used in locations with enough high voltage power. For people looking for something to use on the go, using lower wattage options is often a better choice.
Convenience
The convenience of an induction cooktop is largely determined by the kind of extra features it has. For example, the portable induction cooktop brands will have dedicated buttons for special functions like boiling. They will also maintain standard temperature levels for the pans.
You may also be able to get a little flexibility with the timing features, as well. Lower end brands, on the other hand, do not offer that kind of versatility. If convenience is a big priority for you, going for induction cooktops with extra features is a great idea.
Reliability
Induction cooktops are expensive. They are supposed to last long without any damage. However, sometimes things do not work out as planned. But there are a few things you can do to ensure your cooktop lasts for a long time. The first one would be to get the appliance from a reputable brand.
Top of the line cooktops may cost you more money, but they come loaded with high-quality performance and outstanding longevity. Secondly, check the warranty for each product before you decide to buy it. Always get a cooktop with extended warranties. In case of damage, you can get repairs done without incurring additional costs.
Safety
Safety is also very important when choosing an induction cooktop. One common safety feature is automatic shutoff. This feature uses sensors on the cooktop to detect whether there is a pot on or not. If the cooktop is switched on without a pot, the appliance will automatically shut itself off.
We also have some brands in the market that use timers instead of sensors. The cooktop shuts itself off after a certain period (mostly two hours). This adds an extra layer of safety just in case you leave the cooktop on accidentally.
The good news is that most reputable brands in the market will have an array of safety features to explore. Even though you may be tempted to go for cheaper and generic cooktops from China, they are not worth it. It's better to spend that extra buck and get a high-quality cooktop.
Important Features
Volts/Watts:
The common analogy that is usually used to differentiate between volts and watts in electricity is the flowing water in a pipe analogy. In this scenario, the pressure of the water in the pipe is the voltage, while the watt is power the water could provide. Now some cooktops require voltage in amounts that most household sockets cannot handle. But the ones we have selected are all energy-saving and do not require a lot of energy.
Temperature mode (range and increments):
It is better to go for cooktops with a broader temperature range. Because it will be able to keep food warm for longer periods on the low end while also being able to prepare restaurant-quality sear on the high end. Enhance cooking accuracy, there must be options for temperature increments.
Safety Features:
The Induction cooktop should also come equipped with safety features, and these are very important, nobody wants to use anything that endangers them any and every time they use it so the induction cooktop should come with safety features such as pause/ cancel and child lock button, if possible, auto-shutoff and hot surface indicator
Compatibility with Induction Cookware: the induction cooktop must not be selective when it comes to the type of induction cooktop it will work with, and it should work well with al induction compatible cookware.
Best Portable Induction Cooktops reviewed
With many choices out there, you might get overwhelmed in choosing which portable induction cooktop to buy. As a guideline, you can consider some of the most recommended portable induction cooktops as listed below.
However, what seems to be the best for someone doesn't mean it would be best for you too.
When you have no specific requirements, these are what you can consider buying.
Overall best: Duxtop 9600 LS
Duxtop 9600 LS offers an optimal balance between price and features. It has 20 power levels ranging from 100 to 1800 watts. The temperature setting is available in 20 levels, ranging from 100° to 464° F.
Cooking would be much under control. The energy efficiency of this cooktop is 83%.
A timer of up to 10 hours makes it possible for slow-cooking without you having to waste your time to recheck the stove. Duxtop 9600LS comes with an 8-inch coil, which is ideal for most cookware.
If you're looking for more power with lesser size and energy consumption, then this is the obvious choice for you. It only consumes about 15 amps of electricity and operates on 120 volts of capacity. This induction cooktop is designed with the user in mind. It has been reviewed to be compatible with all types of induction cookware used on it, be it enamel, cast iron, steel, or Stainless Steel materials, it works well with all of them.
You don't have to worry about your food or pot getting knocked off the cooktop because it enhances the stability of the cookware on the cooktop with a magnetic grip. It has been rated as the best portable induction cooktop, and for a good reason, the design is very compact, and it is the best combination of power and portability.
It comes with a digital control panel and an inbuilt timer, which can be used to determine the cooking duration, it also has an automatic shut off system which puts the cooktop off once the set duration runs out. It has 10 different heat settings and a temperature range of 140°F to 460°F.
The automatic shut off system turns off the cooktop if the sensors do not detect any cookware on cooktop after 30 seconds of operation.
This prevents overheating and short-circuiting, it also has low and high voltage warning signals to avoid mishaps.
Pros
The compact design makes it easy to handle, store and transport
Compatible with all types of induction cookware
Automatic shutdown function puts off the cooktop after 30 seconds if it doesn't detect any cookware
Cons
Noisy while operational
Temperature control is not precise.
Most power: NuWave PIC Pro (1800w)
NuWave is best for its precision. While most induction cookers can't be accurate with their temperature adjustment, NuWave Pro can make it with only five degrees of tolerance.
The device offers 52 temperature levels from 100° to 575° Fahrenheit. This range is wider than the common induction cooktops.
A 12-inch cooking surface with an 8-inch coil makes it possible to cook with a large pan without consuming much energy. NuWave Pro Precision Induction Cooktop offers 15 power levels better control of cooking and energy efficiency.
Its maximum run time is up to 100 hours, which is pretty much similar to unlimited because nobody cooks that long without a break.
Check prices and availability here
Best cheap portable induction cooktop: Rosewill RHAI-13001
A portable induction cooktop doesn't have to be expensive to be good. Some are affordable yet highly useful.
Rosewill RHAI-13001 comes with eight levels of power and eight levels of temperature. With less than $70 for the device, you will also get a versatile stainless steel pot with a lid.
This cooktop provides a timer with a maximum period of three hours, which is enough for most cooking methods.
Rosewill RHAI-13001 has a sleek and stylish design with a digital control panel and polished crystal surface. If you are on a tight budget but hope to get the best of it, you need to consider this particular cooktop.
Check the latest prices here on Amazon
Best value for money: Duxtop 8100MC
As the leading brand in a portable induction cooktop, Duxtop also provides an affordable type. With less than $50, this cooktop has all the basic features to give you a wonderful cooking activity.
There are 10 power levels, which is enough to get your cooking under control.
The temperature range is almost as wide as most devices, 140-464°F, although the levels are only 10. The timer works up to 170 minutes, which shouldn't be a problem for most people.
This model has a compact size, yet the coil diameter is 8 inches, just like most portable induction cooktops are.
Best for Travellers and Campers: Max Burton 6450
If you plan to go out much carrying your portable induction cooktop, you need it to be lightweight and versatile. Here is the best you can consider.
Max Burton 6450 is only 6 pounds, which is pretty light to carry along. It also has a compact size of 9.1 x 9.1 inches. There are 10 levels of power and 15 levels of temperature setting, which are more than enough for outdoor cooking.
For added safety, Max Burton 6450 has an auto shut-down feature. The burner will instantly stop when the sensor detects any cases of overheating, overvoltage, short circuit, unsuitable cookware, and 3-hours of non-stop usages.
Furthermore, a panel locking system avoids children randomly pressing the button. Now you can even camp and cook without the risk of burning the forest.
The Max Burton is powered by an 1800 W burner. The unit offers rapid heating, making sure you can get all your meals ready in no time. The cooktop also has very flexible temperature specs. First, you will enjoy a total of 8 heat settings.
The maximums cooktop temperature can hit up to 450 degrees Celsius. The temperature range is separated by intervals of 25 degrees to give you better control over the heating.
The Max Burton 6400 also comes with a 3-hour timer and can be a great unit for slow cooking. It also offers separate simmer and boil buttons for added versatility. Although the unit does not have 100% precise temperature control, it is good enough for most home cooking needs.
The only downside is the fact that the appliance has a very large induction coil. It will mostly work with relatively larger pans.
Pros 
Excellent heating power with its 1800 W burner
Offers very good temperature range that can hit up to 450 degrees
Comes with separate simmer and boil buttons
Easy to use control system
Cons 
You may need to purchase induction-ready cookware to use the unit
Costs relatively more compared to other units in its category
Check out pricing for this unit here
Best portable induction cooktop pan set: NuWave Flex
Being a famous brand in an induction cooktop, NuWave also offers a nit with high portability. NuWave Flex is impressively lightweight with only 4.25 pounds, which is probably the lightest amongst all portable induction cooktops.
Its dimension is also relatively small, making it effortless to carry along for RV or camping.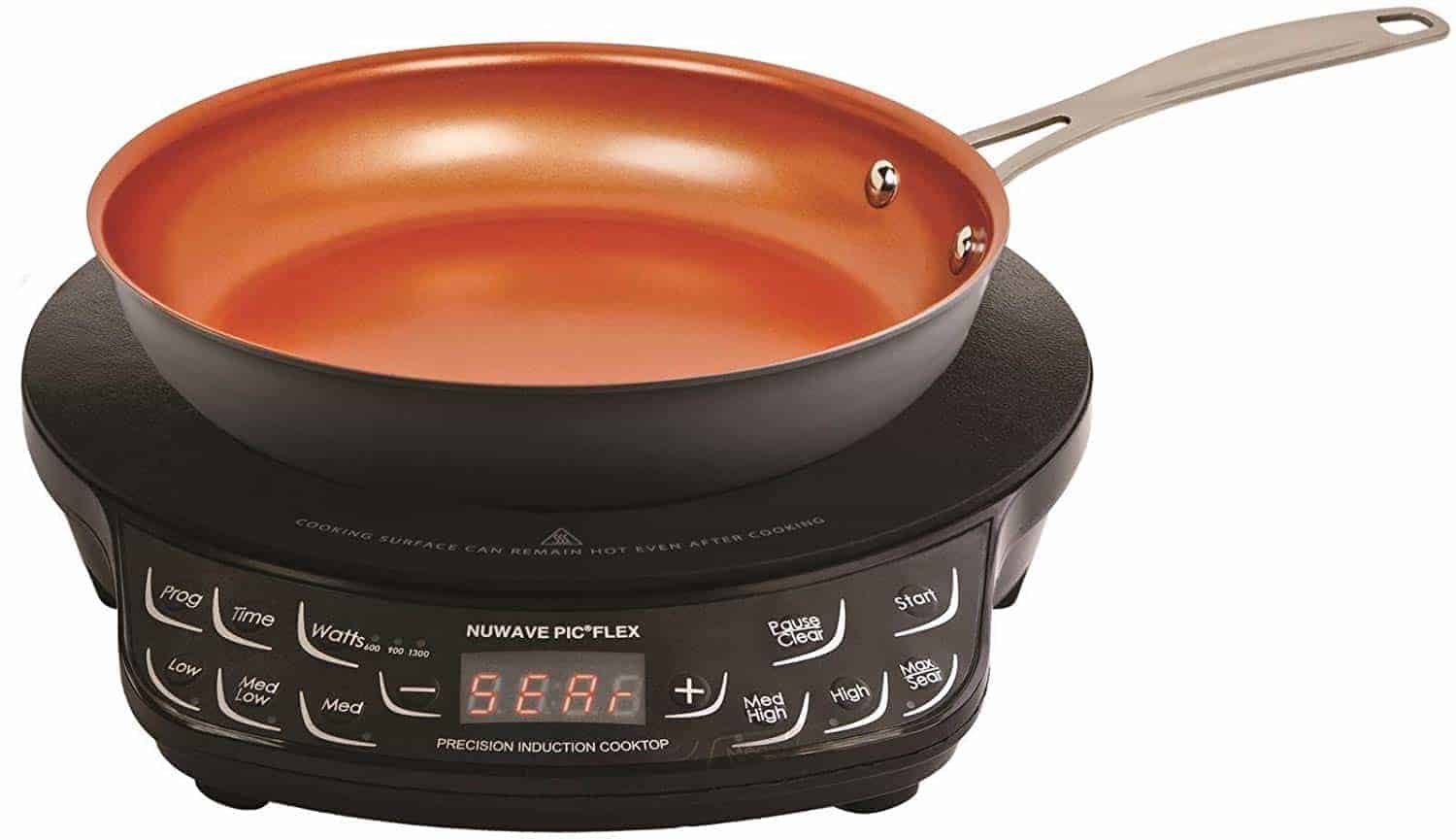 There are three levels of power to control your cooking. The temperature levels are ranging from 100° to 500° F with 10° increments, making a total of 45 levels.
The product includes a 9-inch non-stick frying pan, which is quite versatile and useful.
NuWave is one of the more reputable brands with a stellar history of producing top-quality portable induction cookers. The NUWAVE 30242 is definitely one of its best products, and it's not hard to see why. First, the unit comes with 52 temperature settings, one of the best in our list. The maximum cooking temperature can hit up to 575 degrees C. The NUWAVE 30242 also offers 10-degrees C in temperature increment intervals.
This gives you better control of the heating. It also makes the unit one of the best appliances to cook meals that require finesse. The cooktop also comes with a 10.5-inch anodized nonstick frying pan. It is powered by a 1500 W burner too.
The NUWAVE 30242 is designed for people on the go. Its lightweight and compact design ensure you can carry it around whenever you need to. Besides, you also get over 100 hours of internal memory to save all those favorite recipes on the go.
Pros 
Offers a relatively large cooking area
Excellent temperature control features
Compact lightweight design for easy portability
Very energy efficient
Cons 
The LED display does not shut off even when the cooker is turned off. This can be annoying for some people
The unit shuts off instantly when the pan is removed
Affordable induction cooktop with Double Burners: NutriChef
A single burner might not be enough to satisfy your cooking spirit and requirement. You can get the induction cooktop with a double burner. Don't worry, they are still portable.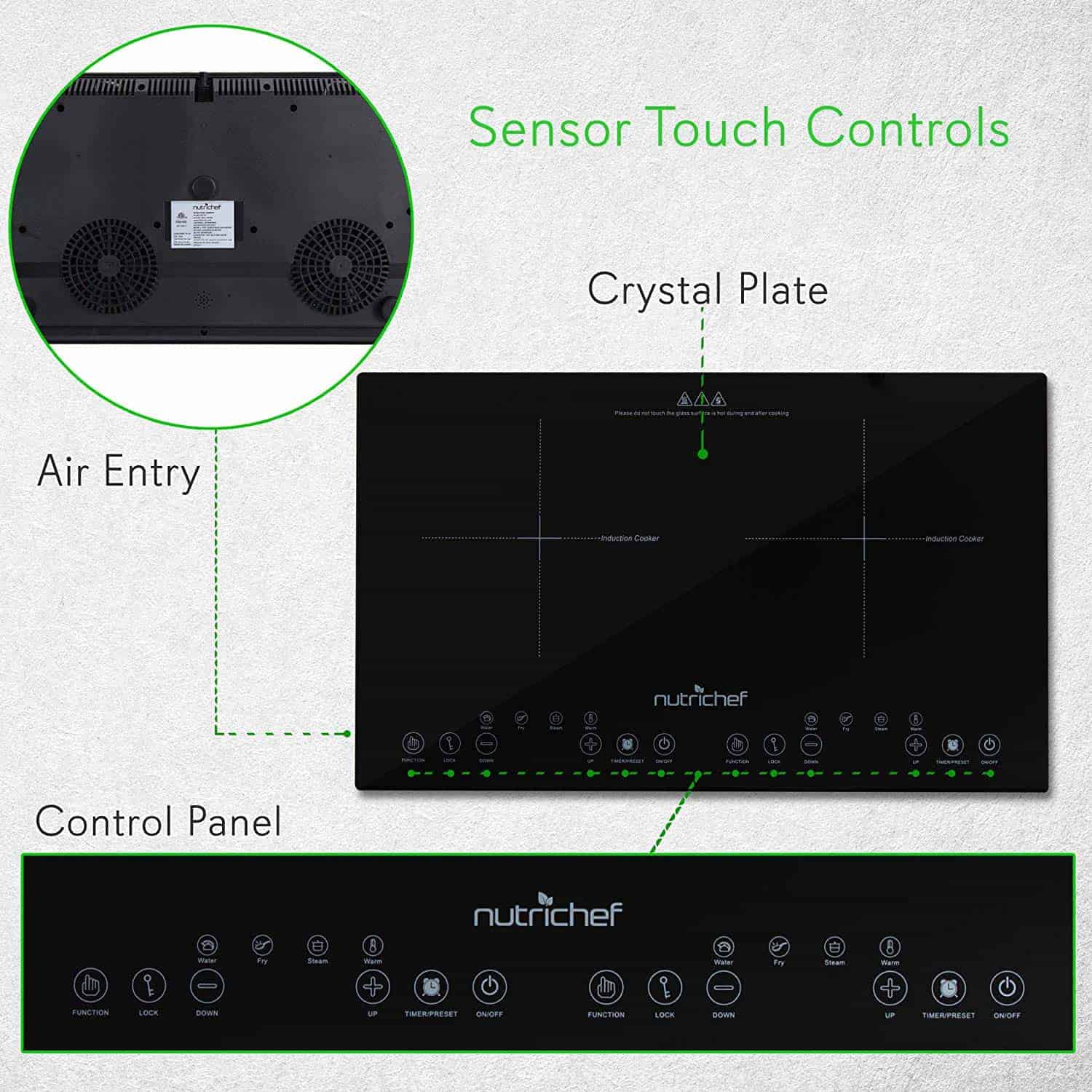 NutriChef PKSTIND48 provides nine power levels with maximum wattages of 1800 watts. There are eight levels of temperature setting from 140° to 460° F. The tempered ceramic glass on the surface makes the cooktop sturdy and looks stylish.
The two burners each have 6.7 inches of the coil. You can use both at the same time for different kinds of cooking. The cooktop has multiple cooking modes for ease of control, including the "keep warm" option.
You can set the timer for up to four hours.
Best induction cooktop with 2 burners: Cuisinart ICT 60
Cuisinart ICT 60 offers two burners with different specifications and sizes. You can use both simultaneously. The right one has eight power levels and a 7.5-inch heating zone.
Meanwhile, the left one has five power levels and a 6-inch heating zone. Both can work for cookware with a maximum diameter of 10 inches.
This cooktop also offers a timer up to 150 minutes for each burner. For safety, the device will automatically turn off if the sensor detects no cookware on top in 30 seconds.
Cuisinart ICT 60 is also lightweight and compact. It can be your choice if you need a double burner cooktop for traveling.
The Cuisinart ICT-60 is designed for people who want extra cooking space. It comes with two different cooking areas. The left cooktop has a total of 8 different heat settings, while the right one has 5. The left burner is also slightly large and would be ideal for extremely rapid cooking. The unit features a 150-minute timer on both burners as well. Each of these burners can be switched on and off separately using separate switches.
The Cuisinart ICT-60 has also done well to prioritize safety. The appliance will shut off after 30 seconds unless a pot is placed on top. The unit also offers excellent versatility, and to make things even better, it's one of the most energy-efficient appliances in the market.
We also noted that the unit comes with an innovative compact design. It measures 5.2 x 26.8 x 17 inches. Although the appliance ensures you get ample cooking space, it doesn't take too much space in your kitchen. This makes it an excellent option for small spaces, including RVs.
The Cuisinart ICT-60 also features a large LCD display for all your controls. The touch screen offers a more convenient way to engage various heat settings on the appliance. But in case you love the traditional feel of real buttons, the Cuisinart ICT-60 has them too. The cooktop also heats up really fast as well.
Finding an induction cooktop with plenty of cooking space and an array of high-end features is never easy, but the Cuisinart ICT-60 is all that and more. It's definitely worth a look, especially if you don't mind spending a little extra for high-quality appliances.
Pros 
Heats up fast and helps to maintain heat consistency for the entire cooking
Comes with two separate burners, each with its own heat settings and switch
Features automatic shutoff technology
Each burner also comes with a 150-minute timer
Cons 
The unit is susceptible to daily wear and tear and may not last for long
Check prices and availability here
Best portable induction cooktop brands
Some brands are just that good. And when it comes specifically to a portable induction cooktop, these are the brands you need to look at first.
Duxtop/Secura
Both Duxtop and Secura are the brands owned by Secura Company. The company's business is manufacturing kitchen appliances, where they started and stayed focused on Induction Cooktop.
Duxtop has many choices of a portable induction cooktop for varied purposes. The brand is highly reputable for its fine quality, even the low-budget ones.
Besides the induction cooktop, the brand is also famous for the lines of induction-ready cookware.
NuWave
NuWave is a company manufacturing small appliances with innovation. One of their best products is the series of Precision Induction Cooktop (PIC), which offers a feature to adjust the cooking temperature accurately for a finer result of cooking.
NuWave has a wide range of PIC, allowing everybody to get their tech-savvy cooking device that matches their needs. The brand is also famous for its NuWave Oven, which features energy-efficient smart technology.
How Do Induction Cooktops Work?
Understanding the science behind induction cooktops and how they work will help you better appreciate the kind of benefits they offer.
This is why we decided to include this section before moving on with the rest of the article. Induction cooktops use electricity to cook. A coil of copper wire is installed under the cooking pot. After that, an alternating electric current is introduced to the coil. This triggers the creation of an oscillating magnetic field.
This magnetic field continues to build up, and eventually, it creates a magnetic flux that magnetizes the pot on top. As the magnetization occurs, the pot becomes more like the magnetic core of an electric transformer. As a result, large amounts of Eddy currents are produced in and around it. The buildup of Eddy currents then heats the pot, generating the heat you need to cook your meals.
The Benefits of a Portable Induction Cooktop
A portable induction cooktop offers many benefits that sound promising to bring a revolution in the cooking lifestyle. This innovation can solve some problems we have with conventional stoves. Here are some of those benefits:
Safer
The stove will not burn anything that is not magnetic. You can put a plastic bag above it and there will be no messy melting. The kitchen would be safe for your toddlers, even if they have curious little hands.
Moreover, some portable induction cooktop even features an auto shut-down for avoiding unfortunate occurrences due to various reasons.
Quick Cooking
A regular gas stove takes a few minutes to reach the expected temperature. On the other hand, an induction cooktop takes less time because it responds instantly. You need just 3-4 minutes with it to boil a huge pan of water.
Energy Efficient
Gas stoves and electric stoves are not very efficient as they release unused heat. But with an induction cooktop, it is the cookware that produces the heat to directly cook what is inside.
Approximately, conventional stoves are only 41% efficient while an induction cooktop can go up to 80%.
Easier to Clean
With a flat surface and not many exposed parts, an induction cooktop is significantly easier to clean up. Just one wipe away would be enough to make it as good as new. This device is your real shortcut to say goodbye to a messy kitchen.
Timely Adjustable
Thanks to the digital timer, now you can turn on your stove and leave it be. This feature is highly beneficial for slow cooking and steaming. You can be more productive with your time.
Accurate Temperature
Not only you can set the cooking duration, but a portable induction cooktop also allows you to set the temperature each time you are cooking. However, there are limits to the temperature setting.
It comes with levels to choose with varied ranges and increments for every device. However, those are pretty good for controlling our cooking.
What to Consider When Choosing A Portable Induction Cooktop
Just like any other device, portable induction cooktops come with various specifications. Some can be important to consider, while others are okay to ignore.
It is vital to understand what those are and how they affect your cooking experience, so you know which model to buy. Here are some important ones to note:
Power Levels
Power is what you need to consider first when buying a portable induction cooktop. Each portable induction cooktop offers a few levels of wattage. The more options you have, the more control you have over the stove. What you need to see from the device are:
how many power levels available the range between the lowest and the highest level
how big are the jumps between levels
Run Time
Unlike a conventional stove, most portable induction cooktop units have a limit on how long it can run without stopping. This might be an issue if you love spending long hours in the kitchen.
But since most induction cooktop allows a long run time, this aspect should not be much of a trouble to consider.
Temperature Levels
This one is similar to the power levels but is less important to consider. Not every portable induction cooktop has a temperature setting. Some of them only offer multiple levels. Besides, most temperature settings are not very accurate.
Coil Size
The coil size determines how much electromagnets it can induct. But you don't need to worry much about it. Even a smaller coil can still cook finely because the cookware will always distribute heat evenly to the food.
However, this feature would be important if you plan to use large cookware.
Fan Type and Noise
Cheap portable induction cooktop units usually contain a low-quality fan, which would be noisy and easy to break. If you are sensitive to noise, you might need to ask to try turning it before agreeing to buy.
Weight and Dimension
Weight and dimension can be important, especially if you plan to bring your portable induction cooktop to travel. It can also matter if your kitchen is tiny. Some units are specially manufactured to be lightweight for better portability.
However, better quality portable induction cooktop units are generally heavier.
Time Setting
Not every portable induction cooktop unit provides an automatic turn-off timer. If such features are important to you, make sure to check it on the specification list. The ranges of duration are varied.
Alternatively, you can use a manual timer instead.
Warranty
A good quality device usually offers a long warranty. Besides the duration, you also need to check what things got covered by a warranty. Furthermore, be sure to know how to make your claim.
Brand Reputation
Brand matters most of the time because of its reputation. Choosing the best brand would secure the quality of service, durability, and other important aspects you can't figure out from the specification list.
Also read: these induction stoves are the best for small houses and 1 person households
Important Things to Know Before Buying Your First Portable Induction Cooktop
Operating and maintaining a portable induction cooktop is entirely different from a conventional gas stove. Things can be confusing, especially if you plan to switch to the induction cooktop for daily use. So here are important things you need to know.
Power
An induction cooktop can consume up to 1800 watts of power. Can your home power supply that much without causing electrical instability in your house?
This might be an issue if you used to use a gas stove before. But if you are using an electric stove before, there might not be any trouble.
Some Are Not Portable
Not all induction cooktops are portable. There are inset models for kitchen countertops, which require installation. If you need the portable one, make sure the model you buy is the portable type.
Cookwares
An induction cooktop can only work with magnetic cookware. A simple test can be done to see if your cookware is induction-ready. If a magnet can stick to it, then it is good to go. Otherwise, you would need some new cookware.
Double Burner Power
A double burner induction cooktop will share power. If you max out one of them, the other one would not be available for use. If you need both burners to work maximally, consider buying two units of single burner instead.
Each type of portable induction cooktop has different advantages and disadvantages. It is vital to know the specifications and how they may benefit you.
This way, you can determine which one is best for you. Besides choosing the right one, you also must know how to take good care of it so your portable induction cooktop may last long.
If you're not sure what to buy yet, you should also read my post on induction cooktops versus electric ones, I have all of the differences in use and energy consumption explained in that post so it's a good read to learn more.
Are induction cooktops safe?
Induction cooktops are perfectly safe to use. But there is no one single appliance that offers 100% safety. There is still some risk of getting hurt, especially if you use the cooktops incorrectly. It's so easy to assume that just because induction cooktops don't get hot, they cannot burn. People always seem to forget that the pans get hot instead. Do not take any chances.
Always handle your cooktop with extreme care. It is also possible for the appliances to cause fires, although such cases are probably very rare. Besides, higher-end cooktop brands like Duxtop and Cuisinart come with additional safety features that reduce the possible risks of fire.
Are induction cooktops energy efficient?
Yes, induction cooktops are very energy efficient, especially compared to other stovetops. However, to optimize energy efficiency for your cooker, make sure you use recommended pots. The pots must also cover the entire surface of the copper coils to ensure no heat is lost.
Where can I buy portable induction cooktops? 
Most stores specializing in kitchen appliances or home improvement products will have portable induction cooktops on offer. In case you'd prefer to buy online, consider buying on established sites like Amazon, Walmart, and others. It is also important to note that all the products we have included in our review are all available on Amazon.
What are the best pots to use with induction cooktops?
Any pots used on induction cooktops must have magnetic bottoms. Iron, graniteware, carbon steel, and stainless-steel pots should work. If you are not sure whether your pots will be compatible with an induction cooktop, there is a small test you can do at home. Just stick a magnet at the bottom of the pot. If it sticks, then the pot is good to go.
There are so many people out there who seem to believe that the portable induction cooktop brands need some special pans. This is not entirely true. Any pan that attaches to a magnet can be used.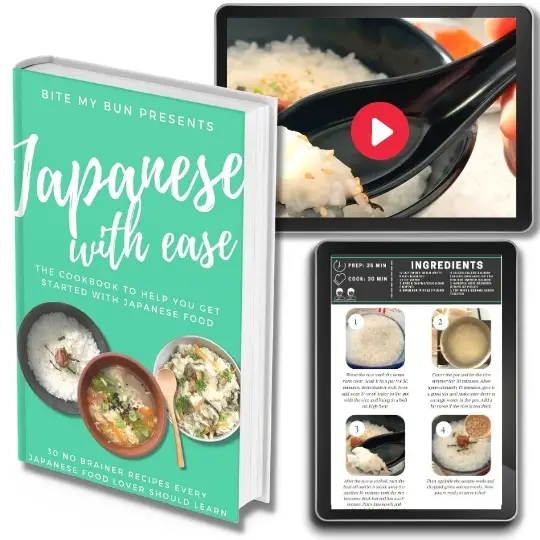 Ever had trouble finding Japanese recipes that were easy to make?
We now have "cooking Japanese with ease", our full recipe book and video course with step-by-step tutorials on your favorite recipes.
Joost Nusselder, the founder of Bite My Bun is a content marketer, dad and loves trying out new food with Japanese food at the heart of his passion, and together with his team he's been creating in-depth blog articles since 2016 to help loyal readers with recipes and cooking tips.