Best spatula for pancakes | Top 5 for turning & flipping like a pro
I love creating free content full of tips for my readers, you. I don't accept paid sponsorships, my opinion is my own, but if you find my recommendations helpful and you end up buying something you like through one of my links, I could earn a commission at no extra cost to you.
Learn more
Remember the last time you tried flipping a pancake but the edge of the spatula was too thick to get under it?
Or when the cake slipped right off the utensil just because it was "too thin" or flexible to handle it?
Well, I understand your pain. Hah! Who thought flipping a pancake would have so much science behind it.
But here we are! You've got to have the right dimensions, the right thickness, the right material, and practically everything to perfect the craft of flipping pancakes.
All of that considered, the best spatula for pancakes is the OXO Good Grips. It has a great price, the right size, and excellent heat resistance like any premium silicone-coated spatula. Guess what, it's a necessary ingredient for a flawlessly cooked pancake.
Now let's dive into the complete top list before I will discuss the nitty-gritty of a great pancake spatula and some of the best options you have at hand!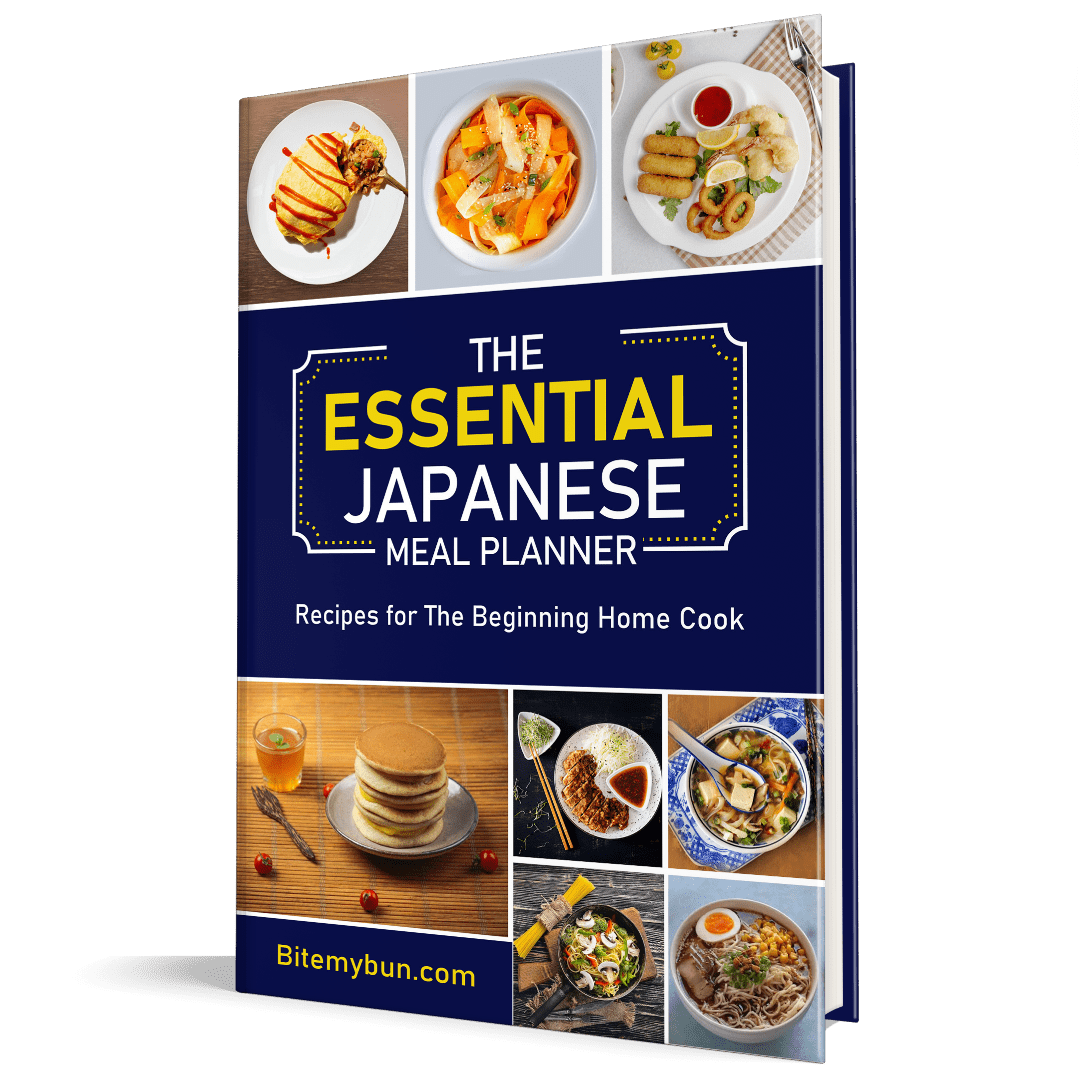 Check out our new cookbook
Bitemybun's family recipes with complete meal planner and recipe guide.
Try it out for free with Kindle Unlimited:
Read for free
What to look for in a spatula for pancakes? Complete buyer's guide
As you may already know, the spatula is an umbrella term that incorporates a lot of flippers and turners made of different materials.
So it's important to tell you about the things that make a spatula suitable for pancakes. Plus, my selection criteria for this list.
Material
Lets me make that simple for you. As long as the material is durable enough to tolerate high heat, it can make an excellent pancake spatula.
With that in mind, the following are some of the best materials you can pick from:
Stainless steel
Stainless steel spatulas/ metal spatulas are the most versatile and perhaps the ideal choice for pancakes. However, they should only be used with stainless steel or cast iron cookware.
Non-stick or ceramic pans can get scratched if you use a steel spatula to move the food around in them!
Stainless steel spatulas often come with sharp edges and wide heads that conveniently get under the pancakes and make the process effortless.
Plus, as steel is a heavy-duty material, you can also use it for relatively heavy works like flipping burgers, fish fillets, grilled cheese sandwiches, etc.
Silicone
Will you be making your pancakes mostly in your non-stick pans? Pure silicon-made spatulas or plastic/steel spatulas with silicone coating will work the best for you.
They are highly heat resistant, dishwasher safe, and won't damage your non-stick cookware.
Although you could also use plastic spatulas, they are not as high heat resistant and would melt with constant heat exposure.
Wood
Naturally antibacterial, pleasant aesthetics (if that's your thing), safe to use in non-stick pans, and highly durable, wooden spatulas serve as a popular choice for high heat and scrapping works.
Besides, they won't scratch your nonstick cookware. So that's another advantage to count.
However, wood is not suited for the dishwasher, so you'd be washing your wooden spatulas by hand.
Type of spatula
Now that you know the different materials let's get into the ideal types or designs of spatulas that serve great for flipping pancakes…and more!
Metal fish spatula
With a nice offset, sharp edges, and a sturdy overall build with an ergonomic grip, a metal fish spatula easily slips under any food (heavy or light).
It provides just the right balance to pick or flip! Use it for pancakes, fish, or anything you would like.
Metal turner
Although metal turners are the best suited for smashing burgers and picking and cutting through lasagna, they are also one of the best spatulas for pancakes cooked in a cast-iron skillet.
Silicone coated spatula
If you are used to making pancakes in a non-stick or ceramic-coated pan, going for a plastic spatula coated with silicone will work best.
A silicon spatula is thin but strong, heat resistant, and durable enough to last long.
Also found out which spatulas are best for Hibachi & Teppanyaki cooking
Features
So, now you know the ideal materials and the ideal types. But still, there's confusion.
Since every model has a different design and dimensions despite having the same material, how do you know which one is right?
Well, the following are some of the key features to look for when choosing your spatula:
Handle length
Your flipping is as good as your handle. A spatula must have a handle between 5-6 inches to ensure that flipping those pancakes is safe and clean.
It will keep you close to the active area without exposing your hands to spills. You get better control, better safety, and more balance.
Oh! And don't forget to check if the handle has a non-slip grip. You don't want your spatula swinging in the air along with your pancake, do you?
Head
For pancakes, you would essentially like something that has a broad head with a sharp front edge. The material, though, would come down to what your cooking pan is made of.
Do you have cast iron, steel or non-stick cookware?
There's nothing better than getting a stainless steel spatula if it's a cast-iron pan. Steel spatulas are sharp, durable, and will do fine for just about anything.
Nevertheless, if it's the other way around, you would like to use something with a silicone coating like the OXO Good Grips Pancake Turner. You don't want to get those nonstick pans scratched.
Offset or not?
Although simple spatulas will also work if you are pretty experienced, I would highly recommend an offset spatula for pancakes if you are a newbie.
There's a reason for that. Offset spatulas, as the name suggests, are tilted back a bit. Thus, as you pick the pancake, it gets some extra support compared to flat ones. This means there's less chance of it dropping again.
Here, I would also mention that this feature also serves excellent for things other than pancakes, like fried eggs, fish fillets, and even omelets.
Flexible or not?
Well, definitely flexible. Especially when dealing with a crowded pan where you will need maximum maneuverability.
Thickness
For pancakes, even something with a 0.2 mm thickness will work.
However, you would still like to go for something that has thickness sitting in the 0.5-0.6 mm range. This is also known as the sweet spot.
Within this range, you get a perfect spatula that can do heavy-lifting, while providing the much-needed flexibility to get beneath those hot pancakes in a screaming hot pan.
Best spatula for pancakes reviewed
Well, let's get this straight. The market is cluttered with many spatulas described as "versatile."
But the fact is, a good fish-turner isn't always a reliable option for flipping pancakes.
Plus, you have to ask yourself a lot of questions when picking something. For example, is the spatula heat resistant? Is it sturdy enough? Is it dishwasher safe?
Bottom line, there are a hundred things you will need to go through! But no more!
Below given are some great options that tick every single box. We went through the clutter, so you won't have to.
Best spatula for pancakes overall: OXO Good Grips Pancake Turner
Have you ever seen a spatula referred to as a revelation from the gods of utensils or the holy grail of culinary tools?
Well, now you've seen one. And no, that's not me making the comparisons, but the 4000+ people who have bought it online.
OXO Good Grips is a name well respected in the world of kitchen accessories, and they do not disappoint us with this one.
OXO Good Grips is a silicone-coated spatula with a stainless steel blade and a 6/3.25-inch head size that is perfect for flipping pancakes.
Among the many great features of this spatula is its long handle, which stands at 6 inches, compared to the standard 5-inch size.
This means you will be at a reasonable safe distance from all the hot oil that might come from all those smooth tossing without losing control. Not to mention the overall comforting experience.
Apart from pancakes, it also serves as a great fish spatula, with pretty much good shape for flipping burgers as well. You can also use its thin edge to scrape off any leftovers from your cast iron pans.
As for the non-cooking aspects of this spatula, it can tolerate temperatures as hot as 572 F, has a very convenient hanging hole, is dishwasher safe, and won't scratch pans.
Oh, and it comes at an affordable price.
There's no match for it when it comes to balancing functionality, comfort, and budget. It's simply fantastic.
Material: Steel bonded with silicone
Dimensions: 12.00″x6.00″x 3.25
Weight: 4.8 ounces
Type: Turner
Dishwasher safe? Yes
Best stainless steel spatula for pancakes: HIC Harold Import Co. Dexter-Russell
Were it not for the steeper price, I would definitely keep this one at the top! But hey, that's about the only compromise you will make with this one.
Why? Because this is one of the best metal spatulas you'll find out there.
The build, the look, the quality, there's nothing other than premium.
Getting into the nitty-gritty of this spatula, the first thing that will immediately strike you is its immaculate stainless steel construction.
Combine that with the well-sized overall profile (4 by 2.3″) of this turner, and you've got yourself a pancake spatula that has a size just perfect for flipping anything.
Moreover, like the model mentioned above, this one too has an extremely thin edge.
You can use it like a fish spatula, a tool for flipping eggs and omelets, or just something to pick your food from a screaming hot pan.
So whether you are someone looking for a premium quality metal turner, a decent spatula to catch up with your breakfast needs, or something that lasts for ages, HIC Herold Import is the best alternative to OXO Good Grips Spatula you can get.
Oh, and I forgot to mention! Never use it on non-stick pans, the metal will scratch your pan.
Also, this spatula needs to be washed by hand because of its wooden handle.
Material: Stainless steel
Dimensions: 2.5″ x 1.75″ x 10.5″
Weight: 2.6 ounces
Type: Turner
Dishwasher safe? No
Best budget spatula for pancakes: Winco TN719 Blade Turner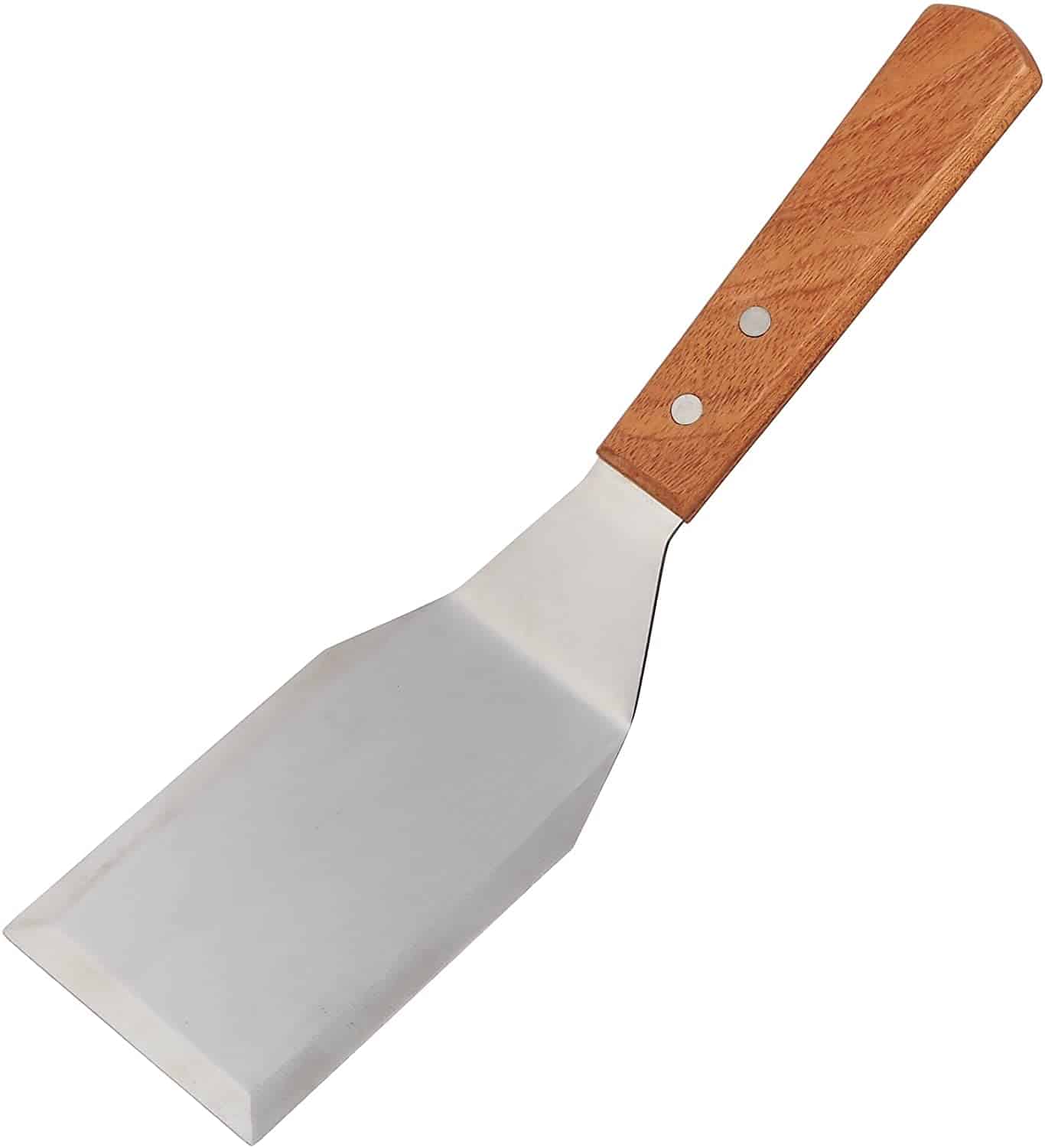 Let's agree on one thing. Finding something so durable that you could hand it down to your grandchildren for less than $10 seems like a "too good to be true" sort of deal.
Well, not anymore! The Winco TN719 is just that! A very sturdy, simple, and premium cast iron spatula, it ticks every box of a well-crafted kitchen utensil.
Just like any metal spatula, this one too can be used for multiple purposes.
But hey! It gets even better. This is one of the few spatulas that feature beveled edges. Thus you can use it for flipping, scrapping, and cutting altogether.
Although it is a little heavier than conventional small turners, the ergonomic grip of the wooden handle fairly compensates for it.
Thus, giving you just the proper control required to flip pancakes.
As well as, the extra weight makes this spatula super versatile. For example, you could also use it to smash burgers on the griddle without any special effort.
The only drawbacks of this model?
First, it's not dishwasher safe. Second, it's specially designed for restaurants. So the guarantee gets automatically void if you use it at home.
With that in check, it's one of the best spatulas to pair up with metal pans you'll ever find at this price range.
Material: Stainless steel
Dimensions: 11.13″ x 2.88″ x 1.63″
Weight: 1.6 ounces
Type: Turner
Dishwasher safe? No
Best wooden spatula for pancakes: Berard Olive-Wood Handcrafted Curved
This wooden spatula just couldn't get any better. It is a simple yet calculatingly designed spatula exclusively made to flip pancakes.
It features a lovely satin finish that is made up of a combination of beeswax and different mineral oils, giving it a neat look and providing it with excellent durability.
To keep this layer of protection, you can apply special conditioning oil, like this cutting board oil, every couple of months.
Because wood is a softer material than steel, this spatula is completely safe to use in your non-stick and ceramic cookware. But it can also deal with a solid cast iron pan!
The total length of this spatula is about 16″ maximum. This means your hands won't be exposed to any spills coming off from the hot cookware due to flipping.
Although the product is technically dishwasher safe, I recommend handwashing it.
That's because the spatula is reported as being quite fragile. When it dries out too much, it can split.
Thus, washing with hands gives you all the extra control to keep the spatula from any severe damage.
Also, there's no hanging hole or loop, which might be a problem for some people.
But aside from that, you'll love it for its super-flippin' abilities, which is rare for wooden spatulas.
Material: Olivewood
Dimensions: 12.5″ x 2.75″ x 0.2″
Weight: 2.24 ounces
Type: Turner
Dishwasher safe? No
Best offset slotted spatula for pancakes: WÜSTHOF Gourmet 6.5″
The 'best' in the business, Wusthof Gourmet Offset spatula, is well known in the American cooking community. And why not? It simply ticks every box.
America's test kitchen winner, Wusthoff slotted spatula has a total length of 11 by 4 by 1 inch, with a razor-sharp front edge and a 6-inch handle with a non-slip grip to keep it stable as you cook.
The head has a slight curvature that keeps the food from slipping once you pick it up.
Moreover, the spatula has just the right amount of flexibility to handle both heavy and light foods. It simply doesn't compromise on the much-needed maneuverability when handling a crowded pan.
Although the model is specially designed for handling fish fillets, it's pretty versatile. It can handle anything, from pancakes to burgers and anything in between.
My only concern would be the look, though. If I'm paying more than 60$ for something, I would like it to look darn good, which it doesn't!
Of course, there is no arguing about matters of taste, even when it comes to spatulas. The clean lines of this utensil might be just your thing.
And one thing is for sure: when it comes to functionality, it's a 10 out of 10.
Material: metal
Dimensions: 11″ x 4″ x 1″
Weight: 3.7 ounces
Type: Turner
Dishwasher safe? Yes
Conclusion
Where flipping pancakes is not the most challenging job in the culinary world, it sure requires some care.
You could either rune the cake or simply burn your hand with the spills that could come from slapping it on the pan. Not to mention all your hard work going down the drain.
To avoid that, you need something specifically designed for the job.
Next, learn how to make Japanese pancakes: From sweet to savory, and even a pancake drink!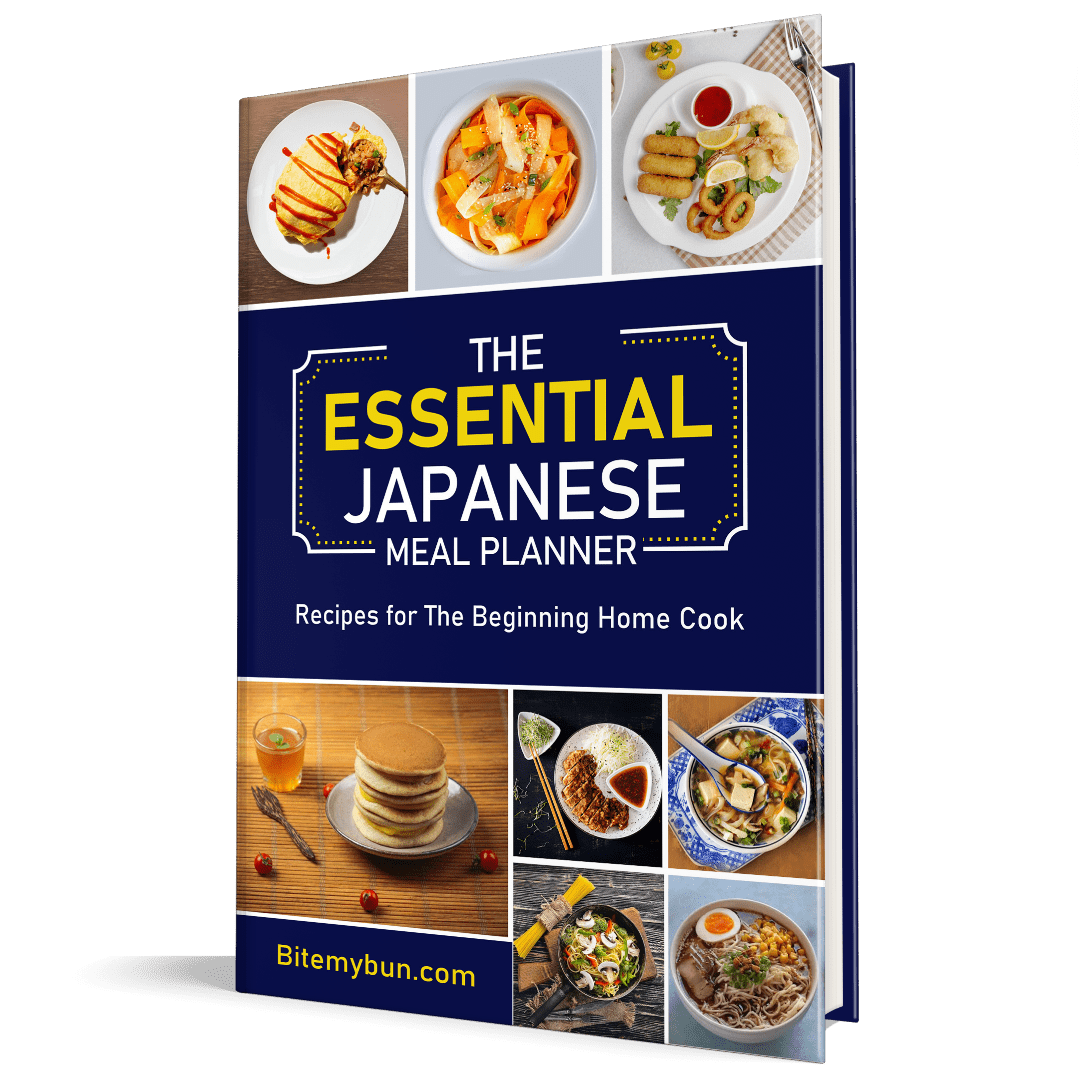 Check out our new cookbook
Bitemybun's family recipes with complete meal planner and recipe guide.
Try it out for free with Kindle Unlimited:
Read for free
Joost Nusselder, the founder of Bite My Bun is a content marketer, dad and loves trying out new food with Japanese food at the heart of his passion, and together with his team he's been creating in-depth blog articles since 2016 to help loyal readers with recipes and cooking tips.