Best Tsuyu: 6 Top Choices For Amazing Flavor Reviewed
I love creating free content full of tips for my readers, you. I don't accept paid sponsorships, my opinion is my own, but if you find my recommendations helpful and you end up buying something you like through one of my links, I could earn a commission at no extra cost to you.
Learn more
Japanese soups are very delicious because they start with a great base or stock. For many of Japan's beloved dishes, this base is tsuyu stock. But where to start?
The best bottled tsuyu sauce is Kikkoman Hon Tsuyu because it has a mild fish flavor, some sweetness to it, and it doesn't overpower your food. It's one of the most popular tsuyu varieties in Japan and North America, used for making soups, rice, noodle dishes, and more.
First, I'll review the top bottled tsuyu sauces. Then, I'll share a simple recipe and show you how to make tsuyu sauce or soup base at home using some Japanese pantry staples.
The flavor is what you'd call umami with a bit of smokiness and seafood flavors from the bonito flakes and kombu seaweed.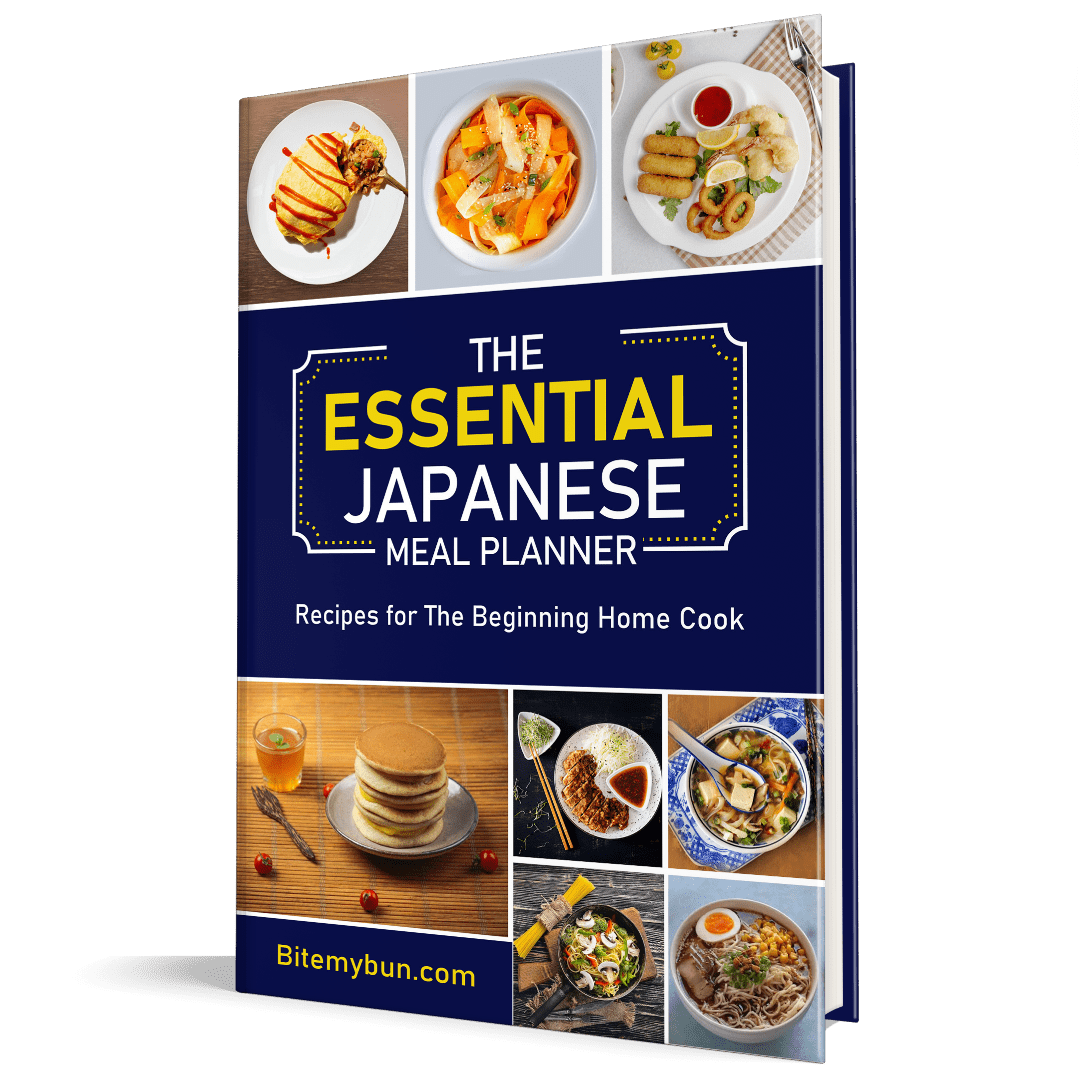 Check out our new cookbook
Bitemybun's family recipes with complete meal planner and recipe guide.
Try it out for free with Kindle Unlimited:
Read for free
Tsuyu buyers' guide: What to look for
Before we dive deeper into my top choices, let's get a few things straight about tsuyu first.
Best types of tsuyu & best brands
While you might think all tsuyu is the same, it's not quite true. There are actually many types and varieties.
Let's look at the most popular ones:
Straight: This kind of tsuyu has a delicate mild flavor and it doesn't need to be diluted with water.
Double concentrated: This refers to a stronger tsuyu that you must dilute with as much as 3 or 4 times water.
Soba tsuyu (zaru): This type of tsuyu is made specifically for soba noodle dishes, like cold soba noodles (zaru), salad, and soup.
Somen tsuyu: This is another base made for somen noodle dishes.
I'm going to list some of the best brands and the standout tsuyu from each.
Some of the best brands include:
Kikkoman (Hon tsuyu)
Yamaki tsuyu
Mizkan
Yamaroku (best aged tsuyu)
Ninben
Shirakiku (soba noodle soup base tsuyu)
Best tsuyu reviewed: Your top choices explained
As you can see, the world of tsuyu is a vast one. Let's see why each of my favorite tsuyu choices is so good.
Best tsuyu overall: Kikkoman Hon Tsuyu
This yummy tsuyu is versatile, and it's made by one of the most popular Japanese condiment manufacturers: Kikkoman. Their products are affordable, and you'll find them in most pantries.
Kikkoman Hon Tsuyu is a classic stock/sauce that you can use for everything! It's the kind of sauce that has a mild but distinct fishy flavor because it's mostly made with kelp and bonito flakes, soy sauce, mirin, and sake.
Hon tsuyu must be diluted in water, but its flavor isn't overpowering. So it makes a great base for udon and soba soups, salads, and cold dishes too!
You can taste the delicate seafood flavors of the bonito flakes and the saltiness of the kelp. Combined with the sweetness of mirin and the savoriness of soy sauce, this sauce gives the ultimate umami taste.
Most popular tsuyu in Japan: Yamaki Men Tsuyu
If you've trying tsuyu for the first time, I recommend an authentic brand like Yamaki.
Their tsuyu sauce is made in Japan, and their tsuyu is known as one of the best-tasting ones out there! The sauce is made of high-quality ingredients, including lots of bonito flakes and the best kind of kelp.
It's like a premium dashi stock in a bottle. You can expect an authentic umami flavor (sweet and savory) from this stock.
You can use Yamaki Men Tsuyu liquid seasoning for all kinds of Japanese dishes, including soups, hot pot, noodle dishes, rice, and salads.
It's a double-strength tsuyu and must be diluted before cooking.
This sauce has a very rich aroma, and it's not as mild as some others because it's made of 2 types of bonito flakes. So the fishy flavor is more intense and pronounced.
Check prices and availability here
Kikkoman Hon Tsuyu vs Yamaki Men Tsuyu
The most notable difference between these 2 tsuyu liquid seasonings is that the Kikkoman one is more popular in America, while the Yamaki is a Japanese pantry favorite.
Also, the Yamaki tsuyu is stronger and has a richer seafood flavor than its more mild Kikkoman counterpart.
Kikkoman is generally cheaper and more readily available in grocery stores. However, Yamaki is worth the slightly higher price tag because it has a distinct aroma and has more "umami".
If you want an authentic rich, yet balanced taste, men tsuyu is a must-try. On the other hand, hon tsuyu is the best versatile sauce you can use in all kinds of Western & Asian recipes.
Best straight tsuyu and best for soba noodle soup: Shirakiku Soba Noodle Soup Base
If you're a big fan of soba noodles like I am, then you'll love this refreshing sauce. This tasty tsuyu is highly recommended for soba noodle soup and cold soba noodle salads.
It's a straight tsuyu, so you don't have to dilute it. That's why it's suitable as a dipping sauce too!
Shirakiku is a well-known Japanese brand and makes all kinds of tasty seasonings and sauces for various dishes. Their men tsuyu is highly rated by customers because it offers the classic taste people expect.
Since you don't need to dilute this tsuyu, it's quite mild flavored. If you like a delicate savoriness, but with a hint of dashi taste, you'll be impressed by the versatility of this sauce.
Don't worry; it's not exclusively made for soba noodles. It tastes amazing in udon, somen, ramen, as well as with rice too.
Found out all about these Different types of Japanese noodles (with recipes)
Best tsuyu for somen: Morita Somen Noodles
If you love the thin white somen noodles used for soup and salads, then you'll appreciate the special somen tsuyu from Morita.
While you can use it for all kinds of Japanese dishes, this sauce works well with thin noodles because it has a rich yet mild flavor. It's a straight tsuyu, so you don't need to dilute it before adding it to your food.
Morita Tsuyu has a classic rich and mild umami flavor. It's made of Hokkaido tangled seaweed and dried bonito flakes from Yaizu.
There's no chemical seasoning, so it's a healthier tsuyu than the ones that contain many preservatives.
I recommend this sauce as a general soup base for all kinds of noodle soups. But it's also mellow enough to be used as a dipping sauce.
Check prices and availability here
Shirakiku vs Morita
What these 2 sauces have in common is that they're both advertised as specific stocks for noodle dishes; namely soba and somen.
The Morita somen noodle sauce has a natural but mild dashi flavor, whereas the Shirakiku sauce isn'tt as rich in taste.
Because Shirakiku and Morita are both straight tsuyu sauces, they're less concentrated, and you can use them without diluting them first.
In my opinion, these sauces are very similar. They're both best suited for dipping and pouring onto noodles.
The only difference is that Morita is made with more natural ingredients, without any chemicals. Perhaps it's the healthier choice!
Best strong flavor tsuyu & best for cold noodles: Mizkan Oigatsuo
Some people want their udon or soba noodle soup to have a rich, dashi flavor. If you prefer a stock with lots of fishy bonito flavor and aromatic kelp, then you'll love this Mizkan tsuyu.
It's a concentrated liquid seasoning, and you should definitely dilute it. For most soups and dipping sauces, go for a 1:3 ratio, or else i'ill overwhelm the taste of your food.
The flavor of this tsuyu is much richer than the mild varieties I previously mentioned. But it's tasty, so it's one of Japan's favorites!
It's the kind of sauce that's best for zaru soba and other cold noodle dishes because it adds lots of rich aromas.
Customers rave that this is the closest you'll get to the authentic zaru soba sauce you can find at Japanese restaurants.
If you're looking for a premium sauce with fantastic taste, then you need to try aged Kiku tsuyu.
It's one of Japan's best aged tsuyus made on Shodoshima Island. They use only high-quality soy sauce, bonito flakes, and kelp.
Each bottle of Kiku tsuyu is aged for 2 years in 150-year-old barrels before being sold. Therefore, the flavor is intense, but very smooth and balanced.
Think of it as gourmet food, as the price is pretty high for a bottle. But there are no preservatives, and all the ingredients are carefully selected.
Considering it takes over 2 years to make, it's the kind of gourmet sauce you can use to make the tastiest dishes for your friends and family.
I recommend using this tsuyu in stews, soup, oden, and tempura.
Check prices and availability here
Mizkan vs Yamaroku Aged
Here's the thing about these 2 tsuyu sauces: they're more geared towards true connoisseurs.
If it's your first time trying this soup base, you might not be able to tell the nuanced differences. However, you'll surely realize that Yamaroku aged tsuyu is much more delicate with well-pronounced dashi flavors.
The Mizkan tsuyu is strong and very concentrated, so it's a better choice for those who love bold tastes. It's useful if you want to make cold noodle dishes and salads.
If you're just starting to cook with tsuyu, I recommend starting with a mild or straight tsuyu because you won't alter the taste of your noodles too much.
Use the best tsuyu for cooking
For a multi-purpose tsuyu sauce with a mild flavor and that delicious dashi taste, the Kikkoman brand hon tsuyu is the best buy. It's the kind of sauce you can use to make all kinds of rice, noodle, and hot pot dishes. And of course, you can use it as a soup base too.
I recommend keeping some tsuyu in your pantry or making a fresh sauce to keep in the fridge. This way, you can always make a bowl of hot soba or udon soup for yourself and have easy meals at your fingertips!
Why not use your tsuyu in this sukiyaki recipe? It's a fun family favorite hot pot meal for social dining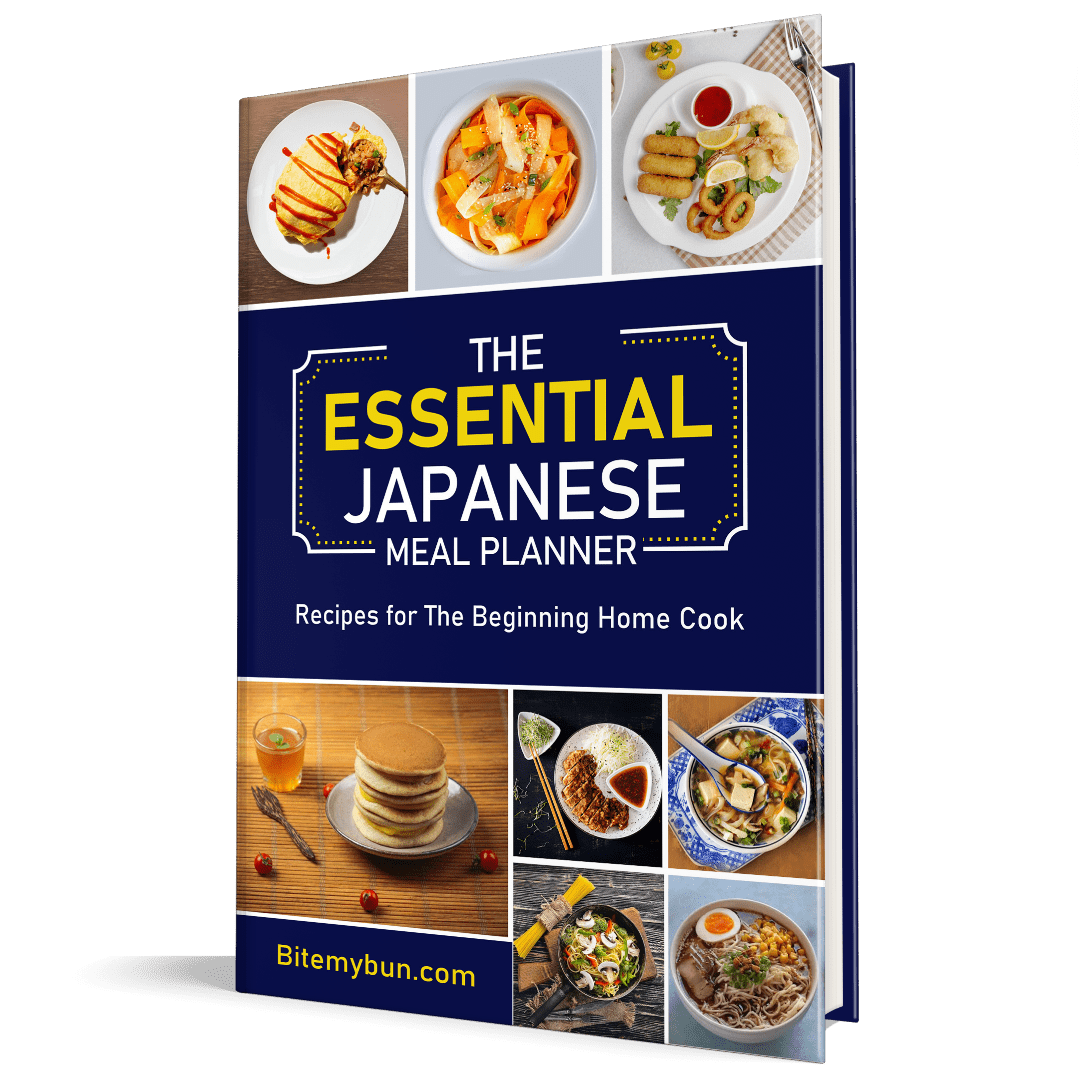 Check out our new cookbook
Bitemybun's family recipes with complete meal planner and recipe guide.
Try it out for free with Kindle Unlimited:
Read for free
Joost Nusselder, the founder of Bite My Bun is a content marketer, dad and loves trying out new food with Japanese food at the heart of his passion, and together with his team he's been creating in-depth blog articles since 2016 to help loyal readers with recipes and cooking tips.