Delicious grilled Zucchini | 3 Japanese Zucchini recipes to try
I love creating free content full of tips for my readers, you. I don't accept paid sponsorships, my opinion is my own, but if you find my recommendations helpful and you end up buying something you like through one of my links, I could earn a commission at no extra cost to you.
Learn more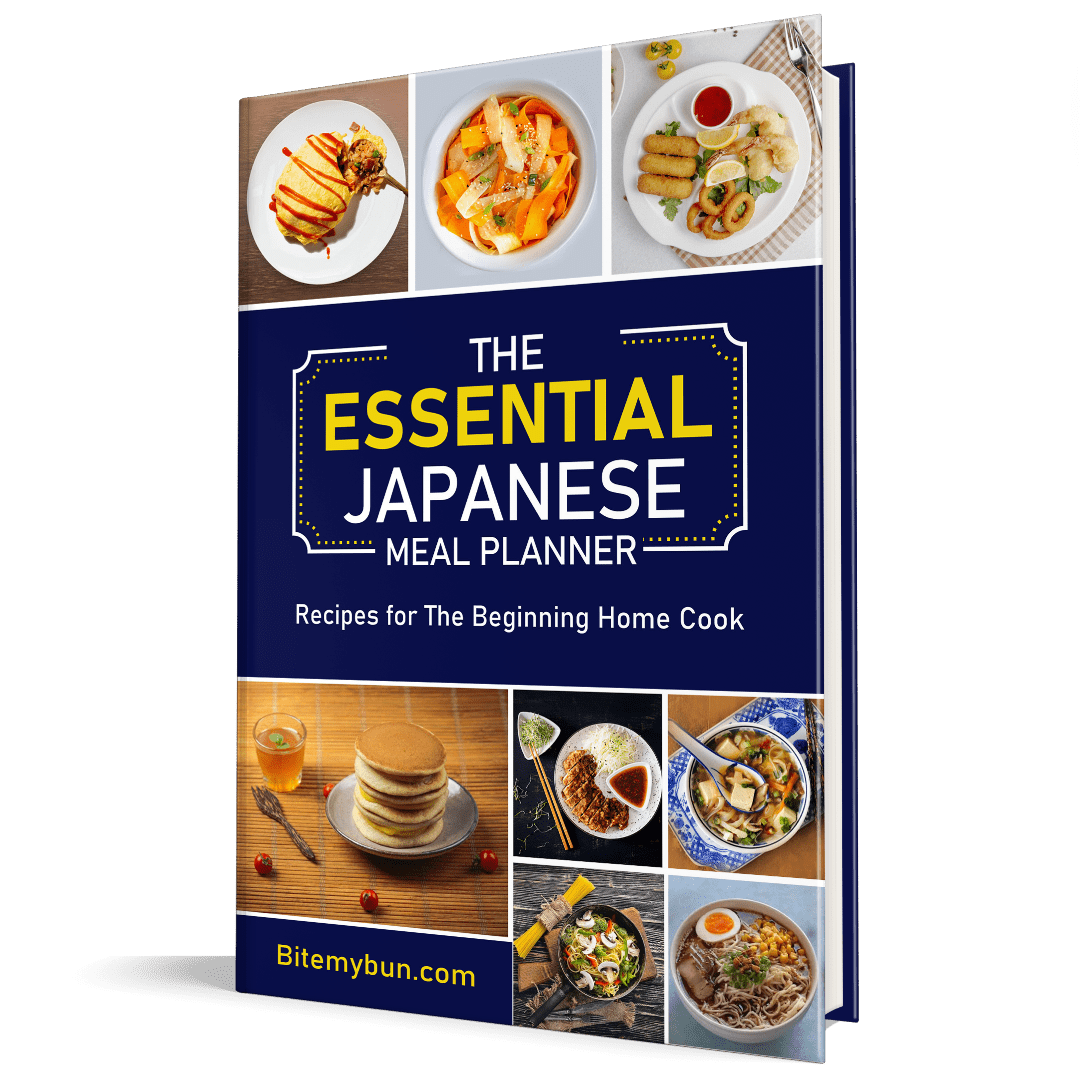 Check out our new cookbook
Bitemybun's family recipes with complete meal planner and recipe guide.
Try it out for free with Kindle Unlimited:
Read for free
The best thing about Japanese recipes is that they have a wide array of food selections that includes meat, fruits, herbs, and vegetables.
So you are guaranteed to have very delicious meals all the time while maintaining the number of nutrients that your body needs.
People who do not like to eat meat like vegans can also enjoy various Japanese fruit and vegetable recipes, made on a Teppan for Teppanyaki plate, or on your own home grill.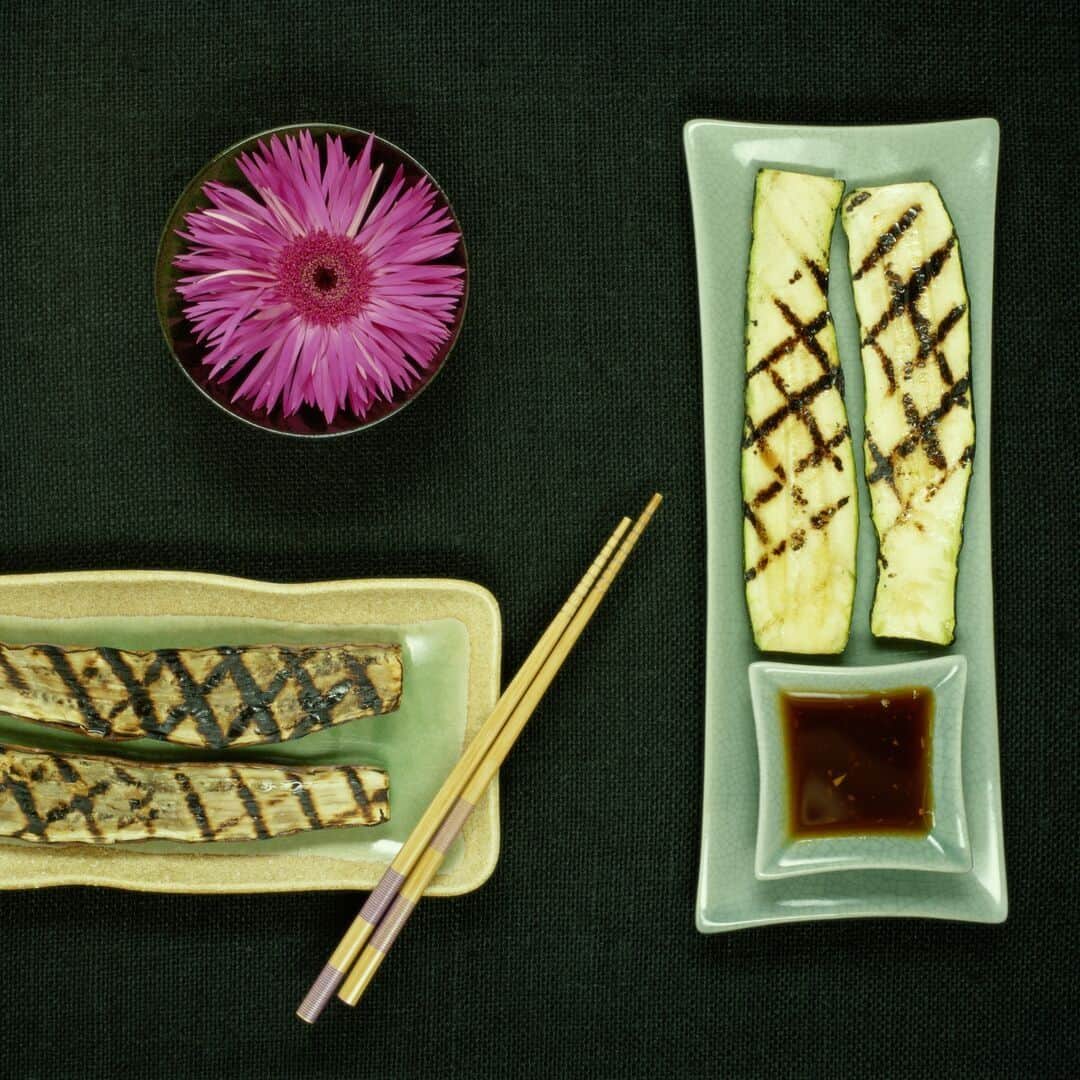 In case you're a vegan or just planning to try something new besides meaty treats, then all eyes here!
Today it will be the zucchini that will sizzle in the iron girdle for a change and at the end of all of this is a meal that you will be serving occasionally to your guests.
This is a good time to try other Teppanyaki recipes.
For the best result, try these essential teppanyaki tools you can buy
10 Tips to Save a Bundle on Asian Ingredients!
Introducing our brand new FREE PDF guide: "Saving Secrets: Unveiling the Art of Saving Money on Asian Ingredients" It's your first newsletter email, so start saving today! 📚🧧
We'll only use your email address for our newsletter and respect your privacy
How to grill the Zucchini, Japanese style
A zucchini is from the family of Cucurbita pepo which the pumpkin, squash, and cucumber also belong to. This vegetable can grow up to a meter long and is quite delicious when cooked with the right ingredients and heat.
When used for food, zucchini is usually picked when under 20 cm (8 inch) in length, preferably with the flower still attached to it because it is believed that at this age the vegetable is immature with its seeds still soft and is perfect for consumption.
Much like the squash and pumpkin, the zucchini is usually served cooked and only the cucumber is an exception as it can be eaten fresh.
It can be prepared using a variety of cooking techniques, including steamed, boiled, grilled, stuffed and baked, barbecued, fried, or incorporated in other recipes such as soufflés.
Let's look at the first Zucchini recipe you can make on your Japanese Teppanyaki grill (or just using your grilling pan if you don't have one):
Japanese grilled zucchini and green onions
If you've ever been in one of those Japanese steakhouses, then you must have tried the grilled zucchini – it makes a tender and flavorful side dish for the steak.

The sesame seeds and soy sauce give the vegetables a robust flavor. Instead of having other high-carb side dishes choose the potassium and calcium-rich zucchini instead. A popular summer squash, the zucchini is sometimes called a courgette.
Equipment
Teppanyaki plate

or: grilling pan
Ingredients  
1

tsp

sesame oil

1

tbsp

butter

2

tbsp

soy sauce

2

zucchini

sliced diagonally

1/4

cup

green onions

chopped

2

tsp

sesame seeds

salt

to taste

pepper

to taste
Instructions 
Slice the zucchini diagonally and set them aside

Heat the teppanyaki plate (or your grilling pan) to medium heat and roast the sesame seeds for 1/2 minute

Add the seeds to a bowl and set them aside

Add the butter and sesame oil to the grill and mix it around until the butter has melted

Add the zucchini slices to the surface and make sure every slice touches the plate

After 4 minutes flip over the zucchini and let it grill for another 4, add salt and pepper to taste

In the meantime, add the soy sauce to the bowl of sesame seeds

Cut the green onions in thin rounds

Put the zucchini on a plate, add the green onions on top and add the sauce to your taste or serve it in the bowl so your guests can add it to their liking.

Serve the zucchini as a side dish for a rice or noodle dish
If you've ever been in one of those Japanese steakhouses, then you must have tried the grilled zucchini – it makes a tender and flavorful side dish for the steak.
The sesame seeds and soy sauce give the vegetables a robust flavor. Instead of having other high-carb side dishes choose the potassium and calcium-rich zucchini instead. A popular summer squash, the zucchini is sometimes called a courgette.
In Japanese restaurants, it is often served with rice along with the steak, shrimp or chicken you've ordered. In order to get the best results, then you may want to grill the zucchini on a teppanyaki griddle, but don't overcook them or else they won't be crispy and crunchy but instead mushy.
Here's how to make it:
You can also bake the zucchini into the bread like the banana bread or make a zucchini cake which should have a similar baking method to the carrot cake or apple pie.
When marinated or stuffed the flower of the zucchini is also a delicacy and can be eaten as tempura when deep fried.
Zucchini has a delicate flavor and requires little more than quick cooking with butter or olive oil, with or without fresh herbs. You don't have to peel off the skin as it is also edible.
The zucchini has at least 30% – 40% water in it and when cooked quickly in oil or butter it will momentarily boil/steam on the grill, once the water evaporates and the juices concentrate, then it will give off a very distinct taste which is what the fruit is known for.
You can also eat the zucchini raw, sliced or shredded like in a refrigerated salad or the lightly cooked Vietnamese or Thai hot salads. Mature (larger sized) zucchini are well suited for cooking in bread.
If you'll use a spiralizer, then you can make low-carb highly nutritious noodles recipes out of the zucchini too!
Here we have three amazing teppanyaki style zucchini recipes for you to try!
Taste is everything – buy good produce
Now, in these Teppanyaki dishes, taste is everything so you want to buy good produce. Unlinke other dishes where zucchini is merely a side dish or a small part of the whole, in Teppanyaki the grilles zucchini will play a much larger role. Nothing to mask the taste of sub-par produce.
So when you go out shopping for your ingredients, make sure you go to a good food market or local shop with good fresh vegetables.
How to Grill Zucchini Like Japanese Restaurants
1. Pre-heat the teppanyaki grill at medium to high heat, then pour the sesame oil.
2. Add the soy sauce and butter, then stir the mixture until the butter melts (30 seconds).
3. Add the onions and zucchini to the mix and stir to cook.
4. Sprinkle the food with salt, pepper and sesame seeds.
5. Using a spatula, grill each side of the zucchini (3 minutes per side) until it becomes light brown in color.
6. Serve with beef or pork steak with rice or ramen
Zucchini and Eggplant with Miso Recipe
Ingredients
• 1 tablespoon cooking oil
• 250 grams zucchini, sliced into 3-inch lengths
• 2 eggplant, sliced into 2-inch pieces
• 3 tablespoons Japanese white miso
• 6 tablespoons mirin (Japanese sweet rice wine)
• 2 teaspoons white sugar
• 2 tablespoons water
• Chili flakes
• Salt
• 1 tablespoon sesame oil
• 1 tablespoon black sesame seeds, toasted
Cooking Method
1. Heat oil in the teppanyaki girdle. Sauté zucchini and (Japanese) eggplant for a minute. Add the chili flakes, miso, white sugar, mirin, and water. Let it cook over medium heat until the water boils. Wait until the liquid becomes thick, then season it with salt.
2. Turn off the grill. Add some sesame seeds and sesame oil, then serve.
Sauteed Zucchini and Mushrooms
Ingredients
• 3-4 tablespoons ghee
• 227g (1/2lb) mushrooms, quartered
• ½ teaspoon Himalayan salt
• 1 teaspoon freshly cracked pepper
• 4 green onions, chopped
• 3 garlic cloves, minced
• 900g (2lb) zucchinis (about 5-6), cut in half-moons
• 1 tbsp magic mushroom powder
• ¼ cup fresh parsley, chopped
• 3 dried birds eye chili peppers
Cooking Method
1. Melt the ghee in a teppanyaki grill and set over high heat. Toss in the mushrooms, sprinkle with the pepper and salt and cook thoroughly until all sides of it turn golden brown. Push aside to the warming area.
2. Transfer the ghee to a bowl, then turn down the heat to medium. Add the garlic and green onions and cook until it gets a brownish color and its texture is soft (roughly 1 minute on the grill).
3. Toss in the mushroom powder and zucchini and keep cooking for 2-3 minutes until it softens.
4. Put the mushrooms back to the cooking center, add birds eye peppers and parsley, mix the combined ingredients then serve.
Zucchini Nutrition Facts
Since we've pretty much covered everything about how to cook the zucchini in a teppanyaki grill, then it's time to find out what sort of benefits we can get out of this fruit/vegetable. The zucchini – a summer squash – has lots of carotenoids, the naturally occurring compound found in plants which are also known as Vitamin A.
A new research suggested that the vegetable has the highest concentration of carotenoids than any other plant in the Cucurbita pepo family! One of the top 3 sources of the most revered antioxidant compounds lutein, zeaxanthin, and beta-cryptoxanthin, the summer squash truly is indeed a miracle plant.
1.) Zucchinis are Great for Blood Sugar
While insulin is quite an expensive drug sold in pharmacies, you can get the same benefit from the zucchini which can help control your blood sugar level.
• The B-complex vitamins are all critically important for the metabolism of sugar. They help break down carbohydrates and convert them into energy for our body to use. Lack of these essential vitamins will cause carbs to break down into sugars and overwhelm the body's insulin which can lead to diabetes. Since zucchinis are loaded with vitamins B6, B1, B2, B3, and choline, they are best suited to regulate blood sugar levels and help slow the progress of diabetes in your body. Equally important for the regulation of blood sugar is the zinc that's present in the zucchini.
• Omega-3 fatty acids are another chemical compound that helps blood sugar regulation.
• The magnesium in zucchinis also helps maintain your blood pressure as well as break down carbohydrates.
2.) Zucchini is Great for Cardiovascular Health
Vitamin C and manganese which are also present in the zucchini helps keep your cardiovascular system in check.
• Vitamin C is like your go-to guy for whatever you need because it helps just about every other nutrient perform their function in your body in order to keep you healthy. Its antioxidant properties help you defend against cardiovascular diseases.
• Research shows that there is a link between manganese deficiency and diabetes, if you eat zucchini regularly, then it should prevent your body from developing diabetes.
• Omega-3s help to sweep LDL (low-density lipoprotein) from the bloodstream and the zucchini has got it in spades. LDL cholesterol is troublesome because they tend to stick to arterial walls or slip through them and stick to your other internal organs, which can have much worse effects.
3.) Zucchini is a Good Anti-Inflammatory
When a foreign pathogen (bacteria, virus or microorganism) enters our body, it responds by causing inflammation in infected areas. This is the body's natural defenses acting against those foreign substances in order to flush them out. In some cases, inflammation happens even when it is not needed and this can lead to severe pain in various organs or tissues in your body.
The summer squash contains nutrients that heal inflammation caused by an overactive immune system.
• Omega 3 fatty acids are excellent for countering inflammations plus it also helps prevent the arteries from hardening.
• Carotenoids, like beta-carotene, zeaxanthin, and lutein, are found to be anti-inflammatory compounds.
• Summer squash fibers contain polysaccharides have been lab tested and proven to heal inflammation.
• The zucchini has been found by researchers to be very effective at treating gastrointestinal tract and cardiovascular system inflammations. For this reason, doctors advise patients who are suffering from gastric ulcers and duodenal ulcers to include zucchinis in their diet as part of their treatment.
If this sounds delicious to you, check out our teppanyaki buying guide here, for your essential tools and grills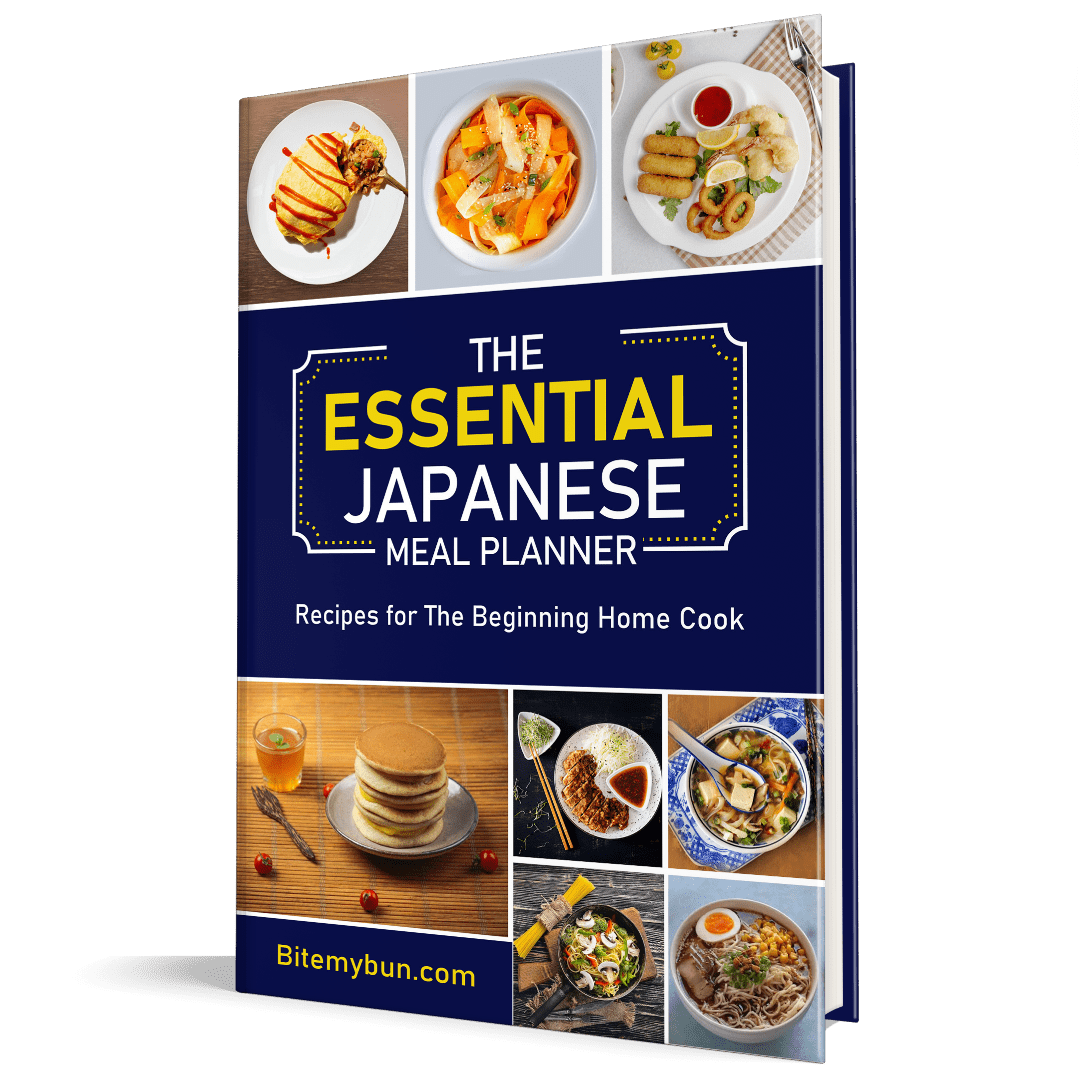 Check out our new cookbook
Bitemybun's family recipes with complete meal planner and recipe guide.
Try it out for free with Kindle Unlimited:
Read for free
Joost Nusselder, the founder of Bite My Bun is a content marketer, dad and loves trying out new food with Japanese food at the heart of his passion, and together with his team he's been creating in-depth blog articles since 2016 to help loyal readers with recipes and cooking tips.