Japanese cheesecake recipe | Make this must-try deliciousness at home
I love creating free content full of tips for my readers, you. I don't accept paid sponsorships, my opinion is my own, but if you find my recommendations helpful and you end up buying something you like through one of my links, I could earn a commission at no extra cost to you.
Learn more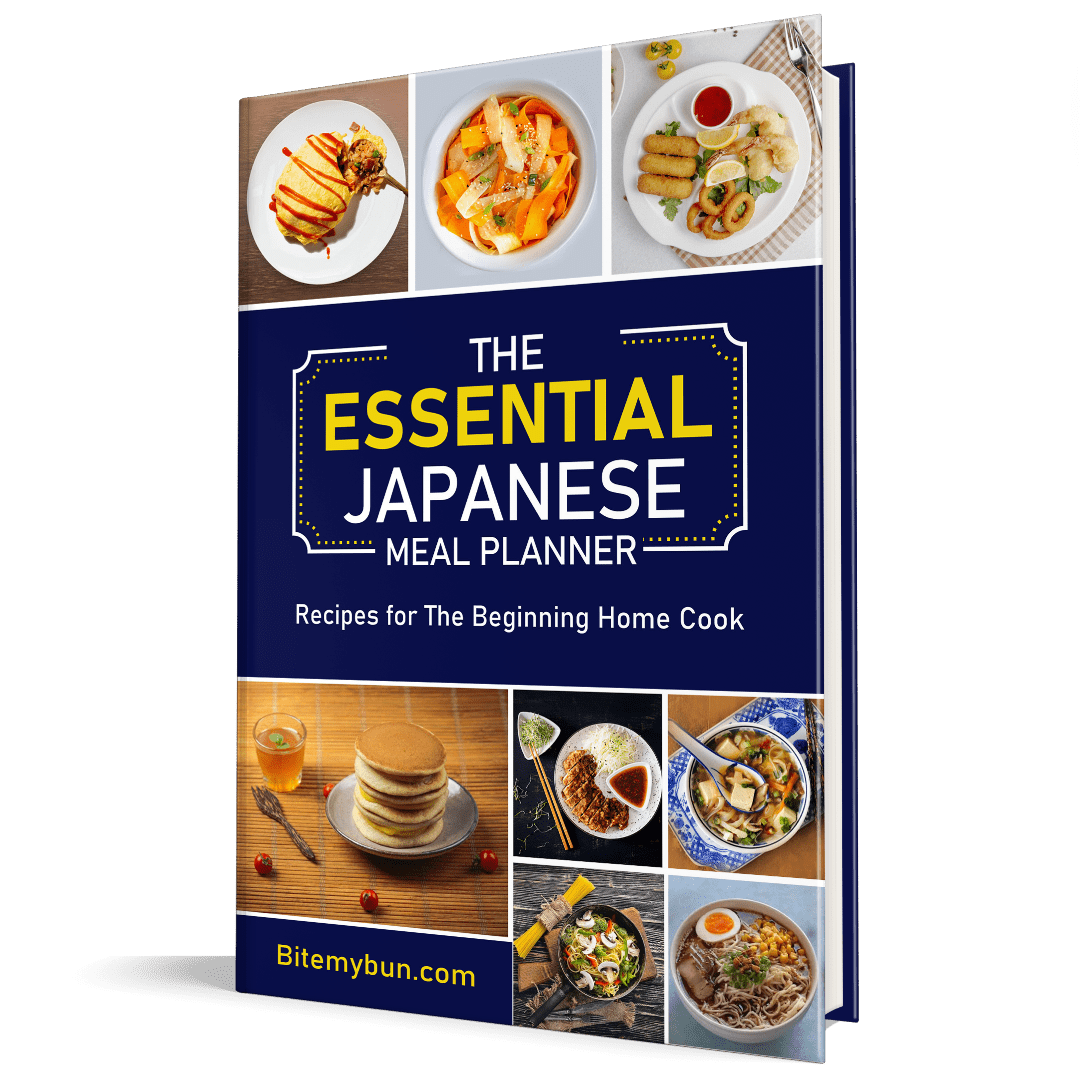 Check out our new cookbook
Bitemybun's family recipes with complete meal planner and recipe guide.
Try it out for free with Kindle Unlimited:
Read for free
Prepare to be amazed by the softest and fluffiest cheesecake you've ever tried.
Sure it's a trendy dessert, but it's been around in Japan for decades, and it's the best upgrade to the classic gooey and chewy Western cheesecake you know and love.
If you've ever tried Uncle Tetsu's or PABLO's delicious cheesecakes before, then you know what I'm getting at. That aerated spongy texture and slightly sweet creamy filling are enough to make your mouth water.
The good news is, you can make soft, melt-in-your-mouth, spongy cheesecake at home, but the secret is that you have to whisk egg whites separately before folding them into the mixture. This gives that aerated texture, and in this recipe, I'll tell you exactly how to do it.
10 Tips to Save a Bundle on Asian Ingredients!
Introducing our brand new FREE PDF guide: "Saving Secrets: Unveiling the Art of Saving Money on Asian Ingredients" It's your first newsletter email, so start saving today! 📚🧧
We'll only use your email address for our newsletter and respect your privacy
Fluffy Japanese cheesecake recipe
Alright, it's time to get baking because once you make this delicious fluffy cake, you'll be baking this all the time from now on!
But first, there are some tips and tricks you need to know BEFORE you start following the recipe because there's some prep work required.
Tips & tricks for prepping Japanese cheesecake
All-purpose flour vs. cake flour
Did you know that all-purpose flour and cake flour are not the same things? You should use cake flour for Japanese cheesecake because it's more delicate and makes the texture soft.
Using all-purpose flour makes the cheesecake denser.
Plan in advance
Advance planning is necessary as the butter, cream cheese, and eggs must be at room temperature.
The cream cheese and butter should be removed from the fridge at least 2 hours before you start baking the cake.
The eggs should be taken out of the refrigerator about an hour before you plan to make the cake. For this recipe, the cream cheese and butter must be softened and spreadable.
If you're in a hurry, you can heat the ingredients on low power for 15-20 seconds if they are still not ready.
Cold eggs are easier to separate. To achieve the best texture, egg whites should be whisked at room temperature to ensure the batter will turn out fluffy.
While the eggs are still cold, separate them and let them cool down before you start to prepare the rest of the ingredients.
Prepare your tools and ingredients
An 8 inch round pan with a 3-inch depth is the ideal size, but of course, you can use whatever you have that's around the same dimensions.
Place parchment paper 2 inches above the pan. Since the cake rises about 3 inches during baking, the parchment paper wall supports it.
Limit the height of the parchment paper to 5 inches. Too much paper can prevent the cake's top from browning well.
It is vital to keep the cake moistened by taking a water bath.
The water bath is essential as the cake bakes longer than a normal cake. This also insulates the cake, allowing it to bake at a consistent temperature. These are crucial for creating a fluffy, moist texture.
Fluffy Japanese cheesecake recipe
Ingredients  
5

eggs

preferably large and at room temperature

1/4

cup

cake flour

(or ¼ cup all-purpose flour + 2 tbsp corn starch)

8

oz

cream cheese

room temperature

1/4

tsp

cream of tartar

1/2

cup

sugar

divided in half

1/2

cup

low-fat milk

1/4

cup

unsalted butter

at room temperature

1

tbsp

lemon juice
Instructions 
Making the batter
First, you have to wrap the outside of the pan, including the bottom of it, with lots of aluminum foil. That's because you're going to be using a water bath, and so you can't have water seeping in.

Next, grease the inside of the pan with butter to help the parchment paper stick. Then line the interior of the pan with parchment paper covering the bottom and the sides.

Now, preheat the oven to 315 F.

Grab a large rectangular baking pan and fill it with water halfway. Place it on the lowest rack of your oven.

Separate the 5 eggs and place the egg whites into your mixing bowl. The yolks go into a separate measuring cup.

For best results, mix the egg whites by hand until foamy. But if you can't use a mixer on low speed and beat for 30-60 seconds or until it becomes foamy.

Add in the cream of tartar and continue to whisk until it begins to thicken.

Now, add the sugar slowly and gradually.

Keep beating and mixing the egg white until they have soft peaks. If you're doing this by hand, it will take up to 5 minutes.

Use a separate bowl to create the cheese mix. Add the cream cheese and use a mixer on low speed to blend until smooth (about 2 minutes or so).

Add in your butter, sugar, and lemon juice. Continue to mix for 1 minute.

Now add in the flour and corn starch (if using all-purpose) and mix for one more minute.

Slowly add the egg yolks and continue to mix the batter for an additional minute.

It's time to strain the batter in a sieve, so you have the smoothest batter possible.

The secret to getting the fluffy texture is how you add the egg whites. First, you need to add ⅓ of the egg whites, fold them into the batter slowly, and mix with your hand.

Add the second ⅓ and mix very slowly, mostly folding it in. Then, add the last ⅓ and fold again. There's no need to overmix after you add all the egg whites.

Gently pour the batter into the round pan. You can use a spatula and smooth out the top, so it looks even.

To remove any air bubbles, you need to lift the pan and drop it gently onto the counter about five times. Be sure to hold the pan carefully, so you don't drop it.
How to bake it
It's time to place the pan with your batter into the water bath.

Let it sit and bake for 70 minutes.

Keep checking on it once in a while to make sure the temperature is perfect (315 -320 F).

To check if the cake is done, you can use a toothpick to poke the center and ensure that the toothpick comes out clean.

Once it's done inside, you can lower the temperature to 300 F and bake for 10 more minutes or until the top is slightly brown.

Now turn the heat off and open the oven door about 3 inches. Let the cheesecake cool for 60 minutes.

You can serve it cooled at room temperature or put it in the fridge for about 4 hours until it's chilled.
Japanese cheesecake flour substitution
The only flour that works well for this cheesecake recipe is cake flour.
If you can't find it at the grocery store, you can use all-purpose flour and make a substitution. Here's how:
Take one cup of all-purpose flour.
Remove 2 tbsp from the cup.
Now instead, add 2 tbsp of corn starch.
Sift this flour mix a few times, so the corn starch blends well.
How to serve Japanese cheesecake
You can serve the cheesecake semi-warm, at room temperature, or chilled. Either way, it tastes great, but room temperature is best because the cake will have that spongey and jiggle texture.
Simple Japanese cheesecake is served with powdered sugar.
Here are some options and ideas:
powdered sugar
fresh fruit
jams (like cherry, blueberry, and strawberry, etc.)
fruit puree
chocolate sauce
Nutella
whipped cream
caramel sauce
Here's how Japanese cheesecake is made and served in Japan. I love how they jiggle when they are taken out of the mold!
What is Japanese cheesecake?
Well, as the name implies, it's a type of baked cheesecake, but it has a different texture compared to regular cheesecake.
It is very spongey, aerated, and fluffy, so it has a lighter texture, much more like a French souffle.
The flavor is rich and semi-sweet, but it actually comes in a variety of exciting flavors like matcha, vanilla, and chocolate, just to name a few.
There are actually three types of popular Japanese cheesecake. We're making the souffle one in this recipe, which has that wobbly mousse texture you have to try!
Baked Cheesecake (ベイクドチーズケーキ)
Rare Cheesecake (レアチーズケーキ)
Soufflé Cheesecake (スフレチーズケーキ)
Keen to learn more about Japanese snacks? I've listed the 15 Best Types of Japanese Snacks You Need To Try Now here
What is Japanese cheesecake called?
In Japanese, it is called スフレチーズケーキ.
The mousse-like form of this baked cheesecake is often referred to as fuwa-fuwa, but it's more of a slang term no the actual name.
Brief history & origin of Japanese cheesecake
Japanese fluffy cheesecake is a fairly recent invention.
It was inspired by European, especially German cheesecake, which has a compact texture and filling and usually contained or was served with fruit.
It all started with a man named Tomotaro Kuzuno. He was the owner of a restaurant called Kobe's Morozoff and visited Berlin in the 1960s. There he tried the famous German cheesecake known as käsekuchen.
He was very fond of the taste and went back to Japan to popularize this tasty dessert. But, as with many other dishes, the recipe was changed and tweaked by local chefs and home cooks.
In the 1960s, Rikuro Ojisan in Osaka was probably the first to serve the authentic Japanese-style souffle-style fluffy cheesecake.
Cheesecake actually became extremely popular during the 1970s, and it was in all recipe books and women's magazines. Since the 1990s, soft and fluffy cheesecake has been extremely popular in Japan and worldwide.
Also check out my post on Japanese Pancakes | from sweet to savory and even a pancake drink!
Common problems when making Japanese cheesecake
There are a few problems that can arise when you bake cheesecake. Here are the ways to troubleshoot them.
Sometimes, it can't be fixed, unfortunately, but in many cases, you can still save it.
What caused my Japanese cheesecake to crack?
Imagine all the hard work you put in only to have the cake break and fall apart.
Well, the problem is probably that you made one of two mistakes: the cooking temperature was too high, or your pan wasn't greased properly.
Make sure to always grease the baking pan. This can be done with or without baking paper. However, lining paper works best because the edge of the cheesecake doesn't touch the pan directly.
The reason is that if the lining paper isn't greased properly before the cheesecake batter rises, the batter can be pulled against it. If it sticks to the paper, it will cause the top to crack.
A second reason why the cake may crack is if it is baked at too high of a temperature. Each oven is unique, so it is important to know your oven and check the temps carefully.
Why didn't my Japanese cheesecake rise?
It's all got to do with the temperature. It was either too high or too low. It is crucial to bake Japanese souffle cheesecake at the right temperature.
It will not rise as well if the oven temperature is too low. When baking Japanese cheesecake, it's best to check the temperature several times.
What should you do with your cracked cheesecake?
Japanese cheesecake is still delicious, even though it's cracked. However, if you're doing it to impress, you have to make sure the cake doesn't crack.
A cracked cheesecake will still taste great, but it just won't look perfect in appearance.
After the cake cools down, it's possible that the cheesecake deflates slightly, and that might "close" the crack if you're lucky.
Alternatively, you can cover the crack with fruits or other toppings like powdered sugar, jam, and chocolate sauce.
Japanese cheesecake FAQs
How do you store Japanese cheesecake?
The cheesecake stays fresh in the fridge for 2-3 days.
Alternatively, you can also freeze the cheesecake, but first, slice it into pieces and wrap each one with cling plastic wrap.
Then, place the slices in an airtight container and keep them in the freezer for up to one month. Defrost naturally before serving.
How does Japanese cheesecake taste?
The original cheesecake without additional flavoring tastes similar to American cheesecake.
It's a mix of sweet, tangy, and rich flavors, but you don't really taste the cheese as much.
However, if you try flavored Japanese cheesecake such as cherry, matcha, and chocolate, it will be much sweeter and fruity, depending on the variety.
What is the texture of Japanese cheesecake?
The cheesecake has a light, fluffy, soft, and airy texture. Also, it is quite wobbly and spongey. If it has a lot of filling, then it is like a souffle or a mousse.
It's like you're biting out of a cloud if you can imagine that.
Why is Japanese cheesecake fluffy?
Japanese cheesecake is fluffy because it contains a whipped meringue.
The egg whites are whisked separately and then slowly and carefully incorporated into the batter to give it that aerated texture.
As a result, the cheesecake is fluffy and jiggly once it's baked.
How to make Japanese cheesecake in a rice cooker?
I bet you didn't think it was possible to make a Japanese cheesecake in a rice cooker! But luckily, it's kind of easy.
Here's what you need:
1 cup of cream cheese
2 large eggs separated into yolks and whites
¾ cup of a pancake mix
⅔ cup of heavy cream
¼ cup of sugar
a tablespoon of melted butter for greasing the rice cooker
some powdered sugar as a topping
All you need is a hand mixer and a rice cooker.
First, you want to grab a bowl and using the hand mixer, combine the cream cheese, egg yolks, and pancake mix.
Then, slowly add in the heavy cream one bit at a time and whisk.
Grab a separate bowl and start whisking the egg whites until you get peak form. Start adding in the sugar in small parts until it combines well. It takes a lot of whisking but it's worth it because you need that hard peak texture.
Now you have to fold the egg white mix into the pancake batter very gently, only mixing by hand.
Melt some butter and grease the edges of the rice cooker.
Then, place the batter and cook it for approximately 60-70 minutes.
After it's ready, sprinkle the powdered sugar on top and serve. It is soft and delicious!
Some cookers, like the Power Quick Pot, even have a special bake button, or "cheesecake button" you can use for this.
What is the difference between Japanese cheesecake and regular cheesecake?
Two main types of Japanese cheesecake exist. Both are the result of slight modifications to suit local tastes.
Japanese cheesecake is lighter, less sweet, and deliciously lower in calories compared to German and American cheesecake varieties. Thus it is a lighter dessert that is lower in calories.
The main difference between Japanese and American cheesecakes is the amount of sugar and cream in the American version. It is far more calorie-dense and sweeter with a denser texture.
Although the Japanese "souffle" is a baked version, it differs from traditional New York-style baked cheesecakes in that it contains a meringue egg batter and cream cheese mixture.
Also, the egg whites are whisked separately and then added to the batter to aerate the mixture. This creates a soft, chiffon-like texture.
The cake may have a molten center depending on how long it has been cooked.
Sometimes, it is flavored with matcha, chocolate, vanilla, fruit (or others) and then topped with a dusting of powdered sugar.
Japan has its own version of the Western unbaked cheesecake. It is called "rare cheesecake."
This recipe uses a setting agent such as agar-agar, gelatin, and a base made of cream cheese and yogurt instead of cream. It has a strong tangy flavor, and it's not like the jiggly fluffy ones you're used to hearing about.
Is Japanese cheesecake healthier than regular cheesecake?
If we compare them, then generally, the answer is yes. Japanese cheesecake is healthier because it has fewer calories than the classic dense and creamy Western cheesecake.
The average Japanese cheesecake has between 370-500 calories.
On the other hand, most Western cheesecakes have over 600 calories, so the Japanese one is lower in fat content and a bit healthier.
Conclusion
Now that you know the secret to making the tastiest and softest Japanese cheesecake lies in how you mix in the egg whites and what flour you use, you can surely impress everyone with the fluffiest dessert.
Don't be afraid to experiment and try delicious varieties of cheesecake, like Matcha tea and cherry. They are sweeter but very flavorful and yummy.
So, the next time you crave a healthier dessert, skip American cheesecake and try the Japanese version!
Here's another delicious Japanese dessert: Kakigori! Learn how to make it (and how's its different from Bingsu)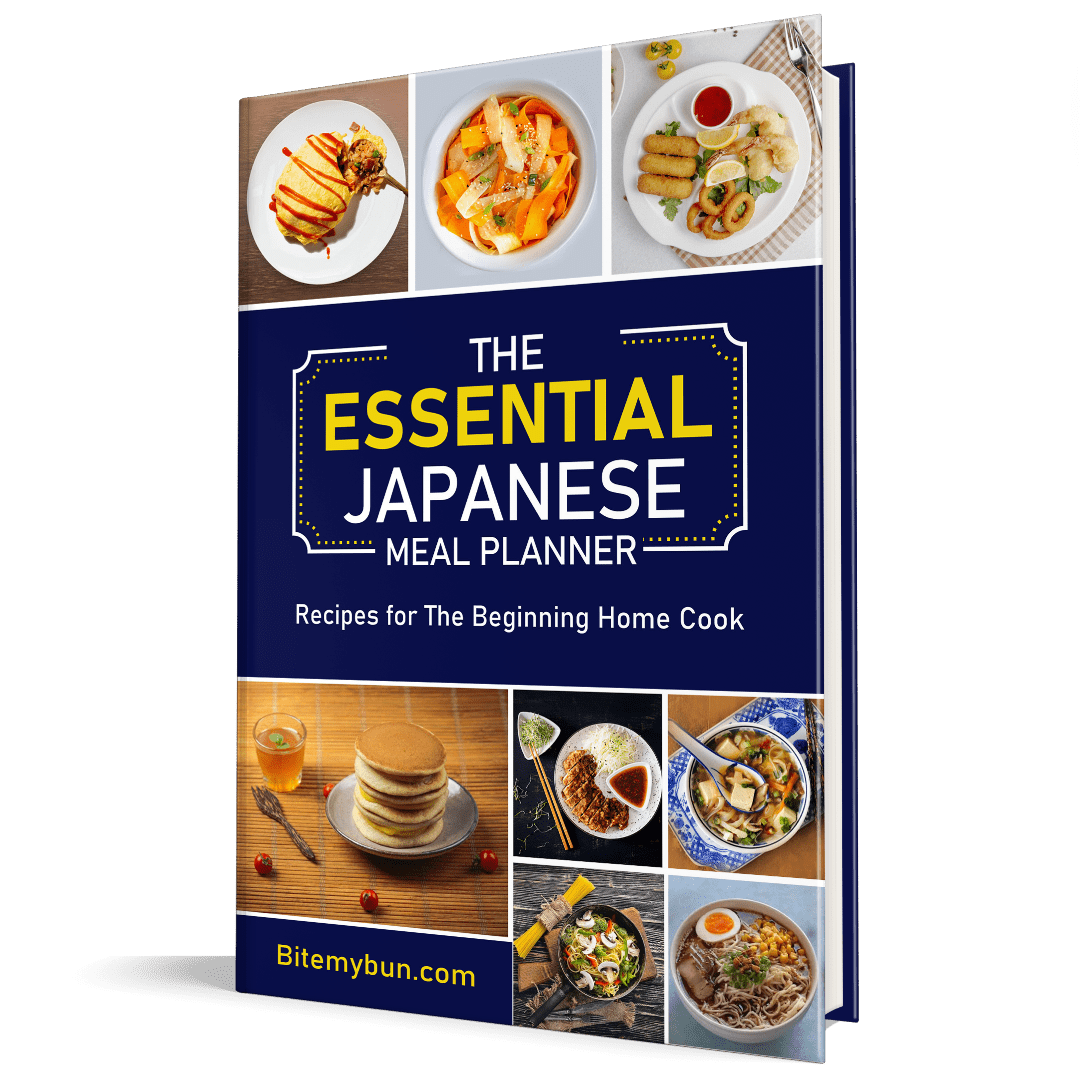 Check out our new cookbook
Bitemybun's family recipes with complete meal planner and recipe guide.
Try it out for free with Kindle Unlimited:
Read for free
Joost Nusselder, the founder of Bite My Bun is a content marketer, dad and loves trying out new food with Japanese food at the heart of his passion, and together with his team he's been creating in-depth blog articles since 2016 to help loyal readers with recipes and cooking tips.