How to cook perfect Omurice: The FOOTBALL of Japanese rice omelets
I love creating free content full of tips for my readers, you. I don't accept paid sponsorships, my opinion is my own, but if you find my recommendations helpful and you end up buying something you like through one of my links, I could earn a commission at no extra cost to you.
Learn more
Omurice is the type of food that takes the classic omelet to a whole new level by stuffing it with tasty chicken, fried rice, and ketchup.
When you first see omurice, you'll think it looks like a big football-shaped egg wrap.
Believe it or not, omurice was and still is the no. 1 breakfast food for children. But adults love it too, and many parents choose this recipe for family breakfasts.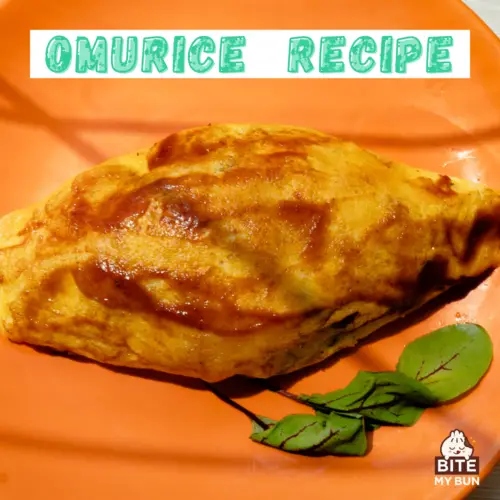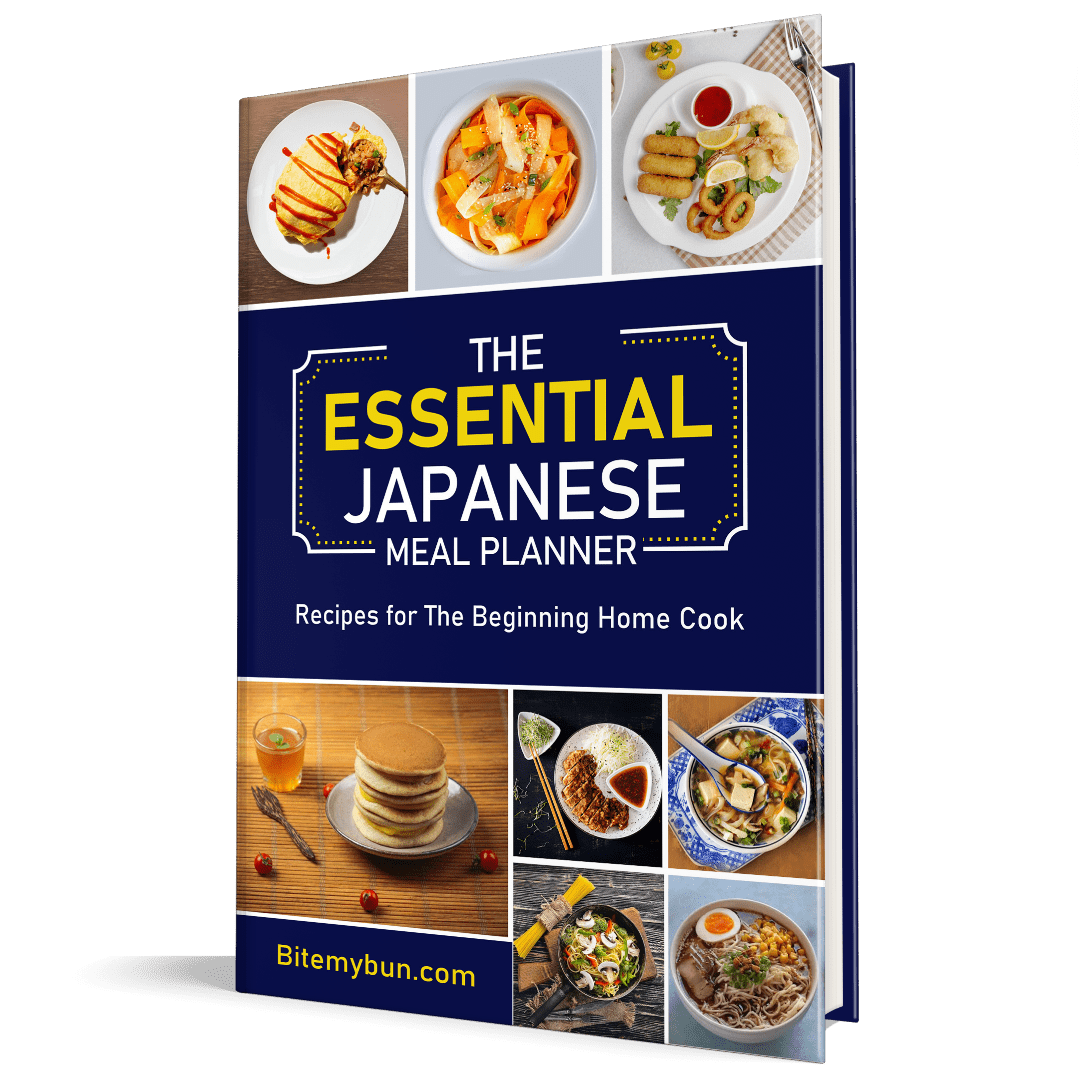 Check out our new cookbook
Bitemybun's family recipes with complete meal planner and recipe guide.
Try it out for free with Kindle Unlimited:
Read for free
Omurice (Japanese rice omelet) recipe
Omurice is the type of dish you can customize to your liking, but today I'm sharing a delicious chicken fried rice, veggie, and ketchup omelet with tons of flavor, and it takes less than 15 minutes to make (if you have some pre-cooked rice).
Ingredients  
1

rice cooker cup of short-grain rice

½

lb

chicken breast

1

small onion

½

cup

frozen vegetables

defrosted

2

eggs

½

tsp

salt

pinch of black pepper

3

tbsp

olive oil or vegetable oil

2

tbsp

ketchup

1

tsp

low sodium soy sauce

2

tbsp

milk

5

tbsp

shredded cheese
Instructions 
Rinse the rice and cook in the rice cooker.

Chop the onion into small pieces.

Cut the chicken breast filet into ½" pieces.

In a non-stick pan, add a bit of oil and sautee the onions until it's soft.

Add the chicken and cook for several minutes until it is no longer pink in color.

Add the defrosted vegetables and season everything with salt and pepper.

Now it's time to add the rice and mix everything together.

Add the ketchup and soy sauce and continue mixing.
Make the omurice (1 piece at a time)
Beat 1 egg and 1 tbsp of milk to make the first omurice.

In a non-stick pan, heat 2 tbsp of oil.

Once the pan is very hot, pour the egg mixture and tilt the pan so it is completely covered with egg.

Lower the heat once the egg sets and wait a bit. While the egg is still soft on the top, add 2.5 tbsp of shredded cheese to one side of the omelette.

Now add half of the rice mixture on top.

Fold both sides of the egg towards the middle with a spatula.

Flip the omurice onto a plate and garnish with more ketchup.

Now repeat steps 9-15 to make the second omurice.
Yōshoku, which is a fusion of Western and Japanese foods, has led to an influx of delicious recipes. The Japanese have re-imagined breakfast foods and omurice is the dish that encompasses this fusion idea perfectly.
Let me assure you it's absolutely delicious, especially if you love a hearty breakfast or brunch.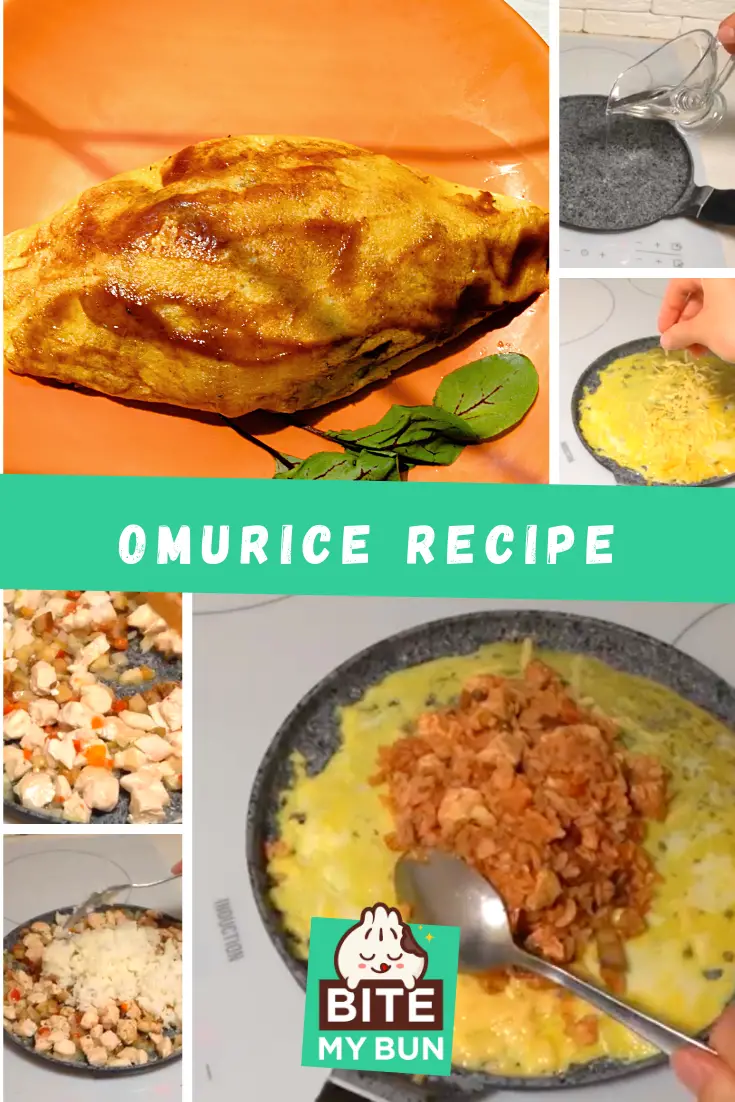 Omurice cooking tips
How to make the omelet and fold it
The main obstacle people encounter is making the perfect omelet and then wrapping it around the rice. To be fair, the original omurice recipe calls for a paper-thin omelet, and that's very hard to work with if you're not a professional chef.
But luckily, you can use a thicker omelet, and the dish will turn out well and taste excellent.
When you beat the eggs, add milk or cream to make them softer and fluffier.
Wait until the pan is completely hot, and then pour the egg mixture. The key to making a good omelet is not to burn the bottom, so you must lower the heat once the egg has set.
Then, while the top of the egg is still visibly soft, you add the grated cheese on one side and the rice mixture on top. You'll fold the full side of the omelet towards the middle and then the empty half of the omelet towards the middle with a spatula.
The egg should almost cover the top of the rice filling. You can maneuver the pan a bit and tilt it towards the right side, so the full side gets covered.
Then, with a spatula, remove the whole thing and put it on a plate upside down. It's going to look like a big burrito or American football.
Alternatively, you can put the rice and chicken in the middle of a plate in a mound and drape the omelet over it. It's up to you how you like to plate.
Rather looking for something vegan but still eggy? Make this Easy Vegan Mung Bean Egg Recipe with Just Egg | +a few facts
Omurice: nutritional information
Omurice is one of those calorie-packed breakfasts. It has a high fat and carbohydrate content as a result of fried rice, egg, and ketchup.
However, even if you are on a diet, you can still enjoy this dish in moderation. Adding a serving of vegetables makes the dish healthier, and you can always use less ketchup.
In fact, ketchup is full of sodium and sugar, so I recommend making a light tomato sauce and using low-sodium soy sauce when making omurice.
But overall, omurice is delicious and satisfying and definitely full of nutrients compared to a simple omelet.
For another nutritious omelet, check out this yummy Tortang Giniling Filipino beef omelet Recipe
Omurice recipe variations
Meat
Classic omurice is made with chicken breast. You can also use chicken thighs if you prefer the taste of dark meat.
The breast is less chewy and gets softer when it's pan-fried. However, the chicken isn't the predominant flavor you'll taste.
The omelet filling will taste like a bowl of good fried rice with chicken and lots of ketchup. The sweetness and the acidity of the ketchup are balanced by the savoriness of the meat and rice.
I've heard of omurice recipes made with ground beef or beef pieces, pork sausage, and ham.
The truth is, you can use any type of meat and fry it alongside the rice. Some Americans also use SPAM canned beef and cut it into small pieces.
If you like fish, you can make salmon omurice, and it's just as delicious as the original, but it's healthier.
Vegetables
Adding vegetables to your omurice is entirely optional. However, I'm always looking for ways to add more veggies to my meals and make them healthier.
The easiest way to do this is to add some frozen mixed vegetables.
A Mexican mix with corn, beans, and carrots is a good option, but you can use any veggies you like.
Broccoli, mushrooms, cauliflower, peas, onions, leeks, zucchini, and garlic will add lots of flavors to otherwise bland rice.
Sauce
The most popular sauce for this dish is good old ketchup. The store-bought sweet ketchup adds an acidic sweetness that penetrates the rice.
You can add ketchup as decoration and extra topping once you've folded the omelet (using a special pan like these makes this a lot easier).
You can also use some homemade tomato sauce or pasta sauce for a more complex flavor profile.
There are other popular sauces used alongside or instead of ketchup.
Here's how to substitute the ketchup:
Oyster sauce
Japanese curry sauce
Soy sauce
Soy sauce mixed with ketchup
Spicy ketchup
Chili sauce
Japanese meat sauce
Scrambled eggs omurice version
The classic omurice recipe calls for a thin layer of omelet that's wrapped around the chicken rice.
But these days, many people like to put the fried rice with chicken and ketchup on the plate and then add a layer of soft scrambled eggs on top, so it's no longer a wrap.
How to serve omurice
Omurice is mainly a breakfast or brunch food, but you can have it any time of the day because it's very hearty and nutritious.
You'll find it on many cafes and restaurant menus listed as "homestyle omurice." You can order it along with a cup of tea, coffee, or even some hot soup.
To eat the omelet, use a knife and fork to cut the "burrito" into pieces and add some more ketchup if you want more flavor. You can also add some spices and garnish with spring onions.
If you visit a Japanese maid cafe, a type of cosplay restaurant, the maid will decorate the omurice for you with some ketchup.
Read next: The difference between Japanese and Korean Food | Use of spices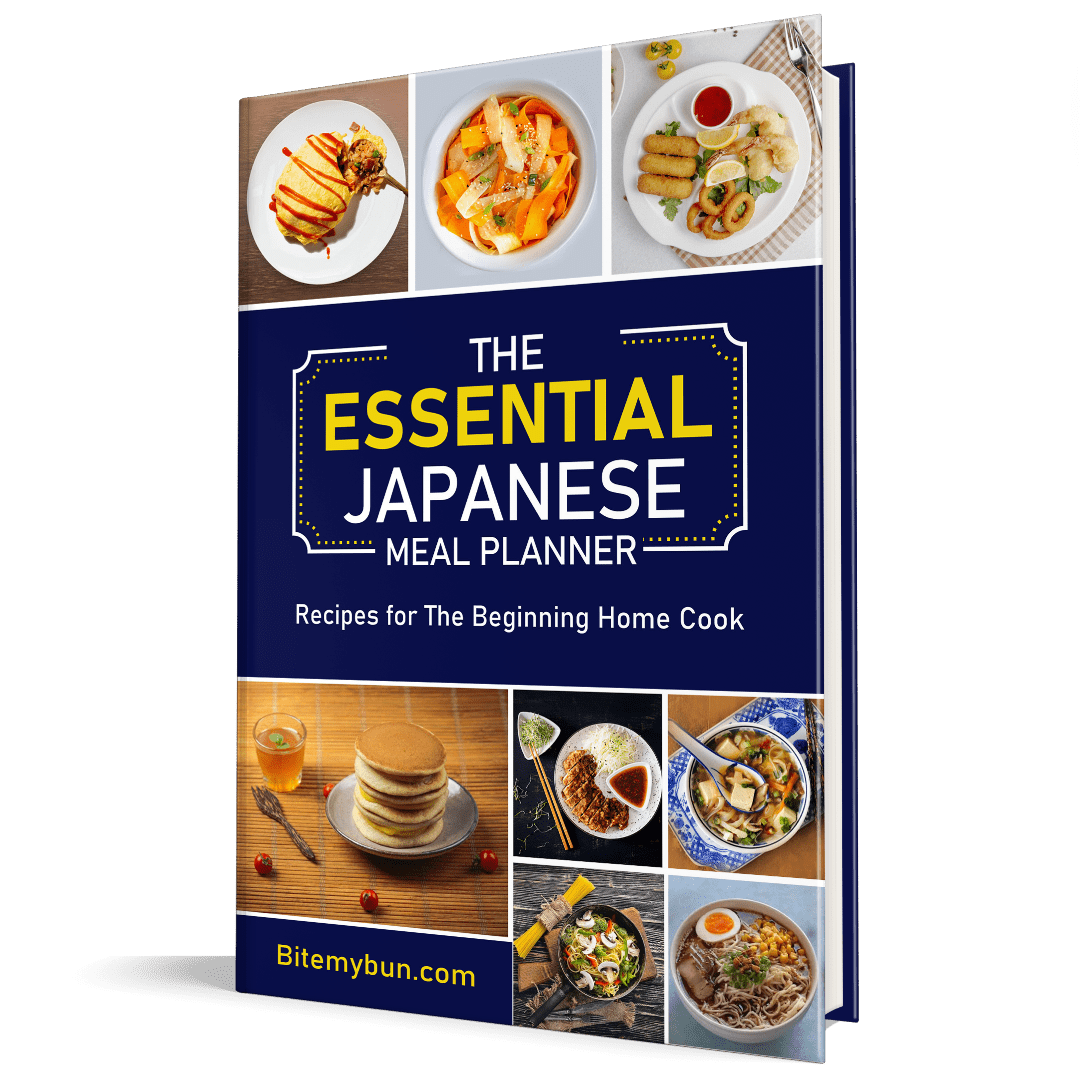 Check out our new cookbook
Bitemybun's family recipes with complete meal planner and recipe guide.
Try it out for free with Kindle Unlimited:
Read for free
Joost Nusselder, the founder of Bite My Bun is a content marketer, dad and loves trying out new food with Japanese food at the heart of his passion, and together with his team he's been creating in-depth blog articles since 2016 to help loyal readers with recipes and cooking tips.