Different types of Japanese ramen explained (like shoyu & shio)
I love creating free content full of tips for my readers, you. I don't accept paid sponsorships, my opinion is my own, but if you find my recommendations helpful and you end up buying something you like through one of my links, I could earn a commission at no extra cost to you.
Learn more
Ramen noodles are one of the most popular noodles varieties in Asia and North America.
In Japanese, the term "ramen" means "pulled". These noodles are made from wheat flour, egg, and kansui water.
They're usually sold dry, fresh, and even frozen. But (instant) dry ramen is most popular, as it's sold in convenient packets or styrofoam cups.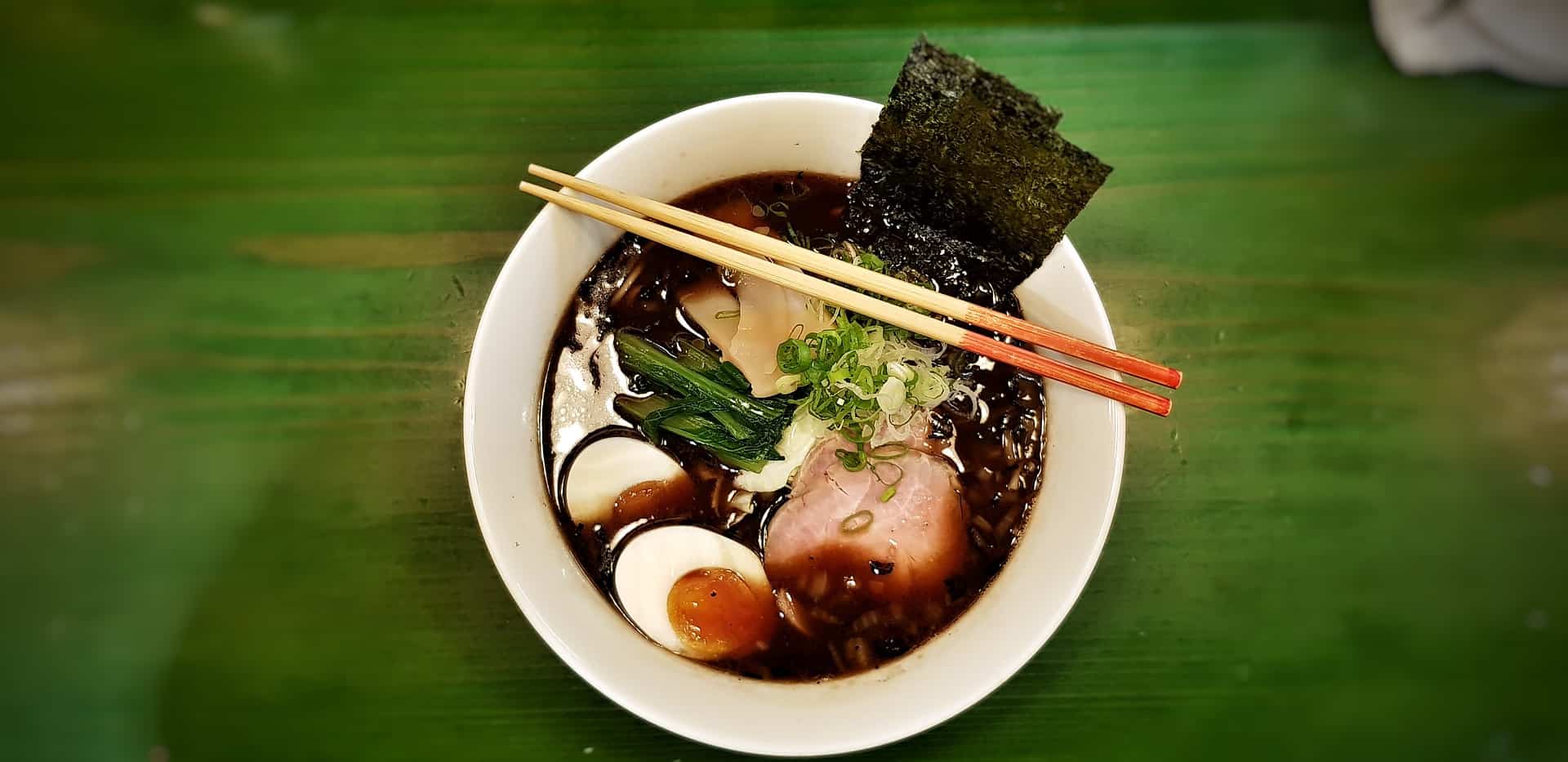 Ramen is a noodle soup dish that originated in China. But it's become one of the most common dishes in Japan in the last decades!
This dish is cheap and widely available, and this makes it the ideal meal for travelers on a budget.
Ramen restaurants, also known as ramen-ya, can easily be found in almost every corner of Japan. And they produce different regional variations of this dish.
The basic ramen broths don't have a lot of ingredients. Mostly, the broths are made from chicken bones, pork bones, or a combination of both.
In some recipes, dashi (a consommé made of bonito flakes or niboshi) is simmered with kombu and then blended into the meat to create a clearer and purer broth. Certain regional varieties require seafood, but not mutton and beef.
Also, check out the Food Network's "everything you need to know about ramen":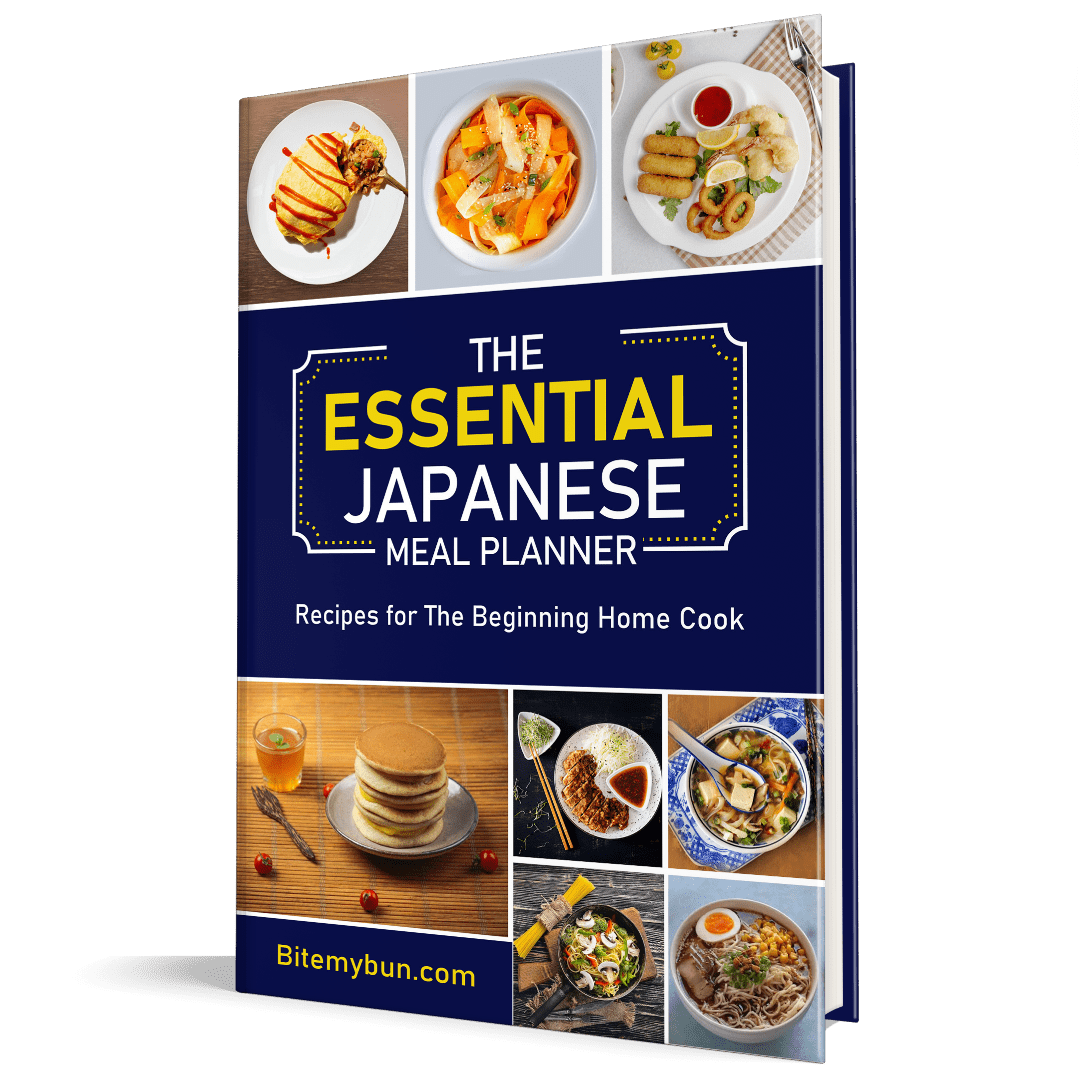 Check out our new cookbook
Bitemybun's family recipes with complete meal planner and recipe guide.
Try it out for free with Kindle Unlimited:
Read for free
Different types of Japanese ramen
Here are the main types of ramen that you should be aware of.
Miso ramen
First, what is miso? This is an ingredient made from salt and soybeans, and it mostly features in Japanese food like sauces and soups. Ramen has a very distinctive and sharp flavor, and it's the primary ingredient in miso ramen.
Miso ramen is very unique, especially because of its slightly orange color. It's mostly served alongside veggies for the toppings, although you'll also find other variations like egg and meat.
This type of ramen wasn't popular in Japan until the '60s, but now it's a common variation found in most ramen restaurants.
"Shoyu" soy sauce ramen
Soy sauce is another common ramen flavor, and it's locally known as "shoyu."
This hearty and rich version is known for its darker coloring, and it's mostly served with onions, pork, and eggs. Shoyu ramen is very common in Japan, particularly Tokyo, and it has a delicious and spicy flavor.
"Shio" salt ramen
Also known as shio ramen, this is the oldest variation of ramen. You can easily recognize it because of its clear coloring.
You should note that shio ramen has a slightly saltier flavor, although it's very tasty since it's usually made with a pork or chicken base. You can also find salt ramen in Chinese restaurants too.
Salt ramen is mostly served alongside a lot of seaweed, and it's a more traditional variation of ramen compared to others.
If you have problems with sodium, you should try to avoid salt ramen since it contains high salt content.
Tonkotsu ramen
This type of ramen is very common, and it's made by boiling pork bones in order to create a creamy meat-based soup.
Tonkotsu ramen is mostly served with large portions of thickly cut pork (chashu), bamboo shoots (menma), and egg.
Even though tonkotsu ramen was originally found in the Fukuoka, Kyushu region, it's become a common variety across Japan.
Curry ramen
This is the final type of ramen that you should know. Curry ramen is the latest variety of ramen to be introduced to Japan, and most people love it very much, especially those who like Japanese curry.
This variation of ramen is made out of curry soup, which is mostly made with pork bones and veggies, and then seasoned with curry.
Even though these are the main categories of ramen that you can easily find in Japan, there are other different variations, like abura soba, fish base, tsukemen, and even other unusual flavors like duck.
If you love ramen, there's a chance that you have tasted one of the varieties that we've highlighted above, or you're even planning to taste all of them! 
What you need to note about ramen noodles is that there are packaged and instant varieties of noodles, made from wheat flour, different types of vegetable oil, and flavors. These noodles are usually pre-cooked, meaning they're steamed and then fried or air-dried to reduce the cooking time for consumers.
Ramen nutritional facts
Even though the nutritional facts will vary between the different types of ramen, most instant ramen noodles have a low calorie count, and they lack important nutrients too.
For instance, let's take the nutritional information of 1 serving of chicken-flavored ramen noodles:
Calories – 188
Carbs – 27 g
Total fat – 7 g
Protein – 5 g
Fiber – 1 g
Sodium – 891 mg
Manganese – 10% of the RDI
Riboflavin – % of the RDI
Niacin – 9% of the RDI
Iron – 9% of the RDI
Thiamine – 16% of the RDI
Folate – 13% of the RDI
As we highlighted earlier, ramen noodles are made out of wheat flour, which is fortified with synthetic types of particular nutrients like B vitamins and iron to make them more nutritious. However, they don't have key nutrients like fiber, protein, magnesium, calcium, potassium, and vitamins A, C, and B12.
So how can you make ramen noodles healthier?
If you love eating ramen noodles, there are a number of ways that you can make your dish healthier:
Add veggies – Adding cooked or fresh veggies like broccoli, carrots, onions, or mushrooms to ramen noodles can add the nutrients that aren't found in ramen.
Add lots of protein – Because ramen noodles don't have much protein, adding chicken, eggs, tofu, or fish can add protein that'll make you feel fuller for longer.
Consider buying low-sodium versions – These varieties can assist in reducing the salt content in your dish to considerable levels.
Don't use the flavor packet – Instead, create your broth by mixing low-sodium chicken stock with fresh spices and herbs in order to get a healthier version of the noodles.
Although ramen noodles are some of the cheapest carb sources you can find out there in the market, there are other affordable and healthy options you should consider too. Oats, potatoes, and brown rice are some of the diverse and cheap carbs you should consider, especially if you want to save money. 
Ramen bowl and spoon sets to buy
These are some of the best ramen bowls and spoons you can buy.
World Market Japanese ceramic ramen bowl set
Genuine ramen experience – Slurp your favorite ramen the way it was meant to be enjoyed: in a perfect ceramic ramen noodle bowl! The set includes a bowl with chopsticks and a soup spoon for an authentic dining experience.
Quality and finest materials – These ramen bowls are FDA-approved, lead-free, and BPA-free. Suitable for all hot and cold dishes and the entire set (chopsticks and spoon included) are dishwasher and microwave safe. It makes life easier for all.
Designed for endurance – Strong and durable, made from the best non-absorbent, insulated ceramic so your ramen tastes fantastic and stays warm. Treated to resist chipping, staining, and fading, and will look new, even after many years of use.
Multipurpose bowl – The ceramic noodle soup bowl set will be your go-to in the pantry for ramen noodles, miso, wonton soup, udon, and even pho. But it can also be used for cereal, ice cream, rice, aand pasta. The possibilities are endless!
This set includes a noodle bowl with soup spoon and chopsticks
4 set (16 pieces) ramen bowl set
Asian recipes to the next level: These bowls will take your homemade meals on a one-way trip to Tokyo.
Made from sturdy, restaurant-grade unbreakable melamine, these bowls are built to last. Dishwasher and microwave safe.
Perfect size: 32 oz is the chef-recommended size. A large amount that stays hot to the last bite.
Spoons, chopsticks, and chopstick stand included: Each set comes with everything you need. And unlike other listings, this one also includes chopstick stands.
Rovatta Regatta ramen soup bowl set
Durable quality: The ramen noodles bowls are very durable, are 100% melamine, resist chipping, staining, and fading, and will look new, even after many years of use.
Japanese design: the Japanese ramen bowls are high quality and will make you feel like you're eating in a top fancy restaurant. These noodle bowls are made to last with daily use.
Matching dinnerware set: This ramen bowl is perfect for all types of Asian cuisine and is compatible for all your dining needs. Ramen bowl sets will enhance your soup experience.
Package included: This ramen noodle bowl set contains 4 noodle bowls, 4 noodle soup spoons, and 4 noodle chopsticks. The ramen noodle spoon has a hooked end that keeps it from sinking into the bowl.
Easy to clean: Ramen bowl noodles are dishwasher-safe and easy to clean. Do not microwave though!
Check the latest prices and availability here on Amazon
Conclusion
Now that you know what the different types of ramen are, which one will you choose? No matter where you are in the world, you're sure to run into these many varieties. So give them all a try if you can!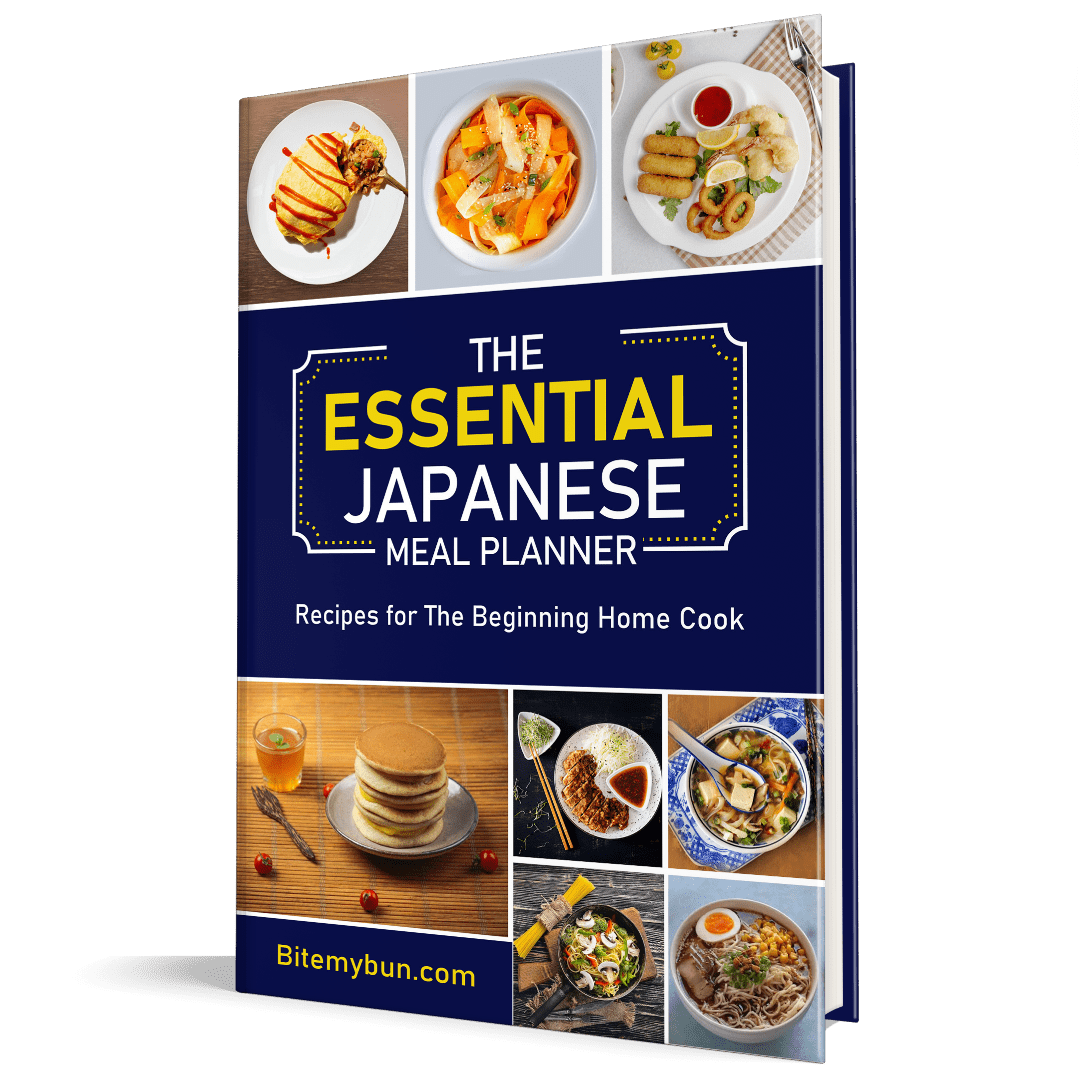 Check out our new cookbook
Bitemybun's family recipes with complete meal planner and recipe guide.
Try it out for free with Kindle Unlimited:
Read for free
Joost Nusselder, the founder of Bite My Bun is a content marketer, dad and loves trying out new food with Japanese food at the heart of his passion, and together with his team he's been creating in-depth blog articles since 2016 to help loyal readers with recipes and cooking tips.