I love creating free content full of tips for my readers, you. I don't accept paid sponsorships, my opinion is my own, but if you find my recommendations helpful and you end up buying something you like through one of my links, I could earn a commission at no extra cost to you.
Learn more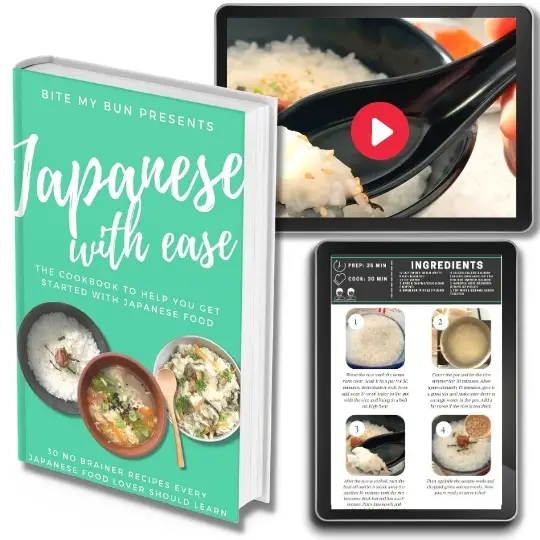 Ever had trouble finding Japanese recipes that were easy to make?
We now have "cooking Japanese with ease", our full recipe book and video course with step-by-step tutorials on your favorite recipes.
Sushi is one of the most famous Japanese dishes known to man! It's made of rice and is served primarily with fish, occasionally garnished with vegetables and even fruits.
This dish is easy to prepare. There are a lot of recipes available on the internet, which makes it simple to make at home.
However, the need for sushi vinegar remains, as it adds to the flavor of the sushi. Thankfully, it's very easy to make at home!
Salt and sugar, along with vinegar at times, are used as added ingredients. Together, they make sushi vinegar!
But when it comes to preparing it, people get confused with sushi vinegar and its use. I'm here to explain more so you can up your Japanese cooking!
Basics of sushi rice with vinegar
Japanese cooking relies on a number of staple ingredients that are needed in a wide range of classic Japanese dishes.
These include a number of ingredients such as:
Soy sauce, which will add savory/umami flavor to the dish,
Mirin (rice wine) to add sweetness and depth to the flavor of the cuisine,
Vinegar to cure the food and add a bit of acidity to enhance the overall taste of the dish,
And finally, panko breadcrumbs to coat meats or vegetables in order to make them extra crunchy when they're deep-fried.
When it comes to sushi vinegar, here are the basics: vinegar is added to sushi rice.
Here's chef Hiroyuki Terada showing how to make sushi rice:
This is the type of vinegar you can make to get that perfect sushi taste:
Homemade recipe for sushi vinegar
Here, I'll give you the ingredients and recipe for sushi vinegar. It'll help you get an idea of the contents and at the same time, the nutritional value.
The following items are needed in the below-mentioned quantities to make a traditional tasting vinegar.
Ingredients  
2

cups

rice vinegar

1 ½

tbsp

salt

⅛

cup

lemon juice

1 ½

cups

white sugar
Instructions 
Thoroughly mix the rice vinegar with salt and sugar while you stir it all in.

Best to use a saucepan on low heat.

Then, slowly add the lemon juice to the mix while stirring.

Keep heating the mixture until the salt and sugar completely dissolve. It'll be immediately evident when this is because you won't see any granules. This will normally take around 15 minutes or so.

Remember to keep it at a low flame, allowing sufficient mixing. But make sure the mixture never boils at all.

Once a homogeneous solution is obtained, take it off from the stove and allow it to cool before using it on your sushi.

For longer shelf life, you can keep it in the fridge.
Cooking tips
You can add a sheet of kombu to the mixture when on low heat to get an even more authentic umami flavor. I chose to leave it out from this recipe because:
The flavor's not for everyone
Not everyone has kombu lying around
But if you have it, you can experiment with it and see if you like the taste for your sushi.
Interesting nutrition facts about homemade sushi vinegar
Each serving is bound to give certain calories. Here's a breakdown.
Total calories per serving: 97 calories;
0 g fat
0 g protein
0 mg of cholesterol
872 mg sodium (coming from salt)
25 g carbohydrates (from sugar content)
The 3 best store-bought online sushi vinegar brands
Looking for alternatives and still not getting the right flavor? Why go through the hassle of preparing it at home and managing the correct ratios?
The best option when you don't have the time or energy to make it yourself is readily available sushi vinegar you can buy online.
Knowing how sushi vinegar is properly made, let's see what brands are the best ready-made ones. Many are available that make it easy for you to make sushi rice.
Here are some of the best ones that come with the highest purity, quality, and right flavor.
1. Mizkan Vinegar Sushi Seasoning

What does it take to make the perfect sushi rice? This product, of course!
Churning out great-tasting sushi rice is easy with Mizkan's ever-popular sushi vinegar or sushi seasoning. It's a combination of rice vinegar, sugar, and salt in the seasoning mix, which makes it perfect for sushi rice.
Stir with freshly steamed white rice and start shaping it into tiny adorable inari sushi or turn them into maki sushi rolls.
Also read: The 21 types of sushi to know for your Japanese restaurant trip
This vinegar can also be used to season salads as a dressing.
The product itself comes in a bottle with a quantity of 24 fl oz. It also comes from the USA and is produced by Kikkoman.
Nutrition per 100ml:
Energy: 557kJ/133kcal
Fat: 0g (of which Saturates: 0g)
Carbohydrate: 33g (of which Sugars: 27g)
Protein: 0g
Salt: 8.3g
Note: the product is gluten-free
Practical use:
When preparing sushi rice, a quantity of 5 tablespoons(75 ml) must be used. For sushi seasoning, you'll need almost 2 cups (i.e. 500 ml of total uncooked rice is implied). A total quantity of 4 cups (1,000 ml) is used for cooked rice.
Note:
Do not forget to thoroughly mix the vinegar to get the full flavor.
When adding to cooked rice, do it when it's hot.
It may also be used for sushi seasoning. You'll get oil-free sushi by just sprinkling it over the final dish!
Storage tips:
Keep it in a dry, cold place.
Contents:
Glucose-fructose solution with a balanced addition of water
Distilled water
Organic sugar
Organic salt
Flavors are food-grade
It's served in a regular bottle of 24 oz.
Also read: can you use brown rice vinegar for sushi as a healthier option?
2. Nishiki 100% Natural Seasoned Sushi Rice Vinegar
The next brand of choice is none other than Nishiki.
The brand claims to be 100% natural. So it's a safe choice if you're looking up organic items for your day-to-day diet!
Nishiki's product is made from pure rice vinegar, which has been delicately seasoned with sugar and sea salt to cure foods like sushi and sashimi to their optimal levels.
This blend is traditionally used to make sushi rice and to marinate vegetables. You can also use it for salad dressing; just drizzle it with vegetable oil to enhance the salad's flavor!
Enjoy the acidic augmented taste of grilled chicken or fish when you sprinkle this sushi rice vinegar over these foods, or you can also add it to your favorite tuna and macaroni salad.
In case you're planning to prepare sushi at home to test your Japanese cooking skills, then I highly recommend that you include this product in your cupboard.
Whether you'll cook ramen, chicken yakitori, or other famous Japanese recipes, eventually, you'll try to make sushi or sashimi. And when that time comes, you'll want your sushi rice to have a perfect blend and taste. Otherwise, it won't be sushi!
Also read: these knives are must haves when it comes to making sushi
Nishiki 100% Natural Seasoned Sushi Rice Vinegar is usually sold in a 300 ml (10 fluid ounces) bottle and can be purchased at your local Asian grocery store or on Amazon.
Product description:
The brand is derived from 100% natural sources that include:
Sea salt
Organic sugar
Purified water
Benefits
It meets high food grades and quality levels to deliver the best to its customers.
The size of the bottle is 300 ml, which accounts for 10 fl oz per bottle.
This product of Japan meets the need of Japanese cuisine that's sprinkled or added with vinegar.
There's high availability on Amazon.com.
It helps in rolling sushi rice up into the right shape for maki sushi rolls.
It's placed over salads for garnishing and adding up to the flavor.
3. Marukan Sushi Vinegar
The next brand to choose is Marukan.
Marukan brews sushi vinegar with their own secret recipe and brewing method, which gives it a great taste.
FAQs
You now know how to make sushi vinegar and some other info on it. But do you have more questions? I'll answer them below!
Is sushi vinegar a must for sushi preparation?
At times, people substitute apple cider vinegar when they don't have sushi vinegar. You can do so too!
Just add 1/4th of a teaspoon to every 15 ml of vinegar. It enhances the sweetness of the vinegar and tastes more like the sushi vinegar you'd normally use.
For the sushi to taste traditional, you have to use some kind of vinegar to season the rice. Otherwise, it'd be pretty bland.
How is sushi vinegar similar to rice vinegar?
Sushi vinegar is very similar to rice vinegar. In fact, the latter is the main ingredient of the former! All you do is add sugar, salt, and lemon juice in addition to rice vinegar to get a subtle seasoning to your sushi rice.
Also, check out these exact differences between rice and sushi vinegar here.
What if you don't have sushi vinegar?
You can overcome not having proper sushi vinegar by using apple cider vinegar. However, it needs a little adjustment to meet up the standard taste.
How is mirin similar to sushi vinegar?
Mirin is a kind of rice wine that's sweet in flavor. However, the brands that you use might taste like sugar water with a slight tinge of sourness to it.
Sushi vinegar is also sweet with a little sourness to it, but it's made out of rice vinegar, with added ratios of salt and sugar (5:1:2). Also, this vinegar is only used in making sushi rice.
Also read: these are the basics of sushi for beginners and all you need to know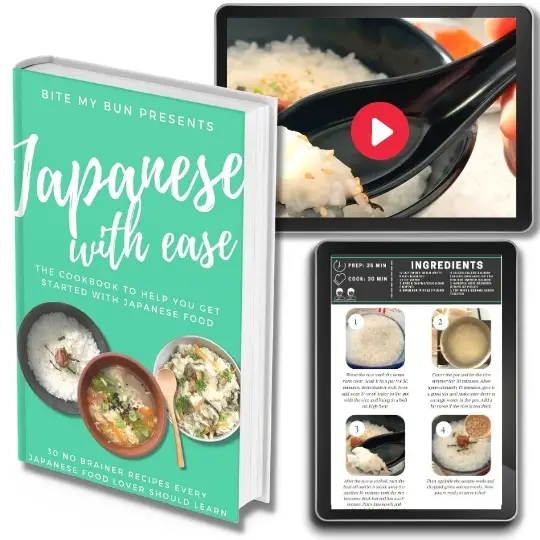 Ever had trouble finding Japanese recipes that were easy to make?
We now have "cooking Japanese with ease", our full recipe book and video course with step-by-step tutorials on your favorite recipes.
Joost Nusselder, the founder of Bite My Bun is a content marketer, dad and loves trying out new food with Japanese food at the heart of his passion, and together with his team he's been creating in-depth blog articles since 2016 to help loyal readers with recipes and cooking tips.