Tan tan ramen recipe | Delicious noodles with a spicy kick
I love creating free content full of tips for my readers, you. I don't accept paid sponsorships, my opinion is my own, but if you find my recommendations helpful and you end up buying something you like through one of my links, I could earn a commission at no extra cost to you.
Learn more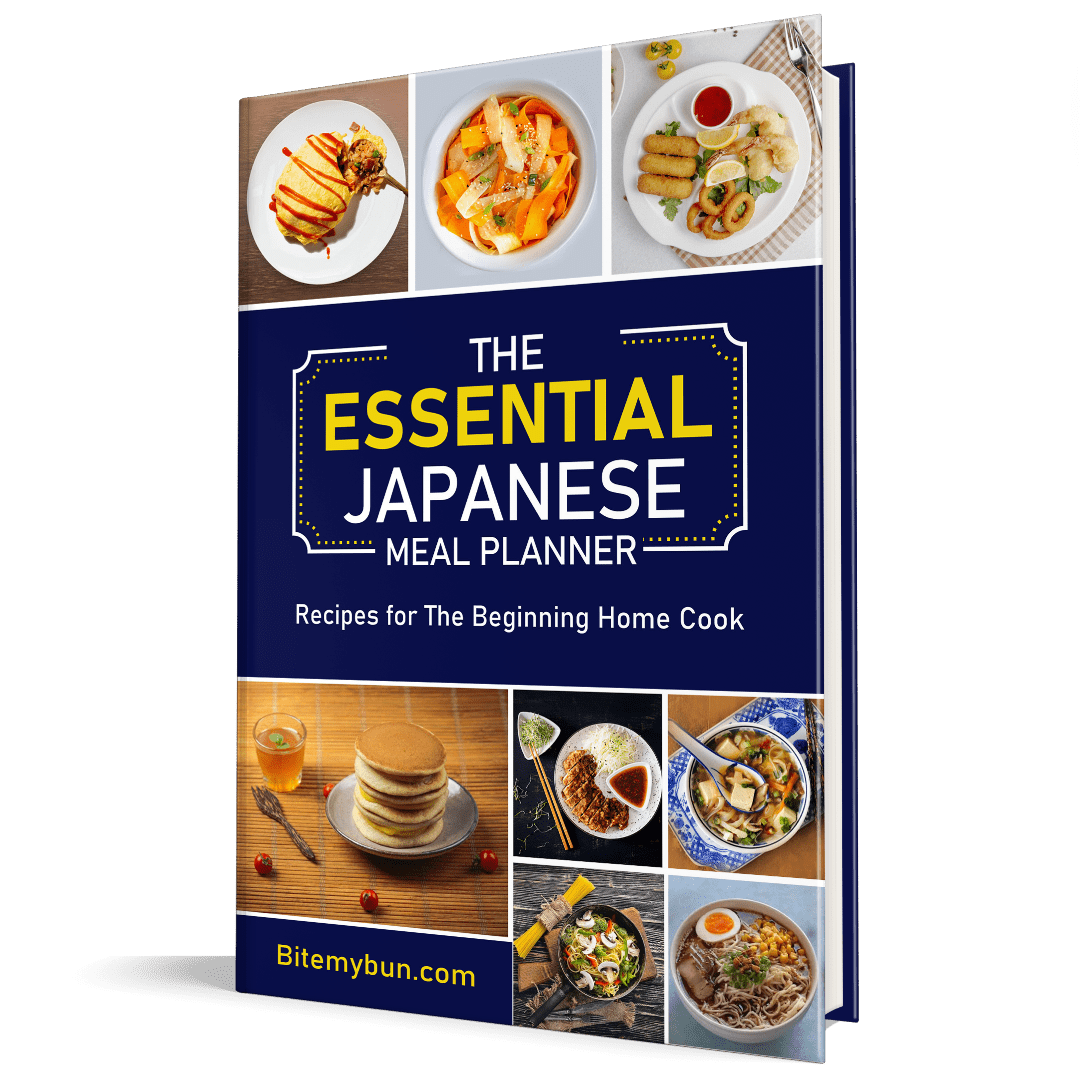 Check out our new cookbook
Bitemybun's family recipes with complete meal planner and recipe guide.
Try it out for free with Kindle Unlimited:
Read for free
Do you love ramen? What about spicy ramen?
Then, you have to make this easy tan tan ramen recipe at home and you'll be delighted by how tasty this spicy noodle broth can be!
This dish contains ramen noodles, savory ground meat, sesame, peanuts, and spicy chili oil plus you can add your favorite veggies and toppings like egg.
It's all served in a spicy milky broth and is one of the tastiest Japanese noodle soups!
There's nothing quite like a big bowl of tan tan ramen on a cold day and this recipe will show you how to make it at home. The secret is adding spicy chili oil which adds some kick to elevate ramen noodles.
I'm sharing my favorite tan tan ramen recipe with all the delicious substitutions you can make.
10 Tips to Save a Bundle on Asian Ingredients!
Introducing our brand new FREE PDF guide: "Saving Secrets: Unveiling the Art of Saving Money on Asian Ingredients" It's your first newsletter email, so start saving today! 📚🧧
We'll only use your email address for our newsletter and respect your privacy
How to make tan tan ramen
This recipe uses a simple packet of instant ramen noodles as a base. You can also use fresh ramen noodles of course!
I'll give more recipe ideas and possible variations below.
Also read: Best instant ramen hacks | The ultimate guide to upgraded noodles
Tan tan ramen recipe
The spicy bean paste, chili oil, and milky broth elevate ramen to the next level. This Japanese noodle dish is a great alternative to regular ramen noodles!
Ingredients  
1

packet of instant ramen noodles or about 100 grams
For minced pork stir-fry
200

grams

minced pork meat

1

tbsp

soy sauce

2

cloves

garlic

minced

1

tbsp

ginger

minced or powder

1

tbsp

spicy bean sauce

Doubanjiang

1

tbsp

vegetable oil
For tare (paste soup base)
1

tbsp

soy sauce

2

tbsp

sesame paste

1

tbsp

Japanese chili oil

rayu

1/2

tbsp

rice vinegar

1

tsp

sesame oil

1

tsp

pepper powder

3

cloves

garlic

minced
For broth
150

ml

unsweetened soy milk

150

ml

chicken broth
For toppings
1

head of baby bok choy

blanched

some bean sprouts

1

soft-boiled egg

1

spring onion

chopped

1

tsp

crushed peanuts or toasted sesame seeds
Instructions 
First you need to stir-fry the ground meat. Heat your frying pan and add 1 tbsp of vegetable cooking oil and add the minced ginger and garlic.

Add the ground pork meat and fry it until it turns brown. Then remove it from the pan and set aside.

In a separate bowl, combine the spicy bean paste, rayu chilli oil, soy sauce, sesame oil, rice vinegar, and minced garlic. Set this mixture aside.

In a pot, bring the chicken stock and almond milk to a low simmer and mix well so the soy milk combines with the stock to create a soup broth.

If you want to add baby bok choy, blanche it for about a minute or two. At this time you can also soft boil the ramen egg.

Prepare the ramen noodles according to package instructions or boil fresh ramen noodles for a few minutes. You have to cook the noodles in boiling water.

Add the spicy bean paste mixture to the bottom of the serving bowl, pour the chicken stock mixture on top and combine well. Then, add the ramen noodles to the broth.

Place the fried ground pork on top of the noodles.

Add the bok choy and egg on top and sprinkle with green onion, bean sprouts, and crushed peanuts.

Now your ramen noodle soup is ready to serve!
Substitutions & alternatives
This recipe features all of the ingredients needed to make this tasty dish, you can always make substitutions.
Noodles
This dish is usually made with ramen noodles. Tantanmen noodles are usually wavy and savory.
However, you can use other noodles like udon noodles, soba, or even spaghetti!
If you want to make this dish gluten-free, use rice noodles or quinoa noodles.
Most chefs recommend using wheat-based noodles but you really don't have to. Ramen noodles give the perfect texture though.
Spicy bean paste
You can use any type of fermented bean paste or other spicy bean paste, it doesn't have to be the Chinese Doubanjiang.
Korean fermented chili bean paste is also a great option which adds a lot of flavors.
To tone down the flavor of fermented chili bean paste, you can add a teaspoon of peanut butter.
When you substitute peanut butter for bean paste altogether, it makes the tan tan less spicy!
Sesame paste
Sesame paste can be hard to find in stores but it's a popular ingredient in Asian cuisine.
Instead, you can use tahini which is a bit milder.
Soybean paste (doenjang) is another good alternative because it's not as nutty but has the same thick paste consistency.
Rayu chilli oil
The Japanese version of tan tan ramen uses rayu chilli oil but there are others you can use, like chili miso oil which adds some more umami flavor.
Chicken stock
You can make your own chicken stock, use the store-bought stuff or get Japanese chicken stock, also called tori-gara.
Vegetable or beef stock work too, it depends on what you like.
Rice vinegar
Some people like to use Japanese rice wine or Chinese cooking wine instead of rice vinegar. It's up to you!
Meat
Some people prefer the taste of fresh dumplings to that of ground pork. You can also substitute char siu which is braised pork belly for the minced meat.
Some restaurants will serve diced pork belly instead of minced pork for their tantanmen ramen.
Wontons are another good Chinese alternative. Ground beef works too! It has a stronger flavor.
Minced chicken and turkey are good lean options. Or, you can use vegan mince to make this dish and skip the egg and other non-vegan ingredients.
Milk
Vegetable milk is best for this dish. Soy milk, almond milk, oat milk, cashew milk, and even coconut milk can be used.
Unsweetened soy milk is the best because it doesn't alter the taste of the other ingredients. Other sweetened milk can make the soup broth too sweet.
Vegetables
Bok choy is a tasty leafy green people like to use but you can add baby spinach or chopped cabbage too.
The vegetables are usually blanched. You can add broccoli too or if you want, you can stir-fry some green beans or edamame with the pork to add in more veggies per serving.
Pickled vegetables are an option too – you can add pickled daikon radish or zha cai (榨菜) which is pickled Chinese mustard root.
Toppings
You can add all kinds of toppings when making this ramen recipe.
Cooked noodles taste really good when you combine them with nuts and seeds like roasted sesame seeds or crushed peanuts. Untoasted sesame seeds work too and add some crunch.
Chopped scallions are the best toppings paired with ramen egg but you can even add dried seaweed flakes or bonito flakes for a unique seafood aroma.
What is tan tan ramen?
Tan tan ramen, also known as tantanmen, is a type of Chinese ramen dish that originates from the Sichuan province.
It's a popular dish in Japan, and its popularity is growing in the West as well.
The word "tan tan" refers to the sound of a sizzling wok, which is used to cook the noodles in a spicy sauce made with chili oil, sesame paste, and vinegar.
The sauce is what gives this dish its signature fiery red color and spicy flavor.
Tan tan ramen is traditionally made with ground pork, but you can use any type of ground meat that you like.
The noodles (usually ramen) are boiled and then added to the minced meat along with the spicy milk broth. Then, people like to add vegetables and toppings of their choice.
What's different about this Japanese ramen dish is that it has a creamy milky broth, seasoned with shoyu (soy sauce), sesame paste, and chili oil.
This soy base is called 'tare sauce'.
It's then mixed with soy milk for that creamy broth.
The ground pork is stir-fried together with doubanjiang, also known as spicy Sichuan bean sauce, and green vegetables like bok choy or baby spinach. These can also be blanched and added at the end.
The most important ingredient in this dish is chili oil, so make sure to use a good quality one. It's what differentiates this ramen dish from the milder ones.
The key to making a good tantanmen is to get the balance of flavors right, so don't be afraid to experiment with different ingredients until you find a combination that you like.
Origin of tan tan ramen
Tan tan ramen is actually based on a similar dish from China called "Dan Dan Mian" or Dan Dan noodles which is actually a Sichuan street food.
It's a bowl of spicy noodles, minced pork stir-fry, and blanched greens.
Instead of noodles in a broth, Dan Dan is served dry. The dry ramen noodles were combined with spicy condiments like bean paste to give them more flavor.
The dish made its way to Japan in the 1950s and has been adapted to suit the Japanese palate.
The Japanese tantanmen ramen is a soup-like version of the dish and people love it because it's the ultimate comfort food.
Originally, tan tan ramen was a very simple fish. Fresh ramen noodles were added to a big bowl with some spring onion, bean sprouts, chili oil, soy sauce, and broth.
Then as it evolved, the ramen broth became more flavorful and other toppings were introduced. Ground pork meat became an important component of this dish. In some areas, they added pork dumplings or some wontons.
How to serve & eat tan tan ramen
You'll find tan tan on the menu at most ramen restaurants across Japan and in the West too. It's becoming a popular dish because it's so hearty and comforting.
Tan tan ramen is usually served in serving bowls with chopsticks and a spoon. Most restaurants add the soft-boiled egg too which just goes so well with this noodle dish.
The noodles, meat, and vegetables are all mixed together in the bowl and then eaten. The soup broth is usually drunk last.
The hot noodles can be slurped along with the hot soup, or chopsticks can be used to pick up the toppings.
It's a very hearty and filling dish, so it's perfect for a winter meal but also works when you're craving a comforting lunch or dinner.
Where to eat tan tan ramen
This dish is extremely popular across Asia.
In Japan, there are many fast food-type restaurants and ramen restaurant chains like New Tantanmen (located in Tokyo) and this is their main or only dish they serve since it's such a popular specialty food.
In the Philippines, there's a restaurant called Mendokoro Ramenba which serves different types of ramen dishes, and their tantanmen is very popular.
In China, there are many small mom-and-pop type eateries that served Dan noodles as street food.
If you're in the United States, you can find tan tan ramen at Ramen-san in Chicago and at Ivan Ramen in New York City, for example.
The American version is very similar to the Japanese version of tan tan ramen but maybe the serving bowl is larger here.
Have you ever wondered how many ramen shops there are in Tokyo? Over 10,000!
Similar dishes
There are many other ramen recipes that use soy-based broth, but what makes tan tan ramen unique is the chili oil and sesame paste that gives it its signature fiery red color and spicy flavor.
Other similar dishes include:
Shoyu ramen: This is a type of Japanese ramen that uses soy sauce as the main seasoning for the soup broth. It's a brown color and has a more intense flavor than other types of ramen.
Miso ramen: This is a type of Japanese ramen that uses miso paste as the main seasoning for the soup broth. It's a thick, creamy soup that is usually red or brown in color.
Tonkotsu ramen: This is a type of Japanese ramen that uses pork bones as the main ingredient for the soup broth. It's a white color and has a rich, creamy flavor.
But I can't forget about the famous Dan Dan from China. Dan Dan noodles is a Sichuan street food that's made with dry ramen noodles, minced pork stir-fry, and blanched greens.
Instead of noodles in a broth, Dan Dan is a stir-fried noodle dish made with sauce, not broth.
Takeaway
When you want to try something other than traditional ramen, you can make a spicy ramen broth with creamy soy milk, sesame paste, spicy chili oil, and spicy bean paste.
Then fry some minced pork, cook the noodles, and pile on the flavorful toppings. You'll have a hearty and filling meal that will make you feel like you just ate a two-course meal.
If you want to try a new twist on an old classic, you can add some spicy pork dumplings to your tan tan ramen.
This is one of the Japanese noodle soup recipes you can really customize to your liking. So, get creative and enjoy!
If you love spicy food, you should definitely try Ginataang Manok (Filipino Spicy Chicken in Coconut Milk)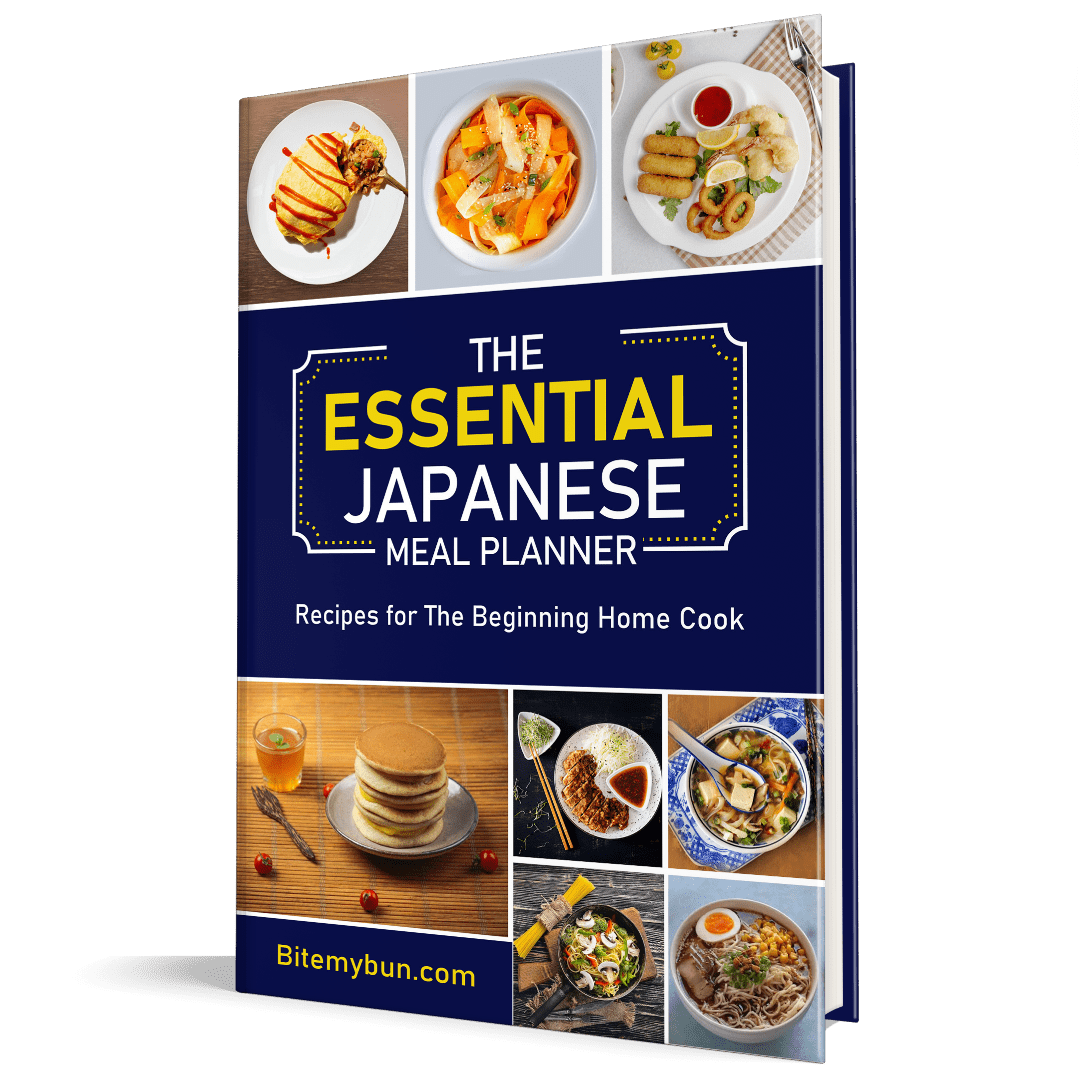 Check out our new cookbook
Bitemybun's family recipes with complete meal planner and recipe guide.
Try it out for free with Kindle Unlimited:
Read for free
Joost Nusselder, the founder of Bite My Bun is a content marketer, dad and loves trying out new food with Japanese food at the heart of his passion, and together with his team he's been creating in-depth blog articles since 2016 to help loyal readers with recipes and cooking tips.