I love creating free content full of tips for my readers, you. I don't accept paid sponsorships, my opinion is my own, but if you find my recommendations helpful and you end up buying something you like through one of my links, I could earn a commission at no extra cost to you.
Learn more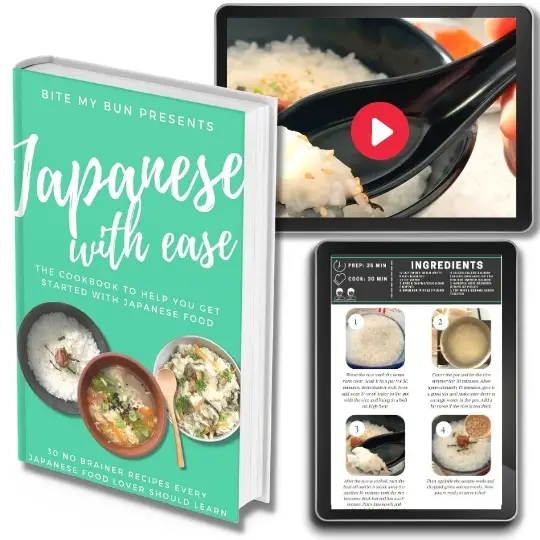 Ever had trouble finding Japanese recipes that were easy to make?
We now have "cooking Japanese with ease", our full recipe book and video course with step-by-step tutorials on your favorite recipes.
The best stovetop teppanyaki grill plate can be a hard thing to find.
Because there's one thing about cooking with gas or electric stoves that can be frustrating: uneven heat distribution.
Especially for teppanyaki!
I've tried everything I could think of to get even heating on my stovetop – that's why I love a teppanyaki griddle plate so much. It has heat diffuser plates that have been installed evenly, and they allow an even distribution of heat on the griddle.
I've done the research and found the best qualities in stovetop teppanyaki grill plates and in this article, I'll share the secrets with you.
I've reviewed the two best from the ones I've tried but I personally recommend this Everdure Furnace.
It outdoes the Camp Chef grill in three significant areas:
Size – its cooking surface area is way larger
Stainless steel surface – this means you don't have to worry about stubborn stains that are common to grills
This grill is perfect for outdoor use
Let's take a look at the top 4 and I'll get into a little more detail about them later in this article:
Four best Teppanyaki Stovetop grill plates reviewed
Here's my review of these four top stovetop grill plates:
Best stovetop grill: Everdure Furnace Gas Teppanyaki Plate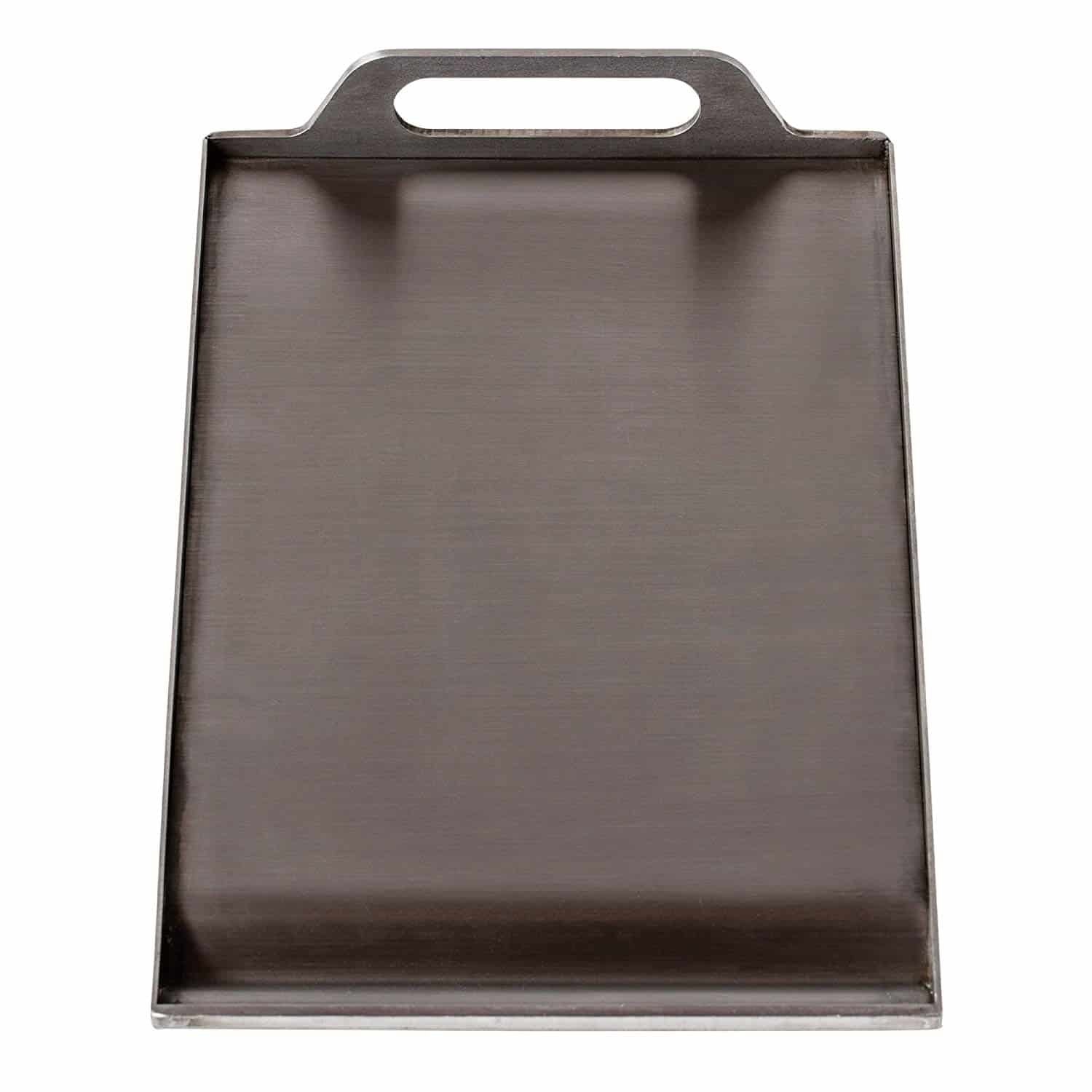 Description:
The Furnace Gas Grill Teppanyaki Plate that is provided by Everdure offers one Teppanyaki plate made of premium stainless steel. In addition, it also comes with two spatulas to assist you in cooking.
The Teppanyaki place has a handle that allows easy removal and it is ideal for someone cooking meat or fish.
In addition, this particular Teppanyaki plate fits only to the center area of the furnace grill
Features:
The grill is made up of heavy-duty stainless steel material
The Teppanyaki plate is customized to fit the center area of the grill
It comes with two spatulas
Check the latest prices and availability here on Amazon
Best stainless steel stovetop teppanyaki plate: Stanbroil Flat Top
This is the perfect barbecue grilling accessory for your gas grill. With this grill, you can cook several meals at one time.
Also, it is the perfect outdoor cookware for everything from pancakes and eggs at sunrise to a Mongolian barbecue in the evening.
Take it camping, tailgating, to the park or just grilling outdoors.
Features:
Dimension: 36 inches by 20 inches. The grill has 720 square feet inches cooking surface
Material: The grill is made from 100% restaurant-grade stainless steel
The stainless steel cooking surface is simple to clean and this post-meal cleanup a snap
Built-in grease well collects cooking oil to prevent flare-ups, and the high sidewalls keep food on your griddle
Best Uses – Perfect for breakfast, lunch, and dinner- cook everything from eggs and pancakes to quesadillas and grilled cheese to steak and potatoes including Teppanyaki style foods and more
You can get the Stanbroil flat top grill plate here on Amazon
Best cheap teppanyaki grill plate: Camp Chef SG100 Deluxe
This Teppanyaki grill will get the job done very quickly.
From preparing food to cleaning the grill, everything is easy and simple with the grill which you can check out here on Amazon.
One notable thing is that the grill comes with a pre-seasoned Camp Chef correct seasoning. This creates a natural cooking surface that's ready to use.
Features:
Great for Large Groups. Cooking Area is 24.6 inches, and Overall dimensions are 18 x 38 inches
The finish is a heat seasoning that has some color variation shades. This is normal and will continue to change after cooking.
Covers all three burners; Great for pancakes and eggs
Grease tray captures and removes grease
High wall design for easy cooking
Heavy-duty steel construction
Budget Stovetop grill: Kokomo BBQ griddle plate
Description:
The Kokomo grills come with a large cooking surface that allows you to cook all your meals at the same time.
The grill is welded across its bracing, which improves its stability. In addition, its sidewalls help in containing food inside the grill as you cook.
This means you don't have to worry about food falling as you cook. Also, the grill comes equipped with a drip tray, which captures all the fat and oil as you cook.
The drip tray helps in ensuring that you don't mess your kitchen or yard with oil.
One notable thing about the grill is that you can easily remove or add it depending on what you are cooking.
The grill has an even performance, which ensures evenness heating of the grill, be it at the highest or the lowest temperature setting.
The grill has thermocouples, which are used to preheat the griddle and ensure even heat distribution.
The grill's preheat performance determines the temperature of the grill after preheating the grill for 10 minutes.
This happens through thermocouples. In addition, it helps you to know how fast the grill can reach its maximum temperature.
The grill's temperature range assists in reflecting the width of the grill's temperature.
This happens through the comparison between low setting and high setting using the grill's main burners.
Features:
4 burners
Ideal for cooking meals that cannot sit on a grid
Horizontal stainless steel access door under the grill
Durable
Compatible with gas grill and charcoal grill
Dishwasher safe
How do you care for your grill?
Most of the grills are featured with a true-seasoned finish, and these grills need a bit of a TLC from time to time to keep the finishing in perfect condition.
The following guide will assist you to keep your grill clean, prevent rusting, and maintain the glass-like finishing to prevent your food from sticking as you cook.
How do you manage the temperature on the grill?
Before you start using the grill, you need to give it some time for it to pre-heat. This helps you in achieving the best possible cooking performance from the grill.
First, you need to start by setting your grill on a med-low or medium heat for around 5 minutes.
This setting should allow the grill to heat to around 350 to 400 degrees Fahrenheit. However, this depends on the environment and weather.
Then you need to turn the heat to low or med-low for approximately 2 – 3 minutes to allow the heat to spread uniformly across the entire grill.
It is important to note that steel conducts heat very fast, but cools slowly.
Therefore, the grill will have enough heat to get you started even after you reduce the heat on your burners.
Once you finish preheating the grill, you will be ready to start cooking.
It would help if you understood that it is essential to manage the heat on your grill as this assists to avoid damaging the grill.
Even though the steel is robust and durable, always make sure that you use Medium and Low heat settings.
This is very important, particularly when you want to use several heat settings on a large grill with multiple burners.
This gives you the opportunity to cook a fajita on one side as you warm a tortilla on the other side.
However, you need to make sure that you maintain both settings on Low or Medium.
How can I clean my griddle?
Once you finish using the grill, it is important to make sure that you clean the food particles on the grill while it is still warm.
It is recommendable to make sure that you use a chain mail scrubber or metal spatula to remove any stubborn bits on the grill.
After you remove these bits, wash the griddle using hot water, cast iron cleaner, or mild dish soap.
Please note that you should never use any form or abrasive detergent to clean the grill.
Next, you should rinse the grill thoroughly and then dry. Never use a dishwasher or scrub the grill, as this can chip the perfect, seasoned finish on the top griddle.
How to store your griddle
Before you save your skillet, you should make sure that it is clean, seasoned, and dry. Then, you will need to store the grill in a clean and dry area.
Most of these grills come with a carry bag, which is specifically designed to store the grill.
If you are storing the grill in one of the bags for an extended period, you need to make sure that you leave a space on the zipper to prevent the metal from sweating.
This is very important as it assists you to avoid the grill from rusting.
Things you can cook with your Teppanyaki griddle plate
Now, you have bought your non-stick Teppanyaki griddle that offers a healthier way for you to prepare. However, what can you cook on your Teppanyaki Grill?
Sausages and hamburgers
a Teppanyaki grill can provide you with a smooth and stress-free way to cook meat for dinner.
Interestingly, you can even prepare hamburgers or sausages so long as you have the grill in your home.
Pancakes
well, you can't avoid pancakes so long as you have a Teppanyaki grill in your house.
Even though traditional pancakes are delicious, you can choose to prepare a healthier option of an egg and overripe banana with maple syrup if you want to add more sweetness.
Make sure that you cook the pancakes on medium heat, and most interestingly, you can create the size you desire on the grill.
Sunday breakfast
you can cook eggs, bacon, hash browns, and tomato on one surface.
But, you should ensure that you time each item depending on your preference; lightly browned vs. crispy bacon, fried vs. sunny side up eggs, mushy vs. grilled tomato, and crunchy vs. lightly toasted hash browns.
You will always be looking forward to Sundays so long as you have one of these grills in your home.
French toast
a French toast is one of the easiest ways to spice up your morning.
What you need to do is to beat an egg, add some milk, season with salt and pepper (you can add some nutmeg or cinnamon), then soak each side of the slice in the mixture.
Make sure that the bread isn't soggy and then fry it on your grill over medium heat until each side browns.
Skewers and kebabs
with a Teppanyaki grill in your house, you don't need to light up your BBQ just for a few skewers or kebabs.
This grill can provide you with an easy and seamless way of preparing skewers and kebabs for your mealtime.
Steaks
a Teppanyaki grill allows you to cook steaks to your desired preference (well done or rare).
You don't need to worry about the excess juice since it will just drain into the grill's catcher. You can add this juice to the gravy if you want a delicious treat.
Warm asparagus salad
this can be one of the best starters to entertain your guests, particularly if you add Halloumi.
To start, slice your halloumi into preferred portions, and then fry it on medium heat until it browns on each side.
You can serve it with asparagus, lightly toasted almonds, and lemon wedges. This is a straightforward recipe, and you should make sure that you try it out.
Toasted sandwiches
you can choose to coat the outside of the bread with some butter before frying it if you want to prepare a café-style toasted sandwich.
You will realize that cooking the sandwich using your Teppanyaki grill makes it look and taste better.
Turkish bread
start by slicing 2 cm pieces of the Turkish bread vertically and then apply butter on one side.
Then, place the buttered side on the grill until it turns brown… this is a mouthwatering recipe.
Fried rice
yes, you can cook fried rice on your Teppanyaki grill. There are various recipes that you can find online, and their outcome will surprise you.
The best tools to use on your Teppanyaki grill
It is important to ensure that you use the right tools if you own a Teppanyaki grill as this assists in ensuring its longevity.
Here are some of the tools that can allow you to use your Teppanyaki grill with ease.
Also, read our complete post on the best tools to get for teppanyaki
Heavy-duty tongs
Tongs are kitchen tools that are designed to assist in gripping or lifting food items or ingredients instead of holding them with bare hands.
Tongs come in different designs, but this depends on their specific usage.
Some tongs are like pincers or nippers, but most of them fall into the following categories:
Tongs with long-arm structures, small-flat and circular ends, and a pivoted joint close to the handle – the design of these tongs allow them to hold delicate objects or food items. Besides, the standard fire tongs used to handle charcoal and placing them over fire fall into this category. Also, pliers used for serving spaghetti and grilling belong to this category. All these tongs are designed in a manner that allows their user to rotate, turn, or move food delicately conveniently. The design also allows the user to fetch a whole serving in one grab.
Tongs made of one metal band, which is bend round or pliers with two or one bends joined together at their head with a spring. These tongs are knowns as asparagus tongs or sugar tongs. The tongs have a spoon-shaped or claw-shaped end and have a silver color. Their design allows them to serve lump sugar as well as related food items.
Tongs with a pivot or joint located near their gripping ends. These tongs are designed to hold hard or heavy things.
2-tine pot fork
You can use this fork to pick up or hold the meat. The shape of this fork resembles the shape of the regular fork, but it's a bit larger, and its tines are curved outward.
These outwardly curved tines are specifically designed to pierce thin slices of beef. Also, you can use this fork to hold meet steadily as you carve it.
This is a must-have tool for both a commercial kitchen or your home kitchen. Apart from dishing up beef, you can also use the fort to hold turkey or chicken in place.
These forks are mainly made up of stainless steel with an engrossed wooden handle. Pot forks are durable and practical tools to own.
A grill scraper
Grill scrapers are tools used to clear cooking grills. These scrapers clean the grill by scrapping any food particles which stick on the grill's cooking surface.
Teppanyaki grill scrapers come in different designs, and they range from putty knives to more complex tools with a hand protector.
This prevents you from getting burned as you use the grill.
There are other multifaceted variations of griddle scrapers that are more appropriate for professional chefs and cooks. Also, there are other scrapers intended wire grills.
These scrapers have notches at the edge of the blade to fit the grill wires. Well, a grill scraper sounds like a simple tool, but owning one makes it easier to clean your grill.
A grill spatula
This is a long-handled tool that is designed to keep the user's hands from the grill as they use the grill.
Grill spatulas come in different designs which allow you to turn grilled packed hamburgers, pizza, and large steaks.
This is a precious tool that provides ease and comfort for anyone using a Teppanyaki grill.
An ideal Teppanyaki grill spatula should have a good width to handle steaks or pizzas comfortably.
However, it shouldn't be too wide as this can make it hard to handle thick meat or burgers.
5-inch spatulas are suitable for handling large steaks, but they are not ideal for crowded burgers or meat.
3.5-inch spatula variations, on the other hand, are suitable for handling both crowded meats as well as large steaks. 4-inch spatulas provide both support and dexterity.
Griddle stones
These disposable tools are designed to clean, maintain, and protect the surface of your grill with ease and efficiency.
People who always use their Teppanyaki grills need something to keep and clean the grill, and a griddle stone can assist them to do that with much ease.
One good thing about the griddle stones is that they clean grills evenly, and they do not leave any sulfurous odor or taste.
Also, they can last for a long period, but this depends on their usage. Furthermore, the griddle stones are very useful in preventing the surface of your grill from rusting.
The griddle stones come from pumice stone, which is very effective when it comes to removing stubborn grease that builds up in grills.
Squeeze bottles
These assist you to control the ingredients as you use your Teppanyaki grill. Also, they give the capability to showcase your culinary skills.
The squeeze bottles allow you to put an exact amount of liquid ingredients, and they are very useful when it comes to handling expensive ingredients.
A Turner
This is also known as a spatula. A turner, just as its name says, is used to turn food as you cook it on your Teppanyaki grill. Besides, a turner is used to remove or lift food items from the griddle.
Turners are mostly used when preparing hamburgers, bacon, eggs, fish, potatoes, pancakes, and cookies.
It is essential to understand that turners come in different shapes and sizes, and they are also made of different materials.
Stainless steel turners are the cheapest turners you can find in your nearest store. Nylon or silicone-made turners are the best tools when you don't want to scratch the surface of your grill.
These turners are tempered to allow them to withstand the extreme temperature of up to 500 degrees Fahrenheit.
However, it would be best if you exercise extra caution when using your turner as it can melt or warp when you leave it on your grill as you cook.
Most turners come with slots to allow fats and juices to drip through while you use them.
Kitchen shears
These tools are specifically designed to assist you in food preparation since they are more flexible compared to traditional cutting scissors.
Their handles are made of plastic or rubber, and they are textured to allow gripping and cutting quickly.
The kitchen shears have blades with a notch to let the user cut poultry joints without any struggle.
These tools have additional parts like teeth that serve as jar or bottle openers, and screwdriver-like protrusion to help in opening lids.
The blades of the kitchen shears can be detached to allow for easy washing and drying. In addition, the blades are made up of stainless aluminum or steel for durability purposes.
When choosing your shears, make sure that you select shears with a medium opening, just enough to cut food items, but not so wide to cut small ingredients and food items.
Besides, check to ensure that the blades are strengthened to cut hard parts and food items comfortably and efficiently.
A grill basting cover
These covers are designed to keep food moist and warm before serving it.
Also, you can use a grill basting cover to protect your grill from greasy splashes as well as to prevent the grilling section clean.
This, in turn, assists you to maintain the functionality and cleanliness of your grill.
The basting covers came in different shapes and sized to fit different sizes of the grills.
In addition, they are equipped with heat-resistant handles to prevent the user from burns or injuries while cooking.
Basting covers are made up of durable material, and this means that you can use them for the longest time possible.
Furthermore, basting covers can be used in homes and restaurants.
Grill installation
Most Teppanyaki grills are custom made, and this means that there is very little that you can do during their installation.
The only thing you need to do is to guide the grill installation team to the place where you want the grill installed.
It is vital to ensure that the installation team comprises of professionals.
Also, you should note that the installation job doesn't take too long and it won't even interrupt your daily schedule.
Once the installation is complete, the technicians will show you how the grill operated by doing several tests, and then they will leave the rest of the cooking work to you.
Here are some Teppanyaki pro tips:
Always ensure that your grill is level before you start using it. This allows any grease of juices to drain correctly. To check whether your grill is level, pour one cup of water on one of the corners farthest from the grill drain, and closely monitor to see where the water flows.
It is recommended to use the grill's grease cup accessory if you want to clean your grill easily.
When adjusting the heat on the grill, always change it a bit by bit. It is important to note that the grill's surface heats very quickly and cools slowly.
Apply light oil on the grill before you start using it, and as it heats up. You can either use cooking oil or a grill conditioner.
The grill's surface will continue to darken and antique with every use–you don't have to worry about this as it is normal.
Discolored foods, metallic or rusty taste are an indication of insufficient seasoning or because of cooking highly acidic foods. When this happens, wash the grill thoroughly, and then re-season.
Check out this post about cleaning the flat surface with vinegar
Barbecues are irresistible, especially when you have a teppanyaki grill in your home.
What you need to do is to fire up your grill, and prepare some of your old-time favorites like sausages, steaks, and burgers.
But, you need to try out something new with your Teppanyaki grill – Japanese street foods.
Well, you might be a bit scared to try them out, but you will be surprised how easy it is to prepare these dishes with your Teppanyaki grill.
In addition, trying these meals gives you the opportunity to impress your family and friends with your teppan skills as well as amazing Japanese foods.
Yakisoba
This is one of the typical Japanese street foods. Yakisoba tastes excellent, it's simple to cook, and it is super delicious.
To prepare yakisoba, you need to stir-fry cabbage, noodles, pork, yakisoba sauce, and carrots together.
You can decide to top this meal with Japanese mayonnaise (vs American which is not the same) and a fried egg for improved taste.
Okonomiyaki
To cook okonomiyaki, you need to mix okonomiyaki powder, water, and cabbage, and then fry the mixture just like pancakes.
You can choose to add seafood like squid and pawn, or noodle and pork in the mixture.
Also, you can add konnyaku in okonomiyaki.
Finally, top the recipe with Japanese mayonnaise and okonomiyaki sauce and the food will be ready to be served.
If you want an extra touch of authenticity, you can add aonori and bonito flakes.
Also read: this is the type of cabbage you'll want to use to make the perfect okonomiyaki
Yokionigiri
This is one of the most common Teppanyaki barbecues in Japan. Its literal meaning is "fried rice-ball.' Yokionigiry is a simple meal, but it needs some preparation.
First, you need to cook short-grain sushi-rice using a rice cooker or boil it in a pan. Then, roll the rice into a ball and then wrap it in a Clingfilm.
Then, add either tsuyu or soy sauce to it and then fry the rice balls on your Teppanyaki grill until it turns to brown and crispy.
You can add butter, tuna, or miso to the rice before making the balls for extra delight.
Yakiniku
This means fried meat in Japanese, and it is a common meal in most of the restaurants in Japan, and it is also a simple meal that you can prepare in your home using a Teppanyaki grill.
There are different types of meat that you can cook, and this includes intestines, beet arteries, and tongue.
The sauce is the special ingredient that makes this meal delicious. Your Teppanyaki grill makes preparing yakiniku very easy.
However, it is important to make sure that you marinate your meat using yakiniku sauce before you start cooking it. Then you can use some additional yakiniku sauce for dipping.
Yakitori
This is one of the easiest barbecues to prepare. First, you need chicken for this meal. Cube the chicken into medium pieces and then skewer it into a kebab stick.
Next, add some yakitori sauce and start grilling. Simple to prepare, right?
These are some of the great Japanese outdoor barbecue ideas that you can try out with your Teppanyaki grill.
Read more about these Teppanyaki grills for induction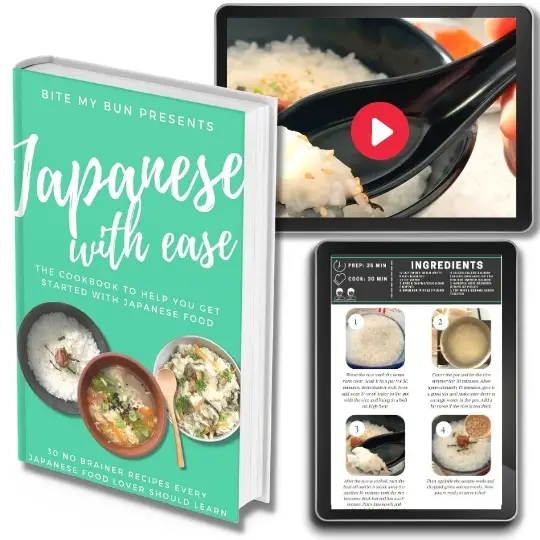 Ever had trouble finding Japanese recipes that were easy to make?
We now have "cooking Japanese with ease", our full recipe book and video course with step-by-step tutorials on your favorite recipes.
Joost Nusselder, the founder of Bite My Bun is a content marketer, dad and loves trying out new food with Japanese food at the heart of his passion, and together with his team he's been creating in-depth blog articles since 2016 to help loyal readers with recipes and cooking tips.