5 best Teppanyaki plates for your stovetop reviewed
I love creating free content full of tips for my readers, you. I don't accept paid sponsorships, my opinion is my own, but if you find my recommendations helpful and you end up buying something you like through one of my links, I could earn a commission at no extra cost to you.
Learn more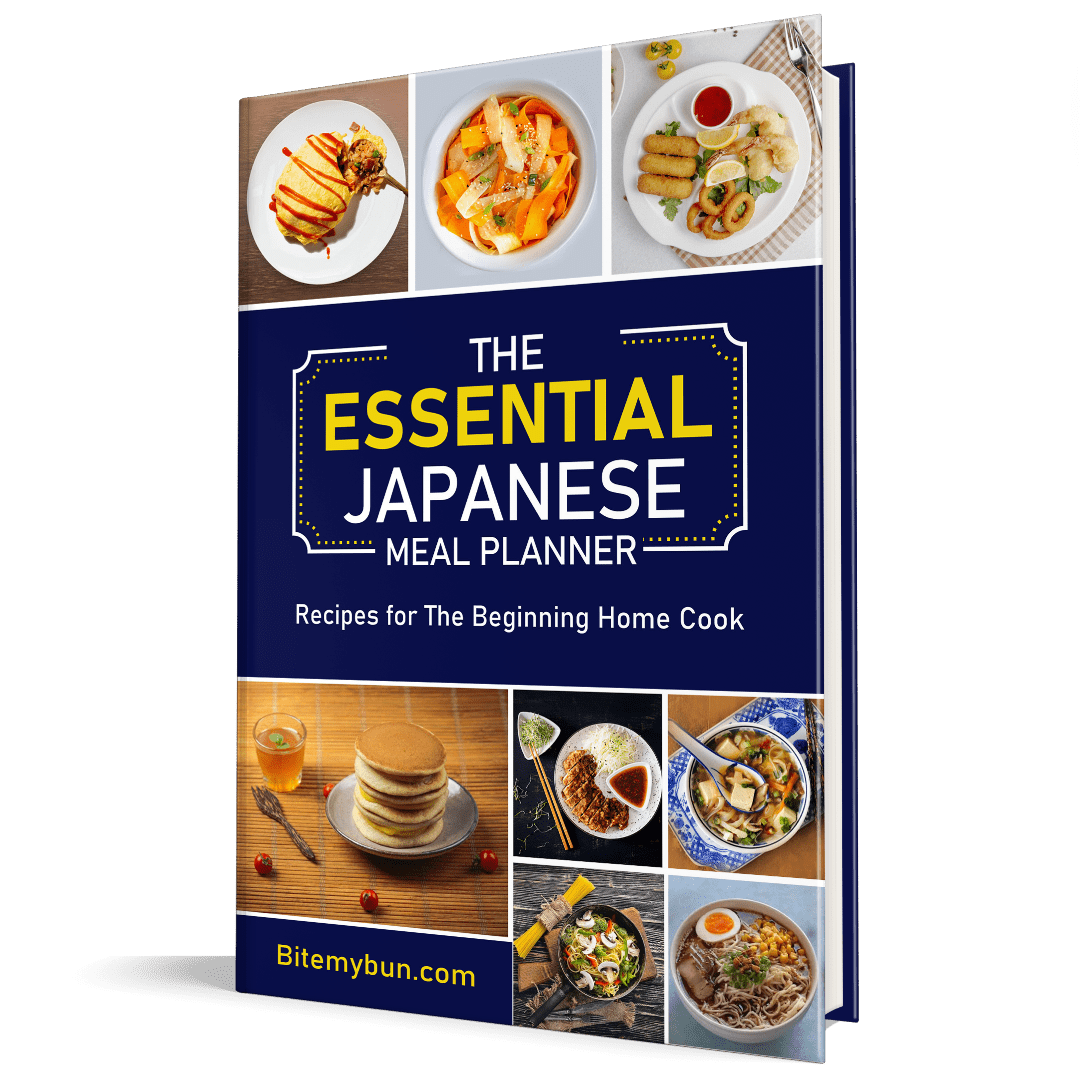 Check out our new cookbook
Bitemybun's family recipes with complete meal planner and recipe guide.
Try it out for free with Kindle Unlimited:
Read for free
The one frustration I have when cooking with gas or electric stoves is uneven heat distribution. That's why the RIGHT teppanyaki griddle plate has heat diffuser plates.
The best I've tested is this HOMENOTE stainless steel griddle. It has a large base that fits over multiple burners, offers an even heat distribution, and lets you cook meats, fish, veggies, stir-fry, and breakfast foods that don't fry in their own grease so food is healthier and tastier!
I've done the research and found the best qualities in stovetop teppanyaki grill plates, and in this article, I'll share the secrets with you.
Let's take a look at the top 5, and I'll get into a little more detail about them later in this article:
Stovetop teppanyaki
Images
Best overall stainless steel stovetop Teppanyaki plate: 

HOMENOTE Stainless Steel Griddle

Best cheap Teppanyaki grill plate: GrillPro 91212 Universal Cast Iron Griddle

Best Teppanyaki grill plate for gas grill: Everdure Furnace Gas Teppanyaki Plate

Best single burner Teppanyaki plate & best for induction: 

MGKKT 1-Piece 10.6 inch Cast Iron Griddle Plate

Best Teppanyaki pan: All-Clad E7951364 griddle cookware
10 Tips to Save a Bundle on Asian Ingredients!
Introducing our brand new FREE PDF guide: "Saving Secrets: Unveiling the Art of Saving Money on Asian Ingredients" It's your first newsletter email, so start saving today! 📚🧧
We'll only use your email address for our newsletter and respect your privacy
Teppanyaki grill plate buying guide
Grill plates like these are usually compatible with both stovetops and outdoor grills. 
Cooktop compatibility
Different teppanyaki plates are designed for certain types of cooktops and grills. 
For example, induction hobs are not usually compatible with these types of plates if they aren't completely flat. Also, some, like the Everdure are designed for a specific style of gas grill.
Gas and electric cooktops that aren't flat or ceramic are usually compatible with a teppanyaki plate. 
Plate size
The most important thing to consider when buying a teppanyaki plate for your stovetop or grill is the size. It must fit perfectly or else it's not safe to use. 
Another thing to think about is how many people you want to cook for. A smaller plate that covers two of your stove burners is usually enough for couples and small families.
Most small teppanyaki plates are about 40 – 60 cm. These are spacious enough so you can cook all the breakfast favorites like pancakes, sausages, hashbrowns, okonomiyaki, etc. 
However, larger families might want a large plate that covers all the stove burners and heats up very fast. 
The larger teppanyaki flat tops usually measure 90 cm or more. Some extra-large ones are large enough for big outdoor grills too but these are hard to store if you live in a smaller home. 
Grill material
Teppanyaki grills are made of all types of materials. 
These include cast iron, stainless steel, and aluminum. 
A stainless steel teppanyaki grill is the best option if you want a non-stick cooking surface that's also easy to clean. If you hate scrubbing and cleaning the plate, this material is the one that's easiest to work with.
Stainless steel is also great at heat distribution and retention so you'll love cooking on it. 
But, there's another great option: cast iron. This is a heavier material but it's superior to stainless steel when it comes to heat distribution.
Since cast iron is a good heat conductor, many chefs like to use this kind of grill because food cooks quickly and evenly on this surface.
Cast iron needs seasoning with oil and some people find that inconvenient. If you don't season the griddle, food sticks and burns on the plate. 
Aluminum is the cheapest option, usually found in budget products but it still works. Clean-up is harder though and you'll end up doing more scrubbing. 
Cleaning
Almost all modern teppanyaki grills have some type of nonstick coating so they're easy to clean with a griddle scraper or a cloth. The nonstick coating is cleaned with warm water and a cloth or paper towels. 
The majority of teppanyaki grills have a nonstick coating and this makes them easy to wipe clean, with a warm cloth after it's been used and cools down.
If there's no nonstick coating, then you can season the plate to avoid food from sticking. 
Handles 
Many of the best models have at least one handle, either on the side or the bottom of the grill plate. This makes it easy to maneuver the plate while setting up and once you get cooking. 
Handles also ensure you can grab the hot plate without burning yourself (use gloves though!). 
If the plate doesn't have handles, it's okay, but you need to wait for it to cool completely before moving it. 
Five best Teppanyaki stovetop grill plates reviewed
Here's my review of these five top stovetop grill plates:
Best overall stainless steel stovetop Teppanyaki plate: HOMENOTE Stainless Steel Griddle
cooktop compatibility: gas, electric & all grills 
size: 17.71 x 13.97 x 2.99 inches
cooking surface: 191 sq inches
material: stainless steel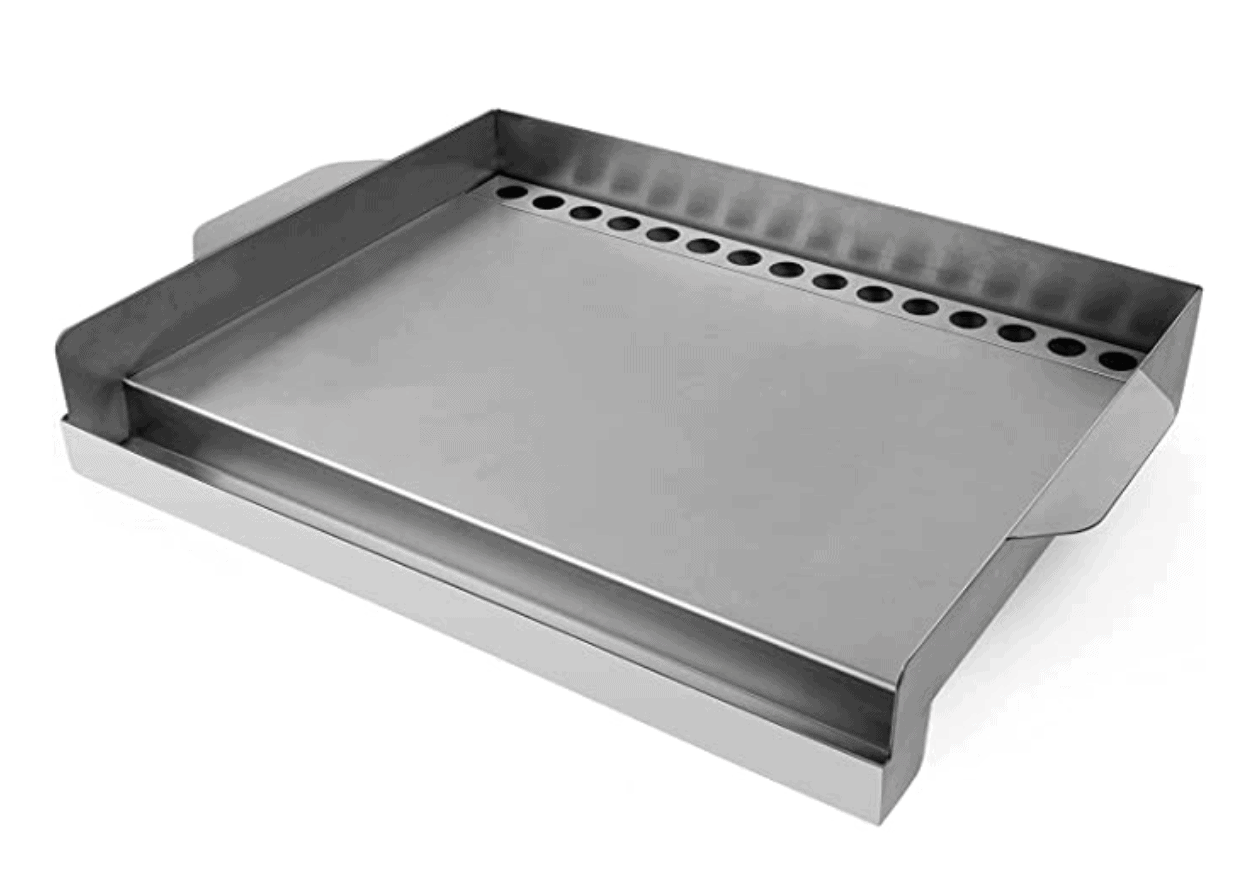 It's hard to find a stovetop teppanyaki grill that is "universal" but this HOMENOTE product aims to help you cook teppan-style dishes almost anywhere. 
The HOMENOTE universal teppanyaki griddle is suitable for use on indoor cooktops and all types of outdoor grills.
Although theoretically, it works on electric stovetops too, it's best for use on gas hobs or over burner covers. When it comes to outdoor cooking, you can use this instead of buying a special teppanyaki grill by placing it over the hot grill. 
The griddle is quite large at 17 x 10 inches and offers 191 sq inches of cooking space so you can cook for at least 3 or more people at once. 
Compared to a freestanding stainless steel griddle, you have a bit more control over the cooking temperature, which is very important in Teppanyaki cooking.
This plate heats up fast and distributes the heat evenly across the plate. 
The plate is made of corrosion-resistant thick stainless steel and molded from one piece so there are no loose components, everything is compact.
It's a durable heat-resistant plate and can withstand temperatures up to 600 F and it doesn't warp. Some customers say that past 400 F, the center starts to warp slightly but not all customers report this. 
One of the best features is the built-in grease tray which is removable. During the cooking process all the oil, fat, and excess grease is collected there and you can easily empty it and wash it so cleaning is quite easy. 
While cooking, you have to remove the stuck-on scraps with a teppanyaki spatula then wipe down the plate with some warm water, dish soap, and a cloth. The stainless steel is brushed which means it has a slightly rough texture that is easier to clean. 
To make cleaning and maneuvering easier, the griddle has a 6-inch handle so you can lift it without burning yourself. 
Another important and unique feature is the ventilation holes under the grill surface. The proper ventilation prevents flare-ups and hotspots. As well, there are high side walls to prevent any food from slipping or spilling over. 
Thus, you can cook and achieve the tastiest Japanese BBQ and achieve an authentic cooking experience whether you cook on your kitchen stovetop or an outdoor grill. 
Check the latest prices here
Best cheap Teppanyaki grill plate:

GrillPro 91212 Universal Cast Iron Griddle
cooktop compatibility: gas, electric
size: 13.27 x 9.49 x 0.59 inches
cooking surface: 117 sq. inches
material: cast iron 
If you're one of those people who wants the occasional teppan-style yakiniku or a tasty griddle breakfast, you don't need a fancy teppanyaki grill so you can make do with a basic flat top plate for your cooktop.
The GrillPro is the most basic, and easy-to-use teppanyaki-style cast iron griddle.
It's extremely affordable and suitable for gas and electric cooktops, charcoal, and gas grills, and you can even use it to broil, braise, and bake in the oven. Talk about multitasking, right? 
From preparing food to cleaning the grill, everything is easy and simple.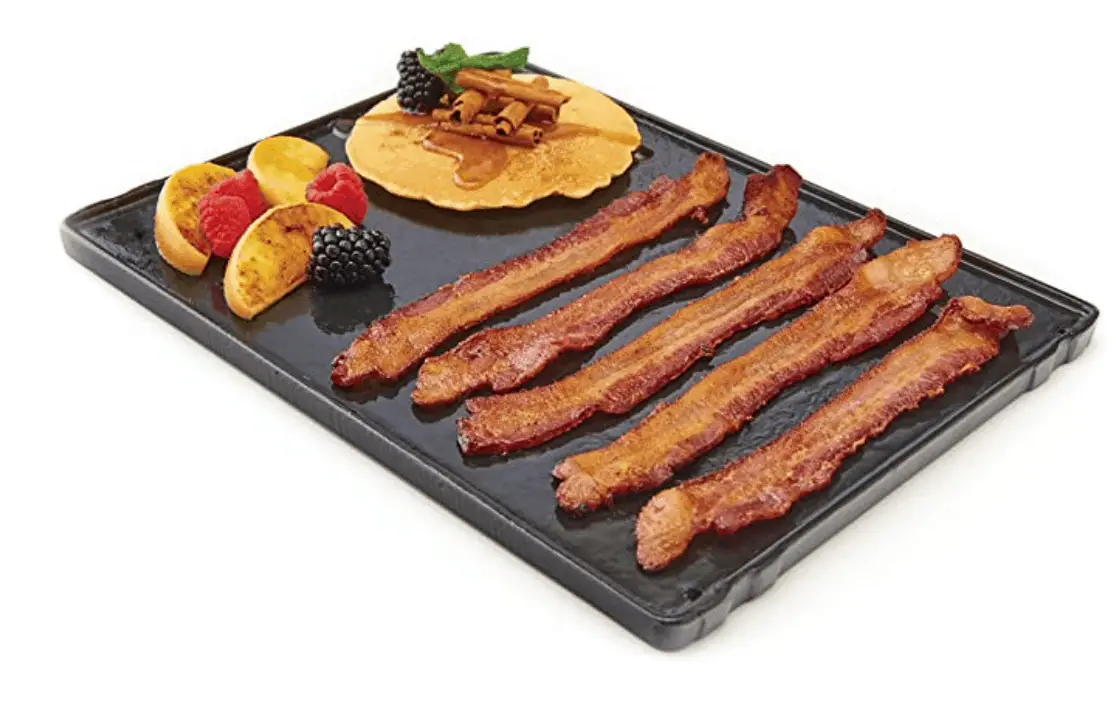 Unlike the single cast iron plate, this one has a special matte porcelain coating. This ceramic coating is easier to clean than the regular cast iron and doesn't need seasoning, which is a great bonus!
The plate is also reversible with a flat surface on one side and a ridged surface on the other and that's very useful when cooking larger steaks because the drippings don't accumulate around the meat. 
I recommend using this plate on your stovetop and not a charcoal grill because, after repeated exposure to high heat, some customers noticed small cracks in the porcelain. 
A minor disadvantage with this cast iron griddle is the lack of handles. Since there is no handle to hold onto, you need to use special heat-resistant gloves to maneuver it or wait until it cools off completely. 
What I like about this cast iron griddle is that it's durable and heavy-duty.
If you use an electric teppanyaki grill, you can't get the best authentic Japanese cooking experience because you can't really scrape and use the spatulas or you risk damaging the sensitive plate. 
But, with the stovetop griddle, you can make tasty stir-fry, and mix the egg with noodles and veggies using two spatulas. So, if you like cooking more than just bacon, grilled meat, and breakfast foods, you should try this GrillPro plate.  
HOMENOTE vs GrillPro
If you're looking for a large versatile griddle you can use on the stovetop and your outdoor grill, the HOMENOTE is one that doesn't disappoint. It's got everything you need, including a stainless steel flat surface, a detachable grease tray, and handles. 
However, if you want something smaller and compact that's also heavy-duty, the cast-iron GrillPro plate is a cheap alternative for all kinds of cooktops (except induction). 
It's harder to cook liquidy foods or stir-fries on the GrillPro because it's doesn't have the same deep sides as the Homenote plate.
The stainless steel product resembles a professional plate you'd see in commercial kitchens and you can use your spatulas to move and turn foods like bean sprouts, soy sauce-covered vegetables, and any food that's runny, like okonomiyaki. 
So, if you're more inclined to cook basic breakfast foods, fish, and meat, you can use the cast-iron plate without worrying whereas if you like to cook the runny batter and liquidy foods, you're better off with the Homenote plate.
Best Teppanyaki grill plate for gas: Everdure Furnace Gas Teppanyaki Plate
cooktop compatibility: gas cooktop and Everton propane grill
size: 17.1 x 10 x 3.4 inches
cooking surface: 170 sq inches
material: stainless steel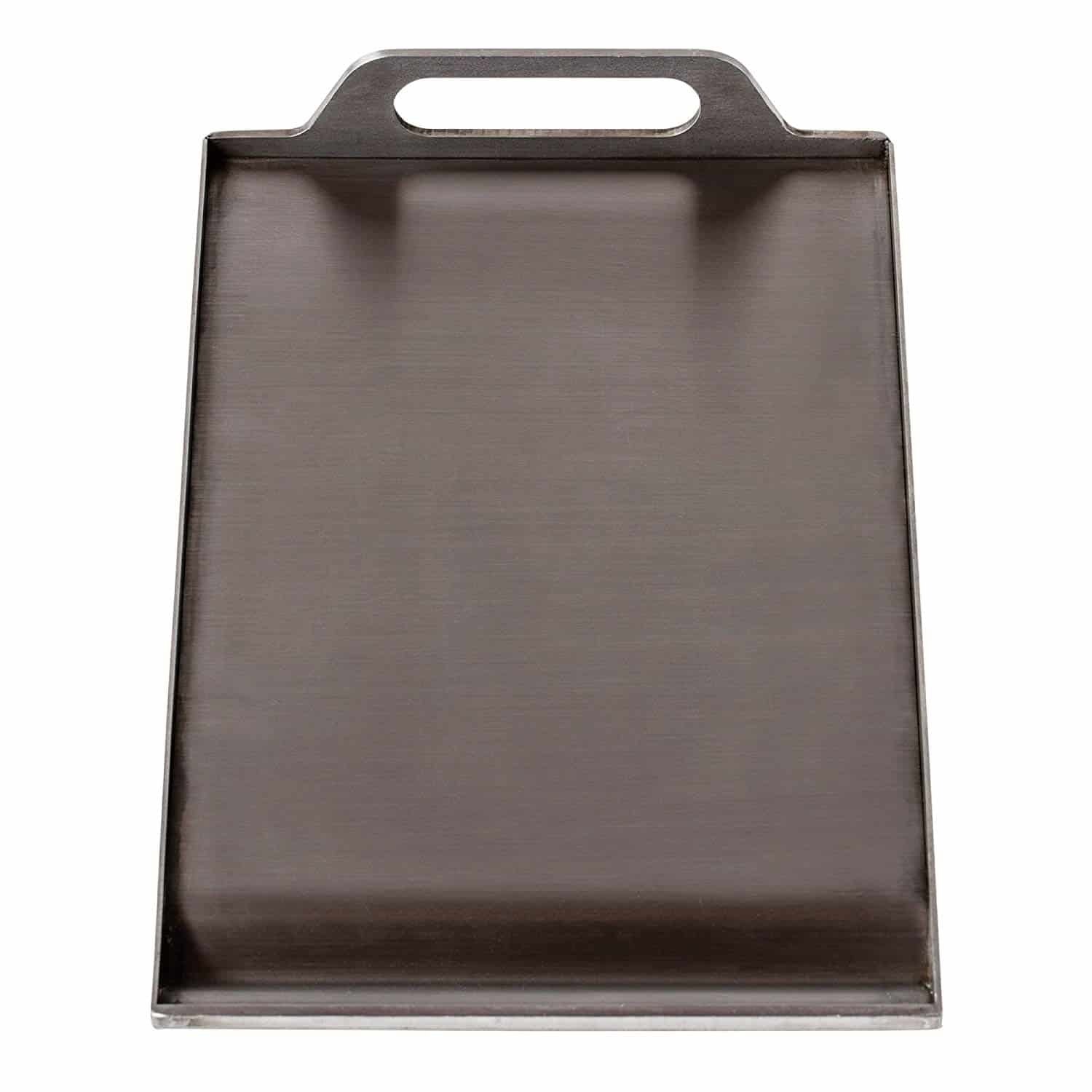 Do you own an Everdure gas grill already? Then, you can use the teppanyaki stainless steel plate in the best way possible by installing it right over the heat source.
But, if you don't have an Everdure grill and want a stovetop option, you can use this versatile plate with your gas cooktop.
The plate has an interesting design because it looks like a serving tray, with slightly elevated sides that prevent any liquids from dripping out and causing smoke. 
It's made of a 304 thick stainless steel material which is easy to scrape and clean. It's also durable and warp-proof at high temperatures. 
This teppanyaki plate is the best for cooking foods like fish and vegetables where you need to be flipping and turning the food quickly.
It's also great for frying because you can use oil and make potatoes, fried onions, and other batter dishes. The advantage is that your batter doesn't drip over onto the stove and make messes. 
In addition, it also comes with two spatulas to assist you in cooking.
The Teppanyaki place has a handle that allows easy removal and it is ideal for someone cooking meat or fish.
I want to warn you about one thing; when you use the plate with the Everdure furnace grill, the plate goes over 3 burners and heats up extremely fast. But, when you use it on the stovetop and place it over 2 burners, it's not going to fit into place exactly. Thus, it heats up much slower and the cooking time is longer. 
After all, this plate is designed specifically for Everdure grills but many people use it as a stovetop plate. 
Check the latest prices and availability here
Best single burner Teppanyaki plate & best for induction: MGKKT 1-Piece 10.6 inch Cast Iron Griddle Plate
cooktop compatibility: all, including induction
size: 3.94 x 3.94 x 0.87 inches
cooking surface: 15 sq. inches
material: cast iron 
Do you like the versatility of a teppanyaki flat plate and do you have modern induction or flat electric cooktops?
In that case, you can get this single burner small griddle, perfect for making a couple of Japanese pancakes or frying yakitori chicken skewers for dinner.  
It's the best for all cooktops, even induction hobs, and considering it's such an affordable 2-in-1 griddle, you can't go wrong. 
This is a reversible plate, one side is flat like the classic teppanyaki and the other is ribbed so it's more like American grills. Both of these are extremely useful in the kitchen as stovetop grills or outdoors on your charcoal or gas grill. 
It's actually quite a versatile plate and you can even use it on the campfire and in the oven. It can grill, sear, broil, saute, and even bake. 
The plate has a square shape and it's made of a very strong and durable cast iron material. Another benefit is that it's already pre-seasoned at the factory, so you can just start cooking as soon as you get them delivered. 
Cast iron is well-known for excellent heat retention so when you cook, the heat gets distributed evenly. Hot spots don't form as often and you can comfortably cook on the stovetop without worrying about flares and lots of smoke. 
There's a handle on one side of the plate but make sure to always use heat-resistant gloves to avoid burning your hand since cast iron gets very hot. 
One disadvantage (for some) is its small size. It's best suited for singles and couples looking for a small teppanyaki plate and not something big and chunky.
If you want a stovetop cooker to impress guests, you're better off with one of my other large plate recommendations. 
But, if you're looking for a versatile teppanyaki plate that works as an extension of your stove or grill, the MGKKT is a great choice. 
Everdure vs MGKKT single burner plate
If you cook on a gas cooktop, you can use either of the plates mentioned.
But, if you have an induction cooktop, your best choice is the small cast iron reversible plate. It's perfect to cook for one or two people at a time and its compact flat design lets you enjoy teppanyaki cooking on your modern stove. 
The Everdure plate is significantly larger and suitable for both indoor and outdoor cooking and entertaining. 
Another difference between the two is, of course, the material. Everdure is made of stainless steel and easy to clean whereas the MGKKT plate is made of cast iron and needs seasoning every once in a while to remain nonstick. 
Both products are quite heavy-duty and high heat resistant. Technically you can use them in the oven and on the grill too so you're not limited to stovetop use. 
It comes down to how often you want to cook teppan-style. The Everdure teppanyaki grill plate is better if you already own an Everdure gas grill or a similar model and you can use the plate as an add-on accessory.
The cast iron plate though is very versatile and perfect for any home, especially when you don't really cook griddle-style all the time. 
Best Teppanyaki pan: All-Clad

E7951364 griddle cookware
cooktop compatibility: gas, electric, ceramic (not induction)
size: 11 inches
material: aluminum
I'm reviewing this pan as a bonus because it's a great alternative for people who don't mind using a pan as a teppanyaki griddle and have limited cooktop space. 
You've probably seen celebrity chefs like Gordon Ramsay use these flat griddle pans to cook up delicious Asian stir-fry. But, a brand like HexClad offers quite expensive flat griddle pans.
Unfortunately, customers complain that those pans get damaged and warped easily. 
The All-Clad hard-anodized aluminum griddle pan is a cheaper and better alternative. It has a square shape and fits over your cooktop burner perfectly, offering even heat distribution. 
It's made of 3-layers of aluminum and has a PFOA-free nonstick coating so it's safe and healthy to use. 
It's also super easy to clean because it's dishwasher safe. So, you can say goodbye to scraping, scrubbing, and seasoning after every use. 
There's a riveted long stainless steel handle that doesn't get hot, so the pan is easy to maneuver as you cook. 
This is not a deep pan, it's a real flat top griddle. Since it's only 0.3125 inches deep, you feel like you're cooking your own BBQ at a Japanese restaurant. 
I recommend using some cooking oil spray to ensure it's truly nonstick since some people complain that foods like cheese can get stuck on. 
FAQs
How do you care for your stovetop teppanyaki?
Most of the grills are featured with a true-seasoned finish, and these grills need a bit of a TLC from time to time to keep the finishing in perfect condition.
The following guide will assist you to keep your grill clean, prevent rusting, and maintain the glass-like finishing to prevent your food from sticking as you cook.
Check out this post about cleaning the flat surface with vinegar
How do you manage the temperature on the grill?
Before you start using the grill, you need to give it some time to pre-heat. This helps you in achieving the best possible cooking performance from the grill.
First, you need to start by setting your grill on med-low or medium heat for around 5 minutes.
This setting should allow the grill to heat to around 350 to 400 degrees Fahrenheit. However, this depends on the environment and weather.
Then you need to turn the heat to low or med-low for approximately 2 – 3 minutes to allow the heat to spread uniformly across the entire grill.
It is important to note that steel conducts heat very fast, but cools slowly.
Therefore, the grill will have enough heat to get you started even after you reduce the heat on your burners. Once you finish preheating the grill, you will be ready to start cooking.
It would help if you understood that it is essential to manage the heat on your grill as this assists to avoid damaging the grill.
Even though the steel is robust and durable, always make sure that you use Medium and Low heat settings. This is very important, particularly when you want to use several heat settings on a large grill with multiple burners.
This gives you the opportunity to cook a fajita on one side as you warm a tortilla on the other side.
However, you need to make sure that you maintain both settings on Low or Medium.
How to store your griddle
Before you store away your Teppanyaki griddle or skillet, you should make sure that it is clean, seasoned, and dry. You will need to keep the grill in a clean and dry area.
Most of these grills come with a carry bag, which is specifically designed to store the grill.
If you are storing the grill in one of the bags for an extended period, you need to make sure that you leave a space on the zipper to prevent the metal from sweating.
This is very important as it assists you to avoid the grill from rusting.
Also, read our complete post on the best tools to get for teppanyaki
Teppanyaki stovetop pro tips:
Always ensure that your grill is level before you start using it. This allows any grease of juices to drain correctly. To check whether your grill is level, pour one cup of water on one of the corners farthest from the grill drain, and closely monitor to see where the water flows.
It is recommended to use the grill's grease cup accessory if you want to clean your grill easily.
When adjusting the heat on the grill, always change it a bit by bit. It is important to note that the grill's surface heats very quickly and cools slowly.
Apply light oil on the grill before you start using it, and as it heats up. You can either use cooking oil or a grill conditioner.
The grill's surface will continue to darken and antique with every use–you don't have to worry about this as it is normal.
Discolored foods, metallic or rusty taste are an indication of insufficient seasoning or because of cooking highly acidic foods. When this happens, wash the grill thoroughly, and then re-season.
Read more about these Teppanyaki grills for induction
Takeaway
I think nothing is stopping you know from enjoying delicious teppanyaki-cooked foods at home!
If you thought you can only use teppanyaki plates on the outdoor grill, then you're now convinced that you can make all your favorite meats and veggies on a flat griddle right there on the stovetop. 
Since you can find plates of all sizes and materials, you can start enjoying Japanese food even when the weather outside is rainy or cold. 
If you start with the Homenote griddle, you can start cooking that much-craved teriyaki or yakitori! Plus, you won't be wasting time cleaning up this smooth griddle. 
All you have to do now is turn on the stovetop and prepare to feast on yummy dishes!
Read next: these are the top 4 need-to-have knives when cooking Teppanyaki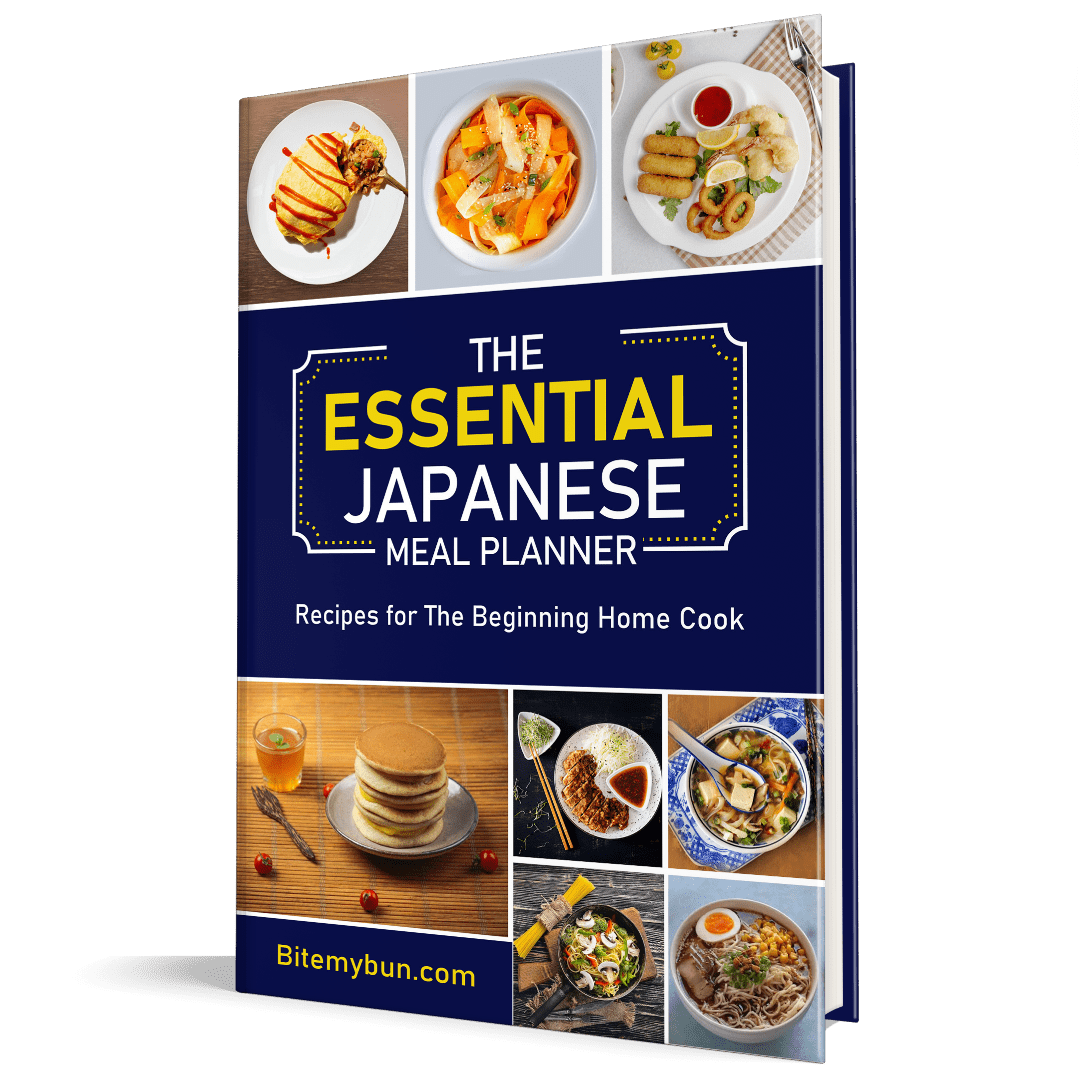 Check out our new cookbook
Bitemybun's family recipes with complete meal planner and recipe guide.
Try it out for free with Kindle Unlimited:
Read for free
Joost Nusselder, the founder of Bite My Bun is a content marketer, dad and loves trying out new food with Japanese food at the heart of his passion, and together with his team he's been creating in-depth blog articles since 2016 to help loyal readers with recipes and cooking tips.