4 Ultimate Teppanyaki Steak Recipes You Wish You Knew Sooner
I love creating free content full of tips for my readers, you. I don't accept paid sponsorships, my opinion is my own, but if you find my recommendations helpful and you end up buying something you like through one of my links, I could earn a commission at no extra cost to you.
Learn more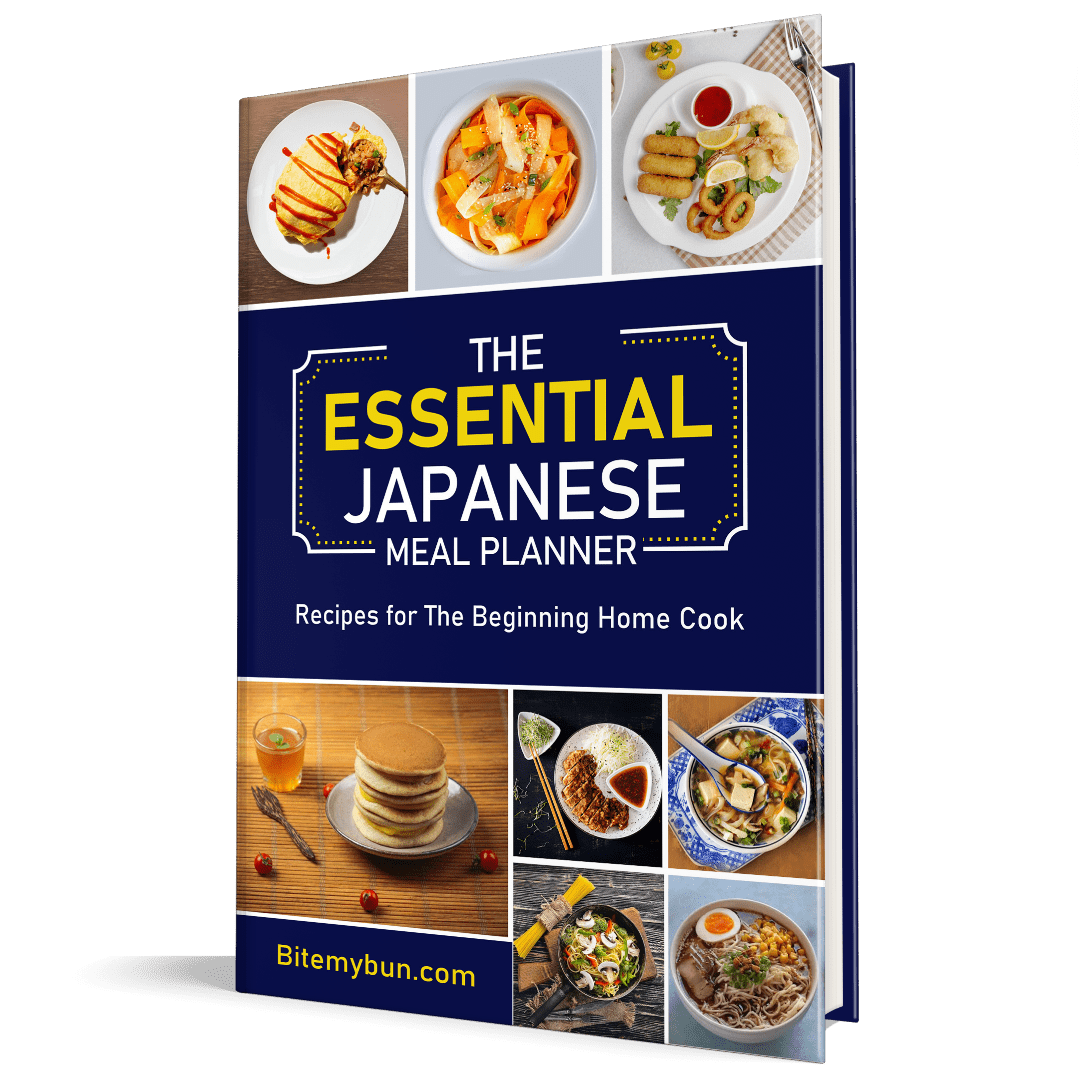 Check out our new cookbook
Bitemybun's family recipes with complete meal planner and recipe guide.
Try it out for free with Kindle Unlimited:
Read for free
Teppanyaki is truly delicious, and most people will want to taste a perfectly cooked piece of meat from that grill.
But even when you know you want to make a teppanyaki steak…. there are still some flavor profiles you can add to make them stand out.
That's why I've gathered our top 3 steak recipes that'll blow you away.
Teppanyaki Sirloin Steak with Garlic Butter
Now that we embarked on the flavor journey, let me share my tried and true method of obtaining the most delicious Teppanyaki Sirloin Steak with Garlic you've ever had. Goodbye Tofu steak!
Check out this recipe
Teppanyaki steak and shrimp recipe
This particular teppanyaki steak (and its unique sauce) is made from soy sauce and has been a favorite among the Japanese. Eat this great seafood meal with the shrimp chili sauce (ebi chili), have a cold beer or fruit drink to go with it, and your shrimp teppanyaki delicacy will be complete!
Check out this recipe
Classic teppanyaki sake/ soy beef steak recipe
A simple yet delicious Japanese steak dish.
Check out this recipe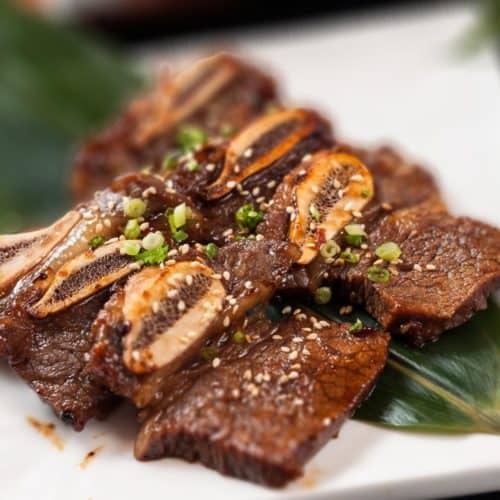 Teppanyaki steak seasoning recipe
With a simple but effective seasoning, the steak's natural taste can really come out.
Check out this recipe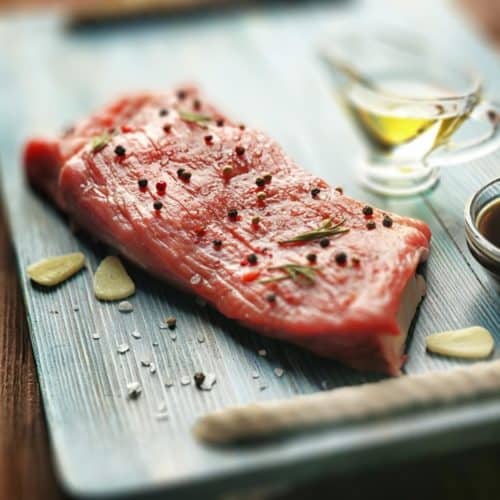 10 Tips to Save a Bundle on Asian Ingredients!
Introducing our brand new FREE PDF guide: "Saving Secrets: Unveiling the Art of Saving Money on Asian Ingredients" It's your first newsletter email, so start saving today! 📚🧧
We'll only use your email address for our newsletter and respect your privacy
Do you HAVE to have a Teppanyaki grill?
The teppanyaki grill is basically a Japanese design iron griddle to cook a variety of foods that could be grilled, stir-fried, or sauteed.
"Teppanyaki" comes from 2 Japanese words, with the first word being "teppan" (which means "iron plate") and the second being "yaki" (meaning"grilled, broiled, or pan-fried").
So no, you can make these recipes in your pan if you don't have a teppan, that's absolutely no problem.
The teppanyaki grill just makes it easier to move around your ingredients, keeping some warm while the others are searing.
So just make these recipes with whatever you have.
Now let's see what you can do if you had your own teppanyaki grill at home. Here are 4 of the best teppanyaki steak recipes and more info on doing it at home.
How to cook teppanyaki steak at home
Owning a teppanyaki grill will give you the opportunity to cook those exotic Japanese recipes at home and impress your family and friends with your cooking prowess.
If you go online, you'll find a lot of teppanyaki steak recipes.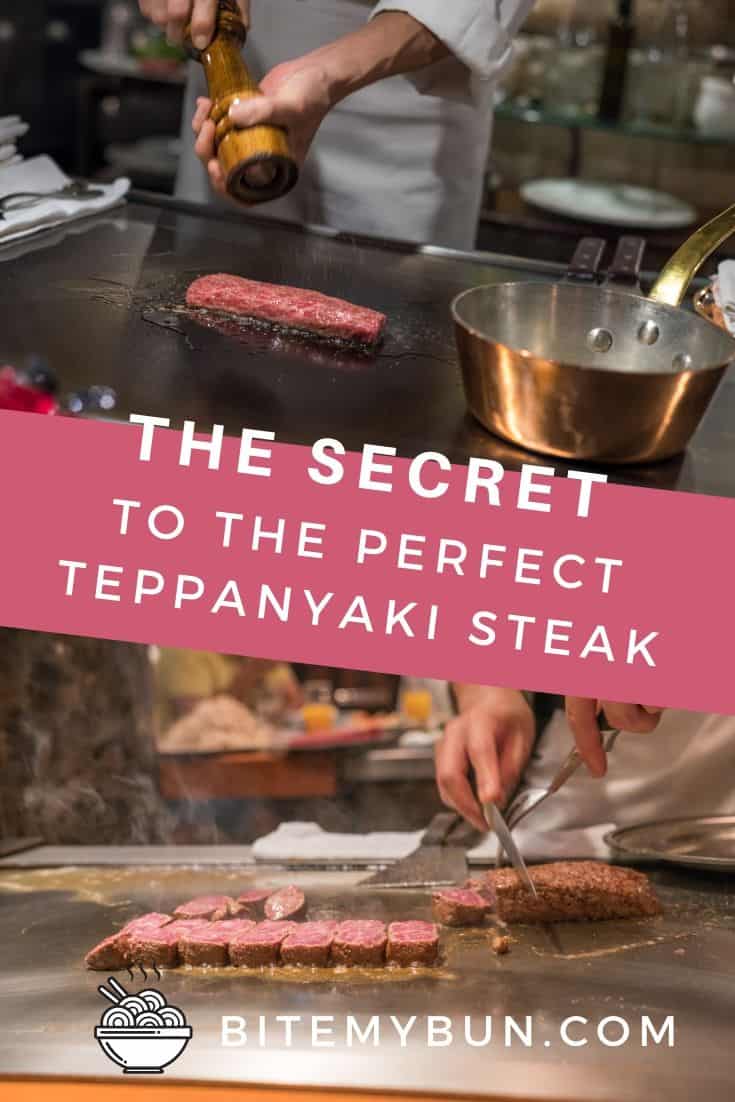 Food websites and blogs know just how good this particular recipe is and so they try to come up with a variety of ways to cook it.
And that's not bad actually, because it means that you'll have plenty of options too when cooking teppanyaki steak at home!
How to cut the beef
The secret to cutting the perfect slice of beef (whether for the usual western-style steak or the Japanese teppanyaki steak) is to cut the meat against the grain.
But how do you know how to identify the grain of the meat?
Well, the grain of the meat is where the muscle fibers run across the slab of meat when you put it on the table.
So you cut against it or across it. You have to make sure that your knife is exactly perpendicular to those muscle fibers.
Make sure to cut the meat into 1-inch thick slabs before preparing them to be made into teppanyaki beef steak.
Now the reason why you should cut against the grain is to shorten up those meat fibers, which makes the meat more tender.
Teppanyaki steak nutrition facts
The 2 main benefits of teppanyaki steaks are protein and potassium.
They help build muscle mass and decrease risk of strokes. They also lower your blood pressure and can even help preserve your bone mineral density and help reduce the risk of kidney stones.
In addition, they help regulate body fluids that control the electrical activity of the heart and other muscles.
People who suffer from hypokalemia (potassium loss) can experience some weakness and may get tired easily. It can also lead to much more, like difficulty breathing and in some cases, mood swing. This is why it's important for you to take at least 100 mg of potassium daily.
It's got quite a different structure and nutrition than teppanyaki pork.
Beef tenderloin nutrition facts (Based on a 2,000-calorie diet)
Serving size 3 oz (85 g)
Per serving % daily value*
Calories 179 N/A
Calories from fat 77 N/A
Total fat 8.5g 13%
Saturated fat 3.2g 16%
Polyunsaturated fat 0.3g N/A
Monounsaturated fat 3.2g N/A
Cholesterol 71mg 24%
Sodium 54mg 2%
Potassium 356.15mg 10%
Carbohydrates 0g 0%
Dietary fiber 0g 0%
Sugars 0g N/A
Protein 24g N/A
Vitamin A 0%
Vitamin C 0%
Calcium 1%
Iron 17%
Iron and calcium are also found in steaks, plus the added marinade mix, sauce, salads, and/or bread, mashed potatoes, or rice should give you enough energy and nutrients to get through the day.
Even in the food pyramid, meat, poultry, and fish rank on the second-highest level of importance in terms of the recommended daily allowance to have a healthy body.
But, of course, you'll need to include every food recommended in your diet in order to take advantage of all the nutrients that your body needs!
Grill Temperature
You want to maintain a temperature between 232 – 260 degrees Celsius when grilling your teppanyaki steak.
Perfectly grilled steaks expel that juicy taste in your mouth the moment you take a bite from it, and you have the knowledge of the cook or chef to thank for that. But using the best teppanyaki grill is also monumental to the outcome of every food recipe you'll serve your guests.
So if you're new to this, then just keep 2 things in mind: 1) buy the best teppanyaki grill, and 2) arm yourself with food recipe knowledge. You should also do a lot of practice cooking before you're ready for the real thing!
Grill time and output
15 – 17 minutes (medium rare)
25 – 27 minutes (medium well done)
Try these teppanyaki steak grilling recipes
The next time you're craving teppanyaki steak but don't want to get dressed or spend too much money, you can whip out one of these recipes.
And if you're entertaining, even better! You'll surely wow your guests with these dishes.
Find more tips & tools in our Teppanyaki tools buying guide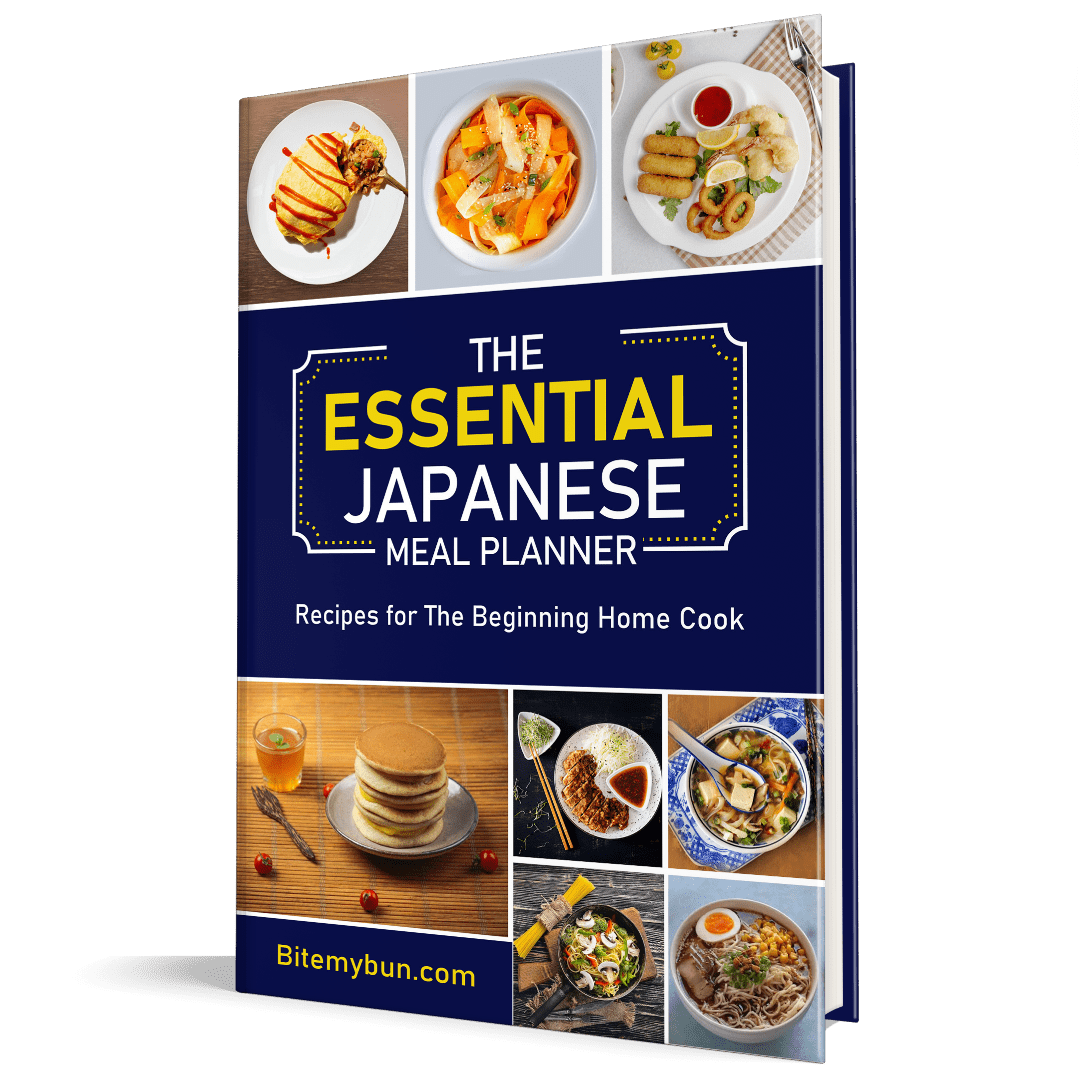 Check out our new cookbook
Bitemybun's family recipes with complete meal planner and recipe guide.
Try it out for free with Kindle Unlimited:
Read for free
Joost Nusselder, the founder of Bite My Bun is a content marketer, dad and loves trying out new food with Japanese food at the heart of his passion, and together with his team he's been creating in-depth blog articles since 2016 to help loyal readers with recipes and cooking tips.