I love creating free content full of tips for my readers, you. I don't accept paid sponsorships, my opinion is my own, but if you find my recommendations helpful and you end up buying something you like through one of my links, I could earn a commission at no extra cost to you.
Learn more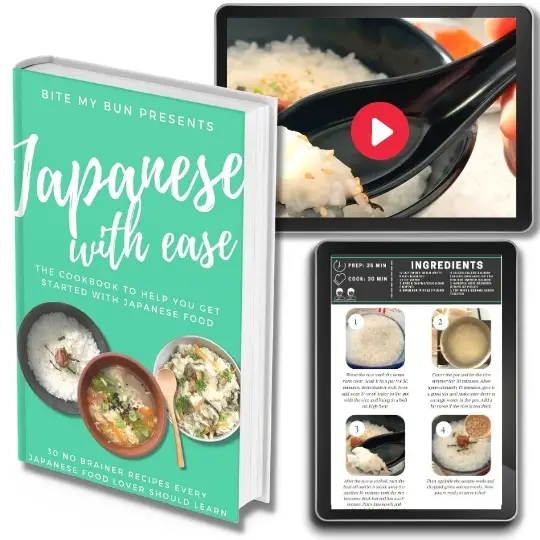 Ever had trouble finding Japanese recipes that were easy to make?
We now have "cooking Japanese with ease", our full recipe book and video course with step-by-step tutorials on your favorite recipes.
You must have heard it said that Asians cook the best and most exotic food recipes at least once in your life.
Well, if you've ever been to South East Asia, then you'll know that it's true.
The Japanese, particularly, are world-class food experts and lovers. They even have food festivals to celebrate how good their food is!
But the glory of their world-renowned cuisines is not found on the streets, but in those tiny and sometimes big establishments that exist to entertain and lavish your sense of taste.
This is the expensive Wagyu beef being prepared as a delicious steak in Japan:
Whether it's the sushi, ramen, unagi, soba, shabu-shabu, or this crispy tonkatsu recipe , you can bet that it'll be stuffed with dozens of ingredients that will stimulate your palate.
But the ingredients and the cooking methods are just one side of it because the other thing that helps Japanese chefs create great delicacies is the teppanyaki grill.
Teppanyaki Grill
The teppanyaki grill is a Japanese design iron griddle to cook a variety of foods that could be grilled, stir-fried, or sauteed.
Teppanyaki comes from two Japanese words with the first word being teppan which means "iron plate," and yaki meaning grilled, broiled, or pan-fried.
You will find it common in Japanese restaurants in Japan and elsewhere to have at least one teppanyaki grill which will serve you kaiseki (multi-course meal), which oftentimes surprises foreigners due to the variety of food selections.
This, plus a wide array of Japanese wine to choose from like the:
Suntory Hibiki harmony Japanese whiskey
Choya umeshu sakeli
Akashi blue blended whisky
Hakushika chokara junmai
Gekkeikan yamada nishiki tokubetsu junmai sake
These and many others will make your trip to one of Tokyo's teppanyaki restaurants very memorable.
Now let's see what you can do if you had your own teppanyaki grill at home. Here are some of the best teppanyaki steak recipes and more info on doing it at home.
Steak and Shrimp Recipe
There is almost no difference between the Japanese beef steak and traditional western steaks, except for the sauce.
Ever since Buddhism came to Japan in 552 BC the Japanese people did not eat meat and only in the 1860s when the country ended its closed-door policy (and with some western influence) did the Japanese considered eating meat as part of their diet.
Although they also had a more practical reason for avoiding eating meat and it has to do with farming.
They needed the cows to help plow the field for rice planting and so it was counterintuitive to reduce their population just for food.
Teppanyaki Steak and Shrimp Recipe
This particular teppanyaki steak and its unique sauce is made from
soy sauce and it has been a favorite among the populace of Japan. Eat this great seafood meal with the shrimp chili sauce – ebi chili – and have a cold beer or fruit drink to go with it and your shrimp
teppanyaki delicacy will be complete!
Equipment
Teppan plate

Rice cooker or cooking pot
Ingredients  
1

tbsp

mirin (Japanese sweet rice wine)

1

tsp

Japanese soy sauce

1/2

tsp

liquid seasoning (maggi)

3

tbsp

vegetable oil

2 1/2

tbsp

butter

1

medium

white onion

sliced

1

tsp

garlic

minced

1

medium

green bell pepper

cored and sliced into thin strips

1

medium

carrot

peeled and sliced into thin strips

1

cup

sugar snaps

12

large

prawns (sugpo)

shelled with tails left on

4

medium

squid (pusit)

cleaned, tentacles removed, and cut into rings

salt

to taste

5

cups

Japanese rice

steamed

400

gr

steak

cut into large strips
Ebi chili sauce (or you can buy a store bought chili sauce, but this is more delicious!)
Instructions 
Make the teppanyaki steak
Heat a small amount of the oil on the teppanyaki plate (or in a small frying pan). Sauté bel pepper, carrots and sugar snaps just until tender, about 1 to 2 minutes. Transfer to a bowl; set aside.

Add 1 1/2 tablespoons of oil on the plate over medium-high heat. Melt 2
tablespoons of butter. Sauté onions until translucent. Add garlic; sauté
until fragrant. Turn heat down to medium and add the steak strips.

Grill the steak strips until the desired colour (rare, medium, well done) is achieved.
Make the seafood teppanyaki
While grilling the bell pepper in the previous part, mix together the mirin, soy sauce, and liquid seasoning in a bowl and add the shrimp and squid rings to the mix.

Turn heat to high. Add the shrimp and squid mixture to the plate. Cook just until shrimp turns pink and squid turns white. Season with salt and pepper to taste.
Ebi chili sauce
Whisk together all of the ingredients until all of the paste and ketchup has been dissolved into the mix, add some extra water if the sauce remains to thick.
Make up the plates
Divide rice amongst 4 bowls. Top with seafood teppanyaki and add the steak strips next to it. Garnish with spring onions, if desired and serve the sauce seperately.
How to Cook Teppanyaki Steak at Home
Owning a teppanyaki grill will give you the opportunity to cook those exotic Japanese recipes at home and impress your family and friends with your cooking prowess.
If you go online, you'll find a lot of teppanyaki steak recipes.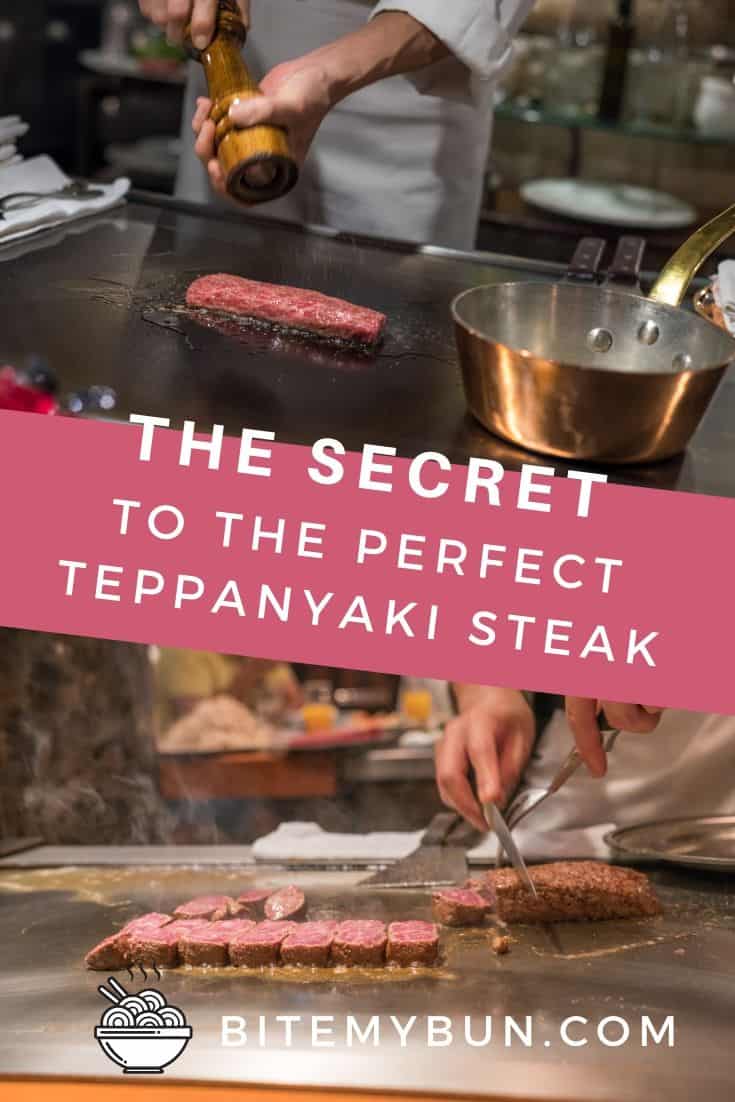 Food websites and blogs know just how good this particular recipe is and so they try to come up with a variety of ways to cook it.
And that's not bad actually, because it means that you'll have plenty of options too when cooking the teppanyaki steak at home.
How to Cut the Beef
The secret to cutting the perfect slice of beef whether for the usual western-style steak or the Japanese teppanyaki steak is to cut the meat against the grain.
But how do you know how to identify the grain of the meat?
Well, the grain of the meat is where the muscle fibers run across the slab of meat when you put it on the table.
So you cut against it or across it and you have to make sure that your knife is exactly perpendicular to those muscle fibers.
Make sure to cut the meat into 1-inch thick slabs before preparing them to be made into teppanyaki beef steak.
Now the reason why you should cut against the grain is to shorten up those meat fibers, which makes the meat more tender.
Here are the things that you'll need to make this teppanyaki beef steak and how to cook it (soy sauce-based teppanyaki steak sauce).
Ingredients
• 1-2 cloves garlic
• 1 Tbsp sugar
• 2 Tbsp Soy Sauce
• 2 Tbsp Sake
• 2 Tbsp water
• 1×10 kg rump primal beef to be cut into a 1-inch thick steak
• salt and white pepper
• Oil
Cooking Instructions
• Slice garlic thinly and set aside.
• Mix sugar, Soy Sauce, Sake, water in a bowl to make the sauce. Set aside.
• Sprinkle salt and pepper on the steaks.
• Heat frying pan at medium-high heat and add oil. Add sliced garlic and cook until browned. Remove garlic from the pan.
• Add steaks to the same pan and cook about 2 minutes per side or however, you like. Add the sauce, coating the meat with the sauce, and remove the meat from the pan. Reduce the sauce for a minute.
• Place the meat on a dish; pour the reduced sauce over them, then top with the garlic for garnish.
Sirloin Steak with Garlic Butter
Sirloin steak differs from other steaks because this particular type of meat is cut from the back of the cow (mid-section) which has more lean meat than fat, and is very tasty if done right.
If you want to sizzle something exotic in your teppanyaki grill at home, then it might as well be the sirloin steak with garlic butter.
It has a totally different taste than this beef Misonoko recipe we have, and this recipe is very easy to prepare and with your very own teppanyaki grill at home, you will never make a mistake in cooking something as delicious as those sirloin steaks served in 5-star restaurants.
All you need is :
4 lbs. of beef top sirloin steaks (more if you have more guests to serve),
1/2 cup of butter,
2 tsp of garlic, you can get that in powdered form,
4 cloves of minced garlic
and salt and pepper to your liking.
First, prepare the garlic butter and you do this by melting the butter in a small saucepan over medium-low heat, then add the minced garlic cloves.
Set aside the garlic butter and pre-heat the teppanyaki grill.
Sprinkle the garlic powder over the sirloin steaks, then put them into the grill and cook until it turns light brown, once cooked put it in a separate plate and leave to cool for 2-3 minutes.
Then brush the top liberally with the garlic butter, do this until the sirloin steaks are saturated and then serve it to your guests.
Marinade Recipe
There are dozens of marinade recipes that you can find on the web and they are good for all kinds of meat which include beef, pork, chicken, fish, shrimp, mussels, lamb, and others.
The marinade will turn those chunks of meat into an extraordinary delight that will deeply overload your sense of taste.
You'll have a variety of options with these marinade recipes and you could even cook them in your teppanyaki grill all at the same time.
Check out some of the amazing marinade recipes below and how to cook them:
Marmalade Shrimp
Ingredients
1 lb. raw shrimp, peeled and deveined
1 tablespoon marmalade
1 tablespoon Dijon mustard
1 teaspoon miso
1 teaspoon garlic
1 teaspoon honey
Lemon wedges, for serving
Cooking Method
First, mix the marmalade and mustard together with the miso paste and garlic, then add some honey.
Add the shrimp you peeled and mix them in with the marinade until they are completely coated.
Cover them and let them cool in the fridge for several hours before starting to cook dinner.
Take the shrimp out of the fridge and start sticking them on skewers.
Using the skewers, you can easily put your shrimp on a hot grill or teppanyaki plate, or you can even use a grill pan.
Grill them for 2 to 3 minutes on each side and when the shrimp turn pink and are no longer see-through you can take them off of the grill. They should still be moist in the center so don't grill them for too long.
Serve them right off the grill and garnish your plate with a lemon wedge to squeeze out over the shrimp.
Lemon Garlic & Rosemary Marinade Chicken
Ingredients
Juice and zest of 2 lemons
Olive oil
2-3 garlic cloves, minced
1 tbsp rosemary
Cooking Method
Mix together ingredients. Pour it over chicken (or other meat) and let it sit for about an hour before grilling.
Marinade Steak
Ingredients
1/4 cup olive oil
1/4 cup balsamic vinegar
1/4 cup Worcestershire sauce
1/4 cup soy sauce
2 teaspoons Dijon mustard
2 teaspoons minced garlic
salt and pepper to taste
Garlic Rosemary-Marinated Lamb Chops
Ingredients
1 teaspoon finely chopped lemon zest
1 garlic clove, minced and mashed to a paste with 1/2 teaspoon salt
1/2 teaspoon salt
1 1/2 teaspoons chopped fresh rosemary or 1/2 teaspoon crumbled dried
1 tablespoon olive oil
Four 1 1/4-inch-thick loin lamb chops (about 1 pound total)
Cooking Method
Preheat the broiler. In a small bowl stir together the zest, the garlic paste, the rosemary, the oil, and pepper to taste, rub the lamb chops with the marinade, and let them marinate on a plate for 20 minutes.
Broil the lamb chops on the rack of a broiler pan about 4 inches from the heat for 4 to 5 minutes on each side for medium-rare meat.
Teppanyaki Steak Nutrition Facts
The two main benefits of teppanyaki steaks are:
They help build muscle mass and decrease the risk of stroke.
They also lower your blood pressure and can even help preserve your bone mineral density and help reduce the risk of kidney stones.
It also helps regulate body fluids that control the electrical activity of the heart and other muscles.
People who suffer from hypokalemia (potassium loss) can experience some weakness and may get tired easily.
It can also lead to much more like breathing difficulties and even, in some cases, mood changes; which is why it's important for you to take at least 100mg of potassium daily.
It's got quite a different structure and nutrition than Pork.
Beef Tenderloin Nutrition Facts (Based on a 2,000-calorie diet)
Serving Size 3 oz (85 g)
Per Serving % Daily Value*
Calories 179 N/A
Calories from Fat 77 N/A
Total Fat 8.5g 13%
Saturated Fat 3.2g 16%
Polyunsaturated Fat 0.3g N/A
Monounsaturated Fat 3.2g N/A
Cholesterol 71mg 24%
Sodium 54mg 2%
Potassium 356.15mg 10%
Carbohydrates 0g 0%
Dietary Fiber 0g 0%
Sugars 0g N/A
Protein 24g N/A
Vitamin A 0%
Vitamin C 0%
Calcium 1%
Iron 17%
Iron and calcium are also found in steaks plus the added marinade mix, sauce, salads and/or bread, mash potato or rice should give you enough energy and nutrients to get through the day.
Even in the food pyramid meat, poultry and fish ranks on the second-highest level of importance in terms of the recommended daily allowance to have a healthy body.
But, of course, you'll need to include every food recommended in the food pyramid in your diet in order to take advantage of all the nutrients that your body needs.
Seasoning
The seasoning for most steaks are as variating as the recipes themselves – even the Japanese teppanyaki steak have its unique flavor.
Steak seasoning usually involves cornstarch, sugar, garlic powder, chili powder, salt, pepper and other herbs and additives, but they're all designed to augment the taste of the steak more than the usual burnt flavor from the meat.
But for this article we will only talk about the most common seasoning for steaks as the seasoning for the teppanyaki steak was already discussed above.
Ingredients
• 2 tablespoons sea salt flakes
• 1 tablespoon onion powder
• 1 tablespoon black pepper
• 2 teaspoons garlic powder
Preparation
Combine all of the ingredients and place them in an airtight container until ready to use. The recipe is enough for 4 to 6 steaks, depending on their size. The mixture will stay fresh for up to 1 year if stored properly in a cool, dry place.
When you're ready to use it you can easily take out what you need from your container and use a spoon or a knife to apply it to your steaks.
Let your steak marinade for a while, then grill it for as long as you like it to get it rare, medium or well done.
Sometimes teppanyaki steak seasoning adds soy sauce and paprika to the mix to give it an exotic taste.
If you think you can come up with an amazing seasoning mix yourself, then by all means try it, because we need new and non-traditional flavors to introduce to people.
Experimenting a few herbs, vegetables, chili powders, peppers and other liquid extracts from fruit trees that would have a great taste after thoroughly mixing them in the saucepan can make a big difference.
Temperature
You would want to maintain a temperature between 232 – 260 degree Celsius when grilling your teppanyaki steak.
Perfectly grilled steaks expel that juicy taste in your mouth at the moment you take a bite from it and you have the knowledge of the cook or chef to thank for that, but using the best teppanyaki grill is also detrimental to the outcome of every food recipe you'll serve your guests.
So if you're new to this, then just keep in mind two things: 1) buy the best teppanyaki grill and 2) arm yourself with food recipe knowledge as well as a lot of practice cooking before you become ready for the real thing.
Grill Time and Output
• 15 – 17 minutes (medium rare)
• 25 – 27 minutes (medium well done)
More tips & tools in our buying guide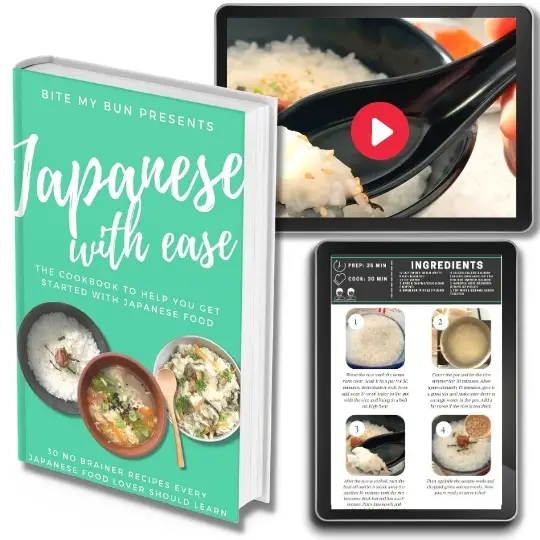 Ever had trouble finding Japanese recipes that were easy to make?
We now have "cooking Japanese with ease", our full recipe book and video course with step-by-step tutorials on your favorite recipes.
Joost Nusselder, the founder of Bite My Bun is a content marketer, dad and loves trying out new food with Japanese food at the heart of his passion, and together with his team he's been creating in-depth blog articles since 2016 to help loyal readers with recipes and cooking tips.