Easy Vegan Mung Bean Egg Recipe with Just Egg | +a few facts
I love creating free content full of tips for my readers, you. I don't accept paid sponsorships, my opinion is my own, but if you find my recommendations helpful and you end up buying something you like through one of my links, I could earn a commission at no extra cost to you.
Learn more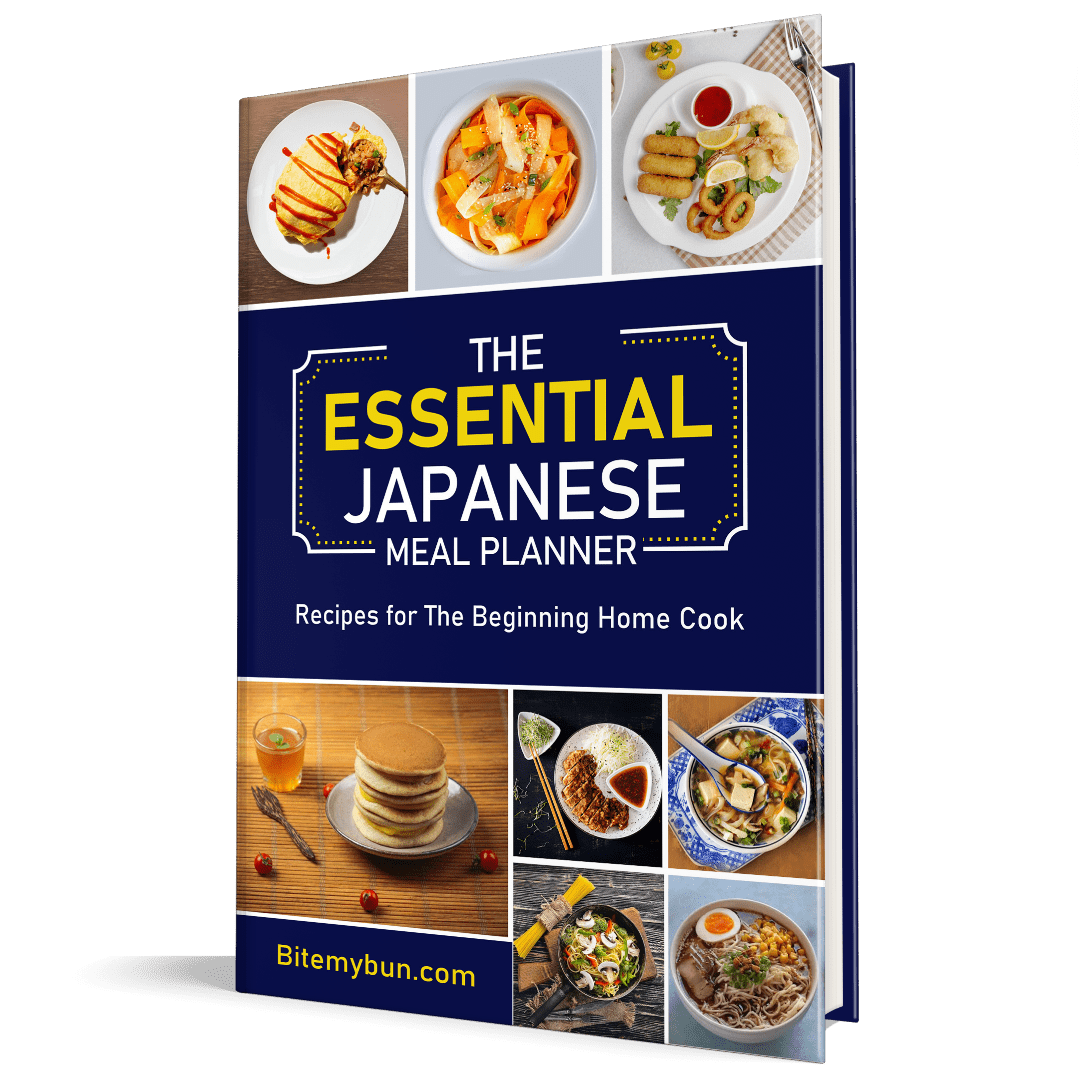 Check out our new cookbook
Bitemybun's family recipes with complete meal planner and recipe guide.
Try it out for free with Kindle Unlimited:
Read for free
It is said that the Gautama Buddha (circa 563/480 BC) was the first person on Earth to introduce a vegan diet to his followers.
The reason behind this is because he was against all forms of suffering inflicted on all sentient beings. That didn't just include people but animals too.
Unfortunately, the delicious meat that people love (i.e. chicken, beef, pork, fish, etc.) comes from living-breathing animals. They also have feelings and instincts as we do.
Since more and more people are choosing a vegan lifestyle, we are sharing an egg substitute mung bean recipe that everyone will love (not just vegans)!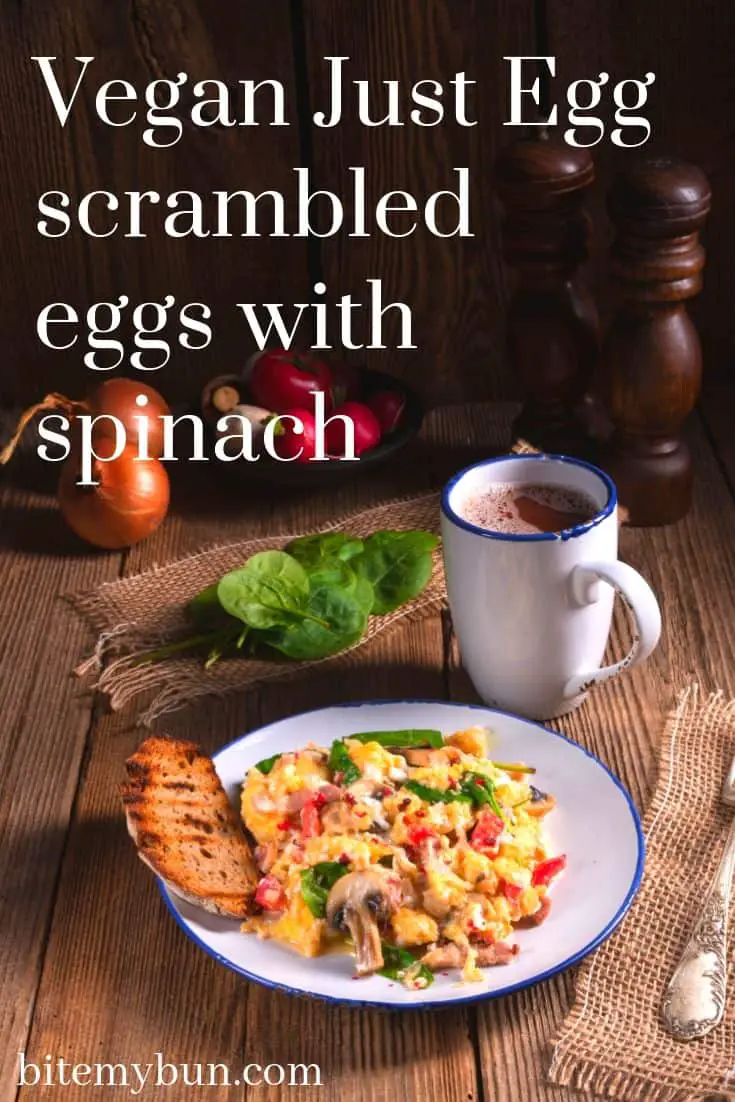 10 Tips to Save a Bundle on Asian Ingredients!
Introducing our brand new FREE PDF guide: "Saving Secrets: Unveiling the Art of Saving Money on Asian Ingredients" It's your first newsletter email, so start saving today! 📚🧧
We'll only use your email address for our newsletter and respect your privacy
Vegetarian and Vegan Meat and Dairy Substitutes
For many years those that support vegetarian and vegan diet tried to find ways to avoid eating meat products in order to adhere to the Buddha's principles.
Many vegetables and meat substitutes are available on the market. These are cooked just like meat as part of tasty recipes.
Here are some popular meat substitutes that are healthy and delicious!
Eggplant
Mushrooms
Tofu
Seitan
Lentils
Beans
Tempeh
Jackfruit
Cauliflower
Just Egg
Textured vegetable protein
Vegan meat
Beyond meat
Cashew cheese
Here's a recipe with the mung bean egg substitute from Just Egg:
Today vegetarian and vegan proponents couldn't be happier. There are so many experts and ordinary people coming up with great ideas for creating meat alternatives from vegetables.
My favorite, as you can probably tell, is this Just Egg very lifelike egg substitute, only made from mung beans not from chicken.
The Mung Bean Vegan Egg Breakthrough from Just Egg
The mung bean (with the scientific name: Vigna radiata), alternatively known as the green gram, maash, or moong Sanskrit (मुद्ग / mudga), is a plant species in the legume family.
It is mainly cultivated in the East and Southeast Asian region as well as in the Indian subcontinent. The mung bean is often used as a key ingredient in sweet and savory dishes across the Asia-Pacific region. In India, they use mung bean to make crepes and pancakes. 
Mung bean recipes are plentiful and widespread across Asia, India, and the Pacific Islands. You may be familiar with famous dishes like the Green Mung Bean Soup, Mung Bean Salad, Yellow-Spiced Mung Beans, and dozens of other delicious varieties.
Recently though, JUST, an online start-up company (they're killing it on Amazon right now) just created a vegan egg (as in the chicken egg) that looks and tastes exactly like the real thing!
Said to have been 4,400 years in the making (maybe because the mung bean has been around that long) this vegan egg is destined to shatter all food stereotypes and prove once again that plants and vegetables can taste as good as – if not better than – meat and poultry products.
This plant-based egg contains lots of proteins just like the real chicken egg, has no cholesterol, highly nutritious, and is very delicious.
What are JUST eggs made of?
Like all other egg substitute products, JUST eggs are made of plant-proteins.
The main ingredient in JUST egg is ground mung bean combined with other common ingredients. You'll notice that this mix contains onions to give flavor. Carrots and Tumeric are also key ingredients and they give the 'egg' the yellow color. 
There are also several other ingredients. These include water, food paste, salt, artificial flavors, non-toxic preservatives, and vitamins & minerals. Just, uses the mung bean protein by de-hulling and milling raw mung beans to make flour.
Of course, there are some ingredients you'll have a hard time pronouncing, like tetrasodium pyrophosphate, transglutaminase, and nisin.
According to JUST their product is already available in most US restaurants, so you can order JUST eggs instead of real chicken eggs if you're vegetarian, vegan, or just curious to know what this new vegan egg is.
Check out these amazing recipes with Japanese sweet potato as well
Can JUST eggs be used for baking?
The JUST eggs are excellent for baking and you can use them in any dish that would normally require eggs as a binder. This way you can use it for baking your vegan baked goods.
Did you know that mung beans have a gel-like texture and can coagulate when scrambled? That's why JUST decided to use mung bean as an egg substitute. Mung bean is more similar to eggs than you'd think. When you bake and cook with this product, it acts like egg protein so you can use it in all kinds of recipes. 
Going Worldwide
By July of 2018 JUST announced that they're going to launch their vegan egg product in Europe and soon, probably in Asia and all over the world too!
This may help the cause of the vegetarians and vegans to push forward their ideas of not just a cleaner and healthier world, but one that is also a caring world.
Until then the vegan egg from JUST will suffice and in just one year into production people are already loving it.
Hopefully JUST will replace some of the meat products that we consume like the bacon, sausage, hotdog, and many others.
The JUST egg substitute is a great way to enjoy delicious meals without harming animals and it is a healthy option.
Check their product out here on Amazon to see for yourself.
Who is JUST egg for?
JUST is a great egg alternative for those people who:
want to lessen their environmental impact
eat a vegan diet
need to lower their cholesterol
stay healthy
maintain a healthy protein intake
those who are allergic to eggs and dairy
people who don't want to consume animal products
those who love the nutty flavor of mung beans
Do mung beans taste like eggs?
Mung beans do not taste quite like chicken's egg. But, it has certain similarities when it comes to flavor. It lacks the richness and fat of chicken eggs.
The flavor of the mung bean is similar to tofu. it has a nutty taste which makes an omelette taste a bit different from a real egg one. When you cook it like a scrambled egg, it behaves and tastes like a tofu scramble, therefore it's a great egg alternative.
Most customers recommend that you mix the JUST egg with other ingredients because, on its own, this product can't carry all the flavor of real eggs. But, when combined with other ingredients, it can pass off as egg.
What is the texture of the JUST eggs?
The texture of the JUST eggs is supposed to be similar to real eggs. In fact, since it is a protein-based product, it scrambles like real eggs. But, it's important to note that it's harder to cook with JUST egg compared to regular eggs. First of all, the texture can be somewhat stringy and gritty. It doesn't feel like the fluffy omelettes you're used to. The mung bean egg doesn't fluff up and melt in your mouth. Instead, it is a bit chewy and gritty. Some customers say that it's not as pleasant to chew this food as it would be a real egg omelette.  
How long does Just Eggs last?
It has an expiration date right on the packet, just like any other product but it lasts a long time. There might be a bit of separation in the package, but that completely natural if it's within the use-by date. If you shake the bottle thoroughly before using the eggs you can make delicious eggs again.
Does Just Egg need to be refrigerated?
Just Egg in the sealed container lasts a long time. But, after you have opened the package though, the refrigerated shelf-life is only 4 days. So, you must use the whole bottle in the next couple of days.
JUST nutritional information
JUST mung bean vegan egg is an overall healthy food product. It contains 5 grams of protein per serving. As well, it doesn't contain any cholesterol, that is harmful to heart health. This vegan egg is great for those who need to cut their daily cholesterol intake for various health reasons. 
JUST vegan egg recipes
This recipe is an easy way to cook mung bean egg because it is similar to cooking a regular omelette. 
Just egg vegan spinach mushroom omelet
Deliciously vegan omelet with Just Egg, spinach, veggies, and mushrooms.
Ingredients  
2

tsp

butter or oil

1/2

cup

Just Egg

1/2

onion

1/2

cup

mushrooms

1

small

bell pepper

1

cup

baby spinach

1/2

tsp

salt and pepper

vegan shredded cheese

optional
Instructions 
Preheat a nonstick skillet on medium-high heat.

After about one minute add 1 teaspoon of the butter or cooking oil.

Sautee all the vegetables with salt and pepper about 2-4 minutes. Stir occasionally.

Transfer the veggies to a clean plate.

Add the other teaspoon of butter or oil to the pan.

Turn the pan at a 20-degree angle to make sure the oil spreads out evenly on the pan.

Start cooking the Just Egg just like a regular omelette.

Run the spatula across the edge of the omelette to prevent it from sticking.

Turn down the heat to low and flip the omelette.

Now after about another minute or so, remove the omelette from the pan.

Plate the omeltte and garnish with veggies and toppings.

Fold the omelette in half or roll it like a crepe.

Add some spring onion or hot sauce on top for extra flavor.
So, now that you've heard about this delicious mung bean egg, you can make some tasty breakfasts for the whole family. You can always come up with your own recipes or use one of ours and you'll love making breakfast with this yummy egg substitute. 
JUST EGG Breakfast Burrito
Not in the mood for omelette? How about a tasty breakfast burrito?
JUST EGG vegan Breakfast Burrito
A delicious vegan breakfast burrito with all the proteins of egg, using Just Egg substitute.
Ingredients  
1/2

cup

JUST EGG mung bean mix

2

tortilla wraps

1

tbsp

vegetable oil

2

tbsp

salsa

1

bell pepper

1/2

cup

mushrooms
Instructions 
Heat up a skillet to medium-high heat and add your vegetable oil.

Add your JUST EGG mix and scramble for about 3 minutes or until cooked.

Add salt and pepper to taste.

Remove cooked egg mixture.

Add some more oil and sautee the mushrooms and pepper.

Cook for about 3 or 4 minutes until soft.

Heat up your tortilla in the pan. (Don't add oil)

Fill the tortilla with egg and vegetables and salsa.

Roll them up and you have a breakfast burrito.
Read more on Japanese cooking: the best Binchotan grills for charcoal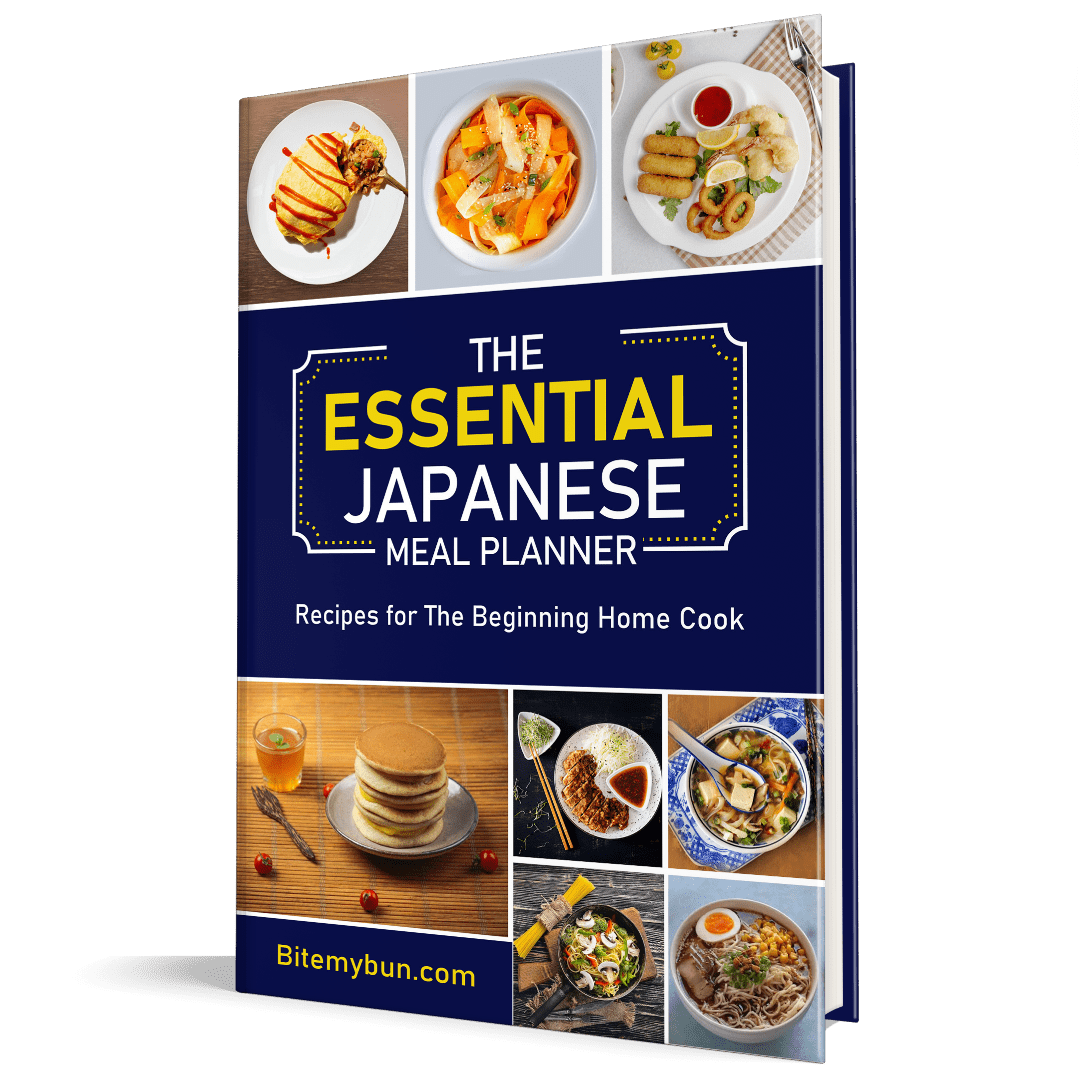 Check out our new cookbook
Bitemybun's family recipes with complete meal planner and recipe guide.
Try it out for free with Kindle Unlimited:
Read for free
Joost Nusselder, the founder of Bite My Bun is a content marketer, dad and loves trying out new food with Japanese food at the heart of his passion, and together with his team he's been creating in-depth blog articles since 2016 to help loyal readers with recipes and cooking tips.