I love creating free content full of tips for my readers, you. I don't accept paid sponsorships, my opinion is my own, but if you find my recommendations helpful and you end up buying something you like through one of my links, I could earn a commission at no extra cost to you.
Learn more
Tofu skin is a popular ingredient, side dish, and snack in many Asian countries.
Not only is it delicious, tofu skin is also packed with protein, antioxidants, minerals, and other nutrients.
This soy-based food product can be bought in markets and grocery stores.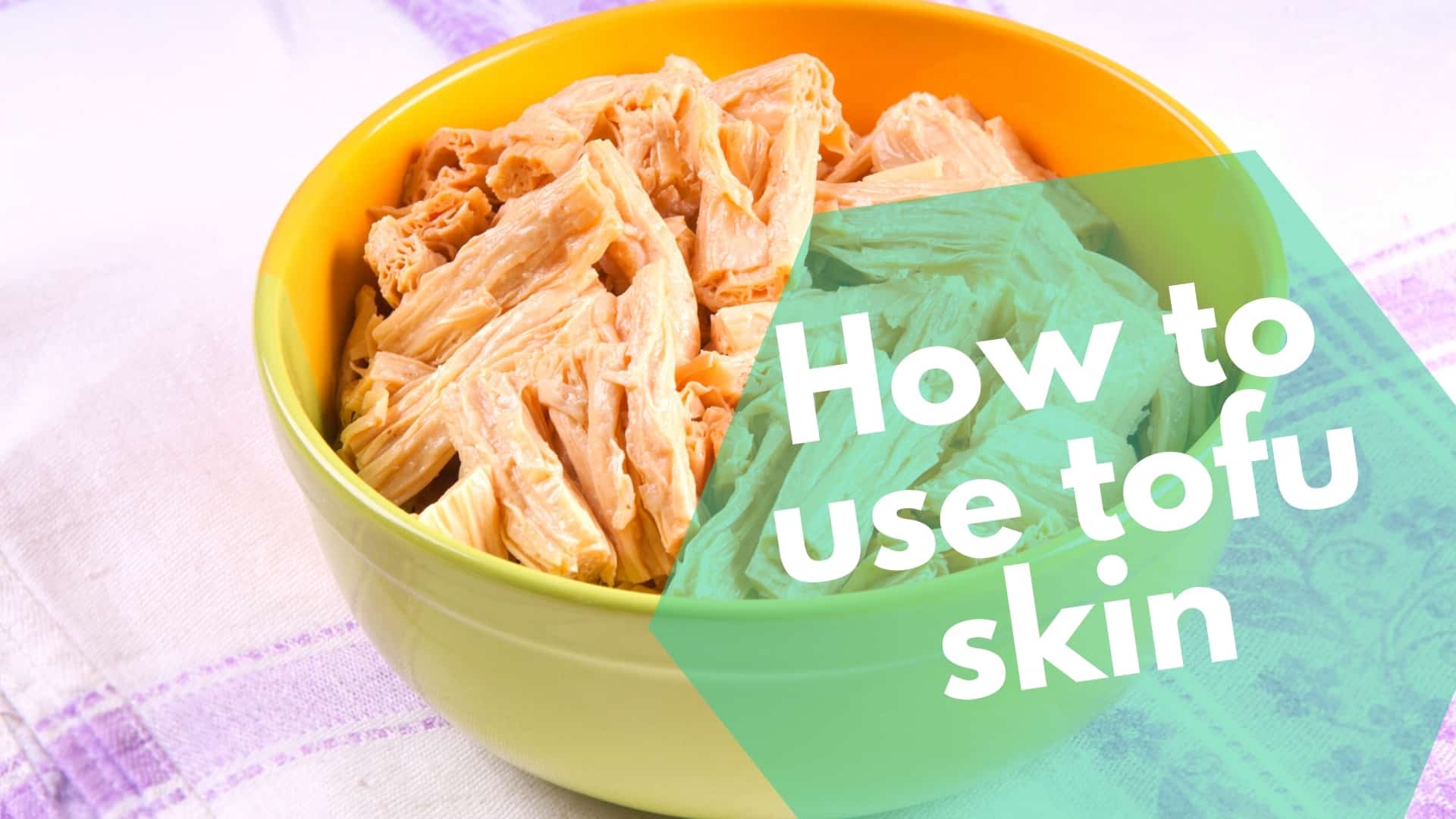 But, if you cannot find any, you can also make it in the comfort of your home.
In this post, I will walk you through everything that you need to know about tofu skin – from its health benefits to how you can make it at home.
What is Tofu Skin?
Tofu skin is a food product made from soya beans or soybeans. It comes in many different names like yuba (Japanese) and bean curd sheet.
However, since many refer to Japanese as the French of Asia, you are more likely to encounter yuba, instead of tofu skin, in many Asian restaurant menus.
Tofu skin is the coagulated proteins that form on top of soy milk as it is boiled and concentrated. The film is skimmed off in sheets and is hung to drip-dry.
Tofu skin is called Yuba, and Yuba is often sold in three forms: fresh, dried, and frozen.
Fresh yuba, also called nama yuba in Japan, can be eaten fresh with other dishes or on its own. It goes well with a little soy sauce or with wasabi and ginger.
Dried tofu skin, also known as kanso yuba in Japan and fuzhu in China, is commonly sold in sticks. This tofu skin type should be rehydrated first before you can cook or serve it.
Last but not least is the frozen yuba. It has a rubbery texture and can be eaten or served like fresh tofu skin when thawed.
Now that you know some basic knowledge about tofu skin, let us discuss its nutritional content and health benefits.
How to Make Tofu Skin at Home
Making tofu skin at home is relatively easy. You do not need any fancy cookware or ingredient at all.
In fact, all you need is water, pure soy milk, and a bunch of extra-long chopsticks.
The key ingredient in making tofu skin is soy milk. You can use any of the unsweetened organic soy milk in your local grocery store.
Always go for the purest soy milk available in the market. That is the no artificial color, flavor, or other ingredient soy milk.
How to Make Your Own Soy Milk
On the other hand, you can also make your own soy milk.
Here is a quick step-by-step-guide:
Grab some non-GMO soybeans.
Place your beans in a strainer and wash it thoroughly.
Once you are done washing your soybeans, place them in a sealable container and soak them in filtered water for 8 hours to overnight.
After soaking your beans, remove the water and wash them again a few times.
Put your beans in a blender or food processor and add water. The ratio of your water to your soybeans should be 1 to 1 (e.g., 1 cup of water to a cup of soybeans).
Blend until smooth.
Transfer your pureed soybeans to a nut milk bag or cheesecloth and squeeze the milk out into a bowl.
In a large saucepan, bring your soy milk to a boil for about three to five minutes.
Strain your soy milk using a cheesecloth to make sure that all remaining solids are removed.
You now have your homemade soy milk.
How to Make Your Own Tofu Skin
Now, let us move on to making tofu skin.
For this, you will need some extra-long chopsticks, your soymilk, and water.
Here are the steps:
Pour 6 cups of water in a large saucepan and bring it to a boil over high heat.
Place a non-stick pan on top of the saucepan. (This is where we will simmer the soy milk.)
Pour soy milk in your non-stick pan.
Wait for the soy protein to coagulate and form a film.
Once the soymilk surface is covered by coagulated protein, gently free its edges that are sticking to the pan using a chopstick.
Hold together two extra-long chopsticks and dip them into the soy milk from the side of the pan, going beneath the film. (Make sure that your sticks are longer than the diameter of your saucepan.)
Keep your two chopsticks together while scooping the film up gently.
While the film is hanging on top of the saucepan, slowly release your hold on the other stick, rolling it down to remove excess liquid.
Congratulations! You successfully made your tofu skin.
If you want some dried yuba, let your sheets of tofu skin drip-dry overnight.
Otherwise, you can serve and eat them fresh.
Tofu Skin Roll Recipe
In this section, I will teach you how to make the popular Asian dish – tofu skin roll.
Ingredients  
For the filling you will need
1

lb.

ground pork

½

lb.

prawns

shelled and chopped

8

ounce

sliced bamboo shoots

2

spring onions minced

white part only

2

cm

grated ginger

1

tsp

white pepper

3

tbsp

corn flour

3

tbsp

light soy

2

tsp

sesame oil

2

tsp

Chinese cooking wine

1

large egg

beaten
For the sauce you will need
1

tbsp

cooking oil

1

tsp

chopped garlic

1

tsp

minced ginger

1

cup

chicken stock

2

tsp

Chinese cooking wine

½

tsp

white pepper

3

tbsp

corn flour
Instructions 
Put all the ingredients for the fillings in a large bowl and mix them altogether.

Get a sheet of fresh tofu skin and place it on a flat surface. If you are using dried tofu skin, make sure that you rehydrated it. Wipe any excess liquid or salt from its surface.

Put around 3 tbsp of the filling near the edge of the sheet closest to you. Fold the sides of the tofu skin then roll it over.

Roll until you form a cylinder that is about 4 inches long and 1.5 inches wide. Wet the edge using water or egg white then stick it to the surface of the roll, securing it.

This recipe will let you make 10 to 15 rolls, depending on your desired roll size.

Shallow fry your tofu skin rolls until golden brown. After frying, place your rolls in a strainer or kitchen paper towel to get rid of excess oil. (Set aside)

In a saucepan, sauté ginger and garlic in cooking oil for a minute.

Add the chicken stock, Chinese cooking wine, and white pepper.

In a cup, mix the corn flour with a few tablespoons of the chicken stock. Mix until solution is smooth, then add it to the sauce.

Bring your sauce to a boil and wait for it to thicken.

Arrange your tofu skin rolls in a shallow bowl. Pour some of the sauce over, cover, and steam in medium heat for 6 to 8 minutes.
You'll need some fresh bean curd or tofu sheets for this, so this Wing Fung Hong brand is great for this.
Tofu Skin: Nutritional Content
Soybean is popular for its nutritional content. And so are other soy-based products, including tofu skin. Tofu skin is rich in protein and low in fat.
You can get around 50g of protein per 100-gram serving of yuba. That is double the amount of protein that you can get from a 100-gram serving of meat.
Tofu skin is also low in carbohydrates. A 100-gram serving only contains about 7 grams of carb.
Aside from high protein, low fat, and low carbohydrate content, tofu skin is also packed with the following vitamins:
Vitamin A
Thiamine
Riboflavin
Niacin
Folate
Vitamin B6
Yuba is also rich in minerals like calcium, copper, iron, magnesium, potassium, sodium, and zinc.
Tofu Skin: Health Benefits
Tofu skin is a soy food. According to research, soy foods, including tofu skin, have a range of health benefits.
Here are some of them.
Heart Disease
Like other soy foods, eating tofu skin can lower your risk of acquiring cardiovascular diseases.
Studies have shown that soy foods can lower total cholesterol and LDL cholesterol levels.
In fact, clinical studies revealed that 14 to 50 grams of soy protein can reduce cholesterol levels significantly.
Note that a 100-gram serving of tofu skin already contains 50 grams of soy protein.
The U.S. Food and Drug Administration also discovered that taking 25 grams of soy protein while on a low saturated fat diet every day can lower your LDL cholesterol levels by up to 3 to 4 percent.
Menopause
Soy foods also contain high concentration of isoflavones, a plant-based estrogen (phytoestrogen) compound that functions similarly as the estrogen women produce naturally.
This phytoestrogen compound is also present in tofu skin. According to research, the isoflavones found in soy foods can help reduce menopausal symptoms.
So, if you are a woman in your late 40s, eating tofu skin and other soy foods will help you control or minimize hot flushes and other menopausal symptoms.
Skincare
Isoflavones and other antioxidants present in tofu skin and other soy foods are also proven to be good for our skin.
Including tofu skin or other soya-based food in your diet can help keep your skin moisturized. It can also reduce the signs of aging in your skin.
The Vitamin E in tofu skin can help maintain your skin's radiance and natural glow. It can also make it look firmer and younger.
Other Health Benefits
Aside from the key benefits I mentioned above, here are other health benefits that you can get out of tofu skin:
Every month new cooking tips in your email?
Japanese recipes, cooking tips and more with the first email our FREE mini-recipe guide "Japanese with ease"
Improve bone health
Improve blood vessels
Lower blood pressure
Lower risk of cancer
Improve memory
Improve brain cognitive function
Rather eat just tofu? Find 3 delicious vegetarian and vegan Teppanyaki tofu recipes here!
Joost Nusselder, the founder of Bite My Bun is a content marketer, dad and loves trying out new food with Japanese food at the heart of his passion, and together with his team he's been creating in-depth blog articles since 2016 to help loyal readers with recipes and cooking tips.