I love creating free content full of tips for my readers, you. I don't accept paid sponsorships, my opinion is my own, but if you find my recommendations helpful and you end up buying something you like through one of my links, I could earn a commission at no extra cost to you.
Learn more
Japanese cuisine is one of the most popular cuisines in the world that offers an abundance of gastronomical delights.
It is boundless with a variety of traditional, seasonal, modern, and regional dishes. Japanese cuisine is based on the 'rules of five' that emphasize variety and balance.
Five flavors – bitter, sour, salty, spicy, and sweet
Five cooking techniques – raw, grilled, steamed, boiled and fried
Five colors – green, yellow, red, white, and black
Japanese stick to these rules when cooking their food.
With its use of high-quality, fresh seasonal ingredients and aesthetics of beautifully presented food, it is no wonder that Japanese cuisine is so highly praised and adored across the globe.
If you are a foodie or recently came across a Japanese restaurant, you might have noticed people sprinkling colorful, crispy toppings on their rice.
My absolute favorite is just a traditional flavoring with this Nori Fume Furikake Rice Seasoning. You can use it on so many things from rice to a tuna steak and it has this salty crunch to it.
Well, this crunchy, colorful topping has got a very addictive name – furikake!
One of the great things about Japanese cuisine is that it offers a combination of flavors in a single meal and furikake is one of them.
Japanese, including people across the globe, are going crazy for furikake. And if you have tasted it, you know why.
It can spice up even a plain bowl of rice – what's your superpower?
Read on to find out more about this salty savory Japanese seasoning and get some delicious recipes.
I like to dive right into the main topic with all of my articles and you're probably here for the best seasoning to buy. I'll get right into them, and you can always read on for more information about what it is, and even how to make your own!
Best Furikake Seasoning to buy
It can be a little daunting to choose the best brand of furikake, especially if you are buying it for the first time.
You can consult any of your Japanese friends or someone who uses furikake on a daily basis, but chances are you don't know anyone who can help you and that's why I've got this segment of my article.
In this section, I have reviewed some of the best furikake seasonings I have tried recently.
I liked each and every one of them and that's why I am mentioning all of them in my review. I hope that this section will help you find the furikake seasoning you are looking for.
Let's get started:
Nori Fume Furikake Rice Seasoning
If you are looking for a furikake seasoning with a strong seaweed flavor, I recommend you go with this brand.
It is ideal for rice dishes. The seasoning contains crunchy seaweed granules and sesame seeds mixed with a bit salty and sweet flavor.
JFC Salmon Fumi Furikake Rice Seasoning
This furikake seasoning contains a mixture of ingredients including crunchy seaweeds, shredded salmon, roasted sesame seeds, and other Japanese seasonings for giving it a tangy flavor.
It is a perfect furikake flavor for those who love eating fish and other kinds of seafood. You can use it as a topping a variety of meat dishes and rice.
You can buy it here from Amazon
Ajishima Wasabi No Ka
If you have a special love for spicy food and want to make your simple rice dish colorful with a spicy aroma, you can always go with wasabi Fumi furikake.
It is a mixed rice seasoning that contains wasabi as the main ingredient along with a combination of crunchy seaweeds, sesame seeds, dried vegetable bits.
JFC Seto Fumi Furikake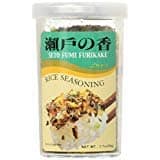 Seto Fumi furikake seasoning is rice seasoning that is known for its classic Seto furikake flavoring.
Seto is a Japanese city from which this furikake flavor originated. It includes a mixture of bonito flakes, seaweed bits, and sesame seeds.
Best Furikake blend: Muso Yuzu
If you are looking for something zingy-flavored that offers a pinch of saltiness and a savory flavor, this furikake seasoning is your best bet.
It contains salty bits of seaweed and the fruity flavor of yuzu. It makes a great combination and is best served as topping for steamed fish or cooked meat.
It's one of the best blends I've come across and it's actually a no brainer since yuzu is used as a bit of a sour fruity note in so many Japanese dishes.
ABSOLUTELY delicious :)
Check prices and availability here
What is furikake seasoning?
Furikake seasoning is traditionally used as a topping for rice, but it tastes great on almost every savory food you can imagine.
It's a combination of different varieties of dried ingredients that often include powdered egg, dried fish, sesame seeds, wasabi, and dried seaweed.
The best part, you can create your own mix, controlling what's in it by putting as little or as much ingredient in as you like.
Furikake adds a crunchy texture to whatever it is sprinkled on. It bursts with salty and savory notes, making it a great seasoning and garnish.
Furikake seasoning offers a great source of protein and other nutrients like calcium. It was first introduced to address calcium deficiency and malnourishment in the Japanese population, especially among children.
Today, it is sold commercially as a catalyst that improves the taste of the food while giving nutritional value.
It is sprinkled on fish, vegetables, and cooked rice and typically contains flavorful ingredients like sugar, salt, a variety of dried fish, chopped seaweed, monosodium glutamate, bonito flakes, dried vegetables, and other ingredients.
Furikake is often flakey and brightly colored. It has slight seafood or fish flavoring with a pinch of spicy tang. It is mostly used in Japanese cuisine for rice balls like these onigiri and pickled foods.
In recent years, furikake has gained major prominence in western countries and across the globe. People use it as a seasoning for fried or baked fish, snack foods, and raw fish and meat salads.
In Japan, you can find furikake in every department store. And outside the country, most Asian supermarkets and grocery stores have an aisle for different flavors of furikake.
However, if you are looking for furikake and it's nowhere to be found even in your local Asian grocery store, your best bet is to look online on sites like Amazon.com.
Flavors of Furikake Seasoning
The following are the major types of furikake seasoning flavors available:
Wasabi Furikake – it includes dried wasabi as the primary ingredient
Salmon Furikake – it includes dried salmon crumbs as the primary ingredient
Shiso Furikake – it is made from dried, crushed, and seasoned reed perilla leaves
Nori Komi Furikake – it includes tiny pieces of seasoned nori komi seaweed as the primary ingredient
Occasionally, people may add matcha green tea, bonito flakes, sesame seeds, and omelet pieces to their furikake seasoning.
Let's discuss each variety in detail:
Wasabi Flavor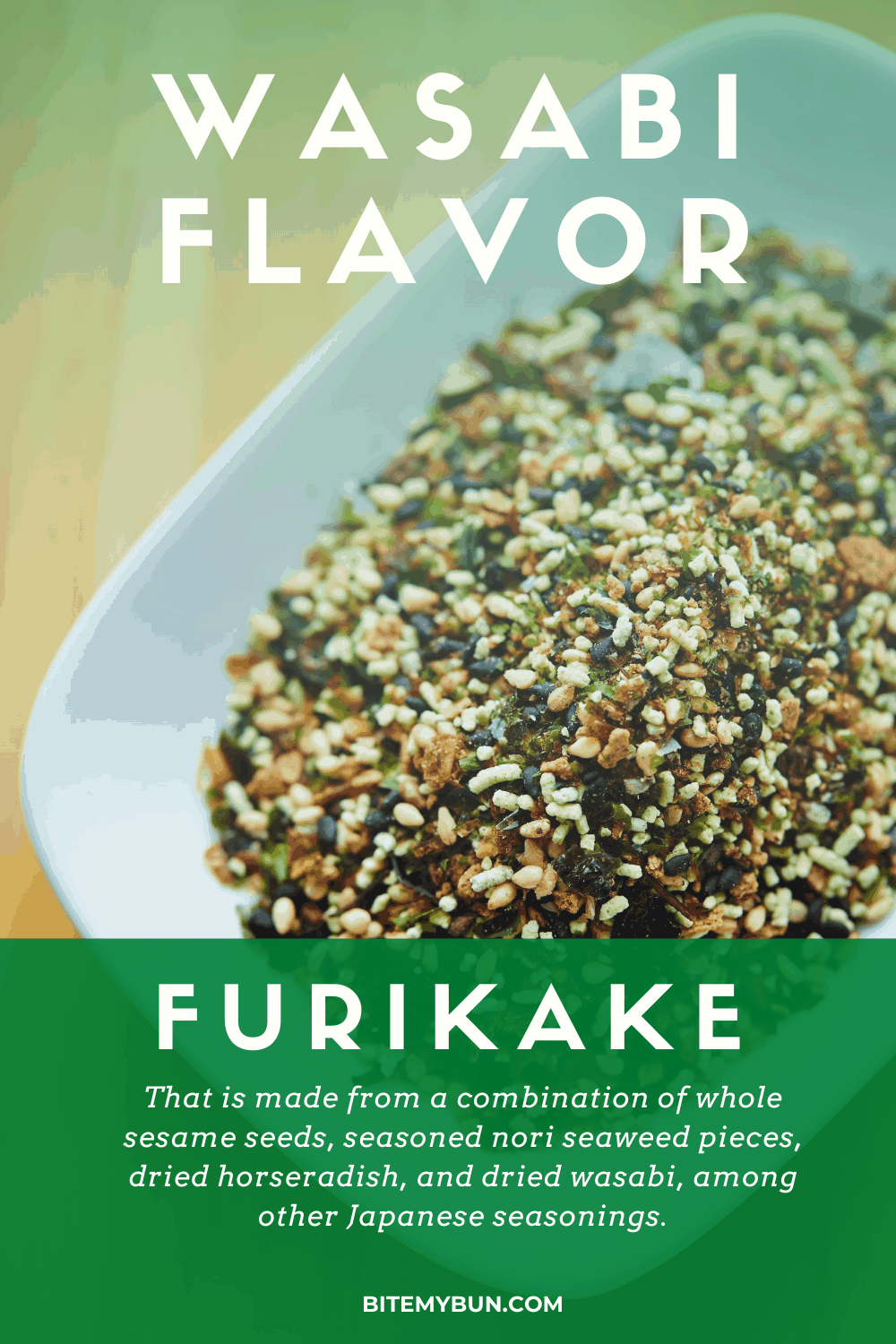 Those who love a little tanginess and spiciness in their food, wasabi furikake is the best choice.
It is made from a combination of whole sesame seeds, seasoned nori seaweed pieces, dried horseradish, and dried wasabi, among other Japanese seasonings.
The best way to get the flavor is to sprinkle it on steamed fish or cooked rice. You can also combine wasabi furikake with green tea and rice to make a hot cup of chazuke soup.
Shiso Flavor
Shiso furikake offers a herby, refreshing flavor. It is made using dried and seasoned red shiso leaves, also known as perilla.
Shiso furikake is known for its vibrant reddish-purple color and its flavor. This type of furikake is often used as a seasoning for onigiri rice balls and sushi rolls.
Salmon Flavor
Salmon furikake is made from smoked and dried salmon flakes. It offers a salty flavor to your food. It also contains spring greens and nori seaweed pieces.
It goes well with cooked rice; however, people love making chazuke soup with it. The refreshing tea flavor of the soup significantly offsets the smokiness and saltiness of dried salmon.
Nori Komi Flavor
Nomi komi furikake is made using flakes of nori komi seaweed, bonito fish flakes, whole sesame seeds, powdered egg granules, and other Japanese seasonings.
Nori komi furikake actually is the best flavor to even go well with staple foods such as spaghetti, tofu, and toast. However, Japanese people prefer pairing it with cooked rice.
Its refreshing and savory umami flavor makes the food taste great.
When it comes to using furikake, the possibilities are endless. Since there are varieties of different flavors, you have a plethora of options.
Some people love the classic wasabi flavor while others have a thing for the seaweed-sesame seed combo.
You have to try different flavors to see what works for you the best.
The easiest way to use furikake is with cooked rice or with noodles. You can sprinkle it on top of salads and eggs. I have seen people using furikake as a topping on spaghetti, as pasta garnish, on fried chicken, and even teppanyaki popcorn:
It is all about what your taste buds go for. If you don't like the flavor, you can add your favorite essentials to the furikake to make it taste as you want it to.
Honestly, I believe that making your own furikake is the best way to get the taste you want.
Now that you know what furikake is, you may want to try it to see why people never get bored talking about it. As said, there are different varieties of furikake available in the market, you need to choose one that suits your taste buds.
There are plenty of recipes when it comes to making a furikake recipe. As you can see, furikake seasoning is simply a combination of different flavors and ingredients. So, you can personalize your furikake with the ingredients you prefer and like and give it a tasty, salty, sour, or spicy flavor.
In this section, we will discuss how to make furikake at home. My version of homemade furikake seasoning includes a medley of ingredients, such as leftover bonito flakes (katsuobushi), roasted seaweed, sesame seeds, and more.
Homemade Furikake recipe
This furikake recipe repurposes the ingredients into a delicious and aromatic seasoning. It will add flavor to your plain rice and can also transform any food into something fun and delicious.
So, without further ado, let's jump right into it.
Ingredients  
1

tsp

sugar

1

tsp

sea salt

1

tbsp

dried shrimp

¼

cup

bonito flakes

3

tbsp

sesame seeds

1

tbsp

dried seaweed

1

tbsp

dried salmon or anchovies

soy sauce

optional to taste
Instructions 
Take a dry frying pan and put it over high heat

When the pan is properly heated, put the sesame seeds and toast until they produce a bit of smoke and a roasted aroma (say about 1 minute).

Transfer the roasted sesame seeds into a bowl and let them sit aside.

Take the seaweed and crumble it into the bowl of roasted sesame seeds. If your seaweed isn't crusty and crisp, toast it for about 30 seconds over the frying pan. Make sure that you don't burn it.

Now, into the bowl, sprinkle bonito flakes, dried shrimps, and dried salmon (or anchovies – whatever you have or like).

Toss it well so the mixture forms well.

Next, season the mixture with sugar and salt. You can reduce or increase the quantity of both sugar and salt according to your requirements. If you want, you can also add a few drops of soy sauce for an additional tangy flavor.

Transfer the mixture into an airtight jar. This will keep the flavor intact for a month or two. I would recommend that you use it within a month of preparation to avoid any contamination.
Notes
Note: The quantity of ingredients is only for a few servings. I recommend that you start with the given quantities so that you get the idea of how much you need when you are preparing more quantity.
My favorite ingredient to use is:
Check out all of my favorite ingredients here
Final Words
That's it! I have covered everything you need to know about Japanese furikake seasoning.
From what it is to how to use it, the renowned flavors, the best ones available in the market, and even my homemade recipe, I have told everything about it.
Now, it is time for you to create your own mix and surprise your loved ones with something delicious for dinner.
Every month new cooking tips in your email?
Japanese recipes, cooking tips and more with the first email our FREE mini-recipe guide "Japanese with ease"
Joost Nusselder, the founder of Bite My Bun is a content marketer, dad and loves trying out new food with Japanese food at the heart of his passion, and together with his team he's been creating in-depth blog articles since 2016 to help loyal readers with recipes and cooking tips.