Best imagawayaki pan and cake machine: Top 7 options reviewed
I love creating free content full of tips for my readers, you. I don't accept paid sponsorships, my opinion is my own, but if you find my recommendations helpful and you end up buying something you like through one of my links, I could earn a commission at no extra cost to you.
Learn more
What is imagawayaki? Basically, it's a sweet batter cooked to fluffy perfection and filled with red bean paste or custard. It's the ultimate comforting Japanese dessert.
These little round fluffy cakes are what every dessert lover's dreams are made of. Oh, and there are so many filling options, there's something for everyone!
You'll find these at every corner in Japan, but what if you want to make imagawayaki at home? You'll need a imagawayaki pan or cake machine.
The best overall imagawayaki pan is the Pearl Metal Japan Obanyaki Pan Maker stovetop device. It is a double-sided aluminum pan with a non-stick coating and no-slip handle that's easy to maneuver. Not only is it affordable, but it is a sturdy pan that makes 4 cakes at a time.
I'm reviewing the 7 best imagawayaki pans and cake machines today to help you choose the right one for your household. Whether you need a small pan or a commercial type of cake machine, I've got you covered.
Check out the table for reference and scroll down to read full reviews of each product.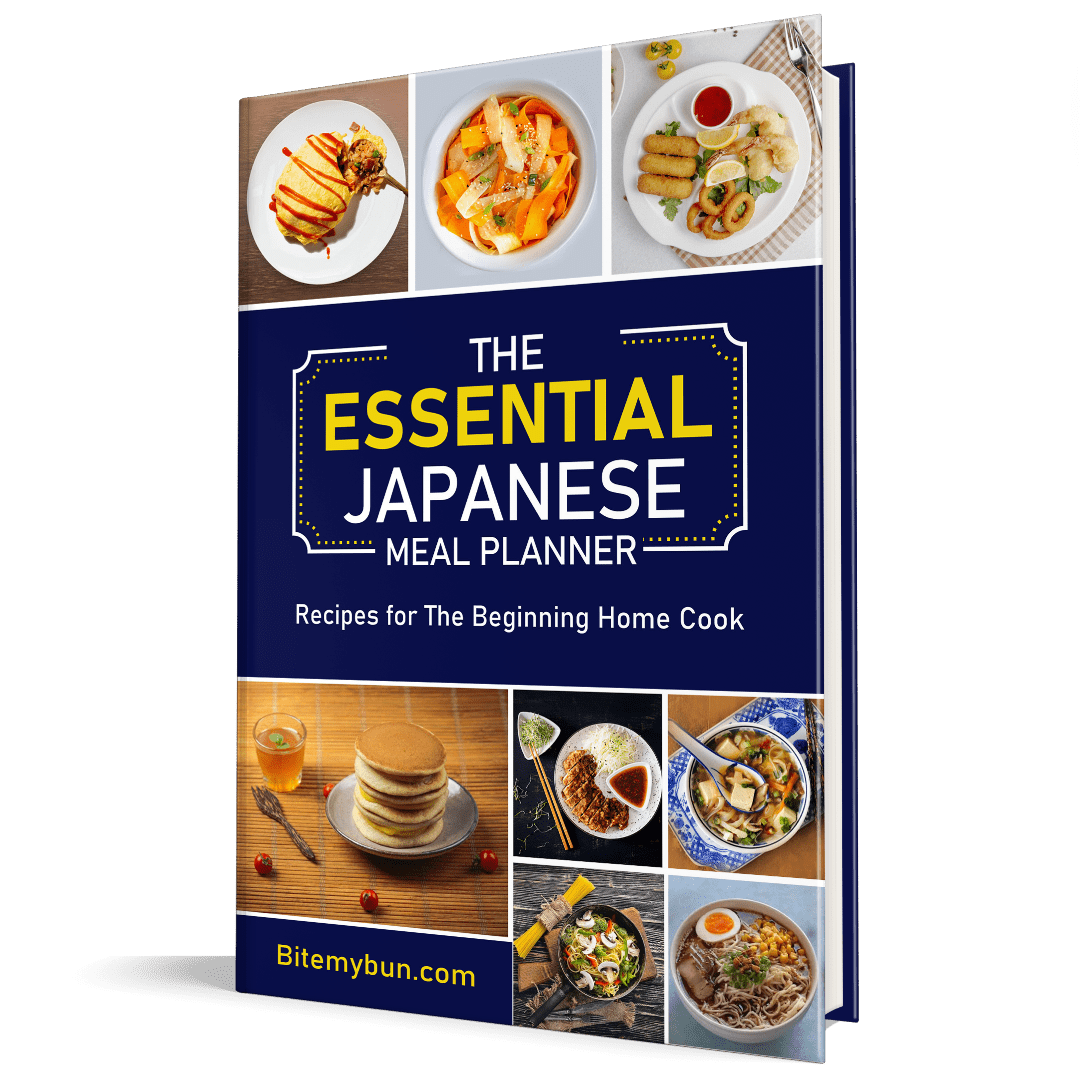 Check out our new cookbook
Bitemybun's family recipes with complete meal planner and recipe guide.
Try it out for free with Kindle Unlimited:
Read for free
Imagawayaki vs. obanyaki pan
Before I move on to the reviews, I just want to let you in on a little secret. Some of the pans and cake makers are called 'obanyaki' makers.
In fact, obanyaki and imagawayaki are the exact same thing.
They refer to the same round fluffy cakes with tasty stuffing. However, this dish has two Japanese names.
The reason for the two names is the following:
In Japan's Kanto region (Tokyo), the cakes are called Imagawayaki.
In the Kansai region (Kyoto & Osaka), the same cake is called obanyaki.
So, if you see the pans and cake makers labeled differently, just know they are the same thing. I'll be using both names in this article to refer to the same cakes.
What is imagawayaki / obanyaki?
Imagawayaki is a fairly simple soft cake. It's made of a batter that's similar to pancakes, and it also has a similar soft texture.
The cakes are round and spherical but taller and filled with tasty ingredients.
Red bean and custard are the two most popular fillings, but there are modern varieties like matcha, mochi, cream cheese, Nutella, and sausage too!
The key to making traditional imagawayaki is to use round molds and to fill each cake with either sweet or savory stuffing.
While the cake can have crispy edges, the inside is soft and spongey. Obanyaki originated sometime in the 18th century, and it predates the popular taiyaki fish-shaped cakes.
Buyer's guide: what to look for in a imagawayaki pan
When it comes to buying an obanyaki / imagawayaki pan, there's not much hassle. This Japanese dish is very specific and has a round shape, a tasty filling, and a pancake-like soft texture.
What really matters is whether you want a stovetop pan, an electric machine, or a gas imagawayaki maker.
Stovetop imagawayaki pan
A stovetop pan is excellent if you want to make traditional imagawayaki. Used on a stovetop, this pan is usually double-sided, and the top lid helps the cakes cook through properly.
This type of imagawayaki maker is the hardest to use because you have to figure out the correct cooking temperature. Also, you have to test the pan until you realize how many minutes it takes to cook the cakes.
But, once you get the hang of it, you'll love using these aluminum or cast-iron pans.
Most stovetop pans are made of aluminum and have a nonstick coating. But, cast-iron is another popular option, although it requires seasoning.
Electric imagawayaki machine
Electric imagawayaki makers are the easiest to use because you plug them in, wait until they heat up to the perfect temperature, and start making the cakes.
All you have to do is pour the batter, then the filling, and wait until the cakes are well cooked.
I recommend a machine if you want to cook lots of cakes. Using the stovetop pan can be tiring if you need to make a lot of obanyaki at once.
Also, these machines are energy efficient and pretty affordable.
Gas imagawayaki maker
I recommend imagawayaki makers that run on gas for commercial purposes only.
Usually, this type of machine costs upwards of $500, so it's affordable for businesses, but it's not an economically viable option for the average household.
Well, unless you really want to make imagawayaki all the time, but even then, you need to make sure your home meets the safety requirement of operating these machines.
Cooking space
The cooking space is very important too. How many imagawayaki can you make at once?
For example, with a small electric machine, you may only be able to make one cake at a time. Other electrics have a larger cooking area and at least 7 molds.
Most classic imagawayaki stovetop pans have 4 individual molds, which means you can make 4 cakes at a time.
Commercial-size gas cookers have 16 or more holes, so they are ideal for cooking in large batches.
It all comes down to personal needs and how many cakes you like to cook at once.
The best imagawayaki pans and cake machines reviewed
Trust me; if you have a pan or cake machine, it's very easy to make imagawayaki.
The worst that can happen is that you burn the cake a bit. However, once you figure out how long to cook each cake, you'll be making these Japanese sweets over and over again.
Best overall imagawayaki pan: Pearl Metal Japan Direct Flame Toaster
Type: stovetop & grill
Cooking space: 4 at a time
When you want to make the tastiest imagawayaki over a direct flame or on your stovetop, all you need is an authentic pan.
Therefore, to make the cakes, all you need is the pan and your stovetop. This is a high-quality, sturdy pan that's reasonably priced considering it's a specialty kitchen accessory.
Not all brands are the same, and when it comes to imagawayaki makers, Pearl Japan is top of the line. They make various household accessories, but this obanyaki pan is one of the best products.
The pan is made of aluminum and won't make the cakes stick. Non-stick surfaces are best for making imagawayaki because the batter is quite runny and can stick fast.
It's also easy to use because it has an easy-grip handle.
To make imagawayaki with this pan, you pour batter into the molds about three-quarters full.
The pan has two parts: the bottom where you put batter and the top part, which looks identical but acts as a lid.
Then, you wait until the batter cooks and then add the filling and the rest of the batter. The secret to perfect, soft, and tender cakes is not to overcook them.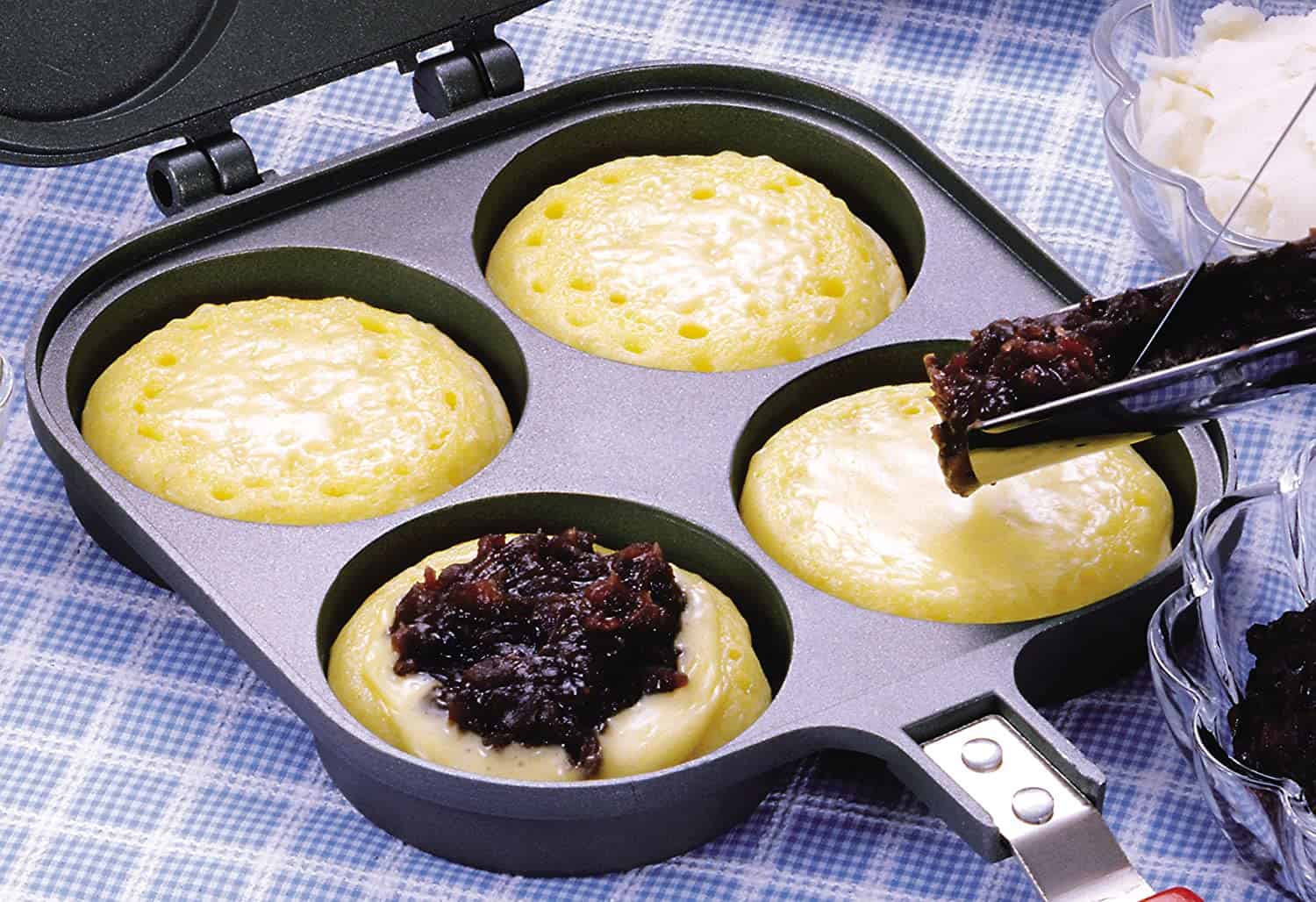 The obanyaki pan is relatively small and compact, but you can still make four cakes at a time. That's enough to feed the family. Imagawayak is best cooked in batches and enjoyed hot!
Check prices and availability here
Best budget imagawayaki pan: Happy Sales HSOB-YKP4B
Type: stovetop
Cooking space: 4 at a time
If you want to try imagawayaki for the first time, or you know you aren't going to be using it all the time, a cheap budget-friendly pan is the best choice.
The Happy Sales obanyaki pan is a stovetop cast-aluminum cake maker. It is made with a non-stick coating which makes it ideal for everyone to use.
Complete beginners can make near-perfect obanyaki with this pan because the batter won't stick and burn. Of course, you need to pay attention to timing when cooking, but the coating helps a bit too.
This pan is suitable for gas stovetops only, but it's very easy to use and distributes heat evenly.
As a result, you don't have to scrape out the remnants or struggle to clean the pan after each use.
But what really makes this a great obanyaki pan is the price – it costs a little over $30, and then you can use it to make all kinds of Japanese desserts, egg dishes, and breakfast foods too.
Therefore, it's a versatile kitchen gadget that you can use for years to come.
The one thing I don't like about it is the handle which is less comfortable to grip when compared to the Pearl imagawayaki pan.
Overall though, if you're on a budget and need the best affordable imagawayaki pan, then this one does a great job. Also, the pan is dishwasher-safe, so there's no reason not to try it!
Best commercial imagawayaki machine: LANTAO 16-hole Gas Red bean cake machine
Type: gas
Cooking space: 16 at a time
If you want to start making and selling imagawayaki, then you need a professional obanyaki making machine.
This mid-size obanyaki maker has 16 holes, so you can make enough cakes in batches to sell at a food stall or restaurant.
The machine runs on liquified gas, and it heats up to the perfect temperature to cook imagawayaki without burning them.
I like this particular machine because it's easy to maneuver. It has on and off buttons, and then you can set the temperature lower or higher using the same button.
Since it's not a fancy machine, it's simple to set up, use, and clean too.
If you are running a business, you need a machine with at least 16 holes to make more cakes at once. But, you also need a machine that's easy to operate safely.
This Lantao machine is just the right size and price (around $500) for a small business starting to make imagawayaki.
Check prices and availability here
Here's how obanyaki would be served to you in the streets by a professional:
Best multi-purpose imagawayaki pan with no lid & best for induction: Thincol Pancake Pan
Type: stovetop
Cooking space: 4 at a time
There are other lidless pans that you can use to make more than just imagawayaki. In fact, this Thincol pan is ideal for making eggs, muffins, burgers, and all kinds of desserts too.
It is a 4-hole pan and doesn't have a lid, so you must be a bit more careful to ensure the top of the imagawayaki is fully cooked.
However, it's the kind of versatile aluminum pan that you can use to make your favorite breakfast treats.
The pan has 4 non-stick holes; therefore, you only need very small amounts of oil when cooking.
But what makes this a great pan of imagawayaki is the fact that it has a small silicone temperature control feature.
A silicone strip changes color to indicate the pan's temperature, which is very useful when cooking soft batter foods like obanyaki.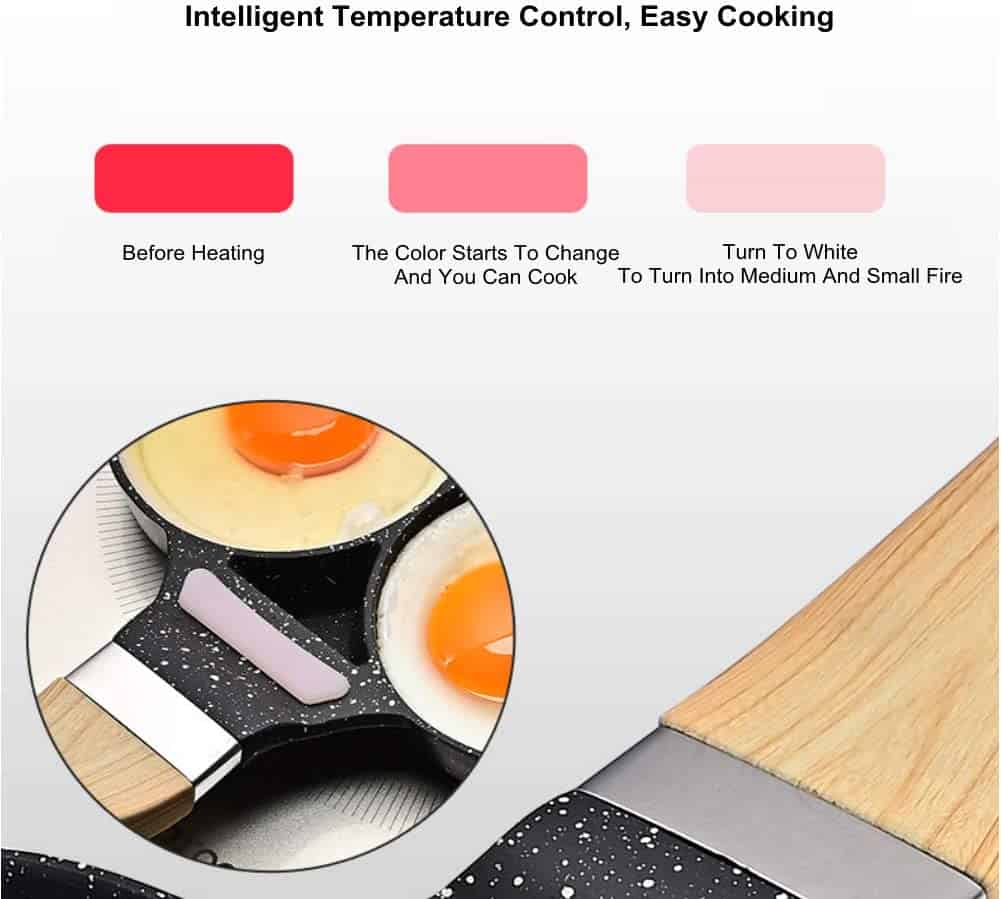 The actual holes are thicker and a bit larger than regular obanyaki pans, but it's a cheap way to make this dessert for everyday homemade cakes.
This pan is suitable for gas stovetops, barbecue grills, and also induction cooktops.
I like the flame retardant handles that don't get hot as you cook. I think it's an excellent safety feature to have.
You know that when you make obanyaki, you have to keep your hands on the handle all the time, and you need a safe heatproof handle.
Best electric imagawayaki machine for 1 person: Dash DMS001WH Mini Maker
Type: electric
Cooking space: 1 at a time
What if you're all alone and crave imagawayaki? There's no reason you can't savor this yummy Japanese dish alone at home.
This small electric griddle is just perfect if you want to make one or two cakes at a time.
While it's not explicitly designed for imagawayaki, you can surely make stuffed cakes with this machine. You can also make eggs and other types of food, depending on your cravings.
It's one of the cheapest electric griddles I've seen, so it's a great value purchase because it's a versatile machine.
It has a 4" diameter, so your obanyaki might be a bit bigger than the traditional ones, but hey, that's more tasty cake for you!
The machine is so lightweight (1 pound), so you can store it easily and even take it with you when you travel.
It has a low energy consumption, and it's such a sleek and stylish little machine. You can choose from a variety of colors, including classic white, pink, aqua, and red.
What makes it a great machine is that it heats up fast and doesn't burn the imagawayaki. So, it's even kid-friendly, and you can teach them to make individual portions.
But, since it takes only a couple of minutes to make one cake, you can surely batch cook enough for a group of people.
Check prices and availability here
Best cast iron pan & best for grill: Lodge Cast Iron Mini Cake Pan
Type: stovetop, oven, grill
Cooking space: 7 at a time
Making imagawayaki on the grill or over an open fire is a fun way to cook with family and friends. This pre-seasoned cast iron pan has 7 holes which are just the right size for imagawayaki stuffed pancakes.
You can also use the pan for cooking on your gas stovetop, and the best part is, seasoned cast iron is easy to clean by handwashing.
The one thing you must be careful about is the cooking temperature. While cast iron heats up slower, it stays hot, so you need to act quickly when making obanyaki.
The pan, though, is nonstick, rust-proof, and doesn't infuse the pancakes with a weird taste as some other nonstick pans do.
This pan does not have long handles or a lid. Instead, you have to use oven mitts to grab the small handles on either side. However, this makes the pan oven-safe, too, so you can make other delicious treats using the same pan.
Since it's versatile and affordable, I recommend this obanyaki pan for all kinds of outdoor and indoor cooking methods.
Best electric machine: Babycakes Multi-Treat Baker
Type: electric
Cooking space: 7 at a time
There's no doubt that an electric cake machine is the easiest way to make imagawayaki. Since the machine runs on electricity, it's safer, and you don't have to cook on an open flame.
Although the Babycakes machine is not designed for imagawayaki specifically, it works well because it has three different types of baking plates.
The machine has a latching handle and non-skid rubber feet, so the machine doesn't move while cooking.
The cakes will be slightly smaller than traditional imagawayaki, but you can still make 7 at a time and enjoy them with the family.
I like that this machine is easy to use. Two lights show you when the machine is heated and ready to use. Therefore, baking with this cake maker is a fun and simple task.
See it in action here:
Although it's not a traditional Japanese imagawayaki electric machine, this small and compact device is a useful kitchen accessory.
You can also make cake pops, small muffins, takoyaki, or donuts.
Now that you've read about the best imagawayaki makers, you need a recipe. Check out my imagawayaki recipe with red bean paste filling.
Takeaway
Once you have an imagawayaki maker, you won't stop making these delicious soft treats.
You can try the traditional red bean filling or opt for a sweet custard or Nutella. But, if you feel adventurous, you can always try sausage and cream cheese filling!
The imagawayaki changes from a sweet dessert into a savory meal option if you have more than one.
As I mentioned, there is an obanyaki maker for all budgets, and if you're just curious, you can always try the cheapest aluminum pan until you realize you need an electric machine.
Another delicious Japanese dessert that needs a special machine: Kakigori (and how it compares to Bingsu)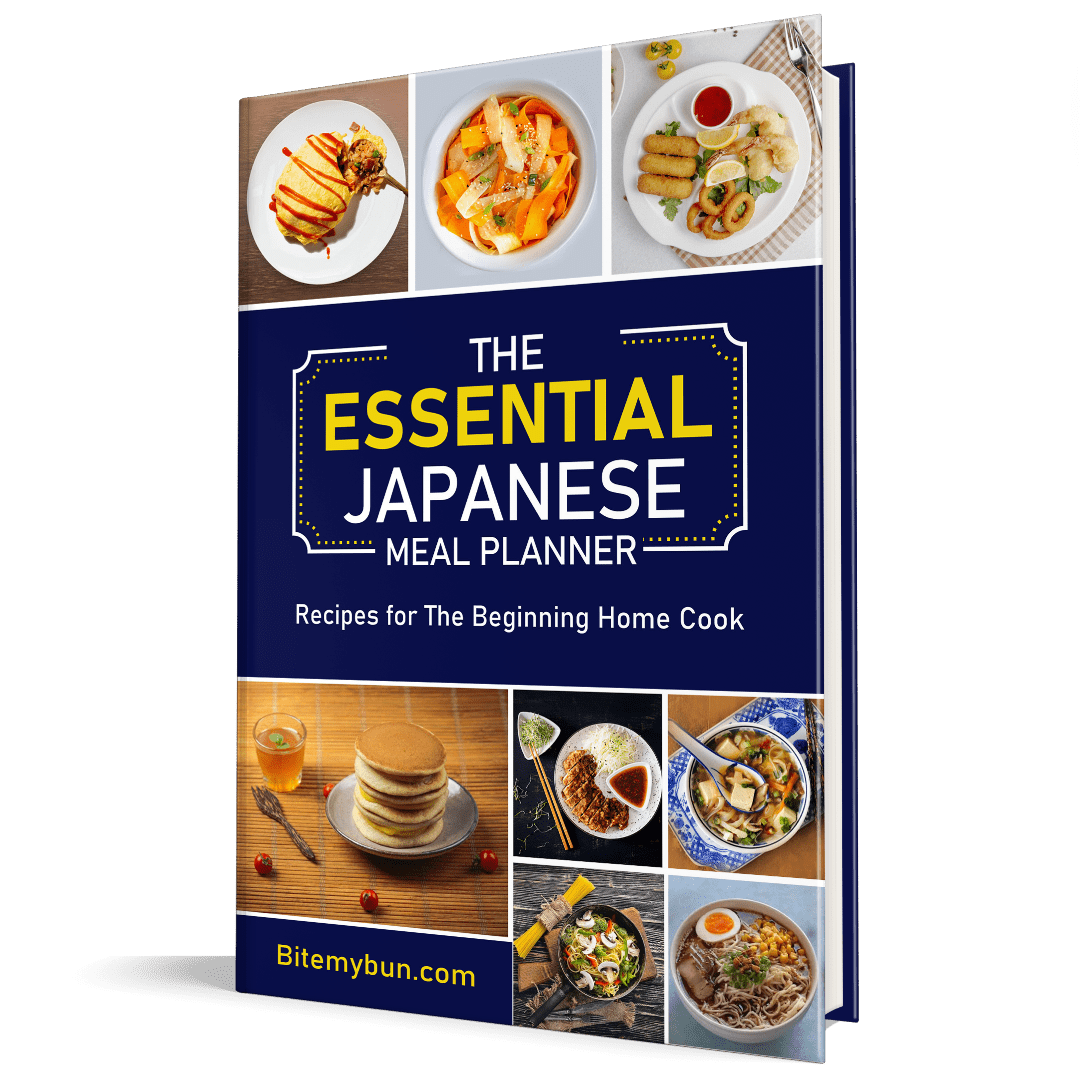 Check out our new cookbook
Bitemybun's family recipes with complete meal planner and recipe guide.
Try it out for free with Kindle Unlimited:
Read for free
Joost Nusselder, the founder of Bite My Bun is a content marketer, dad and loves trying out new food with Japanese food at the heart of his passion, and together with his team he's been creating in-depth blog articles since 2016 to help loyal readers with recipes and cooking tips.