I love creating free content full of tips for my readers, you. I don't accept paid sponsorships, my opinion is my own, but if you find my recommendations helpful and you end up buying something you like through one of my links, I could earn a commission at no extra cost to you.
Learn more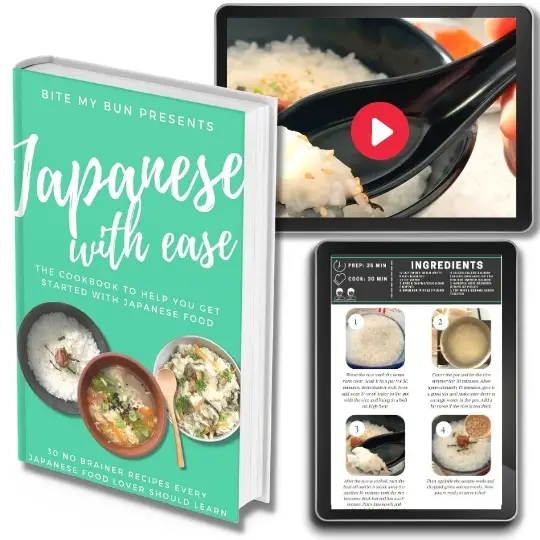 Ever had trouble finding Japanese recipes that were easy to make?
We now have "cooking Japanese with ease", our full recipe book and video course with step-by-step tutorials on your favorite recipes.
If you love cooking and your pastime is looking at different recipes online, then you definitely should be familiar with pressure cookers. You probably don't find the need to invest in a pressure cooker, thinking that it's not a necessity.
I totally understand you because it also took a long time for me to jump into the bandwagon. Now that I have one, I can say that it's definitely one of the best investments I've made. It has solved lots of my dinner dilemmas.
But I guess the biggest question you have is which type of pressure cooker you're going to buy? I had a hard time answering this question, so I ended up buying two – the Instant Pot and the Cook Essentials Pressure cooker. But for those who only need to buy one, you may want to know the difference between Instant Pot and the Cook Essentials Pressure Cooker.
So, here's my honest review to help you make the best decision.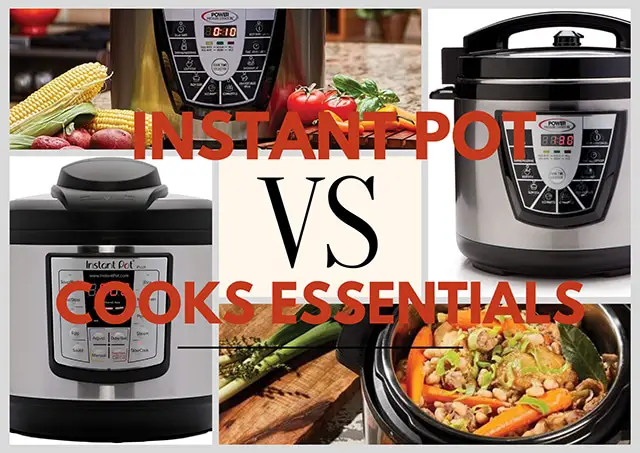 What Do the Instant Pot and the Cooks Essentials Pressure Cooker Have in Common?
You should be able to tell the difference between the two just by looking at them when you place them next to each other.
But you're probably not in your kitchen or at a store as you're reading this now. It's also worth doing a search or visiting the website of the manufacturers of these cooking essentials so you'll have an idea of what they are.
At the end of this review, I'm going to include some other popular models of pressure cookers in the market. However, I will focus this review on the Instant Pot vs Cooks Essentials since these are the two pressure cookers that I currently own.
So, let's start with their:
Common features
As for the housing, both cooking devices have stainless steel housing that's fingerprint-resistant. I'm also amazed at how easy it is to clean and wash them!
If you are into electrical details, then you should know that both pressure cookers operate at 100 W.
Both the Instant Pot and Cooks Essentials have a capacity of 6 quarts. The manufacturers claim that this capacity should be enough to feed up to 6 people. I find this capacity more than enough to feed my family of six, and most of us are adults.
The actual housing of booth the Cooks Essentials and Instant Pot pressure cookers is not safe for dishwashing due to the presence of the electrical wiring.
But the inner pot can be removed easily and is safe for dishwashing, similar to the slow cooker pot. I know a lot of people would not be enticed into investing in a cooking device that's not dishwasher safe.
The Instant Pot and the Cooks Essentials Pressure Cooker have a somewhat similar size in terms of width, depth, and height. They are around 12 to 13 inches.
Currently, the entry-level model of the Instant Pot and the Cooks essentials pressure cookers has an almost similar price point. But it should be noted that the Instant Pot is available in several models.
Both devices are among the best-rated products of Amazon. Each cookware has more than a hundred reviews. I don't know with you, but I find it really useful to read reviews when buying something online.
That's what I did before I purchased the Instant Pot and Cooks Essentials pressure cookers. I enjoyed reading the reviews while also getting lots of useful insights into what each product can do.
Differences Between Instant Pots and Cooks Essentials Pressure Cookers
As you see above, the Instant Pot and Cooks Essentials have lots of similar features. But they also come with a few differences.
Knowing the differences between the two can help you decide which cooker can work best for you, so here they are.
The handle of both pressure cookers is cool to touch, so you should not have any issues cooking in them. However, the handle of the Cooks Essentials has a much lower profile than the Instant Pot. This may not be a big deal for others, but this can be a concern for storage.
Understandably, both cookers come with the power cord in them since they operate by means of electricity.
However, the cord of the Instant Pot is attached directly to its housing, while the cord of Cook Essentials is totally removable, which is why it's much easier to store and is less prone to damage. However, a removable cord could also mean easier to lose.
You should be able to easily purchase replacement parts for both pressure cookers in case they get damaged. The website of the manufacturers of these cooking devices is known to sell replacement parts, so sourcing these parts should not be a problem.
Amazon also sells some of these parts. So this is one thing they have in common. However, each of these parts has different prices. I find that the replacement parts of the Instant Pot are way cheaper.
Warranty is an essential feature when buying cooking devices like pressure cookers. Both pressure cookers have limited warranty, but the period of coverage differs from each other.
While the Cooks Essentials come with a 3-year warranty, the Instant Pot is only covered in a one-year limited warranty.
Why Buy a Pressure Cooker?
Now here's the question that a lot of people have – is it essential to have a pressure cooker? There's a reason why pressure cookers are popular. They are very useful for a lot of your cooking needs. This device helps you to easily prep up delicious differ for the family! If you need help in deciding whether a pressure cooker is essential for you or not, check these out:
If you don't mind spending at least 30 min in your kitchen to cook delicious meals, then the pressure cooker is a great device to have. On average, the pressure cooker can cook meals at about 25 to 40 min. The fastest could cook meals in around 12 min.
You can refer to the manual instructions of the pressure cooker to know the amount of time it will take for the device to reach pressure, as well as the amount of time that you should allow for release, whether it's quick release or natural release.
If you are cooking a big slice of meat or perhaps a full pot of a certain dish, then you can expect it to take longer. But the best part about this is you don't have to be beside it most of the time. Thus, you can do something else while the device is cooking your dish.
If you got no slow cooker and you're thinking of investing in a multi-function cooking device, getting the electric pressure cooker is a good idea. However, the Cooks Essentials does not come with the slow cooker function, so this may not be suitable for you.
But if you don't really care about the Slow Cooker functionality, then the Cooks Essentials would be great to have. It's a fun device to use, especially if you are trying to learn something new.
I know a lot of people who are hesitant about using a pressure cooker and even have horror stories about using it in their kitchen. I totally understand that, and I even have my own share of misadventures.
However, once you get used to it, you will start to appreciate how great this device is. The more I have mastered using my pressure cookers, the more I realize their importance in meal preparations.
Conclusion
Hopefully, you have learned a lot about pressure cookers and understand the benefits of having this cooking device in your kitchen. As for deciding on the Instant Pot vs. Cooks Essentials Pressure Cooker, it all boils down to how much you would be willing to spend for a pressure cooker.
Both devices almost have similar functionalities and features and are very useful for your daily cooking needs.
Also read about pressure cookers vs air fryers in our comparison guide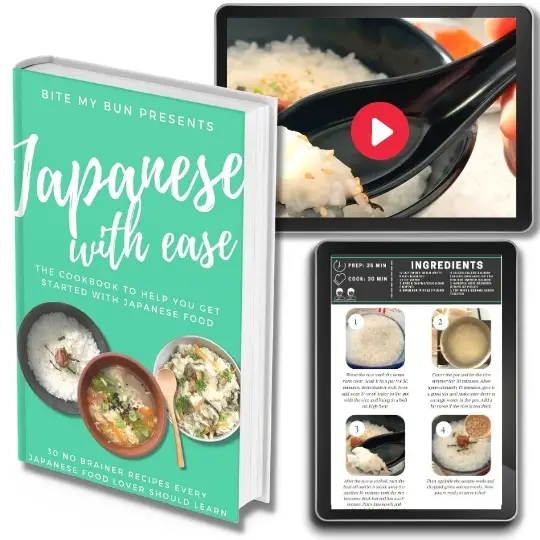 Ever had trouble finding Japanese recipes that were easy to make?
We now have "cooking Japanese with ease", our full recipe book and video course with step-by-step tutorials on your favorite recipes.
Joost Nusselder, the founder of Bite My Bun is a content marketer, dad and loves trying out new food with Japanese food at the heart of his passion, and together with his team he's been creating in-depth blog articles since 2016 to help loyal readers with recipes and cooking tips.