I love creating free content full of tips for my readers, you. I don't accept paid sponsorships, my opinion is my own, but if you find my recommendations helpful and you end up buying something you like through one of my links, I could earn a commission at no extra cost to you.
Learn more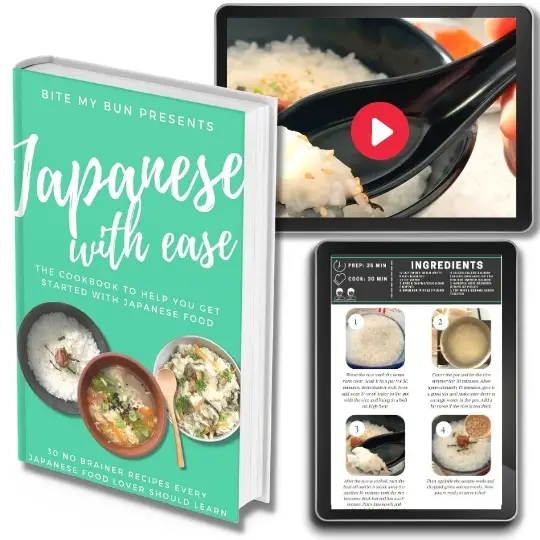 Ever had trouble finding Japanese recipes that were easy to make?
We now have "cooking Japanese with ease", our full recipe book and video course with step-by-step tutorials on your favorite recipes.
There is nothing as interesting as Japanese steamed bun. Many people who tasted these buns usually opt to go for them rather than artisanal bread.
However, not many people get to enjoy the delicacy since they are somehow intimidated by the process of making them—and also they don't own a steamer.
However, this shouldn't be your case at all.
In this post, we shall share a few recipes on how to make a variety of Japanese steamed buns. These recipes are very easy to make, and it won't take you a lot of time to prepare them.
In addition, you will have the opportunity to enjoy freshly made Japanese steamed buns, which is usually very amazing.
One interesting thing about the homemade Japanese steamed buns is that they have very great aesthetics and you will always get to see what you eat right from the beginning.
More so, they are visually appealing, and they have a different texture compared to the ones you will find out there in the streets.
Why make a steamed bun yourself?
You might be wondering why you really need to take your time to make Japanese steamed pork at home—especially when you can buy them at your store, here are some reasons why you should consider making them from home.
Get the opportunity to make the buns from scratch – this is everything you need when it comes to making the buns. The process is very addictive—and you will always enjoy handling the fresh ingredients.
You can use a variety of ingredients – if you don't like pork or flavored mince, you can opt to use different ingredients. This works very well for vegetarians who need to stuff something that favors than in their steamed buns. You can make it vegan or vegetarian. You need to note that the steamed buns are just for you—and you can make them the way to want them to be.
Simple recipes – you might think that steamed buns are complicated to make—but you will realize that it's very easy to make them—and you will love them.
Tastes delicious and fresh – there is nothing satisfying than food that you have freshly prepared in your kitchen. Steamed buns are one of the dishes that will always give you that satisfaction.
Freeze – you can freeze the leftovers and then reheat them at a later date.
Japanese steamed Pork Bun recipe
The best steamed bun recipe is the Japanese pork bun, and very fun to make too!
Ingredients  
For the dough
7.5

ounces

all-purpose flour

1/2

cup

lukewarm water

1

tsp

active dry yeast

1

tsp

baking powder

1.5

ounces

granulated sugar

⅛

tsp

salt

1

tbsp

vegetable oil
For the filling
1/3

lbs

sliced pork shoulder

finely chopped

1

tbsp

ginger

minced

1

tsp

sesame oil

⅛

tsp

Chinese five spice powder

½

tsp

salt

1

tsp

sugar

1

tsp

soy sauce

1

tsp

oyster sauce

1

tbsp

potato starch

⅓

cup

nappa cabbage

finely chopped

⅓

cup

green onions

finely chopped

8

parchment paper squares
Instructions 
Preparations – the night before:
First, you need to prepare your dough. To do that, mix all your ingredients in a stand mixer with a mixing bowl and a dough hook attachment, and then mix everything together. Then, add in your lukewarm water slowly. If you notice that the dough sticks to the bottom of the mixing bowl after you have poured in all the flour, add some more flour slowly, until the dough no longer sticks to the bowl. Continue mixing at low speed—2 speed setting, until your dough is tacky and smooth.

Once you finish kneading your dough, make it into a round ball, and then put in a bowl covered with saran or plastic wrap to prevent it from drying. To get the most flavor from your steamed bun, allow your dough to rise overnight—under refrigeration.

As your dough rises, start preparing your filling. You can choose to prepare your steamed buns the same day, but it is advisable that you marinate the filling overnight so that you can get more flavor. Mix all the filling ingredients in one bowl and then cover it with a saran or plastic wrap, and refrigerate overnight to marinate.
Making the steamed buns:
To make your steamed buns, remove your refrigerated dough out of your fridge—and you will notice that it has doubled in size.

Punch down the dough to remove the excess gas—and then roll it out into a long circular tube. Divide it into 8 even pieces.

Roll each piece to make a ball and then allow it to rest on a baking sheet for around 10 minutes, and cover it with a damp towel to prevent the dough from drying out.

Next, roll every dough ball into a flat circle using a rolling pin, and then scoop a bit of the pork filling into the dough ball—maybe a tablespoon.

Using one hand, pull one side of your dough upwards, towards the top of your filling. Hold it in place and then pull the remaining sides of the dough upwards, so that they can meet at the top of the dough. Make sure that you twist the top to create a seal. You can continue doing this to each side of the dough until you have concealed your filling inside the bun. Repeat this process for the remaining 7 pieces.

Next, place your bun on a piece of parchment paper square and then allow it to sit for the second phase of fermentation. To prepare for this second fermentation, allow your steamer to boil and then turn off the stove. Place the burns in the residual heat, using a steam basket, and then cover it with a lid. Cover the lid with a towel to prevent excess condensation from dripping into the buns. Allow it to rest for around 10 to 15 minutes until the size increases slightly to complete the second fermentation.

After the second fermentation, boil your water and then steam the buns for 15 minutes.

Remove the steamed pork buns from the steamer and enjoy.
Just One Cookbook also has this amazing video on how to make steamed buns:
Also read: delicious Japanese style bean sprouts to go with your dish
Vegetable steamed buns
Ingredients
Active dry yeast – ½ tbsp. (rounded)
Warm water – ¾ cups (105 – 110 F)
Bread flour – 2 cups (you can also use all-purpose flour)
Granulated sugar – 3 tbsp.
Dry milk powder – 1 ½ tbsp.
Salt – ½ tbsp.
Baking powder – ¼ tsp (rounded)
Baking soda – ¼ tsp
Vegetable shortening – 2 tbsp.
Directions
First, you need to mix the yeast with the warm water so that you can activate it. Then, add a pinch of sugar in order to give the year a substance to feed on. Wait for around 5 minutes or until the yeast is foamy for you to use it.
Using a stand mixer bowl with a dough hook, mix bread flour, dry milk powder, sugar, baking soda, baking powder, and salt.
Next, add the yeast slowly, as well as the water mixture, and then mix them on slow speed. Once you add all the wet ingredients, add in the vegetable shortening. Continue kneading your dough until it is smooth and soft. It should also feel tack when you touch it and bounce back whenever you poke it gently. You might be forced to hand knead the dough towards the end so that you can achieve the texture you desire.
Use some vegetable oil to lightly grease your bowl, as well as the dough to prevent it from becoming dry. Now, wrap your bowl with a plastic wrap, and then allow the dough to rise for around one hour in a warm area or until it doubles in volume.
Once the dough is doubled in size, punch it down, and then move it into a clean working surface. Use a knife or a bench scraper to divide your dough into half, then continue dividing each portion until it weighs around 25 grams (or the size of a golf ball). It is recommendable that you use a food scale on this stage.
Next, put the little dough balls on a baking sheet, and make sure that it lined with parchment or Silpat paper, and then cover them using a plastic wrap and let them rest and rise for around 30 minutes in a warm area.
As you wait for the dough balls to rest, prepare some parchment papers (squares) in order to allow your dough to come out very easy once you have steamed it.
After the 30 minutes, flatten each dough ball using is a rolling pin, and then roll them out until you achieve a long oval shape. Fold each oval in half to create a steamed burn shape—almost resembling a taco shell. Cover them again using a plastic wrap and let them rest for around 30 to 45 minutes. You will notice that they will also rise a little bit.
You can now set up your steamer, and when the dough has finished rising/resting, place them in the steamer, and then steam for around 10 minutes. Remove from the steamer after 10 minutes and then serve them immediately with the filling of your choice.
Japanese steamed curry buns (kareeman)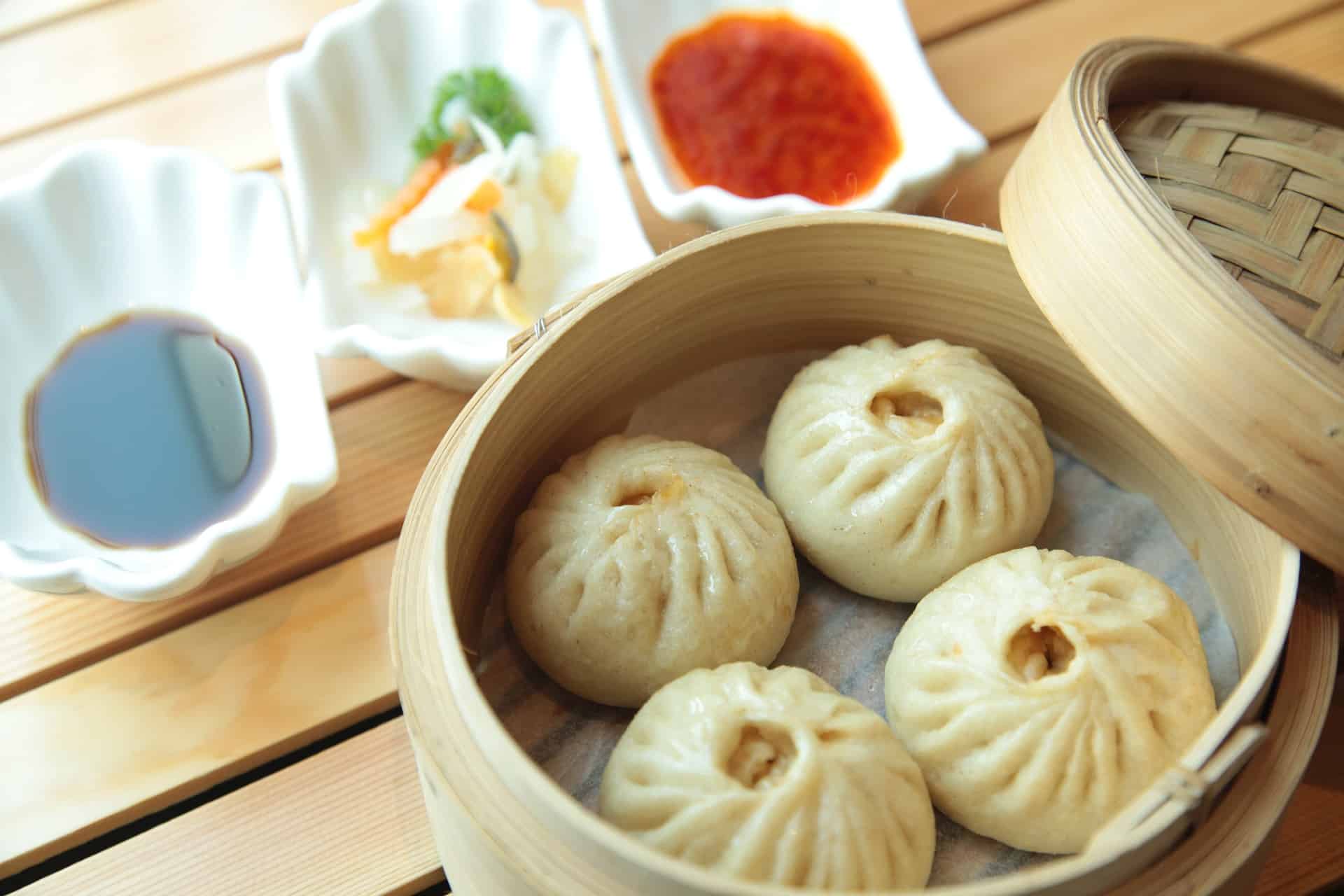 Also known as kareeman, Japanese steamed curry buns are filled with vegetable mixture and curry-flavored mince.
These buns resemble steamed pork buns, but for the steamed curry buns you can use any type of minced meat. In this recipe, we shall use pork mince, and you can also make the recipe vegetarian.
Ingredients
For the pastry
Self-rising flour – 1 cup
Bread flour – ½ cup (you can opt to use self-rising flour only)
Curry powder – 1 teaspoon
Salt – 1 pinch
Dry yeast – 1-2 teaspoons
Sugar – 2 tablespoons
Warm water – ½ cup
Canola oil – 1 tablespoon
For the filling:
Pork mince – 250 g
Onion – 1 (finely chopped)
Garlic – 1 clove (finely chopped)
Potato – 1 (cut into 7 to 8 mm pieces)
Oil – 1 teaspoon
Curry powder – 2-3 teaspoons
Soy sauce – 1 teaspoon
Fish sauce (or soy sauce) – 1 teaspoon
Sugar – ¼ teaspoon
Pepper and salt – as needed
Directions
In a small bowl, mix your warm water, sugar, and dry yeast—mix gently and then set them aside.
Put the self-rising flour, curry powder, and salt in a large bowl, and then mix them well. Create a well at the center of the mixture and then pour in the oil and yeast mixture. Mix it well to make a soft dough. Once you get the perfect mixture, allow it to sit for a while as you prepare your filling.
Meanwhile, heat oil in a frying pan—over medium-low heat, and then add the pork mince, onion, carrot, potato, and garlic. Add 2 to 3 tablespoons of water to make the ingredients cook a bit fast. Add your seasonings, and then stir-fry until the veggies are soft. Divide the mixture into 8 portions.
Next, divide your dough into 8 portions, and then roll out each portion into a flat circle using a rolling pin. Put one portion of the filling mixture at the center of the dough and then draw up its edges to create a bun.
From the dough, make 8 buns, and then place each bun on a piece of parchment paper.
Put water into a steamer and then bring it to boil over high heat. Place your buns into the steamer, cover the lid, and then allow it to cook for around 10 minutes. Once done, remove the buns from the steamer, and serve while hot.
More Japanese cooking: this is the difference between Sushi and Sashimi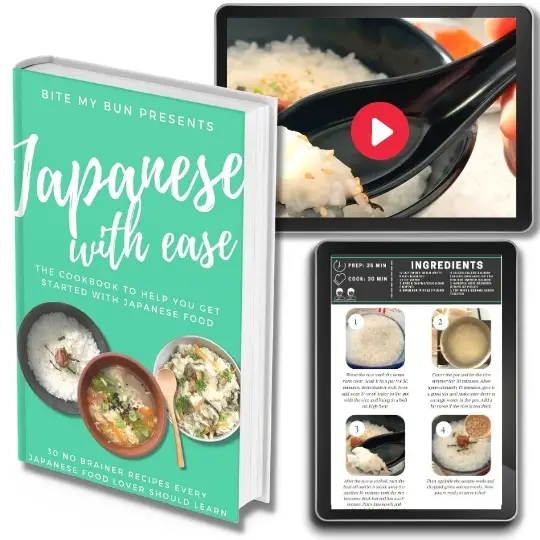 Ever had trouble finding Japanese recipes that were easy to make?
We now have "cooking Japanese with ease", our full recipe book and video course with step-by-step tutorials on your favorite recipes.
Joost Nusselder, the founder of Bite My Bun is a content marketer, dad and loves trying out new food with Japanese food at the heart of his passion, and together with his team he's been creating in-depth blog articles since 2016 to help loyal readers with recipes and cooking tips.