Pork jowl & chicken liver? That's this Filipino sisig recipe!
I love creating free content full of tips for my readers, you. I don't accept paid sponsorships, my opinion is my own, but if you find my recommendations helpful and you end up buying something you like through one of my links, I could earn a commission at no extra cost to you.
Learn more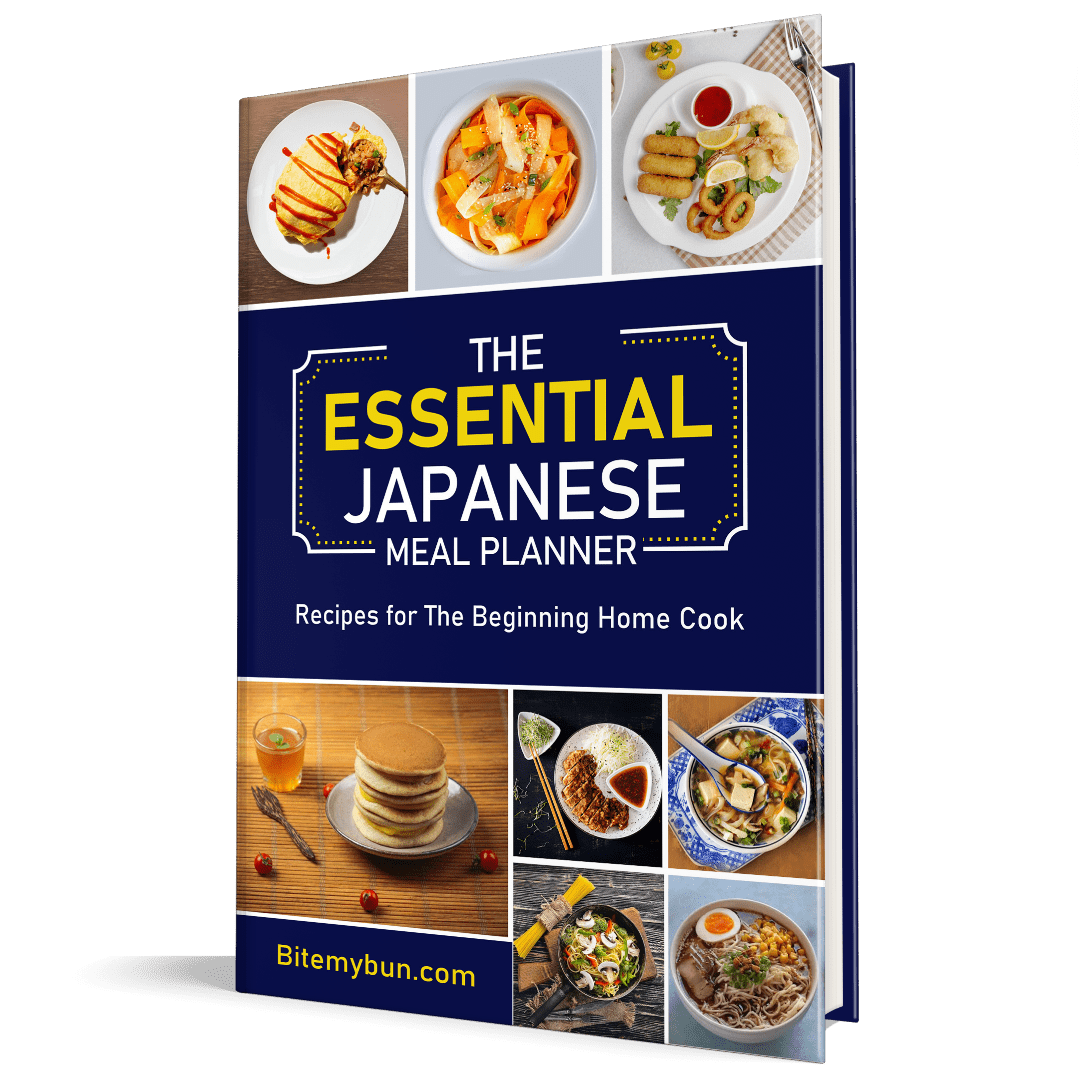 Check out our new cookbook
Bitemybun's family recipes with complete meal planner and recipe guide.
Try it out for free with Kindle Unlimited:
Read for free
Pork sisig is a glorious pork dish recipe that's a staple "pulutan" among Filipinos.
"Pulutan" is a Filipino term that refers to any dish eaten when drinking alcoholic beverages. Pork sisig is a well-known dish from the province of Pampanga.
The most common alcoholic beverage that is partnered with sisig is an ice-cold beer. The earthy flavor of the beer tends to balance the richness of this dish.
It's hard to explain what this dish tastes like until you try it. The savory mixture of pork and chicken offal is quite unique and the rich texture will have you digging your fork into the meat for more.
If you like fatty pork comfort food, you'll enjoy the addition of fresh and sour calamansi.
I'm also sharing my favorite sisig recipe so you can make this tasty Filipino food at home.
10 Tips to Save a Bundle on Asian Ingredients!
Introducing our brand new FREE PDF guide: "Saving Secrets: Unveiling the Art of Saving Money on Asian Ingredients" It's your first newsletter email, so start saving today! 📚🧧
We'll only use your email address for our newsletter and respect your privacy
What is sisig?
"Sisig" literally means to make a salad made with vinegar, chili, and salt. The word sisig was first mentioned in a Kapampangan dictionary in the 17th century.
Pork sisig is a popular Filipino meal. It can be served as a main course or a starter and it's an interesting dish made with chopped meat.
Sisig is made by simmering all of the good portions of a pig's head, including the cheeks, nose, and ears, as well as the liver and belly, in water, and then cutting them into little pieces and frying them.
To give sisig a great flavor, they add chili peppers and calamansi, a little green citrus fruit that resembles a lime.
Once these ingredients are added to the concoction, it's all blended with egg and onion. Some recipes also call for some mayo to make it creamier.
As a main dish, sisig is served with a bowl of white rice.
So it might be a little confusing that the sisig we know today is vastly different from its original form. So how do Filipinos make their beloved sisig?
The process of cooking sisig is quite tedious; it takes a lot of time before you can finally dig in your spoon and fork into this lovely pork dish.
Pork sisig recipe and main ingredients
The main ingredients of this pork sisig recipe are pork ears and pork jowl. The pork jowl is part of the pig's head. These are the most common parts of the pig that are thrown away by butchers.
In most Western grocery stores, you can therefore not easily find pork jowl, so you might have a hard time gathering the ingredients.
But it you make friends with your local butcher, you will probably have more luck. Ask them to save the parts for you.
Then, the first part to successfully make your pork sisig is to boil your pork ears and jowl with a heaping amount of salt in a pressure cooker.
If you don't have a pressure cooker, you can cook them in a conventional stovetop stockpot for about an hour or until the pork meat is tender.
Then, the meat is grilled over hot charcoals. This gives your sisig a distinct aroma.
Lastly, chop the pork meat finely and mix it together with the chicken liver and chopped white onions, freshly squeezed calamansi juice, salt, pepper, and red chili pepper for added spice.
The traditional way of serving sisig is on a sizzling plate. So usually, it's referred to as "sizzling sisig" on the menu of restaurants in the Philippines.
Pork sisig with chicken liver recipe (sizzling pork sisig)
Pork sisig is a glorious pork dish recipe that's a staple "pulutan" among Filipinos. It's a well-known dish from the province of Pampanga.
Ingredients  
½

kg

pork cheek or pork jowl

6

onions

chopped

3

chicken liver

boiled

¼

tbsp

ground pepper

1

tsp

salt

4

pcs

calamansi

(or a lemon)

1

tbsp

margarine

1

head

garlic

chopped

2

red chili pepper
for the marinade: mix
¼

cup

soy sauce

½

tsp

ground pepper

3

pcs

calamansi

1

head

garlic

crushed
Instructions 
Pour the marinade into a bowl and marinate the pork cheek for 2 to 3 hours.

The first part to successfully make your pork sisig is to boil your pork ears and jowl with a heaping amount of salt in a pressure cooker.

Remove the pork cheek, allow to drain, and then grill until cooked.

Chop up the pork cheek. Mix with the onions and set aside.

In another bowl, mix the juice of the calamansi with the pepper, salt, and chicken liver.

Add the chopped pork cheek to the mixture.

To serve, grease a sizzling plate with margarine. Place some garlic on it. Add the sisig mixture. Top with red bell pepper.

Serve it with rice and a cooked egg, or add a raw egg on top of the sizzling plate.
Notes
Ingredients depend on the number of people you want to serve for sisig. Add according to your taste.
Nutrition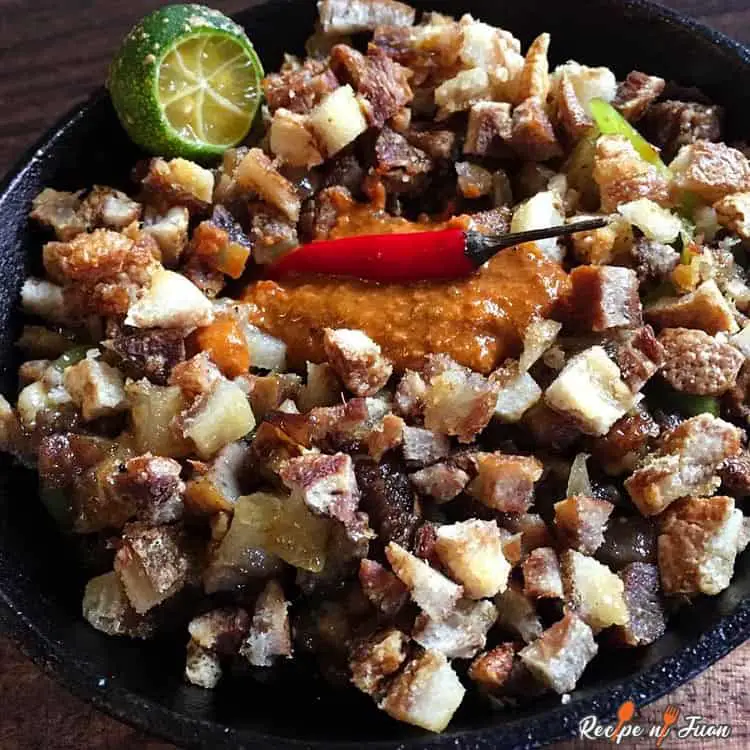 Also read: Filipino Bulalo Batangas Recipe with beef shank and cabbage
Recipe variations & substitutions
Sizzling sisig is a Kapampangan delicacy that is traditionally served as an appetizer but has evolved into a popular evening meal over the years.
After all this fatty fried pork dish is quite heavy for the stomach so it's quite the satisfying meal!
Although it is typically cooked with grilled pig face and ears, it is also made with flaked fish, shellfish, tofu, and various meat cuts such as chicken and crispy Lechon kawali (crispy deep-fried pork belly).
Originally, sisig is only made with parts from a pig's head, including the face, pig ears, and snout. Sometimes pig brain is added too.
Then, the next essential ingredient is chicken livers. Some people actually use a chicken liver pate which makes the sisig smoother and creamier.
There's quite a debate about whether sisig should contain mayonnaise or not. Most authentic recipes don't because hot mayo isn't really the best.
But, you can add it if you want the sisig to have a creamy consistency.
Onion, chili peppers, and calamansi are essential flavoring ingredients. Although my recipe doesn't include ginger, many traditional sisig recipes call for grated ginger which adds a spicy kick when combined with the hot peppers.
People also like to add hot sauce to make it taste spicier and some also add a bit of umami soy sauce.
If you don't have access to calamansi you can use a lemon or lime.
But, if you want the ultimate citrus flavor, you can blend lemon juice, lime juice, and a hint of orange juice for a tasty calamansi substitute.
You can play around with various pork sisig variations – you can use meats other than the head. This means you can use pork belly, deep-fried pork belly, or pork shoulder as your main meat.
The internet is full of tasty recipes and surely a pork belly sisig recipe is preferred if you don't really want to use the head.
Chicken sisig is also a good option. You can use all meaty chicken parts and offal if you don't like pork.
The great thing about chicken sisig is that you can use white meat or dark meat plus organs but just so you know the dish won't taste the same as the pork sisig.
One of the most popular sisig variations these days is the seafood sisig. It's can be made with squid, tuna, bangus (milkfish), and mussels (Tahong).
Here's another delicious Filipino seafood recipe: Filipino Paella De Marisco Recipe (Seafood Paella)
How to serve and eat sisig
I already mentioned that sisig can be served as an appetizer or it can be a whole main course.
Sisig is served on sizzling hot metal plates which keep it hot. The hostess can just reheat the plate of sisig on the stovetop or in the oven for  3-5 minutes before serving.
Most housewares stores in the Philippines sell special sisig plates. You can get your own sizzling platter on Amazon.
In some areas, sisig is always served with mayonnaise, but the problem is that this version is harder to reheat so you have to serve it while hot and, if there are any leftovers, serve those cold.
You can also crack raw eggs over the sizzling hot meat mixture and you end up with tasty sunny side up eggs in the dish.
Now, you also want to cut up extra calamansi that your guests can use to add more flavor to the dish according to their preferences.
Usually, you serve sisig with a side dish of hot steamed rice in a small bowl. The combination of bland rice and savory meaty sisig works really well and it can take away that feeling of "too much meat".
If you want to try the Japanese way of preparing pork jowls, consider skewering it kushiyaki style!
Can you store leftover sisig?
Yes, you can store leftover sisig in an air-tight container with a lid. Keep the sisig in the fridge for a maximum of 3 days.
Alternatively, you can put the leftover sisig in the freezer for up to 2 months.
When you're ready to re-heat frozen sisig, you need to thaw it in the fridge overnight. Then, place it on a pan and cook it on low heat until it has an internal temperature of about 165 degrees F.
If you're not in the mood for stovetop cooking, put leftovers in the microwave for about 3-minute intervals a couple of times.
Origin of sisig
Sisig was originally created as a remedy for hangovers and sickness, especially accompanying nausea and vomiting. In that way it's similar to the equally satisfying balut dish (fertilized duck egg!).
The name "sisigan" derives from an old Tagalog word that means "to make it sour."
Diego Bergao, a Spanish missionary who served as the parish priest for Mexico, Pampanga at the time, first noted its existence in a Kapampangan dictionary in 1732.
The dictionary defined sisig as
"a salad including green papaya or green guava eaten with a dressing of salt, pepper, garlic, and vinegar"
In the mid-1970s, Lucia Cunanan, a Filipino restaurateur headquartered in Angeles City, is credited with inventing the present form of sisig by serving it on a sizzling plate to crisp up the meat and adding chicken liver and vinegar to the ingredients.
Angeles City was dubbed the "Sisig Capital of the Philippines" as a result of her work.
American troops stationed in the Philippines would usually throw away the pig heads after using the rest of the animals to cook meals. So, according to local legends, people would take the discarded pig heads and use them to cook sisig.
Similar dishes
If you're looking to try a similar dish, you can try dinakdakan which is made with the face of pork, also known as a pork mask.
The pork mask is boiled, chopped up, and mixed with liver and seasonings. Although the dish sounds fairly similar to sisig, you also use some other ingredients.
FAQs
What is the cooking method of sisig?
The sisig recipes originating in the 70s require three main steps to make sisig. The first involves boiling all the meat and organs, next you have to broil them, and the third step is grilling it all.
It's a lot of work because a pig's head must be cleaned and broiled to remove all the hairs. You also need to tenderize the meat. Chopping it all is also important but it's hard work. The meat is quite hard so you need a good sharp knife.
You also have to chop all the vegetables and add the seasonings.
It's important to serve it on a sizzling plate to keep the food warm.
Should sisig have mayonnaise or not?
Authentic centuries-old sisig never contained mayonnaise. It also didn't have egg or hot sauce in it.
Adding the mayo is really up to you. It makes the sisig very smooth and creamy, so it mixes well with the rice.
The true secret of sisig though is all about making crispy pork that is roasted to perfection. The mayo makes it mushy and many people really hate this!
What is the taste of sisig?
One of the most common questions foreigners have about sisig is what it tastes like.
Well, it can only be described as a mixture of savory and fatty flavors from the pig face, with pleasantly sour and refreshing aromas of the calamansi lime. There's also a bit of sweetness from the onion but it's not really noticeable.
Then, if you use chili peppers the whole dish takes on a hot flavor. But, it's kind of like a crispy pork salad.
Conclusion
Sisig isn't the most sophisticated example of Filipino cuisine and it's not quite the healthiest of dishes. However, it has a distinct and identifiable Filipino flavor.
Its origins reflect the country's culinary tradition and culture.
Sisig is an example of how Filipinos succeed at turning something that others consider useless or repulsive into a gastronomic sensation that is adored and recognized all over the world.
If you've never eaten the head of a pig, including the organs such as pig ears and pig nose, you'll be surprised by the taste. The combination of savory and fatty flavors is really unique.
These days you can find sisig at all kinds of Filipino restaurants as well as street food stalls.
So, the next time you come across it, be sure to give it a try. See how it compares to the homemade version.
Still after dessert? Try making this Creamy Filipino Style Leche Flan Recipe!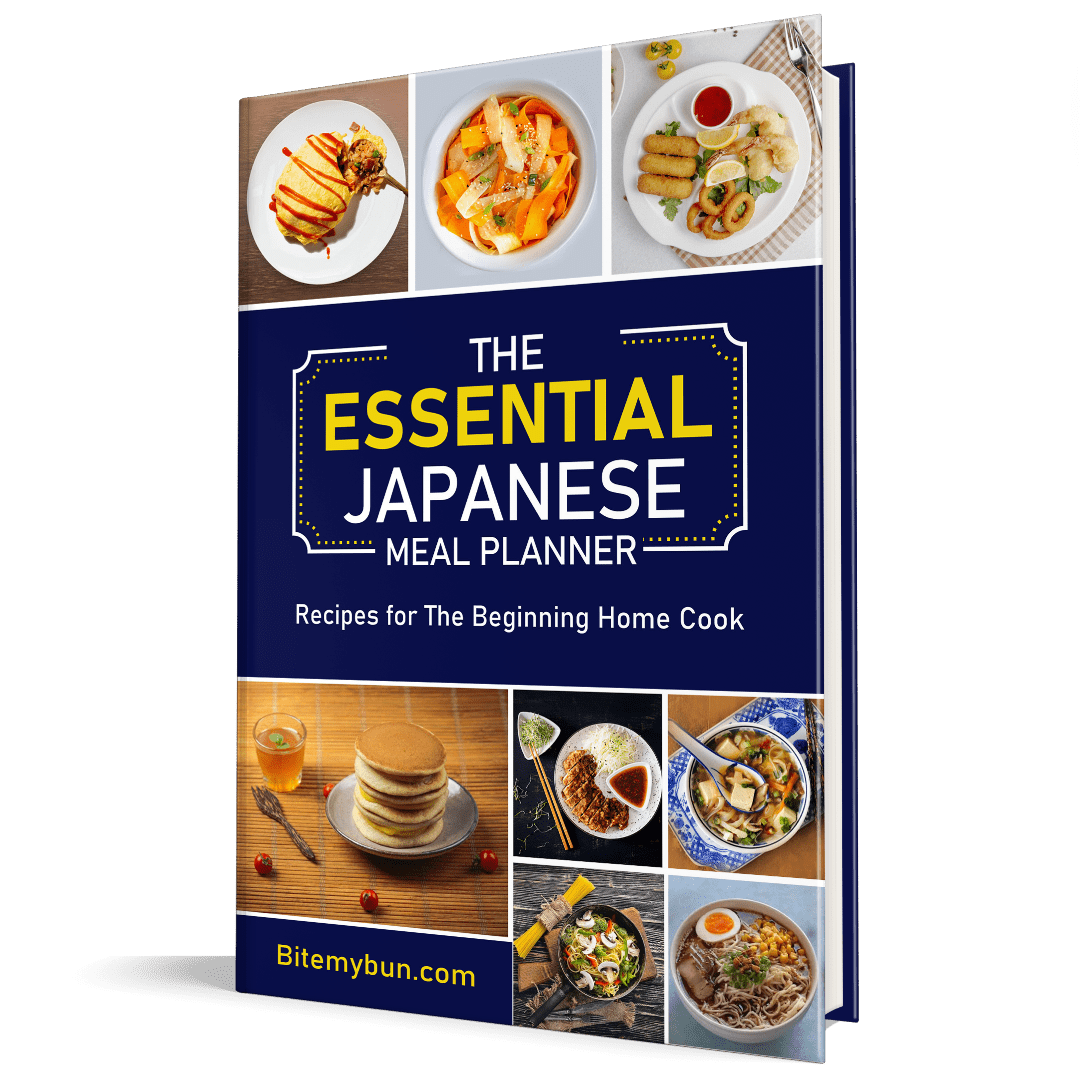 Check out our new cookbook
Bitemybun's family recipes with complete meal planner and recipe guide.
Try it out for free with Kindle Unlimited:
Read for free
Joost Nusselder, the founder of Bite My Bun is a content marketer, dad and loves trying out new food with Japanese food at the heart of his passion, and together with his team he's been creating in-depth blog articles since 2016 to help loyal readers with recipes and cooking tips.