Best spatula for fish | Great food turners reviewed [not just for fish!]
I love creating free content full of tips for my readers, you. I don't accept paid sponsorships, my opinion is my own, but if you find my recommendations helpful and you end up buying something you like through one of my links, I could earn a commission at no extra cost to you.
Learn more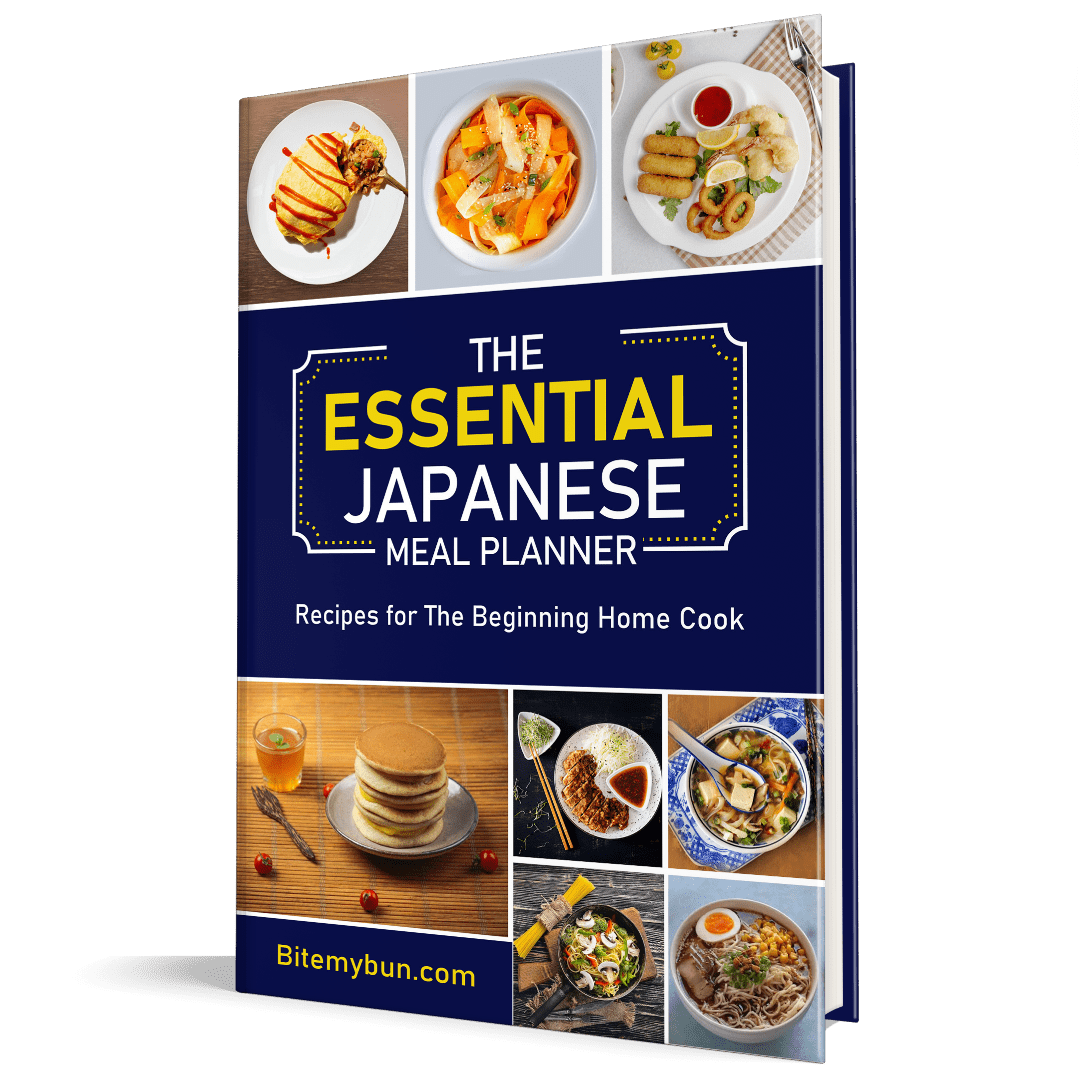 Check out our new cookbook
Bitemybun's family recipes with complete meal planner and recipe guide.
Try it out for free with Kindle Unlimited:
Read for free
Do you love cooking fish but hate the mess it makes?
Recipes like saba shioyaki (grilled mackerel) and miso salmon are delicious, but it's hard to maintain the texture of the fish while cooking.
Well, I have the perfect kitchen gadget for you! A fish spatula is a simple tool that can make your fish-cooking experience a lot less messy.
And here's a secret: a fish spatula is a great tool for much more than turning fish. You'll find yourself reaching for it time and time again.
The best fish spatula must have a thin edge with just the right angle to handle delicate food like fish.
But with so many different types and brands on the market, how do you know which one is the best for your needs?
The Victorinox Fish Turner with a slotted offset stainless steel head and wooden handle is the best accessory for turning fish without damaging its texture on the grill or in the pan.
In this blog post, I'll discuss everything you need to know about choosing the best spatula for cooking fish. I'll cover the different types of spatulas available, as well as the important factors to consider when making your purchase.
By the end, you'll know exactly which type of spatula is best for your fish-cooking needs!
17 Easy Recipes Anyone Can Make
All the tips you'll need to get started in Japanese cooking with, for a limited time, free as our first email: The Complete Japanese With Ease Cookbook.
We'll only use your email address for our newsletter and respect your privacy
Buying guide
Fish spatulas can be used as a kitchen tool when cooking almost any food, especially fish and seafood.
It certainly works really well to remove fish from the grill or flip fish in the frying pan.
How do fish spatulas compare to others?
Comparatively to the standard turner, it typically has a small handle and a wide (and sometimes slotted) knife and is usually formed of thin sheets of metal or plastic.
As the function suggests, it is possible to lift and flip fish on your stovetop safely and effectively.
Shape
Angled front edges make it easy to get under food. When flipping fish, the spatula needs to go under the fish but having an angled front edge keeps the fish steady on the spatula.
You probably already know the best fish spatula is called the slotted offset spatula, and the offset shape really does make a difference because it supports the fish, so it doesn't break into pieces since the flesh is very delicate.
Flippers that lack the proper amount of curve or bevel at the tip are more difficult to work with.
Also, avoid any spatula head that is too blunt because these end up pushing and stabbing the fish rather than sliding underneath, and this damages the flesh texture.
Material
The best metal for a fish spatula is stainless steel because it's heat-resistant, so it's safe to use on the grill or smoker. As well, this material doesn't rust so easily.
Only a handful of manufacturers produce fish spatulas with nylon flippers for use on nonstick pans. But here's the sad truth: fish can't be handled with a plastic spatula because it is too thick.
It is too thick and lacks the flexibility to slide under delicate items, such as tilapia fillets, without causing damage to the fillets.
Stainless steel is required for a fish spatula to perform as intended. Of course, metal spatulas are not recommended for nonstick pans because of their tendency to scratch the coating.
As long as you're not cooking with nonstick, the steel spatula is the way to go. The thicker construction of the spatula won't be as much of a problem because food slides around more easily on nonstick.
A silicone spatula just isn't as sturdy and these plastic spatulas don't last long if you're flipping fish fillets all day.
If you have a dishwasher, the material of the handle may also be an issue. If you don't like the idea of hand-washing anything, opt for a poly handle instead of a wood handle. It's true that you can quickly and painlessly clean up your spatula by hand.
However, a wood handle may be more comfortable for some people because it won't melt when in contact with a hot pan.
Generally, a stainless steel turner is the best option for fish even though you can't use it with a nonstick pan.
Size and weight considerations
The size of the fish spatula is important so that you can work with the filet without breaking it. If the blade is too wide, there's a chance you'll break the fish as you flip it.
The weight is another consideration. A heavier spatula will be more durable but also tougher to maneuver.
A lightweight fish spatula is much easier to use, especially if you're working with smaller fillets. But, a heavyweight fish spatula will last longer and can be used on larger filets without bending.
Strength and flexibility
A fish spatula's flipper should be thin and flexible in order to easily slide under and around delicate items in a crowded pan.
It's kind of hard to move your knuckles and the spatula's short handle farther away from the hot edge of the pan if the spatula is too stiff.
You need to be able to slide the slotted head under the fish fillet at various angles, so the metal should be fairly flexible but not so malleable that they break or cause the fish to fall off.
Flexibility and oil drainage are both improved by the flipper's wide slots.
Spatulas must have sufficient strength to lift large burgers and steaks with ease, but they should not be too flexible. You don't want your food to tasty fish to drop on the ground.
Handle material
The best fish spatula will have a comfortable and safe handle. The material should be heat resistant because you'll be using the spatula near hot surfaces.
As well, the material should have some grip so that it's easy to hold onto, even when your hands are wet.
Plastic and wood are two common materials used for fish spatula handles.
Plastic is a lightweight material that won't conduct heat, so it's a good choice for the handle.
Wood is another material used for handles, and it's also heat resistant. Wood is a little heavier than plastic but it has a more natural grip. I prefer wooden handles on my spatula because it makes it sturdier.
The handle's size and shape are also important considerations. If the handle is too long, heavy, or chunky, you may lose some control or find it more difficult to hold on to.
Lightweight but balanced and close enough to the flipper, a good handle allows for precise operation.
Best fish spatulas reviewed
Here are the best spatulas for fish you can use to make all of your favorite Japanese recipes.
Best fish spatula overall: Victorinox Slotted Fish Turner
size: 3×6″
weight: 2.4 oz
handle: wood
material: stainless steel
shape: angled & slotted
The Victorinox BBQ Accessories Slotted Fish Turner is perfect for removing fish from the grill or flipping fish in the frying pan.
The small handle and wide, slotted blade make it easy to maneuver without breaking the fish.
Comfort is very important when using a fish spatula and this one feels good in your hand but it also allows for precision when you handle the fish in the frying pan or on the grill.
The high-quality stainless steel construction ensures that this spatula will last for years to come. And, the wood handle adds a touch of style to your kitchen.
This is a great fish spatula because the angled edge offers a good amount of precision and you can remove all of the excess grease from the fish.
With just the right amount of curve, the flipper glides effortlessly between two burger patties, and pancakes and can cradle a fillet of tilapia with safety and security in mind.
Since tilapia has very soft, delicate flesh it's important to have a spatula that doesn't slice through the meat.
This spatula has one of the sharpest edges, making it easier to use than others like New Star.
If you use one of those, you may have to be careful not to burn your fingers on the pan as you slide the spatula under the tilapia because those are just too sharp.
Victorinox offers a balanced design that's a perfect balance between a blunt and sharp steel spatula.
Also, this spatula has just the right amount of flexibility. As the pressure builds, the flipper flexes to the precise angle needed for flipping in a crowded pan or sliding under a large, heavy salmon filet.
In comparison to the Victorinox spatula, other stiffer spatulas like Boker are awkward to use: they shove their way under a fillet rather than sliding and this damages the shape.
A half-pound carp fillet is no problem for the Victorinox, even with all its spring. When the fish is being transferred from the pan to the plate, it doesn't wobble or droop like some of the weaker spatulas.
There is also a razor-sharp angle on the flipper's thin beveled blade. When scraping up stuck-on bits from the bottom of the pan, it cuts through fish easily.
Victorinox's walnut handle means it is not dishwasher safe, but the overall quality of the knife outweighs this minor drawback.
On the Victorinox, the wood handle is light, well-balanced, and easy to grip. Using one feels like using an extension of your hand, which is exactly how the best fish spatulas feel.
However, if you work in a restaurant setting, the wooden handle is harder to sanitize but then again it won't get damaged as quickly as a nylon spatula.
Check prices and availability here
Best budget spatula for fish: Zulay 12.4" Stainless Steel Turner
size: 12.4″
weight: 3.4 oz
handle: plastic
material: stainless steel
shape: angled & slotted
The Zulay 12.4" Fish Spatula is a great option if you're looking for a budget-friendly fish spatula.
This spatula is made of high-quality stainless steel and has a flexible, thin blade that makes it easy to maneuver under the fish.
This spatula is best described as "heavy-duty" because it handles bigger food pieces. If you're looking for a fish spatula that can handle a big salmon filet or a large piece of tuna, this is the one for you.
The blade is also slightly curved, which makes it easier to slide under the fish. And, the slotted design helps drain away any excess oil or juices.
The heat-resistant construction means that you can use this spatula on hot surfaces without worry. You can use this spatula when cooking fish in a pan or on the hibachi at temperatures up to 400 F.
The handle is made of non-slip plastic so it's easy to hold, even if your hands are wet. And, the small handle makes it easy to store and transport.
But what I really like about this spatula is that it's dishwasher safe and easier to clean than spatulas with wood handles.
One thing to note is that this spatula is heavier than many others so it's not nearly as flexible. That makes it good for turning larger and heavy fish fillets because it doesn't bend under pressure.
However, it's bulkier and not as good if you are cooking very small or delicate pieces of fish.
Customers who use this spatula say that it's very versatile and good for flipping and mixing eggs for breakfast as well as handling and cooking salmon dishes.
Overall, the Zulay spatula is the best value option because it's sturdy and versatile but also more heavy-duty than the Victorinox.
Victorinox vs Zulay budget spatula
The obvious difference between these spatulas is the handle material. The Victorinox fish turner has a nice walnut wood handle while the Zulay has a plastic handle.
Therefore, the Zulay is easier to clean in the dishwasher than the Victorinox which has to be hand-washed.
The Victorinox is more expensive than the Zulay but it's also better quality. The blade is sharper and the overall construction is better. If you can afford it, I would recommend going with the Victorinox. It has a super smooth surface that glides on cooking surfaces.
But if you don't cook fish that often, or if you're looking for a budget-friendly option, the Zulay is a great choice.
If you need to cook large pieces of fish like tuna and salmon fillets, the Zulay spatula is better because it's not as flexible and can hold heavier food bits.
In comparison, the Victorinox is a better spatula for Japanese cooking where you don't really make large fillets at once. The tendency is to cook smaller portions and work with delicate fish cuts.
Best fish spatula for non-stick cookware: Matfer Bourgeat Exoglass Pelton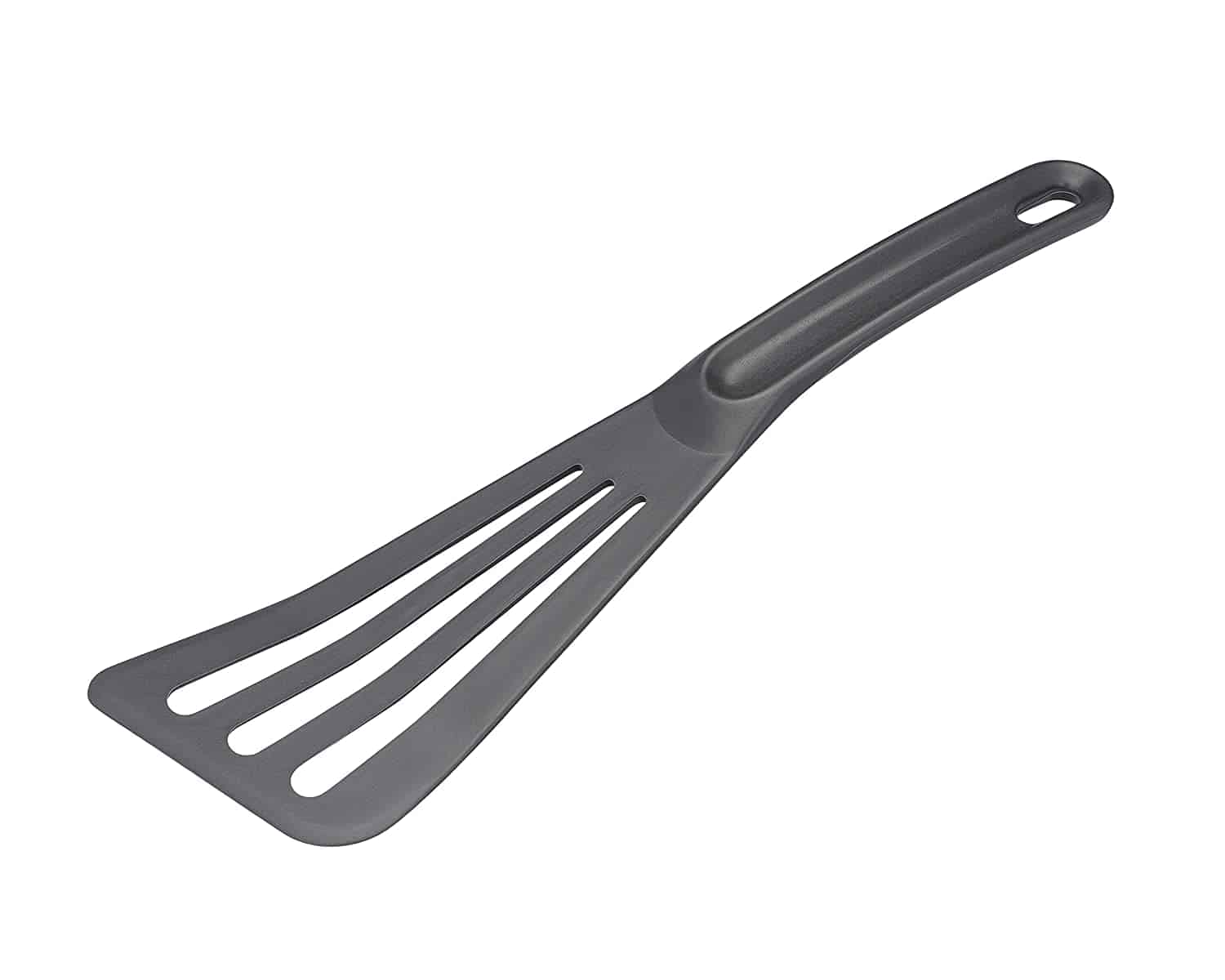 size: 12 x 3.5 x 0.12″
weight: 3.2 oz
handle: wood
material: exoglass
shape: angled & slotted
If you have non-stick cookware, then you'll want to get a spatula that won't damage the surface.
Whether you're cooking with copper pans, steel pans, or cheaper non-stick frying pans, the Matfer Bourgeat spatula can be used on all cookware.
It's made of heat-resistant material that won't scratch or damage your cookware.
Plus, the slotted design means that any excess oil or fat will drain away from the food, so you won't have to worry about it making your meal unhealthy.
The handle is made of the same strong dishwasher-safe material as the head of the spatula.
Therefore, this is actually one of the best alternatives to a metal spatula. Exoglass is a type of heat-resistant material that is similar to glass but much stronger.
It's also very lightweight, which makes it easy to maneuver.
The only downside is that this spatula is not too flexible compared to the others on this list. Some people really enjoy using the flexible spatula because it can hug the curve of the pan.
Truth is you don't need the most rigid spatula for fish anyway and this flat design curves a lot so if you have lots of fillets or fish pieces stuck together in a pan, you can really separate them and get in there without breaking them down.
But customers say that it's still very easy to use and that the angled design makes it perfect for flipping and removing food from pans.
If you have non-stick cookware, I recommend getting the Matfer Bourgeat exoglass slotted spatula. It's heat-resistant, dishwasher-safe, and won't damage your cookware.
Best left-handed spatula for fish: Lamson Chef's Slotted Turner
size: 3×6″
weight: 3.2 oz
handle: wood
material: stainless steel
shape: slotted & flat
The problem with a spatula, like the Victorinox, is that it has those angled ends that only right-handed people can use properly so if you're a leftie, you're at a clear disadvantage.
Left-handed fish spatulas can be hard to find and much pricier but the Lamson Chef's 3×6″ is the spatula that any lefty can use confidently when cooking fish.
It allows for the same maneuverability as a right-handed spatula but from the left side.
The Lamson spatula is almost the same characteristics as the Victorinox, with similar slots and similar size. The blade is also made of durable and heavy-duty stainless steel.
Lamson's handle is made of wood (there's a plastic version available too) and this makes it similar to Victorinox. I like the walnut wood handle because it's ergonomic and easy on the hands.
The spatula is very lightweight and well-balanced. This is a flexible spatula but you can still use it to flip over heavier fish filets or even hamburgers.
The head doesn't bend at all under the weight of a larger salmon piece.
This spatula is flatter than the Victorinox one which makes it harder to keep your hand farther away from the pan. Also, it means that it's harder to get in-between two pieces of fish in a pan.
But the advantage of a flatter spatula for fish is that you can use it for other things like pancakes, crepes, and eggs. It's a more versatile tool in the kitchen.
Students even use this spatula at culinary school, that's how good it is.
People always compare this spatula with the Wusthof brand and there's not much difference between the two.
That one has tighter rivets holding the handle together but the Lamson's slots are thicker and that makes the spatula sturdier.
As well, you're less likely to have fish pieces or skin falling through the slots.
If you're a lefty and you cook fish often, then this is the spatula for you.
Matfer Bourgeat non-stick vs Lamson Chef's leftie spatula
The Matfer Bourgeat and Lamson Chef's spatulas are both excellent choices for cooking fish. They're both, heat-resistant, and made of durable materials.
While the Matfer Bourgeat exoglass spatula is completely dishwasher safe and easy to clean, the Lamson has a wooden handle but if you opt for the plastic handle version, you can put it in the dishwasher too.
The Matfer Bourgeat is a great all-purpose spatula that can be used for flipping and removing food from pans.
It's more flexible than the Lamson spatula but not quite as efficient because it does move around quite a bit.
If you're left-handed, your best option is the Lamson spatula because it's designed specifically for people who are lefties. It's equally as good as the Matfer Bourgeat but from the left side.
The Matfer spatula is also a great choice if you're looking for a more versatile tool because it can be used for other things like pancakes, crepes, and eggs, not just fish.
If you're going to be using your spatula to grill fish on the regular I recommend the stainless steel product because it won't crack and it's very heavy-duty.
What is a fish spatula?
You might've seen all types of spatulas like silicone baking ones, or those long-handled grill spatulas. But the fish spatula is a bit different.
Also known as a slotted offset spatula, the fish spatula is a must-have kitchen tool for any chef, and it can be used for a variety of everyday cooking tasks in addition to fish.
Using this spatula, you won't accidentally jam your fork into your food because of the blade-like edge and thin metal flipper on the handle.
If you have a good metal spatula, you can flip the whole fish or fillets without shredding and ruining the meat's texture. It can also help pick up a piece of fish that's stuck to the pan without shredding and breaking it.
With the right fish spatula, you'll be able to flip half-pound burgers as well as delicate fish fillets with equal ease. Despite its low price, it is an incredibly useful kitchen tool.
What spatula is best used for fish?
The best spatula for fish depends on a few factors. The type of fish you are cooking, the size of the filet, and how you are cooking the fish (baked, fried, grilled) all play a role in choosing the right spatula.
But, as a general guideline, you should know that the best spatula for fish is made of stainless steel. That's because this type of spatula will not react with the fish or the food you're cooking.
It's also important to choose a spatula that is heat resistant and has a thin, flexible blade.
The reason you want a thin, flexible blade is that you need to be able to maneuver the spatula under the fish without breaking it.
And, you want a heat-resistant spatula so that you can use it on hot surfaces without worry.
However, the stainless steel spatula is not suitable for use on non-stick cookware because it scratches the coating and ruins the pan.
So, you should only use the stainless steel fish spatula as you interact with the fish, not the cookware.
How to use a fish spatula
Make sure your fish spatula is the correct size for the job. If it's too small, you may not be able to flip the fish over easily. If it's too large, it might be difficult to control.
The blade of the spatula should be able to slide under the fish easily.
Gently lift the fish spatula under the fish, being careful not to puncture or tear the skin.
Slowly and carefully flip the fish over, using a smooth motion.
Once the fish is flipped, you can remove it from the pan by sliding the spatula under it and gently lifting it off the heat.
FAQs
Can you use a fish spatula with nonstick cookware?
Using metal like stainless steel on nonstick cookware is generally a bad idea.
Even if you have nonstick cookware that is designed to withstand metal tools, using one can scratch and ruin your pans.
A nonstick spatula is recommended instead which is usually made of silicone or exoglass.
How is fish spatula different from other spatulas?
When purchasing a spatula specifically for cooking fish, there are a few key factors to consider that differentiate it from other types of spatulas.
First, the blade of a fish spatula is usually thinner and more flexible than that of other spatulas. This allows the cook to more easily slide the spatula under delicate fish fillets without tearing them.
The blade is also frequently curved, which further aids in this process. In addition, the handle of a fish spatula is often longer than that of other spatulas, giving the cook more reach and leverage.
Is a fish spatula dishwasher safe?
All in all, the answer is no.
Dishwasher-safe fish spatulas are not as common as you'd expect.
Spatulas with wooden handles should not be placed (as is the case with all wooden utensils) in the dishwasher.
The handles of some fish spatulas are made of dishwasher-safe plastic which you can wash safely without damaging the tool.
Why are fish spatulas slotted?
The slotted design of a fish spatula allows grease and juices to drain away from the food as it cooks, preventing the fish from becoming greasy or dry.
In addition, the slots allow heat to circulate around the food, helping it cook evenly.
Also when you use a slotted fish spatula you can peek under the fish to see if it's well-cooked and check on the skin to prevent burns.
What are the best materials for a fish spatula?
The best materials for a fish spatula are those that will not react with the food or the cookware.
Stainless steel is a good choice because it is non-reactive, durable, and easy to clean.
However, it is important to note that stainless steel can damage nonstick cookware and should only be used with caution.
Takeaway
It can be difficult to find the best spatula for fish because there are so many different brands and styles available and finding a sturdy utensil is harder than you'd think.
For the spatula that can do it all whether you're cooking fish on the grill, in the smoker, or in a skillet, I recommend the Victorinox BBQ Accessories Slotted Fish Turner because it has a slotted angled head that slides under the fish smoothly.
So, if you can get just one spatula for your kitchen, the stainless steel fish turner is the sturdy spatula that outperforms any of the competing silicone spatulas on the market.
Now with all of that being said, it's important to find a spatula that is the correct size for the job, is easy to control and can flip the fish over without tearing the skin.
You can put your fish spatula to the test in this delicious Seafood Teppanyaki Recipe from the chef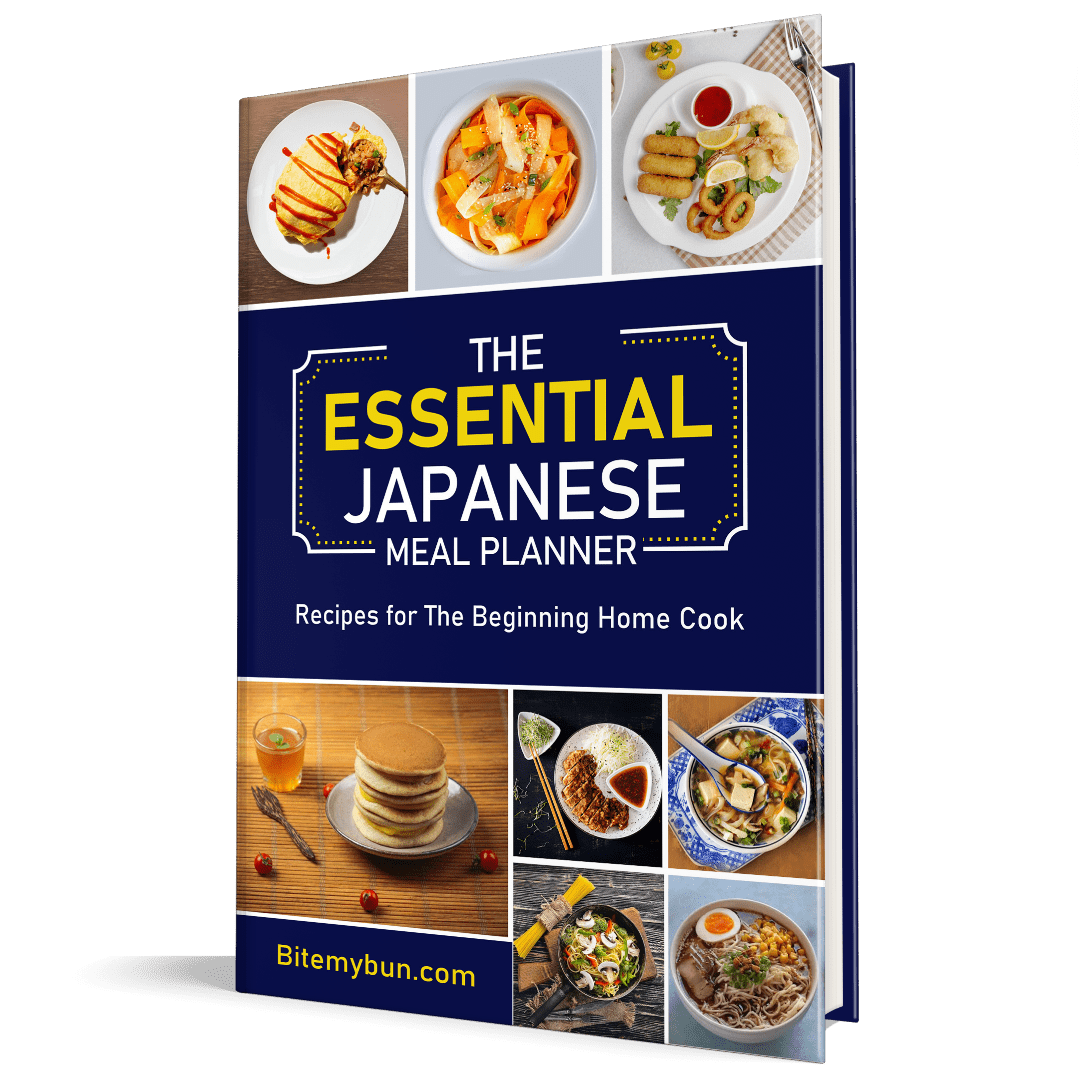 Check out our new cookbook
Bitemybun's family recipes with complete meal planner and recipe guide.
Try it out for free with Kindle Unlimited:
Read for free
Joost Nusselder, the founder of Bite My Bun is a content marketer, dad and loves trying out new food with Japanese food at the heart of his passion, and together with his team he's been creating in-depth blog articles since 2016 to help loyal readers with recipes and cooking tips.