7 Best Cast-Iron Takoyaki Pans & Electric Makers Reviewed
I love creating free content full of tips for my readers, you. I don't accept paid sponsorships, my opinion is my own, but if you find my recommendations helpful and you end up buying something you like through one of my links, I could earn a commission at no extra cost to you.
Learn more
If there's something that has taken the entire world by storm, it's takoyaki – Japan's takoyaki!
If you've ever visited Osaka, Japan, then you'd agree with me that takoyaki is the best street food there.
But, it doesn't have to be just street food, you can create the best balls yourself with one of these amazing pans and takoyaki makers!
If you are looking for a good takoyaki pan, I recommend the Iwatani Seasoned Cast Iron Takoyaki Pan because of its durability and ease of use on your stovetop. Not only is it more durable, but it's also more authentic and made of 100% cast iron. You can also go for an electric takoyaki maker like the Yamazen Suzanne Lefebvre to be able to fit a few more takoyaki balls at a time.
Making a few snack balls for more than two people would be a nightmare otherwise, or you'd have to get two smaller ones and use them simultaneously.
Below, I've reviewed a few takoyaki pan types, from stovetop pans to electric takoyaki makers and takoyaki machines.
Best cast iron takoyaki pan
Iwatani
Medium Grill Pan
For the traditionalist, there's nothing better than cooking Japanese octopus balls in a real cast iron pan. There's no toxic coating and you'll have to make it nonstick by using cooking oil.
Calidaka
Aluminum 14 Hole
The pan is made of die-casting aluminum alloy so it's heat-resistant and heats up fast but it also has that handy nonstick coating.
Best small takoyaki pan for one
Best electric takoyaki pan
Yamazen
Suzanne Lefebvre
If you want the comfort of a tabletop or countertop electric machine, the Suzanne Lefebvre model is ideal.
Best multi-purpose takoyaki baking machine
Joydeem
Compact Hot Plate
You can cook for 2-6 people at once and it's a versatile machine because you can just switch up the plates as you go along.
Iwatani
Takoyaki Grill Pan
The pan is so easy to use and the entire family can participate in the cooking process. One notable thing about this pan is that it's easy to clean and is also dishwasher safe.
Best automatic takoyaki machine
Sugiyama
Metal
There are various temperature settings available and 7 is a great one for takoyaki because you need lots of heat to cook the octopus filling properly.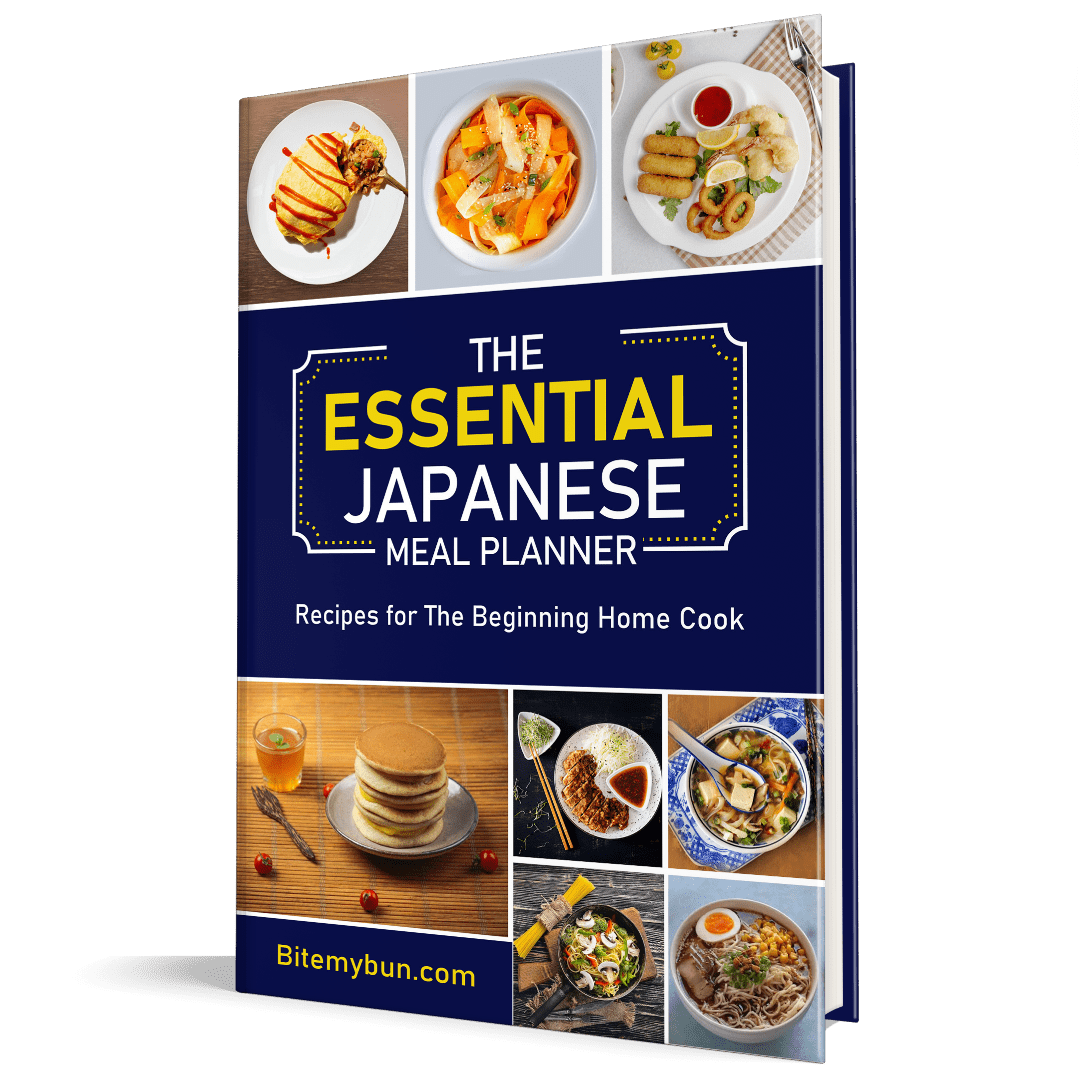 Check out our new cookbook
Bitemybun's family recipes with complete meal planner and recipe guide.
Try it out for free with Kindle Unlimited:
Read for free
Important things to note when choosing a takoyaki pan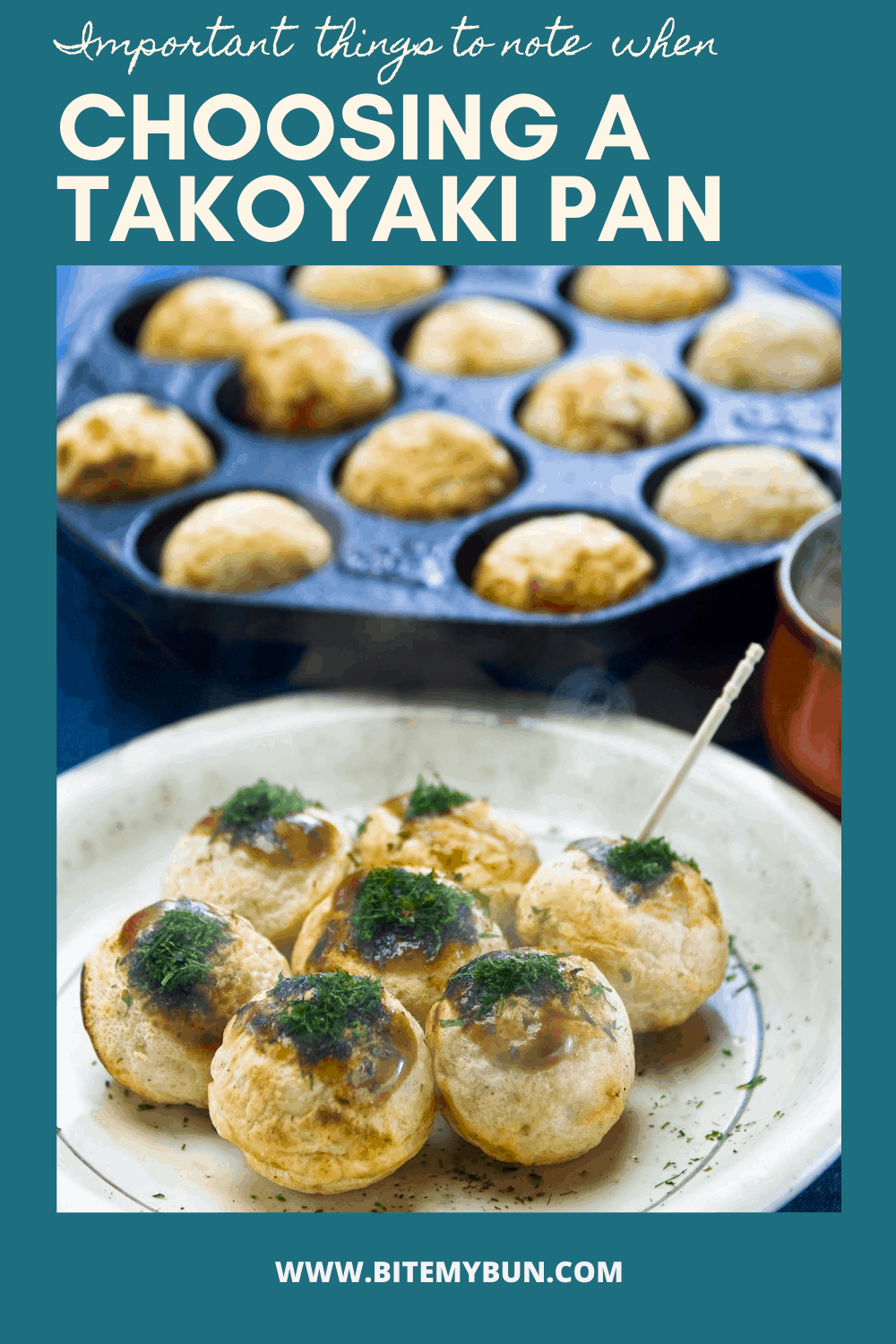 Making takoyaki at home isn't hard, so long as you have the right pan and ingredients. In addition to this, you'll also need other accessories to assist you in preparing this snack.
Before you buy a takoyaki pan, there are some features you need to consider. Not all takoyaki pans are the same and some might be better suited to your cooktop than others.
Or, you might want to go for an electric or gas takoyaki maker and so you need to know what is best.
Your ideal pan would depend on several things. This includes:
Type – takoyaki pans come in different sizes and shapes. I'll explain your options.
Features – each pan has unique features, including handles, non-stick surfaces, main material, and additional accessories.
Portability – are you looking for a pan to use in your home or while on the go?
The number of takoyaki balls – takoyaki pans have different outputs in terms of takoyaki balls, depending on the size. So the size and number of takoyaki balls you want to prepare will greatly affect your choice.
Your budget – the prices vary depending on all of these factors, but there are affordable ones within any budget.
Type
When discussing type, I'm differentiating between stand-alone pans you can use on your stovetop, cooktop, or even outdoors over a fire pit.
The second type is an electrical takoyaki maker which is a machine that heats and fries the octopus balls (and other round foods).
Finally, you can get commercial or smaller gas takoyaki makers. These look like electric machines, except they're hooked to a gas or propane source.
Size
When thinking about size, you need to look at how large the actual pan or machine is. Is it the right size for your cooktop hob?
Also, you need to consider how many holes and molds there are. Most pans have between 14 to 18 holes, and this is a common average size.
The same thing is true for the smaller takoyaki maker machines too, although the large commercial ones have about 56 holes.
Consider your storage space too, but make sure that the pan is large enough to cook for a family (if that's the case), or get a small one if you only cook for yourself or a couple of people.
Material
Traditional takoyaki pans are made of durable cast iron. This pan usually needs some seasoning with vegetable oil before making each batch of octopus balls.
The advantage of cast iron is that it heats up evenly so the takoyaki balls are cooked to perfection if you follow an authentic recipe like this one.
Cast iron doesn't cause the Maillard reaction so the cookware eliminates no toxins while you make takoyaki.
Aluminum is another popular material, but it's usually used to manufacture cheaper takoyaki pans. It's not as durable long-term, but it's still a great pan option.
You can buy both cast iron and aluminum pans with a nonstick coating, and that really makes cooking this food much easier.
The main advantage of nonstick coating is that it's simple to clean and wash and since you don't have stuck-on batter, you can go on making a new batch without delay.
Handles
Most takoyaki pans have some kind of handles. The traditional square-shaped ones usually have two handles on each side.
A round pan design has a long handle made of resin, wood, steel, iron, or some plastic material to prevent your hands from getting burnt. These pans resemble a classic frying pan and their handle makes them simple to use.
The electric or gas machines don't need handles.
Price
You can get the cast iron or aluminum pans for a cheap price, starting at around $20 but then depending on the brand and size, the price can go up to $100.
Most machines are between $40-150 but there are some more expensive ones too which is more suitable to commercial settings.
Top 7 best takoyaki pans reviewed
Now let's look at my top pick takoyaki pans. I'll explain why these made it on my "yes!" list. Which one is right for you?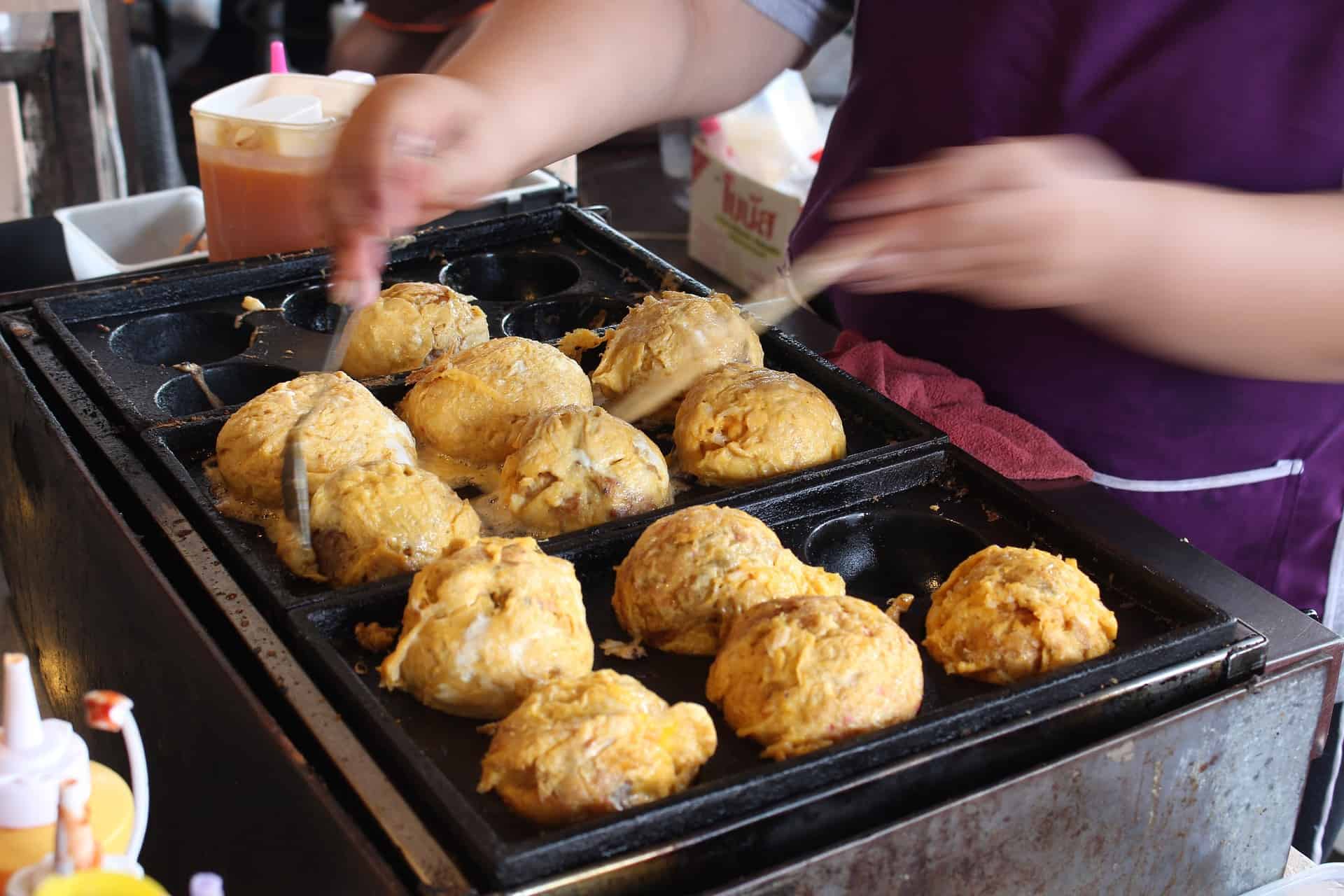 Best cast iron takoyaki pan: 

Iwatani Medium Grill Pan
Type: stovetop, portable stove
Number of holes: 16
Material: aluminum
Nonstick coating: yes
If you like the size and design of the Cooker King pan but want a non-stick coating that helps you make takoyaki more easily with no sticking, then Iwatani is the top product in its category.
This pan is designed and manufactured in Japan and is ideal for butane portable stoves and stovetop cooking. The pan's bottom has a unique lock-in feature with special grooves that lock the pan in place if you cook on a small portable stove so it doesn't move around.
This feature offers added security and stability while cooking, especially when you turn the balls.
It's not made of cast iron like the other pan but the advantage is that the aluminum pan has a nonstick top coating which means your batter doesn't stick and so you don't have misshapen or broken octopus balls.
It also means that the pan is easier to use for beginners because you're almost guaranteed to get perfectly baked takoyaki that maintains its shape. You also get two handles so you can move it around it simply.
Cleaning is easy because it's also dishwasher safe. I recommend handwashing though to maintain the nonstick coating for longer. Some customers complain that if you wash it in the dishwasher too many times, the nonstick surface gets damaged.
But one important feature that people love is that the pan has grooves that run up and down between the holes. This means that you can pour the batter and then trace a bamboo stick around the batter to divide it.
Thus, you can ensure you get the perfect round-shaped takoyaki and the batter doesn't overspill too much.
So, if you're looking for the easy route to making this yummy Japanese snack, having a nonstick pan is the top choice.
Best budget takoyaki pan: Calidaka Aluminum 14 Hole
Type: stovetop, portable stove
Number of holes: 14
Material: aluminum
Nonstick coating: yes
Never made takoyaki before? You'll benefit from the simple round frying pan design of this Calidaka product.
Since it has a non-slip resin handle, you maneuver it just like the frying pan you use to make breakfast, except it has 14 hole molds where you pour the batter.
The pan is made of die-casting aluminum alloy so it's heat-resistant and heats up fast but it also has that handy nonstick coating.
This allows you to make takoyaki that doesn't stay stuck to the pan and is easy to flip and turn mid-way through cooking.
The nonstick coating is completely non-toxic so you don't have to worry about it, even if it starts to come off and seep into the food.
Although this is a budget-friendly product, it has a very ergonomic and nice-looking resin handle that has a nonslip texture and lets you hold the pan without burning your fingers.
The great thing about the handle is that it has a hole so you can hang it on a hook with your other frying pans and save counter space.
Then, when you don't feel like takoyaki, you can multi-task and use it to make other tasty dishes like Dutch poffertjes (mini pancakes).
One thing that makes this design a bit flawed is that some of the holes are much closer together to the batter overflows from one mold into the other and the balls become a bit deformed. The solution is to use less batter and make the takoyaki balls smaller.
Since you only have 14 holes, this takoyaki pan is better suited for singles and couples looking for a quick snack. But, the pan heats up really fast on your gas cooktop so you'll be done in a matter of minutes.
So, if you're looking for a cheap way to make takoyaki, then this is my top recommendation.
Best small takoyaki pan for one: Norpro Deluxe Munk Aebleskiver Pan
Type: gas stovetop
Number of holes: 7
Material: cast iron
Nonstick coating: no
Many people in Japan live alone and don't need large pans. If you live alone or are a college student, you'll enjoy having a compact nonstick pan you can whip out when you crave takoyaki or other similar Japanese snacks.
With the Norpro pan, you can prepare delicious takoyaki easily from the comfort of your home as long as you have a gas cooktop.
Unfortunately, the pan's bottom is not flat so you can't use it on ceramic, induction, or flat electric cooktops.
The pan is made of cast iron and can cook up to 7 mouthwatering takoyaki balls at a time. This is the perfect size for singles or couples if you want to make a few batches of octopus balls.
My favorite feature of this pan is that it has a really sturdy 7.5-inch wooden handle. Unlike plastic or resin, this truly stays cool to the touch and you don't risk burning yourself.
Although it's made of cast iron, the pan is pretty lightweight and distributes the heat evenly so it's easy and convenient to use.
You might notice that the takoyaki balls will be slightly smaller than the traditional ones you buy in Japan but that's because this pan is designed for a Danish treat called Aebleskiver, which is small walnut shape pancakes.
But, it works well for takoyaki too, so there's no need to worry.
Overall, if you don't mind making smaller batches of takoyaki at a time or you only cook for yourself, this is a great small pan.
Check prices and availability here
Calidaka vs Norpro
These are both smaller takoyaki pans with a handle. They're best suited for singles and couples but they're super easy to use because they have a handle.
If you want takoyaki that is perfectly round and the size of the ones in Japan, use the Calidaka pan which has molds that are a bit more hollow than the Norpro, which is designed for walnut-shaped treats.
Again, if you prefer a nonstick coating, I really like the Calidaka because it's made of aluminum and has a nonstick top layer. It's also very budget-friendly and comes with a resin heat-resistant handle.
On the other hand, the Norpro claims to be nonstick cast iron but without proper seasoning, the batter still sticks to the pan compared to the Calidaka.
But, if you like the taste of oilier takoyaki, and don't feel like you need a bigger pan, the Norpro is a great buy.
The Norpro's wooden handle is even more heat-resistant than Calidaka because it's made of wood so you can even use it to teach kids how to make takoyaki.
Overall, it also depends on what size you need. You can only make 7 balls at a time with the Norpro pan whereas you can make double (14) with Calidaka.
Best electric takoyaki pan: Yamazen Suzanne Lefebvre
Type: electric

Power consumption: 800 W

Number of holes: 24
Material: coated stainless steel
Nonstick coating: yes
If you want the comfort of a tabletop or countertop electric machine, the Suzanne Lefebvre model is ideal. It's got 24 takoyaki holes and you no longer have to stand at the stovetop, watching over the pan.
This machine does it all for you automatically. All you have to do is pour the batter and it heats up to the perfect temperature for takoyaki.
At 800W, it's energy-efficient but powerful enough to ensure the octopus filling is soft and tender inside but well-cooked and the exterior has that desired brown crust.
It's a great size for entertaining but it's also a very compact machine with no extra accessories so you can store it in your kitchen cabinet easily.
I like that this machine cooks the takoyaki fast so you save time compared to using a stovetop pan. Also, you don't need to worry about the pan moving or batter dripping out.
There's a fluorine resin coating that makes the molds nonstick. This coating is nontoxic and safe for use so you can cook for kids without worry.
If you're planning on using this machine in the US, you need 110V, and this pan works for that however, customers notice that because of this lower voltage, some of the takoyaki balls in the middle holes take a bit longer to cook than those around the edges.
Cleaning this machine is also easy because the mold pan is removable so you can wash it with some warm water and a dish sponge by hand.
Many people love this product since it's an electric pan, it takes away all the stress involved in cooking delicious takoyaki. It's large enough and is recommended for family use.
The major challenge of this pan is that it doesn't have temperature control settings. This means you cannot regulate the temperature and the only way to do it is to shut it off whenever it becomes extremely hot.
So be careful not to burn the takoyaki and flip them regularly.
Best multi-purpose takoyaki baking machine: Joydeem Compact Hot Plate
Type: electric

Power consumption: 650 W

Number of holes: 24
Material: aluminum
Nonstick coating: yes
If you're looking for versatility and a multi-purpose electric cooker, the Joydeem is your best option because you can make takoyaki, hot pot, and yakiniku with interchangeable plates anytime.
It's easy to set upright on your countertop and you just plug it into the power source and set the desired temperature.
The great news is that it's not one of those huge bulky energy-consuming devices. It's designed in Japan with energy-saving and efficient features in mind. Also, unlike other takoyaki makers, this machine offers 4 temperature control settings.
Even though this is considered to be a multi-baker pan, it's one of the best ones when it comes to making takoyaki. It relies on electricity and has an energy consumption of 650 watts.
Therefore, you can consider this to be a small yet effective takoyaki pan that you can rely on whenever you crave this Japanese delicacy.
Interestingly, you can use this takoyaki pan when making meatballs. The Joydeem multi-baker comes equipped with a skillet, which you can use to make other interesting dishes like pizza.
In addition, the pan has a pie maker, which comes in handy for those who like making brownies and pies and of course the hot pot lovers.
You can cook for 2-6 people at once and it's a versatile machine because you can just switch up the plates as you go along.
The takoyaki pan has a non-stick surface, which is made out of safe Teflon.
One thing to note is that this machine isn't as powerful as other American kitchen appliances so it might take longer to heat up and cook the food but this isn't such a problem since you can use the temperature control settings and do other things while it does the work.
The pan is portable and easy to clean, store, and use. Handwashing is recommended to avoid damaging the nonstick coating.
I would also recommend this product as a nice gift for people who love Japanese food and want to cook smokeless foods indoors.
Yamazen vs Joydeem
The obvious difference between these two electric cookers is the functionality. The Joydeem is a multi-cooker that is used as a grill, hot pot, baking tray, and takoyaki machine whereas the Yamazen is a dedicated takoyaki making machine.
Both can make up to 24 balls at once, but the Joydeem has the advantage that it has temperature control settings. Therefore, you don't need to be as careful when making takoyaki as with the Yamazen machine.
That one can overheat so you need to know when to take the balls out before they overcook.
Both machines have a nonstick coating and trace lines that separate the molds from one another.
Electricity prices are always on the rise so if you're concerned about energy consumption, the Joydeem cooker is more efficient than Yamazen.
However, if you don't think you need all those extra features and don't feel like paying the high price tag, the Yamazen is the wallet-friendly alternative.
It all comes down to how much use you think you'll get out of an electric takoyaki maker.
Best gas takoyaki maker: Iwatani Takoyaki Grill Pan
Type: gas with a butane cartridge
Number of holes: 20
Material: aluminum
Nonstick coating: yes
You might've seen videos of Japanese takoyaki food stalls where people are cooking on small gas stoves. Well, if you want to try this cooking method, you'll love the Iwatani gas grill pan.
It's the only way to make the kind of takoyaki with that perfect crispy outside and melt-in-your-mouth soft interior that you only find on the streets of Osaka.
The takoyaki grill pan from Iwatani is the perfect product for those who like to prepare this delicious Japanese snack on a high-heat butane stove. The stove runs on small butane gas cartridges that you can easily order online.
There are excellent temperature control features compared to the basic electric model like the Yamazen. You can turn the heat higher when the fire seems too weak on one side.
Thus, you don't get unevenly cooked takoyaki anymore. You can set it to medium as you start cooking and turn up the heat when you need to.
This pan's base has grooves, which lock the pan into place. As a result, the takoyaki cooks evenly and also prevents the snack from developing bumps.
This pan is aluminum coated and has a non-stick surface. So you don't need to worry when cooking takoyaki since it can't produce misshaped or broken takoyaki balls.
The pan is so easy to use and the entire family can participate in the cooking process. One notable thing about this pan is that it's easy to clean and is also dishwasher safe.
You can make up to 20 balls simultaneously which is quite a good amount for a family of 4. But you can also batch cook for guests.
What I don't like is that the manual is in Japanese only and there's no English translation so I recommend watching some instructional videos before cooking.
But overall, this takoyaki maker is great for traditional-style octopus balls in both the home and a smaller commercial setting.
Check prices and availability here
Best automatic takoyaki machine: Sugiyama Metal
Type: electric
Number of holes: 12
Material: aluminum
Nonstick coating: yes
Are you looking for an automatic electric takoyaki maker that minimizes your workload? You've probably seen those machines that spin round with various ball-shaped foods as they cook in Japanese and Korean restaurants.
The Sugiyama is an affordable takoyaki maker designed for home use.
Just look at this automatic Takoyaki machine at a street food vendor:
Now that's a very large industrial grade takoyaki machine and you probably aren't going to put that in your house.
But there's a smaller-scale machine out there that does the job perfectly. This one has a round shape and makes 12 balls at once.
It's the Sugiyama Metal Takoyaki Machine and you can see it in action here:
I found the best price for it on Amazon and it's great if you want to do more with takoyaki, such as eating it often or even opening up your own Japanese food truck!
The good thing about this machine is that it doesn't use up lots of power, it's compact, and smokeless so you can make it the centerpiece of your Japanese-themed takoyaki party.
It truly is an all-in-one kit with all the accessories you need. The set includes a takoyaki brush for oiling up the machine, a kettle, a lid, and the 12 hole pan.
Sure, it's a bit smaller than the 24-hole Yamazen but it's a complete set with everything you need. All you have to do is prepare the batter, filling, and takoyaki toppings.
The pan is nonstick so you don't have to worry about sticking however, it's best to fill up the mold 3/4 of the way only because once it heats up, the batter starts to bubble and spills out.
This machine runs on 100V which means that you can use it in the US too.
There are various temperature settings available and 7 is a great one for takoyaki because you need lots of heat to cook the octopus filling properly.
Users recommend waiting about 2 minutes before you flip the balls around because that ensures that none of the batter sticks and breaks.
I also like the fact that it's a sturdy machine and the bottom stick to the countertop so it doesn't move around while you cook.
Iwatani vs Sugiyama Metal
The Iwatani takoyaki maker runs on gas, while the Sugiyama is an electric cooker.
You'll get similar results with both but if you're familiar with cooking on propane or butane grills, you'll enjoy the Iwatani more because you can see the flames and it makes temperature control easy.
If you want even more control, then the Sugiyama machine is ideal because it has many built-in temperature control settings and you can also cook other types of ball-shaped dishes.
The shape of the Iwatani makes it easier to fill the batter molds since the Sugiyama is a round takoyaki pan and you can easily overfill the molds.
Additionally, the Iwatani has traced lines to prevent spilling over. The last thing you want is a big sheet of octopus balls that are all stuck together.
If you like a smaller machine, the Sugiyama is perfect because it only has 12 molds compared to Iwatani's 24 and it's round and easier to store because it's less bulky.
Pricewise, the Sugiyama is the most expensive and also the most premium takoyaki maker, but it's a tried and tested product with long durability.
The Iwatani seems flimsier in terms of the build but since gas canisters fuel it, there's less chance of any components getting damaged.
Also, you can even use it outdoors while camping or in your backyard without the hassle of power cords.
The bottom line is that both of these machines are great but it comes down to which fuel source you prefer.
Additional takoyaki accessories to get
If you want to make perfect takoyaki, you should invest in some accessories that'll make the cooking process quick and easy. Here are the must-have takoyaki accessories.
Aburabiki – Japanese oil brush
An aburabiki or oil brush is essential for making takoyaki. The brush has a thick wooden handle and a cotton brush with many fibers and you use it to oil the pan.
For optimal results, oil the pan evenly with this brush. It helps the takoyaki get brown and crispy.
Batter dispenser
A sturdy steel takoyaki batter dispenser makes cooking this dish easy. It's a funnel on a stand with a small handle that releases small amounts of batter into the pan.
This dispenser is multifunctional and can be used for sauces, all kinds of batters, and even biscuits. Simply fill the funnel with the batter mix and press the handle to release the batter into the pan.
This tool is excellent because it dispenses the exact amount of batter you need for one ball so you don't waste any.
Takoyaki picks
Takoyaki picks handle takoyaki balls as you flip them while cooking and take them out of the pan.
If you use picks to flip and handle the takoyaki, it saves the pan from scratches. Plus, it's so easy to maneuver the food with these long and thin picks.
I've reviewed the best takoyaki picks here in our takoyaki buying guide so you can get your own.
Conclusion
Today, takoyaki has turned out to be one of the most popular Japanese snacks.
Many people love this amazing delicacy, and you'll definitely fall in love with it the moment you give it a try.
Also read: how to clean a takoyaki pan and maker
As a result, many takoyaki lovers have decided to try preparing their own takoyaki, either for their own enjoyment or for parties.
This, in turn, has increased the demand for takoyaki pans. That's the reason we have a wide variety of these products, which range from normal iron cast pans to complete sets with oil brushes and other accessories.
After considering all these things, you can visit different online stores and get your favorite takoyaki pan!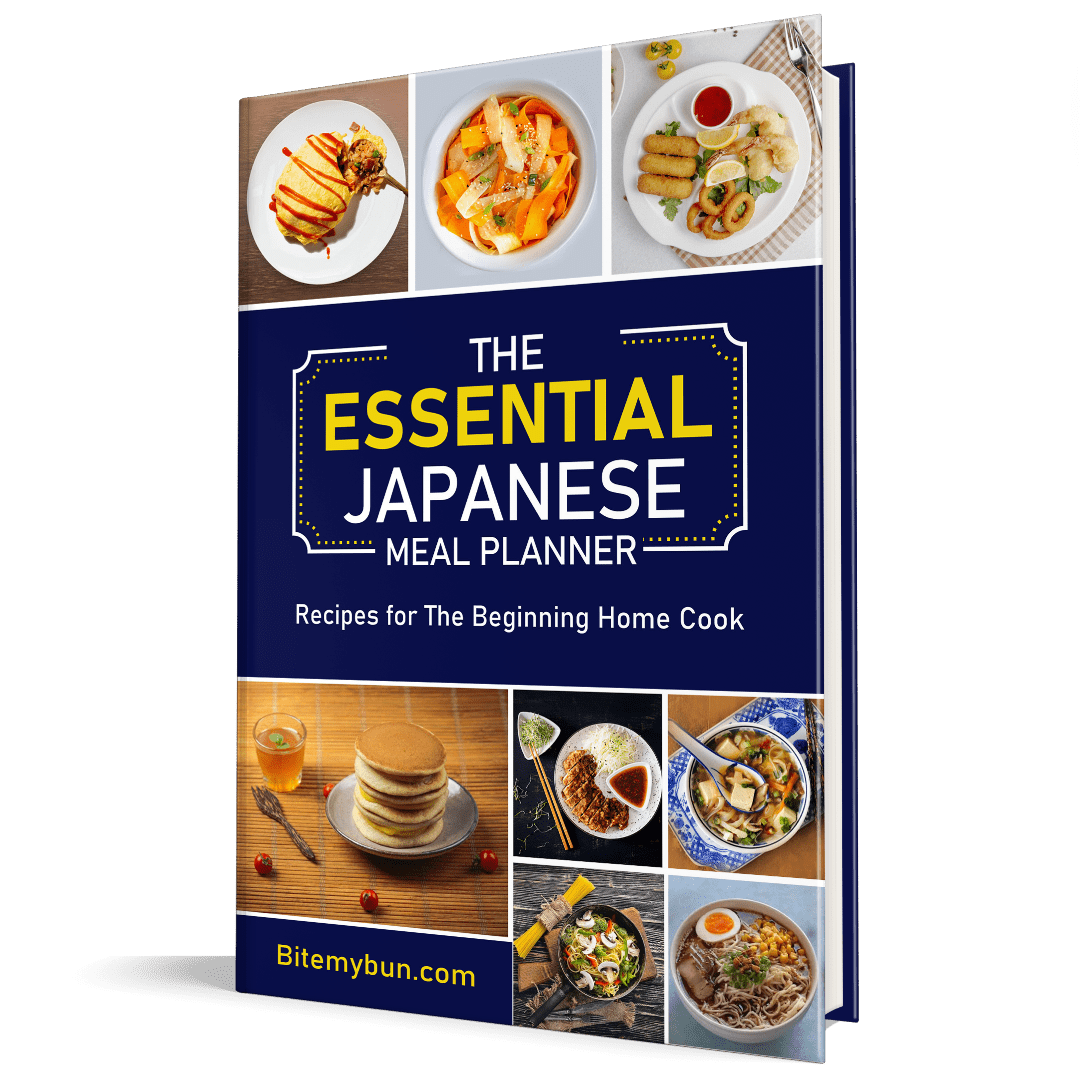 Check out our new cookbook
Bitemybun's family recipes with complete meal planner and recipe guide.
Try it out for free with Kindle Unlimited:
Read for free
Joost Nusselder, the founder of Bite My Bun is a content marketer, dad and loves trying out new food with Japanese food at the heart of his passion, and together with his team he's been creating in-depth blog articles since 2016 to help loyal readers with recipes and cooking tips.