I love creating free content full of tips for my readers, you. I don't accept paid sponsorships, my opinion is my own, but if you find my recommendations helpful and you end up buying something you like through one of my links, I could earn a commission at no extra cost to you.
Learn more
If there's something that has taken the entire world by storm it's Takoyaki—Japan's Takoyaki.
If you have ever visited Osaka, Japan, then you would agree with me that Takoyaki is the best street food in Osaka.
Today, this street food from Japan is being enjoyed and sampled by many people from all corners of the world.
Maybe, there is a possibility that you have seen this delicacy somewhere if you haven't had the opportunity to taste it yet.
Even though many people eat Takoyaki, they don't that they can make a batch for themselves in their homes.
But, there is something that you need to know first:
Making Takoyaki requires you to have the right tools, such as the right ingredients and the right pan.
Therefore, this article will highlight the best Takoyaki pans, and recommend the best pan.
If you're wondering "what is a takoyaki pan" let me explain. It is a pan or griddle with half-spherical or round molds in which you place the dough and cook it. The pan heats up evenly and cooks the takoyaki balls until golden brown. You need to flip the balls while cooking because the pan only browns the bottom of the dough.
My advice would be to go for this cast iron Takoyaki pan because of its durability and ease of use on your stovetop.
I think you should definitely get a cast iron Takoyaki pan for its durability, plus it's the more authentic option to choose.
Also, look for a pan with a larger size like this one to be able to fit a few more Takoyaki balls at a time. Making a few snacks for more than two people would be a nightmare otherwise or you would have to get two smaller ones and use them simultaneously.
But I've reviewed a few from stovetop pans to electric Takoyaki makers and Takoyaki machines.
The Top Takoyaki Pans reviewed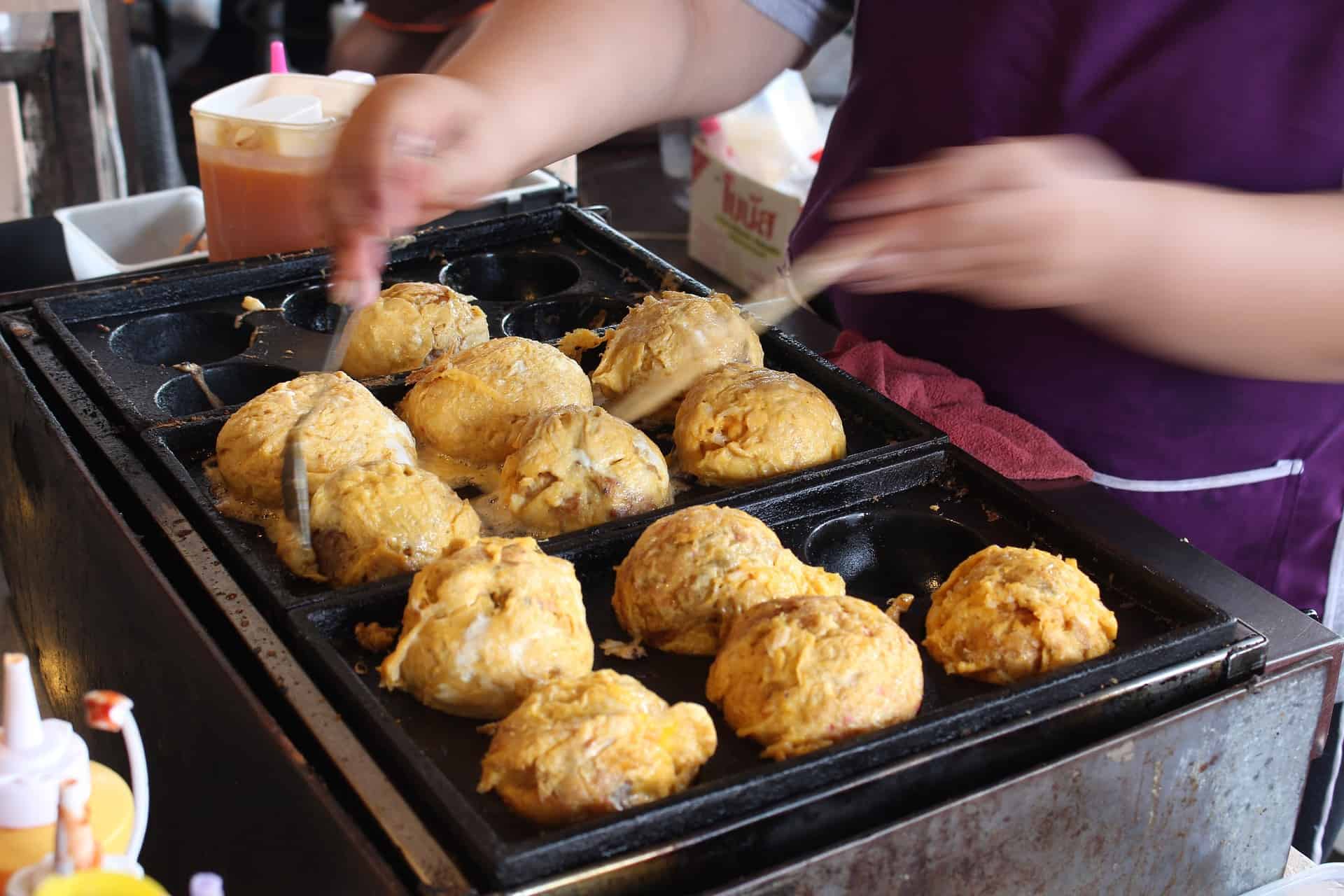 Best cast iron Takoyaki pan: Happy Sales HSTBT1
Preparing Takoyaki in your kitchen is a fun affair, regardless of whether you are alone or with your family.
This Happy Sales HSTBT1 will be such a good choice if you don't have a dedicated pan yet if you are interested in cooking your favorite Japanese delicacy.
One notable feature about this pan is its wooden handle, which ensures that your grip is cool while handling the pan.
Other cast-iron Takoyaki pans don't have a grip, which makes things a bit challenging as you cook Takoyaki.
Although this pan will produce small batches of Takoyaki balls, all your Takoyaki balls will cook evenly since the pan has a smaller surface area to heat.
However, the pan has only one downside—it doesn't come with a non-stick surface.
Therefore, it is recommendable to make sure that you use extra oil as this keeps the pan smooth and also prevents the Takoyaki from sticking.
Notable features:
Comes with a single wooden handle
You can use it to prepare round pancakes and

Takoyaki

You can heat the pan directly using a gas burner
You can't go wrong with this cast iron Takoyaki pan and it's still really affordable, you should check it out here on Amazon
Best stovetop Takoyaki pan: Norpro Nonstick Stuffed-Pancake Pan
This Takoyaki pan is ideal for someone who stays alone and loves this amazing Japanese snack. With the Norpro Nonstick Stuffed-Pancake Pan, Munk / Aebleskiver / Ebelskiver, you can prepare Takoyaki easily from the comfort of your home.
The pan is made of cast aluminum and can cook up to 7 mouthwatering Takoyaki balls at a time.
Many people love this Takoyaki pan because of its 7.5" ergonomic plastic handle. This handle remains cool as you cook your Takoyaki, which means you don't have to worry about getting burnt as you use the pan.
Since the pan is made out of lightweight cast iron, it heats up quickly, thus saving you energy. In addition to this, the pan also comes with some recipe books.
Generally, the Norpro Nonstick Stuffed-Pancake Pan, Munk / Aebleskiver / Ebelskiver is an excellent Takoyaki pan, especially for someone who wants to prepare smaller amounts of this delicacy or to prepare a quick snack.
Notable features:
Versatility—You can easily prepare the Aebleskiver, a popular Danish snack, filled pancakes, and

Takoyaki

using this pan.
Comes with a

non-stick

cast iron aluminum surface, which heats up quickly
Ergonomic 7.5" plastic handle
Instructions and recipes included
Check prices and availability here on Amazon
Best electric Takoyaki pan: Yamazen Suzanne Lefebvre
Many people love this Takoyaki pan. Since it is an electric pan, it takes away all the stress involved in cooking. The electric Takoyaki pan is large enough, and it is recommended for family use.
It can make an average of 24 Takoyaki balls per batch. One notable feature about this Takoyaki pan is its lifted exterior design, which prevents the batter from overflowing.
In addition to that, it comes with a non-stick surface, which means the pan doesn't hold the Takoyaki as you prepare it, and it also makes cleaning the pan easier.
Since this is a Japanese model, its voltage slightly varies in different parts of the world.
The major challenge of the electric Takoyaki pan is that it doesn't have temperature control settings.
This means, you cannot regulate temperature, and the only way to do that is to shut it off whenever it becomes extremely hot. Therefore, be careful not to burn the takoyaki and flip them regularly.
Notable features:
Power consumption – 800 W
Weight – 1.45 kg
Dimensions – 72 H x 245 x 365 mm
Plate – fluorine-resin coated plate – it is removable, 100% safe, and can be cleaned easily
Holes – 24
And it's really not that expensive when buying it here from Amazon
Best multi-purpose Takoyaki baking machine: Joydeem Compact Hot Plate
Even though this is considered to be a multi baker pan, it is one of the best pans when it comes to making Takoyaki. This Takoyaki pan relies on electricity and has an energy consumption of 650 watts.
Therefore, you can consider this to be a small but yet effective Takoyaki pan that you can rely on whenever you crave for this Japanese delicacy.
Interestingly, you can use this Takoyaki pan when making meatballs. The Joydeem Multi Baker comes equipped with a skillet, which you can use to make other interesting dishes like pizza.
In addition, the pan has a pie maker, which comes in handy for those who like making brownies and pies.
The takoyaki pan has a non-stick surface, which is made out of safe Teflon. In addition to this, the pan is portable, easy to clean, store, and use.
Notable features:
This pan comes with 3 skillets that can be interchanged
You can use for cake pops, meatballs, and other interesting dishes.
This pan is suitable for baking, grilling, making deserts—it is such a wonderful and versatile home appliance
Makes a wonderful gift
This is our cheapest option yet if you get it here from Amazon
Also read: delicious Takoyaki recipes
Best Takoyaki maker: Iwatani Takoyaki Grill Pan
The Takoyaki Grill Cooking Plate from Iwatani is the perfect Takoyaki pan for those who like to prepare this delicious Japanese snack on moveable butane stoves.
This pan's base has grooves, which lock the pan into place while using a butane stove. As a result, the Takoyaki cooks evenly and also prevents the snack from developing bumps and nudges.
This pan is aluminum coated, and it has a non-stick surface. Therefore, you don't need to worry when cooking your Takoyaki using this pan since it cannot produce misshaped or broken Takoyaki balls.
The pan is so easy to use, and the entire family can participate in the cooking process. One notable thing about this pan is that it's easy to clean, and it is also dishwasher safe.
Overall, this is an excellent Takoyaki pan for people with gas or butane stoves.
Notable features:
This pan presents different styles of cooking
Comes with a non-stick surface, which makes it easier to clean the pan
It has a thick material, which is ideal for storing heat
Weight – 730 g
Dimension – 39 H x 210 D x 260 W mm
Main material – aluminum allow, with a non-stick coated upper surface.
Check prices and availability here on Amazon
Best budget Takoyaki pan: Difcuy Nonstick Aluminum
As highlighted earlier, Takoyaki is one of the most popular snacks in Japan. However, since Takoyaki is fried to perfection, it even tastes better if cooked fresh.
So, you have the opportunity to enjoy this popular Japanese snack at the comfort of your home, thanks to the Takoyaki Pan, Difcuy Nonstick Cast Aluminum Alloy Baking Tray.
This Takoyaki pan is made of cast aluminum, which makes it durable, lightweight, and a good conductor of heat.
In addition to this, the pan is coated with Teflon, which makes it non-stick, meaning that you can easily remove your Takoyaki once they are ready.
Moreover, the pan comes with a plastic-coated handle, making the pan safe and comfortable to use.
The Takoyaki Pan, Keeper Nonstick Cast Aluminum Alloy Baking Tray can prepare up to 12 Takoyaki balls at a go.
This means you can prepare snacks for two easily. The pan is also dishwasher safe, which makes cleaning it even easier. This versatile Takoyaki pan is easy and simple to use.
Notable features:
Comes with a single plastic coated handle
You can use the pan to prepare round pancakes and Takoyaki
Has cast aluminum body and non-stick cooking surface
Can prepare up to 12 Takoyaki
1-year manufacturer's warranty
Best Automatic Takoyaki Machine: Sugiyama Metal
Just look at this automatic Takoyaki machine at a streed food vendor:
Now that's a very large industrial grade Takoyaki machine and you probably aren't going to put that in your house, but there is a smaller-scale machine out there that does the job perfectly.
It's the Sugiyama Metal Takoyaki Machine, and you can see it in action here:
I found the best price for it
on Amazon here
and it's great if you want to do more with Takoyaki, such as eating it often or even opening up your own Japanese food truck!
What Is Takoyaki?
Takoyaki is a Japanese snack, resembling a ball, which is made from wheat flour batter, and it is cooked using a Takoyaki pan. This delicacy is mostly filled with diced or cooked octopus, green onion, garlic, ginger, and tempura.
In addition to this, the Takoyaki specialists use a savory sauce with different toppings to cover the delicacy.
When you visit Japan, it's not strange to see people queuing, just waiting to buy and enjoy this richly flavored and delicious street food.
A standard Takoyaki pan can make an average of 12 to 24 balls of Takoyaki.
What does Takoyaki taste like?
The flavor of this dish is considered 'umami' or savory. The taste is salty and rich, due to the seafood flavors of the octopus. While this dish is considered a snack, it can be enjoyed as a meal because it is very filling.
What's The Origin Of Takoyaki?
This famous Japanese delicacy has humble beginnings—it originates from Kansai, located in western Japan.
The early versions of this dish can be traced back to the early 1930s, and it quickly spread to become famous in the streets of Osaka as well as other neighboring cities.
Today, you can easily find Takoyaki shops in almost every town in Japan, with different regional variations of this dish.
What Makes Takoyaki So Popular?
Taste is one of the major reasons why food becomes famous. However, it goes beyond taste in the case of Takoyaki.
Many consider Takoyaki to be soul food. They claim that once eaten, it can stimulate a person's taste buds, to the extent that it touches the deepest part of a person's heart.
You will crave for more after taking your first bite.
Takoyaki is full of "umami," a popular Japanese flavor.
Many say that this flavor has majorly contributed to Takoyaki being considered as soul food, so long as you like eating tentacles from seafood as well as other flavors derived from the sea.
Besides the numerous flavors that can be added to this dish, it can make someone cry because of the scale of its deliciousness.
Also read about all of these types of pancake batters in Japan
What are the popular ingredients in takoyaki?
As we have seen earlier, Takoyaki is a ball-shaped Japanese snack consisting of wheat batter, octopus, ginger, garlic, green onion, and tempura.
In addition to this, the dish is covered with a sauce and Japanese Mayonnaise.
It is important to note that various Japanese shops have different toppings for this dish, ranging from mentaiko, bonito flakes, and soy sauce amongst others.
As mentioned earlier, this Japanese snack varies from city to city, and its ingredients also vary.
Important things to note when choosing a Takoyaki Pan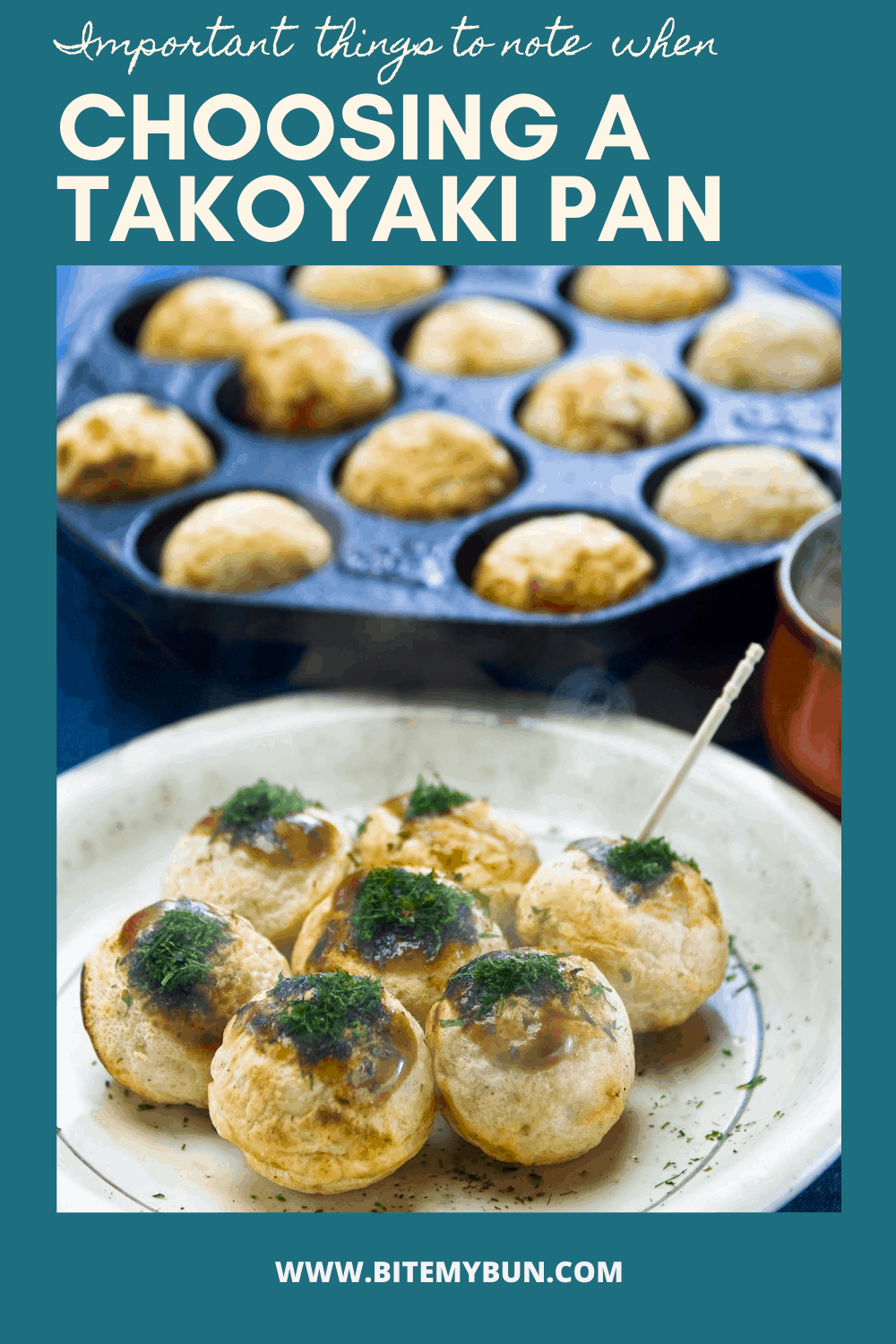 Making Takoyaki at home is not hard so long as you have the right Takoyaki pan and ingredients. In addition to this, you will also need other accessories to assist you in preparing this snack.
Therefore, you will need to buy the right and quality pan to make things easier for you. Here are some important things to consider when buying a Takoyaki pan.
1. Function
How does the pan work? – Different Takoyaki pans have different functionalities. For instance, there are pans that come with their own heat sources, and these are electric Takoyaki pans. Other Takoyaki pan designs require one to place them on stoves. Therefore, you need to consider the source of heat you use while cooking before getting a Takoyaki pan.
2. Size
How big is the pan? – you don't want to get a pan that will cause you lots of problems when it comes to its storage. Therefore, you need to choose a pan that will fit well in your already existing kitchen cabinet. Besides, you need to consider the size, as the pan you select should prepare enough Takoyaki balls for the entire family.
3. Purpose
Is the pan for home or commercial use? – The number of Takoyaki balls you need to prepare in one batch should determine this. Different Takoyaki pans have different outputs. However, this all depends on where you are planning to use the pan. If you want to use the pan at your home, then you should consider buying a normal-sized pan. However, if you want a Takoyaki pan for commercial purposes, then consider getting a larger pan.
4. Material
The material used – the common Takoyaki pans are made out of steel or cast iron. However, some of these pans come with non-stick properties. However, when buying a Takoyaki pan with non-stick properties, you need to make sure that it doesn't have any toxic chemicals. But, non-stick Takoyaki pans are preferable since they are easy to clean.
5. Cost
Your budget – how much are you planning to spend on your Takoyaki pan? The price of a good Takoyaki pan ranges from $15 to $100. However, if you are buying a larger pan, then you should expect to spend more.
Additional Takoyaki Accessories
If you want to make the perfect takoyaki, you should invest in some accessories that will make the cooking process quick and easy. Here are the must-have takoyaki accessories.
Aburabiki – Japanese Oil Brush
[lasso ref="japanese-oil-brush-link" id="6515″ rel="japanese-oil-brush-link" link_id="7913″]
An aburabiki or oil brush is essential for making takoyaki. You use it to oil the pan. For optimal results, oil the takoyaki pan evenly with this brush.
It helps the takoyaki get brown and crispy.
The brush has a thick wooden handle and a cotton brush with many fibers.
Batter Dispenser
[lasso ref="batter-dispenser" id="6516″ rel="batter-dispenser" link_id="7914″]
A sturdy steel takoyaki batter dispenser makes cooking this dish easy. It is a funnel on a stand with a small handle. It releases small amounts of batter into the pan.
This dispenser is multifunctional and can be used for sauces, all kinds of batters, and even biscuits.
Simply fill the funnel with the batter mix and press the handle to release batter into the pan.
This tool is excellent because it dispenses the exact amount of batter you need for one ball, therefore you don't waste any batter.
Takoyaki Picks
[lasso ref="takoyaki-picks" id="6517″ rel="takoyaki-picks" link_id="7915″]
Takoyaki picks are used to handle the takoyaki balls as you take them out of the pan and you flip them while cooking.
If you use picks to flip and handle the takoyaki, it saves the pan from scratches. Plus, it is so easy to maneuver the food with these long and thin picks.
How do you make takoyaki without a pan?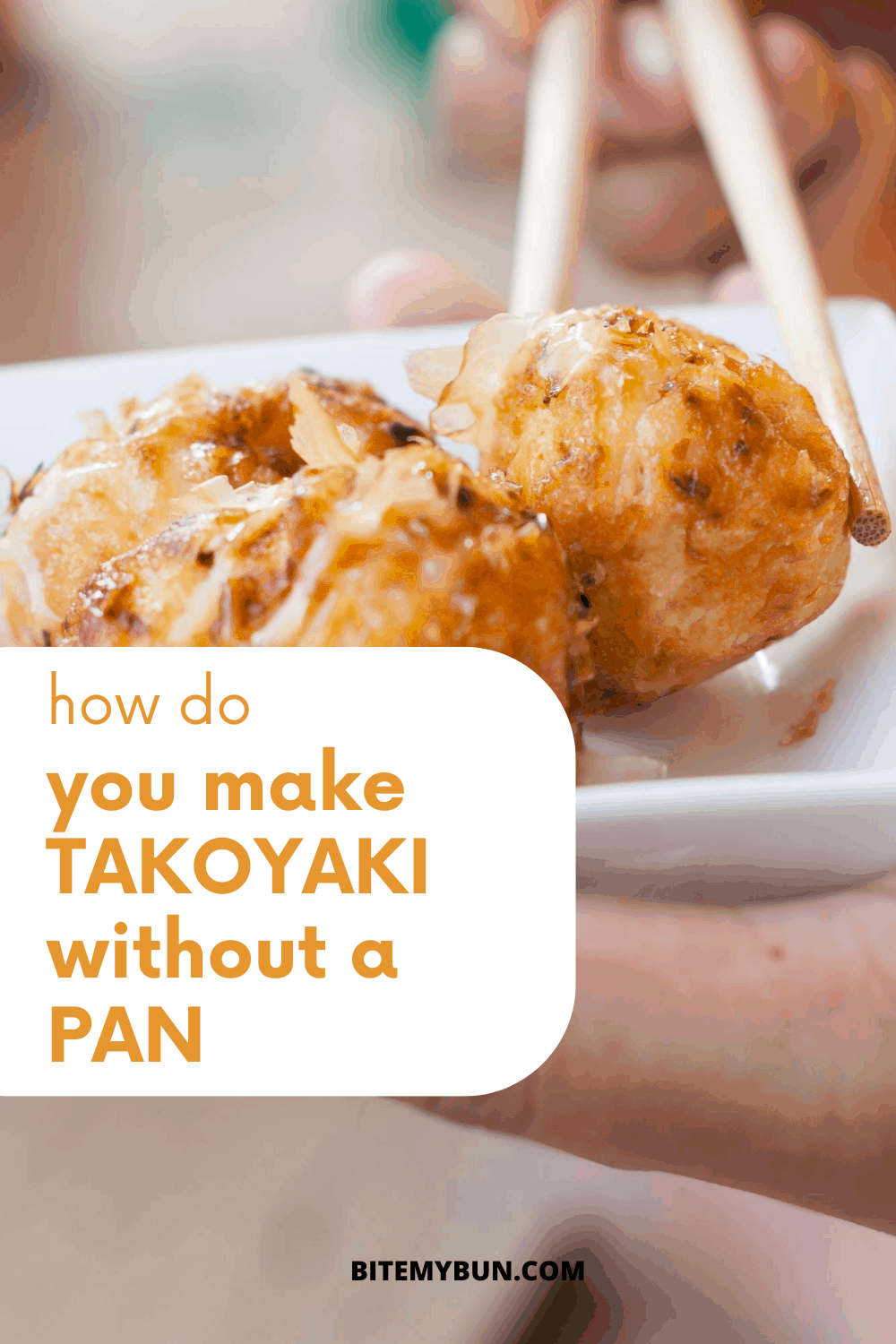 It is possible to make takoyaki without a pan but it is not recommended. The balls will not keep their round shape and they will not look exactly like true takoyaki.
If you don't have a mold, make the takoyaki dough and mix with the ingredients until the dough is malleable.
Next, extend your dough to a thickness of about 2 cm. Cut it into pieces that are approximately 3×3 cm.
Take each piece and add a piece of octopus in the middle. Wrap it with the dough. Mold the dough into a round shape of a ball and use flour on your hands so it doesn't stick.
Fry the balls a few at a time in a pot of hot oil.
Also read: this is the difference between a takoyaki and a Danish aebleskiver pan
Can you use a cake pop maker for takoyaki?
Yes, you can use a cake pop maker to make takoyaki but the balls will be smaller, so not quite like traditional takoyaki. Also, you won't be able to add as much filling so your takoyaki will be small bite-sized.
A problem you will encounter is when you try to flip the takoyaki. An electric cake pop maker cooks batter at the top and bottom, so you don't need to flip the balls. However, the middle of the balls won't be as crunchy and crispy. You have to take the dough out and try to flip it in the cake pop maker.
How do you clean a takoyaki pan?
How you clean the pan depends on the type of pan it is. For most takoyaki makers, you simply scrub with a nonabrasive sponge or towel.
Electric pan
Use a small non-abrasive sponge to clean the electric takoyaki maker. Add a bit of dishwashing liquid detergent to your sponge and scrub lightly. Then, cleanse with water.
Cast Iron
Never use detergent or an abrasive sponge to clean cast iron pans. Simply use a towel or paper towel to wipe off the oil and batter remnants. You can gently scrape off burnt batter with a small plastic knife. You want to avoid scratching the pan's coating.
Note that many takoyaki cooking pans are not dishwasher safe since they are electrical devices. But they are very easy to clean regardless, so they are a good investment if you make takoyaki regularly. Our two stovetop recommendations are dishwasher safe so it makes clean up easy.
Store-bought Takoyaki Mix
If you don't feel like making your own dough and batter from scratch, you can buy ready-made mixes on Amazon.
Try this Otafuku Takoyaki Mix that feeds 4 people. This kit contains flour mix, tempura squid, dry ginger, and seaweed powder for a delicious dough.
[lasso ref="takoyaki-batter-mix" id="6518″ rel="takoyaki-batter-mix" link_id="7916″]
Easy Takoyaki Recipe
This is a recipe for an electric takoyaki maker. Here is our easy to follow recipe that is delicious!
Ingredients
200

gram

flour

2

eggs

1

pinch

dashi stock powder

450

ml

water

120

grams

octopus

boiled

1

bunch

spring onions

chopped

pickled ginger

tempura flakes

takoyaki sauce

mayonnaise

powdered seaweed

bonito flakes
Instructions
Mix the flour, eggs, water, and dashi stock in a bowl. This makes the batter.

Heat up your takoyaki pan and add a small amount of vegetable oil in each mould.

Cut up the boiled octopus into small bite-sized pieces and place one in each hole into the batter.

Add a pinch of spring onion, ginger, and the tempura flakes to each hole.

Cook each ball for about 2 minutes then flip over and cook for another 2.

Now remove and garnish with sauce and bonito flakes.
Bottom Line
Today, Takoyaki has turned out to be one of the most popular Japanese snacks.
Many people love this amazing delicacy, and you will definitely fall in love with the moment you give it a try.
As a result, many Takoyaki lovers have decided to try preparing their own Takoyaki, either for their own enjoyment or for parties.
This, in turn, has increased the demand for Takoyaki pans.
That's the reason we have a wide variety of Takoyaki pans, which range from the normal iron cast pans to the complete sets with oil brushes and other accessories.
With that said, your ideal Takoyaki pan would depend on a number of things. This includes:
Your budget – as we highlighted earlier, the prices of Takoyaki pans vary depending on a number of things. This means you will still get a Takoyaki pan within the budget you have set.
Features – each Takoyaki pan has its unique set of features, including handles, non-stick surfaces, main material, and additional accessories. Each of these will greatly determine the pan you get.
Portability – are you looking for a pan to use in your own home or while on the go? If that's the case, there are different pans for each use.
The number of Takoyaki balls – different Takoyaki pans have a different output in terms of Takoyaki balls, and this depends on the size. So the size and number of Takoyaki Balls you want to prepare will greatly determine the pan you will buy.
With that said, you can visit different online stores and get your favorite Takoyaki pan.
Read more: How do I clean my takoyaki maker?
Joost Nusselder, the founder of Bite My Bun is a content marketer, dad and loves trying out new food with Japanese food at the heart of his passion, and together with his team he's been creating in-depth blog articles since 2016 to help loyal readers with recipes and cooking tips.