Takoyaki vs aebleskiver pan: how to pick the best one for your needs
I love creating free content full of tips for my readers, you. I don't accept paid sponsorships, my opinion is my own, but if you find my recommendations helpful and you end up buying something you like through one of my links, I could earn a commission at no extra cost to you.
Learn more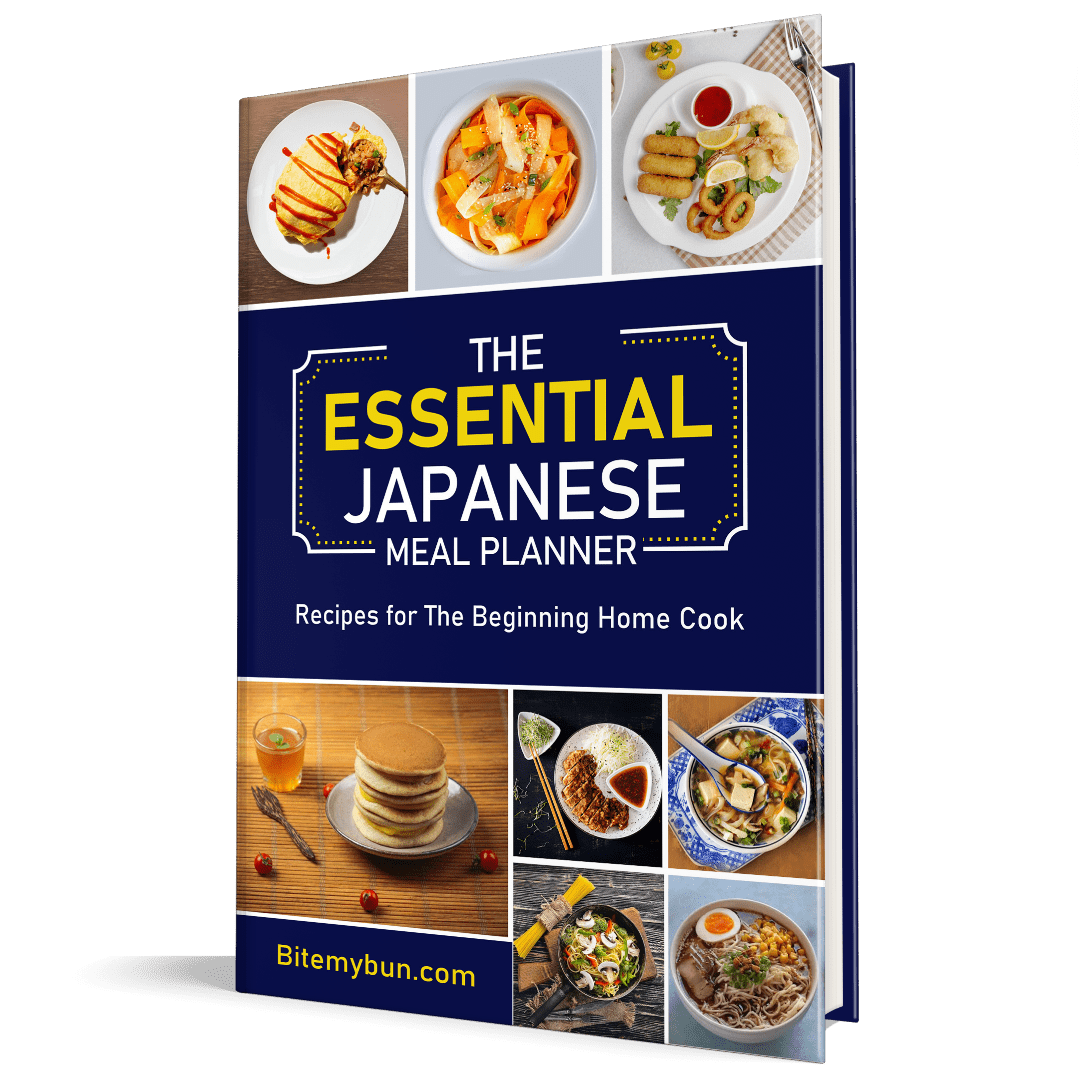 Check out our new cookbook
Bitemybun's family recipes with complete meal planner and recipe guide.
Try it out for free with Kindle Unlimited:
Read for free
At first glance, a takoyaki pan and aebleskiver pan look exactly alike. They both have holes where you can pour ingredients and gently simmer over a stove until the balls take shape.
So what's the difference, and can they be used interchangeably?
Takoyaki pans and aebleskiver pans are made of similar material (typically cast iron or heavy-duty aluminum).
However, because of the kind of food they were traditionally used to prepare, the size of the holes is different—and so does the kind of heating you will need.
Traditional recipes base the consistency of the batter and cooking time on the size of a traditional pan, so if you decide to use a different kind in your cooking, you may need to tweak the recipe to get the expected results.
Let's take a look at the top choices real quick, then I'll get into the differences a bit more:
10 Tips to Save a Bundle on Asian Ingredients!
Introducing our brand new FREE PDF guide: "Saving Secrets: Unveiling the Art of Saving Money on Asian Ingredients" It's your first newsletter email, so start saving today! 📚🧧
We'll only use your email address for our newsletter and respect your privacy
Takoyaki & aebleskiver pan buyer's guide
In this section, I'm going to talk about what you need to look for before buying a takoyaki and aebleskiver pan. Both types of pans have similar features.
Type
There are stovetop and electric or gas machines you can use to make takoyaki and aebleskiver.
The stovetop pan is more basic and practical but it is harder to use because you can't control the temperature as well as an electric or gas maker.
Some electric and gas machines have temperature settings so you can set the heat setting you need and ensure you get the perfectly fried balls every time.
But, the benefit of an electric machine is that it's energy-efficient and heats up fast so you're done cooking in about 2-3 minutes.
Some of the extra-large takoyaki pans fit over two hobs but most fit over one cooktop hob.
Also, consider the stovetop compatibility: not all pans are compatible with induction cooktops because those need to have a flat magnetic base.
Size
Most aebleskiver pans have between 7 to 12 molds whereas most takoyaki pans have more holes (12+). But it all depends on how many balls you want to cook at once and how large your family is.
A small pan with 7-12 holes is plenty if you're just cooking for one or two people but if you have a larger family, you might need a larger 24 hole pan.
Also, think about storage. Some electric machines are quite large and bulky so they can take up lots of space.
But, classic pans are usually easy to hang up and store alongside your other frying pans.
So, make sure to get the pan dimension that best suits your lifestyle.
Material
Usually, takoyaki and aebleskiver pans are made out of cast iron or aluminum with a nonstick coating.
Most electric and gas takoyaki machines have nonstick coatings which make it easy to cook the perfect takoyaki.
Aebleskiver is not usually made with a machine so it's best to opt for a nonstick coating if you don't like seasoning the cast iron pan.
Having a nonstick coating is very useful because it ensures your octopus balls or Danish pastries don't stick to the pan.
Cast iron is an amazing material to have if you want even heat distribution and superior heat retention whereas aluminum is better if you want the pan to heat up quickly.
Also, nonstick pans are much easier to clean either with soapy water and a non-abrasive sponge or in the dishwasher if the pan is dishwasher-safe.
Handle
Traditional Japanese takoyaki stovetop pans have an ergonomic wooden handle that stays cool to the touch while you cook.
Some cheaper ones also have plastic handles. These are pretty flimsy usually but don't get too hot when you cook so they're safe to use.
Then there are also square pans, like the ones by Iwatani which have two metal side handles but those get very hot when you cook so handle them carefully.
Of course, electric molds don't have handles and they are easy to move because they cool off once you unplug them.
Takoyaki pans
Origin
Takoyaki is one of Japan's most popular comfort foods. It originated in Osaka, where it was often served as a side dish for alcohol. Today, Takoyaki stalls can be found everywhere, and you can even buy them in convenience stores.
And since it's such a huge part of Japanese cuisine, many Japanese households will have a takoyaki pan and their own personal twists to the traditional recipe.
The "original" takoyaki is traditionally made with boiled octopus (here's the secret to getting that right) mixed into a dashi-flavored thinner batter.
Then the balls are topped with bonito flakes, tempura scraps, spring onion, pickled ginger, and dipped into a special takoyaki sauce (learn all about the best takoyaki toppings here).
The sauce is a combination of Worcestershire sauce, mentsuyu, sugar, and a little bit of ketchup. It looks like soy sauce, but it's not.
But many people replace octopus with other seafood, or kid-friendly ingredients like tuna, ham, cheese, or sausage.
Read all about traditional takoyaki as well as takoyaki variations here
How to pick a takoyaki pan
The only requirement for takoyaki (aside from the signature sauce) is that the balls have to be small and bite-sized. You should be able to lift it with a toothpick or a chopstick.
That's why takoyaki pans tend to have several small circles (from 12 to 20, depending on the size of the pan). They also tend to be designed for fast but even cooking.
Since takoyaki fillings are usually pre-cooked, you just need to cook and brown the light dough.
Once the balls are nice and golden brown (but still properly gooey inside), you're ready for a takoyaki party.
Best takoyaki pan: Iwatani Grill Pan
type: stovetop – or propane with cassette
material: aluminum
number of molds: 16
handle: double, aluminum
nonstick: yes
induction: no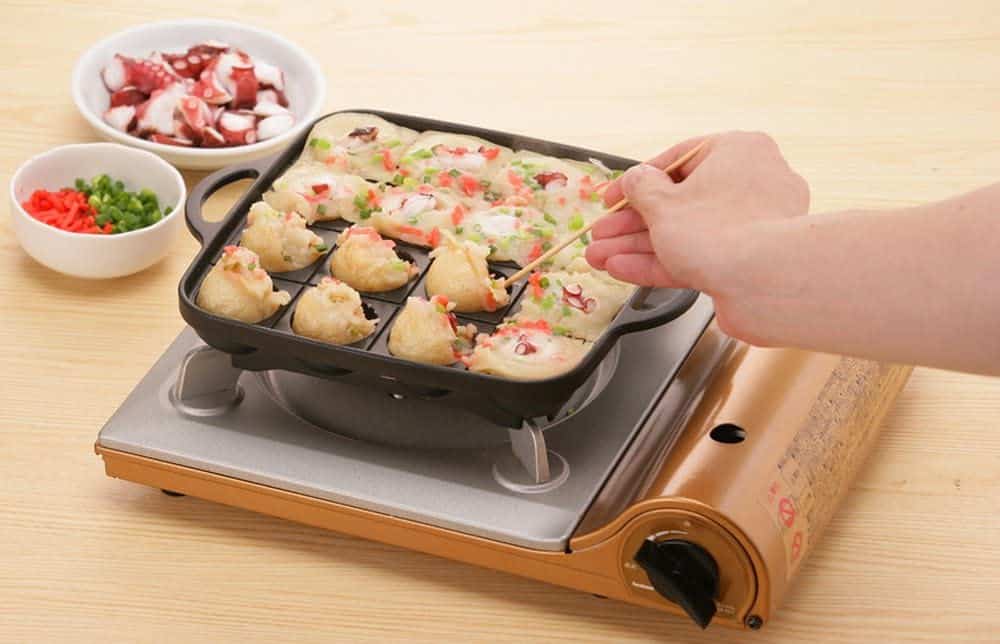 If you're looking for a family-sized takoyaki pan you can use on your stovetop or with a special gas cassette, the Japanese Iwatani pan is a great nonstick option suitable for beginners and pros alike.
It's probably the best value for your money and since it's designed in Osaka, Japan you know it's made to help you cook the best round snacks.
You can cook 16 octopus balls about 1.6 inches each at once which is a great family-sized pan.
This bestselling Takoyaki pan has a 4.6/5 Amazon rating and nearly 2,000 Amazon reviews. It is non-stick and made of a durable aluminum alloy.
It feels like a very thick material so the pan is long-lasting and durable.
There's a very handy design feature too: it has dividing grooves (lines) between the hole molds. This prevents the batter from overspilling and your takoyaki keeps its perfect round ball shape.
Spillage is a major issue for many people, especially newbies because it can cause all the balls to stick together, and then when you take them out after cooking you have to separate them and they break apart.
Simply use a toothpick or bamboo stick to divide the batter once you pour it and you'll get perfect octopus balls.
You've got two side handles, also made of aluminum which you can use to maneuver the pan. I wish these didn't get so hot while you're cooking but they do, so exercise caution!
Another issue I have is that it's not suitable for induction cooktops, and so it's not as versatile as other modern cookware.
The Iwatani pan is easy to clean, can be used on both gas and electric stovetops as well as the gas cassette. Also, it heats up easily so your takoyaki will be ready in no time!
If you want to get the gas cassette for this takoyaki pan, you can buy the Iwatani Cassette Grill on Amazon. This allows you to place the takoyaki pan on this small gas cooker which runs on a propane tank. It has heat settings so you can fry the perfect octopus balls.
The Iwatani grill is also one of the best grills to make yakitori at home.
Honestly, it's easier than cooking on the stovetop because you can regulate the temperature and the pan stays fixed on the little gas stove. These two cookers are designed to be used together.
Check prices and availability here
In case you were wondering, here's how to make takoyaki without a takoyaki pan
Best cast iron takoyaki pan: Happy Sales
type: stovetop
material: cast iron
number of molds: 12
handle: single, wood
nonstick: no
induction: no
If you've used cast iron pans before, you know that with a bit of seasoning, you get the most flavorful and crunchy fried foods.
This Happy Sales 12-hole pan (8″ diameter) is a great option for singles, couples, and small families. It's a simple round pan with a handle and fits on all types of cooktops except induction.
Therefore, it's quite versatile and very budget-friendly so if you like to make octopus balls at home you can't go wrong with it.
One of the advantages of cast iron is the unparalleled heat distribution – and this will make your takoyaki balls have a crispy exterior and a melt-in-your-mouth soft interior.
Some nonstick pans won't give the same flavor because you're not using the seasoning oil which also plays a role in the final outcome.
A few people might say that the lack of a nonstick coating is a disadvantage and surely it will take a few tries to make the perfect takoyaki. You need to know how to control the heat and once you figure out the best heat settings on your cooktop, it becomes very simple.
This is one of the most affordable yet durable Takoyaki pans you can find. If you want to turn the balls quickly before they stick, you can use these Takoyaki picks to turn each ball.
But, compared to the Iwatani it lacks one important feature: the separating grooves between molds. You might end up overspilling batter but the simple solution is to use a bit less batter when pouring.
The wooden handle stays cool, so you can comfortably and safely hold it while you cook.
Customers say that this pan works better on a gas stovetop than an electric one because it takes a lot longer to heat up and cook on electric hobs.
If you want it to work very well, I recommend wiping the pan down with some vegetable oil and then heating it up to season it before the first use.
Iwatani Grill Pan vs Happy Sales
If you like a nonstick surface, there's nothing easier than using the Iwatani takoyaki pan. It's got a rectangular shape and two side handles.
But, what sets it apart is that it's very versatile because it works on the stovetop or with the special gas cassette.
The main advantage is the nonstick surface and the separating grooves which prevent the batter from overspilling and getting stuck to the pan.
Unfortunately, the cast iron pan doesn't have these grooves so your takoyaki can stick together and become hard to separate.
However, if you want to get a traditional round cast iron pan, the Happy Sales pan is a great value buy because it's sturdy so it can last a lifetime. You can also make those perfect golden brown takoyaki.
It's got a round shape and long wooden handle so it's easy to store along with your other kitchen pans.
As soon as you get the hang of making takoyaki though you'll love seasoning and making perfectly crispy and browned octopus balls.
In my opinion, a nonstick pan is always easier to use but you lose a bit of the durability and it's usually much flimsier compared to cast iron cookware. It depends on whether you want convenience or longevity.
Best electric takoyaki maker:

StarBlue
type: electric
material: plastic & aluminum
number of molds: 18
nonstick: yes
wattage: 650
If you want a cheap electric takoyaki maker, the StarBlue device is one of the bestsellers. It's a very basic machine but does the job well. You plug it in and use it on the countertop or table to make tasty octopus balls and other similar round-shaped snacks.
I recommend this takoyaki maker if you're a complete beginner and never even tried cooking octopus balls before. It's so simple to use, all you have to do is press the on/off button, wait a few minutes and you can start pouring the batter.
The machine can help you make those golden brown octopus balls that have the perfect crunchy exterior texture and fluffy interior.
There are 18 holes, which is plenty of space to make takoyaki for a large group of people. So, it's a fun machine to try if you're hosting a Japanese food party!
Two free takoyaki picks are also included with the machine which helps you turn the balls around so they don't overcook and burn.
Learn all about the best ways to flip takoyaki balls here.
However, be careful because they can scratch the nonstick coating so it's better to use wooden picks when you turn the balls to the other side.
Since the mold has a nonstick coating, making octopus balls is actually very easy. Plus, the advantage is that you can then wash off the machine easily.
This is one of those low-energy consumers, and at 650 watts you don't have to worry about high energy bills – especially considering that takoyaki cooks very fast with this machine.
The StarBlue is designed to be compact, lightweight, and completely portable. It's not the sturdiest of machines, but the plastic exterior is pretty durable and doesn't break or crack easily.
Also, the outer body is heat resistant and doesn't overheat so you can use the takoyaki machine safely on any table or countertop.
One drawback with this device is the lack of a temperature control button or settings. Therefore, it only cooks the takoyaki on one temperature setting and some buyers complain that the heating is uneven, especially on the molds located along the edges of the device.
Overall though, this small machine is the perfect compact electric takoyaki maker because it's lighter than a cast iron pan but you can cook more balls at once than using a classic cast iron pan.
Done cooking? Here's how to best clean your takoyaki maker for next time
Aebleskiver pans
Origin
Aebleskivers are traditional Danish pastries. Sometimes, they may contain applesauce or apple slices inside their pockets; or they are served plain, and dipped into jam, maple syrup, and butter.
But, compared to takoyaki which is a savory snack, aebleskiver is a sweet dessert.
The pastries are usually about 3 inches in diameter, and they puff up considerably while they're cooked.
These sweet treats are often made at home or sold at street stalls or fairs. They're especially popular during Christmas and Easter and served with glogg (a mulled wine), coffee, or tea.
Aebleskiver can be filled with apples and/or applesauce but they are topped in powdered sugar which makes them sweeter.
Other dipping options include:
raspberry jam
strawberry jam
black currant sauce
blackberry jam
butter
maple syrup
whipped cream
According to folklore, Aebleskivers was invented by a group of Vikings who wanted to cook pancakes on their ship after winning a particularly tough battle.
But since they didn't have any cooking pans on board, they improvised and poured the ingredients into their helmets. That led to the traditional spherical shape—and the general belief that Aebleskivers are "celebratory" food.
These simple powdered sugar treats are a great snack for the whole family!
How to pick a aebleskiver pan
You're probably wondering "what do I need to look for in the aebleskiver pan?"
The features are similar to the takoyaki pan.
The best aebleskivers pans have to be able to hold heat really well, or you'll end up with a half-cooked pastry that's burnt on the outside and still raw and doughy on the inside.
The preferred material is cast iron, which takes longer to heat up but gives you even heat and that beautiful golden crust. You can also find traditional copper-plated pans, but these are usually decorative and difficult to use.
Best non-stick aebleskiver pan: Norpro
type: stovetop
material: aluminum
number of molds: 7
handle: single, plastic
nonstick: yes
induction: no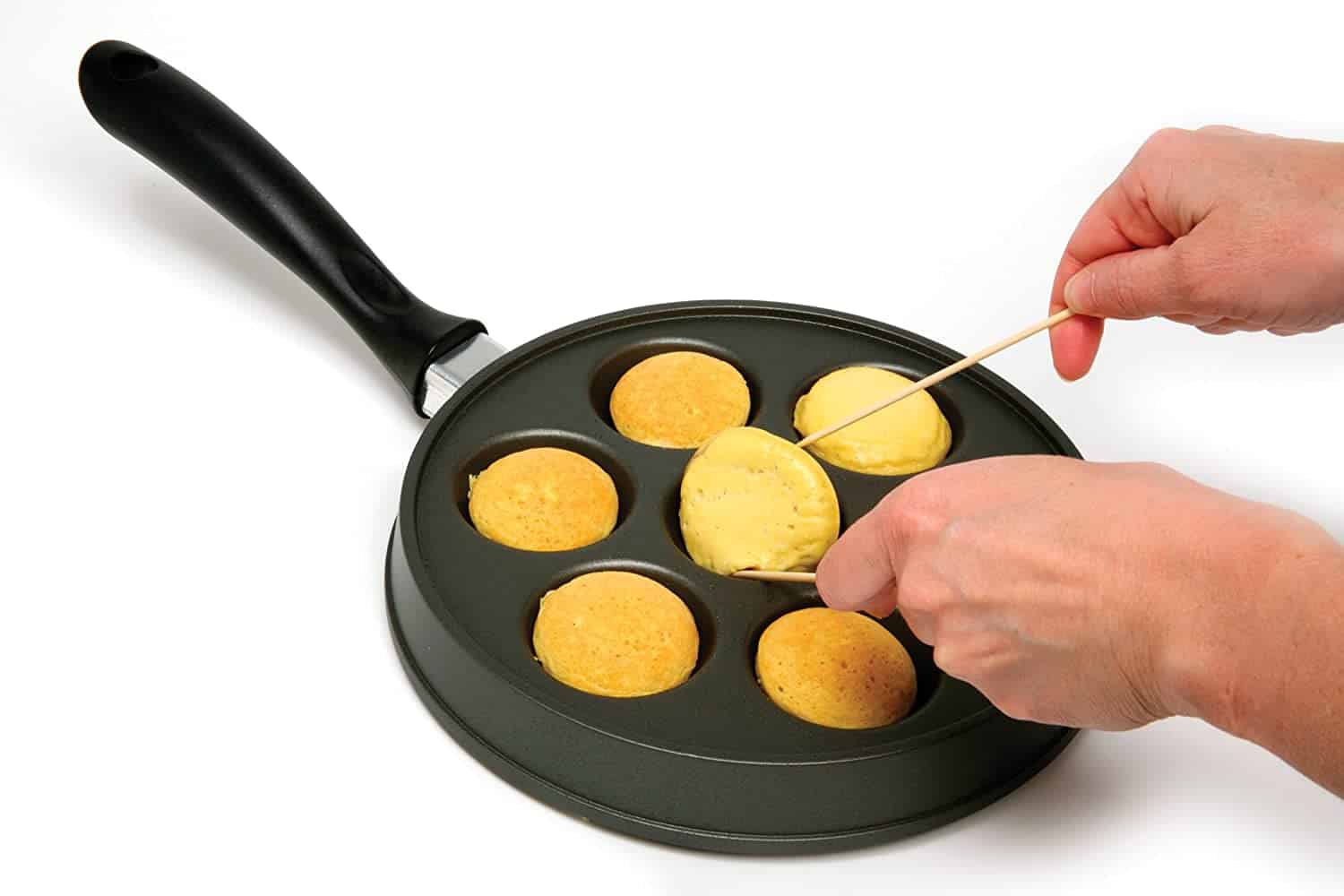 The secret to perfect aebleskiver desserts is to cook them on a lower heat setting slower than you would takoyaki. This Norpro pan has round but shallow molds, perfect for the slightly larger aebleskiver with a gooey and melty interior.
With this aluminum nonstick pan, you can make an aebleskiver that doesn't stick and break inside the pan. Even though it's aluminum, it still heats up very evenly and you won't really have to deal with hot spots like some cast iron cookware.
But the main reason I really like this pan is that it allows you to cook healthier treats and desserts.
You don't need to use a lot of oil and it works for other round foods like Indian paddu too!
With 4.6/5 star rating from over 1,500 users, this pan is clearly a crowd favorite.
Maybe it's not quite the authentic Danish cast iron round pan, but it's the modern version, perfect for people who don't want to waste time cleaning up and prefer easy-to-use cookware.
As I mentioned, it is made of an aluminum core with a non-stick surface. In time the nonstick coating can start to peel off so make sure to handwash.
The handle is ergonomic and fits well in your hand. It's made of a plastic material and doesn't overheat or melt as you cook on high heat. Also, it is 7-1/2-inches long so you have plenty of distance between your hands and the cooktop.
Luckily, this pan works on gas and even flat-top glass stoves and electric stoves. Many similar cheap aebleskiver pans don't work on flat electric cooktops but this one is well-designed.
Overall, if you want a sturdy pan that is truly versatile and easy to use, this one won't disappoint. And, compared to its more famous Nordicware competitor, the nonstick coating lasts longer and doesn't peel off as easily!
Check out the latest price here
Best cast iron aebleskiver pan: Upstreet
type: stovetop
material: cast iron
number of molds: 7
handle: single, silicone
nonstick: no
induction: yes
Want to try making traditional aebleskiver with a cast iron pan? If you want a pan that's much more durable and doesn't peel, you need the trusty cast-iron Upstreet pan.
You might be wondering if it's not hard to make aebleskiver in cast iron. The truth is that if you don't cook the balls properly they can stick and lose their shape, or the gooey inside can start oozing out. The secret is to oil your pan properly and then cook low and slow.
As soon as you figure out the perfect temperature for making aebleskiver, they turn out light and fluffy, just like they're supposed to be. You can cook up to 7 balls at once which is the regular pan size.
The cast-iron surface resists scratching and offers great heat retention. You can use non-plastic utensils to turn the balls while cooking without scratching the surface of the pan.
Compared to nonstick coatings that are very sensitive and scratch easily, a cast iron pan is very durable.
It ensures that all your aebleskiver cook evenly and have that slightly toasted exterior and soft interior.
I recommend this pan for those with an induction cooktop. If you've been struggling to find a good pan that works on induction ceramic cooktops, this one is perfect and it heats up just as fast as on a gas or electric stovetop.
This cast iron pan is a breeze to clean contrary to what you might hear. You don't need to do any heavy scrubbing just use warm water and dish soap with a non-abrasive sponge.
It's got a modern silicone handle that is heat-resistant so you won't burn yourself while cooking.
It also comes with a booklet with recipes and tips.
One minor disadvantage is that this pan is a bit heavy and at 4 lbs, it's not as lightweight as the aluminum pans.
Some customers recommend making only about 4 or 5 balls at once because the batter tends to expand and overflow from the molds but if you leave some holes empty, you can preserve the ideal round shape.
With regular seasoning and handwashing only, you can keep this pan rust-free and in perfect condition for many years to come!
Norpro nonstick vs Upstreet cast iron
These two pans are very similar because they have the same number of molds, a round shape, and a plastic handle.
Some other things that are similar include the price point and ratings. There's no doubt these are both great pans but if you're a beginner you'll want the nonstick while most chefs prefer cast iron.
But, the main difference between them is that Norpro is made of nonstick aluminum while the Upstreet is a cast iron pan.
If you ask restaurant chefs and professionals, they'll tell you that nothing beats a good old cast iron aebleskiver pan because of its durability.
When you ask the modern home cook, the Norpro nonstick is the better choice because the Aebleskiver is easy to flip and it doesn't stick to the pan.
Making aebleskiver is hard because if it's unevenly cooked, it breaks apart and the filling oozes out and this ruins the whole cooking process.
So, if you use a nonstick pan, you have a better chance of your aebleskiver keeping its shape.
But this nonstick pan won't last you a lifetime and you'll need to replace the flimsy handle sometime.
Cast iron is no doubt more durable so it lasts longer and there is no unhealthy coating. Some Teflon is considered to be a bit unhealthy since some substances are toxic when used for a long time.
Best electric aebleskiver maker: CucinaPro 

Ebelskiver Maker
type: electric
material: aluminum & plastic
number of molds: 7
nonstick: yes
wattage: n/a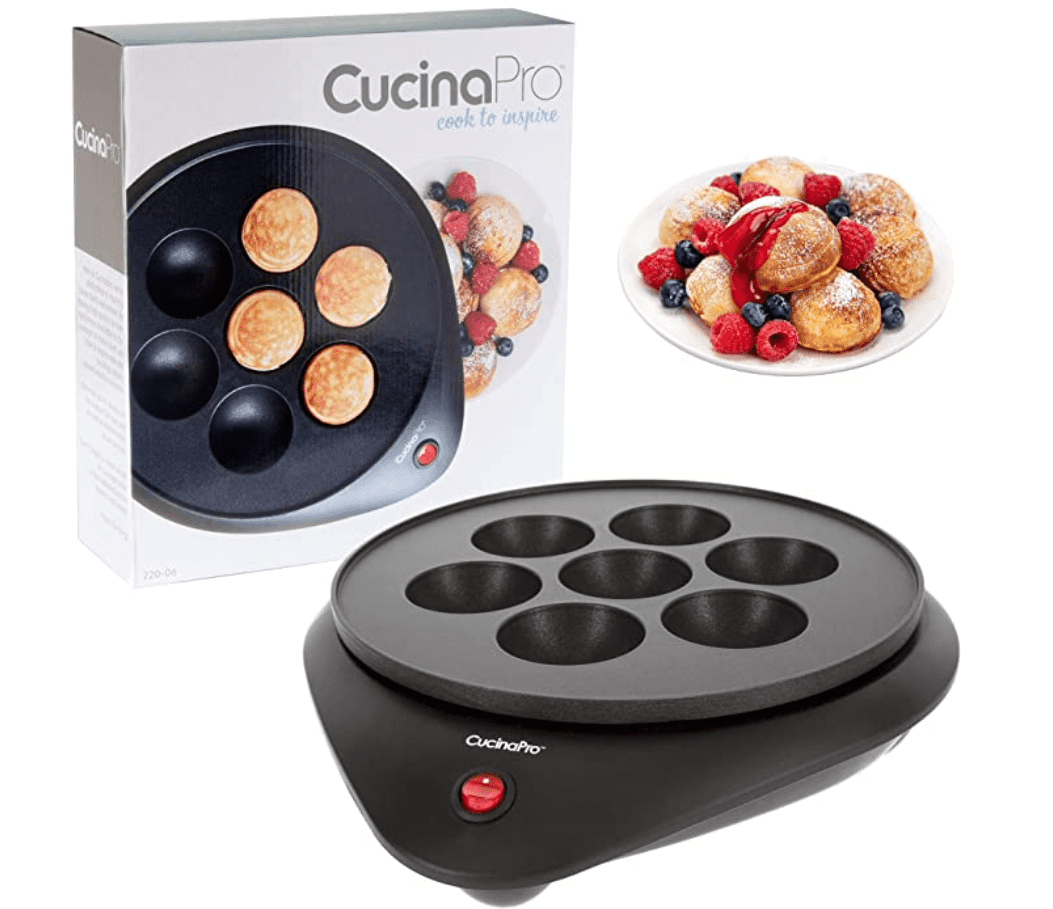 For aebleskiver, you need an electric machine with molds that are slightly larger than takoyaki holes. That's why the CucinaPro electric machine is a better option if you prefer the Danish treats over takoyaki.
The molds are a bit larger and there are only 7 holes but I think that's quite enough for one batch.
Again, like the takoyaki machine, there are no temperature-setting buttons on this machine, and you simply turn it on and wait for it to heat up. This can take some guessing but it's only a couple of minutes so there's no major inconvenience.
It takes approximately 2-3 minutes to cook one aebleskiver so you're not consuming a lot of energy and the whole frying process is quick.
That's why this electric machine is great for entertaining or making breakfast treats for the family, especially when you're pressed for time.
The good news is that the batter doesn't stick to the aluminum at all and you can turn the balls easily without having to scrub off the burnt batter.
Also, this machine is very good at browning up the balls, and it cooks the aebleskiver more evenly compared to a cast iron pan.
According to users, this machine has a low wattage according to users. Therefore, it takes a very long time for the aebleskiver to cook properly on each side. Thus, you have to wait longer to turn them over compared to a Japanese takoyaki machine.
But, after your first batch, you'll realize the machine keeps getting hotter so you need to reduce the cooking time for the balls to avoid burning them.
Once you see all the tasty aebleskiver recipes online, you'll love using the electric machine and probably skip the cast iron pan, especially if you like the modern simplicity of it.
Can I use an aebleskiver pan for takoyaki?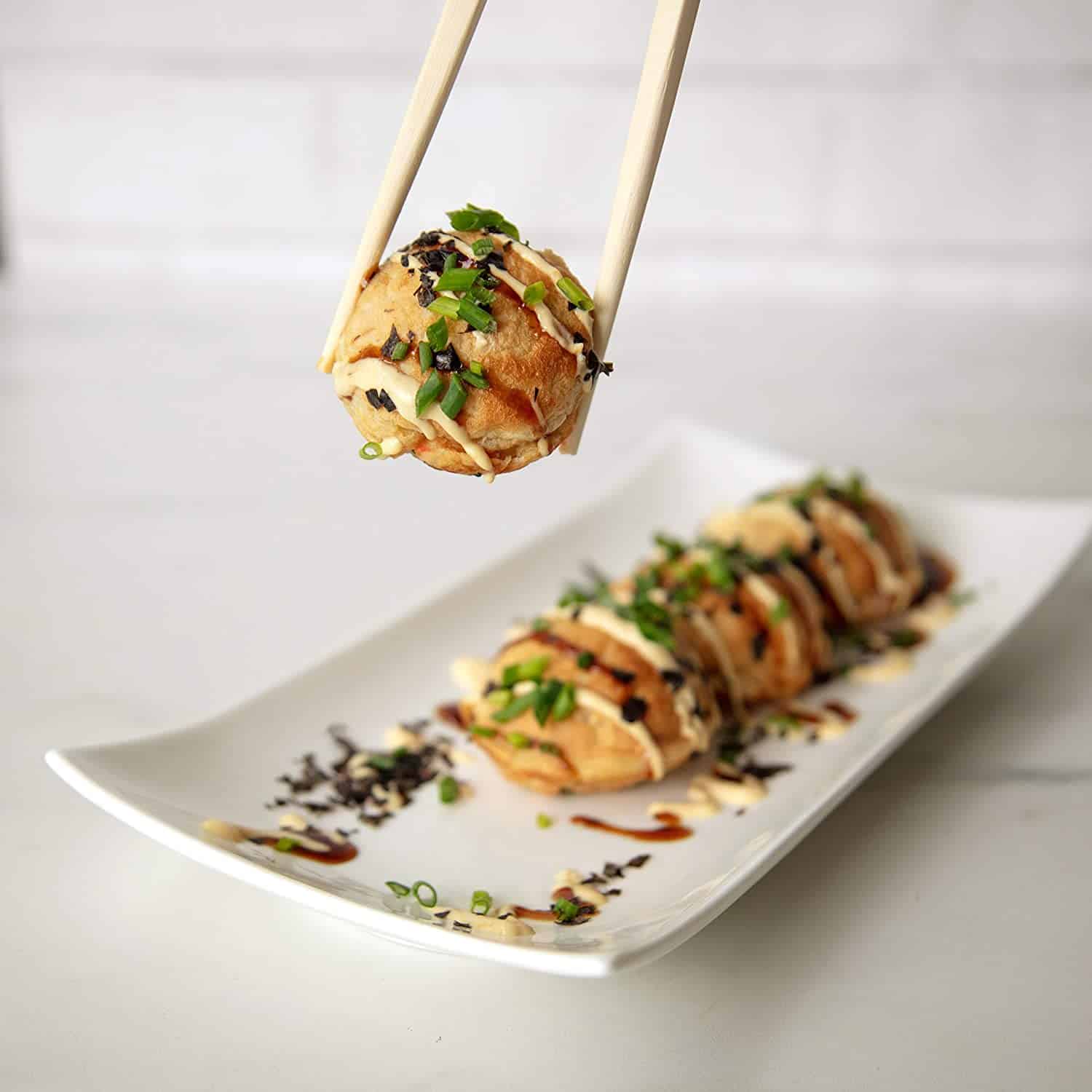 Yes, you can use all of the pans I've reviewed interchangeably.
If you are one of the people who love both Japanese takoyaki and Danish aebleskiver but don't want to spend money on two separate pans, you can buy just one and use it for both dishes.
However, there's one thing to keep in mind: takoyaki and aebleskiver don't have the exact same shape because the Danish treats are ever so slightly larger and meant to be fluffy and softer whereas the takoyaki pans are designed to give that crispy exterior.
If you want the simplest cooker for both types of snacks, an electric machine is an easy choice but if you like to use a classic frying pan, you can opt for aluminum nonstick or cast iron.
Conclusion
So, the aebleskiver pans have larger holes and usually are used to make sweet pastries, while the takoyaki pans have smaller holes and are used to make a savory ball, with octopus.
So what are you in the mood to make today? Savory takoyaki, or sweet Aebleskivers? With these pans, you can make these treats and satisfy your cravings anytime.
Whether you choose a stovetop pan or an eclectic machine, the cooking process is quite fun and in less than 5 minutes you'll have lots of octopus or apple balls that are best enjoyed hot with a great dipping sauce.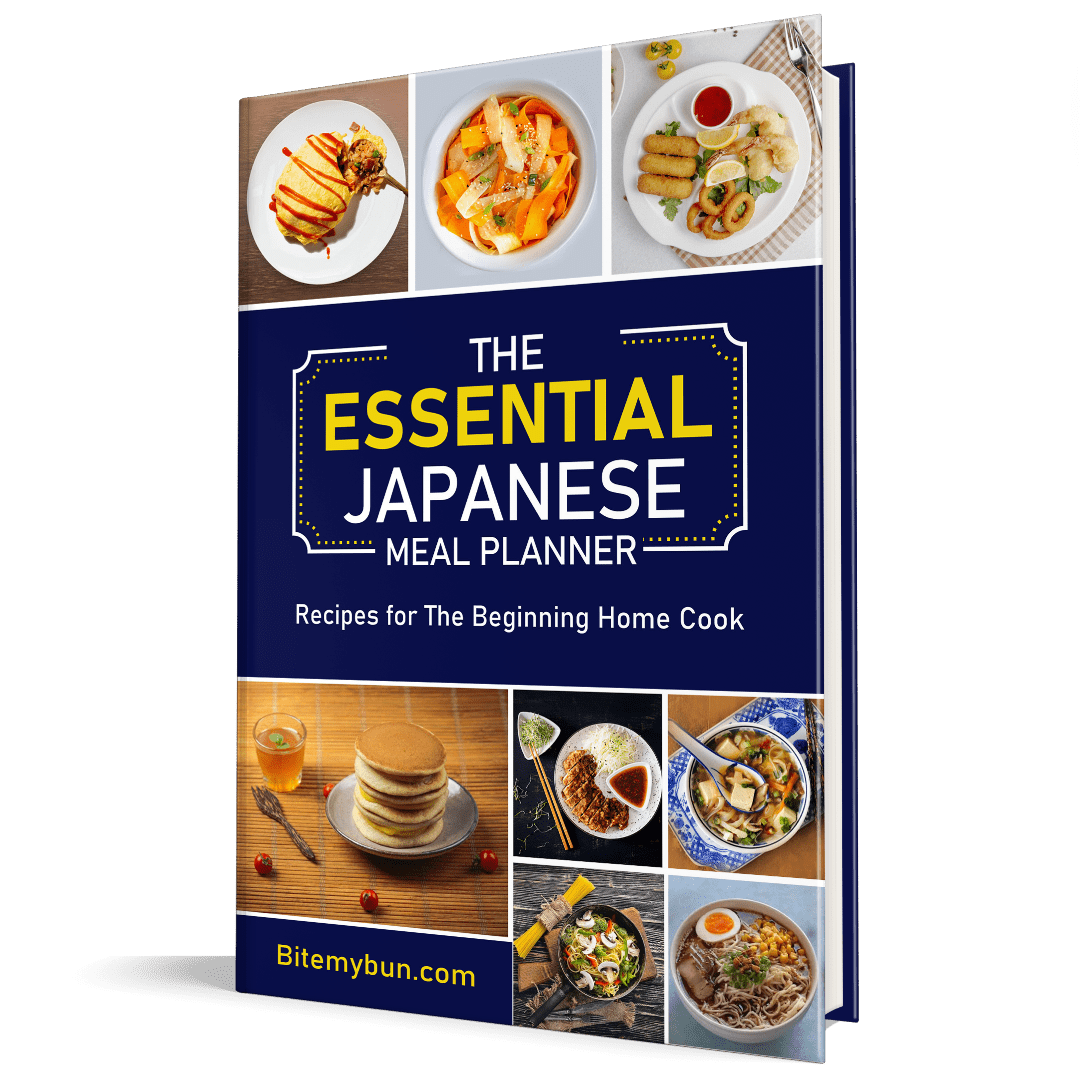 Check out our new cookbook
Bitemybun's family recipes with complete meal planner and recipe guide.
Try it out for free with Kindle Unlimited:
Read for free
Joost Nusselder, the founder of Bite My Bun is a content marketer, dad and loves trying out new food with Japanese food at the heart of his passion, and together with his team he's been creating in-depth blog articles since 2016 to help loyal readers with recipes and cooking tips.