Easy, creamy & cheesy delicious cassava cake recipe
I love creating free content full of tips for my readers, you. I don't accept paid sponsorships, my opinion is my own, but if you find my recommendations helpful and you end up buying something you like through one of my links, I could earn a commission at no extra cost to you.
Learn more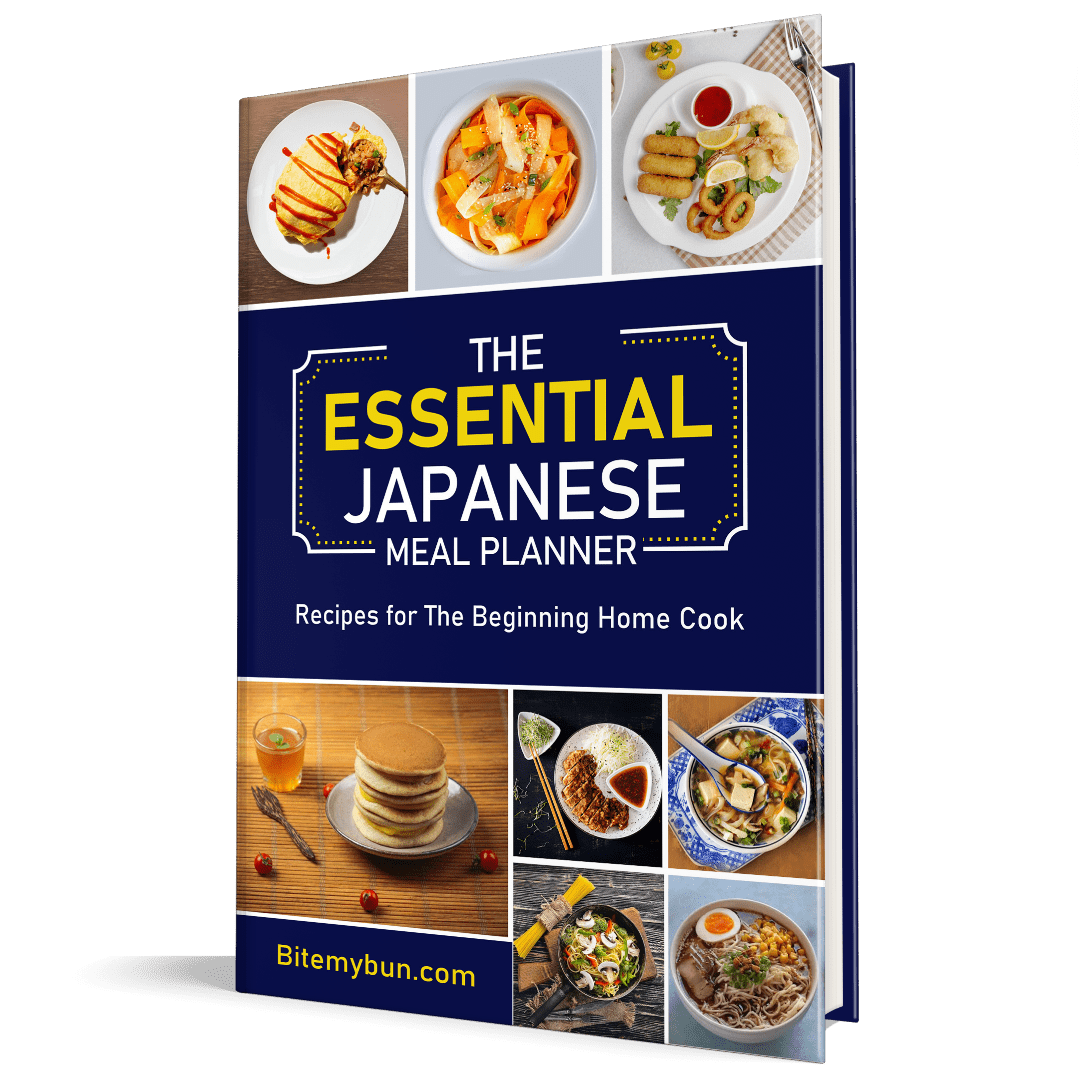 Check out our new cookbook
Bitemybun's family recipes with complete meal planner and recipe guide.
Try it out for free with Kindle Unlimited:
Read for free
Filipinos celebrate every occasion and it doesn't matter what the occasion is: you can always serve cassava cake as a delicious treat!
Cassava cake contains sugar, eggs, coconut milk, and of course, freshly grated cassava, and a little grated cheese to top it off.
Its creaminess is what makes it a favorite dessert and sets it apart from others you might try, so let's start making a batch!
I'll share my favorite recipe which contains the best-evaporated milk and this helps the cake come together. Making cassava cake doesn't take too long and it's such a yummy dish to share with your loved ones.
10 Tips to Save a Bundle on Asian Ingredients!
Introducing our brand new FREE PDF guide: "Saving Secrets: Unveiling the Art of Saving Money on Asian Ingredients" It's your first newsletter email, so start saving today! 📚🧧
We'll only use your email address for our newsletter and respect your privacy
Cassava cake recipe, tips, and preparation
Ok, I admit that fresh cassava is the best but don't worry if you can't find it because the frozen stuff is great too!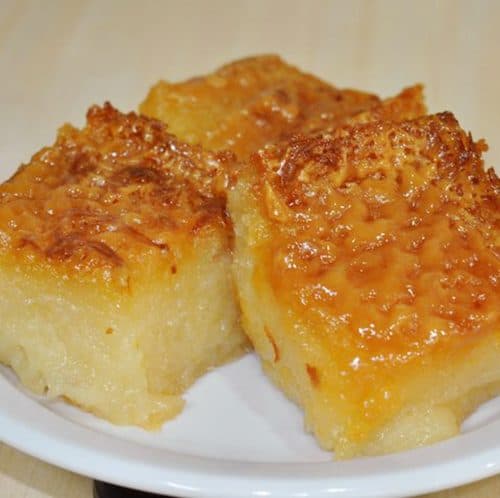 Easy, creamy & cheesy cassava cake recipe
This cassava cake recipe contains sugar, eggs, coconut milk and of course, grated cassava.
Ingredients  
4½

lbs

cassava

grated

6

cups

coconut milk

(squeezed from 2 coconuts)

1

big can

evaporated milk

1

lb

brown sugar

(Segunda)

1

tbsp

butter

for greasing
for toppings:
1½

cups

coconut cream

3

whole

eggs

1

big can

condensed milk

1

small packet

cheddar cheese

(grated)

macapuno (optional)
Instructions 
Mix the grated cassava, sugar, evaporated milk, and coconut milk.

Adjust your mixture by adding water if you think it's too dry. But don't make it too watery.

Grease the pan, pour in the cassava mixture, and bake in a preheated oven at 350° F for 1 hour until translucent in color. Make sure the mixture is evenly spread across the pan so it'll have the same moisture and consistency throughout the whole cake.

Remove it from the oven, mix all the toppings together except for the cheese, and cover the top of the cake with the mixture. You'll add the cheese on top just at the very end of baking to make sure it doesn't burn; it just has to melt. Then bake it again until this topping mixture is golden brown in color.

Remove it from the oven again, add the grated cheese on top, and bake for another minute or so until the cheese is golden brown.
Nutrition
Calories:
591
kcal
Carbohydrates:
86
g
Protein:
5
g
Fat:
28
g
Saturated Fat:
25
g
Cholesterol:
1
mg
Sodium:
42
mg
Potassium:
688
mg
Fiber:
3
g
Sugar:
32
g
Vitamin A:
21
IU
Vitamin C:
30
mg
Calcium:
68
mg
Iron:
4
mg
Cooking tips
You make cassava cake in tin molds like the ones used in leche flan, which is another favorite dessert in the Philippines. But any mold or oven tray will do, as long as it has high edges.
The base of the cake can get pretty creamy, but that's what makes it delicious!
The trick is all in getting the texture just right. I like to use Carnation evaporated milk for this, which is just a little smoother in my opinion:
Make sure that you follow the directions, especially when it comes to the amount of moisture and sugar, and the minutes needed for baking this dessert to ensure that it'll have that creamy, mouthwatering taste.
The other thing is the sweetness of the cake. If you have a sweet tooth, then you might want to add macapuno, like this one from Kapuso: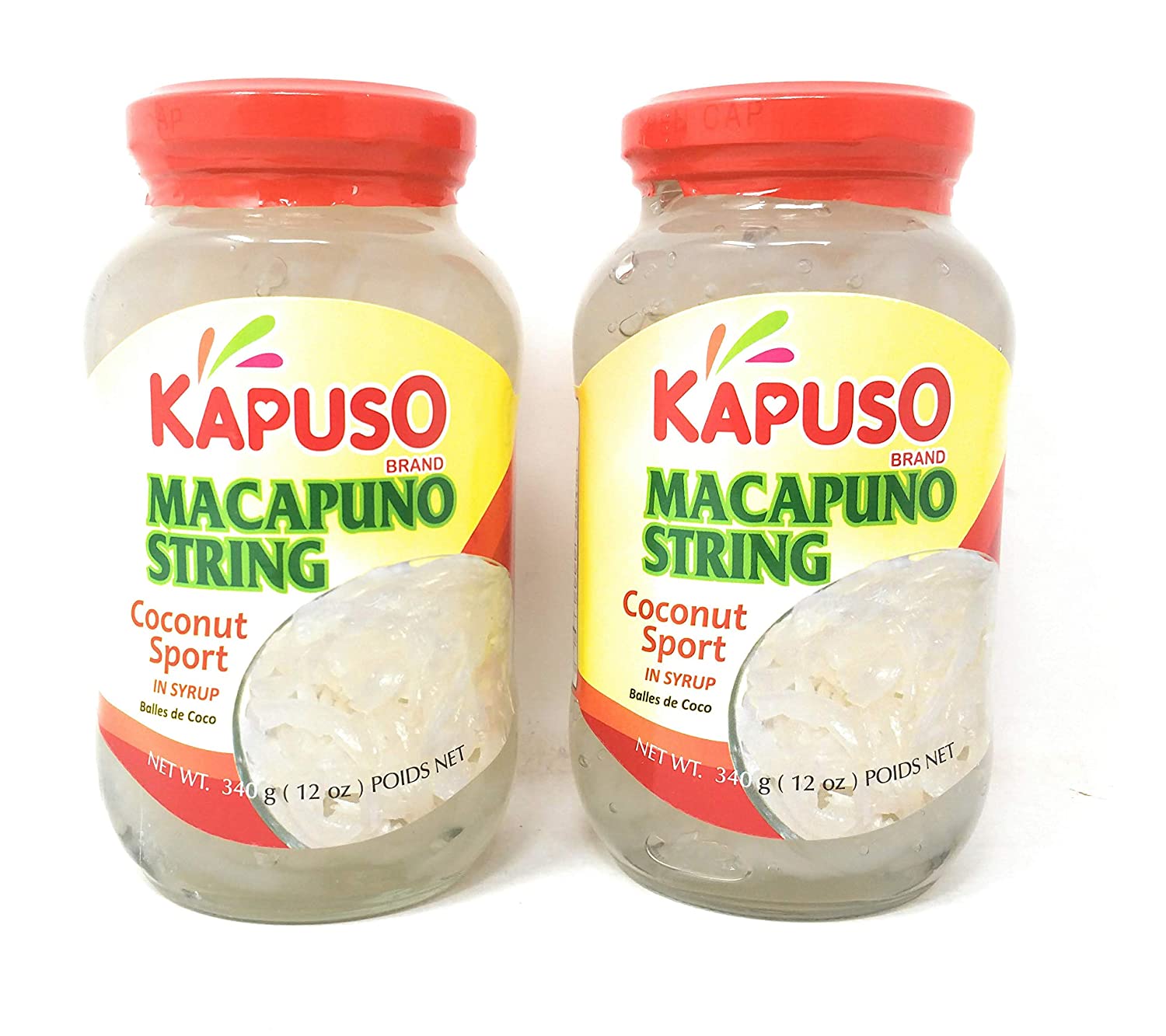 For a thinner cake, you can split your cassava batter into two pans. Some people prefer the thinner cake texture because it's similar to custard pie.
If you prefer a buttery milky flavor, you can always add about 2 tbsp of melted butter to the cassava mixture. It also makes the cake a bit softer.
Some people like to make the cake sweeter by adding some vanilla extract into the batter. The macapuno strings are sweet though so you might end up over-sweetening the cake batter.
You always need to grease the pan and you need to use a baking spray or some butter. It's advisable not to use parchment paper when you bake this cake or it will stick to the bottom and ruin the texture.
Then finally, be sure to thaw your frozen cassava for about 60 minutes so it's easy to work with.
Substitutions and variations
Let's look at some possible substitutes you might use if you don't have certain ingredients.
Toppings
First, let's talk about topping ingredients. The most common is shredded cheese because it's tasty when baked or broiled.
But, there's no real need for toppings since the milky custard is flavorful enough.
The custard is actually "the topping" on this dish. Once fully cooled, the custard or cheese topping integrates into the cake very well so nothing more is required.
Can you use frozen grated cassava for a cassava cake?
You can absolutely use frozen cassava for your cake. Just use the same amount you normally would and mix it in with the ingredients.
It's almost the same as using fresh cassava so don't worry about it.
By the time you've put it in the oven, it's probably already defrosted. But if it's still really cold, just wait a few minutes before putting it in.
My favorite cassava to use for this is this Tropics bag of frozen cassava:
Can you make cassava cake with cassava flour?
You can make cassava cake using flour instead of grated cassava.
The flour doesn't give the cake the same consistency though, so if you opt to use flour, you should also replace the coconut milk with coconut shavings as well, to get that same consistency back into your cake.
You can use 2 cups of cassava flour and 1 extra cup of coconut shavings or strings, preferably young coconut (macapuno).
However, most people don't recommend swapping the cassava flour for the grated or fresh root. That's because the texture will be off and you have to use much more of the flour than the real fresh thing.
If you prefer baking with grated coconut, why not try this delicious pan de coco recipe!
Can you make cassava cake with tapioca flour?
Tapioca flour is made from the cassava root that's finely shredded before being washed and dehydrated to make the flour. So, it's actually cassava flour.
The dried pulp of this plant becomes tapioca flour when it's ground into a fine powder by mills or electric grinders.
So you can use it to make cassava cake as well!
Can you make cassava cake without coconut milk?
You can make cassava cake without coconut milk. People usually add 2 eggs in the mix to give it a little more fluffiness and texture you might otherwise miss.
Then add some extra condensed milk to make up for the lack of moisture you'd otherwise get.
Don't use coconut cream instead of coconut milk
Although it's tempting to swap coconut milk with coconut cream it's a big no-no.
The coconut cream is much thicker than coconut milk. The coconut milk contains more water so it makes the cake moist and fluffy.
Using coconut cream is going to make the cake drier, heavier and some of the custard might collapse in the middle and lose its texture.
Using low-fat milk or cow's milk
If you're looking for a healthier cassava cake you can use low-fat or skim evaporated milk instead of regular coconut milk.
The only issue is that your cake will lack that intense but tasty milky flavor.
Some people even use whole cow's milk for this but the taste just isn't the same. It can also affect the overall texture and it won't be as spongy.
How to serve and eat cassava cake
Cassava cake is served as a midday snack or dessert but you can have it any time.
Most Filipinos prefer to eat cassava cake while it's cold, not served hot from the oven. That's because once the custard cools, the cake is easier to slice and it's very refreshing and delicious.
But, you can also serve the cake at room temperature or slightly warm –  45 minutes after it comes out of the oven and cools on the rack.
If you want the ultimate midday pick-me-up dessert, serve a slice of cassava cake with pour-over Vietnamese coffee or your favorite iced coffee.
Since cassava is sweet and milky, you can have it after savory meals too. If you add the cheese as per the recipe, you can even serve it for breakfast because it's very filling. Enjoy it with some tea too!
Cassava cake is also served at many types of parties, events, and celebrations so it's a great food to take to the company lunch party or the next baby shower you attend.
Similar dishes
Cassava cake is quite a staple of Filipino cuisine. There are some other recipes for various types of soft cakes, but the cassava one is rather unique!
Bánh khoai mì is the Vietnamese version of cassava cake. It's served either steamed or bakes so keep an eye out for it and just know it's almost the same cake.
Mont refers to Malay snacks and dessert dishes made of wheat or rice flour. These are similar in shape to cassava cake but they have different flavors since cassava isn't an ingredient.
Galapong is another Filipino dish made of rice flour or glutinous rice flour but it's usually baked in a round pan. It has a similar texture to the cassava pie but it's chewier and the flavor is milkier and ricey.
What is cassava cake?
Cassava is a popular root vegetable in the Philippines and it has a slightly nutty taste but nothing overwhelming. It's also called kamoteng kahoy and balinghoy in Filipino and used to make tapioca too.
The cassava cake is a soft moist cake made with grated cassava root, evaporated or condensed milk, coconut milk, and a generous layer of custard to top it off.
This dish is popular as a snack between meals and merienda but it's also commonly eaten during celebrations and family gatherings as a tasty dessert.
You can prepare cassava cake in several ways so you can bake it, steam it, and broil it.
Whichever method you choose, I can tell you the moist and creamy custardy bit is well worth waiting for!
The origin of cassava cake
There are many ways you can prepare cassava, like simply boiling it and mixing in red sugar.
But the most popular cassava cake recipe, which started in Lucban, Quezon, is the one that became a favorite for special occasions.
It's thought that these soft cakes are inspired by Malay layer cakes and similar sticky rice cakes.
But, it's believed that bibingka cassava cake originates sometime in the 16th century when the country was under Spanish colonization. Many baked cakes were "born" during that period.
During Spanish colonization, cassava was imported from South America.
Locals were already making galapong which is a batter made of ground glutinous rice so they adapted the recipe and started using cassava as an ingredient.
Cassava cake has become a favorite pasalubong for family and friends, and why not? It's one of the most deliciously creamy desserts or merienda you can ever have.
Several pasalubong centers in Southern Luzon offer a wide variety of take-home pies or cakes and the cassava cake is one of them.
The root crop, cassava, originated in Southern Mexico, but there's plenty of it in the Philippines. Its plant grows about 3 meters tall and is called kamoteng kahoy in Tagalog.
Also check out this delicious cassava with coconut & cheese pichi-pichi fiesta food
It's also easy to prepare, as the preparation and cooking time only takes about 30 minutes each, making it ready after an hour!
Don't forget to garnish it with grated cheese before serving. Your family and guests will surely love its creamy taste and your party will be a success.
A cup of hot and perfectly brewed coffee or hot chocolate can be a good partner drink for this dessert, making it all the more mouthwatering.
FAQs
Is cassava cake healthy?
Did you know that aside from its wonderful taste, cassava cake is also beneficial to your health?
This root crop is packed with nutritional benefits. It contains vitamins A, C, E, and K. It also contains iron, which helps your blood carry oxygen all throughout your body.
It has 0 cholesterol, around 6% potassium, and only 1% of sodium.
Learn how to make this sweet mamon cake as well
There are some other things you need to know.  Cassava also has dietary fiber and protein, which gives you energy. But, it's also gluten-free so it's suitable for various dietary needs.
You can see now that in eating this dessert, it's not just your stomach and taste buds that'll benefit, but also your health. Imagine that!
It's not often that you can get to eat something truly delicious without thinking of the bad effects on your health.
If you haven't tried it, this is the time to allow yourself, your family, and friends to get a taste of this impeccable dessert.
Marami pong Salamat!!
Also read: homemade egg pie recipe you can't resist
Does cassava cake need to be refrigerated?
Yes, if you aren't eating the whole cassava cake at once, you need to store it in the fridge.
Be sure to place leftovers in an airtight plastic or glass Tupperware container and store it in the fridge for up to a week but no longer. If it stays too long, the cake can get stale and dry out.
Can you make a cassava cake ahead of time?
Sweet cassava cake is delicious when fresh, but you can make it ahead of time.
If you're not going to eat yours the same day, just store it in Tupperware and refrigerate! Anything longer will make for dry stacks of floury bricks that no one will want to mess with.
Conclusion
Now that you're craving the cassava cake, it's time to start prepping the ingredients.
A fun part of making this cake is that you can broil it at the end to give it a nice brown color.
It's a very tasty Filipino dessert and snack and the good news is, you can serve it to all your friends and family and I'm sure they'll be so surprised to find out it's made of cassava!
Once you taste that amazing custard texture for the first time, there's no going back! Who knows, this might even inspire you to use cassava in more recipes.
Try next: Nilupak (Mashed Cassava) with coconut – great recipe for merienda!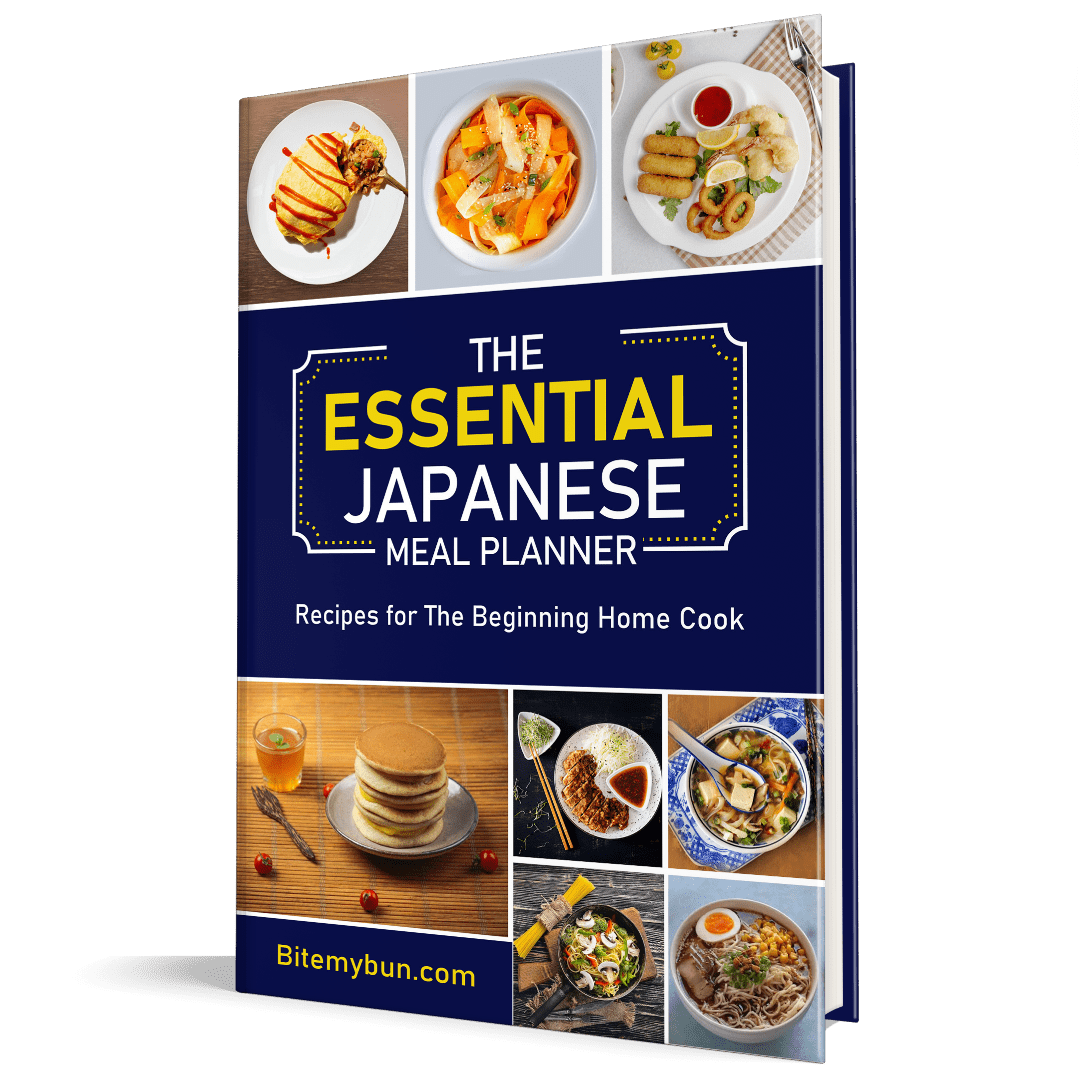 Check out our new cookbook
Bitemybun's family recipes with complete meal planner and recipe guide.
Try it out for free with Kindle Unlimited:
Read for free
Joost Nusselder, the founder of Bite My Bun is a content marketer, dad and loves trying out new food with Japanese food at the heart of his passion, and together with his team he's been creating in-depth blog articles since 2016 to help loyal readers with recipes and cooking tips.