How to make ramen in the microwave + ways to make it extra yummy
I love creating free content full of tips for my readers, you. I don't accept paid sponsorships, my opinion is my own, but if you find my recommendations helpful and you end up buying something you like through one of my links, I could earn a commission at no extra cost to you.
Learn more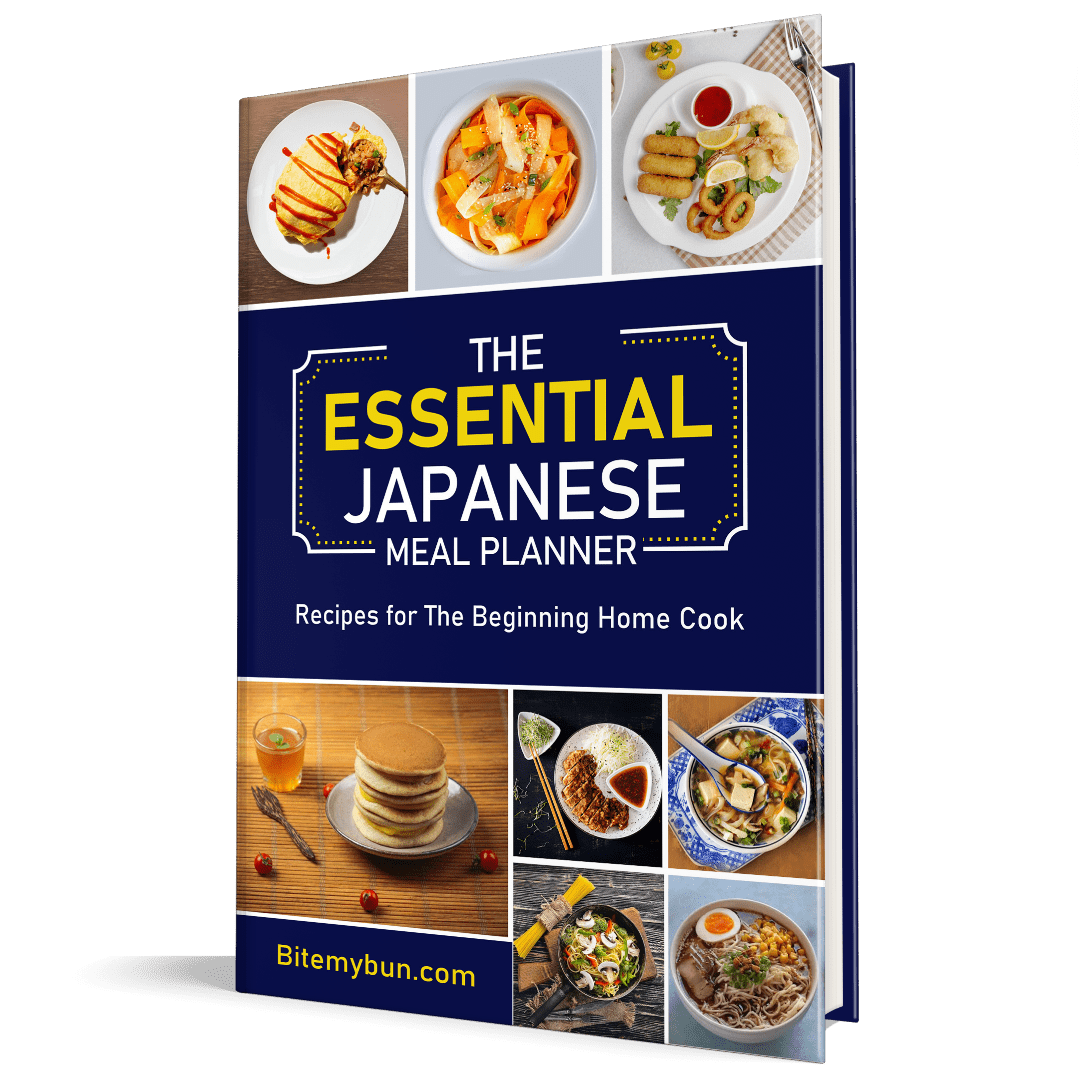 Check out our new cookbook
Bitemybun's family recipes with complete meal planner and recipe guide.
Try it out for free with Kindle Unlimited:
Read for free
Ramen, especially instant ramen, is a quick and affordable meal at any time of the day.
If you buy ramen packets, they contain noodles and one or two seasoning packets. To cook the ramen noodles, you usually put them in a bowl, add the seasoning, and then pour boiling water and let it simmer for a few minutes.
But what if you aren't near the stovetop and don't have a kettle nearby?
Did you know that you can make ramen noodles in the microwave? It's so easy to do; anyone can make ramen in a few minutes.
I'm going to explain how to make ramen in the microwave, step by step so you can eat ramen quickly!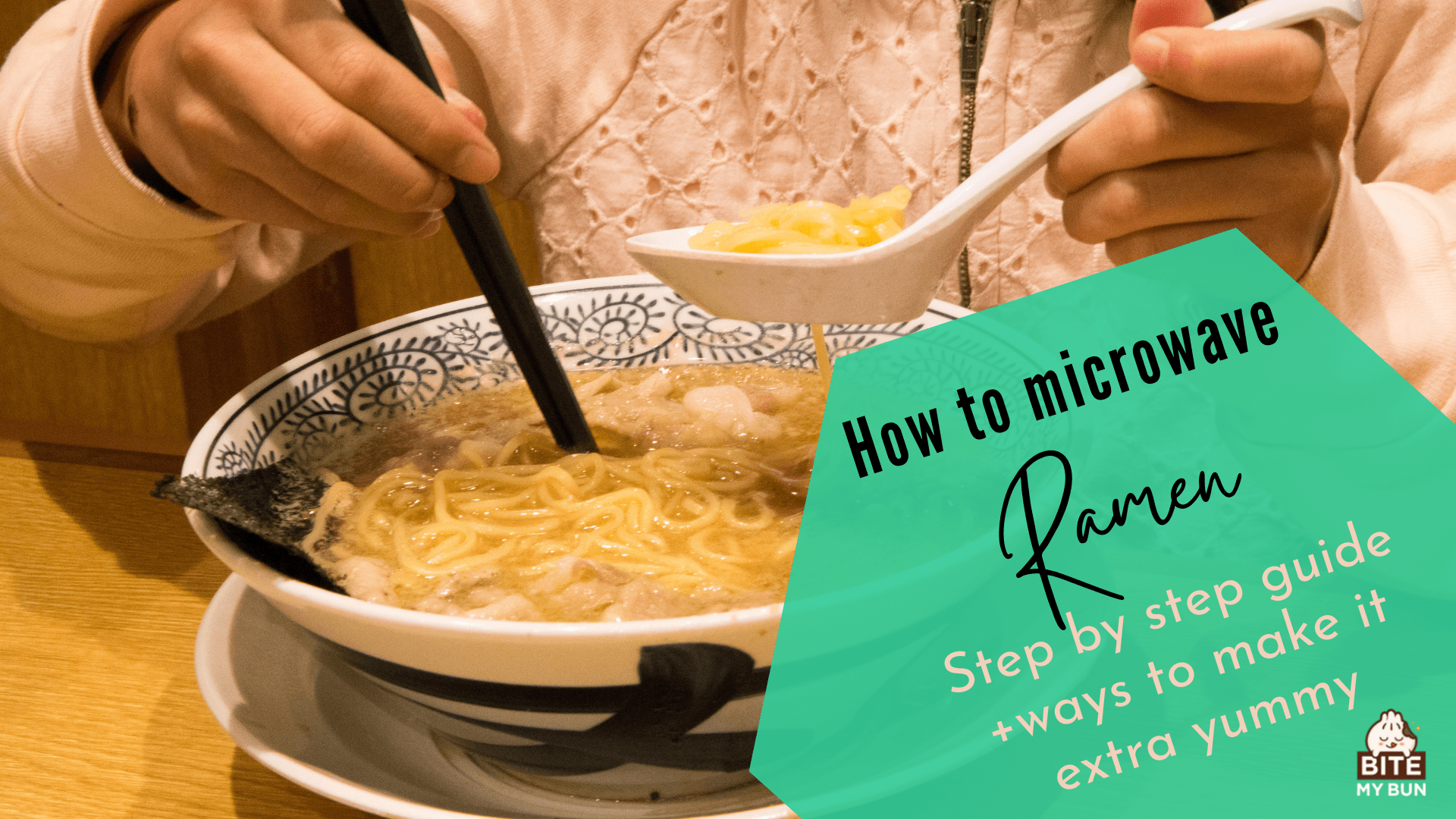 10 Tips to Save a Bundle on Asian Ingredients!
Introducing our brand new FREE PDF guide: "Saving Secrets: Unveiling the Art of Saving Money on Asian Ingredients" It's your first newsletter email, so start saving today! 📚🧧
We'll only use your email address for our newsletter and respect your privacy
Can you microwave ramen?
Yes, you can totally microwave ramen noodles. In fact, there's nothing preventing you from doing so. All you have to do is remove the packaging and put the instant noodles in a microwave-safe bowl.
If you bought ramen in styrofoam, you have to remove the noodles and seasoning packets and cook them separately.
But making ramen in the microwave doesn't take longer than a maximum of 5 minutes. So anyone can do it!
How long do you microwave ramen noodles for?
Generally, you microwave ramen noodles for anywhere between 2-5 minutes.
A very powerful microwave can cook instant noodles in 2 minutes. But in general, you can boil the water first for 3 minutes and then cook the noodles in the water for another 2-5.
Can you microwave Top Ramen?
Sure you can. Top Ramen is just like most other ramen or instant noodle brands.
You can microwave the ingredients to make delicious ramen noodles. Just because the packaging recommends stovetop cooking doesn't mean you can't microwave instant noodles!
How to microwave ramen
Here's how to do it if you bought ramen in a simple packet (like Maruchan Ramen) or styrofoam (cup noodles like Nissin Cup Noodles).
Just a heads up: always remove the instant noodles and seasoning packets. You don't want any plastic or toxins seeping into the food.
There are 2 simple ways to cook ramen in the microwave!
Method 1: prepare the water first & then cook noodles
Take off the packaging and place the noodles in a bowl for later.
Add about 2 cups of water to a microwave-safe bowl. Put it in the microwave for approximately 3 minutes.
Carefully remove the hot bowl and put the noodles in hot water. You can break up the noodles if you want them to absorb more moisture faster.
Now microwave the instant noodles for about 4 to 5 minutes. Remove carefully.
At this point, you can add the seasoning packets and mix them with the noodles. Wait for a minute before you start eating so the noodles can absorb the flavoring.
Alternatively, you can use a separate bowl, put the seasoning at the bottom and then transfer the hot water and noodles. But this is optional.
Method 2: microwave noodles in the bowl directly
Remove the ramen noodles from its packaging. Break up the ramen if you prefer smaller pieces.
Grab a microwave-safe bowl. Place the noodles in it.
Cover the noodles with water. You usually need about 2 cups of water to cover the noodles completely.
Put a lid or small plate over the bowl to prevent splattering and place the bowl in the microwave.
Microwave the ramen noodles for between 3 to 5 minutes. If you're not sure how powerful the microwave is, check after 3 minutes and see if the noodles look soft and cooked. If not, continue to heat them for another 2 minutes max.
Then, take the instant noodles out of the microwave, let them sit for one minute, then mix in the seasoning packets. Stir and then enjoy your meal!
How to cook Shin Ramyun in the microwave
Shin Ramyun Korean noodles are very popular and flavorful. A lot of people claim these are the best ramyeon noodle packages.
You can cook them in the microwave, and I've checked Nonghshim's (the manufacturer) official website to find out the best way to cook their ramen products in the microwave.
Here's how to do it:
Grab a microwave-safe bowl. Place the seasoning packet and the vegetable mix into the bowl.
Add the instant noodles on top of those ingredients. You can break the noodles up if you want.
Pour 470 ml of room-temperature water on top of the noodles to cover them. That's about 2 cups of water.
Make sure to place a microwave-safe lid on the bowl and microwave it for about 7 minutes. If you use hot water, you only need to cook the ramen for 4 minutes.
Ramen: microwave vs. stove
There's quite a debate about cooking ramen in the microwave versus the stove. Most people claim that stovetop ramen is tastier because the noodles have a better texture.
Here's the thing: when you cook noodles in the microwave, they can easily become overcooked, and the texture becomes mushy.
It's easier to keep an eye on the noodle texture when you boil them on the stovetop. You can stir them and see the firmness.
With both methods though, the noodles might absorb too much water, and they can be mushy. It's all about timing and not overcooking them.
With stovetop cooking, you can use a little less water and make the noodles more condensed and less soupy.
In terms of flavor, both stovetop-cooked and microwaved ramen noodles taste the same because the flavor comes from the seasoning packets.
Stovetop cooking takes longer because you have to wait for the water to boil, and then there's more clean-up involved. If you're on the run and need a quick meal, then cook the ramen in the microwave and save time.
Already cooked your ramen and wondering if you can reheat ramen noodles?
Can you microwave ramen noodles in a styrofoam cup?
Some ramen is packaged in a cylindrical styrofoam cup. It's often labeled as instant noodles.
So how can you cook those noodles? Is it safe to microwave styrofoam?
The answer is NO. You should never microwave noodles and water in the styrofoam cup because it's dangerous.
Not only can the cup lose its shape, but dangerous chemicals will seep into the food, and they can make you ill.
Toxins like BHT stabilizers are added to styrofoam to make it sturdier. When this substance dissolves, it creates toxic vapors that are bad for your health.
The problem is that polystyrene containers don't usually get a "microwave safe" label because they don't do well in high heat.
The styrofoam for the cup noodles won't melt if you microwave it for 3 or so minutes, but it might lose its shape, and the hot soup and instant noodles can fall out and make a huge mess.
Additionally, some cheap styrofoam can actually become a fire hazard when microwaved for too long, so avoid doing that and keep your home safe. You don't want to damage the device.
Some containers are labeled microwave-safe. In that case, you can microwave them but otherwise, don't.
Also read: Are ramen noodles made of plastic and can they give you cancer? Hoax revealed
How to cook ramen with egg in the microwave
Surely ramen with egg is one of the tastiest ways to enjoy this yummy noodle dish. But at first glance, it seems too complicated to cook ramen with eggs in the microwave.
Fortunately, it's simpler than it sounds, and it's just as tasty as a stove-cooked egg.
Not only does adding an egg increase the ramen's nutritional value, but you'll feel like you're eating authentic restaurant-style meals.
Microwaved ramen with egg is a simple must-try lunch or dinner for busy people!
So let me show you how easy it is to make:
Cook the noodles in water. Place the noodles in a bowl, cover with about 2 cups of water, and microwave for approximately 3 minutes. Make sure the bowl is microwave-safe and large enough for noodles and an egg. If the noodles aren't soft, cook for an additional 1 or 2 minutes.
Now remove the instant noodles from the microwave, add the seasoning packets, and let it sit for a couple of minutes to infuse the flavors.
Poached and boiled eggs are the best ways to incorporate eggs into ramen. I'll show you how to make both in the microwave.
What you need to know is that the eggs are cooked separately and then added to ramen.
Poached egg in the microwave
In a microwave-safe bowl, add 2 cups of water.
Heat the water for about 2 minutes until it starts to boil. Take the bowl out.
Grab a room-temperature egg and crack it into the hot water.
Heat on high for 30 seconds at a time until the yolk is custard-like and the white part sets.
Now transfer the egg to the top of the cooked and seasoned ramen.
Boiled egg in the microwave
Grab a microwave-safe bowl and place the egg in. Cover with warm water, making sure the egg's completely covered.
Microwave the egg for 2 minutes.
For a soft-boiled egg, let the egg sit in hot water for an additional 2 minutes. For a hard-boiled egg, let it sit for 5 minutes.
You can cut up the egg into slices or small pieces and add it to the ramen.
How long to microwave a ramen cup
Please note that cup noodles or ramen noodles in a cup shouldn't be microwaved in the cup. As I mentioned earlier, they release toxins when heated.
But if you're wondering how long the noodles in the cup must be cooked, the answer is about 3 or so minutes. If the microwave isn't very powerful, you can cook the ramen for up to 5 minutes.
According to most cup noodle instructions, you take the noodles out and microwave them with water for about 3 minutes. Then you pour them back into the noodle cup, add the seasoning packets, and then cover them with the provided lid.
Let the instant noodles sit for a couple of minutes, then stir and enjoy.
Can you microwave a Maruchan ramen cup?
No, you can't microwave the Maruchan brand ramen straight in the cup because of the same reasons I shared above.
The cups contain harmful toxic chemicals that seep into the food when heated.
Is microwaving ramen noodles bad?
No. As long as you don't cook ramen in the foam cups, there's no health risk when microwaving ramen.
If you're concerned about taste, then the good news is that there are many microwave ramen recipes that improve the flavor of these basic noodles.
Check out the microwave ramen recipes below!
Microwaved instant ramen recipes
Sure, you can cook the noodles and just add the seasoning packets. Yes, the instant ramen will taste good, but it's kind of a generic taste.
Here are some ways to improve basic ramen and turn it into a restaurant-worthy dish (such as adding some soy sauce)!
Mixed vegetable ramen in a mug
We're making instant ramen in a mug for this simple recipe and adding tasty frozen veggies, chili, some stock, and spring onions for a bit of crunch. It's a quick way to amp up the flavor of a basic ramen packet.
For this recipe, you need a large mug. It has to fit the soup, noodles, and vegetables. You can also use a larger bowl and add a larger quantity of ingredients.
Ingredients  
1

package

ramen noodles

Nongshim ramen is a great choice

1

cup

vegetable stock

you can use chicken, beef, or seafood stock too

2

tbsp

frozen broccoli, peas, and carrots

2

tsp

soy sauce

½

tsp

chili sauce or paste

1

spring onion

sliced
Instructions 
Break up the noodles into smaller bits. Place them in the mug.

Add all the other ingredients (liquids and solids).

Microwave for about 2 to 3 minutes. It depends on your microwave, but it might take a minute longer. Check after 2.5 minutes.
Instant ramen with hard-boiled egg recipe
This is the ultimate microwave recipe for instant ramen and egg lovers. It's so easy to make you'll forget all about takeout!
It's the kind of hearty meal that fills you up but is also very delicious. Best of all, there's no stovetop cooking needed, as we're making the egg in the microwave too.
Simply grab two eggs and a pack of instant noodles, and collect some of your favorite vegetables, like edamame beans, shredded carrots, and some chopped spring onion.
First, it's time to boil the eggs. As I explained above, you can do this easily by placing the eggs in a microwave-safe container and covering them with warm water.
Add a teaspoon of salt into the water and cook in the microwave for about 6 or 7 minutes for a firm egg. Let the eggs sit in hot water while you cook the noodles to make them hard-boiled.
Then place the chicken stock and water into a microwave-safe bowl, break up the noodles, and add them to the liquid. Cook the noodles in the broth for about 3 minutes.
Take the bowl out and add the vegetables, as well as the soy sauce and ginger paste. Cook for another 3 minutes. Now peel the eggs, cut them into halves, and add on top of the ramen to serve. Enjoy!
For more inspiration on how to upgrade your instant ramen, check these 9 best ramen toppings to order or use when making ramen at home
Enjoy your ramen noodles
As you've seen, it's very easy to make instant ramen in the microwave.
You can experiment with all of your favorite ingredients. Just be sure to cook any meat prior to adding it to microwaved ramen. Never cook it in the microwave along with the broth and noodles.
Once you get the hang of these easy microwave meals, you'll be so pleased that you're able to eat ramen in a matter of minutes!
Wondering how to actually pronounce "ramen noodles"? I explain how it's said in different countries & languages here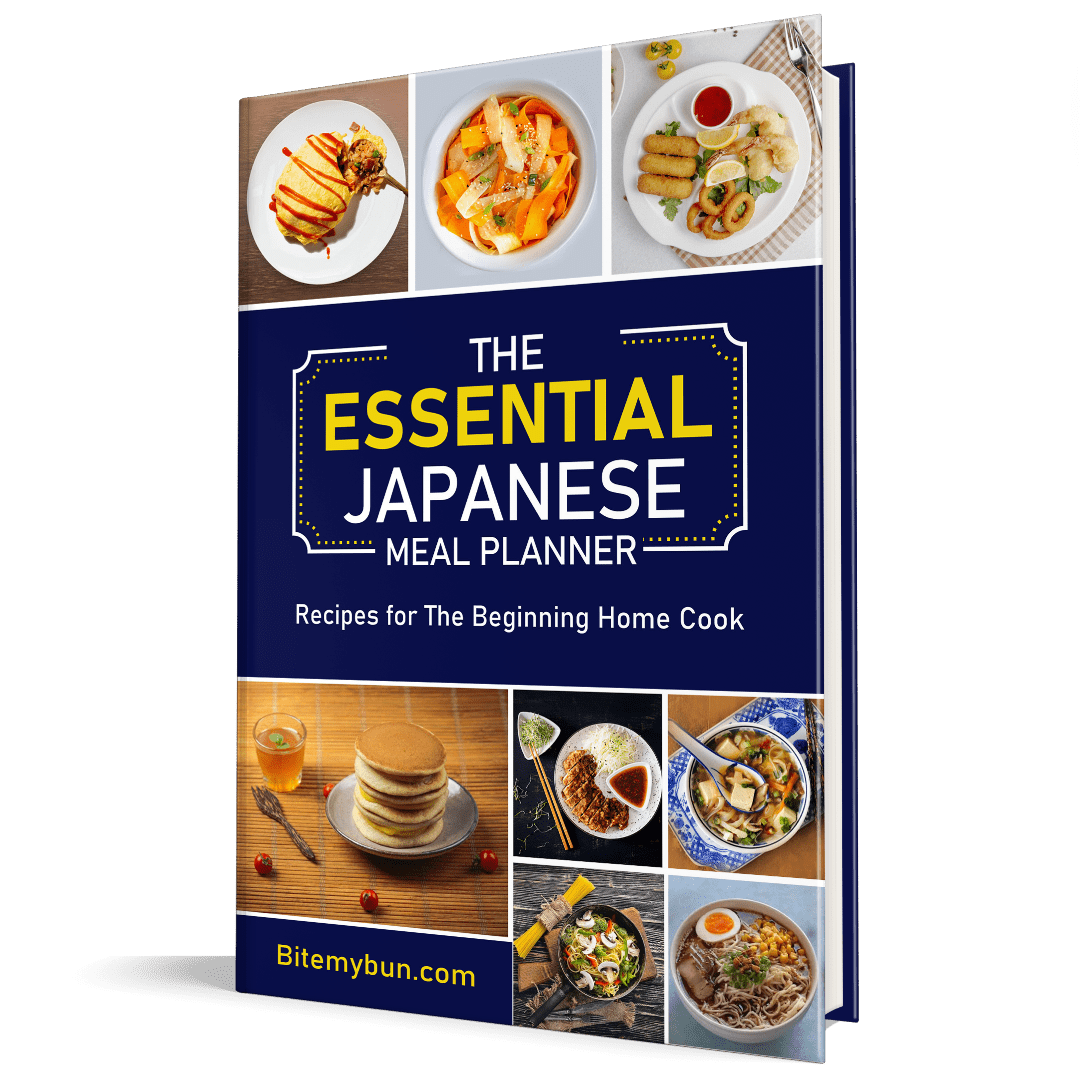 Check out our new cookbook
Bitemybun's family recipes with complete meal planner and recipe guide.
Try it out for free with Kindle Unlimited:
Read for free
Joost Nusselder, the founder of Bite My Bun is a content marketer, dad and loves trying out new food with Japanese food at the heart of his passion, and together with his team he's been creating in-depth blog articles since 2016 to help loyal readers with recipes and cooking tips.