Kotatsu Japanese table heater review | The best traditional & comfy options
I love creating free content full of tips for my readers, you. I don't accept paid sponsorships, my opinion is my own, but if you find my recommendations helpful and you end up buying something you like through one of my links, I could earn a commission at no extra cost to you.
Learn more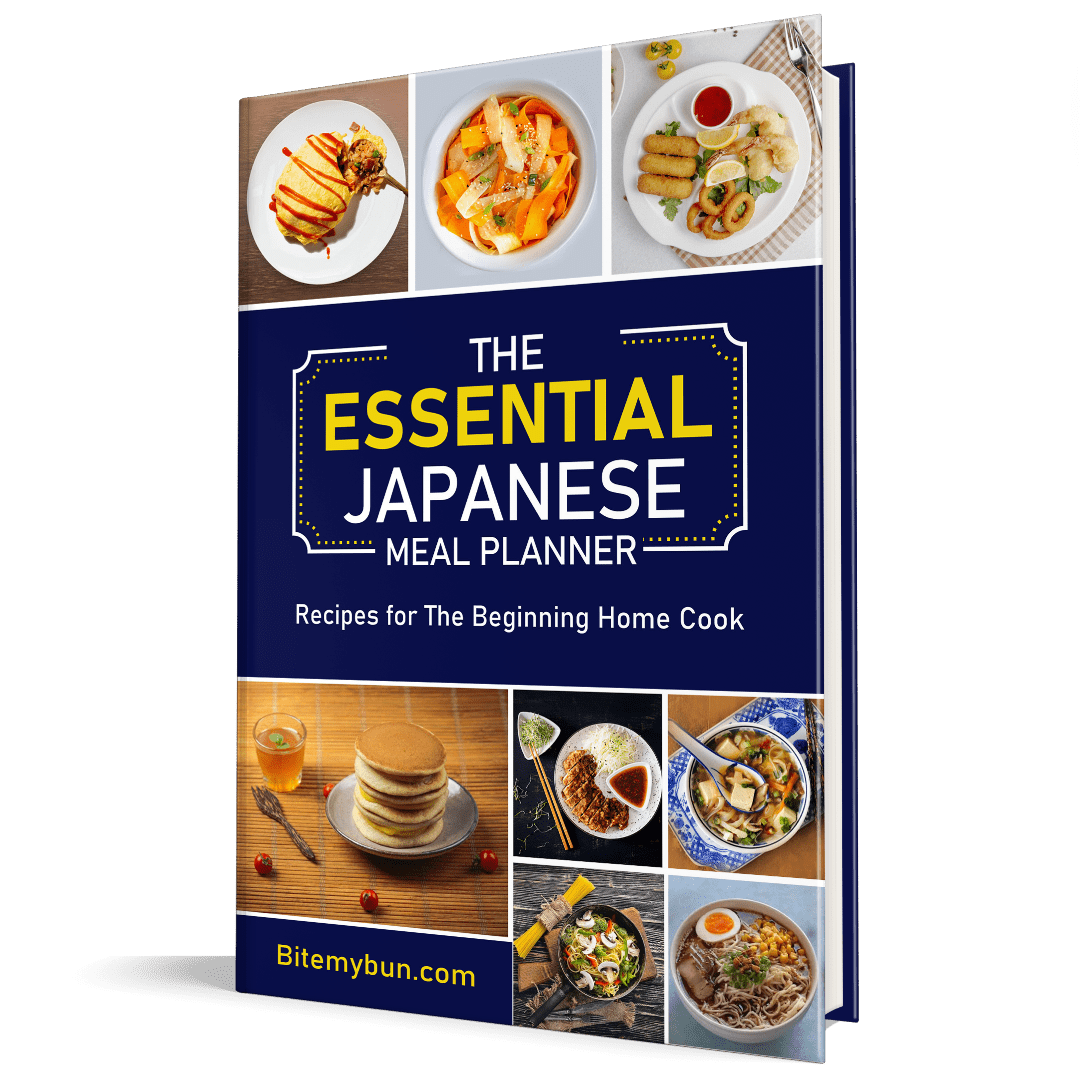 Check out our new cookbook
Bitemybun's family recipes with complete meal planner and recipe guide.
Try it out for free with Kindle Unlimited:
Read for free
Choosing a kotatsu Japanese table heater for work, dining, and socializing can be challenging when they all seem to have similar features.
But, it's not just a heated table; there are features and components you should not overlook.
I've got the solution to help you choose the kotatsu table that best fits your needs. I've compared different sizes, futons, and sets and listed the best features of each.
As you'll find out, not all kotatsu tables are suitable for the same activities, and so you'll be able to choose a comfy table, even if you have to work from home for hours on end.
If you want to get a kotatsu table for all your daily needs, the YAMAZEN table is the best choice. It's the right size for working, eating, and relaxing. On its own, it serves as a nice office desk, but with a quilt, it becomes the perfect cozy space on cold days.
Check out this table to see my top picks for all things kotatsu, and then scroll down for a full review and comparison of each. It will help you make an informed decision.
17 Easy Recipes Anyone Can Make
All the tips you'll need to get started in Japanese cooking with, for a limited time, free as our first email: The Complete Japanese With Ease Cookbook.
We'll only use your email address for our newsletter and respect your privacy
What is a kotatsu table?
When it comes to practical furniture, Japan has it figured out. Who would've thought a heated table could be used in so many ways for different purposes?
If you've never heard of Kotatsu, you're missing out on a must-have heated table.
So basically, the kotatsu is a type of low table with a heat source underneath it. A quilted futon or blanket material surrounds it. The main purpose of this table is to help people keep warm during cold winter months. Because it's a low-lying table, the heat is retained well under the table and quilts.
Modern kotatsu tables are heated electrically through a built-in heater. Therefore, the kotatsu table has an electric heating element built into the frame.
The table is surrounded by a quilt, also called a kakefuton, to retain heat and keep you warm. People then use the kotatsu table to work, eat, and relax.
There are four main components of a kotatsu table:
The table that is usually made of wood or plastic.
The quilted mat or seating area, also called the shikifuton rug
Blanket or quilt, or kakefuton, that covers the rug and keeps you warm
The heater, which is usually electric. In the past, it used to be charcoal, but these days few people use charcoal at home as a heating source.
In Japan, the kotatsu table was and still is an important area of the home. People gather around the kotatsu to keep warm, cook hotpot dishes on their portable stove, and socialize or watch TV.
Especially during cold winter nights, there's nothing more comforting than enjoying a hot meal on the soft blanketed table.
Learn more fun facts about this part of Japanese culture in this video:
These days, most people use kotatsu for relaxing, eating, and work. It's one of the comfiest ways to work from home.
Kotatsu heated table buyer's guide
There are certain features to consider before buying a kotatsu table, a futon, a heater, or a complete set.
Not all kotatsu are the same, and you can see that in the fineprints. Some sets are costly but have no significant benefits over the cheaper ones, so you need to be careful about specifics.
Here's a list of things to look for when shopping for your first kotatsu table.
Voltage and plugs
Many kotatsu table heaters can't be plugged into an American 120-Volt outlet directly. Therefore, you might need to purchase a converter first.
Japan operates on a lower voltage (100) than America. Your kotatsu table heater might not be able to handle the 120 V, and it can become a fire and safety hazard. Always check to see that the heating unit is compatible with US plugs.
Another thing to consider is that some kotatsu tables run on batteries. This might not be the most eco-friendly option, but it saves you the hassle of voltage problems.
The heat supply might be limited, though.
Size & height
Size is important. Many kotatsu tables are made for one or two people.
Some are made for 3-4, and then there are some extra-large-sized ones, but I haven't included them here because you probably don't want a huge low-lying dining table.
29×29 inches is the most common size and is great for up to 4 people, but I recommend it for 1 or 2 if you want a comfy seating space. But this size also best for working and eating because you can lay out all your electronic devices or plates and utensils.
36×20 inches is a longer rectangular kotatsu size, and it's ideal for up to 4 people too. It's a good size for games, socializing, and playing with kids because you more space to store everything.
The ideal height is 20 inches because you have plenty of space for your feet and blankets.
Futon & quilt
The futon or rug goes under the table. The quilt should be the same size as the table and then extend outwards.
You can find simple thinner blankets or thick insulated quilts that are more suitable for winter weather. It's up to you how cozy you want the futon to be.
Material
Kotatsu tables are usually made of wood, and this is a great sturdy material that doesn't get damaged from extended heat exposure. Remember that the kotatsu table can get very hot!
Plastic tables are good too because they are made of high-quality and durable plastic, not the kind that melts.
If you want a long-lasting, sturdy table, I recommend wood. But, if I were to choose a kotatsu table that's lightweight and easy to move, I'd go for plastic.
Best kotatsu tables reviewed
One thing to note is that in most cases, the table and quilt are sold separately. This means you have to buy the table and then order the correct quilt or futon size.
It shouldn't be a problem because it means that you can switch up the futon or quilt whenever you feel like it. In hot summer months, you might just use the table on its own without turning the heat on and with no blanket.
The kotatsu table is a very versatile furniture piece, and you can use it for anything.
Don't worry, I've reviewed tables and some futons and quilts too, so you can find what you need.
Best overall kotatsu table: YAMAZEN White
Material: plastic
Size: 29.5 x 29.5 x 15.15 inches (for 1-3 people)
Recommended for: multipurpose for work, eating, socializing, activities
If you're looking for the type of versatile kotatsu table you can use for almost anything, then the Yamazen plastic table is the one.
It is more affordable than many other similar models, but it's the perfect size for everything from work, to having dinner, to journaling. You can even use it with up to 3 of your family members or friends.
Although the table is made of plastic, it has durable legs and a hard surface. Also, I like the fact that it's pretty lightweight (28 lbs.), so you can move it around when you have to.
The legs are not detachable, but this makes the table sturdier and more durable in the long run. It has a reversible tabletop, so you'll get lots of use out of it.
The table is heated by a 100 Volt heater that runs on 300-watts. It has an intermediate on-off switch which makes this table very safe. You can turn it off when you're not using it, so it's not a fire hazard.
Just make sure you have a power outlet nearby because the 3-meter-long cord is a bit short. Therefore, the only downside to this table is that you need to set it up close to the power outlet.
Finally, I want to point out that you can easily add the futon around it, and then you've got yourself a proper kotatsu setup.
This really is the best all-around kotatsu table if you're just looking for one to use for various activities at home.
Check prices and availability here
Best kotatsu for work: BJDesign Wooden Chabudai
Material: wood
Size: 29×29 inch (1-2 people for comfortable seating, 3 max)
Recommended for: working from home and activities
I know working from home is tiring, especially if you sit at a traditional desk all day. But sitting on the ground and working from a kotatsu table is healthier:
The BJDesign wooden kotatsu table is the perfect size for laying out your laptop, notes, and even a cup of coffee.
What makes it particularly good for work is the handy cord compartment. It means fewer cables and wires everywhere and a cleaner workspace.
The BJDesign table has an elegant design, and it's made of wood. Therefore, you can be sure it's sturdier than many others.
The table is easy to set up. You can simply plug it in and wait to feel the heat radiating because you don't need a special converter. Luckily, the heater is compatible with an American 120-voltage socket.
Also, you can adjust the leg height, which helps you sit in a comfortable position depending on what type of futon or chair you use.
When you work, you need a sturdy table that is moveable and adjustable. The heat levels are adjustable, which is handy because you don't always need lots of heat.
But the heater also has a burn prevention feature, so your electronics don't get damaged.
YAMAZEN vs BJDesign kotatsu table
The BJDesign wood kotatsu table is sturdier, and the legs are easier to install. Also, it has adjustable legs so you can adjust the height of the table. The Yamazen table is of fixed height.
Neither table requires a converter, they are compatible with a 120-volt socket, but the Yamazen has a neat intermediate on and off switch.
When it comes to safety, the BJDesign comes with a burn prevention feature, and there is no fire hazard, whereas the Yamazen table is made of plastic, and it may warp over time.
The bottom line is that if you want a very sturdy table, you should choose the wooden BJDesign. In contrast, if you want a lightweight table for your everyday needs, I recommend the cheaper Yamazen melamine kotatsu table.
Best budget kotatsu set: LZG Japanese Table with Heater and Blanket
Material: wooden table and polyester quilt
Size: best for one or two people
Table size: (29.5×29.5×14.6inch)
Futon rug size: (78.7×6.inch)
Blanket Quilt size: (78.7×70.8inch)
Recommended for: keeping warm, eating & coffee, leisure activities
Okay, in this case, the budget is still about $1000, but a Japanese kotatsu set is very expensive.
One of the annoying things about shopping for kotatsu sets is getting all the components separately. The LZG set is a great buy because it is a complete set with everything you need, including a table, futon rug, blanket, and heater.
I would note that this is designed for 220V, so you need to get a converter to make sure you can use it safely. But, other than that, this is an excellent energy-saving kotatsu set.
Wondering how to set the whole thing up? Watch this kotatsu tutorial:
It is one of the most stylish sets you can find on Amazon, with a beautiful white and grey pattern quilt and white table. If you're looking to add a stylish multi-use table that serves as a desk, coffee table, and gaming area, this is the one.
What I like about this set is that the materials, including the futon and blanket, are all non-slip and washable. Therefore, even if the kids spill something on them, you can clean up quickly.
Another feature that I like is that the temperature is adjustable. The fan heater has a grill covering to offer extra protection, and the security feature turns the heat off when the temperature is too high.
Check prices and availability here
Best traditional and versatile kotatsu set: Tables Home Heater Tatami
Material: wooden table and flannel & polyester fabric
Size: 2-4 people
Table: 31.5×31.5 inches
Quilt: 74.8 x74.8 inches
Recommended for: coffee table, dining, decor
Suppose you want to go for a traditional Japanese décor aesthetic in your home, you're best off with this traditional coffee table kotatsu set.
It comes with a larger table which works as a desk, coffee table, and even dining table for 2-4 people.
Just one look at the kotatsu set, and you'll be taken back in time to traditional Japanese homes with this multi-color thick quilt and brown solid oak table.
The table legs are detachable, so you can move the table around easily. Also, the table has a non-slip mat to prevent it from moving around; thus, it stays in place sturdily.
While this table is advertised as a low-lying winter table, it's suitable for use year-round. After all, there are many chilly spring and autumn evenings where you want to keep warm with a nice cup of tea.
This set is costly, but it's made of solid oak and has expensive-looking design features. But since it's a bit larger than the cheaper set, it's better for families.
It's also an energy-saving table because the heater has an independent switch that releases all the heat to the underside of the table quickly.
Thus, the heat stays trapped in the blankets, and you can keep your feet warm with minimal energy use.
LZG vs premium kotatsu set
While both these sets are expensive, they are complete sets and will save you money in the long run. Buying all the components separately can cost you more, especially when you factor in shipping rates.
The LZG budget set is more stylish and modern in design, while the premium set has a traditional classic design. It's also a bit larger than the LZG, which means that more people can sit around the table comfortably to keep warm.
This is useful if you have kids and pets because you can all fit.
Both sets help you save energy, and both are well-built, but I like the cheaper set because the heater turns off automatically if it overheats. This is a good feature, especially if you worry about kotatsu tables being fire hazards.
However, the pricier set is better at heat distribution, and the area under the table stays warmer because of better airflow.
Best kotatsu table with folding legs: AZUMAYA
Material: wood
Size: 36x20x14.5 inches (2-3 people)
Recommended for: coffee table and leisure activities
If you're looking for a kotatsu table with folding legs, the Azumaya is an excellent choice because it is portable and well-priced.
This table has a long rectangular shape which makes it different from the others. Since the legs are completely foldable, the table is compact and easy to store and move.
The shape makes it more suitable for use as a coffee table by morning and a cozy snack table by night.
Therefore, I recommend this one if you're looking for a versatile kotatsu table that's easy to move and convert from a coffee table to a full-on kotatsu with a futon and blanket.
The table is made of beautiful oak and a rubberwood top, so it's very sturdy. As well its shape makes it an elegant and modern addition to any room.
It comes with a 300-Watt heating element and a temperature control knob. This allows you to make it just the right temperature for your needs, and as a result, you won't get overheated.
Check prices and availability here
Best for kids and families: MustMat
Material: wood
Size: 29.5×47.2×16.9 inches
Recommended for: kids, playtime, homework, leisurely activities
Japanese kids love to sit around the heated kotatsu table to do homework, play, and watch TV. It's a functional piece of furniture for the whole family.
So, you need to have a spacious table with sturdy legs that don't move around while the kids are using it. This MustMat table is made of durable rubberwood, and it's super easy to assemble.
What makes this a suitable kid-friendly table is that it's so easy to clean. Simply wipe it with a disinfectant cleaning solution, and all the dirt, grime, and germs come off in one swipe.
Another beneficial feature is that this table has a powerful heating element (600-Watts), and it makes the kotatsu seating area very warm and comfy for kids.
The table has an on/off switch and temperature control knobs so you can create the perfect temperature for your family members.
Since I know that kids love to sit barefoot, you don't have to worry about them catching a cold. The kotatsu stays warm and toasty.
Also read: Are babies allowed to eat dashi? It's good for them, here's why
Azumaya vs MustMat
I am comparing these two tables because they are both large enough for families and kids.
The Azumaya is better for those who lack space and want a table with foldable legs that is easy to move and store when not in use.
The MustMat table, on the other hand, is sturdy and solid, so it's best not to move it around. With that being said, it's probably the easiest to assemble and requires no tools.
If you're looking for a powerful heat source, the MustMat table is better because it has a 600-watt heating element, whereas the Azumaya's is only 300-watts.
But, if you live in a small apartment, 300-watt is strong enough to make you feel warm and cozy.
Finally, I want to mention that the MustMat table is easier to clean. It is best for small kids and the messes they make.
Both tables are suitable for studying and homework, but the Azumaya has a long shape, so it's not as ideal as the MustMat.
Best kotatsu chair for work: HYMIC Japanese Legless Chair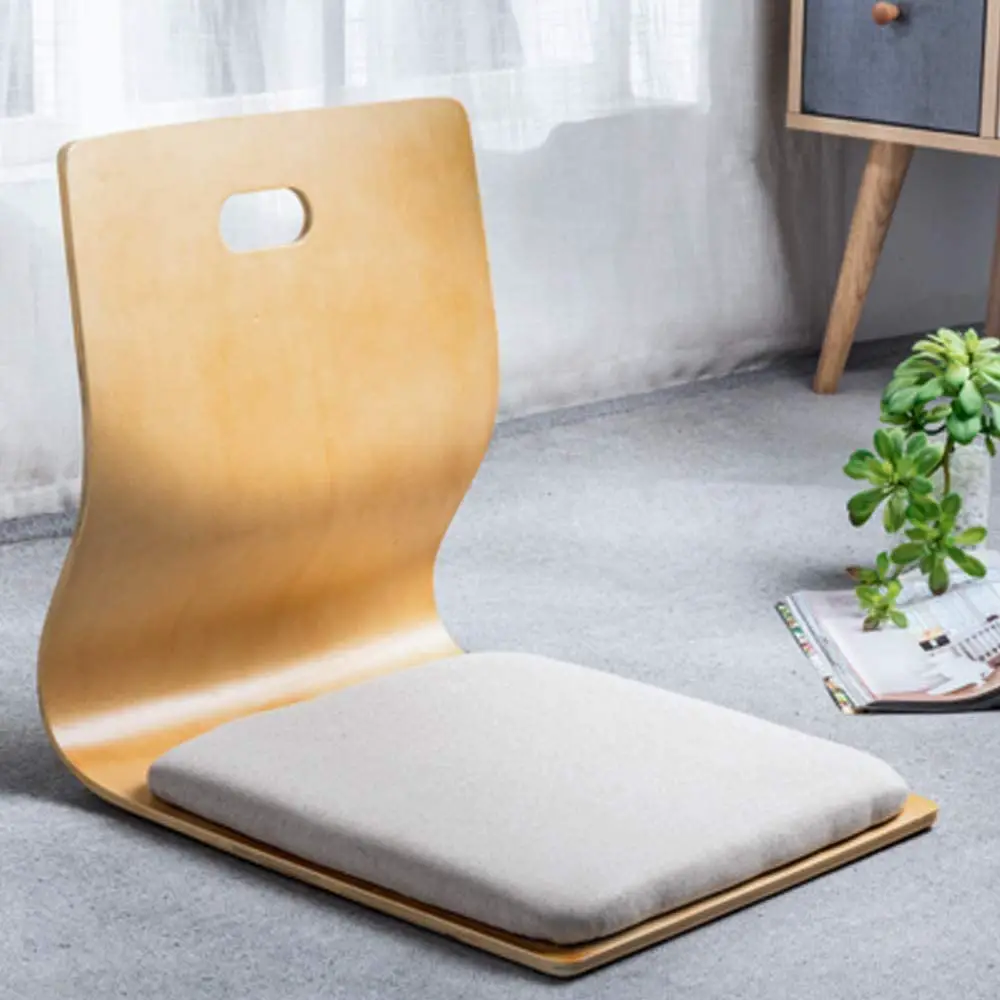 Material: wood and memory foam cushion
Size: 18.1 x 14.6 x 16.9 inches
Recommended for: working on a laptop, tablet, phone
If you work from home a lot, you know that sitting for hours on an uncomfortable chair causes severe back pain. That's why you need to invest in comfy chairs for your home office.
Now, if you've decided on a kotatsu setup, you need a low legless chair like the HYMIC one. The reason why this one is so good is that it has a wooden back, so it's the healthiest for your back.
Unlike straight-back chairs, this one has a curved back that molds to the shape of your spine. Thus, it's better at keeping your back straight and won't leave you feeling stiff after a long day.
Sitting on a soft cushion type of floor chair can cause poor posture, leading to lots of pain.
The wooden chair offers plenty of back support, and it has a soft memory foam cushion for your buttocks so you can sit comfortably for many hours while you warm up your feet.
The chair is also eco-friendly because it contains no plastic or metal materials. It requires no assembly, and it's pretty lightweight, so you can move it around the house as needed.
The chair also has anti-slip pads on the bottom, so it doesn't move around while you sit on it.
Check prices and availability here
Best kotatsu sofa/floor chair for relaxing: AZUMAYA Compact Zaisu
Material: steel frame and polyester cushion
Size: W18.5″ x D19.7″ x H17.7
Recommended for: relaxing, reclining
When you think about a sofa, you think of something soft and comfy. This floor chair or mini kotatsu sofa is ideal for sitting and lounging, reading, sleeping, or working.
It's made of a super comfy thick material on an alloy steel frame. Therefore, the sofa keeps its shape and doesn't move around as you lay on it.
It's suitable for reclining as well as sitting up straight to work.
The sofa is very lightweight (only 7lbs), so you can move it around. It is low enough to fit under a kotatsu table perfectly.
Don't mistake the Azumaya chair for a bean bag chair or a sofa cushion. Since it has a steel frame, it is actually more like an office chair.
It is comfortable to sit on, helps improve your posture, and makes your core and back stronger over time.
I highly recommend this chair if you want a comfy seat to relax, recline, read, and watch television. Since it is soft, you can even nap on it.
Oh, and in case you're wondering, the chair is available in three modern colors: green, blue, and beige.
HYMIC chair vs Azumaya sofa chair
The HYMIC wooden chair is an affordable alternative to an expensive chair made of steel and fabric, like the Azumaya chair.
If you're strictly in need of a work or study chair, then the wooden chair is a great option because it helps keep your back straight. Therefore, you're less likely to experience back pain.
On the other hand, if you want to relax and sleep, you need a soft cushiony chair that's comfy to sit and recline on. That's why the Azumaya mini sofa is better for those looking for a casual kotatsu setup.
Just imagine sitting in the soft chair, covered in the quilt with a good book in hand – it's the best way to relax.
The bottom line is that a wooden chair is a viable option if you need a cheap chair for your kotatsu table. But if you're looking for comfort, then the more expensive mini sofa will make you happier.
Best kotatsu futon: AZUMAYA Futon Square
Material: polyester
Size: 75×75 inches (square)
Recommended for: use as a futon or for sleeping and relaxing
Once you have a square kotatsu table, you need a good-quality square quilt. This one from Azumaya is one of the best out there.
Known for affordable prices and high-quality kotatsu products, Azumaya makes great multi-purpose objects. The blanket can be used as a futon under the table or as a tatami-style mat for sleeping, working, relaxing, and playing.
Check out my full review post of traditional Japanese tatami mats here
The futon has a classic quilted pattern with imitation sheepskin edges. It is such a soft mat you won't be able to stop using it for everything.
It's versatile, so you can even use it for a picnic, workouts, and playtime with your kids.
People in Japan like to use this futon as their summer mattress because it's lightweight and doesn't feel rough on the skin if you sleep on it directly.
In case you're wondering why you would consider sleeping on a futon on the floor:
If you want to use it as your blanket or quilt over the tabletop heater, you can totally do that too.
So, if you just need an individual futon, I highly recommend this budget-friendly light brown one from Azumaya.
Check prices and availability here
Best kotatsu futon set: Emoor Microfiber Comforter & Rug
Material: polyester, fleece
Size quilt: 71×87 inches
Size futon: 50×71 inches
Recommended for: all types of kotatsu tables
A traditional kotatsu table setup requires a comforter, also called a quilt or blanket, and a futon rug.
The best way to save money is to buy a futon set. This one from Emoor contains a beautiful soft futon rug. It is 50×71 inches, making it ideal to fit under all of the kotatsu tables in my reviews.
The quilt is 71×87 inches, and it comes in a variety of colorful patterns.
I have to tell you how soft the microfiber material is. The quilt and futon have an inner fleece lining which makes them extra soft and cozy to sit on.
It's a lightweight material so that you won't get sweaty or overheated.
The rug also has a non-skid side so the mat doesn't move around under you. We all know how annoying it is when the rug gets crumpled up.
The rug is versatile and multifunctional. You can use it on its own as a floor mat or tatami mattress for sleeping, especially during warmer months.
It's one of those well-insulated futons, so your back and buttocks won't hurt after extended use. Since you get both the futon and the blanket, this is a good deal.
Azumaya vs Emoor
The basic difference between these two multi-purpose futons is that the Azumaya is just the futon square, while Emoor sells the futon set.
Thus, you get more value for your money with Emoor because you get a quilt and mat.
On the other hand, if you want to save money and don't need both, you can purchase the Azumaya quilted futon.
While they are in a similar price range of around $200, both of these futons are really well made and durable. The materials are soft and plushy, so you feel like you're sitting on a cloud.
But I want to point out that the Emoor set is rectangular and best for a variety of kotatsu tables, whereas the Azumaya is only suitable for square ones.
The takeaway is that if you want value for your money, then a set is better, and you get more products. Emoor also has many more color options compared to Azumaya.
But if you just want to replace an old futon, you don't need to spend the extra $30 or so for a set.
Origin of the kotatsu table
The history of the kotatsu table goes way back to the fourteenth century during the Muromachi period. During that time, people used hearths, called irori, for cooking and keeping warm.
At the time, charcoal was the main fuel source. It powered the irori hearth, and people used it mainly for cooking.
But, since the hearth radiates heat, it also heated homes. People then decided to make the irori more functional; thus, they added a seating platform to the hearth.
The seating platform was made of wood, and to make it more comfortable, they added a quilt. The quilt, known as oki, traps the heat and keeps the whole table warm.
This setup, called hori-gotatsu, was the precursor to the modern kotatsu.
During the seventeenth century, the ground was dug up to make space for people to put their legs close to the heat under the quilt.
From then on, the kotatsu underwent minor modifications until the mid-twentieth century, when charcoal was replaced with electricity. Thus, the modern kotatsu was invented.
The heating was added directly to the table frame, and the kotatsu became portable and energy-efficient.
Kotatsu FAQs
Can you sleep under a kotatsu?
Yes, it's possible to sleep under the kotatsu, but you should only take short naps for safety reasons.
One of the problems with the kotatsu is that the heating source gets extremely hot while in use.
Thus, if you're sleeping, you can accidentally touch it and burn yourself. Since the table is so low, you might move your legs around and touch it.
Short naps under the kotatsu table are very cozy, but you need to be careful about your body temperature. Since your feet are under the heat source, the rest of your body is not as hot.
Thus, as a result of uneven heating, you may catch a cold.
How much should a kotatsu cost?
The truth is that kotatsu are pretty expensive. If you're just looking to buy the base table on its own, you can find ones for about 180-220 dollars.
The better brands cost upwards of that and have better heaters.
But then you have to buy the futon and quilt. So, the total cost can reach 800-1500 dollars depending on size, brand, and material.
A cheap kotatsu set may not be safe, and since it's a heated table, quality matters.
Why do the Japanese sit on the floor?
Sitting on the floor is actually healthy for your body, especially your back, as it improves your posture. But the reason why Japanese people like to sit on the floor is due to culture.
Tatami culture is a tradition that comes from the tatami mat – a natural rush flooring. Because the tatami is not solid, you can't put heavy furniture on it like traditional floors.
Since Japan is known for a minimalist approach to furniture, sitting on the floor is also a suitable way not to over-clutter homes and keep them safe in case of earthquakes.
Is Kotatsu a fire hazard?
When you first hear about a heated table covered with quilts, the first thing that comes to mind is a potential fire hazard.
In the past, when the kotatsu was heated by charcoal, it was a real safety hazard. The blanket would catch fire if it touched the coals.
But, these days, electric heating elements are not a safety hazard.
These modern kotatsu tables are designed so that they cannot catch fire and there is no risk. Also, many heaters are automated so that if they get too hot, they switch off.
So, the basic answer is no; the electric kotatsu is not a fire hazard.
The only real danger is if you damage or break the wires of the electrical heater and cause a short circuit that can set the carpet on fire. But, this is very unlikely.
Also, you may wonder if you can burn yourself?
Well, most heaters have a protective grate, so you don't burn yourself on the element. However, the hot air can burn if you keep your skin too close for too long.
The best advice is to use the kotatsu carefully.
Are kotatsus safe for cats?
Yes, there is a special kotatsu designed for cats or small dogs. The animals sit under the quilt or on top of the heated table since cats love to sit by a heat source.
There is no danger for the cats because this kotatsu only works at low temperatures.
Takeaway
So, suppose you are just getting yourself acquainted with Japanese kotatsu. In that case, you need to start off with a multi-purpose table like the YAMAZEN, because it's the ideal size for dining, work, relaxing, and gaming.
Then to complete your set-up, I recommend the Emoor Microfiber Set with a rug and quilt that will keep you warm and cozy.
Now, all you need is a tasty cup of tea or coffee, some snacks, and you can relax. Once you try sitting and working on the floor on comfy mats, you will have less back pain, and I'm sure you'll love it!
Also read: Etiquette and table manners when eating Japanese food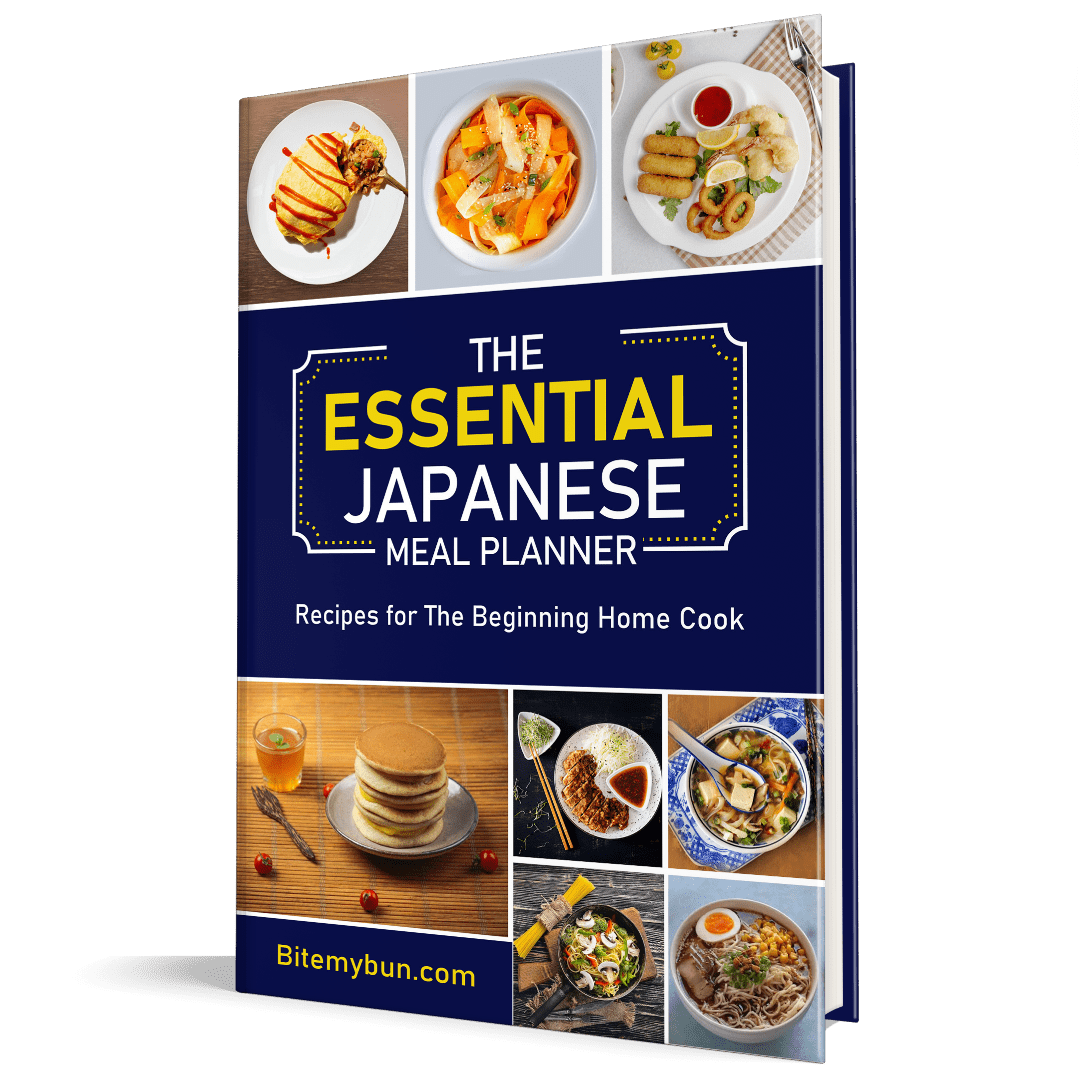 Check out our new cookbook
Bitemybun's family recipes with complete meal planner and recipe guide.
Try it out for free with Kindle Unlimited:
Read for free
Joost Nusselder, the founder of Bite My Bun is a content marketer, dad and loves trying out new food with Japanese food at the heart of his passion, and together with his team he's been creating in-depth blog articles since 2016 to help loyal readers with recipes and cooking tips.