Mmmm! Pork embutido recipe with cheddar cheese & Vienna sausage
I love creating free content full of tips for my readers, you. I don't accept paid sponsorships, my opinion is my own, but if you find my recommendations helpful and you end up buying something you like through one of my links, I could earn a commission at no extra cost to you.
Learn more
A lot can be said about Filipino cuisine; our dishes spring forth from necessity (in the form of not wasting any food item), adaptation to the weather (how to make the food last, given the climate), or even influences from both Western and Asian cuisines.
Our own pork embutido recipe is very much Spanish-influenced. But looking at the dish now and comparing it with its Latin American and Spanish counterparts, it could be said that a lot of Filipino creativity has been used to make this dish a truly Filipino one!
There's a lot of processed embutido here in the country nowadays (including meatloaf). But in case you wanted to make one yourself, this article is surely going to guide you.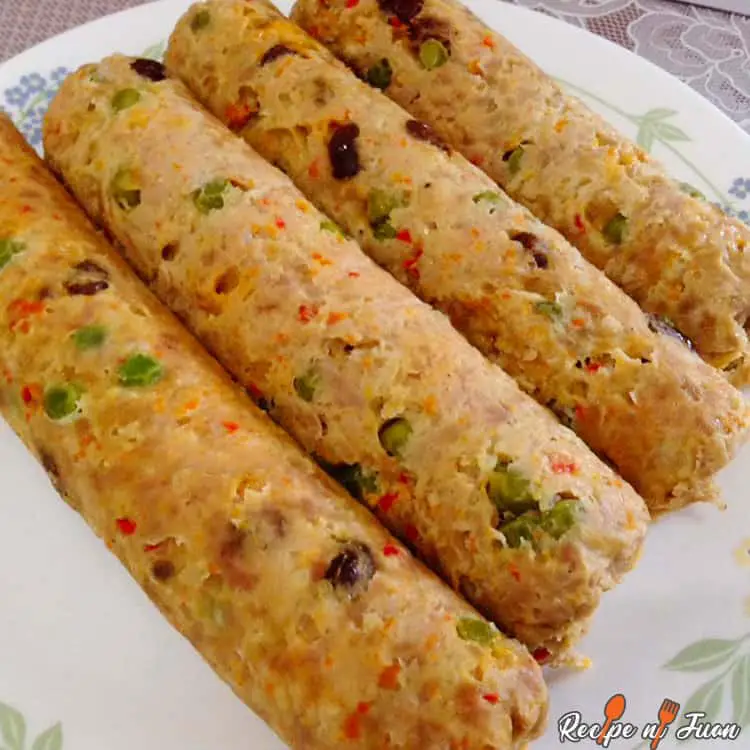 Pork embutido is made with ground pork, eggs, tomato sauce, pickles, red and green bell peppers, carrots, cheddar cheese, onion, salt and pepper, and bread crumbs (for the embutido to hold its shape when you open it before frying).
For the bread crumbs, you can tear bread using your bare hands, turn the bread into crumbs by using a food processor, or buy it from the store.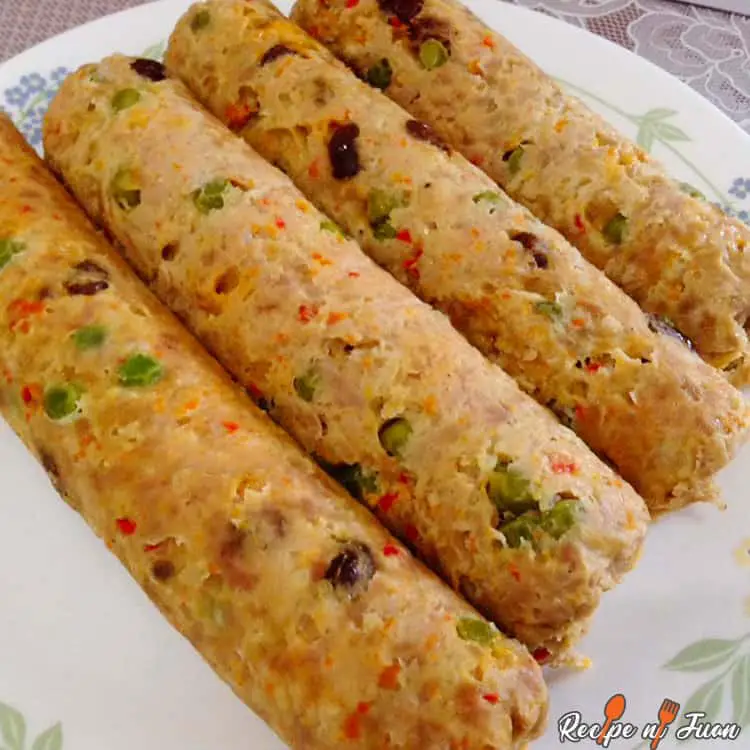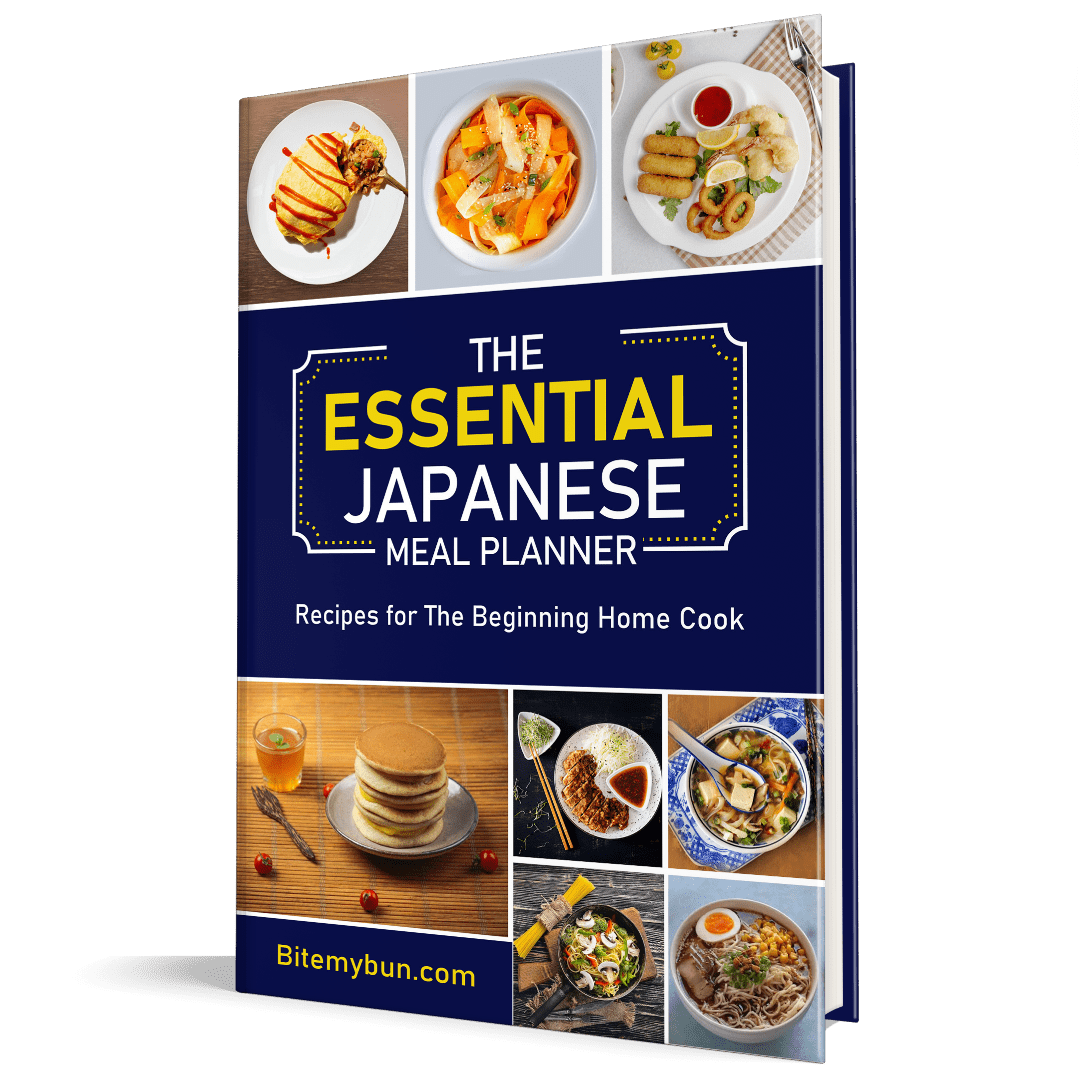 Check out our new cookbook
Bitemybun's family recipes with complete meal planner and recipe guide.
Try it out for free with Kindle Unlimited:
Read for free
Homemade pork embutido recipe
This Filipino homemade embutido recipe is made with ground pork, eggs, tomato sauce, pickles, red and green bell peppers, carrots, cheddar cheese, onion, salt and pepper, and bread crumbs (for the embutido to hold its shape when you open it before frying).
Ingredients  
3

lbs

ground pork

13

pcs

Vienna sausage or 5 pcs hotdogs

cut in half lengthwise

4

hard-boiled eggs

sliced

½

cup

sweet pickle relish

½

cup

tomato sauce

2

raw eggs

2

cups

cheddar cheese

grated

1

cup

red bell pepper

minced

1

cup

green bell pepper

minced

1½

cups

raisins

1

cup

carrots

minced

1

cup

onion

minced

Salt and pepper
Instructions 
Make bread crumbs by placing 4 slices of tasty bread in a food processor. If you're not using a food processor, just tear the bread.

Put the ground pork in a container.

Add the bread crumbs then break the raw eggs and add them in. Mix well.

Put in the carrots, bell pepper (red and green), onion, pickle relish, and cheddar cheese. Mix thoroughly.

Add the raisins, tomato sauce, salt, and pepper. Mix well.

Place the meat mixture in aluminum foil and flatten it.

Put in the sliced Vienna sausage and sliced boiled eggs alternately in the middle of the flat meat mixture.

Roll the foil to form a cylinder, locking the sausage and egg in the middle of the meat mixture. Once done, lock the edges of the foil.

Place in a steamer and let cook for 1 hour.

Place inside the refrigerator until it turns cold.
Nutrition
Check out the recipe in our video:

* If you like Asian food, I've made some great videos with recipes & ingredient explanations on YouTube you'd probably enjoy: Subscribe on YouTube
Alternative method for making pork embutido
Mix the ground pork, the bread crumbs, and beaten eggs together. Then put in the minced carrots, bell peppers, onion, pickle relish, and the cheddar cheese.
Then add the raisins, tomato sauce, and salt and pepper to taste. Make sure to mix it thoroughly, as this mixture is going to be the base for the Vienna sausages or hotdogs.
Line the aluminum foil flat on your kitchen counter and put in the mixture.
After putting in the mixture, put the sliced boiled eggs and Vienna sausage in the middle.
Roll the aluminum foil and lock it, making sure that the mixture is tightly inside.
Place the embutido inside a steamer and steam it for 1 hour, then refrigerate it.
After refrigerating it, you can already serve it as it is or fry it up and serve with banana ketchup.
Pork embutido is perfect not only as a staple for your breakfast, lunch, or dinner, but also as a party food, proving its flexibility as a dish and the ingenuity of the Filipinos in creating something very much our own.
Note: In this post, we posted 2 different versions of embutido: the alternative one posted above with different ingredients and preparation, and the other version with more ingredients. Just comment below if you have questions. Thanks!
This is also a great way by Princess Ester Landayan:



Anyway, I just searched for some videos on YouTube about this one. Hope this helps. You can follow this one too.
Cooking tips
Unlike many Filipino recipes that are fairly simple to make, a proper embutido requires some extra culinary skills and care from your side. To make sure you get the dish perfect every time, the following are some cooking tips that will help you along the way.
Be generous with the eggs
One of the most common challenges house chefs can't seem to get over is their embutido "crumbling" after cooking.
To ensure that doesn't happen to you, adding a great binder such as an egg to the meat will help greatly. However, the tricky part is to get the proper egg-meat ratio.
A general rule of thumb is to add 2 large eggs per 1 kg of ground meat and 1 extra, depending on the type and amount of ingredients you add. This will ensure that the embutido remains intact, whether hot or cold.
Roll it properly
The tighter you roll, the better the shape of the embutido, and the lower the chances of it crumbling. Remember, improper rolling is one of the most significant contributing factors to an embutido falling apart!
A few tricks will help you avoid that though.
For example, always use a longer sheet of foil than the length of embutido, wrap it around the meat as tightly as possible, and twist its ends as tightly as possible too. It'll keep it from loosening as you steam it.
Give it a few extra minutes
I wouldn't be surprised if you cut open your embutido without giving it enough time to cook. I mean, that's what foodies like me and you would do; we can't just wait, can we?
But cooking embutido? It's a labor of love, and what you get in the end is worth the effort!
Remember, when we talk about dishes like embutido, it's the undercooking that ruins them, not overcooking. Since it's cooked with steam, it won't get dry, no matter how much time you give it.
Therefore, try cooking your embutido for at least 10-15 minutes extra to get some great results. This will ensure that the embutido is perfectly cooked and remains intact as you cut it!
Be patient
As I said, making an embutido is a task of patience that requires you to keep your hungry beasts chained. So after you take your foiled embutido out of the steamer, let it rest until it's cold.
The cooler it is, the firmer it'll get, and the better it'll feel. That's especially necessary if you intend to fry it later.
As for eating it with rice, you can slice it hot.
How to serve and eat
As unique as this dish is, it's the simplest to serve. When the embutido is hot off the steamer, you should serve it with rice. It not only refines the flavor of all the different ingredients, but it also makes the dish much more enjoyable to eat.
However, if you want to serve it cold, don't forget to pair it with something sweet, like banana sauce or sweet chili sauce. Trust me; the sauce makes the dish taste so much better than it does alone. You ought to give it a try to find out!
Similar dishes
If you love pork embutido, the following are some similar dishes you should explore.
Morcón
Morcón is a Filipino meat roulade made from beef flank steak stuffed with several ingredients, including carrots, pickled cucumber, hard-boiled eggs, sausages, cheese, etc.
Unlike embutido, it's not steamed but fried, and is more specifically served on occasions like Christmas. However, both dishes are still confused with each other due to their visual similarities.
Everlasting
Ever heard of a dish name so beautiful? Well, me neither!
Though this dish is more similar to the hardinera meatloaf rather than embutido, the cooking method and main ingredient of both dishes bring them closer. Everlasting is made with ground pork, Chorizo de Bilbao sausages, carrots, raisins, onions, eggs, etc., and is served on special occasions.
Hardinera
Also known as the Quezon meatloaf, hardinera is another Filipino meatloaf cooked with steam.
The dish is made from various ingredients, including ground pork, sliced hard-boiled eggs, pineapples, bell peppers, peas, and tomatoes. It's a fulfilling dish eaten on both ordinary and special occasions.
FAQs
How long does embutido last in the fridge?
Embutido lasts for 3 to 4 days in the fridge and for about a month in the freezer. When putting it into the freezer, unwrap it and place it in an airtight and freezer-friendly container.
Why is my embutido crumbly?
Several things can explain this problem. For example, you might not be rolling the foil tight enough, or there aren't enough eggs to keep the ingredients bound.
Or perhaps, you're slicing it hot. In this case, you must let it get cold first.
How do you steam embutido without a steamer?
If you don't have a steamer, put the foiled meatloaf in a wire rack on a half-filled baking pan, and cover it with foil so that the steam doesn't escape. Now place it in an oven and cook for the specified duration.
How do you serve embutido?
You can serve embutido hot, warm, or chilled, as per your preference.
Just don't forget to pair it with ketchup or some other sweet sauce to give it a delicious twist! But if you don't, that too won't be a problem.
Try this Filipino version of meatloaf
Of all the dishes I've discussed on this blog until now, embutido is perhaps among the top 10 when it comes to creativity. All the ingredients used in the dish give it the perfect balance of taste and aesthetics, making it a classic take on the ordinary meatloaf.
I hope this article has been helpful in providing you with some insights into this mouthwatering Filipino delicacy. Also, don't forget to try out our recipe; when you do, feel free to share your thoughts on whether you like it!
See you with another delicious article. ;)
If you want to learn more about embutido, then check out this article.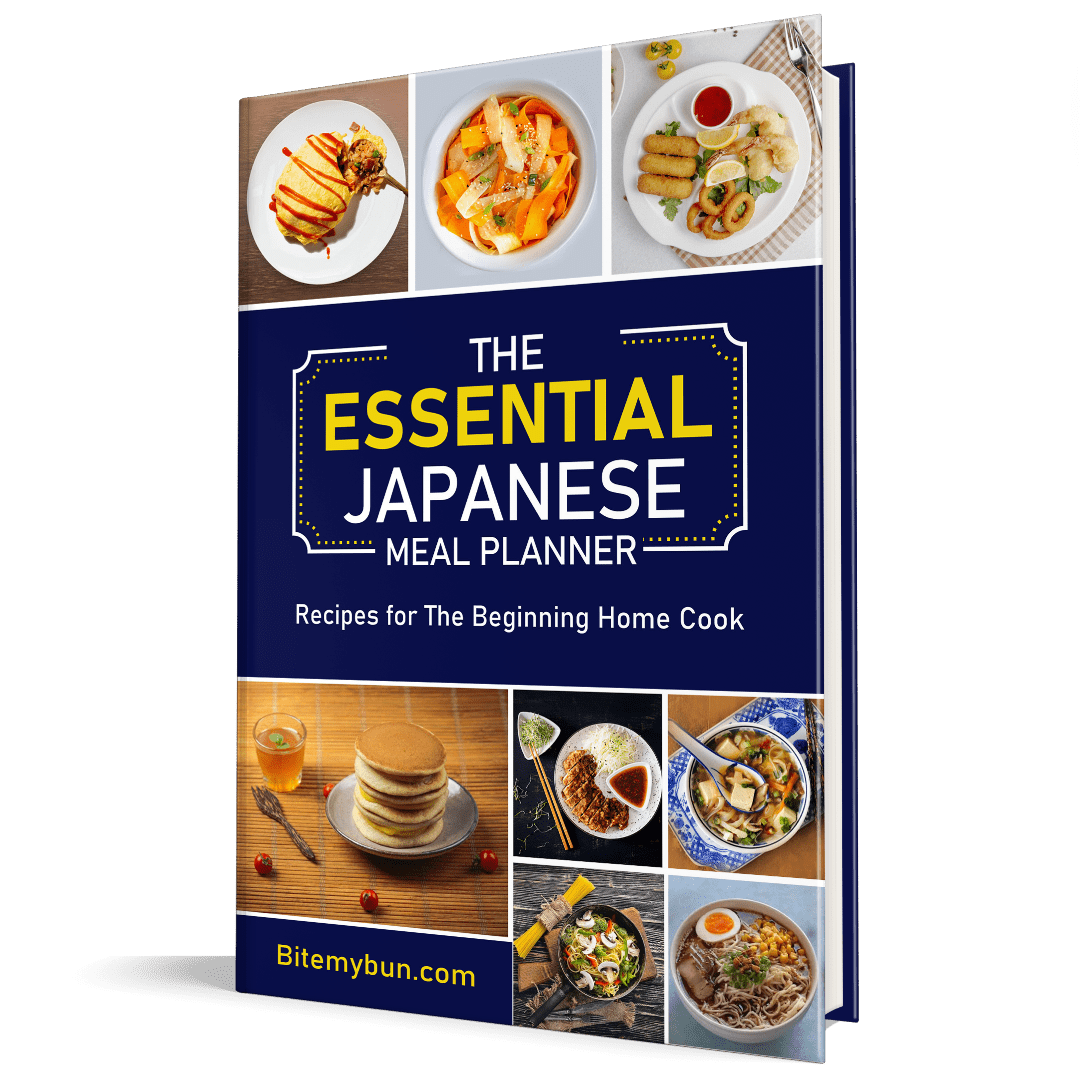 Check out our new cookbook
Bitemybun's family recipes with complete meal planner and recipe guide.
Try it out for free with Kindle Unlimited:
Read for free
Joost Nusselder, the founder of Bite My Bun is a content marketer, dad and loves trying out new food with Japanese food at the heart of his passion, and together with his team he's been creating in-depth blog articles since 2016 to help loyal readers with recipes and cooking tips.