Kelp noodles with sprouts recipe | Very healthy and easy to make
I love creating free content full of tips for my readers, you. I don't accept paid sponsorships, my opinion is my own, but if you find my recommendations helpful and you end up buying something you like through one of my links, I could earn a commission at no extra cost to you.
Learn more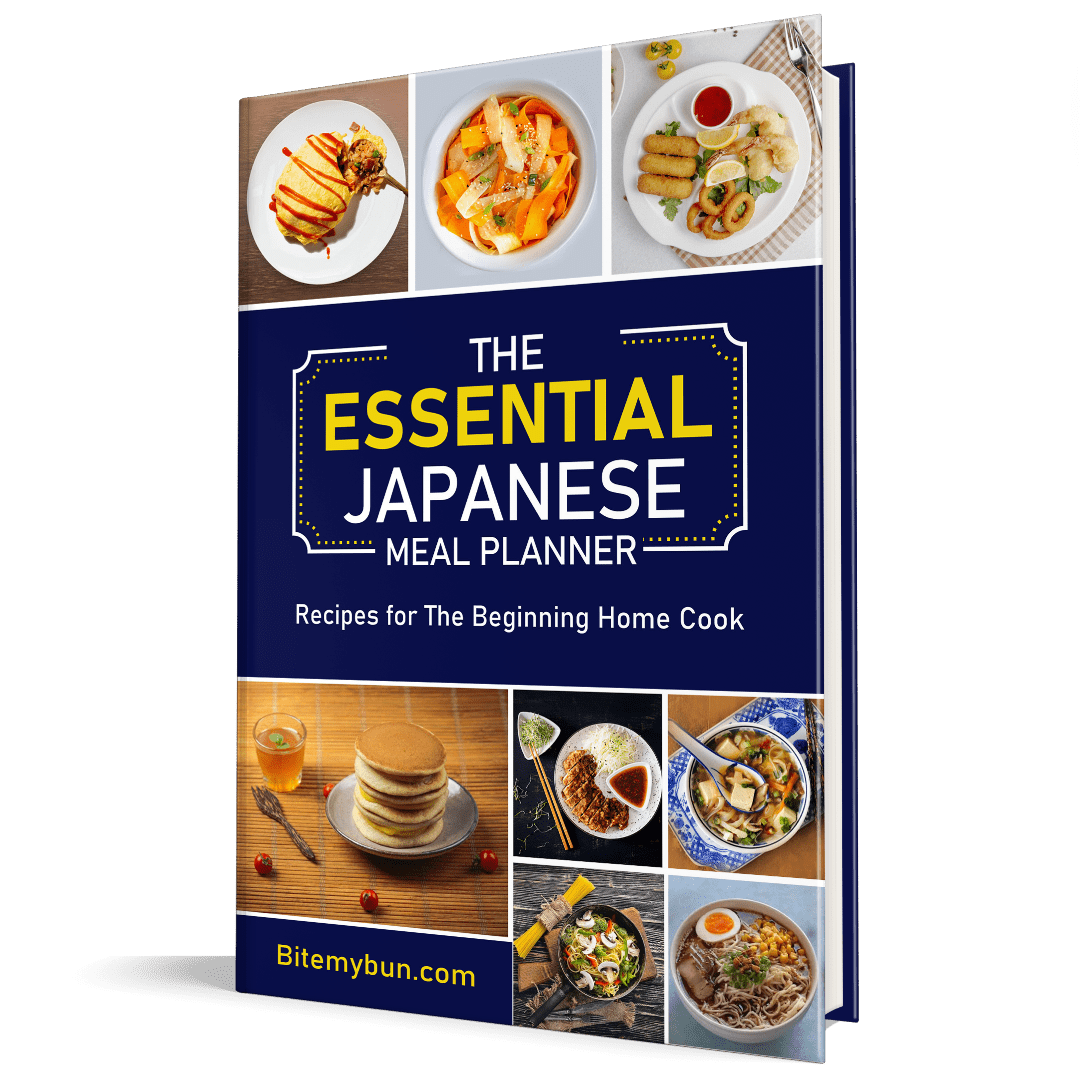 Check out our new cookbook
Bitemybun's family recipes with complete meal planner and recipe guide.
Try it out for free with Kindle Unlimited:
Read for free
Noodles made from kelp seaweed? Surprised?
With the growing move towards healthier eating and gluten-free diets, these noodles are gaining in popularity and if you haven't tried them yet, they are worth investigating.
Kelp noodles are an extremely versatile food source. They can be eaten hot or cold, raw and crunchy or softened to mimic other noodles.
They fit into the Paleo, Whole30 and keto diets and are also gluten-free, fat-free and very low in carbohydrates and calories.
They offer a tasty and healthy alternative to grain-based pasta and rice noodles.
10 Tips to Save a Bundle on Asian Ingredients!
Introducing our brand new FREE PDF guide: "Saving Secrets: Unveiling the Art of Saving Money on Asian Ingredients" It's your first newsletter email, so start saving today! 📚🧧
We'll only use your email address for our newsletter and respect your privacy
What are kelp noodles made of and what do they taste like?
Kelp noodles are made by drying strips of kelp (a type of brown seaweed) and then peeling off the brown-green outer layer.
The inside is then ground and mixed with water and sodium alginate to make a 'dough' that is processed into noodle shapes.
Kelp noodles are sometimes called the tofu of pasta because they are almost tasteless. They don't have any fishy flavor from the sea, but are able to soak up the flavors that surround them.
With these noodles, it is all about the texture. They are crunchy when raw and chewy when added to hot food or after soaking up sauces.
They are ideal for sprinkling over salad, for using in coleslaw or for mixing into a stir-fry.
When softened, they can be used as a substitute for regular noodles in a wide range of Asian dishes, especially in miso soup.
What's the difference between kelp noodles and shirataki noodles?
Kelp noodles are sometimes compared with shirataki noodles because they are both gluten-free, have a bland flavor and neither require actual cooking.
However, they are quite different when it comes to ingredients and texture.
Shirataki noodles are made from glucomannan flour mixed with water. They are packaged in a liquid which keeps them soft, so they have a rubbery texture and a slippery surface. To prepare them, they are simply drained and rinsed and then added to a dish.
Kelp noodles are packaged dry and have a crunchy, chewy texture when raw. They can be used to give just about any dish a crunch boost.
When added to hot foods, both types of noodles are great for soaking up the flavors of whatever they are cooked with.
What's the difference between kelp noodles and glass or cellophane noodles?
Because kelp noodles are semi-transparent, they are also sometimes confused with glass or cellophane noodles.
Glass noodles are made from the starch of mung beans, potatoes, sweet potatoes, or tapioca and they become almost translucent when cooked.
Glass noodles taste similar to wheat pasta, but they're slightly softer and heavier and because they don't contain wheat flour they offer a gluten-free alternative to flour-based pastas.
Glass noodles are sold dried and must be cooked to soften them. Once cooked, they have a similar texture to shiratake noodles.
What are some alternatives to kelp noodles?
If you are looking specifically for gluten-free options, the above-mentioned shirataki noodles and glass noodles are a great alternative to kelp noodles.
You can also use quinoa and chickpea noodles.
Quinoa is an especially popular choice because it doesn't get mushy when cooked, it is high in fiber and iron, and it cooks quickly.
Chickpea noodles have fewer carbohydrates than regular what noodles and they also contain more protein.
For wheat-based alternatives, try ramen noodles and udon noodles.
They are very similar, but ramen noodles are thinner and contain the mineral known as kansui which gives them their characteristic chewiness and an earthy yellow color.
They are often used in Japanese recipes.
All of these alternatives can be substituted in a 1 to 1 ratio. Just check the packaging instructions on how to cook or prepare them.
Now that you know a little more about kelp noodles and their health benefits, perhaps you are keen to try them?
Well, we have the perfect recipe to introduce you to this versatile food – Kelp noodles with bean sprouts. It is a simple but tasty dish which is both healthy and easy to make.
You can easily prepare this recipe in your home, so long as you have the required ingredients.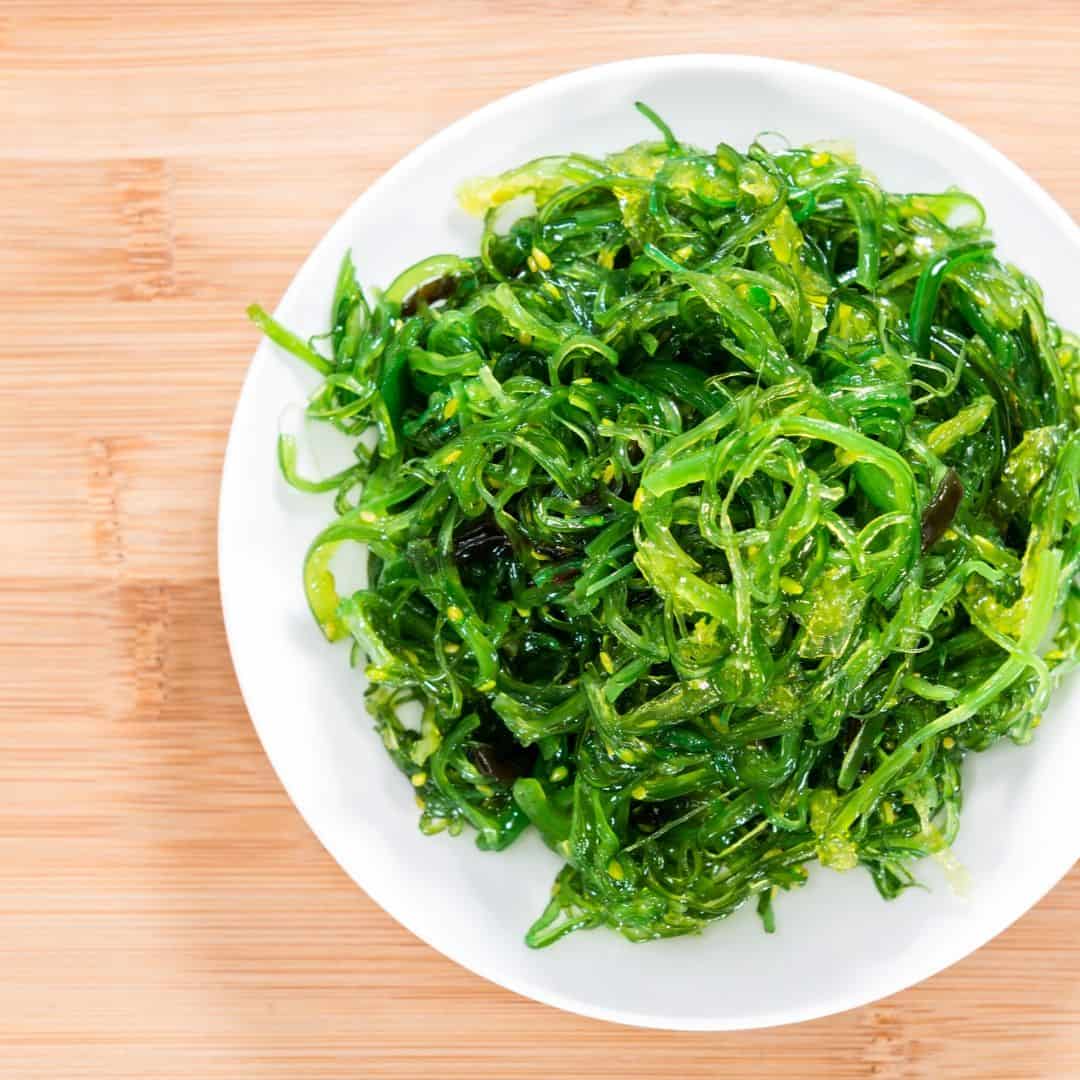 To prepare this recipe, you need to start by removing the kelp noodles from the packaging. Then, proceed to soak them in water.
Allow them to sit for a while as you prepare your ingredients and blend your sauce. This procedure (making the sauce) assists in separating your noodles.
It's the sauce that will make this recipe come together. Make sure to use good quality ingredients!
My favorite fish sauce is the Red Boat fish sauce because of its rich flavor and aroma. The sriracha adds just a little kick to the dish!
You can garnish your dish with cilantro, sesame seeds, green onion, and peanuts. When you use the correct ratios, you'll love this recipe!
Read more: different types of Japanese noodles to use in your dishes
Why is this kelp noodles recipe good for you?
Most people love this sprouts kelp and noodles recipe since it's much healthier compared to traditional pad thai.
Also, this doesn't compromise the flavor of the recipe.
In addition to this:
Kelp noodles have 0% sugar, protein, cholesterol, and fat. Per serving, they have 1g of carbohydrates, 1g of fiber, and 35mg of sodium. This recipe can give you up to 15% of your daily calcium requirements, as well as 4% of your daily iron requirements in every serving.
Almond butter is an excellent way to improve your almond consumption. It has several health benefits, thanks to its exceptional nutritional profile. This included fiber, healthy fats, copper, calcium, magnesium, and vitamin E.
Bean sprouts, on the other hand, have vitamins B and C, and protein. They provide an excellent source of folate.
You can get raw kelp noodles very easily here from Amazon:
Raw kelp noodles with sprouts recipe
This is a simple and healthy recipe that you should try out in your kitchen. So why don't you take that step and enjoy this meal?
Equipment
Blender/ Food Processor

Cooking pot

Sauce pan (for the optional sauce)
Ingredients  
1

packet

raw kelp noodles

1

tbsp

raw almond butter

4

cloves

garlic

minced

2

cups

bean sprouts

fresh

2

green onions

sliced

¼

large

carrot

sliced

4

tbsp

fish sauce

½

cup

fresh cilantro

⅓

cup

peanuts

roughly chopped

1

tsp

sesame seeds
Sriracha sauce (optional or you could buy it, but this is healthier)
3

Fresh red Fresno or jalapeno peppers

seeded, stemmed, and chopped (roughly)

8

cloves

garlic

smashed and peeled

⅓

cup

apple cider vinegar

3

tbsp

tomato paste

3

tbsp

honey

2

tbsp

fish sauce

1 ½

tsp

kosher salt
Instructions 
Start by preparing your sriracha sauce (you can skip this if you don't want to add it or if you're going to buy a bottle)
Preparing the sauce: This preparation requires around 20 minutes and will make around 2¼ cups. This sauce is not just paleo-friendly, but it's also very fast. You can ferment it to boost the umami in the sauce. If you don't have enough time for the sauce to ferment, you can add umami, which can be in the form of fish sauce or tomato paste.

Start by preparing your peppers. Use gloves while handling the peppers to help you not burn your eyes and hands. If you don't want the sauce to be extremely hot, you can remove the seeds and some of the ribs from the peppers. Keeping the seeds and the ribs will make the sauce hotter. You can roughly chop the whole peppers before or after you remove the seed; it doesn't have to be small rings because we're going to blend the ingredients together.

Now put all of the ingredients for the sauce into a blender or food processor. A rectangular food processor can also work. However, if you use this kind of food processor, make sure that you cut your garlic and peppers into smaller pieces and then put everything together. Failing to do so may make the sauce end up on the chunky side and that's not what you want.

Continue blending until you achieve a smooth paste. Now pour the puree into a saucepan and then boil it over high heat. Once the puree starts to boil, reduce the heat, and then allow it to simmer for around 5 – 10 minutes. Make sure that you stir occasionally. Cooking the sauce allows you to deepen and concentrate the flavors, and reduce the sharpness of the garlic.

Once the foam reduces, your sauce will have a bright red color. In addition, you shouldn't be able to detect the smell of raw vegetables. Taste your sauce to check the seasoning, and adjust if necessary.

This sriracha sauce can last for up to 1 week, but it should be refrigerated. You can also freeze your sauce if you want to use it for a longer period (for up to 2 – 3 months).
Slighty cook the vegetables
Bring a large cooking pot to a boil over high heat.

In the meantime, cut the carrots across the length into 4 equal, long stems. You can use more if you love carrots, but I like to use ¼ of the carrot in this recipe as it adds just a bit of crunch and sweetness to the dish.

Slice the ¼ (or however much you'd like to use) long carrot stem across the middle so it's not that long anymore and slice it in as many ribbons as you can.

Add the beansprouts and the carrot ribbons to the boiling water and let it cook for 3 minutes.
Mix the salad
Thoroughly rinse the raw kelp noodles before using them.

In a bowl, add your carrots and bean sprouts, and mix them with your kelp noodles. Avoid cooking the kelp noodles; so if your beansprouts and carrots are still hot, cool them off with cold tap water before adding them.

Now add some of the fish sauce and sesame seeds, and mix this all together with the kelp noodles. With 2 utensils, apply a gentle "turn and lift" method, as if you're tossing the salad to allow the ingredients to be coated well.

Taste your recipe for the seasoning. You can add more fish sauce until you achieve the desired flavor. I find 4 tbsp is best for this amount of salad, but add a little less and start tasting it.

Crush the peanuts, chop the green onions into small rings, and chop up the fresh cilantro.

Divide the raw kelp noodle salad in 4 bowls and top it off with the peanuts, green onions, and cilantro. Add some of the sriracha sauce for a nice bite and sweetness.
Check out more: healthy and nutritional Japanese sweet potatoes
Frequently asked questions about raw kelp noodles
A lot of people want to know more about the raw kelp noodles I used in this dish, so I decided to take these questions and answer them here in this post.
Are kelp noodles good for you?
Raw kelp noodles are a great way to add minerals to your diet. They are full of iodine, calcium, and iron. They're also very low in calories and carbohydrates
How are kelp noodles made?
Kelp noodles are made from 100% raw kelp. The outer layer of kelp is stripped, leaving a clear, thin "noodle". The noodles are kept fresh using sodium alginate, which is also made from seaweed.
Are kelp noodles keto?
Kelp noodles are great for vegan meals and are also gluten-free and keto, so they are ideal for any ketogenic diet. They're also very versatile, as you can eat them raw or use them as noodles for a stir fry dish.
Do kelp noodles taste like fish?
Because they are a product of the see, there is a common misconception that kelp noodles taste like fish. In fact, their taste is mostly neutral, and they take on the flavors of the sauces they are cooked with.
Do you cook kelp noodles?
You don't have to cook kelp noodles. You can add them to your dish directly from the packet, but they should be rinsed first. Or you can soften them by soaking them in warm water. You can also stir fry them without cooking them first.
Do kelp noodles soften?
Kelp noodles are naturally a bit harder than other types of noodles. This works well in a salad but you can soften them by soaking them in hot water.
Are kelp noodles filling?
You can use kelp noodles in almost anything that you'd normally use noodles for. By themselves, they're not very filling, as they're very low in carbs and fiber.
Can kelp noodles be heated?
You can use them in a cold dish straight out of the packet, but kelp noodles can also be heated to be used in stir fry dishes or pasta. You don't have to cook them. Just add them to the saucepan for the last 5 minutes like you would with cooked noodles or pasta.
Give kelp noodles a try
This is a simple and healthy recipe that you should try out in your kitchen. So why don't you take that step and enjoy this meal?
Also read: the best teppanyaki seafood recipes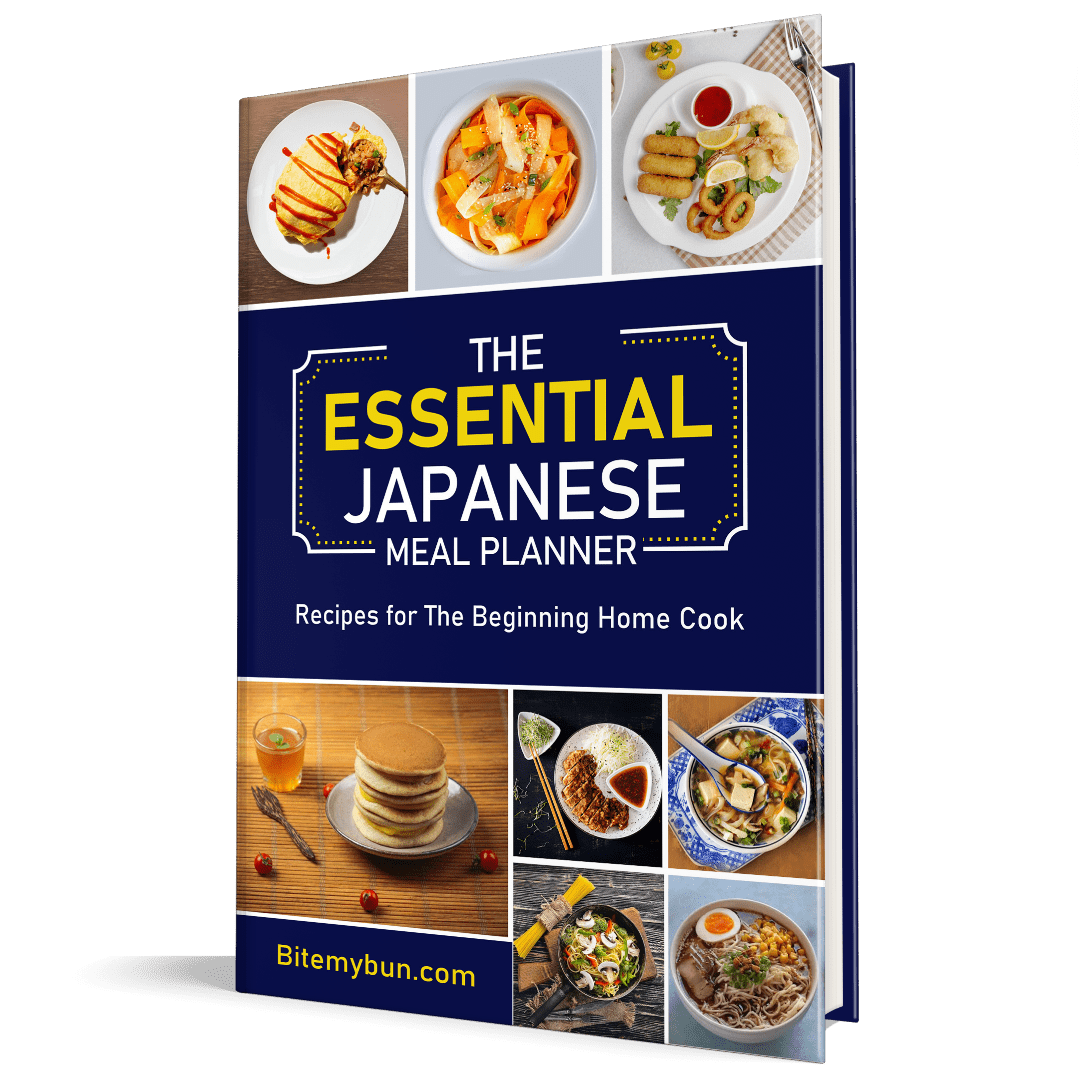 Check out our new cookbook
Bitemybun's family recipes with complete meal planner and recipe guide.
Try it out for free with Kindle Unlimited:
Read for free
Joost Nusselder, the founder of Bite My Bun is a content marketer, dad and loves trying out new food with Japanese food at the heart of his passion, and together with his team he's been creating in-depth blog articles since 2016 to help loyal readers with recipes and cooking tips.