8 different types of Japanese noodles (with recipes!)
I love creating free content full of tips for my readers, you. I don't accept paid sponsorships, my opinion is my own, but if you find my recommendations helpful and you end up buying something you like through one of my links, I could earn a commission at no extra cost to you.
Learn more
Also known as "men" in Japanese, noodles are a staple food of Japanese cuisine, as well as an integral part of many popular dishes.
Many people view noodles as convenient comfort food, and the different varieties of noodles can be served with salads, as stir-fried foods, in soups, or with dipping sauces.
You may be thinking: what are Japanese noodles? Is it ramen?
Well, there isn't just one Japanese noodle; there's much more variety besides ramen. In this article, I'll discuss the 8 types of popular Japanese noodles and will share popular recipes too!
Here on "Ask Japanese" on YouTube, the best Japanese noodles are discussed: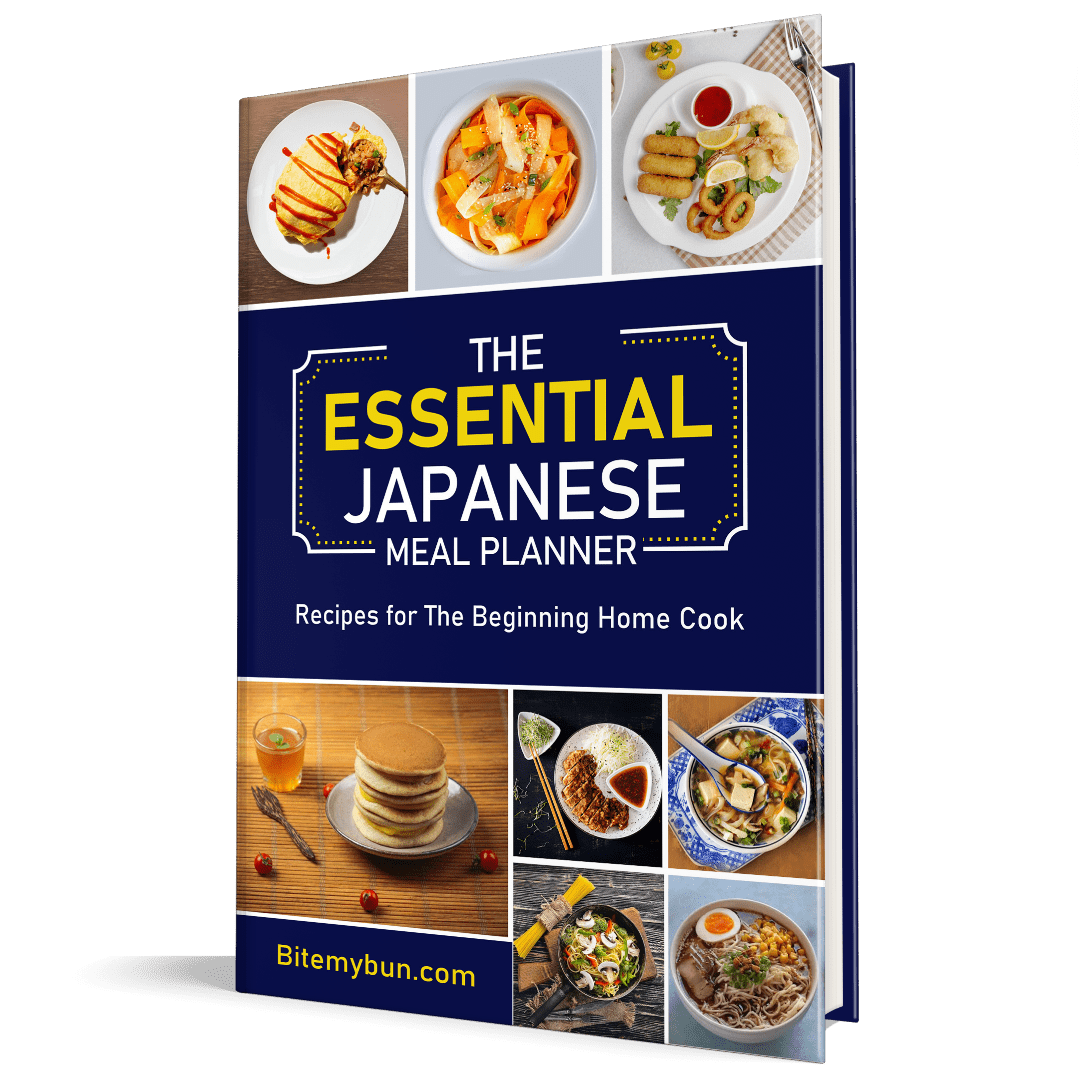 Check out our new cookbook
Bitemybun's family recipes with complete meal planner and recipe guide.
Try it out for free with Kindle Unlimited:
Read for free
8 different types of Japanese noodles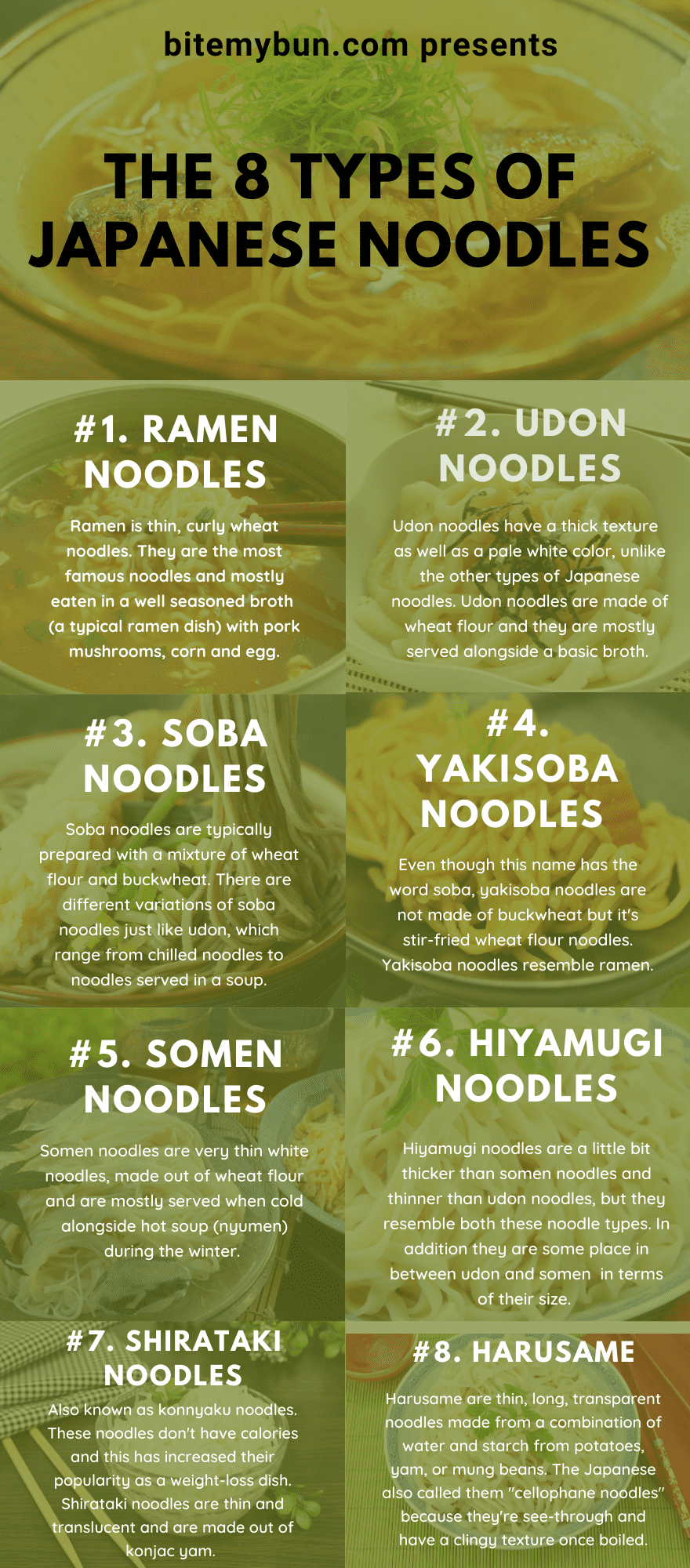 Ramen
Everyone's familiar with the thin yellow noodles known as ramen. But many people mistake ramen for instant cup noodles.
There's actually a big difference between the two: traditional Japanese ramen are thin, curly wheat noodles that are made fresh before serving.
Instant cup noodles, on the other hand, are just varieties of mass-manufactured noodles that come with a seasoning packet and ready-to-heat packaging.
Ramen is the most popular type of noodles and is mostly enjoyed in a well-seasoned broth (a typical ramen dish) with pork, mushrooms, corn, and an egg.
Also find out Which Ramen Broth is best for Beginners
Everyone in Japan loves ramen noodles. Out of the different varieties of Japanese noodles, ramen noodles are the most popular.
One notable thing about these noodles is that they're very thin and mostly wavy or curly, and are slightly yellow in color.
What is ramen made of?
Ramen noodles are made out of wheat flour, water, salt, and kansui, or a type of alkaline water. The ingredients are kneaded together, forming a sticky and elastic dough.
It's believed that ramen noodles were imported from China over 800 years ago, and are also known as chuka soba.
Are ramen noodles healthy?
Ramen isn't generally considered to be a healthy type of noodle, even though it provides some iron, manganese, and vitamin B.
The noodle itself is made fresh daily in most restaurants.
But the reason it's considered less healthy than udon, for example, is that usually, ramen's used in unhealthy foods such as ramen soup, which is high in sodium, sugars, and fats.
Generally, ramen noodles are enjoyed in chicken soup, pork stock, shiitake mushrooms, onions, niboshi, kombu, and katsuobushi.
Here are the types of ramen dishes you'll find:
Tonkotsu soup – This soup has a cloudy white color, and it's a thick broth that's made out of pork bones.
Shio ramen – This yellowish soup is a bit lighter when it comes to its color, and it's made with broth and salt. It has a lighter flavor, and it's the best accompaniment for straight noodles, instead of the curly ones.
Shoyu ramen – This is a simple soup, which contains clear brown broth. The soup is made with a lot of soy sauce and stock. The most commonly used toppings include marinated bamboo shoots or menma, kamaboko, green onions, bean sprouts, and boiled eggs.
Miso ramen – This dish is very popular, especially in Hokkaido. To prepare it, Japanese chefs use corn, butter, sesame seeds, cabbage, and garlic.
Also, check out this video on how to make ramen:
Did you know that ramen noodles are always thin? Many people believe there's a thick ramen noodle variety, but those noodles are actually called udon.
2. Udon
Udon noodles have a thick texture, as well as a pale white color, unlike the other types of Japanese noodles. Udon noodles are made out of wheat flour, and they're mostly served alongside a basic broth or soup.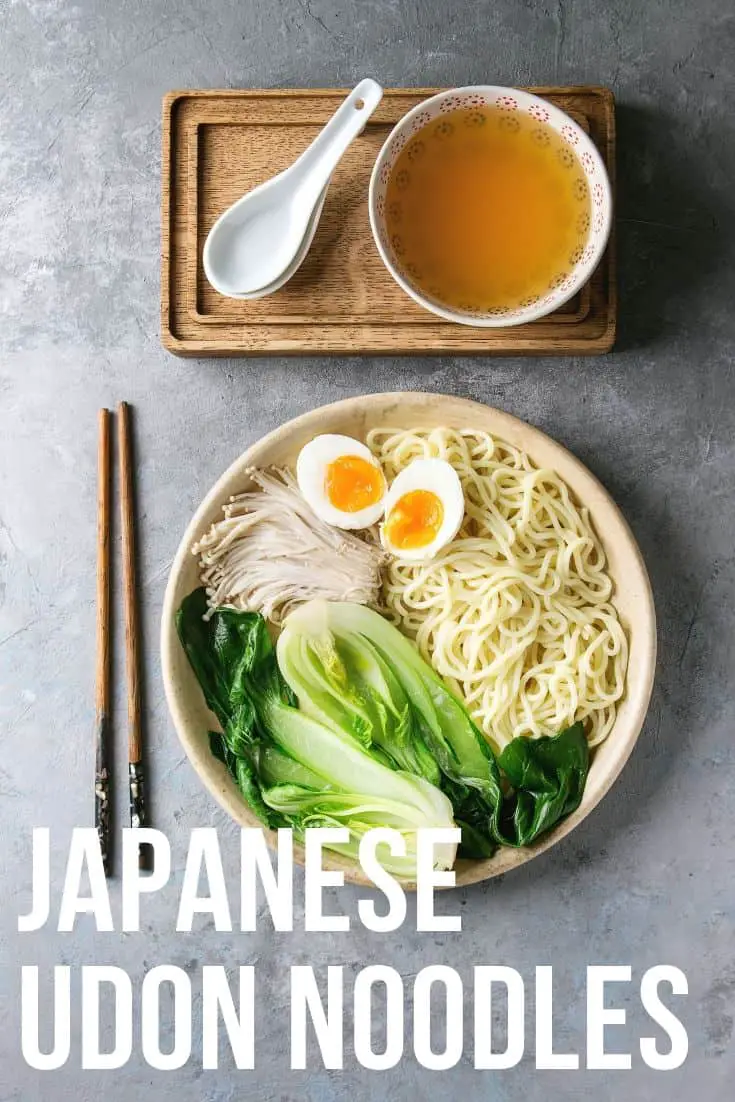 They have a neutral flavor, which makes this type of Japanese noodles very versatile, as it gives you endless possibilities to make the dish interesting.
Udon noodles are usually served with Japanese fried chicken (karaage), boiled eggs, and tempura.
Interestingly, udon noodles are the cheapest amongst all other types of Japanese noodles.
Are udon noodles healthy?
Yes. Compared to other noodle varieties (such as ramen), udon is a healthier option. This is in part due to its lower sodium content. These noodles contain 0 MSG, which makes them an excellent choice for dieters and those with heart disease.
A serving of udon noodles contains a healthy dose of carbohydrates and fiber when consumed in moderation.
Some of the most common udon dishes include:
Kitsune udon (also known as fox udon) – This is a basic udon dish that's served alongside abura-age, which is a thin slice of deep-fried bean curd. So why the fox name? The name is odd, but these noodles have nothing to do with foxes. Instead, abura-age is considered to be the favorite food for foxes, hence the name.
Curry udon – These are udon noodles that are mixed with Japanese curry. They're delicious and are mostly served during the winter season.
Tsukimi udon (also known as moon viewing udon) – A raw egg (the moon) is used as the topping for these udon noodles.
Kashimen broth – This is a dish that's native to the Aichi prefecture. The one thing that makes this dish special is the thin and flat shape of the noodles.
Tempura udon – Just like its name suggests, this meal is made with udon noodles that are topped with tempura and served alongside a broth.
Yaki udon – The noodles are stir-fried in a sauce made out of soy sauce. They're prepared just like yakisoba.
It's important to note that udon noodles are commonly used in different nabe dishes.
In the Japanese Nagoya region, these noodles simmered in a miso soup when preparing miso-nikomi udon.
Hoto udon is the thickest among all other types of udon noodles and is common in Yamanashi. Hoto is made by stewing vegetables and thick and flat noodles in miso soup.
Chicken and vegetable stir-fry with udon noodles recipe
Ingredients
1 tsp peanut oil (plus more as needed)
1 boneless and skinless chicken thigh (thinly sliced)
3 tbsp soy sauce
3 scallions (white and green parts separated sliced on the bias)
2 garlic cloves (smashed and finely chopped)
1-inch piece of fresh ginger (peeled and finely grated)
1/2 a jalapeno (seeded and cut into brunoise)
2 medium carrots (2 julienned)
4 oz shiitake mushrooms (stemmed and sliced)
3 tbsp rice wine vinegar
1 cup Napa cabbage (chiffonaded)
1/2 cup edamame
Kosher salt
1 lb fresh udon noodles
Sesame oil (for drizzling)
1/4 cup peanuts (coarsely chopped)
Cilantro (for garnishing)
Directions
Coat a large sauté pan with peanut oil, and then toss in your chicken and add 1 tbsp of soy sauce. Cook the chicken until it's cooked through, remove it, and then set it aside for later use. Make sure that the heat is on medium setting.
Now add the white scallion pieces, ginger, jalapenos, and ginger. Add some more oil and then cook for around 1 – 2 minutes under medium heat.
Next, toss in the carrots, and then cook until they're soft. This should take around 2 minutes.
Once the carrots are ready, toss in the mushrooms and cook until they're soft. This should take around 2 – 3 minutes.
Next, add the remaining soy sauce and vinegar, and then add the edamame, cabbage, and chicken. Cook for 1 – 2 minutes, and then sprinkle in the green scallions.
Boil salty water in a large pot and toss in your noodles. Swish them around using a pair of tongs to prevent them from sticking together. Cook for approximately 30 seconds, until they become soft.
Now, add the cooked noodles to the pan, stir to mix the ingredients, and cook until your noodles are hot and well coated. Add some sesame oil, and then serve when hot. Sprinkle with cilantro and peanuts.
3. Soba
Also known as buckwheat noodles, soba is thin noodles made from buckwheat flour and resemble spaghetti. There are also some soba varieties made from a combination of wheat and buckwheat flour.
Soba contains 8 essential amino acids and is considered a healthy noodle option.
People with conditions such as celiac disease are advised to search for 100% buckwheat noodles since they're the only Japanese noodles they can eat.
There are different variations of soba noodles, just like udon. They range from chilled noodles to noodles served in a soup.
Zaru soba is a form of soba noodles, which is chilled, and then served on a bamboo tray with some green onions and seaweed. These noodles are then dipped in tsuyu.
Once you're done eating the noodles, you can enjoy a sobayu drink or the water that was used to cook the soba, which is mixed with the leftover tsuyu.
Common toppings for cold soba include tororo, grated daikon, as well as yamaimo puree. Tempura, on the other hand, is a common garnish for warm soba, just like duck or sansai (mountain veggies).
Traditionally, soba is eaten during New Year's Eve in Japan, and this is a tradition that's still practiced to this day.
This practice is known as toshikoshi soba. It has several meanings, like prayers for a thin and long life.
It's a special soba soup eaten during celebrations to help melt away life's hardships and usher in a new beginning.
Are soba noodles healthy?
Since buckwheat is considered healthy, you can assume soba is a great option for those on a diet, vegans, and those on gluten-free diets.
Buckwheat is a grain-like seed that's healthy because it contains essential nutrients.
Did you know that soba is a much better alternative to white flour pasta? Soba noodles contain half the calories and half the amount of carbs that traditional pasta does!
Sesame soba noodles recipe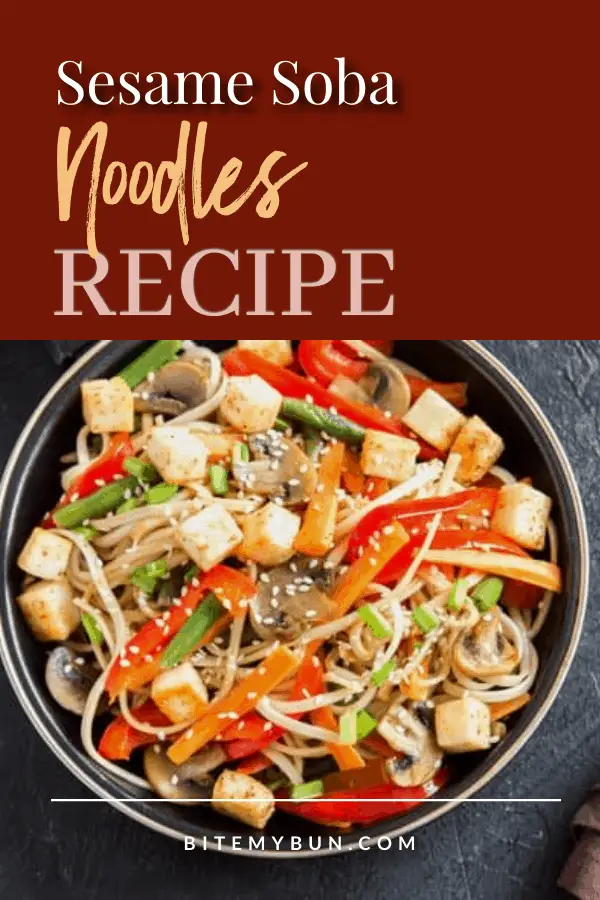 Ingredients
10 oz HemisFares soba buckwheat noodles (air-dried)
1/3 cup HemisFares soy sauce (double fermented)
2 tbsp rice vinegar
3 tbsp toasted sesame oil
1/4 tsp black pepper (freshly ground)
1 tbsp sugar
1 tbsp canola oil
2 cups green onions (chopped to ¼-inch pieces)
1/2 cup green onions (minced)
3 tbsp toasted sesame seeds
Directions
Boil water in a large pot and cook your soba noodles for around 4 to 5 minutes, or until tender. Make sure that you occasionally stir the noodles to prevent them from clumping together. Drain in a colander and then rinse well under cold water. Tossing the noodles in cold water removes the starch.
As your noodles cook, whisk (here are some perfect ones) together the sesame oil, soy sauce, sugar, rice vinegar, and black pepper in a medium bowl and set them aside.
In a large skillet, add canola oil and heat until it starts to shimmer. Now add your chopped green onions. Stir for around 15 to 30 seconds, or until you can smell the aroma. The heat setting should be medium-high.
Now add your sesame and oil mixture, and cook for around 30 seconds. Add your cooked soba noodles and toss until they're well heated. Add the green onions and ½ of the toasted sesame seeds. Use the remaining sesame seeds to garnish, and then serve while warm.
4. Yakisoba
Even though this name contains the word "soba", yakisoba noodles aren't made out of buckwheat noodles.
It's common for people to confuse yakisoba and soba noodles when they're actually different.
Yakisoba is a stir-fried wheat flour noodle while traditional soba noodles are made only from buckwheat flour. These noodles resemble ramen noodles and are flavored with condiments similar to what we know as Worchestershire sauce.
Yakisoba is usually prepared with meat (pork) and small pieces of veggies such as carrots, onions, or cabbage. The noodles are flavored with pepper, salt, and yakisoba sauce.
Have you heard of these common toppings? People prefer their noodles to be garnished with green seaweed powder (aonori), red pickled ginger (beni shoga), bonito flakes (katsuobushi), as well as mayonnaise (this Japanese one, not American!).
Yakisoba noodles are very common, and are mostly seen in Yatai and Matsuri in Japan.
Yakisoba (Japanese stir-fry noodles) recipe
Ingredients
1/2 onion (julienned)
1 carrot (julienned)
2 shiitake mushrooms (sliced into small bits)
2 green onions/scallions (sliced into 2-inch pieces)
4 cabbage leaves (cut into bite-sized pieces)
340 g sliced pork belly (or your choice of meat and/or seafood; sliced into 1-inch pieces))
2 tbsp neutral-flavored oil (vegetable, canola, etc.)
Black pepper (freshly ground)
1 package yakisoba noodles
4-6 tbsp yakisoba sauce
Yakisoba sauce (makes ½ cup or 8 tbsp)
2 tsp sugar (add more sugar if you don't use Japanese Bulldog Worcestershire sauce)
2 tsp soy sauce
4 tsp oyster sauce
4 tsp ketchup
4 tbsp Worcestershire sauce
Toppings (optional)
Aonori (dried green seaweed)
Pickled red ginger (beni shoga or kizami beni shoga)
Directions
Whisk together the yakisoba sauce ingredients and set aside.
Now, in a wok or skillet, heat the oil on medium-high heat and cook your meat until it starts to brown.
Add the carrot and onion, and then cook for about 1 to 2 minutes.
Next, add your cabbage and cook it until tender.
Then, add the shiitake mushrooms and green onion, and cook for about 1 more minute. Season with freshly ground pepper.
Now put the yakisoba noodles in a sieve, and then run hot water over the noodles. Use your hands to separate them.
Add your noodles to your wok or skillet, and reduce the heat setting to medium. You can use tongs to mix the yakisoba noodles with the rest of the ingredients. Watch them as they cook since they can easily stick to your wok or skillet.
Once the noodles and ingredients are mixed together, add the yakisoba sauce. Adjust your sauce flavor depending on the amount of ingredients in the wok or skillet. Use tongs to mix them together. Once done, transfer the noodles onto a plate and then garnish with pickled red ginger and dried green seaweed. Serve while hot.
Also read: how to make a delicious hibachi noodle dish
5. Somen
Somen noodles are very thin white noodles, less than 1.3 mm in diameter. They're made out of wheat flour and are mostly served when cold.
They're commonly eaten, especially during the summer, and are at times served alongside hot soup (nyumen) during the winter.
Typically, somen noodles are served in a simple way, chilled in ice once they're cooked and then dipped in tsuyu, which is a sauce made out of katsuobushi. It has some ginger and onion.
The noodles have a mild, almost bland flavor that needs to be paired with a dipping sauce.
Many people wonder: how do I eat somen noodles? It's actually very simple!
Dip your thin noodles directly in the sauce, just as you would soba noodles. Eat some with your favorite soy or mirin sauce and some tasty condiments.
Flowing somen or nagashi somen is a fun and interesting way to serve somen in the summertime. Somen noodles are first placed in a long bamboo flume.
Each diner catches the noodles as they're passed along, and dips them in the tsuyu sauce before feasting on them.
Somen noodle recipe
Ingredients
4 bundles dried somen noodles
Toppings
1/2 inch ginger
1 green onion/scallion
Myoga ginger (thinly sliced, optional)
Shiso leaves (Ooba) (thinly sliced, optional)
Dipping sauce
½-1 cup water (cold iced, if you use concentrated mentsuyu)
¼ cup mentsuyu (noodle soup base)
Directions
This step is optional but is used in most traditional Japanese restaurants. The restaurants tie up the noodles to improve their appearance. So you can tie the edge of your somen noodles using cooking twine. This helps the noodles to stay in one direction as they cook. But you can skip this step when cooking at home.
Boil water in a large pot and then add the noodles once the water has boiled. Use chopsticks to stir the noodles, as this prevents them from sticking together. Now follow the instructions on the packaging as you cook.
Once boiled, drain the noodles in a colander and then wash them with your hands under cold running water.
When the noodles are cold, find the knotted parts, pick them, cut off the edge, and discard them. Hold together the bundle, and then arrange it nicely in a serving place. You can serve the noodles with ice, especially when you want to keep them cool.
Lastly, you need to prepare the dipping sauce. To do this, grate your ginger, cut the scallion finely, and then put them in dishes. Next, add the menstuyu in small bowls and dilute with cold water. Add a small portion of ginger and scallion in the dipping sauce.
6. Hiyamugi
Hiyamugi noodles are a bit thicker than somen noodles and are thinner than udon noodles, but they resemble both these noodle types.
In addition, they're somewhere in between udon and somen in terms of their size. Westerners say hiyamugi resembles thin vermicelli pasta.
These noodles are served just like udon or somen. Also, they're at times not only white, but also mixed with green or pink-colored noodles.
They can be used interchangeably with other thin Japanese noodle varieties.
In general, you won't find hiyamugi to be as popular as other noodles, even though it's similar in texture to other wheat-flour varieties.
Also read: these are the basic soup broths in Japanese cuisine
Hiyamugi with sesame dipping sauce recipe
Ingredients
2 Japanese or Taiwanese cucumber (thinly sliced into 4 inches)
A pinch of salt
2 tbsp white sesame paste
1 dashi soy sauce (mentsuyu/soba tsuyu)
1 tbsp soy sauce
1 cup water
1 tbsp mirin
1 tbsp roasted white sesame seeds (optional)
3 bundles hiyamugi noodles
Directions
Sprinkle some salt over your sliced cucumbers, give them a good mix, and then set aside.
Mix the dashi soy sauce, sesame paste, mirin, soy sauce, and ½ cup water in a small pot, and then allow to boil. You should cook this for around 3 minutes, as you whisk gently to allow the sesame paste to incorporate into the rest of the liquid.
Once done, pour the mixture into a different container, and then add the remaining ½ cup of water.
Rinse your salted cucumbers and make sure you squeeze them to remove excess water. Add the cucumbers to the sesame mixture, and then chill in the refrigerator for around 20 minutes.
To cook the noodles, boil water in a large stockpot (half full). Add your noodles at once, and then cook according to the package directions. Stir the noodles occasionally to prevent them from clumping together. When done, rinse the noodles under cold running water and allow them to drain well.
Serve on plates and sprinkle sesame seeds if desired.
Serve with the sesame dipping sauce on the side.
7. Shirataki
Also known as konnyaku noodles, these healthy noodles don't have calories, and this has increased their popularity as a weight-loss dish.
Shirataki noodles are thin and translucent, and are made out of konjac yam. They have high fiber content and low carb and calorie count.
The reason why shirataki is such a low-calorie noodle is that it's made from glucomannan, which is a fiber from the konjac plant.
Because of this fact, these noodles don't have any flavor when eaten alone. But they're very versatile, as they can be prepared in different dishes.
Shirataki noodles have become very popular in other countries outside Japan, especially since they're advertised as diet-friendly.
Why are shirataki noodles good for you?
For starters, they're very low in calories in comparison to other noodle types. This means you can eat more of them without feeling stuffed or too full.
They're known to help with weight loss because they help regulate blood sugar and cholesterol levels in the body.
Even though shirataki noodles are prepared in a similar manner to other Japanese noodles, they're traditionally used as nikujaga and sukiyaki, as well as other stewed dishes.
Stir-fried shrimp shirataki noodles
Ingredients
16 oz shirataki noodles
1 tbsp cooking oil
8 oz shrimp
2 cups shredded cabbage
1/4 cup hot water
1 small carrot (peeled and shredded)
Aromatics
3 garlic cloves (finely chopped)
1 stalk green onion (separate green and white, thinly sliced)
1/2 tsp fresh ginger (finely chopped)
Seasoning
2 tbsp soy sauce (add more to taste)
1 tbsp oyster sauce
1/2 tsp sugar
Directions
Boil your noodles in a large saucepan. Make sure you stir them occasionally. Once done, drain the water and rinse under cold water. Set them aside.
Next, preheat a large or medium pan with some oil. Add garlic, ginger, and the white part of the green onion. Stir for around 1 minute, and then add the shredded cabbage. Stir-fry for around 2 minutes.
Pour in ¼ cup of water and continue cooking until the cabbage wilts. Now add the carrots and stir-fry for an additional 30 seconds.
Add your shrimp and stir-fry until they turn pink. Next, add the shirataki noodles, pour in your seasonings, and stir-fry until they're well mixed.
Add some extra soy sauce if needed.
Garnish with the green part of the sliced onions.
Serve immediately.
8. Harusame
Also known as glass noodles, harusame shouldn't be mistaken for rice noodles, which have a similar appearance.
Harusame are thin, long, transparent noodles made from a combination of water and starch from potatoes, yam, or mung beans.
The Japanese also called them "cellophane noodles" because they're see-through and have a clingy texture once boiled.
Glass noodles are considered a healthy noodle variety. They're vegan and gluten-free, making them suitable for all types of dietary preferences. These noodles are also low in calories.
The noodles are sold in dry form and they have a white color. Once boiled and rehydrated, they turn transparent, hence the "glass" in the name.
Here are 2 common ways to make these noodles:
Wakame harusame soup – This type of hot soup is made from glass noodles, wakame, spring onion, and eggs. It's a soup with few ingredients, making it quick and easy to cook.
Deep-fried – For extra crunch and flavor, harusame noodles can be deep-fried and used in salads or as a side dish.
Harusame is most often used in salads or as part of a beef or pork stir-fry. It's used in a popular salad known as "Chinese salad" due to the Chinese origin of glass noodles.
Here is a delicious glass noodle salad recipe.
Vegetarian glass noodle salad
Ingredients
4 oz glass noodles
2 tbsp wakame seaweed
1 cucumber (thin strips)
1/2 carrot (thin strips or julienned)
1/2 tsp salt
2 tsp sesame seeds (preferably white)
Dressing
3 tbsp rice vinegar
2 tbsp soy sauce (use low-sodium for a healthier salad)
1 tbsp sugar
1 tbsp sesame oil
1 tbsp canola oil
Salt
Ground pepper
Directions
Boil noodles according to package instructions (usually around 5 minutes).
Place wakame in water and rehydrate for about 15 minutes.
Cover veggies in salt and leave for 5 minutes.
In a mid-sized bowl, mix all of your dressing ingredients and stir well.
In a large bowl, place your noodles and drizzle on the dressing.
Chill the salad in the fridge for at least half an hour before serving.
Read more: a nice and healthy kelp and noodle recipe
Enjoy the different noodles from Japan
There you go! These are the 8 most popular Japanese noodles and you should definitely at least try one of these recipes.
There are thin noodles, thick noodles, and low-calorie options for all preferences, because who doesn't love a tasty noodle dish?!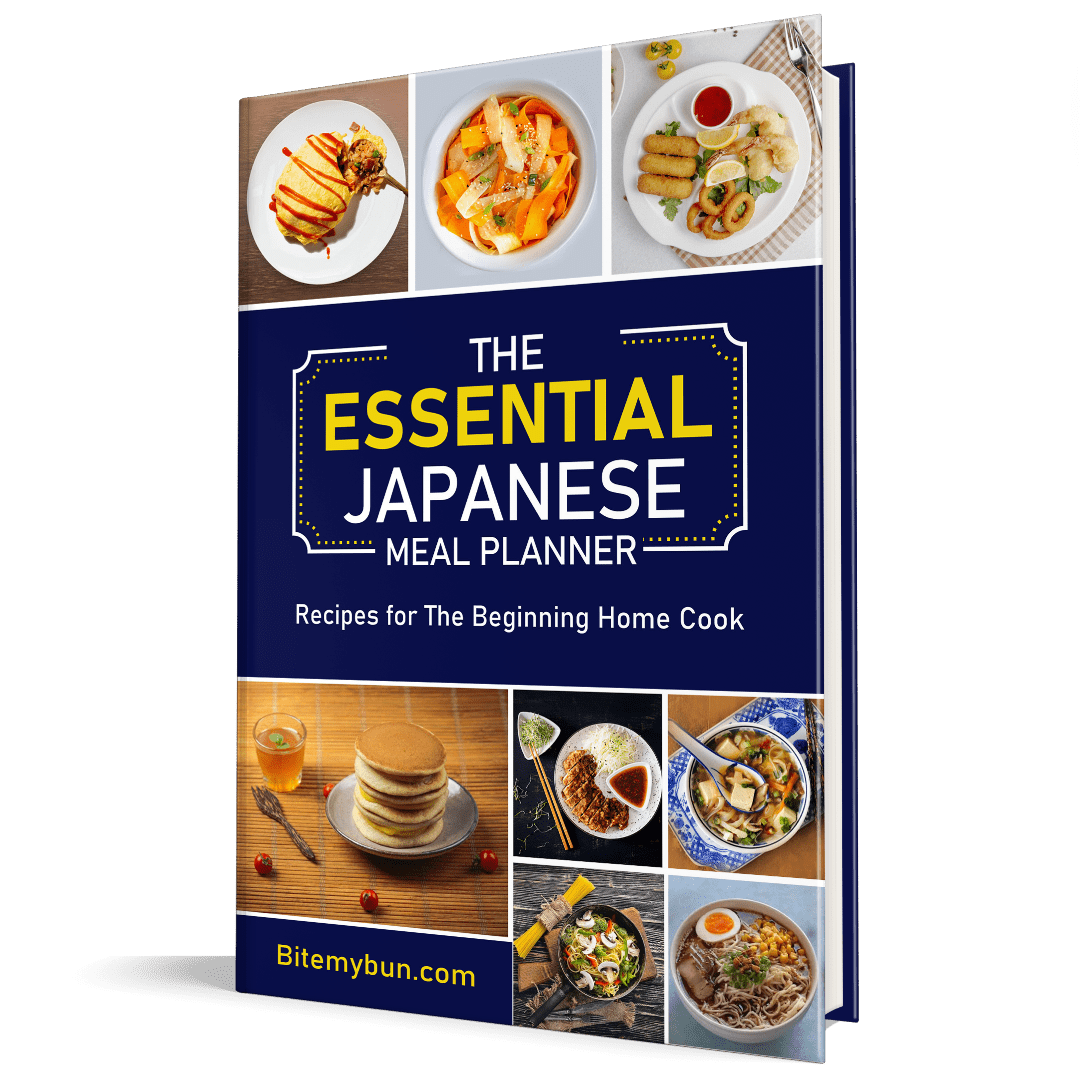 Check out our new cookbook
Bitemybun's family recipes with complete meal planner and recipe guide.
Try it out for free with Kindle Unlimited:
Read for free
Joost Nusselder, the founder of Bite My Bun is a content marketer, dad and loves trying out new food with Japanese food at the heart of his passion, and together with his team he's been creating in-depth blog articles since 2016 to help loyal readers with recipes and cooking tips.