Where to buy AMAZING Yakiniku sauce OR make your own
I love creating free content full of tips for my readers, you. I don't accept paid sponsorships, my opinion is my own, but if you find my recommendations helpful and you end up buying something you like through one of my links, I could earn a commission at no extra cost to you.
Learn more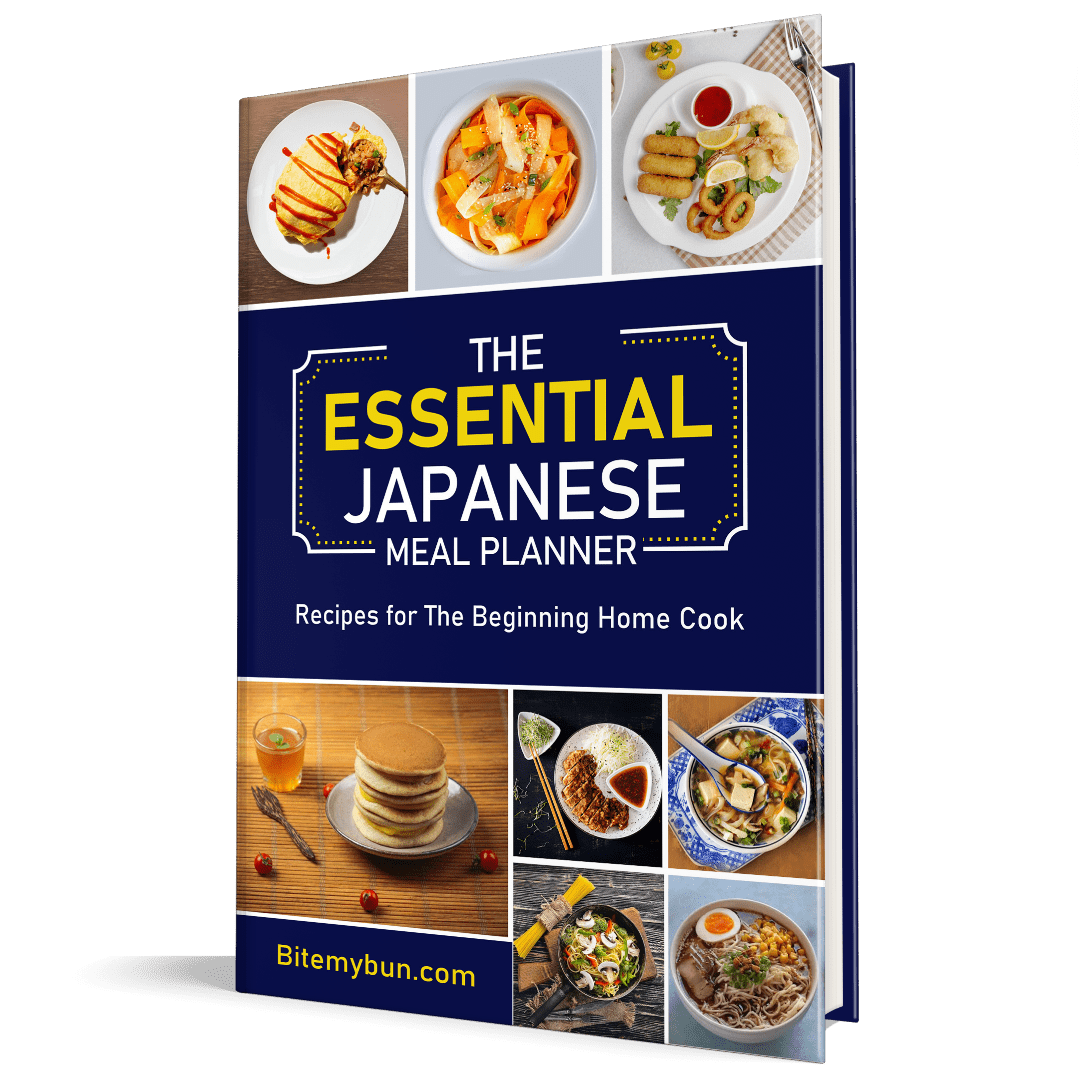 Check out our new cookbook
Bitemybun's family recipes with complete meal planner and recipe guide.
Try it out for free with Kindle Unlimited:
Read for free
Yakiniku (in Kanji: 焼き肉 or 焼肉), which means "grilled meat," is a Japanese word that has a broad meaning but usually refers to any cuisine that has grilled meat in it.
During the Meiji Restoration (1872) the Japanese people did not know anything about the western barbecue or grilled food and when it was first introduced to Japanese society by writer Kanagaki Robun in his book Seiyo Ryoritsu which translates to The Western Food Handbook he coined the term "Yakiniku."
However, during the Show a period, the term "yakiniku" became associated with Korean cuisines. This was due to the result of the Korean War where migrants from North and South Korea built their restaurants with different political ideologies just like how they were in their homeland. The North Koreans called their restaurants "Kita Chosen," while the South Koreans named theirs to "Kankoku."
You can make it yourself, I've even written a post about it here. But there are a few storebought options you can consider that have an excellent taste. In this post I'll share my top choices with you, like my favorite this Daisho Japanese BBQ Yakiniku Sauce which has the most authentic flavor I found yet!
17 Easy Recipes Anyone Can Make
All the tips you'll need to get started in Japanese cooking with, for a limited time, free as our first email: The Complete Japanese With Ease Cookbook.
We'll only use your email address for our newsletter and respect your privacy
Best Yakiniku Sauces
The most common sauce is made of soy sauce mixed with sake, mirin, sugar, garlic, fruit juice, and sesame.
Additional Korean side dishes are also served to variate the flavors and they can include kimchi, nameul, and bibimbap.
The yakiniku sauce is a sweet & flavorful Japanese BBQ sauce. It's perfect for dipping thinly sliced of well marbled short rib and other grilled goodies.
Daisho Japanese BBQ Yakiniku Sauce, 580 Gram (Pack of 12)
Authentic Japanese BBQ yakiniku shoyu sauce bursting with tons of flavors from natural ingredients!
Use it as a dipping sauce for cooked meats or vegetables, or you can also use it to marinade BBQ recipes that saturate the taste and creates amazing blends of delicious flavors to every BBQ recipe you'll cook.
Get it on Amazon for a low price in a pack of 12 bottles included with free shipping!
Ingredients:
Soy Sauce
Sugar
Water
High Fructose Corn Syrup
Apple
Garlic
Salt
Alcohol
Sesame Seed Oil
Soybean Paste
Monosodium Glutamate
Disodium 5'-Inosinate
Disodium 5'-Guanylate
Brewed Vinegar
Sesame Seed
Ginger
Caramel Coloring
Red Pepper
Black Pepper
Xanthan Gum
Also read my post on this Yakiniku sauce recipe you can make yourself
Nippon Shokken Yakiniku Sauce (14.7 Oz)
One of the best and highly recommended yakiniku sauce this dipping sauce is all you'll need for all your yakiniku recipes.
An all-original Japanese citrus BBQ sauce with no high fructose corn syrup or added preservatives.
You can use the Nippon Shokken Yakiniku Sauce as a dipping sauce for yakiniku recipes, or as a marinade for other BBQ cuisines.
This sauce cost under $15 per bottle on Amazon.
Ingredients:
Water
Soy Sauce
Sugar
Salt
Garlic Puree
Modified Food Starch
Pear Concentrate Juice
Sesame Oil
Red Chiles Puree
Pineapple Concentrate Juice
Sesame Seed
Sodium Ascorbate
Lemon Concentrate Juice
Roasted Garlic Puree
Minced Garlic
Paprika Oleoresin Color
Yeast Extract
Spices, Xanthan Gum
Ikari Yakiniku Medium Hot Barbecue Sauce (235 grams)
A slightly hot and spicy yakiniku barbecue sauce by a truly Japanese brand name – Ikari.
Because it's only medium hot most people will enjoy it as a dipping sauce for various yakiniku and other BBQ recipes.
The young, old, men, women and children of all ages will love this specially made yakiniku dipping sauce!
Made from a variety of choiced products including fruit, honey, chilli, spices, vegetables and sesame seeds this yakiniku BBQ sauce retains a delicious savoury flavor that perfectly balance sweet and slightly tangy taste, which is perfect for grilled meat.
You can buy the Ikari Yakiniku Medium Hot Barbecue Sauce at Japan Centre and on Amazon as well, although you will find it cheaper to buy at Japan Centre compared to Amazon.
Ingredients:
Soy Sauce
Sugar
Fruits (Apple and Lemon)
Salt
High-Fructose Corn Syrup
Melted Muscovado
Fermentation Seasoning
White Sesame
Honey
Moromi
Spices
Garlic
Sweet & Simple Yakiniku dipping sauce recipe with 9 ingredients
It's summer, which implies it's BBQ time! Japanese-style BBQ is called Yakiniku and in Japanese, it literally translates into grilled meat.
It's a famous Korean-born meal. Each Japanese Yakiniku restaurant provides its own dipping sauce and is called Yakiniku no Tare (or just tare).
Tare is the key seasoning for Japanese BBQ because before grilling we don't typically marinate the meat.
What is Yakiniku Tare Sauce?
The yakiniku sauce is fascinating because it is one of those items that you can purchase in the Japanese supermarket, but almost all yakiniku stores create their own distinctive variation (read my post on which Yakiniku sauce to buy here)
It's a mixture of soy sauce, mirin, sugar, sesame oil, garlic, and anything else the store intends to add to give it that special touch. I really enjoy the sauces that also add (many do) toasted white sesame seeds.
The outcome is a spicy, delicious, mildly dense sauce that the Japanese will use in most yakiniku establishments as a dipping sauce. I still haven't found a restaurant with no yakiniku sauce.
As a marinade, this sauce is also amazing. In addition, in Japanese stores — directly in the meat segment next to the other meats — you will discover Japanese beef selections already in the marinade.
Here's the variant Just One Cookbook made:
Also read about these other Japanese dipping sauces I've tried here
Japanese Yakiniku dipping sauce recipe
A sweet and simple Yakiniku dipping sauce recipe for Japanese BBQ.
Ingredients  
2

tbsp

sake

2

tbsp

mirin

1

tsp

sugar

½

tsp

rice vinegar

3

tbsp

soy sauce

I use low-sodium to get it a bit healthier

½

tsp

miso paste

¼

tsp

katsuobushi bonito flakes

⅛

medium

apple

grated

2

tsp

white sesame seeds

roasted
Instructions 
Add mirin, sake, sugar, soy sauce, rice vinegar, miso, dried bonito flakes to a pot and simmer for about 1½ minutes.

Once that time has passed, strain the sauce so it's nice and smooth.

Add roasted white sesame seeds and the grated apple, and you'll be ready to start dipping yakiniku in it. However, the best way to enjoy it is to let the sauce sit for about half a day or even better overnight in the fridge so all the flavors can meld together.
These ingredients might be some that you don't yet have, here's where to get them:
Enjoy Yakiniku without marinade
Bite-sized meat (generally beef and offal) and greens are grilled on a gas / electric grill or also on charcoals for Yakiniku.
Whether you enjoy Yakiniku dinner at home or at a restaurant, everybody is sitting around the barbecue grill and cooking the meat throughout the dinner.
It's an excellent menu for 6-8 individuals as it requires very minimal preparation.
As I mentioned before, for yakiniku, meat is generally not marinated; therefore, meat quality is very crucial.
Usually, the well-marbled small rib is thinly cut and grilled over charcoal on each side for 30 to 60 seconds (you only need to turn the meat once to maintain sweet flavor) and then dive into the sauce to enjoy.
Many people also wonder what's the best grill for Yakiniku or the best grill to help you enjoy the experience to the fullest. The most traditional grill is called a shichirin and you can find them in almost every Japanese hardware store.
However, if you don't have one of those stores around you, you can also find a quality shichirin grill on Amazon, you can see our review here.
Some people might not find them very practical for Yakiniku though, but it's a great little piece of hardware to complete the authentic vibe.
In the US, any stove that resembles shichirin is called a hibachi. However, a hibachi is actually a smaller Japanese heating device that isn't typically used for cooking.
When they were introduced in the US market, the shichirin was accidentally marketed as hibachi which is why you'll find many "hibachi" grills around but a shichirin might be harder to find.
Things to keep in mind:
The sauce alone, without dipping any meat, might be too salty. However, once you dip the meat in the sauce, both flavors will combine and complement each other nicely.
Final Thoughts
Even though Yakiniku Dipping Sauce or "Tare" is an item particular to Japanese culture, they've shared their recipe with the rest of the world so we can create our own delicious yakiniku at home.
By following the recipe shared here today and using traditional Japanese grilling methods, you'll be able to obtain a delicious result that is bound to surprise all your guests and maybe even yourself.
Read more: these are the tastiest bottled stir fry sauces you can buy
Inside a Yakiniku Restaurant
The reference to a "yakiniku restaurant" arose as a politically correct term for restaurants of either origin.
These days, however, "yakiniku" is commonly referred to as a Japanese cooking style where bite-size meat (usually beef and offal) and vegetables are cooked over an open flame grill with wood chips or charcoals as fuel, or in some cases, they are cooked by the gas/electric grill.
The chef prepares the raw ingredients (individually or as a set) for whichever kind of menu the diners' orders, then it is brought to their table by the waiters and waitresses.
The diners cook the ingredients on the grill right in front of them built into the tables themselves. They cook the ingredients several pieces at a time and it is for this reason why people love to dine in yakiniku restaurants – they enjoy cooking their own meals.
Yakiniku dishes are always eaten with specially made dipping sauces called "tare."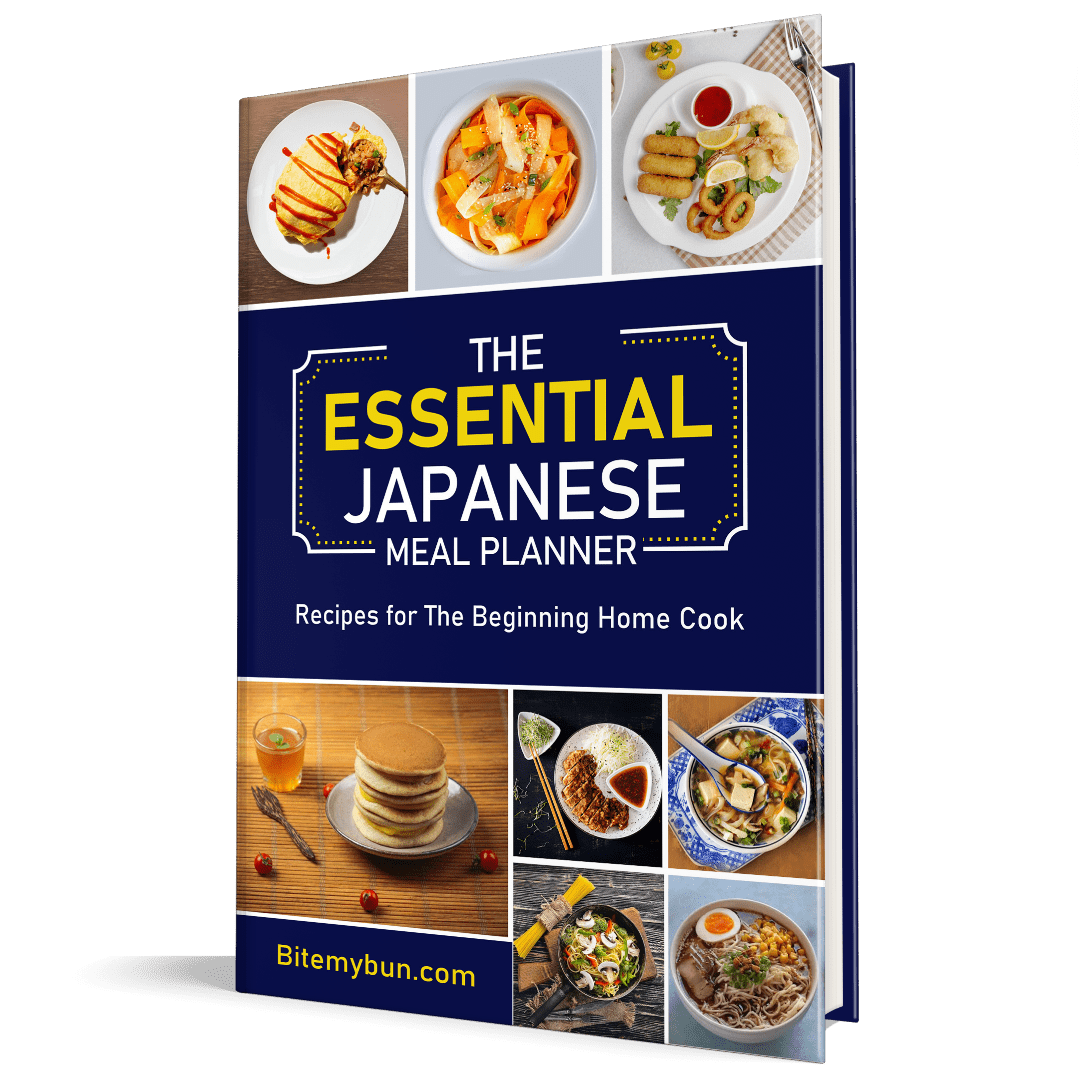 Check out our new cookbook
Bitemybun's family recipes with complete meal planner and recipe guide.
Try it out for free with Kindle Unlimited:
Read for free
Joost Nusselder, the founder of Bite My Bun is a content marketer, dad and loves trying out new food with Japanese food at the heart of his passion, and together with his team he's been creating in-depth blog articles since 2016 to help loyal readers with recipes and cooking tips.