Easy Okonomiyaki Without "Okonomiyaki Flour" Recipe: Best Substitutes
I love creating free content full of tips for my readers, you. I don't accept paid sponsorships, my opinion is my own, but if you find my recommendations helpful and you end up buying something you like through one of my links, I could earn a commission at no extra cost to you.
Learn more
In Japan, okonomiyaki is made with special okonomiyaki flour which can be difficult to find outside of the country. But don't worry — you can still easily make this delicious dish!
You can make a substitute for okonomiyaki flour by mixing all-purpose flour and cornstarch. To add flavor, mix some bonito flakes into the batter. This mixture ensures your batter is pretty much the same as if you used traditional okonomiyaki flour.
Although I've already shared how to make okonomiyaki with cabbage using okonomiyaki flour, many of you don't have this type of flour on hand at home. That's why I am offering the perfect substitute.
You can add whatever you desire to this Japanese classic. However, some combinations just work out better than others.
Here are some of the alternative flour options that you can use in place of traditional okonomiyaki flour.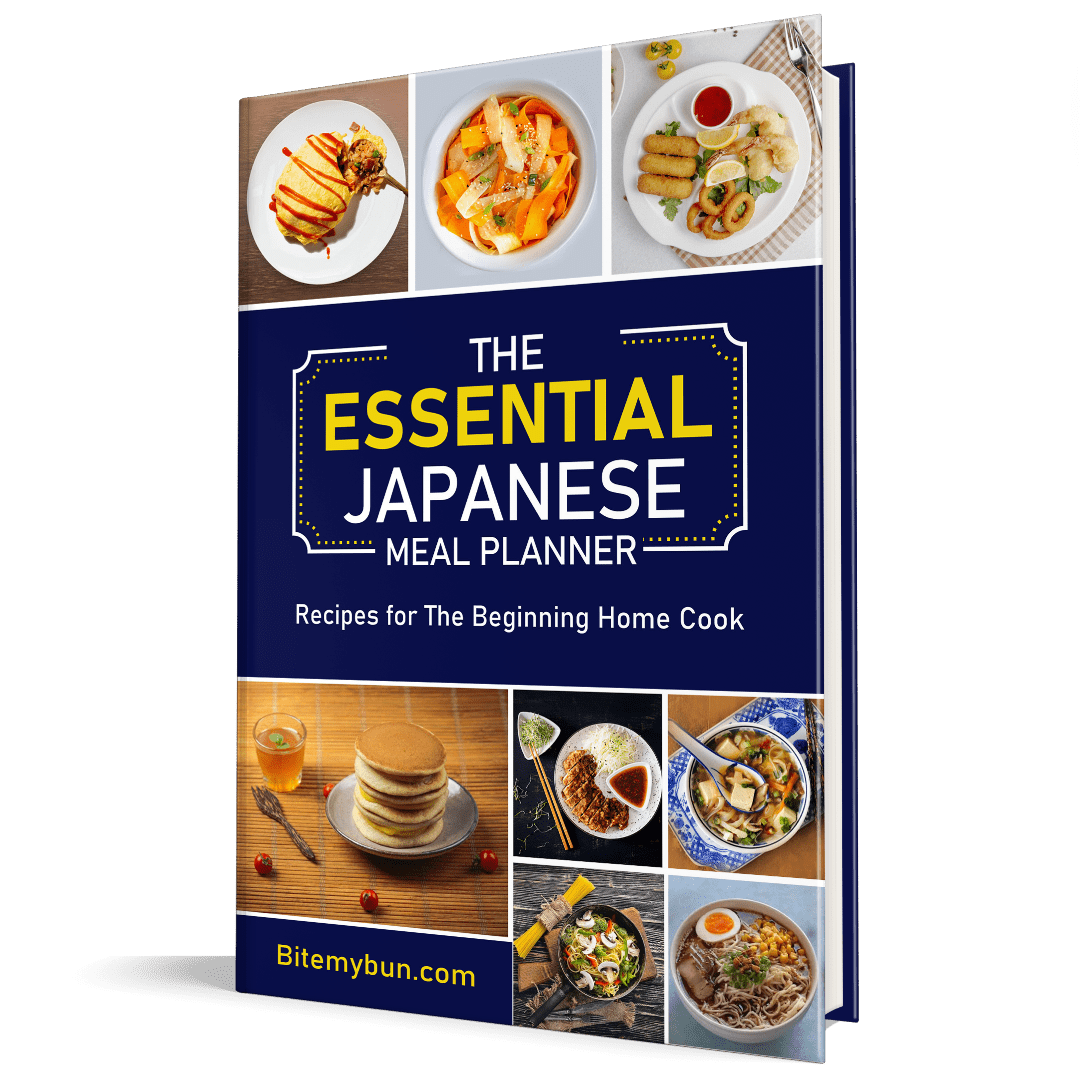 Check out our new cookbook
Bitemybun's family recipes with complete meal planner and recipe guide.
Try it out for free with Kindle Unlimited:
Read for free
Make your own okonomiyaki flour at home
In this recipe we're making traditional okonomiyaki without okonomiyaki flour. The batter still contains dashi, cabbage and bacon.
The savory pancake is then topped with delicious okonomiyaki sauce, bonito flakes, and Kewpie mayonnaise.
Okonomiyaki Recipe Without Okonomiyaki Flour
Okonomiyaki is a Japanese pancake stuffed with cabbage and other tasty ingredients like pork, shrimp, or corn and a batter made with flour, eggs, and stock flavored water (typically dashi). This is one of Japan's favorite street foods and this recipe doesn't require okonomiyaki flour.
Ingredients  
For batter & frying
4

bacon slices

cut into thin strips

2/3

cup

all purpose flour

2

tbsp

cornstarch

1

tbsp

fine cut bonito topping

3

eggs

1

tsp

dashi powder

1/4

napa cabbage

1/2

cup

canned sweet corn

2

tbsp

vegetable oil
For toppings
2

tbsp

kewpie mayonnaise

3

tbsp

okonomiyaki sauce

1

tbsp

bonito flakes

1

tbsp

aonori

seaweed flakes

2

tsp

Japanese 7 spice

for garnish
Instructions 
Prepare the bacon by frying it until it is completely done and crispy. The bacon, while cooking, will produce its own oil, so there's no need to add any.

In a small mixing bowl, whisk together the eggs and dashi powder dissolved in the warm water to produce the batter.

Add the cornstarch and all-purpose flour to a separate, large mixing bowl, and then whisk together the egg and dashi stock until it is smooth, mix and stir together.

The batter mixture should then include the chopped corn, fried bacon, half of the spring onion, and the chopped cabbage.

Heat a large frying pan on medium heat. Heat the vegetable oil after adding it. Scoop the batter onto the pan, aiming for a 10 cm (4 inch) broad circle. Cook each pancake for a few minutes on each side, or until they are just beginning to brown. This takes about 2-4 minutes per side.

Flip the pancake to cook the other side and then transfer it onto a plate.

Place your just-cooked pancakes on serving plates, then sprinkle kewpie mayonnaise and okonomiyaki sauce over top. Add some dried seaweed flakes, bonito flakes, and a few slices of green onion and Japanese 7 spice.
Notes
You can find fine cut bonito topping on Amazon. It's a type of bonito flakes but it's not as chunky. 
The dashi powder
(soup stock) has to be dissolved in a small amount of hot water.
You can use regular mayo but Japanese Kewpie mayonnaise has a unique flavor. 
Bottled okonomiyaki sauce tastes great and gives a pleasant savory flavor.
Aonori (seaweed flakes) and bonito flakes are available to order online and they can be incorporated into the batter directly and added as toppings too!
Japanese 7 spice seasoning, also called Shichimi Togarashi gives your okonomiyaki an extra flavor boost. 
Cooking tips
Don't overmix, as we want to preserve the fluffy texture of the cabbage, just mix enough to evenly coat all the dry ingredients.
There shouldn't be much liquid left over in the batter at the bottom; if there is, simply add some more chopped cabbage and gently stir.
When pouring the batter it's important to ensure your pan doesn't stick. This will hasten the "sealing" of the pancake's bottom and maintain its circular shape.
Scrape any stray batter back onto the pancake with your spatula.
No matter what protein you use—pork, bacon, or another—always make sure it is thinly sliced to ensure quick cooking.
You can also use homemade liquid dashi stock if you don't have any dashi stock powder in the pantry.
Be sure to mix the all-purpose flour and cornstarch well, as this helps create a light and fluffy texture for the okonomiyaki.
For this recipe, you can use store-bought bottled okonomiyaki sauce or make your own homemade version using our recipe.
As for toppings, you can add pickled ginger, Japanese 7 spice, green onions, aonori, bonito flakes and tenkasu which is fried tempura scraps.
Enjoy your okonomiyaki with a topping of your choice and extra Kewpie mayonnaise!
Best okonomiyaki flour substitutes
If you don't have the Otafuku Okonomiyaki flour at home, you can use these similar substitutes. The batter texture will be practically the same and the flour's taste is quite similar.
What makes okonomiyaki flour special is that it has a better binding power.
It is made with wheat flour and Yamaimo powder, a dried and ground starch that adds binding power, flavor, and texture.
Powdered bonito, or katsuo, is included in some brands. Thus, it has more flavors than regular flour.
All-purpose flour as an okonomiyaki substitute
All-purpose flour is a lifesaver, and chances are, it's in your home already. From baking cookies to making a white sauce, all-purpose flour has it all covered!
So it's an excellent substitute for okonomiyaki. This flour provides an authentic pancake texture while incorporating the ingredients well.
However, this flour alone will lack the sticky nature of okonomiyaki we all love, so I suggest that you add some yam starch.
Potato starch and the addition of rice flour work just as fine as thickening agents.
You can also add some portion of baking powder to add the leavening agent to your batter.
This will make sure that the flour batter rises evenly and the pancake obtains its beautiful round shape.
All-purpose flour + cornstarch + bonito flakes
As you can tell from the recipe, the best way to substitute for okonomiyaki flour is to use all purpose flour mixed with cornstarch.
It's an easy and cheap way to make your okonomiyaki batter without having to buy the special flour.
You can also add a bit of bonito or katsuo into the all-purpose flour for extra flavor! I like to use very fine cut bonito topping because it's not as chunky as regular dried bonito flakes.
Rice flour: a gluten-free okonomiyaki substitute
Coming across ready-made gluten-free okonomiyaki flour is pretty rare, so here's a quick alternative you can quickly whip up.
You'll need rice flour and some sort of thickening agent. For that, you can use nagaimo.
However, if that isn't easily accessible, eggs are an excellent thickening agent.
This way, you can quickly get the authentic fluffy and thick texture of okonomiyaki you know and crave.
Rice flour + potato starch
This combination makes a great alternative to okonomiyaki flour because it has similar binding power and a nice fluffy texture.
This flour is gluten-free and perfect for those who are gluten-intolerant.
Mix together 1/2 cup of rice flour, 1/4 cup potato starch, and a pinch of salt.
The texture will be a bit lighter than okonomiyaki but it still works well for making okonomiyaki pancakes!
Adding seasonings and bonito flakes will make the okonomiyaki batter taste almost like the original stuff.
Takoyaki flour in place of okonomiyaki flour
Okonomiyaki flour is unbleached wheat and soy flour filled with spices and herbs to add flavor to the base. It rises without any additional ingredients and gives you a thick fluffy texture.
Takoyaki flour tastes slightly sweeter than regular wheat flour and has a denser, chewier texture.
It's made with Japanese stock Dashi, all-purpose flour, baking powder, eggs, salt, and soy sauce so it's almost like okonomiyaki flour.
Takoyaki is a popular Japanese snack food consisting of battered octopus balls, and takoyaki flour is typically used to make this snack. But it also works as a good Okonomiyaki flour substitute.
Takoyaki flour is made with a touch of soy sauce taste, making the batter a savory treat.
It'll give your okonomiyaki a slightly richer and saltier taste with the soy sauce's sweet lingering tinge.
Add some water and egg, and you'll have the signature sticky batter for these Japanese pancakes.
The reverse is also true, so you can make delicious takoyaki with okonomiyaki flour!
Can you make okonomiyaki using pancake mix?
It is possible to make okonomiyaki using a pancake mix like Bisquick Pancake Mix or others to replace the okonomiyaki flour.
Just replace the all-purpose flour, cornstarch and bonito flakes with the same amount of pancake mix.
The texture of the batter will be slightly different from okonomiyaki made with okonomiyaki flour, but it still tastes good.
It can be a bit thicker than the traditional okonomiyaki too, so you might need to add a bit more water or stock to thin the batter.
Alternatives & variations
Okonomiyaki is called 'as you like it' because you can actually add any toppings you like to this savory pancake.
As long as the batter has the right runny but firm consistency, the other ingredients will complement the crunchy and savory flavors.
Here are some popular okonomiyaki variations.
Okonomiyaki without egg: best egg substitute
You might be wondering, can you make okonomiyaki without egg?
Yes, you can make a vegan okonomiyaki using an egg substitute.
To replace one egg, mix together 2 tablespoons of flaxseed meal, 3 tablespoons of water and let stand for 5 minutes. Add to the batter in place of the eggs.
Then, you add the other ingredients as usual and cook the okonomiyaki as instructed. And you've just made a vegan version of this delicious Japanese dish!
Okonomiyaki without cabbage
Although cabbage is the main ingredient for okonomiyaki, you can replace it with other vegetables or grains that have a crunchy texture.
Some alternatives to cabbage include:
jackfruit
carrots
lettuce
green beans
taro root
broccoli
green onions
bok choy
brussel sprouts
celery root
zucchini
shirataki noodles
mushrooms
Cabbage gives the okonomiyaki its signature flavor, but using a different vegetable or grain will still give you an amazing tasting dish.
Okonomiyaki without bacon
Traditional Japanese okonomiyaki usually contains fried pork belly or bacon. If you don't eat pork, or just don't have any bacon on hand, you can replace it with something else.
Try some mushrooms, shredded chicken, ground beef, or fish. You can also use tofu for a vegan version.
The key is to use something that has enough fat content so that it still browns and crisps up when cooked. This will give the okonomiyaki a nice crunchy texture.
Okonomiyaki without dashi
Dashi is a Japanese fish broth and it gives okonomiyaki its umami flavor. But if you don't have any on hand, there are alternatives.
You can make a vegetarian version by using vegetable stock instead of dashi. Or you can use chicken or beef broth as well.
It's also possible to make vegan dashi with just water and kombu, a type of seaweed. So you can use this to replace the dashi in your okonomiyaki as well.
In case you are wondering if you can make okonomiyaki gluten-free the answer is yes!
Takeaway
Okonomiyaki is a delicious and versatile dish that can be made with many different ingredients.
The taste will vary depending on the ingredients you use, but if you follow the instructions you should end up with an amazing okonomiyaki every time!
Using these alternative flours, vegetables and proteins, you can easily make your own version of okonomiyaki without having to follow a traditional recipe.
So, go ahead and give it a try!
You might be surprised at how delicious your own version can taste. Since okonomiyaki flour can be hard to find, you can always use all-purpose flour mixed with cornstarch!
Read next: How to eat okonomiyaki | the right way to enjoy this delicious Japanese dish!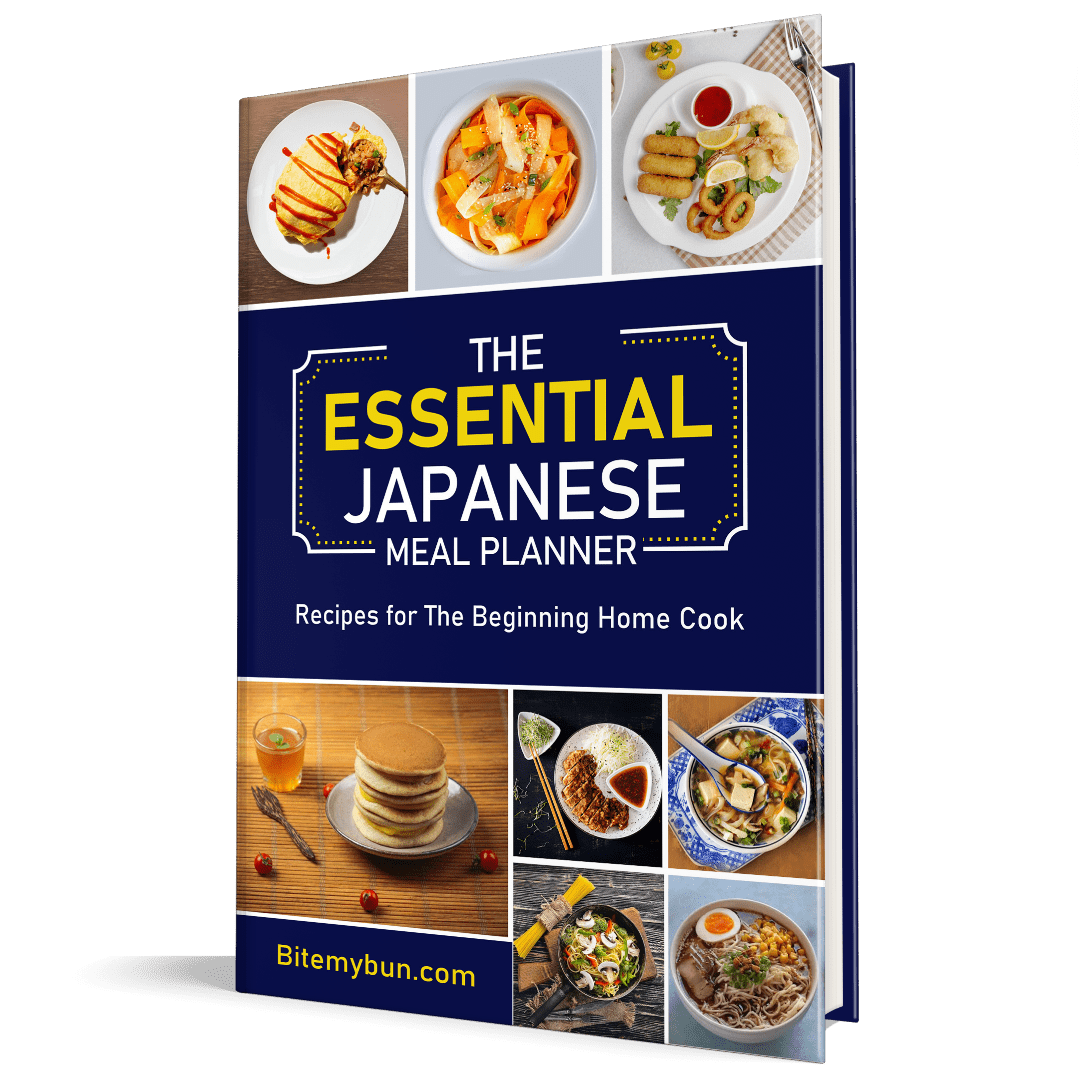 Check out our new cookbook
Bitemybun's family recipes with complete meal planner and recipe guide.
Try it out for free with Kindle Unlimited:
Read for free
Joost Nusselder, the founder of Bite My Bun is a content marketer, dad and loves trying out new food with Japanese food at the heart of his passion, and together with his team he's been creating in-depth blog articles since 2016 to help loyal readers with recipes and cooking tips.