I love creating free content full of tips for my readers, you. I don't accept paid sponsorships, my opinion is my own, but if you find my recommendations helpful and you end up buying something you like through one of my links, I could earn a commission at no extra cost to you.
Learn more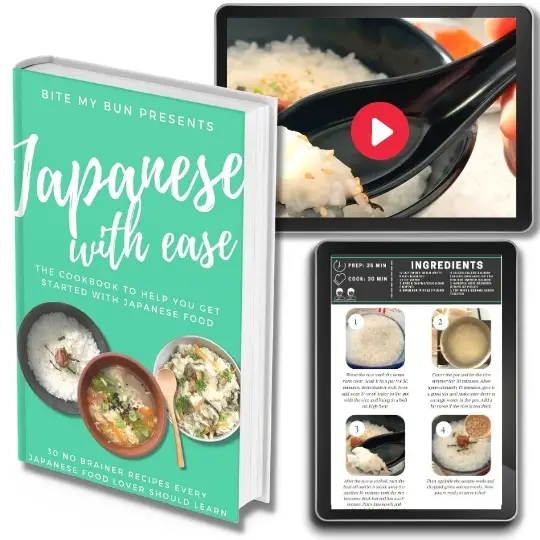 Ever had trouble finding Japanese recipes that were easy to make?
We now have "cooking Japanese with ease", our full recipe book and video course with step-by-step tutorials on your favorite recipes.
One of my favorite Japanese comfort foods is okonomiyaki. It's like the Western pancake, except it's filled with meaty treats, seafood, eggs, and vegetables. Plus, its batter is made from a mixture of eggs, dashi stock, and other spices.
Not only does this Japanese pancake taste a whole lot better, but it's healthier too!
But if you think that this Japanese pancake is already delicious on its own, then you obviously haven't tried its accompanying sauce yet.
Here's a great one in video form:
Of course, you can always buy okonomiyaki sauce in stores. But if you're feeling ambitious or just don't want to run out on a shopping trip, I've got 3 recipes for you to try!
3 excellent okonomiyaki sauce recipes
Best okonomiyaki sauce recipe
Okonomiyaki is famous for its sauce toppings, and this recipe is one you don't want to miss!
Ingredients  
2

tbsp

Worcestershire sauce

1

6 oz can

tomato paste

2

tbsp

vinegar

1

tbsp

blackstrap molasses

2

tbsp

raw honey

1

tbsp

coconut aminos or soy sauce

¼

tsp

allspice

¼

tsp

onion powder

¼

cup

sake

or white wine if you don't have any
Instructions 
Get a small saucepan and place it on top of the stove, then set the temperature to medium-high heat.

Combine all the ingredients in the saucepan and cook for 20 minutes while stirring occasionally every 2-3 minutes.

After 20 minutes or so, turn off the stove and transfer the sauce into a small dipping sauce bowl and serve.
Okonomiyaki sauce #2
Ingredients
1/4 cup ketchup
1 & 1/2 tablespoon Worcestershire sauce
1/4 teaspoon Dijon mustard
2 tablespoon sake
1 teaspoon soy sauce
3 tablespoons brown sugar
1 teaspoon mirin
1/8 teaspoon ginger; ground, in a jar
1 teaspoon honey
Cooking directions
Heat up a small saucepan on the stove and set the temperature to medium-high.
Put all the ingredients in the saucepan in order to mix and turn them into okonomiyaki sauce.
Let it simmer for approximately 1 minute and stir the mix thoroughly.
If the taste is too tangy, then add more honey or sugar to make it sweeter or give it a sweet & sour flavor.
If the opposite occurs and the sauce ends up too sweet, then pour 1-2 teaspoons more of soy sauce.
Turn off the stove and transfer the okonomiyaki sauce into a dipping sauce bowl.
Allow to cool for 5 minutes before serving.
Okonomiyaki sauce #3
Ingredients
3 & 1/2 tbsp of Worcestershire sauce
2 tbsp of oyster sauce
1 & 1/2 tbsp of sugar
4 tbsp of ketchup
Cooking directions
Get a small bowl and add all the ingredients to it.
Whisk them together for about 1-2 minutes.
Adjust the sauce according to your taste.
What is okonomiyaki?
Okonomiyaki (in kanji: お好み焼き) is a Japanese style pancake containing a variety of ingredients.
The name of these Japanese pancakes comes from a combination of 2 Japanese words: okonomi (whatever you like) and yaki which means "cooked" (usually stir-fried).
Historically, the okonomiyaki recipe is thought to originate in the Kansai or Hiroshima areas of Japan, but its amazing flavor spread throughout Japan very quickly and later became a household name.
Its batter and toppings vary from region to region, and you might even say that each chef according to each Japanese prefecture creates unique batters and toppings for their versions of the dish.
In Tokyo, they call their okonomiyaki pancake the monjayaki and it's cooked specifically in a semi-liquid state compared to the Kansai/Hiroshima okonomiyaki.
Want to know more about okonomiyaki? Read on in this post I've written about it (or read on for more on how to make the sauce)
Variations
Okonomiyaki is called modanyaki when a layer of fried noodles (either udon or yakisoba) is added.
It's believed that this term come from the borrowed English word "modern," or was formed by blurring the 2 words "mori" and "dakusan", which means "piled high" or "a lot", referring to the obvious increase of ingredients.
Okonomiyaki also has a "light" or thinner version that's called negiyaki, which is defined by a large number of scallions in its ingredients when compared to the normal okonomiyaki. It's comparable to Korean pajeon and Chinese green onion pancakes.
Read more: these are the differences between Japanese noodles
Okonomiyaki is smiliar to teppanyaki: it's entertainment cooking
There are quite a number of similarities between the teppanyaki cooking style and how chefs prepare okonomiyaki.
Chief among them is the cooking of ingredients over a flat top iron griddle, where stir-frying the food is mostly done.
Although chefs that cook okonomiyaki inherently don't entertain their guests as teppanyaki chefs do, their cooking actions make everything entertaining to onlookers.
Okonomiyaki sauce adds and enhances the flavor
The Japanese people essentially make everything in their life artwork. From how they hold honor as the highest esteem in their behavior to how many ingredients they include in their dishes, they make sure it'll be of the highest quality.
The teppanyaki, takohiki, and okonomiyaki all have one thing in common: they have lots of ingredients that are already very delicious on their own.
However, Japanese chefs would always outdo themselves and create an even greater okonomiyaki dipping sauce to saturate your taste buds with exploding flavors.
Their meticulous nature in doing things in their life makes Japanese cuisine the favorite of many.
All over the world, people know that Japanese food is among the best in terms of its savory flavors and health benefits.
Is tonkatsu sauce the same as okonomiyaki sauce?
The sauces for tonkatsu and okonomiyaki are actually very similar, but they aren't the same. While they both contain corn syrup, soy sauce, corn starch, and vinegar, and are mostly sweet sauces, okonomiyaki sauce has a bit more spices, and shiitake mushrooms are added to it to give it the umami flavor.
The best tonkatsu sauce is this one by Bull-Dog:

Whip up a tasty dinner with an equally tasty sauce
Now that you know more about okonomiyaki and more importantly, how to make okonomiyaki sauce, you're well on your way to being a master at Japanese cooking. So make yourself this Japanese style pancake, some delicious dipping sauce, and go crazy!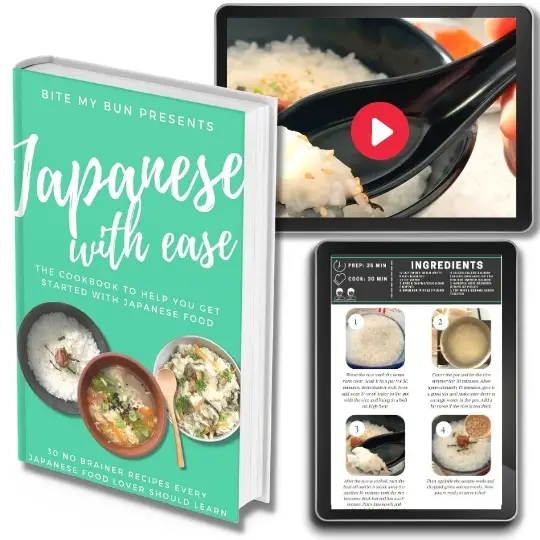 Ever had trouble finding Japanese recipes that were easy to make?
We now have "cooking Japanese with ease", our full recipe book and video course with step-by-step tutorials on your favorite recipes.
Joost Nusselder, the founder of Bite My Bun is a content marketer, dad and loves trying out new food with Japanese food at the heart of his passion, and together with his team he's been creating in-depth blog articles since 2016 to help loyal readers with recipes and cooking tips.