Hibachi Restaurant Salad Dressing | Light & Flavorful
I love creating free content full of tips for my readers, you. I don't accept paid sponsorships, my opinion is my own, but if you find my recommendations helpful and you end up buying something you like through one of my links, I could earn a commission at no extra cost to you.
Learn more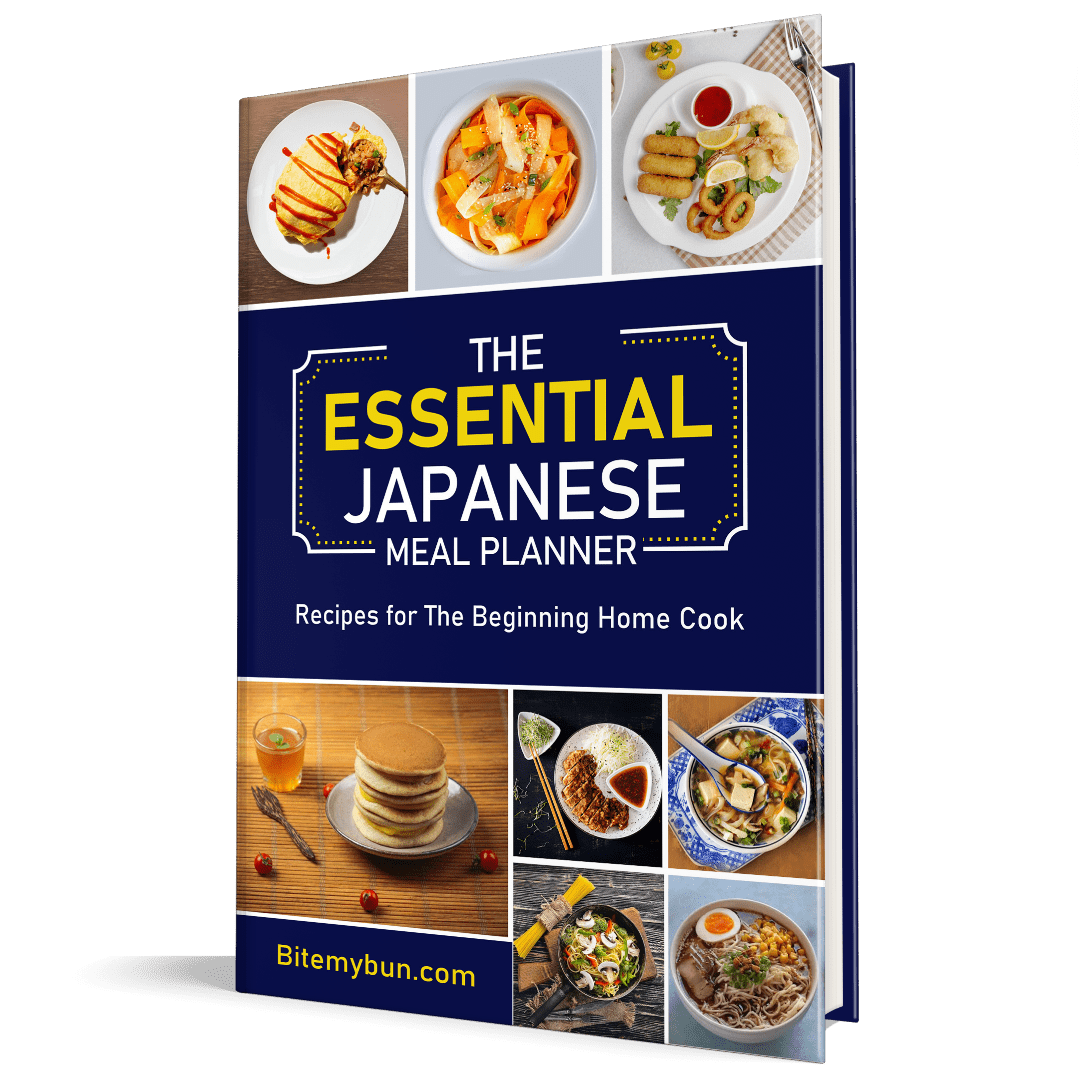 Check out our new cookbook
Bitemybun's family recipes with complete meal planner and recipe guide.
Try it out for free with Kindle Unlimited:
Read for free
Hibachi restaurant salad dressing is usually made with simple and accessible ingredients, with an out-of-the-world taste that will enhance any salad.
Yes, there's a bit of sugar there, but not so much to make any significant contribution to hampering your weight loss journey.
And you always have the option to substitute it with honey too! 
In other words, you get a blend of excellent flavors to spice up your diet without sacrificing anything.
Let me show you how to make hibachi restaurant salad dressing that tastes even better than the restaurant version itself!
To learn more about the hibachi restaurant experience read: What is a hibachi grill buffet? + what to expect (prices, dishes)
10 Tips to Save a Bundle on Asian Ingredients!
Introducing our brand new FREE PDF guide: "Saving Secrets: Unveiling the Art of Saving Money on Asian Ingredients" It's your first newsletter email, so start saving today! 📚🧧
We'll only use your email address for our newsletter and respect your privacy
Make hibachi restaurant salad dressing at home
Hibachi restaurant salad dressing is delicious and flavorful for salads and other dishes like stir-fried vegetables and meat skewers.
It is made with a combination of soy sauce, rice vinegar, sesame oil, and sugar.
Hibachi Restaurant Salad Dressing
Here's my take on the hibachi restaurant salad dressing recipe, a light and flavorful blend of umami-rich ingredients. It requires hardly any cooking, simply a quick toasting of the sesame seeds and whisking together of the elements. Use with any salad, from simple salad greens to a shredded carrot and cabbage salad.
Ingredients  
1/4

cup

soy sauce

½

cup

minced onion

2

tablespoons

lemon juice

2

tablespoons

minced celery

2

tablespoons

rice vinegar

2

tablespoons

sesame oil

2

tablespoons

granulated sugar

1

teaspoon

garlic powder

1/4

teaspoon

ground ginger

1/4

teaspoon

freshly ground black pepper

2

tablespoons

toasted sesame seeds
Instructions 
In a small bowl, whisk together the soy sauce, rice vinegar, lemon juice, sesame oil, honey, garlic powder, minced celery, ground ginger, and black pepper until well combined. You can also use a blender if you like to add onion… or you can add it in paste form and whisk it with the other ingredients.

Toast the sesame seeds in a dry skillet over medium heat, stirring, until lightly golden and fragrant for about 2 minutes.

Add the toasted sesame seeds to the mixture and stir to combine.

Serve the dressing over your favorite salad or as a dipping sauce for vegetables. Enjoy!
Cooking tips
Here are some tips to make the best version of this dressing.
Mix the ingredients properly
When making any sauce, you would like to mix all the ingredients properly and whisk them for two minutes minimum. 
This helps all the ingredients blend well together and allows them to infuse their unique flavors in the mixture.
Though you can use a blender for the purpose, I wouldn't highly recommend it. 
If I'm not using onion in the recipe, I like to whisk the ingredients together. It's fun, and much easier than cleaning the blender later…
A pinch of pepper works great
When the dressing is ready, adding a pinch of black pepper works great.
While this might not seem much after all the flavors already added to the recipe, it gives a very unique touch to the overall taste and accentuates the flavors to the next level. 
Don't be afraid to add something more
Really like one of the ingredients and can't get enough of it? Well, you can always add more of it.
This is one of the advantages of making such recipes at home. You can add pretty much anything to them according to your taste.
So whenever you think something could give you that extra flavor kick, add it more than recommended.
Try a pinch of cayenne pepper for example, for a spicy bit, or a pinch of cumin for even more depth of flavor.
Always give it some rest
Those extra minutes between making and serving the dressing make the real difference.
So as you make this delicious dressing, remember to give it a rest of around 40 to 60 minutes.
This is when all the ingredients truly settle in and unpack all their flavors to the maximum.
Resting time is one of the factors that determine how intense your dressing flavor is going to be.  
Substitute ingredients for hibachi restaurant salad dressing
Generally, all the ingredients in hibachi restaurant salad dressing are equally common and accessible and have great taste.
This means you won't need to substitute anything necessarily.
However, if you are watching your health or diet, the following are some substitute ingredients you can use: 
Honey
Not a big fan of using sugar due to its adverse effects on your health? Well, honey has got you covered!
It can work as a great substitute for sugar in the recipe and is beneficial for your health. It has a glycemic index low enough to not affect your health.
On top of that, it is packed with enough vitamins and minerals to turn your dressing into a nutritious, healthy food. 
Tamari sauce
On a gluten-free diet but don't have any soy allergy and definitely not watching your sodium intake, then tamari would be my all-time favorite recommendation to replace soy sauce.
You can also try it in this salad dressing, as in any other recipe that calls for soy sauce. You can add it in a 1:1 ratio without any problems. 
Worcestershire sauce
On the contrary, if you are someone who is watching their sodium intake, on a gluten-free diet, and with a soy allergy as well, you would like to go for Worcestershire sauce.
It is prepared with fermented anchovies, vinegar, tamarind, and fermented onions.
Most Worcestershire sauces are gluten-free (check the label!) and low in sodium.
It is also downright delicious and can make your dressing 10x better!
Olive oil
If you don't have sesame oil, you can rely on olive oil to save your recipe.
While it has a generally subtle or neutral flavor, it will help you obtain the same texture for the dressing as with any other oil. Besides, it's highly nutritious and filled with good fats.
The result? You get a great-tasting dressing that won't make you fat. 
How to serve and eat hibachi restaurant salad dressing
Serving and eating hibachi restaurant salad dressing is a great way to add flavor and texture to any salad.
Use it with:
Any salad greens (mesclun, baby kale, rocket etc.)
Potato salad
Cucumber / tomato / capsicum salad
Shredded cabbage and carrot salad
Pasta salad
And of course, any salad with this dressing will make a fantastic complementary dish to your homemade hibachi chicken (recipe here).
To serve it, pour the dressing into a small bowl and place it on the side of the plate.
To eat it, dip your fork into the dressing and the salad. This will ensure that each bite of the salad has a nice flavor.
You can also opt to mix the dressing with the salad beforehand. This way the salad ingredients can soak up the dressing flavors.
When eating the salad, it's important to remember that the dressing is quite strong and should be used sparingly.
A little goes a long way, so start with a small amount and add more if needed.
It's also important to remember that the dressing can be quite oily, so it's best to avoid over-dressing the salad.
Use a spoon to scoop a small amount and pour it onto the salad. This will ensure you don't end up with too much dressing on the salad.
Finally, it's important to remember that hibachi restaurant salad dressing is quite salty, so it's best to avoid over-salting the salad.
A pinch of salt should add flavor without overpowering the other ingredients.
How to store hibachi restaurant salad dressing
Storing leftovers of any food item can be tricky, but it's especially important to do it right with salad dressings.
To ensure your hibachi restaurant salad dressing stays fresh and tasty, here are some tips:
First, make sure you store it in an airtight container. This will help keep out any bacteria or other contaminants.
If you don't have an airtight container, you can use a zip-top bag and squeeze out as much air as possible.
Second, put the container in the refrigerator as soon as possible. This will help slow down the growth of bacteria and keep the dressing from spoiling.
If you can't get it in the fridge immediately, ensure it's kept in a cool, dry place.
Third, label the container with the date you made the dressing. This will help you track how long it's been in the fridge, so you can ensure it's still safe to eat.
Finally, make sure you use the dressing within a week. After that, it's best to throw it out. This will help prevent any foodborne illnesses and keep you safe.
Similar dishes to hibachi restaurant salad dressing
The most similar dishes to "hibachi restaurant salad dressing" are teriyaki sauce, yum yum sauce, and ginger dressing.
You might have used at least one of those, and perhaps there might be a bottle sitting around in your pantry even now.
But if you haven't, here's a brief overview of each:
Teriyaki sauce
Teriyaki sauce is a Japanese-style sauce made from soy sauce, sake, sugar, and mirin.
It has a sweet and salty flavor and is often used as a marinade or glaze for meats and vegetables.
There's also a light touch of umami to the overall taste profile, which gives it the much-needed complexity to aid its versatility.
You can use it to flavor pretty much anything, including your salads. 
Yum Yum sauce
Yum Yum sauce is a creamy, mayonnaise-based sauce popular in hibachi restaurants. It is made from mayonnaise, ketchup, sugar, and spices.
It has a sweet and tangy flavor and is often used as a dipping sauce for meats and vegetables.
Like teriyaki sauce, it also goes great with pretty much everything. 
Ginger dressing
Ginger dressing is a Japanese-style dressing made from soy sauce, rice vinegar, sesame oil, and grated ginger.
It has a sweet and spicy flavor and is often used as a salad dressing (like in this version with carrot and onion) or dipping sauce.
The little herbiness coming from fresh ginger is something that makes everything taste delicious. 
Conclusion
This recipe for hibachi restaurant salad dressing is sure to be a hit!
It's easy to make and full of flavor. Plus, you can customize it to your own tastes.
Try experimenting with different ingredients and proportions to find the perfect balance and enjoy with your next salad!
For a light but complete meal, try using the hibachi salad dressing on this quick & easy Soba noodle salad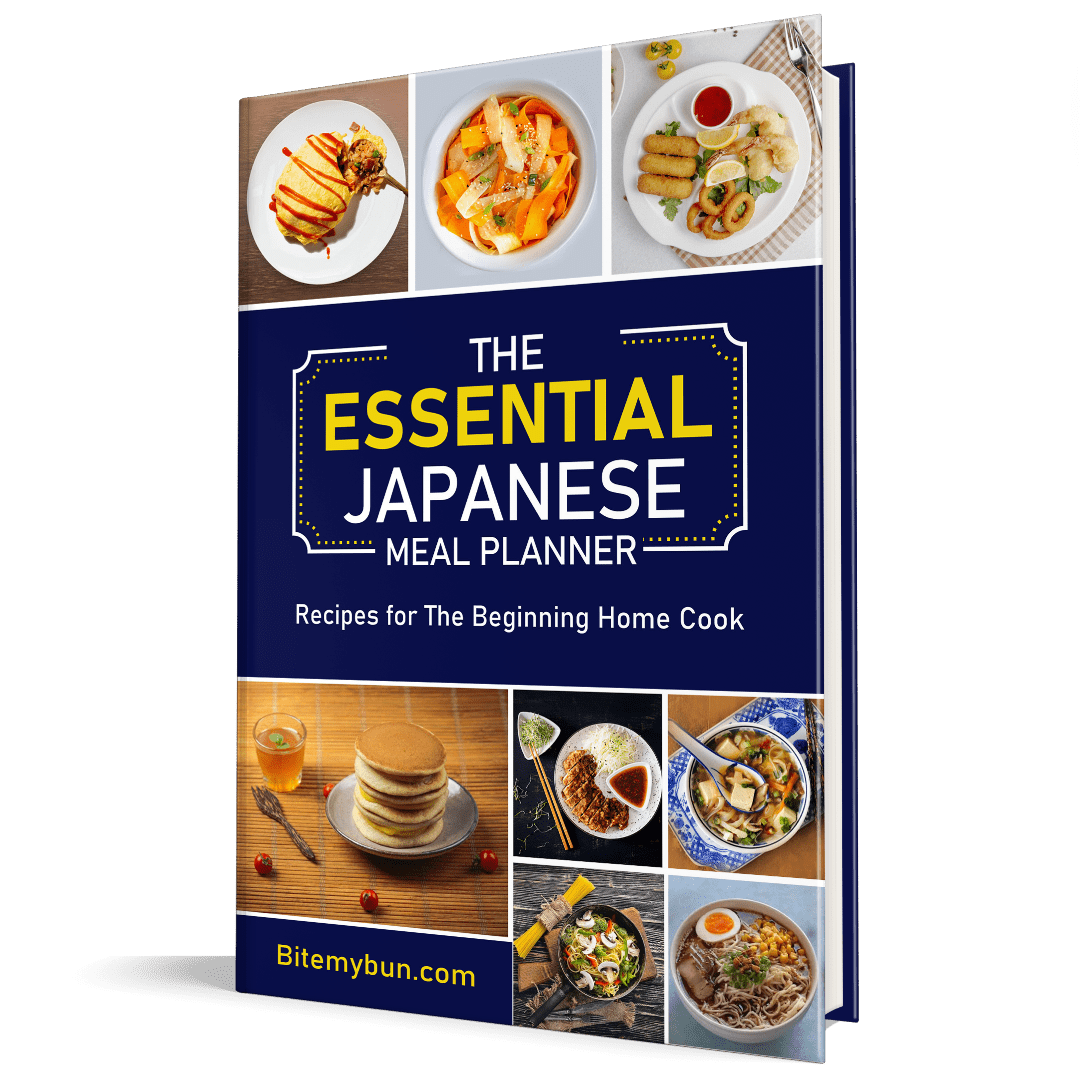 Check out our new cookbook
Bitemybun's family recipes with complete meal planner and recipe guide.
Try it out for free with Kindle Unlimited:
Read for free
Joost Nusselder, the founder of Bite My Bun is a content marketer, dad and loves trying out new food with Japanese food at the heart of his passion, and together with his team he's been creating in-depth blog articles since 2016 to help loyal readers with recipes and cooking tips.