I love creating free content full of tips for my readers, you. I don't accept paid sponsorships, my opinion is my own, but if you find my recommendations helpful and you end up buying something you like through one of my links, I could earn a commission at no extra cost to you.
Learn more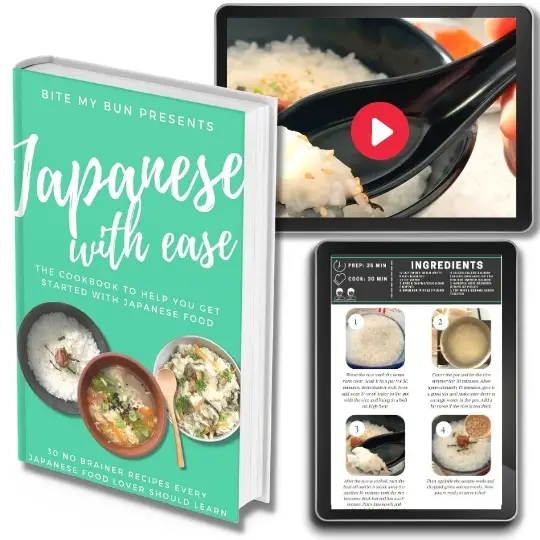 Ever had trouble finding Japanese recipes that were easy to make?
We now have "cooking Japanese with ease", our full recipe book and video course with step-by-step tutorials on your favorite recipes.
Soy sauce provides a signature taste to Asian dishes. It has a rich umami flavor that can be described as savory and salty.
It works well with a variety of dishes, including stir-fries, dumplings, and more.
But what if you're out of soy sauce? Or what if you have a wheat allergy or other allergies that make it difficult to eat soy sauce?
Let's look at the 12 best substitutes!
So you might be watching your sodium intake and would rather not deal with soy sauce's high sodium content. Or you might have an allergy so you can't eat it at all.
Well, in these instances, you'll want to try one of the many soy sauce substitutes!
There are many available and I'll first quickly go through them all and cover when to use them more in a bit so you can decide which are most suitable for your dishes.
| Substitute | When to use |
| --- | --- |
| Tamari | The perfect gluten-free substitute! |
| Worcestershire sauce | It may be from the other side of the world, but you'd be amazed to find how much it tastes like soy sauce. |
| Coconut aminos | Coconut aminos doesn't taste like coconut and have that great umami flavor. |
| Liquid aminos | This protein concentrate is also made from soybeans. |
| Dried mushrooms | Rehydrate dried mushrooms in water to get that signature umami taste. |
| Fish sauce | This sauce has a strong umami flavor. |
| Maggi seasoning | Maggi seasoning has glutamic acid that's synonymous with umami flavoring. |
| Umeboshi vinegar | Umeboshi vinegar's salty taste makes it a good soy sauce substitute. |
| Liquified miso paste | Miso paste is a great soy sauce substitute because it's made with fermented soybeans. |
| Salt | Salt may be the easiest substitute for soy sauce and it's definitely salty! |
| Anchovies | Finely chopped anchovies provide a salty taste so you won't miss the soy sauce. |
| Shoyu sauce  | Shoyu sauce is very similar to soy sauce but has a slightly lighter taste. |
| Make your own | There are plenty of ingredients you can mix to get a terrific soy sauce substitute. I'll give you a recipe later on.  |
What is soy sauce?
I'll get into those some more, and even a recipe for the perfect substitute that covers all your bases. But before looking at the best soy sauce substitutes, let's take a look at what soy sauce contains.
The better you understand what soy sauce is, the more you'll know what to substitute for in your dishes. Because as we saw earlier, some substitutes work better in one situation than another.
Soy sauce is made from fermented soybeans, brine (or saltwater), roasted grains, and a mold called koji. This is what makes it both salty and umami.
So soy sauce is added to dishes for its saltiness and its umami.
Best soy sauce substitutes
Now that we know what soy sauce is, let's take a closer look at those ingredients that can make good substitutes.
1. Tamari
Tamari is a great alternative for people that love the taste of soy sauce but would rather do without the wheat.
It's the perfect gluten-free soy sauce alternative.
Like soy sauce, tamari is also made with soybeans, so it produces a similar umami taste. However, it has a richer flavor that isn't as salty.
In general, tamari will taste great in almost any dish you might use soy sauce in. It's especially good for dipping and often used in sushi restaurants, even though you think it's soy sauce.
This San-J tamari sauce is the most well-known brand and my personal favorite to use:
2. Worcestershire sauce
Worcestershire sauce may come from a completely different part of the globe (it's British in origin), but its fermented qualities make it a terrific soy sauce substitute.
It's much lower in sodium, so it's perfect for those looking to reduce their salt intake.
However, it's not recommended for people with shellfish or seafood allergies. The sauce is made from malt vinegar, spices, sugar, salt, onions, garlic, anchovies, tamarind extract, and molasses.
These ingredients give it a rich umami taste similar to soy sauce. However, it's a bit tangier and sweeter.
It's perfect when used as a soy sauce substitute in meat dishes!
3. Coconut aminos
Coconut aminos is a sauce made from fermented coconut sap.
Contrary to its name, it doesn't taste like coconut. When compared to soy sauce, it has a similar umami taste, but it's a bit sweeter.
It's also lower in sodium and is gluten-free. It can be used to replace soy sauce in just about any recipe.
4. Liquid aminos
Liquid aminos is a liquid protein concentrate. Like soy sauce, it's made from soybeans but it isn't fermented.
It's gluten-free, but it contains soy and isn't low in sodium.
Tastewise, liquid aminos is very similar to soy sauce, but it's slightly sweeter and lighter. It can be used as a soy sauce substitute in most dishes.
5. Dried mushrooms
Dried mushrooms can also be a good soy sauce alternative. Shiitake mushrooms, in particular, will produce the closest taste.
The mushrooms will need to be rehydrated in water to achieve a liquid texture and in comparison to other foods mentioned on the list, they may not be as close taste-wise. But they'll do in a pinch!
They're also gluten-free, soy-free, and low in sodium.
Dried mushrooms can be used in just about any dish you'd add soy sauce to, but they don't provide as rich of a flavor.
6. Fish sauce
Fish sauce is a condiment that's made from fish or krill fermented in sauce for up to 2 years. It produces a strong umami flavor.
In fact, the flavor is way stronger than soy sauce. So it's best to use it in moderation.
In spite of the name, fish sauce doesn't produce a fishy flavor. It works well on meats, salads, and stir-fries.
In case you're wondering: Is anchovy sauce the same as fish sauce?
7. Maggi seasoning
Maggi seasoning is made from a fermented wheat protein with lots of glutamic acid added.
It's decidedly not gluten-free, but the acids give it a rich umami flavor. It's been called a "second cousin to soy sauce".
While the seasoning is effective in producing an umami flavor, it's the salty taste that'll stand out. It's also extra concentrated, so use it to taste.
Maggi seasoning can give any food a flavorful depth, but it's most commonly used in soups, sauces, and stews.
8. Umeboshi vinegar
Umeboshi vinegar is made from sour plums that are salted and weighed down to produce a brine, which is then sun-dried and bottled. The end product is the vinegar.
The vinegar has a salty taste that makes it a great soy sauce substitute, but it doesn't have as much of a rich umami flavor. Some recommend combining it with aminos to get the best of both worlds.
Although umeboshi tastes good on most foods, it's recommended for its ability to add taste to cooked vegetables. It can also enhance the taste of salad dressings.
9. Liquefied miso paste
Miso paste is very similar to soy sauce. Like soy sauce, it's also made from fermented soybeans and koji. So it should come as no surprise that it makes a good substitute in recipes!
The biggest challenge in using miso paste will be converting it into a liquid substance. This can be achieved with the addition of water, vinegar, and aminos.
The type of paste you use will affect the flavor profile. Red miso is deep and flavorful, making it an ideal soy sauce substitute, as compared to milder varieties like yellow or white miso.
Because miso is so similar to soy sauce, it'll make an ideal alternative in any meal.
Also read: Can I use red or brown instead of white miso paste? [How to substitute]
10. Salt
Sure, salt doesn't have the same umami taste soy sauce does, but it definitely brings the saltiness. The best part is, almost everyone has salt in their kitchen cabinets, so it makes the easiest substitute, if nothing else.
Sea salt is another option. It differs from regular salt in both texture and processing.
Some say the 2 have slightly different tastes while others say it's barely detectable.
All the same, if you prefer one to the other, use your preference as your soy sauce alternative.
11. Anchovies
Anchovies have a salty rich flavor that can be compared to soy sauce. When finely chopped, they can be added to a stirfry or sauce to achieve a similar taste.
However, because anchovies can't be made into a liquid, they won't work well as a dipping sauce or marinade unless they're mixed in with a sauce beforehand and blended.
Anchovies can also be overbearing when used in recipes, so go easy when adding them to your dishes.
12. Shoyu sauce
Shoyu sauce is the name for Japanese-style soy sauce.
There are light and dark shoyu varieties. It's made from similar ingredients, including soybeans, wheat, salt, and water.
Shoyu tends to be thinner and lighter than other types of soy sauce, but essentially, there are few differences between shoyu and soy sauce.
Therefore, it makes an ideal substitute for any dish!
Make your own soy sauce substitute
If you have a soy allergy, or you can't eat wheat, there's this great recipe that you can make.
Here's a video on how to make soy sauce from scratch by Gourmet Vegetarian Kitchen:
15-min homemade soy sauce substitute
Soy sauce can make or break a recipe. If you don't have any on hand, it can be disappointing, but fortunately, this recipe is very delicious!
Ingredients  
4

tbsp

beef bouillon

2

tsp

dark molasses

4

tsp

balsamic vinegar

1

pinch

white pepper

½

tsp

ground ginger

1 ½

cups

water

1

pinch

garlic powder
Instructions 
Mix all ingredients together in a saucepan.

Stir together over medium heat. Let the mixture come to a boil.

Let it boil until it's reduced to 1 cup. This should be achieved after about 15 minutes.
Notes
This recipe will yield 1 cup (or 8 ounces) of soy sauce. The smaller bottles you buy at a grocery store are typically 5 oz, so this will give you plenty to use in your recipes and for your condiment needs.
In terms of cost, the entire recipe will cost about 90 cents, which is a lot cheaper than any bottle of decent soy sauce you can buy in the market. Considering you'll have plenty of leftover ingredients to use in other recipes, you'll come out ahead by a long shot!
Nutrition
Calories:
59
kcal
Carbohydrates:
13
g
Protein:
1
g
Fat:
1
g
Saturated Fat:
1
g
Sodium:
247
mg
Potassium:
232
mg
Fiber:
1
g
Sugar:
10
g
Vitamin A:
1
IU
Vitamin C:
1
mg
Calcium:
43
mg
Iron:
1
mg
Now, most of those ingredients you'll probably have, but if you're thinking:
"Hey, I was looking for a substitute for soy sauce because I don't have any on hand, but I don't have molasses at hand either!"
I know. It's the best substitute though because it has the right color as well. But you can also use 2 teaspoons of corn syrup (the dark kind if you have it), honey, or maple syrup instead of molasses.
You might not get the same thickness of the makeshift soy sauce or the right color, but you'll be on the right track for the perfect fit in your dish.
Don't despair if you're out of soy sauce
Soy sauce can make or break a recipe. If you don't have any in your pantry, it can be disappointing. But fortunately, there are many substitutes that can work in a pinch!
Which do you prefer using when your bottle is empty?
Read next: All about Kikkoman, the brand is best known for its soy sauce.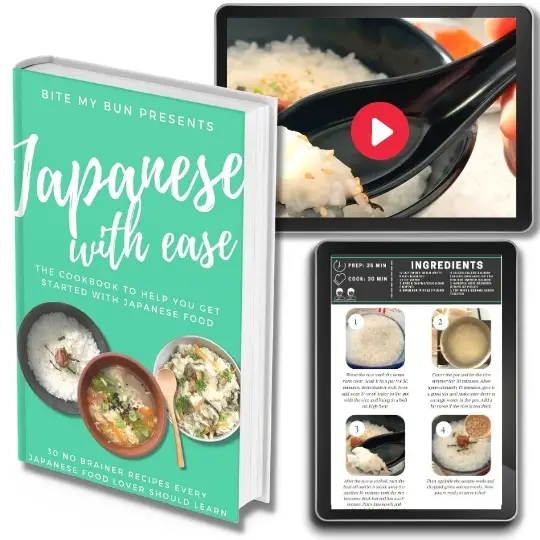 Ever had trouble finding Japanese recipes that were easy to make?
We now have "cooking Japanese with ease", our full recipe book and video course with step-by-step tutorials on your favorite recipes.
Joost Nusselder, the founder of Bite My Bun is a content marketer, dad and loves trying out new food with Japanese food at the heart of his passion, and together with his team he's been creating in-depth blog articles since 2016 to help loyal readers with recipes and cooking tips.