I love creating free content full of tips for my readers, you. I don't accept paid sponsorships, my opinion is my own, but if you find my recommendations helpful and you end up buying something you like through one of my links, I could earn a commission at no extra cost to you.
Learn more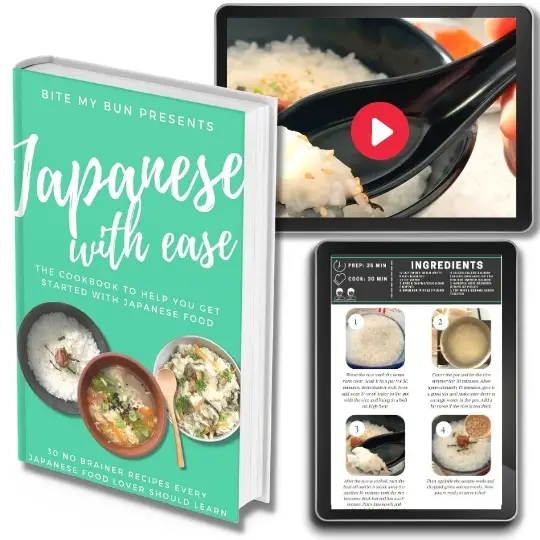 Ever had trouble finding Japanese recipes that were easy to make?
We now have "cooking Japanese with ease", our full recipe book and video course with step-by-step tutorials on your favorite recipes.
Mayonnaise, often abbreviated as mayo, is a thick, creamy sauce often used as a condiment. It originates from Mahon; in Spanish Mahonesa or Mayonesa, in Catalan Maionesa.
It is a stable emulsion of oil, egg yolk, and either vinegar or lemon juice, with many options for embellishment with other herbs and spices. Lecithin in the egg yolk is the emulsifier.
Mayonnaise varies in color but is often white, cream, or pale yellow. It may range in texture from that of light cream to thick.
For Americans, mayonnaise is one of the first condiments to add to a sandwich. It is also often used in recipes to provide a creamy texture and a tangy taste.
But what if you are in Japan? What will you use to dress your sandwiches when you are in this Asian country?
Well, fortunately, there is Japanese mayonnaise. However, isn't exactly like western mayonnaise. It is made with different ingredients and it produces a slightly different flavor.
Japanese mayo may be difficult to find in grocery stores, but it can be purchased online: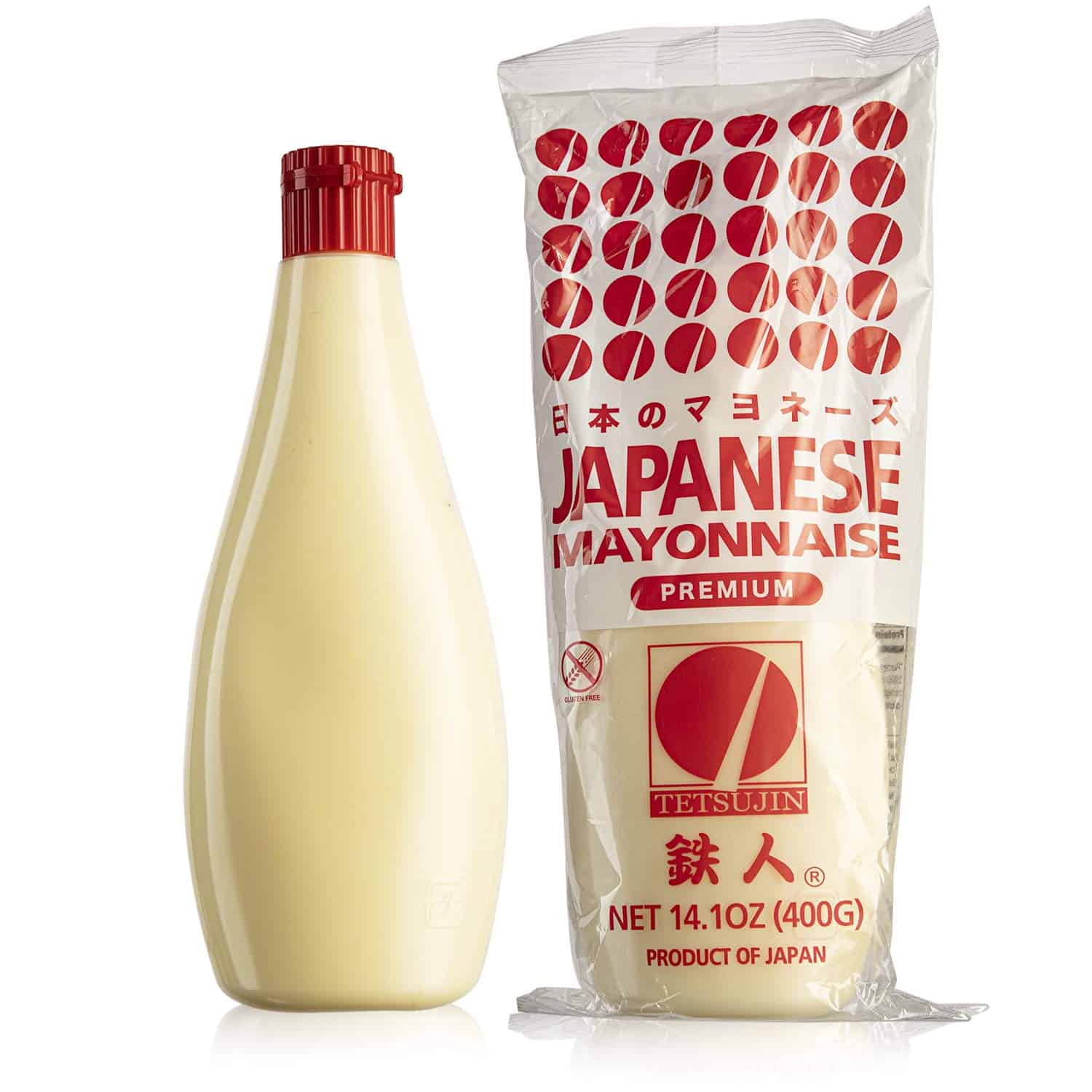 Read on to find out more about Japanese mayonnaise and how it adds up.
How is Japanese mayonnaise different from Western mayonnaise?
Japanese mayonnaise differs from Western mayonnaise in that it uses only the egg yolk whereas Western mayonnaise uses the whole egg.
It is also made with rice vinegar or apple cider vinegar instead of distilled vinegar.
As a result, the taste is tangier and sweeter with a distinct umami flavor while the texture is richer and smoother.
What is the flavor of Kewpie?
Kewpie mayo has a unique taste. It can be described as having an overall umami flavor.
But, it is made with egg yolks only so it has a strong egg taste. Also, it has a tanginess to it from the vinegar and a slightly sweet aftertaste. I would say it is refreshing and very savory, especially if it contains MSG.
It also maintains its flavors very well even after the bottle is opened because the bottle design prevents oxygen from getting inside and thus the mayo doesn't oxidize at all.
How is Japanese mayo used?
Japanese mayo can be used just like any other mayo. Here are some ways you can incorporate it in your dishes:
On sandwiches
As a dip for fries
In a potato
In chicken or egg salad
In dressings
In marinades
As a glaze
On a bagel with smoked salmon
However, when using it, you should be aware that it can really pack a punch so you might want to reduce the recommended dose.
Why are chefs obsessed with Japanese mayonnaise?
Lately, Japanese mayo has exploded on the culinary scene. People love its distinct umami flavor and many chefs say it's the best mayonnaise in the world.
They say the taste is due to the levels of MSG in the mayo. However, not all forms of Japanese mayo are made with MSG.
Here are some ways renowned restaurants are using it in their kitchens.
At Nunu, a new Japanese restaurant in Philadelphia, chefs are using it in the coleslaw they put on top of their katsu sandos.
Otaku Ramen chef Sarah Gavigan adds Japanese mayo and smoked miso to the breading of her Nashville fried chicken which she puts in her hot chicken buns.
Ask San Francisco's Stones Throw chef Halverson what he uses as the secret sauce in his burgers. I'll give you one guess. He also uses the mayo to bind his tater tots.
Bar Charley in Washington D.C. dots its spicy Korean BBQ wings with Japanese mayo.
Japanese mayo can also be found zig-zagged across various types of sushi rolls in restaurants all over the country.
Homemade Japanese mayonnaise from scratch
Taste mayonnaise and adjust sugar and salt to your liking. It can be stored in the refrigerator in an air tight container for about four days.
Ingredients  
1

pasteurized egg yolk

1

tsp

Dijon mustard

¾

cup

canola oil

½

tsp

kosher or sea salt

1

tsp

sugar

¼

tsp

dashi powder

1

tbsp

rice vinegar

2

tsp

fresh lemon juice
Instructions 
Put egg yolk and mustard in a food processor or blender and process for 20 minutes.

While the processor is going, slowly begin adding ¼ cup the canola oil. The mixture should start to thicken.

Add salt, sugar and dashi and give the processor another spin.

Add another ¼ of the canola using the same slow method as before.

Add rice vinegar, lemon juice and remainder of oil and process for an extra 10 seconds.

Taste mayonnaise and adjust sugar and salt to your liking. It can be stored in the refrigerator in an air tight container for about four days.
Tips
Here are some tips that will ensure your Japanese mayonnaise turns out well.
Make sure the egg is at room temperature. If it is not, it will separate easily and it won't mix well.
Use vegetable, canola, or grapeseed oil. Even though extra virgin olive oil may seem healthier, it won't emulsify as well.
Make sure to add oil in a thin, steady stream of oil. If you don't, it won't combine well with the rest of the mixture.
Although traditional Japanese mayo is not made with mustard, it will help the emulsifying process while adding to the flavor.
The dashi used makes a healthier and more flavorful alternative to MSG.
Use a blender, mixer or food processor. The key to the great taste of mayonnaise is how small you make the oil molecules. Using a machine will make for smaller oil molecules in comparison to mixing by hand. In fact, the more powerful tools used in commercial plants may account for why store-bought mayo tastes better.
Use pasteurized egg yolk or very fresh egg yolk. This will protect you against salmonella.
What dishes can you make using Japanese mayo?
On the other hand, if you want to use Japanese mayo in a recipe, here is one for Mayonnaise Risotto that the whole family is sure to enjoy.
Risotto with Japanese mayonnaise
Ingredients
150 g of rice
2 stalks of asparagus
Bacon
2 tbsp. Japanese mayonnaise
200 ml. milk
Salt and pepper
Directions
Cut asparagus and bacon
Fry asparagus and bacon in a pan with 1 tbsp mayo until bacon is crisp and asparagus is slightly wilted
Add rice and continue frying
Add milk and fry until milk is no longer watery
Add the rest of the mayonnaise. Season with salt and pepper to taste.
Top 10 most popular Japanese dishes that use Kewpie mayonnaise
1. Japanese Egg Sandwich (Tamago Sando) たまごサンド
Tamago Sando is one of the best egg sandwiches out there.
It's much simpler than your American egg sandwich and only contains three ingredients:
Pullman milky bread
mashed boiled eggs
Japanese mayo
What makes it special is the combination of crustless milk bread and a creamy mashed egg filling with Kewpie mayonnaise.
The Pullman bread has a fluffy texture that melts in your mouth. After the crust is removed, the soft square Shokupan milk bread is filled with finely mashed boiled eggs and a good dose of Kewpie mayo.
The mayo makes the egg extra creamy and gives it a slightly tangy flavor.
It's a great snack, sold at all convenience stores in Japan. It's a cheap but delicious savory dish and increasingly popular in the US too.
2. Japanese Potato Salad ポテトサラダ
The Japanese potato salad is the must-have party food staple at nearly all Japanese gatherings. It's made of roughly mashed potatoes, corn, cucumber, carrots, boiled eggs, ham, and zingy kewpie mayo.
The Kewpie mayonnaise gives the potato salad a refreshing tangy flavor that makes up for the absence of vinegar. It has an intense egg flavor which adds to the overall umami taste.
This salad has a creamy texture with chunks of delicious vegetables and ham. All of the rich flavors of the potatoes and veggies, the tart taste of the mayo, and the sweetness of the corn come together in this creamy dish.
It is commonly served with some soft bread, or as a side dish for Japanese fried foods.
3. Okonomiyaki (お好み焼き)
Okonomiyaki is a popular Japanese pancake with all kinds of savory toppings. It's a cross between a frittata and a pancake but the batter is runny and there are many possible toppings.
The pancake's runny batter is made of flour, eggs, and tenkasu (tempura scraps). Cabbage and pork belly slices are added into the batter and cooked until golden but still soft.
Then toppings like okonomiyaki sauce, Kewpie mayonnaise, dried bonito flakes, and dried seaweed are added for a delicious mix of tart and savory flavors.
Okonomiyaki is often cooked on a Teppanyaki griddle or fried in a pan.
4. Takoyaki (たこ焼き)
Takoyaki are deep-fried octopus balls, topped with Beni shoga (pickled ginger), spring onion, tempura scraps, dried seaweed, bonito flakes, and drizzled with tasty Takoyaki sauce and Japanese mayo.
This dish is special because the batter is made with dashi stock, so it has that rich umami flavor Japanese people really enjoy.
The combination of deep-fried octopus and savory toppings makes this a great meal or snack for seafood lovers.
Takoyaki is extremely delicious because the octopus melts in your mouth and the batter has a crispy texture.
Kewpie mayo is an essential topping because it adds a bit of a fruity and eggy taste and makes the bite-sized octopus balls easier to swallow.
5. Squid Kara-age with Japanese mayonnaise
This squid kara-age is one of the best Japanese deep-fried seafood dishes. It's made by deep-frying the squid until golden brown and crispy.
The squid tentacles are marinated in soy sauce and sake, ginger, and garlic before cooking. Some people even like to add some chili powder or flakes for a bit of spice.
Next, the tentacles are coated in potato starch, flour, and deep-fried in peanut oil.
The crispy fried squid is served with Kewpie mayonnaise and lemon wedges for a refreshing tart and sour flavor.
6. Corn mayo pan (コーンマヨパン) 
The corn mayo pan is a crowd favorite in Japanese bakeries. It is a sweet milk bread bun with a Japanese mayonnaise and corn filling.
Some bakeries make it with a soft bun, and some use hard bread as the base and add the corn and Kewpie mayo as a topping.
Either way, this is a delicious snack and the combination of sweet, sour and tart works very well.
The rich savory mayo filling oozes out of the buns and the corn adds a nice crunch. It really is one of the most interesting ways to bake with Japanese mayo.
7. Chicken nanban
Chicken nanban is Western-inspired Japanese fusion food.  It consists of chicken thighs which are covered in an egg and potato starch mixture, and then deep-fried until crispy.
Once fried, the chicken is coated with a nanban sauce. This sweet and tangy sauce is quite popular, and it's made by boiling soy sauce, sake, ginger, and sugar.
But the real flavor comes from the tartar sauce, which is an essential part of this popular dish. It is made by mixing boiled egg, Kewpie mayonnaise, celery, scallions, mustard, salt, pepper, and lemon juice (or zest).
This creamy sauce is used as a topping over the chicken and nanban sauce and makes this a rich, savory delight.
8. Tuna mayo onigiri rice balls (ツナマヨおにぎり)
The tuna and mayo-filled rice balls make up so many of the Japanese bento lunch boxes. This onigiri is one of the most popular varieties, beloved by adults and kids alike.
It is a triangle-shaped fluffy rice dish filled with tuna and Kewpie mayonnaise (that you can easily make yourself).
Tuna mayo onigiri is a simple dish but it has a very pleasant seafood flavor. The sushi rice is filled with canned tuna and filled with savory soy sauce, creamy tarty mayo with a high egg content, and Nori (kelp).
It's almost like having a tuna mayo sandwich but with rice instead of bread.
9. Tuna mayo maki (sushi)
Tuna mayo maki is also known as spicy tuna roll and it's a type of sushi roll filled with tuna and Kewpie mayo.
This sushi roll is quite basic, and it's sometimes also called the poor man's roll. But, don't worry it's one of the tastiest tuna sushi rolls of all time.
It's made with a spicy tuna mix made from tuna, spring onions, sriracha hot sauce, and kewpie mayonnaise. Once filled, the rice is covered in a nori sheet for that yummy umami flavor.
The combination of vinegared rice, umami nori, and spicy mayo tuna is so tasty, you can't stick to just one roll.
Also read: Sushi vs. Maki? What are the differences, or are they the same?
10. Ebi mayo
This is a delicious prawn dish with a creamy Kewpie mayonnaise sauce. Tiger or king prawns are coated in batter and then deep-fried until crunchy.
Once fried, the shrimp is covered in a Japanese mayo sauce which is made by combining the Kewpie with milk, honey, and catsup (Japanese ketchup). This sauce has a rich sweet and savory flavor with a hint of tartness.
Ebi mayo is commonly served as an appetizer along with shredded cabbage.
Is Japanese mayo healthy?
Japanese mayonnaise has come under fire because it often contains MSG (monosodium glutamate). This is the sodium salt of glutamic acid that is used to give food its umami flavor.
Many believe MSG can cause damage to nerve cells. Others say it produces sensitivities such as headache, numbness, weakness, tingling, and flushing. However, this has never been proven in human scientific studies.
Regardless, you can rest easy because many brands provide MSG-free versions of Japanese mayonnaise.
When making it at home, dashi makes a great substitute.
Is Japanese mayo healthier than regular mayo?
If you are wondering how regular mayo and Japanese mayo compare health-wise, here is some nutritional information based on a 1 tablespoon serving.
| Contents | Japanese mayo | Regular mayo |
| --- | --- | --- |
| Calories | 100 | 110 |
| Fat calories | 90 | 100 |
| Total fat | 10 g | 11 g |
| Total saturated fat | 1.5 g | 1.5 g |
| Cholesterol | 20 mg | 25 mg |
| Sodium | 100 mg | 105 mg |
As you can see, western and Japanese mayo come out pretty even when it comes to nutrition.
Do you need to refrigerate Japanese mayonnaise?
Japanese mayonnaise can be stored outside of the fridge until it is ready to be opened. It should be stored in a cool, dry place.
Once it is opened, it can be stored in the refrigerator for up to a month.
If the mayonnaise gets to zero degrees Celsius, the oils will separate. It is best to store it on the door of the fridge to keep it from getting too cold.
Best Japanese mayo brands
If you are looking for Japanese mayo you can count on, here are a few brands that are recommended.
Kewpie
Kewpie is almost synonymous with Japanese mayonnaise. In fact, it claims to be the originator of Japanese mayo.
The brand launched in 1925 and after nearly a century, it has established itself as one of the most trusted brands in the industry.
In spite of the fact that it has acquired many competitors over the last few years, it still remains on top with a 70% market share.
So what's the secret?
Kewpie uses simple ingredients like egg yolk, salt sugar and vinegar brewed with apple. Some argue that it is also the MSG that makes the flavors stand out.
However, Kewpie now has an MSG free variety and still stays at the top of the heap.
This company claims its secret to success is using fresh eggs that are no more than three days old.
They also say the chickens the eggs come from are fed with premium feed that further guarantees the taste. They also stand out because they use malt vinegar which gives the mayo a unique flavor.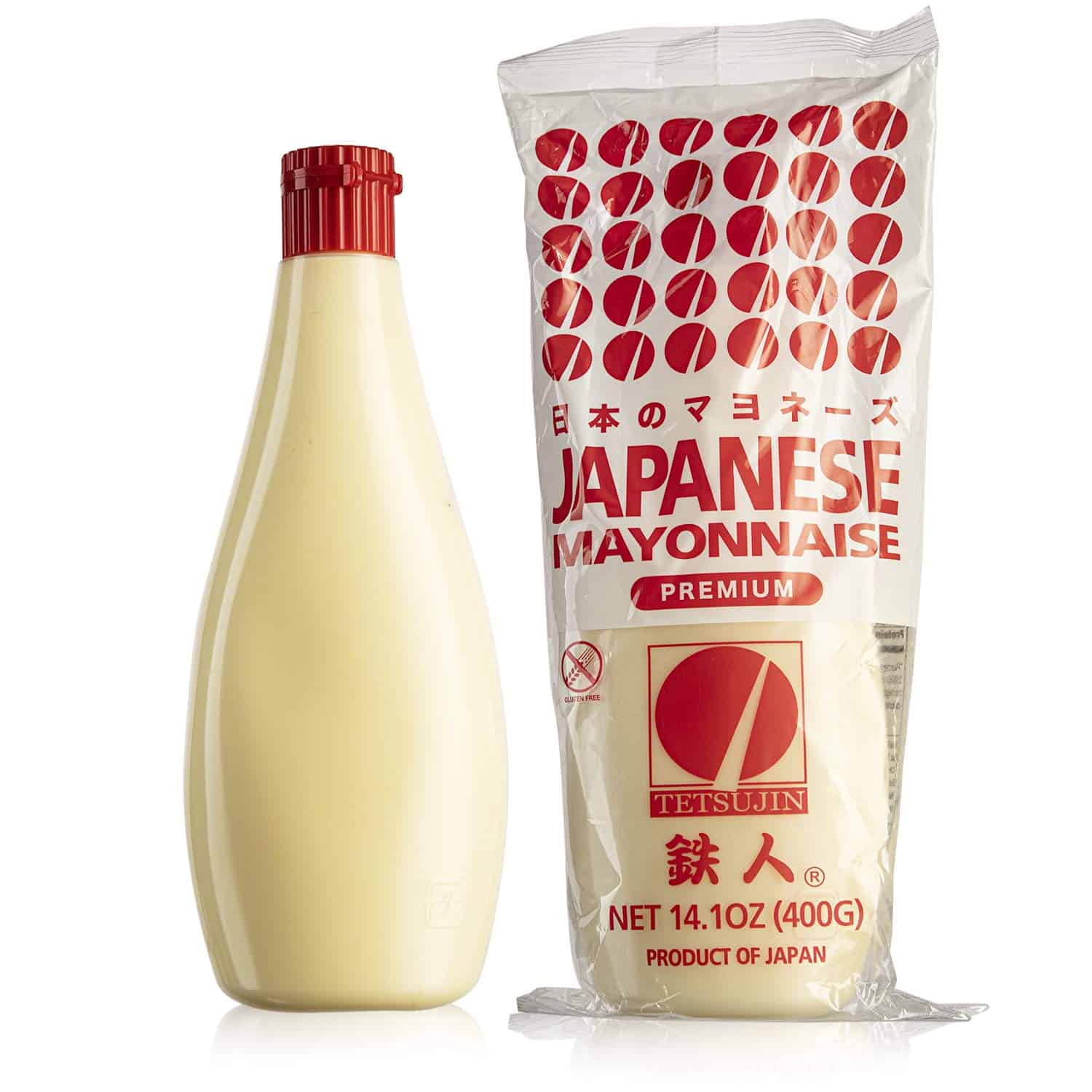 Ajinomoto
Ajinomoto has been around for about 30 years now and it claims about 20% if the market share.
Kenko
Kenko contains canola and vegetable oil, water, vinegar, and egg yolk. It has a light texture and a yellowish color.
The mayo comes in a flexible plastic container with a pouring hole that is shaped like a star. It tastes very similar to Kewpie but it is cheaper in price.
FAQ's about Japanese mayonnaise
This article has provided a wealth of information on the topic of Japanese mayonnaise. But if you still have questions, you might find the answers in this FAQ section.
Does Walmart Sell Japanese Mayo?
Yes, Japanese mayo is available through the Walmart website. It also may be available at certain in-store locations.
Is mayo umami?
Japanese mayo gets its umami taste from MSG and the Japanese rice wine vinegar komezu.
Dashi can be used as a substitute to give it an umami flavor or it can also be brought out with salt, vinegar, and bonito flakes.
How do you pronounce Kewpie brand?
The word Kewpie is pronounced pretty much as it's spelled. Phonetically that would be KYOO PEE. In America, there is a brand of dolls called Kewpie dolls that were conceived from a comic strip of the same name.
The pronunciation is identical for both products.
How popular is Japanese mayonnaise?
Japanese mayonnaise is growing in popularity as more American chefs are incorporating it into their dishes but doesn't compare to how popular it is in Japan.
It is the second most popular sauce/condiment to be used in Japanese dishes second only to soy sauce. It is believed that 80% of Japanese dishes use Japanese mayonnaise.
And while mayo is often used as a condiment or dipping sauce, the Japanese also have mayo-flavored ice cream, snacks, and potato chips. They also use it as a sauce for noodles and toast.
Well, I've even heard about mayo fruit salad, odd right?
What is Yum Yum Sauce?
In addition to using Japanese mayo as a condiment by itself, it can also be mixed with other ingredients to make different kinds of condiments.
One of these is Japanese pink sauce, Sakura, or yum yum sauce. It was given the latter name because it's so yummy.
The sauce has a sweet and sour taste and it is often used in steakhouses as a dip for steak or shrimp. It is made from mayonnaise, tomato paste, paprika, cayenne, garlic powder, onion powder, butter, sugar, water, and salt.
Although it is often associated with Japanese cuisine, yum yum sauce originated in the U.S. and Canada. It can be made with western or Japanese mayo.
Can I use regular mayo instead of Japanese mayo?
If you are making a recipe that calls for Japanese mayo but you don't have any on hand, regular mayo will do in a pinch.
However, if you really want to give it that flavor, you can add rice wine vinegar, and sugar. (Use ½ tsp. vinegar and 1/8 tsp. sugar for every tbsp. of regular mayo and whisk until dissolved).
It won't replicate the flavor exactly, but it will get you a lot closer!
Takeaway
Now that you know all there is to know about Japanese mayo, how will you be using it to give your dishes an extra kick?
If you're looking for mayo with a punch, the Kewpie is a great way to make your favorite dishes more flavorful.
It's definitely not as bland as Western-style mayo because it contains MSG, egg yolks only, and vinegar for a slight tart taste but it's really creamy and delicious!
Read next: 9 best sushi sauces you must try! List of names + recipes!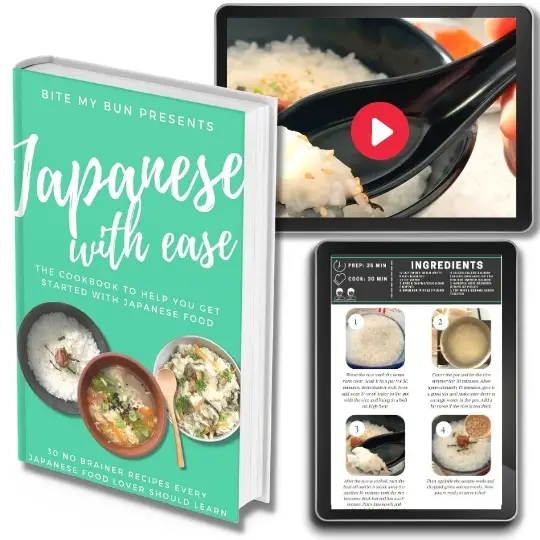 Ever had trouble finding Japanese recipes that were easy to make?
We now have "cooking Japanese with ease", our full recipe book and video course with step-by-step tutorials on your favorite recipes.
Joost Nusselder, the founder of Bite My Bun is a content marketer, dad and loves trying out new food with Japanese food at the heart of his passion, and together with his team he's been creating in-depth blog articles since 2016 to help loyal readers with recipes and cooking tips.