13 popular teppanyaki dipping sauce ingredients and 6 recipes to try
I love creating free content full of tips for my readers, you. I don't accept paid sponsorships, my opinion is my own, but if you find my recommendations helpful and you end up buying something you like through one of my links, I could earn a commission at no extra cost to you.
Learn more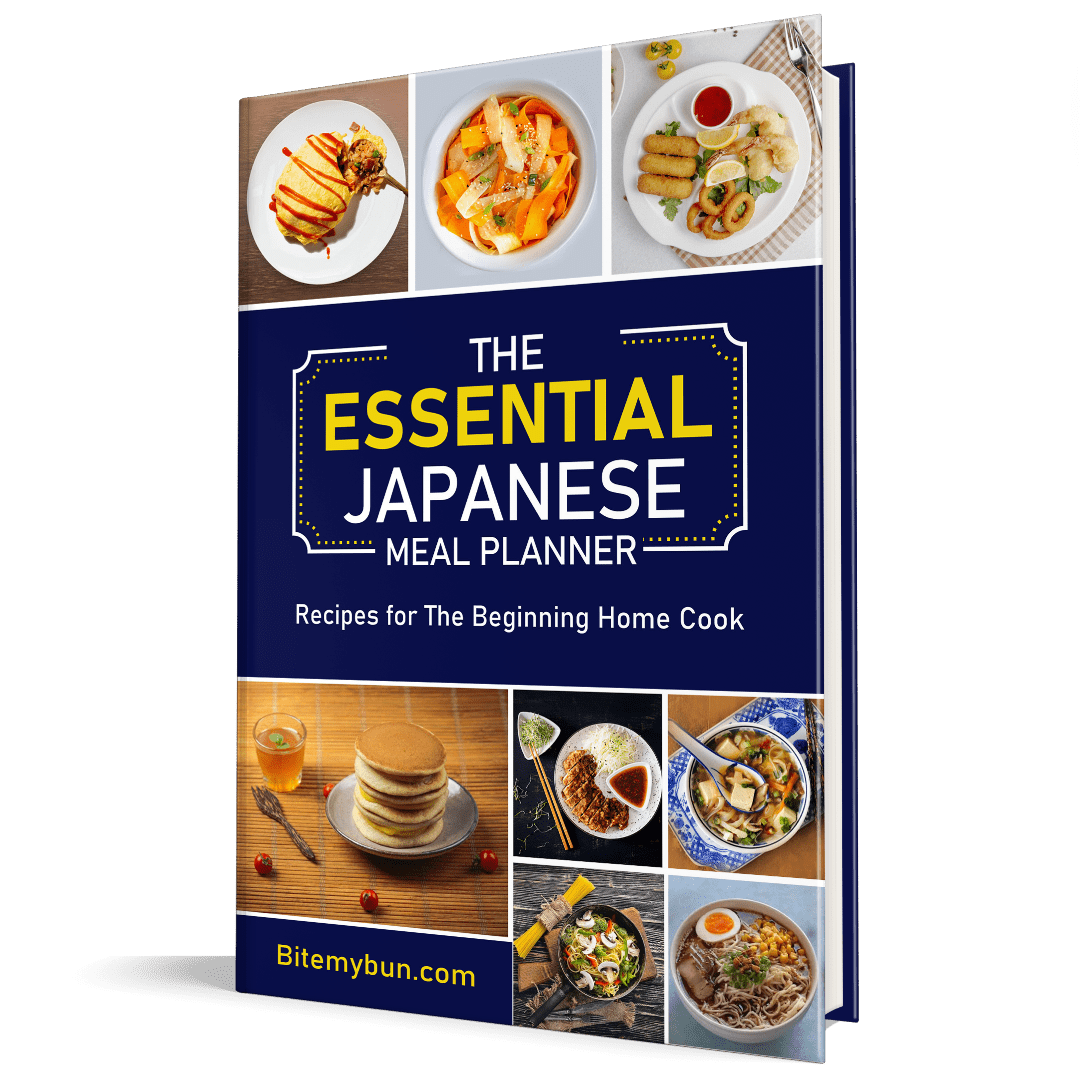 Check out our new cookbook
Bitemybun's family recipes with complete meal planner and recipe guide.
Try it out for free with Kindle Unlimited:
Read for free
In teppanyaki cooking, sauces are most often served TOGETHER with the dish, not added while cooking.
Sometimes, they might be used when preparing teppanyaki food on the grill. But normally, as with most Japanese cooking, the ingredients will be cooked without a marinade, and you dip your juicy steak in the delicious sauces, just before you start to chew.
A good teppanyaki sauce adds a salty, sweet, and often sharp edgy flavor to your food. It enhances the flavor and appearance, and adds moisture to the dish.
Some ingredients used in teppanyaki sauces include:
I'll show you how to make your own ginger sauce in a bit, as well as some other classics. But if you just want to try one out that's ready-made and still has that authentic taste, you should go for this Kikkoman teppanyaki ponzu sauce:
I'll talk about these ingredients some more in the next sections below.
10 Tips to Save a Bundle on Asian Ingredients!
Introducing our brand new FREE PDF guide: "Saving Secrets: Unveiling the Art of Saving Money on Asian Ingredients" It's your first newsletter email, so start saving today! 📚🧧
We'll only use your email address for our newsletter and respect your privacy
What are common Japanese sauce ingredients?
Soy sauce and vinegar are the most common ingredients used in Japanese sauces. Sake, ponzu, and mirin are also popular.
These ingredients can be used as standalone sauces or can be combined with other ingredients.
Usually, the ingredients are mixed together in a bowl. Take a look at my buying guide for a few handy tools to use for teppanyaki.
What is teppanyaki dipping sauce made of?
These ingredients are usually in teppanyaki sauces:
Vinegar: Sake, rice, and black vinegar are the most common types of vinegar in Japan.
Mirin: This is a type of cooking sake that's sweet and has less alcohol content.
Ponzu: This substance is produced from mirin, rice vinegar, yuzu, fish flakes, and seaweed. This is usually used as toppings, marinades, or sauces.
Soy sauce: There are 5 major types of soy sauce that are used in Japanese cooking. Each type varies depending upon the amount of soybean, wheat, and other ingredients that are used.
Ajipon: This is a ponzu brand that has low salt content and contains soy sauce.
Dashi: This is a broth that enhances the flavor of Japanese cuisine. It's produced from dried fish shavings, seaweed, and dashi. It adds to the saltiness of the dish.
Mentsuyu: This is produced from soy sauce, sugar, mentsuyu, mirin, and dashi. This is usually served as a dipping sauce for noodles or stir-fried cuisines.
Usuta sauce: This is a Japanese variant of the popular Worcestershire sauce. Its ingredients include soy sauce, herbs, carrots, dried sardines, onions, and tomatoes.
Tonkatsu sauce: This dense and rich sauce is commonly used on fried meats. This is made from sugar, mirin, soy sauce, Worcestershire sauce, and vinegar.
Shirodashi: This is a soup-based ingredient that's used in sauces.
Miso: This is a Japanese seasoning that's made from fermented soybean mixed with salt and koji. It has three categories, namely, white, red, and mixed.
wasabi: This is produced by grounding wasabi or Japanese horseradish. It's used to make sauces in teppanyaki cooking.
Cooking sake: This is a rice wine used in sauces to improve the flavor of the dish.
Must-try Japanese teppanyaki dipping sauce recipes
Now that you have an idea about the basic ingredients of Japanese sauces, you may want to try the following recipes.
These sauces are simple to make and they're a perfect pair for fish, meat, and seafood dishes.
Japanese ginger dipping sauce
If you prefer something different, this ginger sauce recipe is a good option if you want to make your teppanyaki dish extra special.
Ingredients  
1

cup

white wine

1

cup

sake

2

cups

mirin

4

cups

soy sauce

2

whole

apples

grated

1

whole

white onion

grated

3

cloves

garlic

1/4

cup

ginger

grated
Instructions 
Mix together the white wine, mirin, and sake, and boil until the alcohol has burnt out. Then put the soy sauce in the pot.



Allow the mixture to continue boiling for a couple of minutes to eliminate the harshness.



Remove from the flame and add the grated spices. Leave it for 4 hours and strain.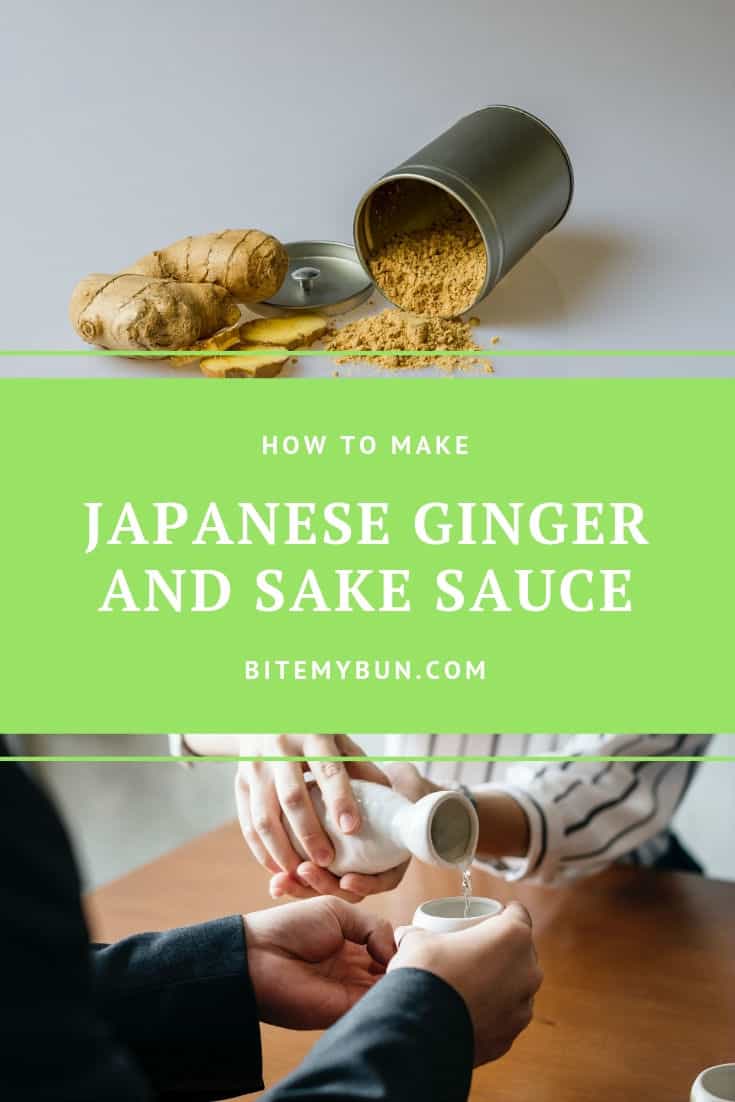 Depending on the amount you want to make, you can change the ingredients to the same proportions.
1. Classic teppanyaki soy sauce
One of the easiest sauces to make is this classic soy sauce recipe, which perfectly blends with the taste of all types of teppanyaki dishes.
The ingredients are 1 bottle of soy sauce, 1 sliced onion, and sliced garlic (you can add more or less depending on your taste).
Steps:
This is a simple recipe that you can follow to make a flavorful teppanyaki sauce (or make one of these 3 mustard sauces).
2. Ponzu sauce
This sauce is perfect for teppanyaki-style fish dishes. This is also a great addition to teppanyaki seafood.
The ingredients are as follows: vinegar (16 oz), ponzu (16 oz), water (16 oz), soy sauce (32 oz), sugar (4 tsp), and orange (1 pc; juiced).
To make this sauce, just:
Mix together the ingredients.
Add a few chili slices if you prefer a hot ponzu sauce.
There are other teppanyaki sauces that you can also try at home. As you might expect, premade sauces are also available in the supermarket.
However, homemade sauces are much more delectable and healthy.
3. Classic Japanese steak dipping sauce
You only need 5 ingredients to make this classic teppanyaki sauce. These are canola oil (1/2 cup), soy sauce (3 tbsp), sugar (2 tbsp), rice-wine vinegar (1/4 cup), and ginger (3 tbsp; chopped).
This is a perfect pair for fish, chicken, steak, vegetables, and tofu. You can also replace the sugar and vinegar with mirin.
There's also another version of this classic sauce. You just have to add grated garlic, ginger, and sake to the first version.
You can pair this sauce with grilled dishes or use this for marinating fish or steak.
If you want to add sweetness to the sauce, you may add honey or grated apple to the mixture. If you prefer a hot sauce, then add chili powder.
4. Yakiniku sauce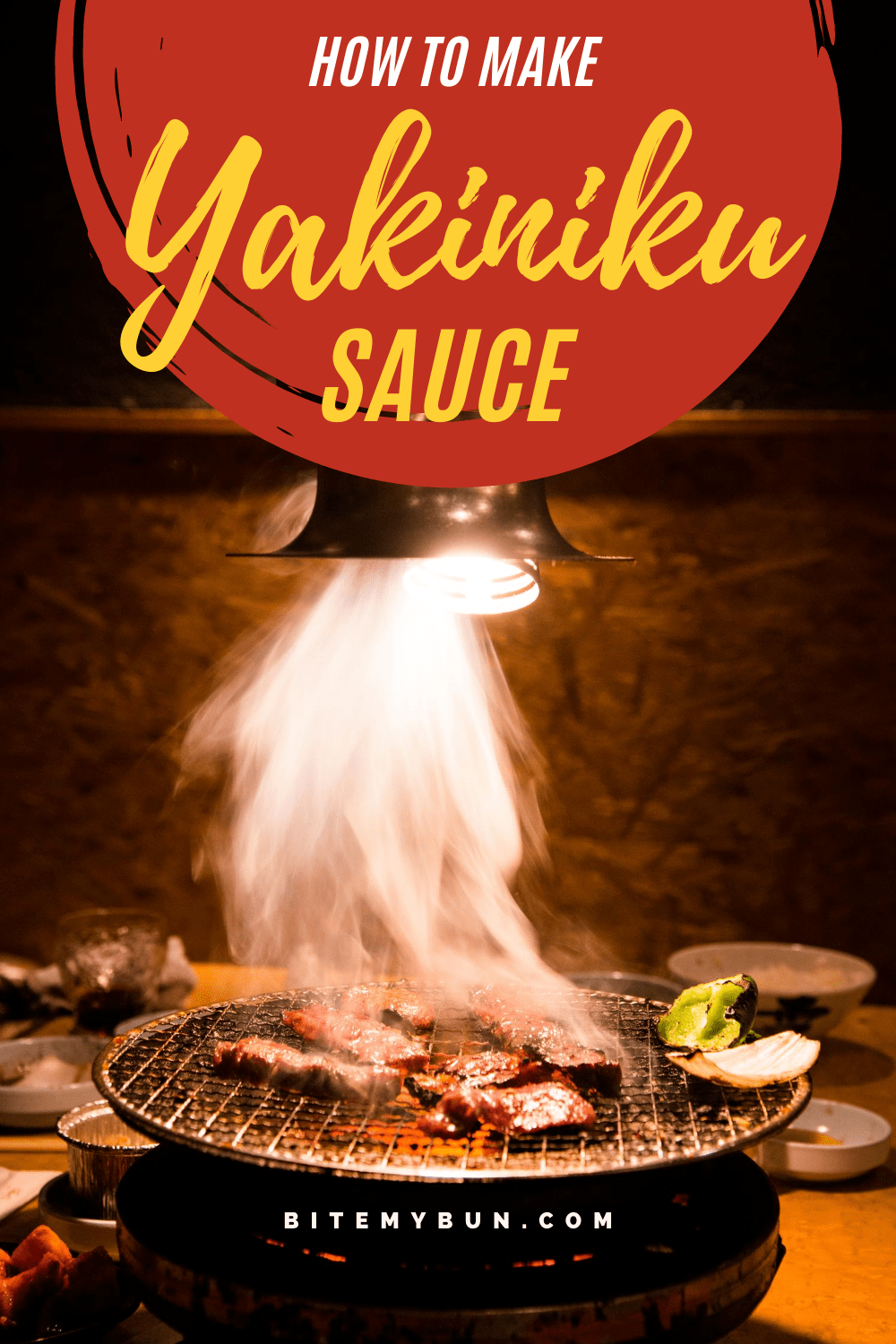 This is a Japanese sweet barbecue sauce that can be a great pair for grilled dishes.
Since Japanese barbecue doesn't involve marinating prior to grilling, this sauce can play a major role in adding flavor to meats.
The ingredients needed to make this sauce include:
Mirin
Miso
Bonito
Sake
Sesame seeds
Bonito flakes
This is also a rich and sweet sauce and is perfect for thinly sliced meats.
To prepare this, place all the ingredients in a pot and simmer for 1 ½ minutes. Then strain.
You have also the option to add grated apple and sesame seeds to the sauce. Then refrigerate overnight to properly mix the flavor together.
Heat the sauce before serving.
5. Sesame soy sauce glaze
This sauce has the perfect combination of sweet and salty taste. This can also be used for marinating or glazing.
The ingredients include mirin, rice vinegar, soy sauce, honey, and sesame oil.
This sauce goes well with all types of meat dishes. If you're using it as a marinade, you can add sesame seeds and minced garlic as toppings.
If you're using it as a glaze, you may include cornstarch as an ingredient.
To prepare this, mix all the ingredients in a saucepan and boil. Allow it to cool until the sauce becomes a thick glaze.
6. Tangy wasabi marinade
This recipe is a combination of sake with:
Dry mustard
Wasabi
Soy sauce
Grated fresh ginger
Toasted sesame seeds
The combination of ingredients creates a tangy and aromatic sauce or marinade. This goes well with meat and fish dishes. When used as a marinade, marinate the meat for several hours so the flavor is absorbed by the meat.
Vinegar is also part of the ingredients to minimize the sharp taste of wasabi.
To prepare this, mix all ingredients in a pan. Add the marinade to the fish or meat. Then marinate the food for several hours.
How many calories are in teppanyaki sauces?
Teppanyaki sauces are usually composed of spices and soy sauce. It enhances the flavor of meats and may have a high sodium content.
Being knowledgeable about the nutritional facts of Japanese sauces enables you to identify if these are good for your diet or health.
Low-calorie dipping sauce
Japanese sauces are low-calorie options that add flavor to your meat or vegetables.
Teppanyaki sauces are a low-calorie option. 1 tablespoon of sauce contains approximately 16 calories, which is half the number of calories in conventional barbecue sauces.
So if you want to trim down your waistline, replacing barbecue sauces with Japanese sauces is a good idea.
What is the carbohydrate content of teppanyaki sauces?
The calories in Japanese sauces mainly come from carbohydrates. 1 tablespoon of Japanese sauce has around 3 grams of carbohydrate content, 0 grams fat, and 1 gram of protein.
Japanese sauce is a good option for diabetics. Since it only contains less than 5 grams of carbohydrates, you can definitely enjoy a flavorful dish without worrying about the number of calories.
In comparison, barbecue sauce contain around 7 grams of carbohydrates.
What's the sodium content of teppanyaki sauce?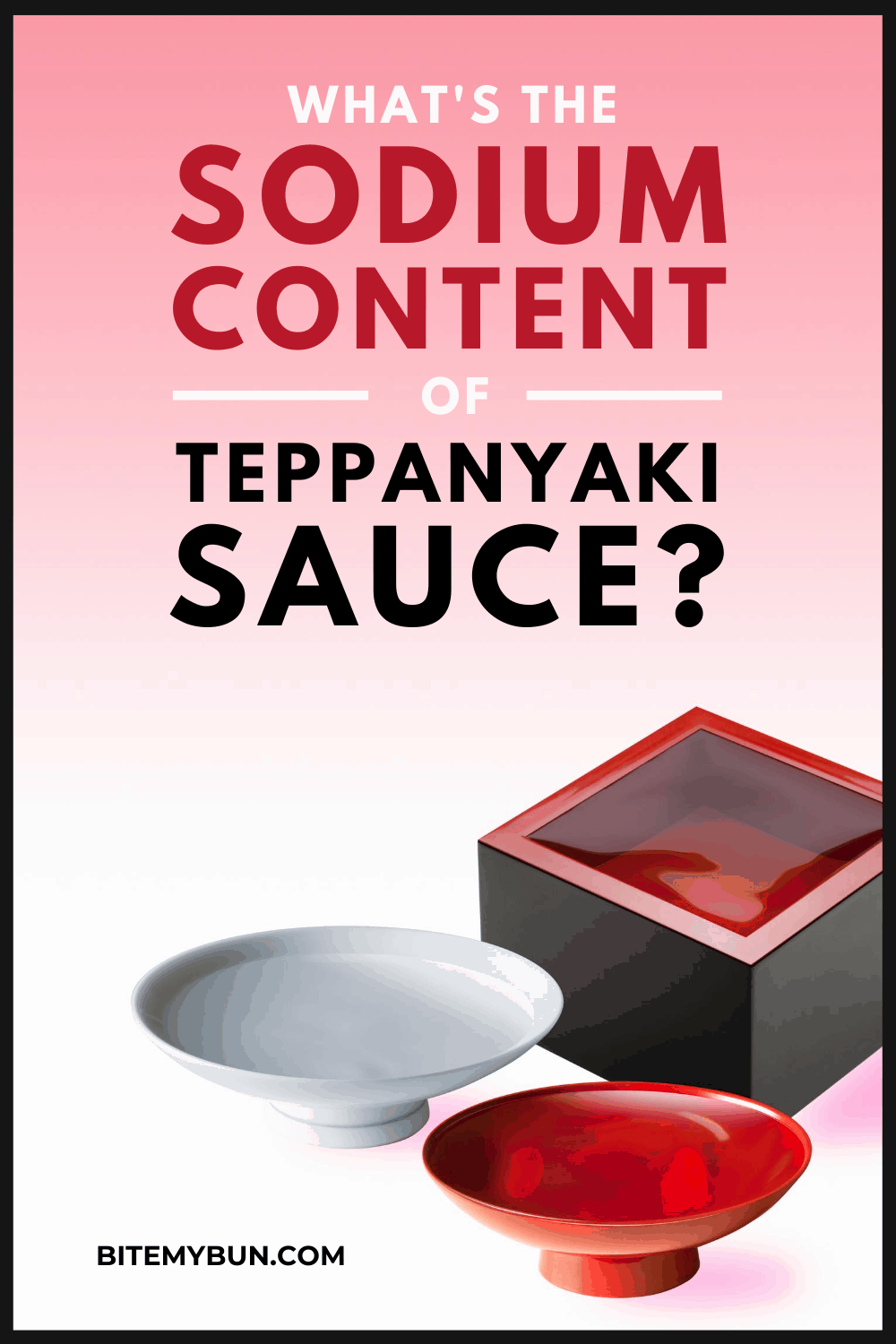 One nutritional disadvantage of Japanese sauces is their high sodium content. 1 tablespoon of sauce carries around 690 milligrams of sodium.
Too much sodium intake can lead to fluid retention in the body, which can increase the risk of heart disease and high blood pressure.
Based on the recommended limit of the American Heart Association, your daily sodium intake should only be below 1,500 milligrams. However, 1 serving of Japanese sauce already contains half of the daily recommended limit!
If you want your Japanese sauces to have low sodium content, there are low-sodium sauce recipes that you can try.
Are there vitamins and minerals in Japanese sauces?
Japanese sauces don't contain a high amount of vitamins and minerals. However, they contain some essential nutrients.
One tablespoon contains the following: 11 mg magnesium, 28 mg phosphorus, 40 mg potassium, and 0.31 mg iron.
Iron is an essential nutrient to maintain blood health, phosphorus and magnesium can enhance bone health, and potassium can maintain fluid and electrolyte balance.
Japanese sauces also contain a minute amount of vitamin B, which can boost your energy levels.
Enjoy teppanyaki with these delicious dipping sauces
Teppanyaki dishes can be prepared for family dinners; however, they're also perfect for larger crowds and parties.
Plus, teppanyaki dipping sauces are available in the supermarket. But these can also be conveniently made in your home.
Sauces that have sweet, salty, and garlicky flavor are a perfect pair for grilled beef steak dishes. And soy sauce is the most basic ingredient of a teppanyaki dipping sauce.
Feel free to experiment with the sauces on this list to make your next party a hit!
Want advice on how to get started? Check out our buying guide with all of the essentials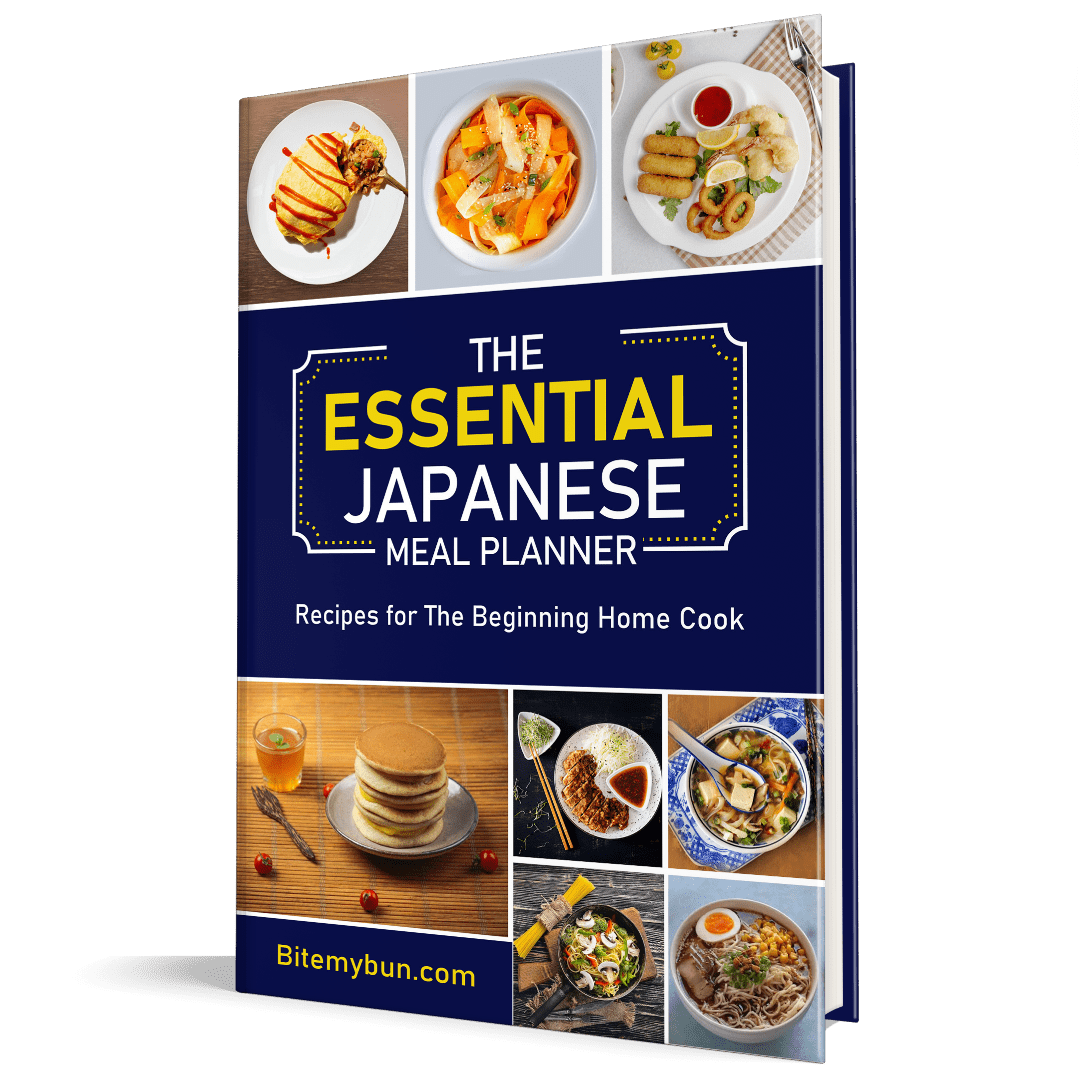 Check out our new cookbook
Bitemybun's family recipes with complete meal planner and recipe guide.
Try it out for free with Kindle Unlimited:
Read for free
Joost Nusselder, the founder of Bite My Bun is a content marketer, dad and loves trying out new food with Japanese food at the heart of his passion, and together with his team he's been creating in-depth blog articles since 2016 to help loyal readers with recipes and cooking tips.