7 most popular Japanese mushroom types & their delicious recipes
I love creating free content full of tips for my readers, you. I don't accept paid sponsorships, my opinion is my own, but if you find my recommendations helpful and you end up buying something you like through one of my links, I could earn a commission at no extra cost to you.
Learn more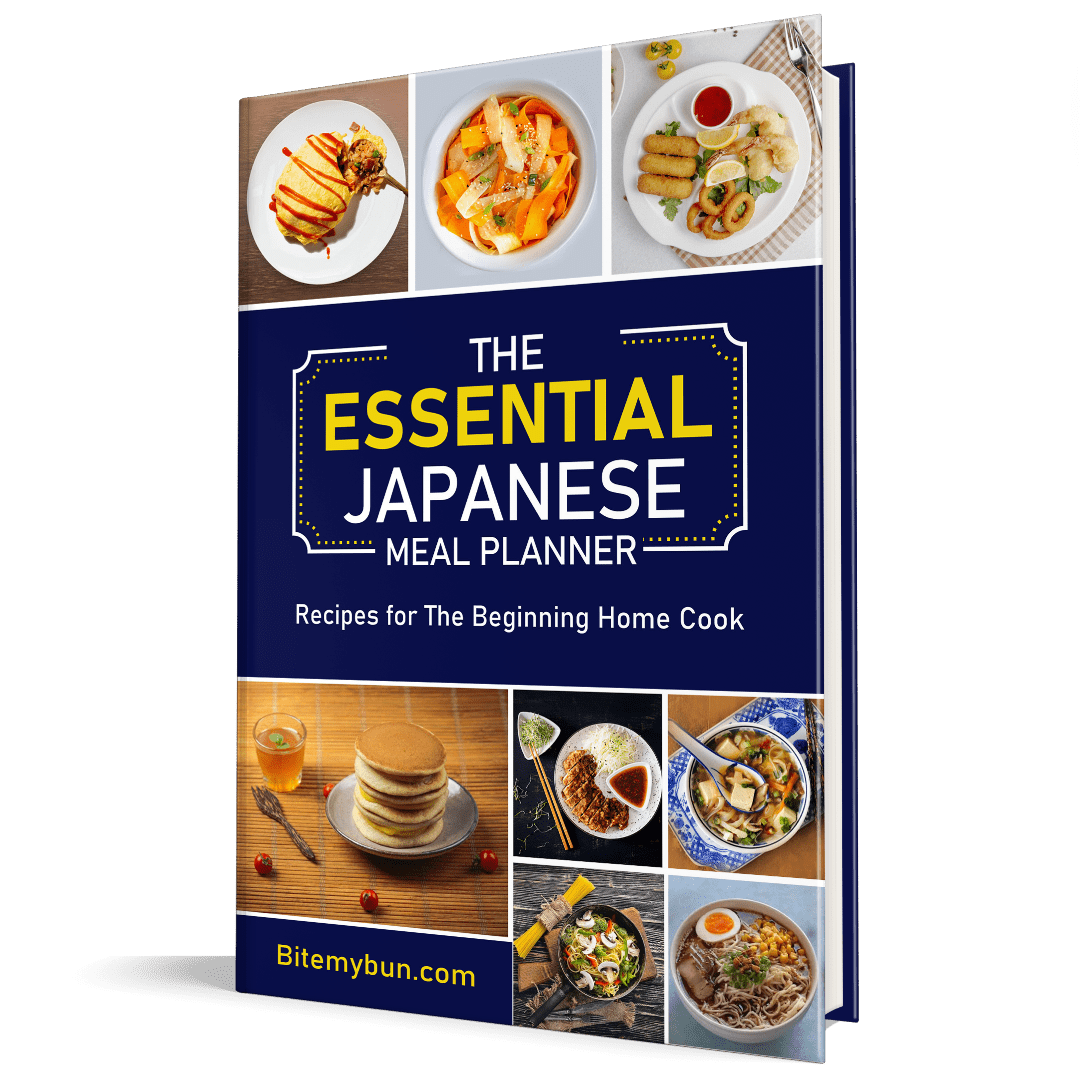 Check out our new cookbook
Bitemybun's family recipes with complete meal planner and recipe guide.
Try it out for free with Kindle Unlimited:
Read for free
Japanese mushrooms have made a name for themselves throughout the world because of their appearance and great taste.
They have thousands of categories in which some wild mushrooms are edible, while others are poisonous.
The edible mushrooms are further subdivided into multiple types. Each one of them has its unique and distinctive characteristics.
Also, their taste is quite different so they can be enjoyed in multiple ways. They're cherished as a full course meal, as well as a side serving in many dishes.
Several traditional and regional recipes use these mushrooms, and you can see if the mushrooms grow in a particular region depending on if they're used in the local area's (authentic) dishes.
They're also used in the popular hibachi style cooking. Restaurants, as well as street food vendors, have their special cooking styles and techniques for preparation.
This is how they farm mushrooms in Japan, and it's great to see how:
In this article, I'll give an overview of all of the Japanese mushrooms used in popular Japanese cuisine.
10 Tips to Save a Bundle on Asian Ingredients!
Introducing our brand new FREE PDF guide: "Saving Secrets: Unveiling the Art of Saving Money on Asian Ingredients" It's your first newsletter email, so start saving today! 📚🧧
We'll only use your email address for our newsletter and respect your privacy
Types of mushrooms in Japan
There are probably many more types of mushrooms in Japan than we can ever know of.
They grow in several varieties but not all of them serve a purpose, at least not for us. Let's have a look at some of the widely used edible mushrooms in Japan and how they're prepared.
Shiitake mushroom
Shiitake mushrooms are probably the most well-known Japanese mushrooms and one of the most consumed mushrooms in the world.
They have enormous hats on top as a result of hardwood tree decay. They're flavorful and pack significantly more punch when they're dried and dehydrated.
Shiitake covers a huge amount of copper consumption, which is a basic element for heart health. Specialists say a lot of people don't get the recommended amount of copper in their diets.
Shiitake can fill this gap. Because of their protein enrichment properties, they're ideal for vegetarians and vegans.
They also have the power of curing infections, reducing swelling, and eliminating tumors because of the pantothenic acid and selenium found in them.
Crispy Japanese shiitake mushroom recipe
Crispy shiitake mushrooms are extremely appetizing and are regularly used for tempura. Dried shiitake can be rehydrated to prepare a vegan soup, and they're regularly combined with kombu to make a solid vegan broth, which is a great option to use instead of the bonito fish flakes in dashi.
To make crispy and delicious shiitake mushrooms, the following basic ingredients are required:
| | |
| --- | --- |
| Course | Side Dish |
| Cuisine | Japanese cuisine |
| Keyword | Mushrooms |
| Prep Time | 2 minutes |
| Cook Time | 15 minutes |
| Total Time | 17 minutes |
| Servings | 4 servings |
| Author | Justin – Teppanyaki Enthusiast |
| Cost | $5 |
Ingredients
Vegetable oil
Shiitake mushrooms
Teriyaki sauce
Oyster sauce
1 small green onion chopped in rings
Instructions
Heat oil in a skillet over medium heat.
Add mushrooms and cook them. Turn and shake them over every so often, until they get a delicate brown color. Continue this step for 8 to 10 minutes.
Add 2 tablespoons of water to the mushrooms and cook them. Toss the mushrooms until the water is completely evaporated and the mushrooms become tender.
Repeat tossing for around 2 minutes longer.
Move the mushrooms to a medium bowl and add teriyaki and oyster sauce.
Serve right away with some green onions to garnish your dish and give it a slightly crunchy texture.
Notes
Since the teriyaki sauce has enough salt already, don't sprinkle additional salt.
Japanese ingredients in this recipe you might not have:
Japanese oyster soy sauce: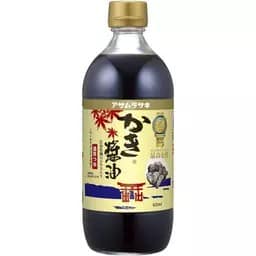 Japanese teriyaki sauce:
Check out all of the authentic ingredients I use here in my Japanese ingredients list.
Maitake mushroom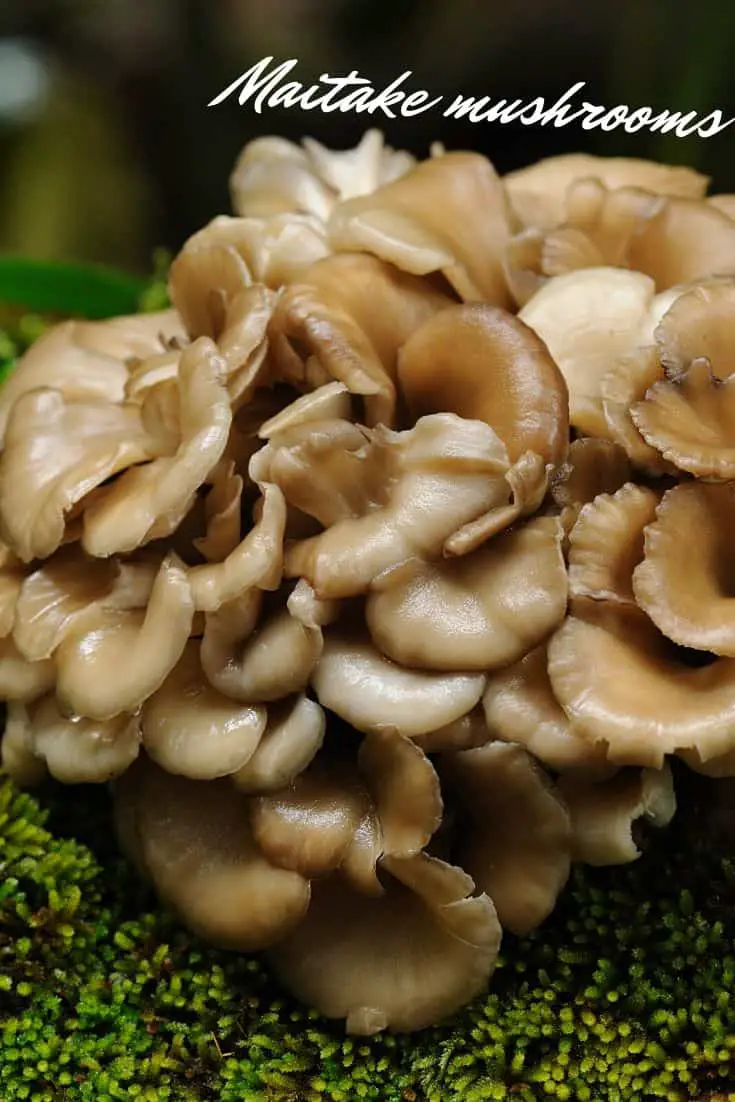 In Japanese, "maitake" means "dancing". These mushrooms got this name because of their curly appearance. It's also called "hen of the woods" because their top looks like a fluffy chicken.
Maitake mushrooms are said to have medicinal properties as it's filled with cancer prevention agents, vitamin B, vitamin C, copper, potassium, amino acids, and beta-glucans.
It's good for the immune system and maintaining cholesterol and glucose levels in the body.
Pan-fried maitake recipe
Maitake mushrooms are extraordinary with a tempura crust when pan-fried. It has a gritty texture that almost every Japanese person loves. It's also a perfect side dish and can easily be made using various styles.
It takes around 30 minutes to prepare this recipe. Here's one simple way you can prepare these mushrooms.
Ingredients
1 tablespoon of vegetable oil
1 pack of maitake mushrooms (90 grams or around that)
2 cups of dried and roughly chopped Shungiku leaves
¼ cup of katsuobushi (fermented and processed tuna)
2 tablespoons of soy sauce
½ teaspoon of sugar
Directions
Heat a frying pan over medium to high heat.
Add the oil and maitake mushrooms.
Now add a touch of salt and sauté the mushrooms until the edges begin changing in color.
Include the shungiku and katsuobushi and fry until the leaves have shrunk.
Add the soy sauce and sugar, and keep frying until there's no fluid left in the dish.
Serve right away!
Matsutake mushroom
Matsutake mushrooms are viewed in a similar class as truffles. They grow underneath trees and usually have long shapes. You can even eat them raw without any processing.
Because of their scarcity and slow growth rate, they're considerably more expensive than other mushrooms. They also have a special fragrance that you can identify them by.
Matsutake contains copper, which is the base for your body to create red platelets. It provides a great source of protein and other nutrients as well.
Matsutake rice recipe
Matsutake is most often cooked in rice (with delicious sauces), which gives it a hearty and zesty flavor. You should eat them not long after you harvest them from under the trees or they may lose their flavor.
Ingredients
3 rice cooker cups of uncooked Japanese short-grain rice
4-7 ounces of matsutake mushrooms
2 ½ cups of dashi broth (read about these great dashi substitutes if you don't have any)
Japanese mitsuba or Japanese wild parsley to garnish
3 tablespoons of soy sauce
2 tablespoons of mirin
1 tablespoon of sake
Directions
Rinse the rice under running water a few times until the water is translucent and clear.
Trim the base of the mushroom stems.
Blot the mushrooms with a sodden towel or paper towel. Try not to wash the mushrooms.
Cut the mushroom lengthwise into thin 1/8 inch slices.
Put the rice and seasoning in a rice cooker and include dashi.
Place matsutake mushrooms on top of your rice. Don't mix them initially. Then, start cooking.
At the point when the rice is cooked, mix it gently.
Garnish with mitsuba before you serve.
If you don't have any cooking sake yet, be sure to check out my post here. It has a lot of helpful tips and the best brands to give umami to your dish.
Shimeji mushroom
Raw shimeji mushrooms have a harsh taste so they're only eaten when cooked. After they're cooked with multiple sauces and ingredients, they develop a delicious flavor!
Shimeji mushrooms are a decent source of protein, making them ideal for veggie lovers. They contain copper, vitamin B, potassium, and zinc.
Shimeji noodles recipe
Shimeji mushrooms are usually cooked with noodles in Japan. They're regularly pan-seared, or eaten with soba or hot pot.
Ingredients
7 ounces of dried Japanese style noodles
½ cup of olive oil or sesame oil
2 minced garlic cloves
6 ounces of shimeji mushrooms with discarded stems
2 tablespoons of soy sauce
2 teaspoons of miso paste
2 tablespoons of finely minced parsley
Salt and pepper to taste
Directions
Boil a large pan of water and cook the noodles as indicated on the package.
In the meantime, heat the oil in a skillet over low heat and add the garlic cloves.
Sauté for 30 seconds until fragrant.
Turn up the heat and include the shimeji mushrooms.
Sauté until the mushrooms are delicate.
Lower the heat again and include some cooking water from the noodles, soy sauce, and miso paste. Mix until the miso is broken up well.
After adding salt and pepper according to taste, let the sauce boil.
Mix the noodles well and add the sauce.
Mix well to cover every noodle and serve it with parsley.
King oyster mushroom
The king oyster mushroom is also a great source of protein, and it contains numerous other nutrients and minerals as well.
King oyster yakitori recipe
As a result of the gritty flavor of these mushrooms, they're frequently eaten without anything else.
For instance, the yakitori cafes in Japan will serve them on sticks with a lot of margarine and salt, which is all that's important to draw out their characteristic flavor.
Ingredients
2 large king oyster mushrooms
2 tablespoons of light soy sauce
2 tablespoons of Japanese sake
2 tablespoons of sugar
2 tablespoons of peanut oil
2 tablespoons of onion
Toasted sesame seeds
2 servings of steamed white rice
Directions
First, cut the king oyster mushrooms vertically into 2 halves. Then make sure to cut them into 4 mm thick parts.
Add soy sauce, Japanese sake, and sugar in a little bowl. Blend the mixture well.
Take a tablespoon of sauce for the top of the mushrooms. Blend it in using chopsticks until the mushrooms are uniformly covered in sauce. Marinate for 15 minutes.
Add 1 tablespoon of peanut oil to a nonstick pan and heat over medium until warm.
Put in 2 teaspoons of green onion and mix a couple of times.
Cook mushrooms in groups. Spread them over the skillet without overlapping. Of course, when doing traditional yakitori, you can put them onto skewers and grill them next to each other.
Save the marinade for later use.
When the base side turns brown, flip the mushrooms with your chopsticks to flame broil the opposite side.
Continue flame broiling and flipping, until the 2 sides turn a bit darker, with marginally scorched edges.
Move the first batch of mushrooms to a plate and let them rest.
Add in the leftover 1 tablespoon of oil and 2 teaspoons of green onion. Keep on cooking the rest of the mushrooms gradually until all are done.
When the last bunch of mushrooms is cooked, add the past batches to the skillet just to heat them again.
Pour the marinade over the mushrooms. Continue cooking over medium-low heat until the fluid is absorbed, for 2 to 3 minutes.
Add the mushrooms onto steamed rice and serve.
Nameko mushroom
"Nameko" originally means "slimy mushrooms" since they're covered with a thick gelatin. They have a crispy flavor and are used in many dishes.
They're mostly grown at home. In the markets, they're sold in dried form.
They're said to strengthen the immune system, and like many other mushrooms, they have malignant growth battling properties and cancer prevention agents.
Nameko noodle soup recipe
In Japan, it's famously eaten with miso soup or with soba noodles. There's a nutty flavor and can even be perfect with chocolate!
Ingredients
1 fresh bundle of nameko mushroom (or canned)
1 pack of tofu
2 tablespoons of mirin
2 cups of water
1 tablespoon of soy sauce
½ a cup of bonito flakes
1 scallion
Directions
Open the nameko bundle and wash in running water. Drain well.
Take the tofu from its package and cut it into little squares.
Slice the scallion.
Put the nameko mushrooms in a little pot. Add mirin, water, soy sauce, and bonito flakes.
Blend well and bring to boil over medium heat while stirring now and again.
Reduce the heat to low and add the tofu. Cook for an extra 3 minutes.
Mix with a light touch so you won't break up the tofu.
Garnish with scallions to serve.
Enoki mushroom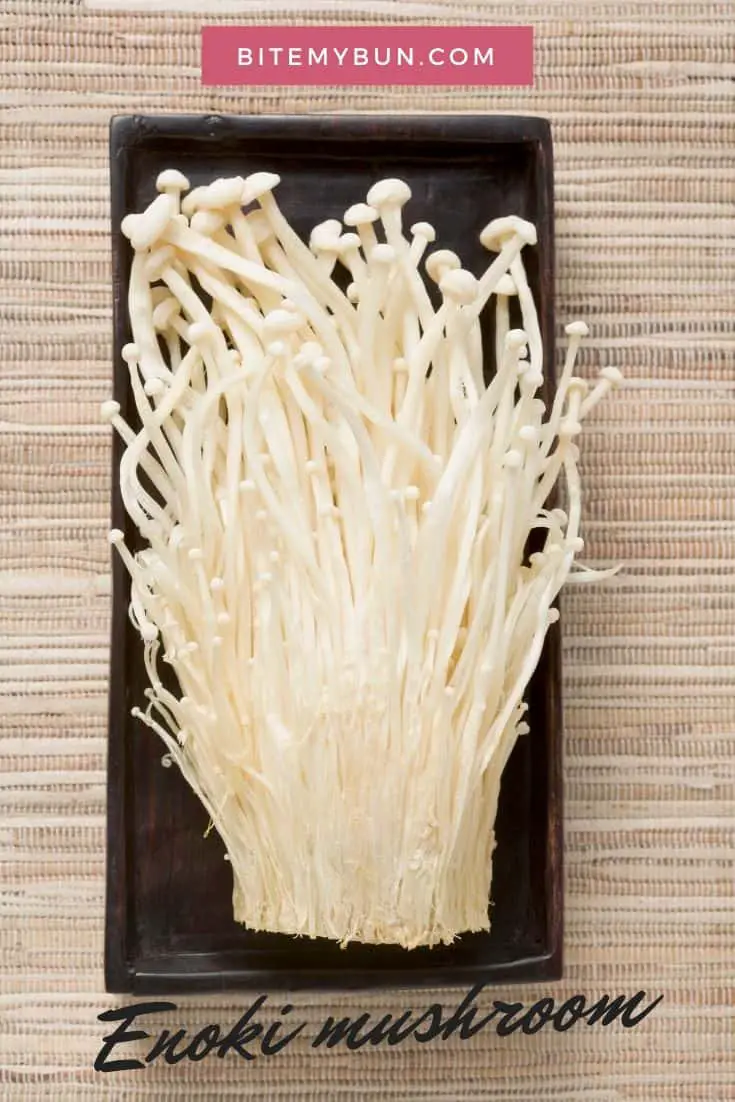 I love these! They're my favorite Japanese mushrooms; so cute and the taste is great!
Enoki mushrooms are the thinnest and longest of all edible mushrooms. It's eaten with soups and salads and is very popular in Japanese culture.
They're high in vitamin B and D. Known to boost the immune system, they also help you to lose gut fat and improve stomach and gut wellbeing, as they're high in fiber.
They also help you produce more insulin, which is helpful for people with type 2 diabetes.
Baked enoki mushrooms recipe
Enoki mushrooms have a light taste and are used in a wide range of dishes to add a chewy texture without overpowering the dish with flavor.
They're frequently eaten in soups, and I love them in Korean army stew, for example. They're also often wrapped in bacon at yakitori eateries.
Ingredients
4 grams of enoki mushrooms
1 tablespoon of sake
1 tablespoon of soy sauce
1 tablespoon of white miso paste
1/2 teaspoon of vegetable oil
Directions
Wash and trim the edges of the mushrooms. Simply remove the part of the stem that's somewhat harder.
Separate the individual strands by delicately pulling on them.
In a little bowl, add a tablespoon of Japanese sake, a tablespoon of miso paste, a tablespoon of soy sauce, and a half teaspoon of vegetable oil.
Mix until the miso has disintegrated.
Take a bit of foil and overlap it into equal parts. Line a little bowl with the foil to shape a pocket in the bowl's round form. Lay the enoki mushrooms and sauce on the inside of the bowl and give it a decent mix to blend them.
Fold the top parts of the foil so the whole bundle of mushrooms and sauce are covered in foil.
Stick it in the stove at 400°F for between 15 to 20 minutes.
Serve hot as an exquisite side dish or as a garnish for plain Japanese rice or pasta.
How to clean mushrooms before cooking
Did you know that one of the best ways to clean your mushrooms is actually not cleaning them at all? Confusing, I know.
Mushrooms are naturally full of excess moisture. This means that when they're cooked correctly, that excess moisture can cause our otherwise delicious Japanese mushrooms to become slimy and mushy, and even off-colored. Not appealing.
Mushrooms are very porous, which means that when you introduce too much liquid at a time, they'll readily soak it all up. When this happens, it'll be hard to crisp them up for your favorite recipes and get them tasty because they'll just be water-logged and gross.
If you see that your fresh mushrooms are dirty, instead of drowning them in water, grab a dry cloth or paper towel. You can also use a pastry brush if you have one handy. Use these items to brush away the dirt on the mushrooms as much as possible.
Once clean, they can be stored in the refrigerator in a paper bag. When plastic is used, there will be condensation while in the refrigerator. Again, this leads to excess moisture, and we want to avoid this when cooking with mushrooms.
If the mushrooms are really dirty, then you can quickly swish them around in lukewarm water, then immediately drain them in a colander and blot them with a paper towel or dry cloth. They should then be cooked right away. Once they're washed, they won't last that long in your refrigerator. So wait until you're ready to use your mushrooms to wash them.
For more on how to properly clean your mushrooms before making the delicious recipes below, watch this video:
Mushroom FAQ
Here are a few of the more commonly asked questions when it comes to eating and cooking with Asian mushrooms.
What kind of mushrooms go in Japanese Mushroom rice?
When it comes to the type of mushrooms you can use in Japanese mushroom rice, there really is no right or wrong formula to fall back on. Kinoko Gohan, for example, is an easy Japanese mushroom dish that contains rice, vegetables, and meat. The mushrooms used are cooked in the rice and absorb all the flavor in the broth. It gives the rice a delicious, earthy flavor.
Most recipes call for shiitake mushroom, but oyster mushrooms or really any other Japanese mushrooms will work just as well in this recipe.
Are all mushrooms edible?
All mushrooms fall into three categories: edible, poisonous, and inedible. If you are not 100% sure what kind of mushroom you found, then you shouldn't eat it. Edible ones often have a narrow stem base, while many poisonous mushrooms have a noticeably thick stem base.
What is a Japanese mushroom called?
Japanese mushrooms are called "kinoko" キノコ in Japanese.
Can mushroom stems be eaten?
Yes. Most mushroom stems are edible. Smaller shiitake mushrooms, for example, are easy because you can simply pull off the stem and separate it cleanly from the cap of the mushroom. Other times, more care is needed, or you'll find that while removing the stem, you're damage the mushroom.
Why is Japanese cuisine often fermented?
Japanese culture is filled with a long history of eating fermented foods. This has a lot to do with the Japanese climate. They often marinate their foods in vinegar and sake. Bacteria and mold used for fermenting food are safe for consumption only in Eastern Asia.
Should you worry about condensation on your Tupperware lids when storing mushrooms?
When there's too much moisture or condensation, you'll get slimy mushrooms. To avoid this, don't use any kind of plastic for storing your mushrooms. Instead, make sure they're dry and store them in a paper bag in the refrigerator. Never wash the mushrooms until you're ready to use them.
How do you find the best fresh shiitake mushrooms?
When looking for the best shiitake mushrooms, the smell should be crisp and sharp. They should be rich in scent.
If they're larger, this may also mean they've come from a very well-nourished tree, which ultimately means they may also taste better.
Shiitake mushroom should also be eaten within a year of their harvest or the fragrant smell goes away and they can become moldy.
Enjoy the many types of Japanese mushrooms
As you can see, there are so many Japanese mushrooms to try. Whether it's matsutake, shiitake, king oyster, or enoki mushrooms, there are plenty you can add to your dishes. So have fun with it!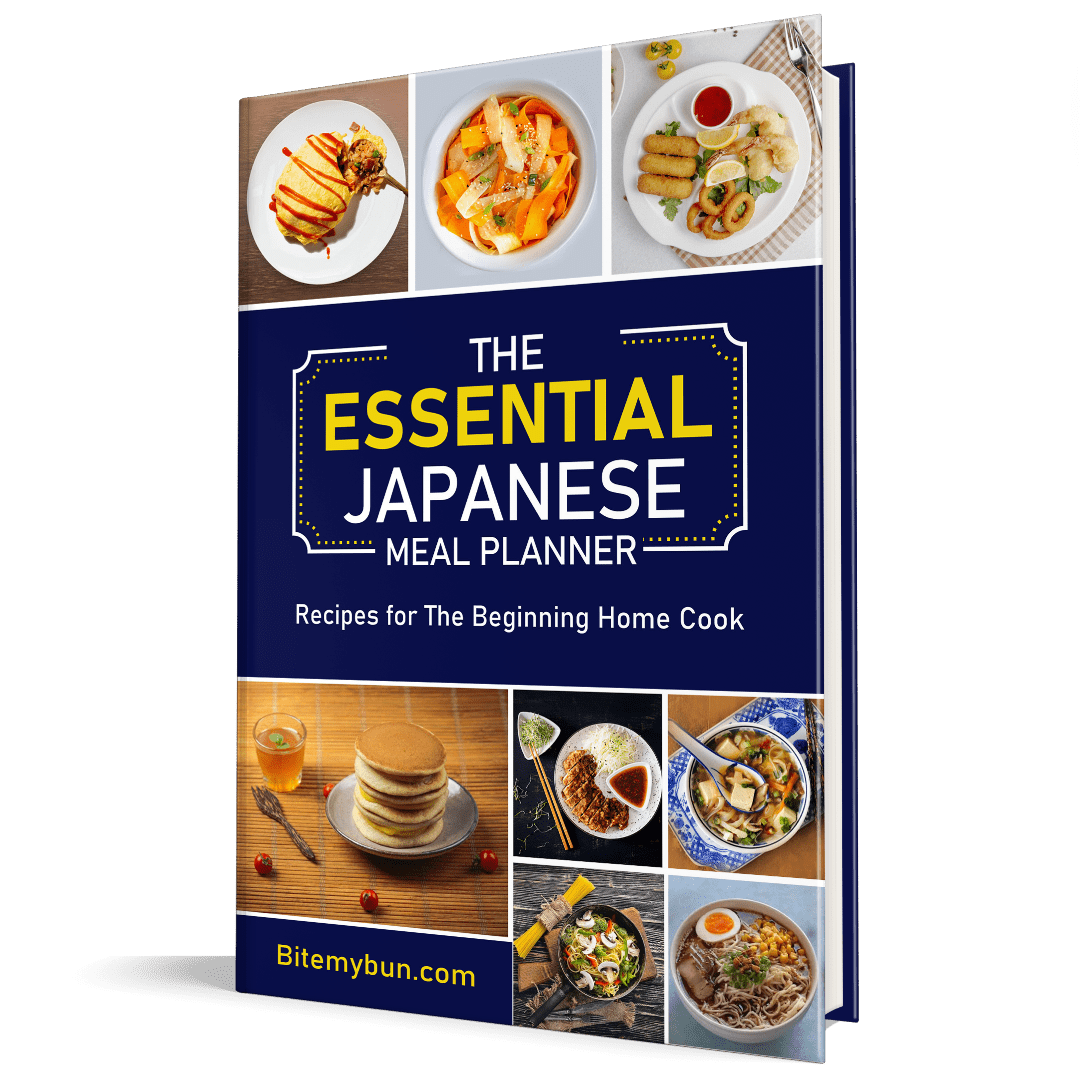 Check out our new cookbook
Bitemybun's family recipes with complete meal planner and recipe guide.
Try it out for free with Kindle Unlimited:
Read for free
Joost Nusselder, the founder of Bite My Bun is a content marketer, dad and loves trying out new food with Japanese food at the heart of his passion, and together with his team he's been creating in-depth blog articles since 2016 to help loyal readers with recipes and cooking tips.