Paksiw na bangus recipe: Heartwarming vinegar fish stew
I love creating free content full of tips for my readers, you. I don't accept paid sponsorships, my opinion is my own, but if you find my recommendations helpful and you end up buying something you like through one of my links, I could earn a commission at no extra cost to you.
Learn more
Paksiw na bangus is also referred to as "milkfish stewed in vinegar." Filipinos just love cooking their main dishes in vinegar!
Paksiw is a way of cooking fish with water and vinegar, garlic, ginger, salt, peppercorns, finger chilies, or siling pang sinigang.
Some regions prefer their versions of paksiw with sauce, while others reduce the sour mixture and cook it until it's almost dry.
The kind of fish that's usually used in making paksiw is bangus or milkfish. The freshness of the bangus makes a huge difference in cooking this paksiw na bangus recipe.
Vinegar gives the paksiw na bangus recipe its distinctive and definitive taste.
There are also other meats that can be used in cooking paksiw aside from bangus. The paksiw cooking technique can also be used with tilapia, pork, or chicken.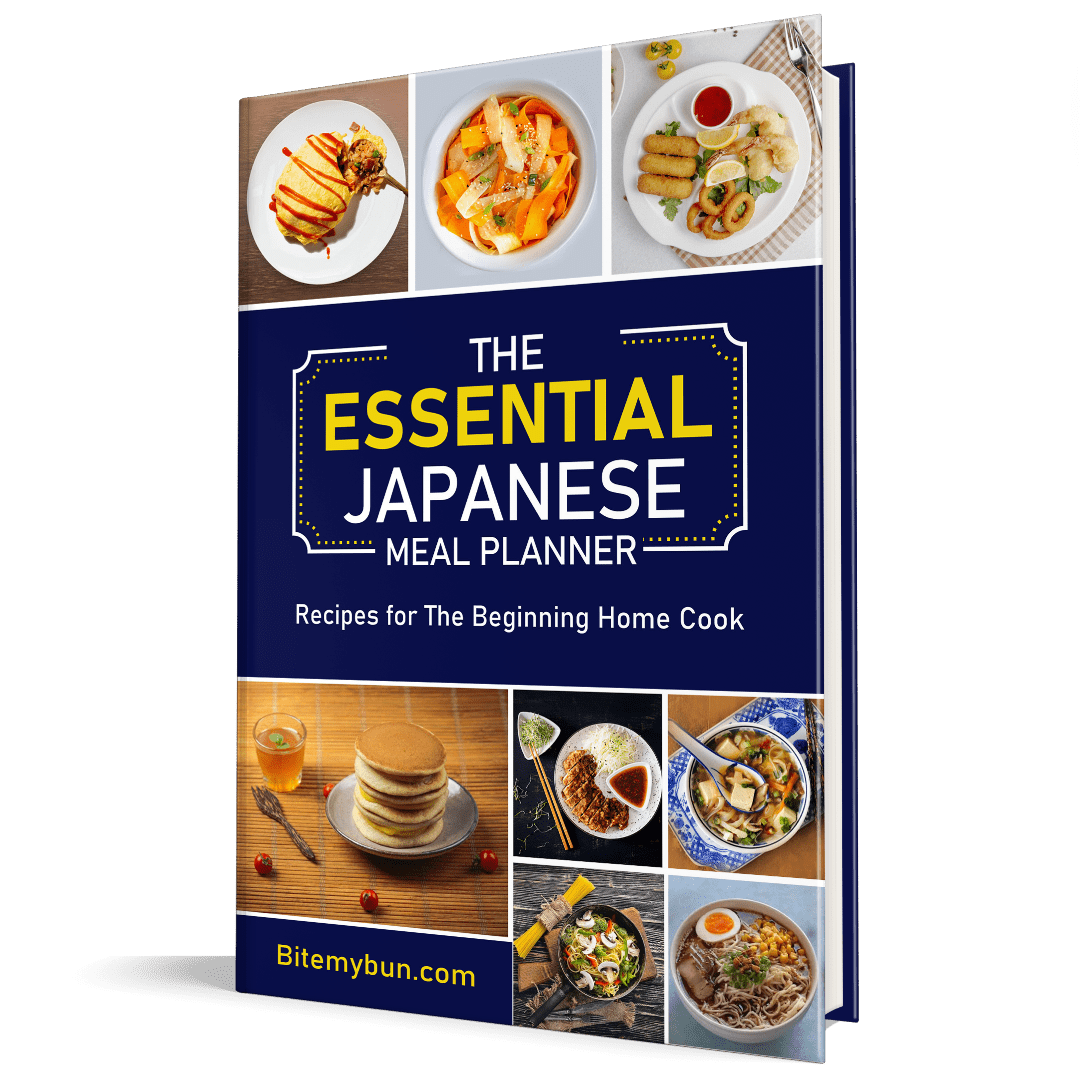 Check out our new cookbook
Bitemybun's family recipes with complete meal planner and recipe guide.
Try it out for free with Kindle Unlimited:
Read for free
Paksiw na bangus recipe preparation
Paksiw na bangus recipe (vinegar fish stew)
Paksiw na bangus is cooked with vegetables, such as eggplant and bitter gourd (or ampalaya). To avoid the bitterness of the ampalaya mixing in with the paksiw na bangus sauce, don't stir it until the end.
Ingredients  
1

kg

milkfish (bangus)

cleaned but not scaled, cut in about 4–5 slices

1

bitter melon (ampalaya)

sliced

1

eggplant (talong)

sliced

1

clove

garlic

crushed

1

small

onion

sliced

1

thumb-sized

ginger (luya)

sliced and crushed

3

pcs

long green pepper (siling haba)

½

cup

vinegar

1

cup

water

1

tsp

peppercorn (pamintang buo)

2

tsp

salt or fish sauce (patis)

1

tsp

cooking oil
Instructions 
Remove the gills and innards of the bangus, but not the scales. Using a scissor or knife, cut the fins and tails. Wash fish thoroughly, drain, and slice diagonally.

In a casserole, put in the garlic, onion, and ginger.

Arrange sliced bangus, and add water, vinegar, salt, peppercorn, and cooking oil.

Cover and simmer for 10 minutes.

Put the vegetables and long green pepper in. Cover and simmer at a medium heat for another 5 minutes.

Remove from heat and serve. Enjoy!
Notes
Serve this with rice and ginisang monggo.
Check out YouTube user Panlasang Pinoy's video on cooking paksiw na bangus:
Cooking tips
No doubt, paksiw na bangus is an amazingly simple and delicious dish for seafood lovers. However, some can't get the recipe perfect. It's a subtle balance of ginger (luya), vinegar, garlic, and patis (fish sauce).
By following the below tips, there's nothing to stop you from making the recipe to perfection!
Always choose high-quality fish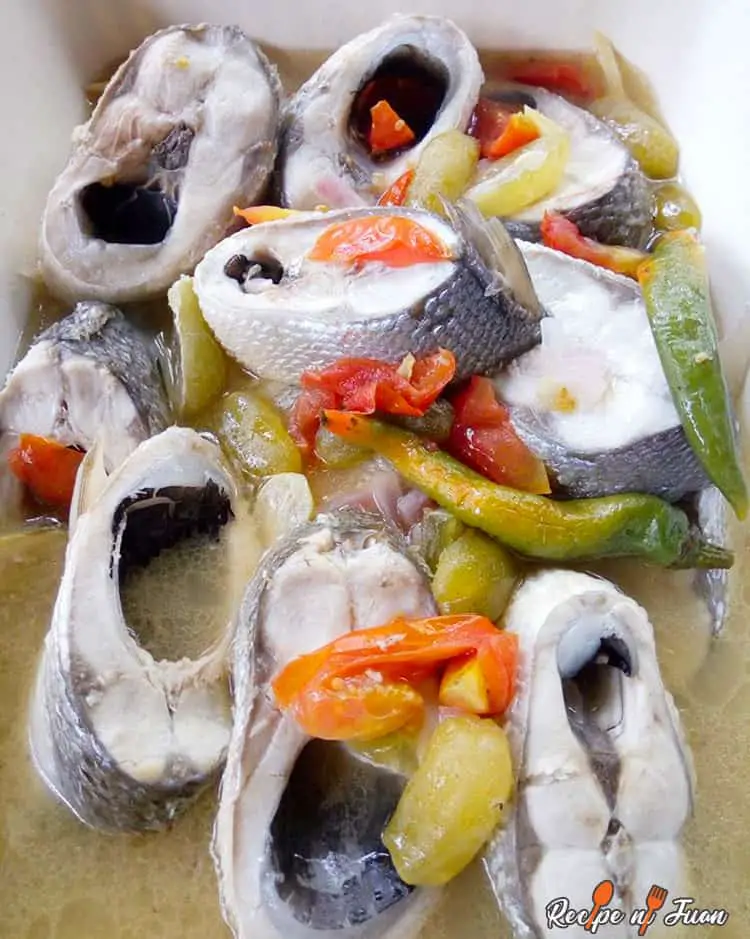 Choosing fresh fish will have a significant impact on the overall taste of the recipe. An excellent way to identify whether the fish is fresh is to check its gills, eyes, and odor.
The gills should be intact and deep red in color. The eyes should be clear, with no signs of redness.
A super-fishy odor is the first red flag to look out for, followed by deformed, cloudy eyes. To get the best fish of the stock, ensure that it has bright, shiny eyes, red gills, and a mild (or not super-fishy) smell.
Clean the fish thoroughly
Well, this is too obvious. I mean, everyone cleans the fish before cooking. But what if I were to tell you that there are better ways of cleaning a fish than just running a stream of water over it? 
One of the biggest reasons why your fish might smell a bit "over-fishy" is because you're cleaning it wrong. A good way to clean the fish is to wash it a few more times under running water. 
Or if you're ready to go a step further, you might as well gently massage it with a mixture of vinegar and salt. With salt being a great cleaning agent and vinegar a great smell absorber, the mix of both might do the trick. 
I like to marinate the fish for at least 10 minutes before I wash the mixture off with water. Alternatively, you can also use lemon juice with salt to deal with the smell. This works great for me, and it'll probably work for you too!
Use bangus belly
You can also use bangus belly in the paksiw recipe. It's more flavorful, and there are fewer fish bones.
It's the perfect part of the fish to use if you don't want to deal with picking out those annoying bones!
Don't stir the ampalaya
Paksiw na bangus is cooked with vegetables, such as eggplant (talong) and bitter gourd (or ampalaya).
To avoid the bitterness of the ampalaya mixing in with the paksiw na bangus sauce, don't stir it. Mix the sauce only when the vegetables become tender.
Blanch the vegetables
To maintain the green color of the vegetables, blanch them in unsalted water and then refresh the vegetables immediately in ice water. You can do this instead of boiling them with the paksiw na bangus.
Add some soy sauce
Though the traditional recipe uses salt to flavor the dish, I highly recommend lessening the salt you add and replacing it with a tablespoon (or any appropriate amount) of soy sauce. 
It not only provides the much-needed saltiness to the dish, but also gives it a punch of umami that refines the overall taste of the recipe.
The variety of paksiw na bangus with soy sauce is also known as adobong paksiw. 
Don't hesitate to get creative
Getting creative doesn't necessarily mean altering the recipe; it's just the tiny little tweaks that make the dish more interesting.
That's especially necessary if you make the recipe regularly. You know, it gets boring sometimes. ;)
Try using a variety of vegetables instead of just putting eggplant in the dish. Bitter gourd and ampalaya are 2 of the most common substitutes you can try out for a change. 
Variations of paksiw na bangus
Paksiw is a family of dishes that follows the same preparation method but with different ingredients. If paksiw na bangus is getting boring for you, the following are some variations of paksiw you should try out! 
Ginataang paksiw na isda
In this variant, the fish is cooked in coconut milk and then topped with vinegar to add a slight tartness to the broth. It combines the preparation methods of both paksiw and ginataan and hence, has a name that includes both terms.
Although unique, it's very delicious, and can be served with any meal. 
Paksiw na salmon sa gata
Paksiw na gata is quite the opposite of ginataang pakisw. In this variant, the fish is cooked in vinegar and then finished with coconut milk or cream to give it some extra flavors.
Usually, the dish is topped with greens like bitter melon or ampalaya leaves, but you can also substitute them for spinach, kangkong, or malunggay. You can also top it with onions if you like. 
Inun-unan
Inun-unan is the Visayan version of paksiw, and unlike the typical variants of paksiw, this one doesn't include vegetables and has very little broth.
It's also a little spicier than the usual varieties we eat, as it has ginger (luya), pepper, siling haba, onions, or shallots as primary ingredients. 
In most recipes, it uses whole fish rather than pieces. But that's a preference. 
Paksiw na baboy
Paksiw na baboy is another variant of paksiw that uses pork instead of fish.
The ingredients used in the dish are just the same as those in a typical paksiw. The only difference is the addition of brown sugar, which sweetens and thickens the sauce, while also keeping the meat moist. You can also add banana blossoms for the same purpose. 
Paksiw na baboy has a very sweet-savory flavor, and it pairs great with steamed rice. 
Paksiw na dilis
Paksiw na dilis is an umami-filled variant of paksiw that use anchovies as a primary ingredient, combined with some spicy add-ons, including ginger, garlic, and some onions. You can also add some vegetables like gourd and eggplant to the dish to add depth to its overall flavor. 
Paksiw na lechon
This variety of the dish is made with leftover spit-roasted lechon meat.
The meat is simply put into vinegar and water, and combined with other ingredients, including garlic, black pepper, and onions.
With crispy skin covering tender meat, paksiw na lechon is perhaps the most delicious variety of paksiw.
You can either eat it as a snack or a main course. It'll taste flavorsome either way!
What is paksiw na bangus?
Paksiw na bangus is a variety among the family of Filpino dishes that are cooked with a traditional Filipino cooking method called "paksiw", which translates to "to cook or simmer in vinegar."
In that context, any Filipino meat dish cooked following the method mentioned above counts as a variety of paksiw, irrespective of the other ingredients. 
This dish variant is called "paksiw na bangus" because it uses a variety of fish known as bangus, or milkfish. The fish is simmered in vinegar and water, with other added ingredients like garlic, onions, ginger, pepper, eggplant, etc. 
Paksiw na bangus has a hearty flavor, with some tartness added by the vinegar, not to mention the depth that all the veggies and spices add to the dish. 
Origin of paksiw na bangus
Paksiw na bangus originates from the Philippines.
As mentioned, this dish is among the many varieties cooked with the basic Filipino cooking method called paksiw.
Though the base method remains the same across all the varieties, the primary ingredients used in each can vary substantially. For example, some recipes might use fish, while the other ones use pork. 
Still, the basic flavoring ingredients remain the same among all varieties, which are vinegar, garlic, and salt. A good number of people also like to put peppers in the dish, but that's optional. 
How to serve and eat
Paksiw na bangus is mainly served at lunch and dinner. It's either eaten alone or with rice. I like to eat it with steamed rice, with some chopped chilies as a topping. 
I also like to put the leftovers of the dish to good use by draining the broth and pan-frying the fish with some intense spices. It turns the once "stewy" dish into a crisp and delicious meal that I can eat any hour of the day. 
Similar dishes
If you like savory and brothy foods like paksiw, perhaps you'll also like to try some other similar dishes. 
Pinangat na isda
Pinangat na isda is a staple dish from Southern Luzon, Philippines. Just like paksiw na bangus, pinangat na isda is a simple dish with complex flavors.
The dish is prepared by stewing tomatoes and fish in a broth soured by various fruits, including tamarind, bilimbi, calamansi, or santol. You can either eat pinangat na isda with steamed rice or on its own. 
Adobong isda
Adobong isda is, well, fish cooked in adobong style. Besides fish, the dish's main ingredients include soy sauce, vinegar, garlic, peppercorn (pamintang buo), and dried bay leaves. 
The dish is simply prepared by pouring water, vinegar, and soy sauce into a large pot and then simmering the fish and other ingredients. 
Fish adobo is a great dish to serve for lunch and dinner, and has a very delicious and simple taste to please your tastebuds. It's usually served with steamed rice.
Escabeche lapu lapu
Escabeche lapu lapu is a "fancier" dish compared to all the aforementioned dishes. It can be prepared either by poaching (like with paksiw na bangus) or frying. In both ways, it's incredibly flavorful.
The only difference is the use of pickled vegetables and, of course, the sweet and sour taste given to it by the combination of tomato ketchup, vinegar, sugar, and ginger. 
Escabeche lapu lapu is not only a great comfort dish, but also presentable enough to cook on special occasions. Its unique flavor and texture are just too good for an ordinary meal.
Ready to try out the dish?
Paksiw na bangus is a common, simple, and amazingly delicious Filipino dish when made the right way. 
One of the many things I love about it is that you can eat it anytime, either as lunch, dinner, snack, or even for breakfast (yes, many people do). 
All you need to do is just put some effort in the making process to ensure no box is left unchecked, from cleaning to cooking, and anything in between, as I mentioned in the cooking tips section of the article. 
With this, let's give this piece a wrap. Oh! And don't forget to try out the recipe I just shared. You're going to love it, I'm sure! 
Happy cooking! 
If you want to find out more about paksiw na bangus, then check out this article.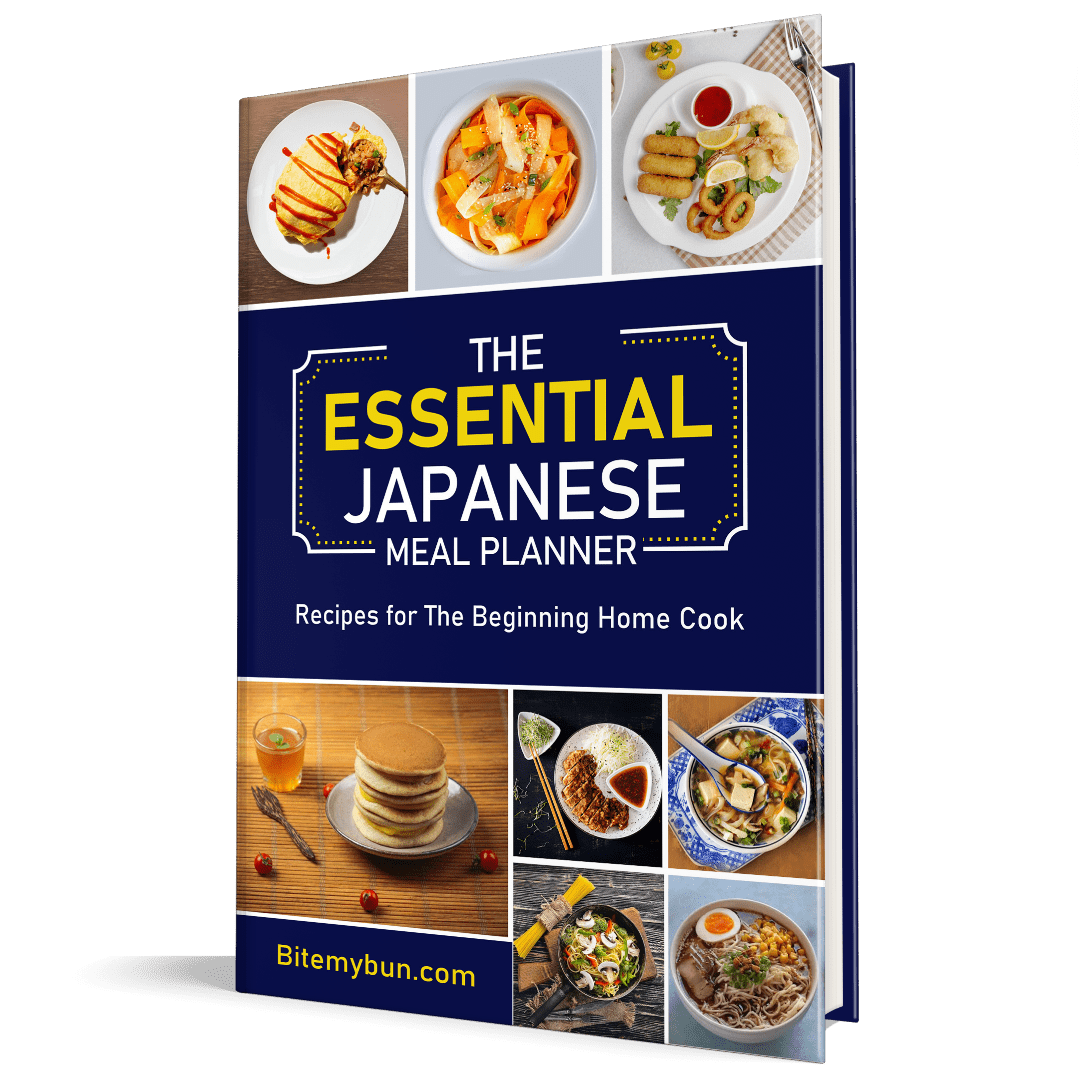 Check out our new cookbook
Bitemybun's family recipes with complete meal planner and recipe guide.
Try it out for free with Kindle Unlimited:
Read for free
Joost Nusselder, the founder of Bite My Bun is a content marketer, dad and loves trying out new food with Japanese food at the heart of his passion, and together with his team he's been creating in-depth blog articles since 2016 to help loyal readers with recipes and cooking tips.