Pork Menudo recipe with chorizo and liver
I love creating free content full of tips for my readers, you. I don't accept paid sponsorships, my opinion is my own, but if you find my recommendations helpful and you end up buying something you like through one of my links, I could earn a commission at no extra cost to you.
Learn more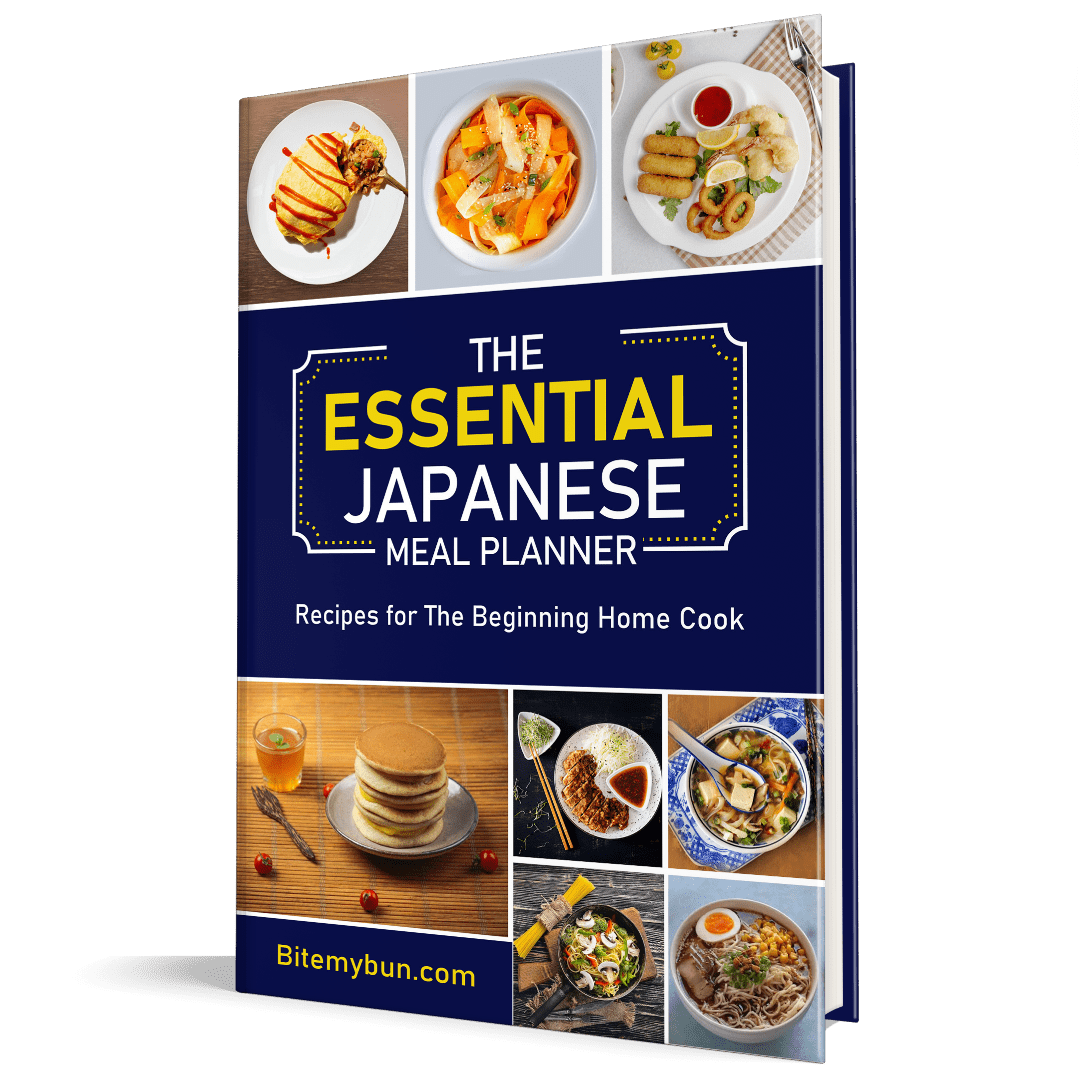 Check out our new cookbook
Bitemybun's family recipes with complete meal planner and recipe guide.
Try it out for free with Kindle Unlimited:
Read for free
With 300 years of Spanish colonization, it should come as no surprise that the Philippines has taken in much of Spain's food.
You'd actually be able to know if a particular dish is Spanish-inspired depending on whether the food in question has salsa or sauce. One such dish is pork menudo.
Being the saucy dish that it is, it always makes its appearance in big celebrations such as fiestas or birthday parties.
It's because, on the one hand, it's tasty, but at the same time, this pork menudo recipe is also economical because the carrots and potatoes used in it can act as meat extenders.
Want to make pork menudo for yourself? This tomato-based recipe is simple to follow, as the ingredients are also accessible.
You'd need pork meat, pork liver, sausage (chorizo), tomato (or tomato sauce), raisins, potatoes, and carrots.
As with almost all Filipino dishes, you'll first saute garlic and onion until it's already soft, then you add the marinated pork (marinated with lemon juice and soy sauce) and tomato sauce.
Stir and simmer until the pork is almost tender.
Raisins are the special ingredient that makes this dish sweeter and so different from the type of stew you're used to eating!
Panlasang Pinoy has an amazing video showing how to make pork menudo:
10 Tips to Save a Bundle on Asian Ingredients!
Introducing our brand new FREE PDF guide: "Saving Secrets: Unveiling the Art of Saving Money on Asian Ingredients" It's your first newsletter email, so start saving today! 📚🧧
We'll only use your email address for our newsletter and respect your privacy
After the meat gets tender, you add the chopped pork liver and the diced potatoes, carrots, and raisins.
Let it simmer once more until the vegetables become tender enough. You can add more tomato sauce if you want more sauciness from this dish.
This is always partnered with rice and like many other Filipino dishes, you can be flexible with this pork menudo recipe in that you can substitute the liver with liver spread or you can opt not to use raisins, but instead, choose pineapples instead to get that tangy sweetness.
So there you have it: a tasty yet flexible dish that's perfect not only on the everyday table but also for big fiestas and parties.
Also check out how to cook this Filipino callos recipe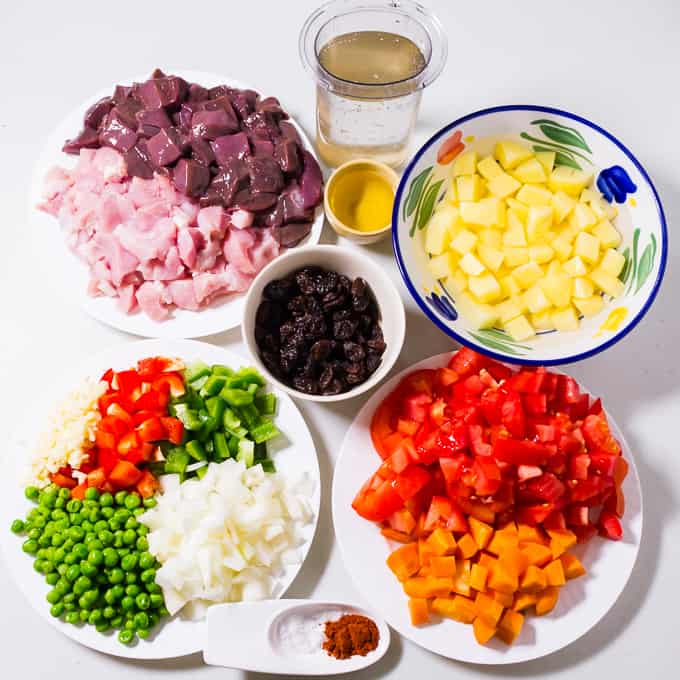 This tomato-based pork menudo recipe is simple to follow, as the ingredients are also accessible. You'll need pork meat, pork liver, tomato (or tomato sauce), raisins, potatoes, and carrots.
Ingredients  
½

kg

pork

(cut into small chunks)

¼

kg

pork liver

(cut into small cubes)

3

potatoes

(peeled, cut in small cubes, fried)

1

large

carrot

(peeled, cut in small cubes, fried)

1

green bell pepper

diced

1

red bell pepper 

diced

¼

cup

raisins

½

tsp

paprika

1

cup

chickpeas or green peas

1

cup

pork or chicken stock

2

tsp

patis (fish sauce)

3

tbsp

oil

3

tomatoes

diced

1

small head

garlic

minced

1

medium-sized

onion

diced

5

pcs

chorizo de Bilbao

cut in small pieces (optional)
Instructions 
In a pan or wok, heat the cooking oil.

Saute the garlic and onion.

After the garlic and onion turn golden brown, saute tomatoes, then add the pork, liver, chorizo de Bilabo, paprika, and the chicken stock.

Add patis, cover, and bring to a boil. Simmer for about 20 minutes or until the pork is tender.

Add the chickpeas or green peas, potatoes, carrot, bell pepper, and raisins. Boil for another 2 minutes.

Add salt and pepper to taste.

Enjoy and serve hot with white rice!
Nutrition
Also check out this soy sauce marinated pork recipe, which is delicious!
Cooking tips
You can use all kinds of pork cuts for this recipe. I like pork shoulder (kasim).
For the sausage, you can fry them and add them later on if you like to feel their crunchy texture. Cut pieces diagonally into 1-inch cubes. Then gently pan-fry until lightly browned but don't make them too crispy. Add the to the stew during the last 5 minutes of cooking time.
Overcooking the liver will make it very tough and chewy and quite unpleasant to eat. Therefore, don't overcook it. Also, be aware that the liver will automatically thicken your stew sauce.
If it's still not thick enough you can add a spoonful of tomato paste or mash up a potato and add it in.
Substitutions and variations
Pork Menudo can be prepared in a variety of ways.
There is a ham version (which is also delicious) to which bell peppers and green peas can be added. That version of pork menudo is great if you like a smoother, softer type of meat.
Some people who don't like pork liver omit it altogether and that's fine too but it won't have that characteristic menudo flavor.
The other popular variation contains either chorizo sausage or hotdogs. These are sliced up and pan-fried and then added to the rest of the ingredients.
If you use chorizo it adds a spicy kick to the dish and a nice red color. Vienna-style sausage or American hot dog wieners are a good option to use and these can increase serving sizes.
The recipe calls for fresh tomatoes which really do taste best but if you're out, you can use canned tomatoes which add a similar consistency.
Annatto seeds will deepen the dish's color and add some nutty and floral aromas to the stew. These are optional but many Filipinos use this spice when cooking.
To thicken the sauce, you can add some tomato paste.
There are so many ways to spice up the sauce and make it more interesting. You can add in some shredded cheese, melted butter, spicy chili, and other condiments. Some people even add Sprite soda for added sweetness!
The raisins in menudo are there for a reason; they give the dish just the proper amount of sweetness without overwhelming it. Since the recipes contain liver, the raisins balance out the gamey flavors and make it more agreeable even for kids.
When it comes to veggies, you have quite a few options.
Of course, the carrots, potatoes, peppers, and onion are must-have ingredients but chickpeas (called garbanzo beans in the Philippines) and green peas elevate the flavors.
You can also add sweet corn, all kinds of beans, or even string beans. Instead of potatoes or alongside them, you can use sweet potatoes or yams.
Pork Menudo is a Filipino stew dish that is typically made with pork, liver, tomatoes, potatoes, and other vegetables.
It is often served with rice or bread on special occasions like Christmas Eve or at parties where the host needs to feed a large group.
Filipinos consider pork menudo as hearty comfort food that is full of tasty rich tomato sauce, lots of meat, and a good serving of veggies.
But this dish is more than your average meat stew because it combines tender pork meat with flavorful pork liver. It's a rich, meaty, juicy stew and it's best served hot from the pot!
Compared to a regular Filipino meat stew, this one requires a bit more prep work.
There are more steps involved in making the recipe because you have to pan-fry the potatoes and carrots after which you need to saute the liver with some ginger to remove that strong gamey offal taste.
The good thing is that pork menudo can be cooked in many ways and the ingredients are easily switchable to suit everyone's preferred taste.
If you're familiar with Mexican cuisine, the word menudo can be a little misleading. The Mexican version of menudo is not like the Filipino one.
Mexican menudo is a beef tripe soup with spices like chili peppers. But, the Filipino menudo is a pork and liver stew.
Origin
Pork Menudo has a Spanish-sounding name and that's because of the Spanish colonization of the Philippines. This dish is an adaptation of earlier Spanish stews.
It was developed during the Spanish colonization period of the Philippines. First, pork meat is sautéed in garlic and onion before being stewed in tomato sauce.
This method of cooking was introduced by the Spaniards during their colonial period. Cooking this Filipino delicacy is done in a similar fashion to the way it was done in the past.
This dish combined the ingredients that were readily available to the locals many centuries ago. They used all parts of the pig to reduce waste because it was expensive.
There's no exact date of invention for this dish but it is at least three centuries old and was popularized at gatherings, celebrations, and holiday feasts.
How to serve and store
There are many different ways to enjoy pork menudo.
Some people like to eat it with rice, while others prefer to eat it with bread. There are also many people who enjoy eating pork menudo as a main dish, while others like to eat it as a side dish.
No matter how you enjoy it, pork menudo is a delicious and nutritious dish.
Pork menudo with a side of steamed white rice is probably the easiest way to enjoy this dish. You can have it for lunch and dinner and it fills you up.
Some people like to serve the stew in a sandwich or pandesal (a type of Filipino bun). You can spoon some stew into the bread and enjoy it as a lunch or snack if you don't like eating menudo with rice.
You can also serve the stew with other grains like quinoa, wild rice, barley, or with a side of couscous if you want to make it healthier.
Store the leftovers in airtight containers once the dish has cooled. You can keep the menudo in the fridge for up to 3 days.
Or, you can make this meal ahead of time for meal prep and store it in the freezer for up to 2 months.
When reheating, just place the stew in a saucepan and warm it over low heat. You can microwave it in 2-3 minute intervals until it's hot.
Similar dishes
There is a chicken menudo too, which uses chicken liver and diced chicken thighs or breast. It's made the same way as the pork menudo but the meat type differs.
Filipino cuisine is well-known for a lot of hearty stews and there are many similar dishes to pork menudo.
Afritada is another tomato and pork stew and it's almost identical except there's no liver and no raisins in it.
Mechado is a similar stew with either beef or pork and potatoes. The sauce is also made with tomatoes so the flavors are similar.
Conclusion
The next time you're craving a good ol' pork stew, give pork menudo a try. It's such a good meaty stew and the raisins give it a pleasant sweetness to counterbalance the strong flavors of the pork liver.
I also recommend you add in the chorizo or hot dogs if you want the full experience of hearty Filipino menudo.
The combination of pork, potatoes, carrots, chickpeas, peas, and condiments comes together nicely – just be sure not to overcook the liver or pork – you want a soft tender meat.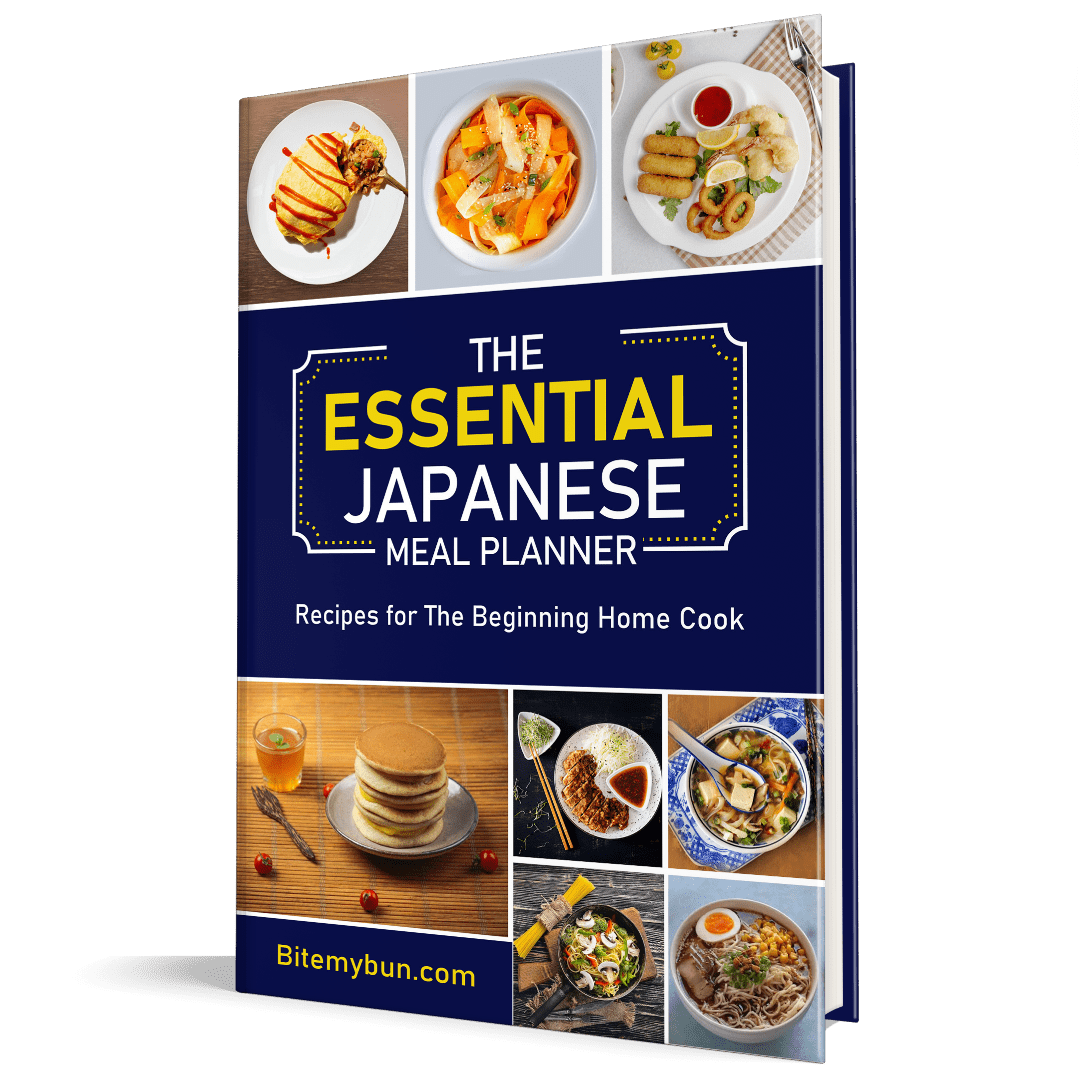 Check out our new cookbook
Bitemybun's family recipes with complete meal planner and recipe guide.
Try it out for free with Kindle Unlimited:
Read for free
Joost Nusselder, the founder of Bite My Bun is a content marketer, dad and loves trying out new food with Japanese food at the heart of his passion, and together with his team he's been creating in-depth blog articles since 2016 to help loyal readers with recipes and cooking tips.