Sushi burrito | Best places to buy + recipe to make one yourself!
I love creating free content full of tips for my readers, you. I don't accept paid sponsorships, my opinion is my own, but if you find my recommendations helpful and you end up buying something you like through one of my links, I could earn a commission at no extra cost to you.
Learn more
The sushi burrito has been a popular modern meal in the USA lately. People love to grab one for lunch as it's easy and tasty, especially during a busy day at the office.
If you haven't tried one, you should give it a try. But before that, it might be better for you to get to know this culinary hype first.
The name pretty much says it all. It's a fusion between Japanese sushi and a Mexican burrito.
The ingredients are similar to what you'd usually find in Japanese sushi; protein (mostly raw seafood), vinegared rice, and a layer of a nori seaweed sheet.
But instead of being served in bite-sized portions, the sushi is served as a whole roll, just like a normal burrito. Such a shape has made sushi a ready-to-go meal option!
It's contrary to conventional sushi, which is a slowly-served food you eat at a restaurant.
Just in case you don't know, authentic Japanese sushi is prepared and served individually in a fancy restaurant.
Therefore, sushi burrito gives an extremely different experience than eating regular sushi, even though the taste and ingredients are all the same.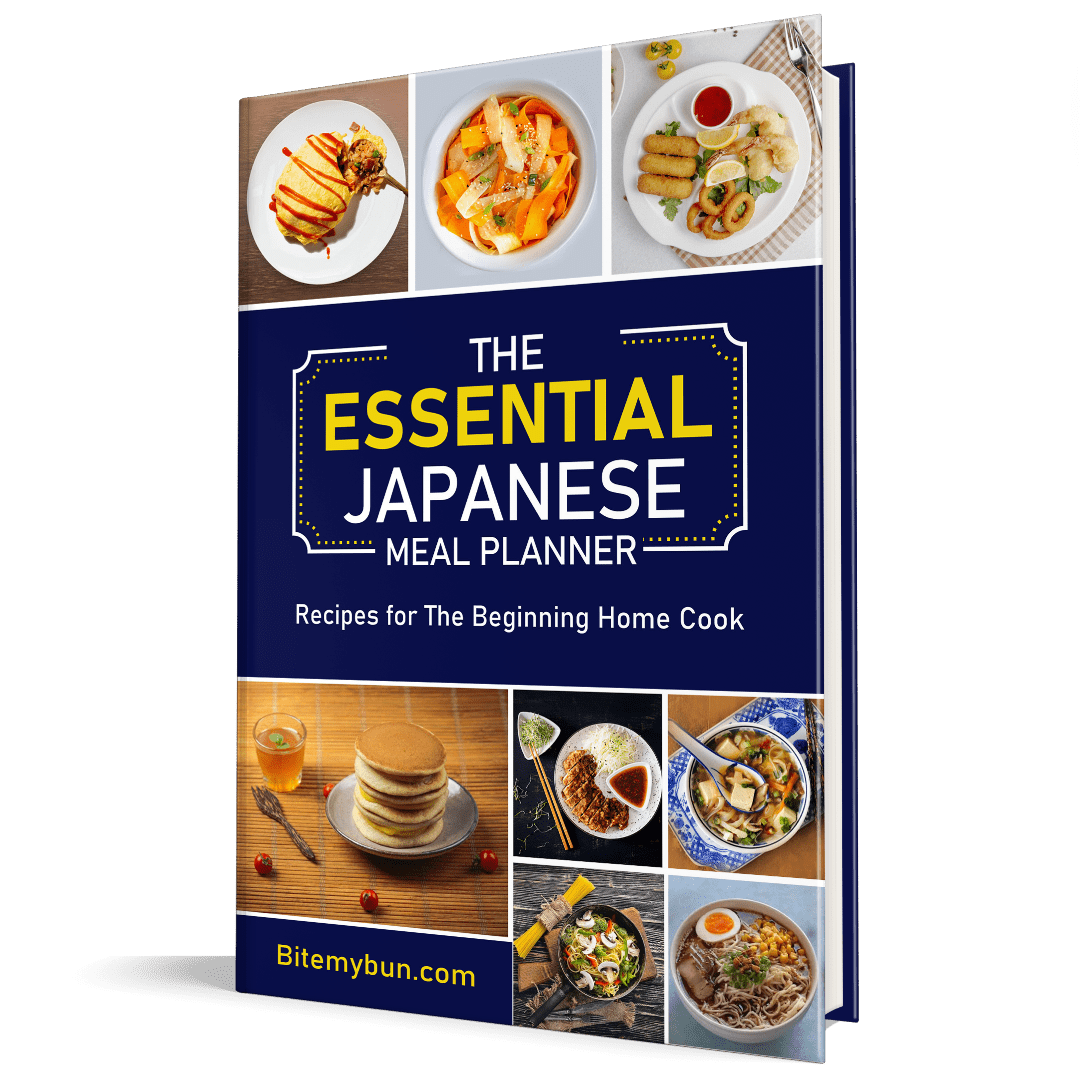 Check out our new cookbook
Bitemybun's family recipes with complete meal planner and recipe guide.
Try it out for free with Kindle Unlimited:
Read for free
Burrito and sushi fusion
The "burrito" part isn't only just the shape. Some additions of Mexican flavor are also put in the sushi roll as a unique twist.
Things like chipotle sauce, ginger guacamole, and even corn salsa can make an appearance inside the sushi burrito roll you order.
Making the sushi burrito is pretty similar to making the conventional sushi maki (roll). Almost any kind of protein can work as the fillings, but raw seafood would be the best choice for it.
Here's an example of a sushi burrito recipe you can try:
Healthy salmon sushi burrito recipe
What makes the burrito differet from traditional sushi is that you need to make the cylinder larger. Also, you need to put all the sauce and condiments inside the roll because it'd be difficult to dip the whole burrito into a mini sauce bowl! And lastly, don't forget to put additional Mexican flavor inside.
Ingredients  
1

cup

freshly-cooked rice

1

tbsp

rice vinegar

1

tsp

sugar

1

tsp

salt

2

sheets

nori

(thin sheets of seaweed)

¼

cup

carrot

cut into matchsticks

¼

cup

cucumber strips

3

ounces

ahi tuna

raw

¼

cup

ginger guacamole

cilantro

to sprinkle

1

tsp

chipotle sauce
Instructions 
Cook the rice in the rice cooker and let it cool down.

Connect two sheets of nori to make one larger sheet. A drop of water can glue the nori sheets altogether.

Put vinegar, salt, and sugar on the rice.

Mix well using a wooden spoon, then set aside.

Spread the rice evenly on the nori sheet.

Put a line of chipotle sauce in the center of the rice and a line of ginger guacamole next to it.

Spread the carrots, cucumbers, and cilantro evenly on top of it.

Top it off with the tuna.

Gently roll it up. Use drops of water to seal the end side of the nori.

To make it portable, wrap your sushi burrito with aluminum foil or paper.
Nutrition
Calories and nutrition
The calories of a sushi burrito can vary, depending on what you have inside the roll.
But generally, the rice rolls contain more calories than regular hot dogs or sandwiches, making it the perfect choice for a busy day where you need extra energy to stay active.
The most popular sushi burrito is the one with salmon fillings. This 380 gram-lunch roll contains about 486 calories.
If you think that it's too much, you can order your sushi burrito in half a roll.
Bear in mind that different restaurants may deliver different sizes of burritos, which may result in different calories consumed.
And as for nutrition, you can be pretty happy about it. The sushi burrito contains a fair amount of carbs, proteins, and vegetables, making it a healthy meal.
For more detailed information, here's the list:
Total fat: 6 grams (25%DV)*
Saturated fat: 3 grams (15%DV)*
Trans fat: 0 grams
Polyunsaturated fat: 7.5 grams
Monounsaturated fat: 4.6 grams
Cholesterol: 63 milligrams (21%DV)*
Sodium: 199 milligrams (8%DV)*
Potassium: 728 milligrams (21%DV)*
Total carbohydrates: 49 grams (16%DV)*
Dietary fiber: 1.3 grams (5%DV)*
Sugars: 1.7 grams
Protein: 34 grams
Vitamin A (4.9%DV)*
Vitamin C (25%DV)*
Calcium (5%DV)*
Iron (10%DV)*
* Percent Daily Values are based on a 2,000 calorie diet.
History of the sushi burrito
The sushi burrito was the invention of chef Peter Yen. He loved sushi very much but was distraught by the fact that it's quite difficult to enjoy it.
At that time, there were 2 kinds of sushi he could get:
One is the cheap ready-made grocery sushi, which isn't so fresh or delicious.
Another one is at fancy Japanese restaurants, which are quite pricey and slow.
One day, an idea came to his mind about how to serve sushi pretty quickly, without eliminating the unique thing that makes them delicacies.
In 2008, he started bringing his idea to life with the concept of the sushi burrito.
The shape is typical with protein in the middle, rolled with rice, and wrapped in a seaweed sheet. But instead of putting it on a plate and slicing it, you can grab your sushi burrito for a quick bite.
Chef Yen also put in a little bit of Mexican flavor on each variant of the sushi. The fusion surprisingly gives tasty twists, which make the dish become even more likable!
The innovation has also transformed the Japanese delicacy from expensive and formal to something fast, casual, and affordable.
Try the sushi burrito in the USA
There are many restaurants and food trucks that serve the sushi burrito in various fillings.
The prices mostly range from $7 to $12, which is pretty affordable for such a tasty meal on the go.
For some recommendations, here are some popular places to get the sushi burrito, along with their best menus!
San Francisco: Sushirrito
Sushirrito is the restaurant that pioneered the sushi burrito trend.
Based in San Francisco, Sushirrito offers the sushi burrito with various fillings, such as raw seafood, cooked seafood, meats, and even a fully vegetarian filling!
Some variants are spicy with Sriracha sauce or wasabi. And there's even a spicy red sushi mayo sauce made with Sriracha that you can use.
Besides the famous sushi burrito, they also serve various rice bowls, sides, and desserts.
Las Vegas: Soho Sushi Burrito
If you're looking for a place to eat in Las Vegas, Soho Sushi Burrito can be a wonderful place to consider. The restaurant has plenty of choices for the signature sushi burrito, including some vegetarian options.
You can also customize your burritos to perfectly match your palate. This restaurant also offers other menu items, such as nacho, rice bowls, soups, and other sides.
Las Vegas: Jaburrito
Yet another sushi burrito restaurant worth visiting in Las Vegas, Jaburrito provides choices for its roll base.
You can choose the regular nori sheet, soy paper, or even a tortilla! The rice can either be the regular white rice or the healthier brown rice.
Jaburrito also offers other menu items from both Japanese and Mexican cuisines.
Also read: can sushi be frozen, or does it go bad and fall apart?
Portland: Wasabi Sushi PDX
Locally operated in Portland, Wasabi Sushi offers many styles of sushi.
Besides the sushi burrito, they also have classic sushi rolls, sushi donuts, sushi burgers, rice bowls, and even ramen.
The restaurant also provides a few choices of alcoholic beverages, including Japanese sake.
Portland: Sumo Sushi Food Truck
Due to its speed and portability, the sushi burrito can also appear on food truck menus.
Of all the sushi burrito trucks, the Sumo Sushi food truck chain in Portland is the most popular!
Besides the Sumo sushi menu, you can also build your own sushi burrito with the ingredients of your choice.
The food truck also serves several kinds of appetizers, rice bowls, and beverages.
Denver: Komotodo Sushi Burrito
If you're in Denver, Komotodo Sushi Burrito is the one restaurant you should go to.
The restaurant offers a wide variety of sushi burritos, including the alternative brown/white rice and lettuce wrap.
While most restaurants offer 1 or 2 vegetarian rolls, Komotodo has plenty of vegan, gluten-free, and even keto foods! This restaurant can be a true heaven of sushi burrito for those with specific diets.
Chicago: Poke Burrito
Poke Burrito does dine-in, takeaway, delivery, and catering.
Besides various choices of their home creation sushi burrito, they also allow you to build your versions by choosing the base, fillings, and sauces you like.
This Chicago restaurant also offers sushi bowls on their menu as alternatives.
Los Angeles: Jogasaki Food Truck
Another food truck popular for their sushi burrito is Jogasaki.
Based in Los Angeles, this mobile food stall keeps moving from time to time. You can see their schedule on their website.
Most of their sushi burrito is served with soy paper instead of seaweed sheets.
Besides the burrito, the food truck also provides some other Japanese-Mexican fusion foods, such as nachos, tempura, and taco.
Try out the delicious sushi burrito
The idea of combining 2 different styles of culinary from 2 faraway places was absolutely genius!
Moreover, the innovative shape also transformed the sushi-eating experience into something that's more suitable to the modern lifestyle. It's casual, fast, and practically easy, yet still highly nutritious.
The sushi burrito is undoubtfully worth trying!
Read more on these different types of American vs Japanese sushi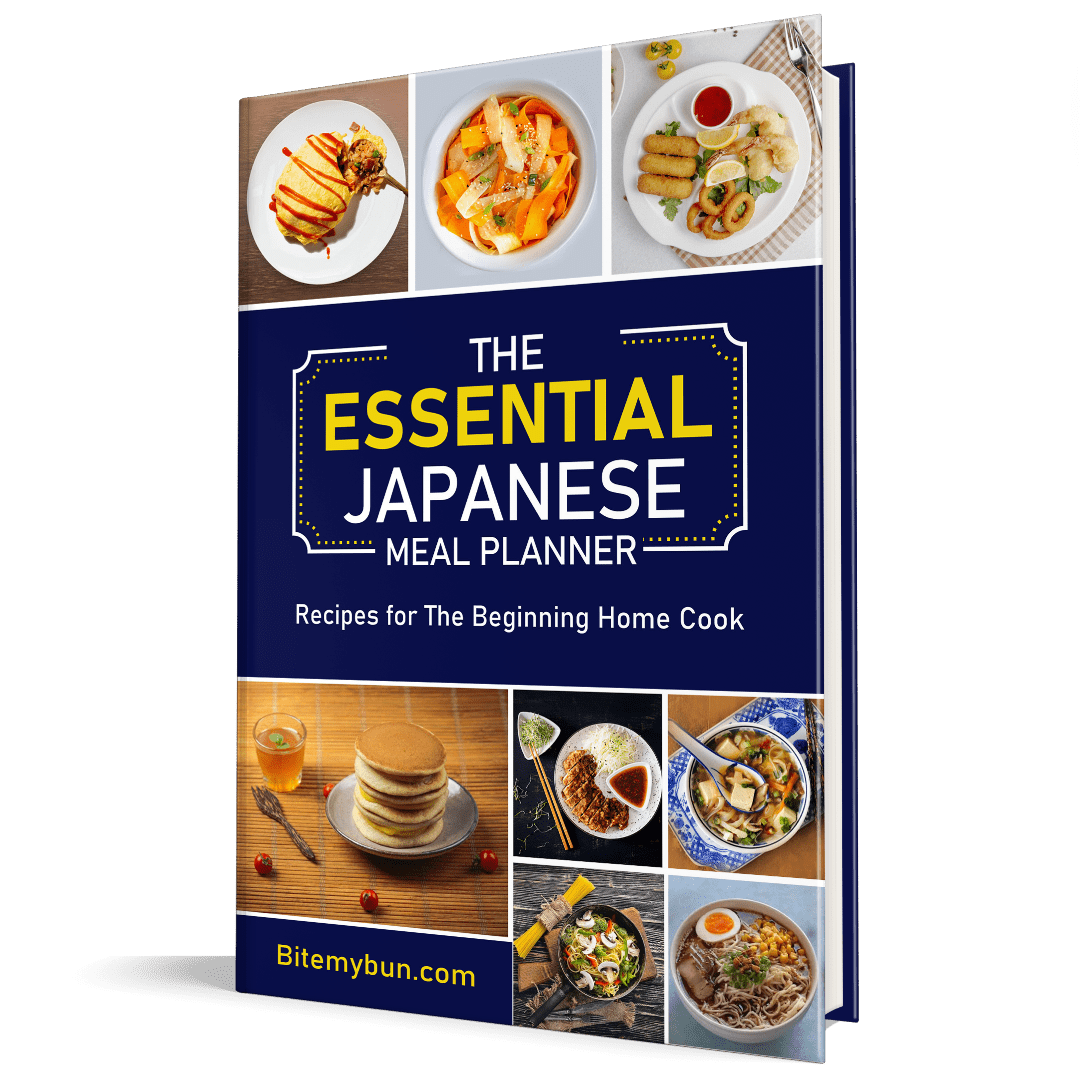 Check out our new cookbook
Bitemybun's family recipes with complete meal planner and recipe guide.
Try it out for free with Kindle Unlimited:
Read for free
Joost Nusselder, the founder of Bite My Bun is a content marketer, dad and loves trying out new food with Japanese food at the heart of his passion, and together with his team he's been creating in-depth blog articles since 2016 to help loyal readers with recipes and cooking tips.