I love creating free content full of tips for my readers, you. I don't accept paid sponsorships, my opinion is my own, but if you find my recommendations helpful and you end up buying something you like through one of my links, I could earn a commission at no extra cost to you.
Learn more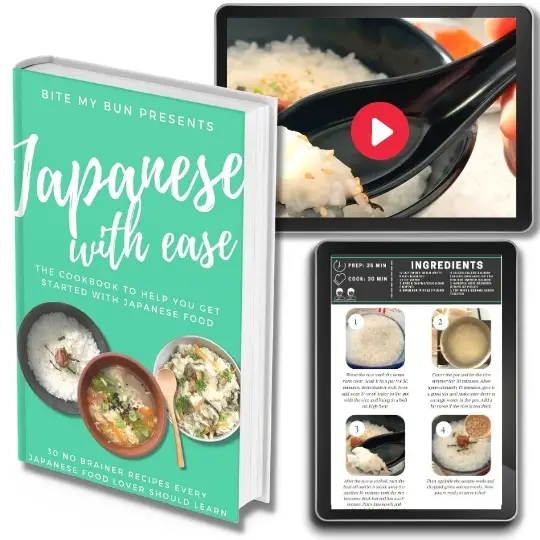 Ever had trouble finding Japanese recipes that were easy to make?
We now have "cooking Japanese with ease", our full recipe book and video course with step-by-step tutorials on your favorite recipes.
If you're looking to try a new rice recipe, why not enjoy a light seasonal veggie, chicken, and rice dish?
The idea behind takikomi gohan is to only use seasonal ingredients to create a quick and simple comforting rice dish.
The one thing you shouldn't get wrong is cooking the ingredients together in layers, which brings out the subtle flavors of the vegetables and liquid seasoning.
Making takikomi gohan is simple, so I'm sharing a convenient recipe you can definitely make yourself!
Oh, and if you're vegan, I'll also be sharing a few simple variations.
How to make takikomi gohan
Takikomi Gohan Japanese Dashi Rice
For this recipe, I'm using chicken and aburaage tofu, as well as gobo (burdock root). If you can't find burdock root, use a root vegetable like parsnip. Burdock root has an earthy yet bittersweet flavor, but you can skip it and use other veggies you like.
Ingredients  
2

cups

short-grain rice

1½

cups

bonito dashi stock

½

cup

water

2

tsp

soy sauce

½

tsp

salt

1

tbsp

mirin

1

tbsp

sake

optional

5¼

ounces

chicken breast

(or thigh) cut into small bite-sized pieces

1

piece

aburaage

deep-fried tofu pocket

1½

ounces

carrot

sliced into tiny strips

2

ounces

gobo

burdock root or use parsnip

1¾

ounces

shiitake mushrooms

1½

ounces

maitake mushrooms

2

leaves

parsley
Instructions 
Wash and rinse the rice, then soak it for about 30 minutes, and drain well.

Put it in the rice cooker, then add the dashi stock and water.

Cut the chicken into small bite-sized pieces and add it to a bowl.

Now add the salt, mirin, sake, and soy sauce. Mix the chicken with the condiments. Let it marinate for a few minutes.

Cut up the carrots into small strips. If you use parsnip, do the same.

If you are using gobo, strip the top layer of the burdock root with a knife, then cut it up into small strips by making several shallow cuts around the root. This helps separate the pieces so you can cut them up.

Wash the gobo and rinse well to remove any dirt and brown color. To do this, place the gobo in a small strainer and rinse under the tap.

Now add the carrots and gobo to the chicken and mix all the ingredients with the sauce.

Slice up all the mushrooms into small strips. Throw away the ends of the stems.

Place the aburaage tofu on a paper towel to remove oil and cut into thin strips.

Take the mixed vegetables from the bowl and place them into the rice cooker on top of the rice and add the chicken, tofu, and mushrooms on top.

Make sure to distribute everything evenly but do NOT mix the ingredients.

Cook the rice. Check your rice cooker for the mixed rice setting if you have it. Cook it with a regular setting if not.

Once cooked, mix everything with a rice paddle and serve. Garnish with parsley.
Notes
It's normal for the rice to be slightly burnt, and this is many people's favorite part because it adds a bit of crunch. In Japanese, the burnt rice is called "Okoge," but it only happens when you cook with the mixed rice setting.
Nutrition
Calories:
532
kcal
Carbohydrates:
84
g
Protein:
27
g
Fat:
9
g
Saturated Fat:
1
g
Trans Fat:
1
g
Cholesterol:
24
mg
Sodium:
845
mg
Potassium:
620
mg
Fiber:
5
g
Sugar:
3
g
Vitamin A:
1836
IU
Vitamin C:
4
mg
Calcium:
194
mg
Iron:
4
mg
The most common takikomi gohan is made with short-grain rice, burdock root, carrots, mushrooms, and chicken, all cooked together in the rice cooker and seasoned with mirin, dashi, and soy sauce.
If you want your dish to turn out perfect every time, you should consider some tips before you start cooking.
(this recipe is in our free Japanese with ease cookbook here)
First, this dish is all about lots of rice and a little bit of each other ingredient. So, your goal is for 80% rice and 20% other ingredients.
Authentic takikomi gohan calls for a small quantity of meat and vegetables and minimal seasoning.
Since the rice is cooked at the same time as everything else, you need to add less meat and veggies, or else the rice doesn't cook properly since it doesn't have enough liquid.
Wash and soak the rice before you cook it. Then drain it and let it sit for 10-20 minutes because this process ensures the rice will absorb more flavors while it cooks.
Don't mix the rice with the other ingredients before you put them in the rice cooker. You need to layer, starting with the hardest ingredients at the bottom and the softest at the top.
The secret is to layer the rice at the bottom, then add root vegetables, the chicken, then a layer of soft ingredients like tofu and other veggies like mushrooms.
Once they are layered, you DO NOT mix them at all until they are cooked. Once everything is cooked, you mix the ingredients with a rice paddle and serve in bowls.
What is takikomi gohan?
Takikomi gohan is a simple rice dish made using seasonal ingredients, so you're supposed to use what the season offers in terms of vegetables.
The recipes usually include about 5 or 6 ingredients, including one type of meat, deep-fried tofu, and some veggies. All the ingredients are cooked simultaneously in the rice cooker alongside short-grain rice.
Seasonings are basic: dashi, mirin, and soy sauce.
But the important aspect of takikomi gohan is that the meat and vegetables are only supposed to be about 20 to 30% of the dish, and the rest is just rice.
Takikomi gohan is similar to maze gohan, which is made with almost similar ingredients, except the rice and the other ingredients are all cooked and seasoned separately, then combined later.
Takikomi is easier to make because it's that type of "one-pot" meal where you throw everything in the cooker and let it do its thing.
Takikomi gohan: nutritional information
1 bowl of takikomi gohan contains approximately:
400 calories
100 grams of carbohydrates
10 grams of fat
16 grams of protein
4 grams of sugar
600 mg of sodium
Short-grain white rice is a source of carbs with no real health benefits.
What makes this dish healthy is the vegetables, especially the burdock root. It purifies the bloodstream, fights infections, and calms gastrointestinal issues.
Takikomi gohan recipe variations
Vegan
The easiest way to modify this recipe is to make it vegan. In fact, most of the ingredients in takikomi gohan are vegan-friendly except the chicken and bonito dashi.
But, here's what I recommend you do to make this mixed rice dish vegan:
Swap the bonito dashi for kombu dashi.
Use 2 slices of aburaage tofu instead of the chicken.
Add a handful of hijiki (a sea vegetable).
Add in some bamboo shoots for an interesting flavor.
Other meats and toppings
If you don't want to use chicken, you can use thin beef slices or pork.
You can also use seafood, but the problem is that seafood cooks much faster than other meats, so it will get overcooked in the rice cooker. However, you can use salmon, clams, and canned tuna, which pair nicely with rice.
Know though, that if you don't cook the seafood at the same time as the rice, it's technically not takikomi gohan.
Here are some other ingredients you can use if you can't find burdock root:
Parsnip
Radish
Matsutake mushrooms
Oyster mushrooms
Sweet potatoes
Chicory root
Or, you can just add some other tasty ingredients to bring out even more of that umami flavor:
Bamboo shoots
Spring onion
Peas
Hijiki seaweed
Chestnuts
Squash
Make use of whatever's in season for this recipe.
How to serve takikomi gohan
Takikomi gohan is best served hot and fresh. I don't recommend storing it in the fridge because the rice will get hard. You can freeze leftovers for about a month and heat them up in the microwave.
This dish is commonly eaten as part of a family meal for lunch or dinner. It is a popular seasonal dish, so most people have it after the rice harvest.
It's mostly considered to be a side dish for other main dishes like grilled fish. Since fish is a light meal, the rice is a good consistent, filling side dish with a delicious serving of veggies.
For more rice dish inspiration, read: 15 Authentic Donburi Bowls reviewed and how to use them
Origin of takikomi gohan
As you know, rice is a staple in Japanese food culture. There are so many delicious rice recipes, and this one goes way back.
Takikomi gohan originates sometime in the Nara period (AD 710-794).
When rice harvests were suffering, and people couldn't harvest the necessary amount, they improvised rice recipes. They mixed rice with millet and other grains, along with the seasonal vegetables.
Thus, an early form of takikomi gohan was born. Originally, it was called Katemeshi, but as it evolved into the dish it is today, the name changed too.
The idea behind the dish was to maximize umami flavor with minimal and cheap ingredients.
Conclusion
Now that you've seen how to make this dish and my list of alternative ingredients you can use, check the market for some seasonal veggies and start making takikomi gohan!
The great thing about this recipe is that you can kind of throw together whatever you like, and you don't need to use a lot of condiments to get a flavorful bowl of rice.
Check out this delicious comfort food that'll leave you fulfilled: Zosui Japanese rice soup
It's perfect for those days where you're feeling a bit under the weather and need a simple dish that'll get you right back up on your feet.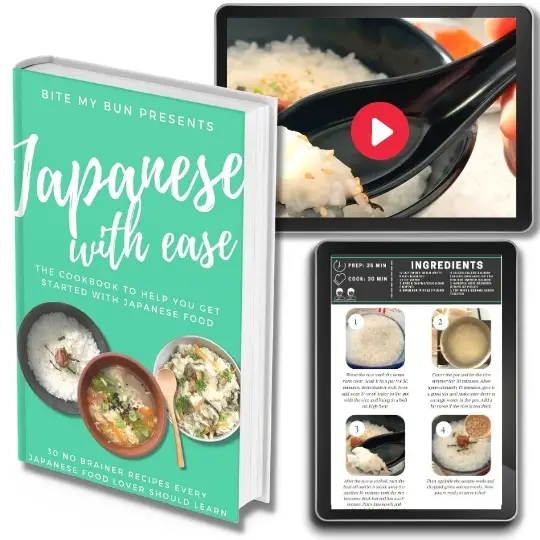 Ever had trouble finding Japanese recipes that were easy to make?
We now have "cooking Japanese with ease", our full recipe book and video course with step-by-step tutorials on your favorite recipes.
Joost Nusselder, the founder of Bite My Bun is a content marketer, dad and loves trying out new food with Japanese food at the heart of his passion, and together with his team he's been creating in-depth blog articles since 2016 to help loyal readers with recipes and cooking tips.