I love creating free content full of tips for my readers, you. I don't accept paid sponsorships, my opinion is my own, but if you find my recommendations helpful and you end up buying something you like through one of my links, I could earn a commission at no extra cost to you.
Learn more
Donburi which means "bowl" is a Japanese rice bowl dish that has a variety of main ingredients including fish, meat, vegetables and many more that's simmered served with rice.
It is sometimes called just "don." The oversized rice bowls that served donburi meals also called donburi.
I know it's weird and confusing having to identify both the dish and the bowl on which it is served is called with exactly the same name, so if we are to distinguish the 2, the bowl is actually called donburi-bachi (丼物), while the dish is called donburi-mono (丼物).
The donburi is also referred to as "sweetened" or "savory stews on rice." Aside from being used for the famous Japanese rice bowl dishes, the donburi is also used for soba or udon noodle soup.
I especially like this Tableware East donburi bowl because it has the perfect size and depth for most dishes and is the perfect donburi for ramen, which I love.
A common donburi bowl is around 15 cm in diameter (5.9 inches) and has a height of 8.5 cm (3.3 inches) with a total volume of approximately 900 ml.
Here are my favorite bowls, I'll get into them some more below and will first discuss the Donburi-bachi etymology:
Donburi-bachi Etymology (Rice Bowl)
Historians are not exactly sure how the name for the rice bowl came to be; however, they speculate that there might be multiple possible derivations and it may have not entirely originated in Japan as well.
During the Edo Period (1603 – 1868) there were restaurants in Japan that specialize in serving large portion meals – they were called kendon'ya which means "greedy," which denotes that customers who often to such places are "very hungry" customers, while the suffix ya means "house, store, or restaurant."
They used rather large serving bowls to ascertain their restaurant's namesake and these bowls were called kendon-buri-bachi, which means "greedy" and "in that fashion" and "bowl."
As time went by the "ken" portion of the word was omitted that caused people to call it donburi-bachi, then later on the bachi was also removed, which left the word to the now infamous donburi.
Alternatively, and perhaps a closer derivative of the word, donburi which refers to "a large bowl that has lots of food in it" may be cognate with donburi (どんぶり), an onomatopoeia of something big and soft dropping down on solid ground, or something massive plunking into deep water, related to onomatopoeia donburi (どぶり), donburi (どぶん), donburi (どんぶ), and don (どん), all of which generally share similar meanings.
The kendon'ya would serve meals with large portion of rice called donburi meshi (丼飯), which could be considered as "plopped-down rice" that guests enjoys a lot.
On the other hand, the term donburi may also refer to something "rough, approximate, not finely worked," like the Japanese word donburi kanjō (丼勘定), which roughly translates to "loose estimate, a rough approximation."
This term is very similar to the other words/phrases that were derived from the onomatopoeia, although it may not be considered as similar to the donburi used in restaurants.
In kanji, the donburi is written as 井 ("a well") with a dot in the center, which may indicate that something was tossed into the well. This indicates that the "təm X " Middle Chinese reading may have derived from the same onomatopoeia.
To disambiguate, those who use the term donburi-bachi specifically refers to the bowl where the food (donburi-mono) is served.
The beef or pork stew would be the Western equivalent of donburi-bachi, although the latter is cooked and served dry whereas the former is cooked with a liquid mix and served with the sauce.
Examples of this are tekkadon (tuna sashimi donburi), tempura donburi or beef donburi.
Authentic Japanese Donburi-bachi (bowls) reviewed
It's only natural to want to experience eating the best donburi-mono recipes and if you want to own a set of authentic Japanese donburi bowls, make sure that you only buy it from the most trustworthy of sellers.
To help you narrow down your choices, here are a few donburi bowls that we recommend you purchase:
Overall best Donburi bowl: Tableware East
This over-sized Sanuki bowl is perfect for Ramen noodle, Udon noodle, soupy pasta, chips, popcorn, salsa, and many other dishes!
This donburi-bachi can hold 64oz (1900ml) volume of liquid soup (udon ramen) as well as the other ingredients along with the food recipe.
Made from shiny porcelain material with black coating, which gives it a perfect color contrast when the colorful donburi-mono recipes are served in it.
Best cheap donburi bowl: JapanBargain
This authentic Japanese donburi rice bowl is made from plastic lacquer material, which gives it a shiny look and smooth texture.
Designed to be oven safe it can handle any food that needs heating in your microwave oven and it's also dishwasher safe too!
But you can also hand wash it very easily as it's also very light in terms of its weight.
Best for Donburi-mono meals: Daiso Ocean Blue
Nearly twice as large as the Tableware East extra Large Ramen, Udon Donburi Bowl, this 24-ounce Ceramic Bowl Ramen Noodle Udon Donburi-bachi allows you to pack a whopping donburi-mono recipe!
This donburi-bachi is very similar to those traditional bowls that you like to use in Japanese or Korean restaurants when you dine there.
You will love the color, texture and smooth ridges on the outside of the bowl.
Best Donburi with lid: JapanBargain 16 oz
The red and black color combination plus the melamine plastic material which it's made of will appeal so much on your taste for the aesthetics.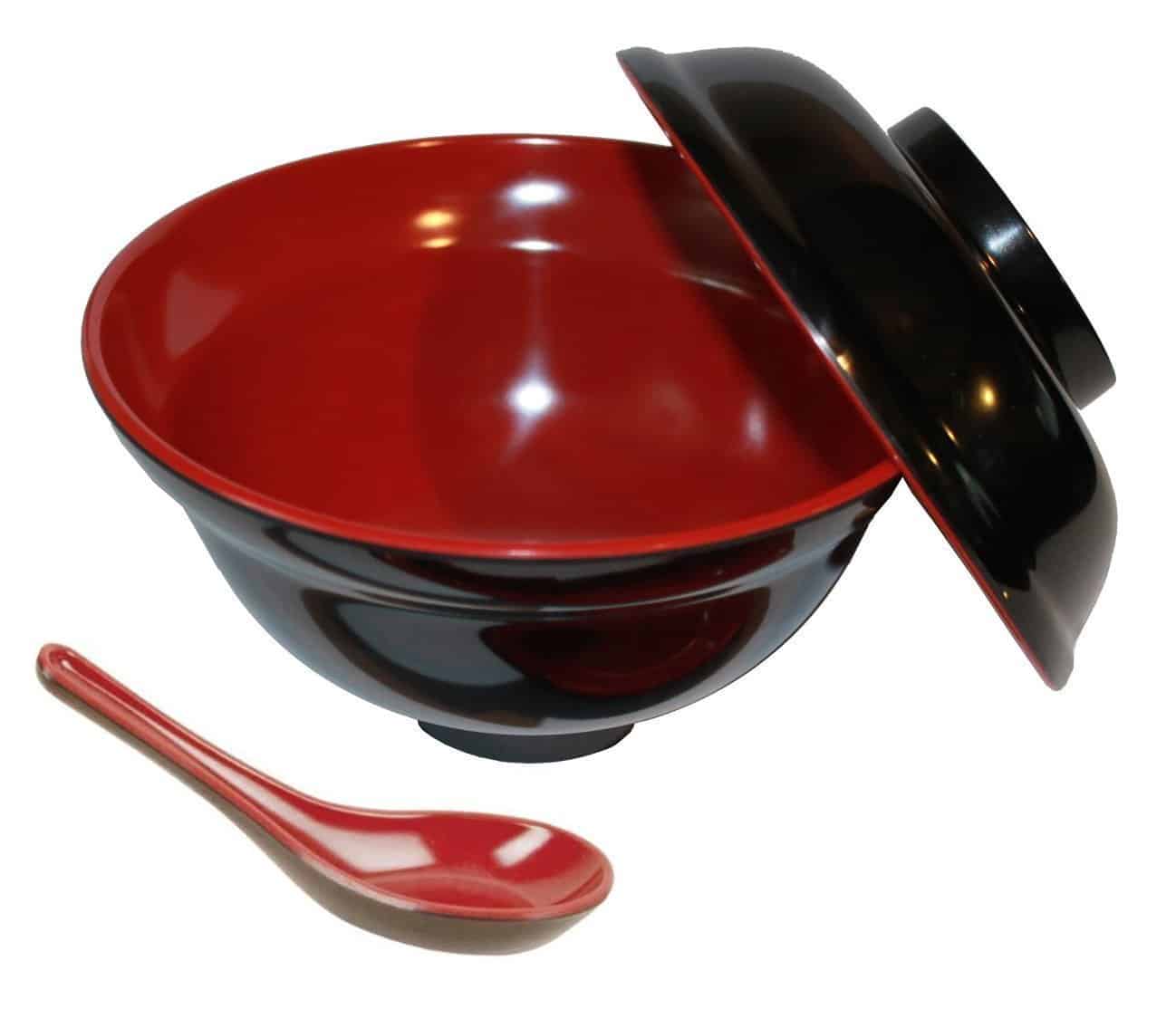 This Soup Bowl with Lid and Spoon donburi-bachi from JapanBargain will enhance whatever donburi-mono you'll place in it further, as you will not only captivate the customer with their sense of taste and smell, but also with their sense of sight too!
Best design donburi: Yokohama blue cherry blossom
If you want a donburi-bachi that captures the heart and soul of Japan, then nothing else will come close to this Porcelain Blue Plum Cherry Blossom Donburi Noodle Soup Rice Bowl.
The color, the texture of porcelain and the artistic rendering on this rice bowl is exemplary and deserves to be included in this list!
Best donburi bowl for udon: Yokohama Fu-Un
Perhaps one of the many rivals of porcelain rice bowls, this Ceramic Donburi Ramen Noodle Udon Rice Bowl is a rare beauty to behold.
It's shiny and super smooth surface will feel really good to the touch and you will love your donburi-mono if served in it no matter what kind of donburi it may be.
Japanese Donburi: Yokohama Seiganha Wave
A beautiful Porcelain Donburi Rice Udon Bowl with seiganha wave design is an authentic Japanese donburi-bachi that's good to add to your donburi bowl collection.
This donburi bowl is typical amongst Japanese restaurants and even in Japanese household, so if you're thinking about serving Japanese food at home for a change, then this would be the best rice bowl to pick.
Best donburi for rice: Yokohama chirashi
A rather odd design and color, this Ceramic Seiun (Swirl) Donburi Ramen Noodle Soup Chirashi Sushi Rice Bowl will quite impress even when compared to other donburi-bachi.
The 165.10 inches 3 volume capacity of this donburi rice bowl will easily satisfy your hungry stomach.
The takeaway is that this is a very attractive bowl and the perfect size for various Asian noodle and soup dishes.
Donburi noodle bowl: JapanBargain Regular Red
This red regular noodle bowl may look unassuming, but it has a classic Japanese donburi-bachi design with it that local Japanese folks love – and you should too!
Although made of plastic this donburi noodle bowl can handle high temperatures such as newly cooked noodle soup, ramen, and any other donburi recipes.
Best oven safe donburi bowl: ENTEC Ramen red
A ramen donburi bowl with traditional Japanese design with a red and white color combination is beautiful to the sight but is built tough and durable.
Its melamine resin material is able to withstand temperatures as high as 120 ˚C (248 ˚F), so it's oven safe and also dishwasher safe.
Enjoy your ramen in this bowl as you ponder on the simple yet aesthetically pleasing design of it.
Tansu Aranami Donburi
Similar to the Ceramic Seiun (Swirl) Donburi Ramen Noodle Soup Chirashi Sushi Rice Bowl, the Aranami Noodle/Ramen Bowl bears a lovely wave pattern (tansu aranami) that's beautiful to look upon.
You'll be reminded of the ocean when you eat your favorite donburi dishes in this bowl and be pleased to find that some of the ingredients of the donburi dishes are also seafood.
Table ware east extra large donburi bowl
Porcelain is like gold, it feels good to the touch and pleasing to the eyes, although not as expensive and this Extra Large Ramen Udon Noodle Porcelain Donburi Bowl with smooth and shiny texture will instantly make you fall in love with it.
This over-sized Sanuki bowl with 64-ounce capacity (the largest among the donburi bowls listed here is perfect for ramen noodle, udon noodle, soupy pasta, chips, popcorn, salsa and more!
Happy sales donburi bowl with lid
This Plastic Miso Soup Rice Bowl with Cover from Happy Sales is exquisitely charming that you will not think twice to buy this item the moment you lay your eyes on it.
Sipping your miso soup will never be boring when you eat it from this bow, especially if you pair it with hot steaming rice and a few other condiments and side dishes.
Akazuki Tsukimi Donburi Bowls
Made from R-PET/ABS plastic, the Akazuki Tsukimi Donburi Bowls are both beautiful and very durable.
Lightweight and practically indestructible, dishwasher and microwave safe, can handle all sorts of donburi recipes and it also features the tsukimi art (two rabbits romantically watching a full moon in the middle of flowers), which is an ancient Japanese artwork.
YMC Green Leaves Donburi
Unique Japanese donburi bowl that features a marble construction material that sports an elegant look with green leaves art painting.
Perfect for gyudon, chicken katsudon, ten don, soboro don, and other donburi-mono dishes.
Different Kinds of Donburi Recipes
Donburi rice bowls are simple one-dish meals topped with all of your favorite Japanese foods that are definitely better than your typical fast food and is the perfect choice for a quick and delicious meal in Japan.
Donburi is derived from the serving bowl where it is placed in which is called simply a "don." You will find a combination of several recipes in a donburi which includes steamed rice, meat, vegetables, sauce, and usually a side of pickles and miso soup.
The donburi is the all-in-one meal that you need to satisfy your hunger yet very convenient to prepare and eat.
The donburi traditional Japanese dish appeared first during the Edo Period, when restaurants started serving sliced eel that's been grilled and placed on top of rice bowls (these rice bowls were usually served to theatergoers as it was famous in 17th century Japan).
As time went by, the donburi dish not only became famous as a traditional Japanese cuisine but also evolved into different flavors that people love.
Also read: try this amazing Japanese curry recipe
Gyudon (Beef Bowl) 牛丼
The Gyudon (beef bowl), which is made from thinly-sliced beef portions simmered with onion and dipped in a sweet-savory sauce, is considered by many of its patrons to be one of the most popular types of donburi-mono in all of Japan.
Here's chef Adam Liaw making it:
Aside from the fact that it's very delicious, you'll also love how simple the cooking method of the gyudon is.
My preferred toppings include fresh beaten egg, some pickles, and chopped scallion to add green veggies and make it look fresh.
Chicken Katsudon チキンカツ丼
The chicken katsudon (or chicken cutlet in a rice bowl) is just stir-fried crispy chicken katsu that's been simmered in dashi sauce with savory flavor topped with sliced onion and scrambled egg.
There is a better way to stir-fry chicken cutlet lightly, so it doesn't get too oily and will be cooked less messy even when you cook it at your home.
Ten Don (Tempura Donburi) 天丼
Deep-fried golden-brown and crispy shrimp tempura with vegetables on top of a bowl of freshly cooked rice, and garnished with the tempura dipping sauce known as tentsuyu.
This tempura donburi recipe called ten don is an absolute treat for a special weekend dinner whether alone or with friends.
To complete your meal, just add a bowl of miso soup, a side dish (e.g. salad or other Japanese condiments) and a refreshing fruit juice, soda, beer or sake.
Mapo Tofu 麻婆豆腐
If you're craving for something bold for dinner, then the Japanese Mapo Tofu recipe is what you should have and I guarantee you that it won't disappoint.
The protein-rich tofu mixed with ground pork and cooked in a very delicious sauce that's served over a bowl of newly steamed rice, the mapo tofu is a very delicious and satisfying meal you could ask for.
The mapo tofu donburi-mono is milder and less spicy than the Sichuan-style mapo tofu, so you can also give it to children as they can handle its flavor and mild spiciness.
Soboro Don (Ground Chicken Bowl) 三色そぼろ丼
Translated as "minced chicken and egg on rice" the soboro don will not only please your taste buds, but also your eyes with its multicolored ingredients, but it's also nutritious and easy to prepare.
The soboro don is perfect for little children, so if you have a handful of them at home, try to give them this meal for them to enjoy it.
Salmon Ikura Don 鮭いくら丼
A sashimi-type of dish that features raw fish but served in a casual donburi style, the salmon ikura don recipe is perfect for a quick meal option in case you're in a hurry to go somewhere.
The best way to prepare this dish is to cook the rice 15 minutes in advance, that way it will only take you around less than 2 minutes to assemble all the ingredients together in the donburi-bachi (bowl).
Oyakodon (Chicken and Egg Bowl) 親子丼
Literally "parent-and-child rice bowl" when translated in English, the oyakadon is a wordplay for the delicious chicken and egg combination. This high protein meal is common across all cultures and not just in Japan and people love it for its simple yet savory flavor.
Niratama Donburi ニラ玉丼ぶり
Soft fluffy egg stir fry with garlic chives served over hot rice, niratama donburi is going to be the most comforting meal you'll ever have.
What defines this simple donburi Japanese dish is the unique aroma and flavor of garlic chives. The garlic chives also are known as "Chinese chives" are available at your local Asian grocery stores and produce markets.
Unadon (Grilled Eel Rice Bowl) 鰻丼
Unagi don, or unadon which means "grilled eel rice bowl" is a specialty dish in Japan and is a national favorite also.
The perfectly grilled unagi which is served over steamed rice and garnished with sweet caramelized sauce will send your senses into an overdrive mode that it's almost impossible to say "no" when this meal is offered to you.
Also read this post on Unagi and Unadon
Poke Bowl
The poke bowl dish is a Hawaiian favorite recipe and is becoming popular across the United States rather fast. But this Hawaiian soul food is heavily influenced by the sashimi which is also a famous Japanese cuisine.
Yoshinoya Beef Bowl
In case you're uncertain what you'll have for dinner while you're busy working, just look up yoshinoya beef bowl donburi and you won't mind chowing down on it every night.
It's basically a bowl of riced, most often regular steamed rice and then some thinly sliced beef and some baked onion are added on top.
The beef is first simmered in a dashi broth with soy sauce and some mirin that's both sweet and savory.
Baked Katsudon 揚げないカツ丼
Have you ever tried baked katsudon?
Well, this juicy deep-fried pork cutlet that's been added with beaten runny egg and cooked in dashi broth that's responsible for its savory taste, then served over steamed rice will make you forget other dishes for a little while.
Every month new cooking tips in your email?
Japanese recipes, cooking tips and more with the first email our FREE mini-recipe guide "Japanese with ease"
Also read: these are the knives the head chef uses
Joost Nusselder, the founder of Bite My Bun is a content marketer, dad and loves trying out new food with Japanese food at the heart of his passion, and together with his team he's been creating in-depth blog articles since 2016 to help loyal readers with recipes and cooking tips.