Comfort food that'll leave you fulfilled: Zosui Japanese rice soup
I love creating free content full of tips for my readers, you. I don't accept paid sponsorships, my opinion is my own, but if you find my recommendations helpful and you end up buying something you like through one of my links, I could earn a commission at no extra cost to you.
Learn more
Zosui (雑炊) is the ultimate Japanese rice-based comfort soup. It's the type of soup you can make with minimal ingredients, using vegetable and meat scraps you find in your fridge.
Zosui soup is made from pre-cooked rice, dashi broth, mushroom, eggs, vegetables, and the left-overs you can find in your fridge, then seasoned with soy sauce. It's a quick and easy recipe to make when you're in the mood for a comforting meal.
Usually, this soup is served to people who are feeling under the weather, so the idea behind it is to use ingredients that are easy on the digestive system.
On those days when you feel cold and lack the energy to go about your day, this rice soup energizes and fills your tummy up. And of course, it tastes delicious!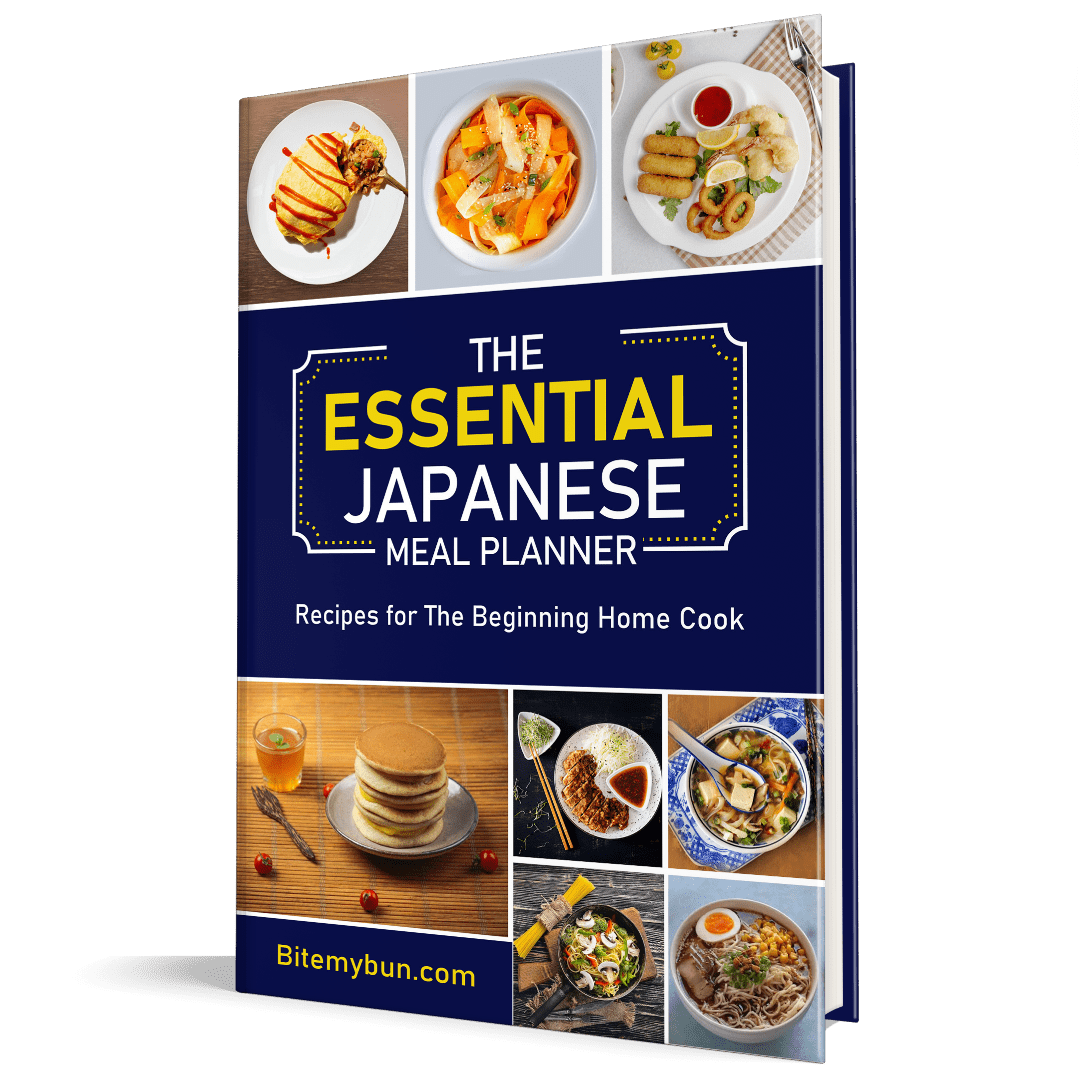 Check out our new cookbook
Bitemybun's family recipes with complete meal planner and recipe guide.
Try it out for free with Kindle Unlimited:
Read for free
How to cook the perfect zosui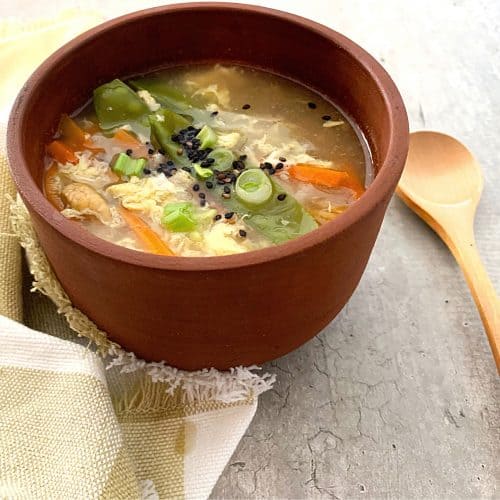 Zosui soup with chicken recipe
The perfect comfort food for all your leftovers
Ingredients  
Broth
6

cups

dashi

use water and 2 dashi packets, or dashi stock cubes

4

tsp

soy sauce

1

tsp

salt
For zosui
12

oz

boneless chicken thigh OR chicken breast

1

carrot

small or medium

4

shiitake mushrooms

(or champignons)

4

green onions

3

cups

short-grain white rice

pre-cooked; a day old is best, but you can cook fresh rice and let it cool as well

1

cup

edamame

(frozen) or if you don't have those, you can use Chinese peas or other green vegetables you have in your fridge (it's leftover day, so see what you can scrounge together)

2

eggs

½

tbsp

sesame seeds
Instructions 
Gather all the ingredients and a soup pot.

Add the water and dashi to the soup pot and bring to a boil on low heat.

If you're using dashi packets, poke them until they release all the color and flavor after they've boiled for about 2 minutes.

Cover with a lid and boil for another 3 minutes.

Now discard the dashi packet. If you used a stock cube, just mix the liquid well.

Cut the chicken into small bite-sized pieces or strips.

Slice the mushrooms into small pieces (without the stem). It's best to use shiitake because it has more umami, but champignons are perfectly fine if you have those in the fridge.

Slice the carrot a la julienne (thin strips).

Chop the green onions.

Rinse the pre-cooked rice under cold water for about a minute until the water starts to run clear. As you rinse, you remove the starch so the rice keeps its shape.

Now it's time to start cooking the ingredients, so add the chicken to the dashi soup and wait until it starts to boil.

Once boiling, add in your carrots and frozen edamame or peas, and let it boil for about 4 minutes or until the carrot is tender. You can poke it with a fork to check that it's adequately boiled.

Now it's time to add the salt and soy sauce for flavor and stir.

Slowly add rice and mushrooms. Cover the pot and let it cook away for about 10 minutes.

While the soup cooks, beat the eggs in a bowl.

Remove the lid on the pot and slowly drizzle in the eggs.

After a minute, remove the pot from the stove and stir in the green onion and garnish with sesame seeds.
Notes
You're ready to serve this tasty soup! All you have to do to serve it is add it to a smaller bowl and enjoy it while it's still hot. There are no real protocols or traditions about serving this soup. You can always garnish with extra toppings like spinach, seeds, or dried seaweed.
Nutrition
Calories:
854
kcal
Carbohydrates:
120
g
Protein:
39
g
Fat:
22
g
Saturated Fat:
6
g
Trans Fat:
1
g
Cholesterol:
165
mg
Sodium:
2200
mg
Potassium:
990
mg
Fiber:
5
g
Sugar:
3
g
Vitamin A:
2867
IU
Vitamin C:
6
mg
Calcium:
217
mg
Iron:
4
mg
What I like about this soup is its versatility. You can make it vegan by using kombu dashi and veggies only instead of eggs and meat.
Or if you want a good dose of protein, you can add beef or seafood instead of chicken.
Now, if you don't have any dashi, don't worry. It won't taste the same, but you can use chicken stock for this recipe. It's actually one of the dashi alternatives I recommend here.
And in this recipe, it'll work perfectly because you're already going for the chicken flavor. Plus, if you add shiitake mushrooms, you already get a little bit of umami from those!
You probably won't find zosui on restaurant menus in Japan, but some places serve it after you're done with a hotpot meal using the leftovers from your meal.
Talk about reducing food waste, right?
Zosui: nutritional information
About 100 grams of zosui soup has:
134 calories
2.4 grams of fat
22 grams of carbohydrates
5.5 grams of protein
So you can tell this is a relatively low-calorie and healthy soup.
The rice is your main source of carbs, but you can always use brown rice or just a bit less rice. Chicken and eggs are good sources of protein and fiber, which aids digestion and helps you maintain a healthy weight.
Soy sauce and dashi stock contain sodium, so try to use low-sodium soy sauce instead if you're concerned about salt intake.
Zosui recipe variations & substitutes
You can add pretty much whatever type of meat and veggies you like, although it's fun to make the original Japanese recipe.
Just don't hit yourself over the head if you don't have all of the ingredients. I'm all for finding good substitutes if it helps your cooking!
Meat & protein substitutes
I used chicken for this recipe, but you can easily replace it with thin beef strips or pork loin.
Seafood is another top option, and the best chicken substitutes and alternatives are clams, mussels, crab, salmon, and shrimp.
You want to match the amount of seafood you put into the soup with the amount of chicken you'd add, as you want it to have the same consistency and thickness.
It's very easy to use shrimp because you only need to cook it for a few minutes. I recommend medium-sized shrimp because it has enough meatiness to it so you can really feel full after eating the soup.
Egg is a significant source of protein in this recipe. It also adds a fluffy texture, so you'd want to try and keep that.
Vegan substitutes
Dashi substitute: Use kombu dashi, which is made from seaweed or a shiitake mushroom dashi. Kombu dashi has a similar flavor to regular dashi and gives that savory, fishy umami taste without bonito flakes.
Meat substitute: The most popular vegan meat substitute is tofu, so you can cut up tofu chunks instead of meat. If you're looking for a richer flavor, fry or grill the tofu before boiling it in the soup.
Egg substitute: Replace it with kelp (kombu). Seaweed has a thicker texture and can add color to the bowl. It's also crunchy, so it's a nice contrast to the soft rice.
Vegan tonyuu zosui
There's a vegan version of zosui called tonyuu zosui, which involves adding soy milk to the recipe.
Combine kombu or shiitake dashi with 1 or 2 cups of soy milk. It makes the soup very rich and creamy.
You cook the soy milk the same way you cook the regular dashi and water mixture.
Rice substitutes
Usually, it's best to use cooked short-grain white rice for zosui. But you can actually use brown rice, jasmine rice, long-grain rice, and even basmati.
However, be careful about how long you let the soup boil once the rice is inside, as some types of rice might get mushier faster.
Seasoning substitutes
This soup only needs some salt and soy sauce.
If you're watching your sodium intake, I'd recommend getting low-sodium soy sauce. You can also add a bit of miso or mirin to the soup (½ tbsp), but it alters the flavor.
You can also add a pinch of white or black ground pepper to the soup after garnishing it with sesame seeds.
Vegetable substitutes
You can add any vegetables (canned, fresh, or frozen) you prefer.
Here's what I recommend:
Bok choy
Spinach
Carrots
Celery
Cabbage
Pepper
Edamame
Peas
Mushrooms (any type)
Kombu
Bean sprouts
You can add pickled vegetables and kimchi too, for a richer flavor.
If you really DO have a cold or flu, add some fresh grated or pickled ginger to boost your immune system.
Origin of zosui soup
The origins of zosui soup are quite simple. There's no real set date about when it was invented, and the exact origin is still a mystery.
The Japanese are known for being conscious about food waste, and this soup was born out of a need to reuse leftover ingredients, especially cooked rice and veggie scraps.
Hotpot is a common way to enjoy steamed foods, and after you're finished cooking the hotpot, you're left with a lot of soup-like liquid. Therefore, people decided to add leftover rice, different vegetables, and meaty bits to make a thicker soup.
This idea became so popular that households all over Japan resorted to making zosui. Most of the time, people have the ingredients they need in the fridge and pantry, and with a bit of dashi, you can make a hearty soup in about 30 minutes.
However, one thing to note is that many Japanese people associate eating zosui with cold weather and having a cold or flu. It's kind of like the equivalent of chicken noodle soup in Western cultures.
When you feel ill, you just have to eat a bowl of hot soup, and since this one is easy for the stomach to digest, it's the ultimate comfort food.
Zosui vs. other Asian soups & foods
Zosui is often mistaken for another Japanese soup that's popular during the winter called ojiya (おじや).
It's also a rice soup with almost identical ingredients, but they differ in how you prepare the rice and the final seasoning.
Most people actually use the terms "zosui" and "ojiya" interchangeably because the two are oh so similar, but if you want to get technical about it, I'll tell you the difference.
When you make zosui, you have to rinse the precooked rice first to remove the starch.
Then when you cook it, you don't overcook it to avoid making it too mushy, as it should retain its shape. Zosui rice should be sticky but not overly clumpy.
For ojiya, you don't have to rinse the rice, and you let it cook until it becomes quite mushy and soft.
Then finally, it comes down to different seasonings.
For zosui, you only add soy sauce, which gives it that savory flavor, whereas, for ojiya, you add soy sauce, as well as miso for that fermented umami flavor.
Okayu is another Japanese rice soup, but it's made to resemble congee and you have to cook the rice in the soup.
It's served with pickled plum (umeboshi) and other pickled vegetables. It has that gooey and squishy texture most associated with porridge.
Zosui is also often compared to Chinese rice porridge, called ongee, except this is an actual soup. Congee is a thick rice porridge with a pudding consistency, but it has quite a bland taste, so people usually serve it alongside meaty side dishes.
Learn more about Japanese soup culture and the different kinds of soups
Feel better with a bowl of zosui
If you're feeling sick and cold, and you want an instant pick-me-up, don't hesitate to grab some dashi, cook some rice, and start making tasty zosui.
Now, dashi is the soup base and it really makes all the difference, but if you can't get the kombu to make it (I know some countries don't have it), here are some ways to make dashi without kombu for the perfect umami taste. There you'll find some great ways to still get that Japanese umami flavor.
It's kind of like having soup and a consistent rice dish at the same time. It's not quite the liquidy soup you'd expect from something like miso, for example, but it's also not as thick as congee porridge.
So, it's a great way to eat healthy ingredients and still feel full!
Another flu fighting Japanese dish is negi. Read all about negima food and negi onion here!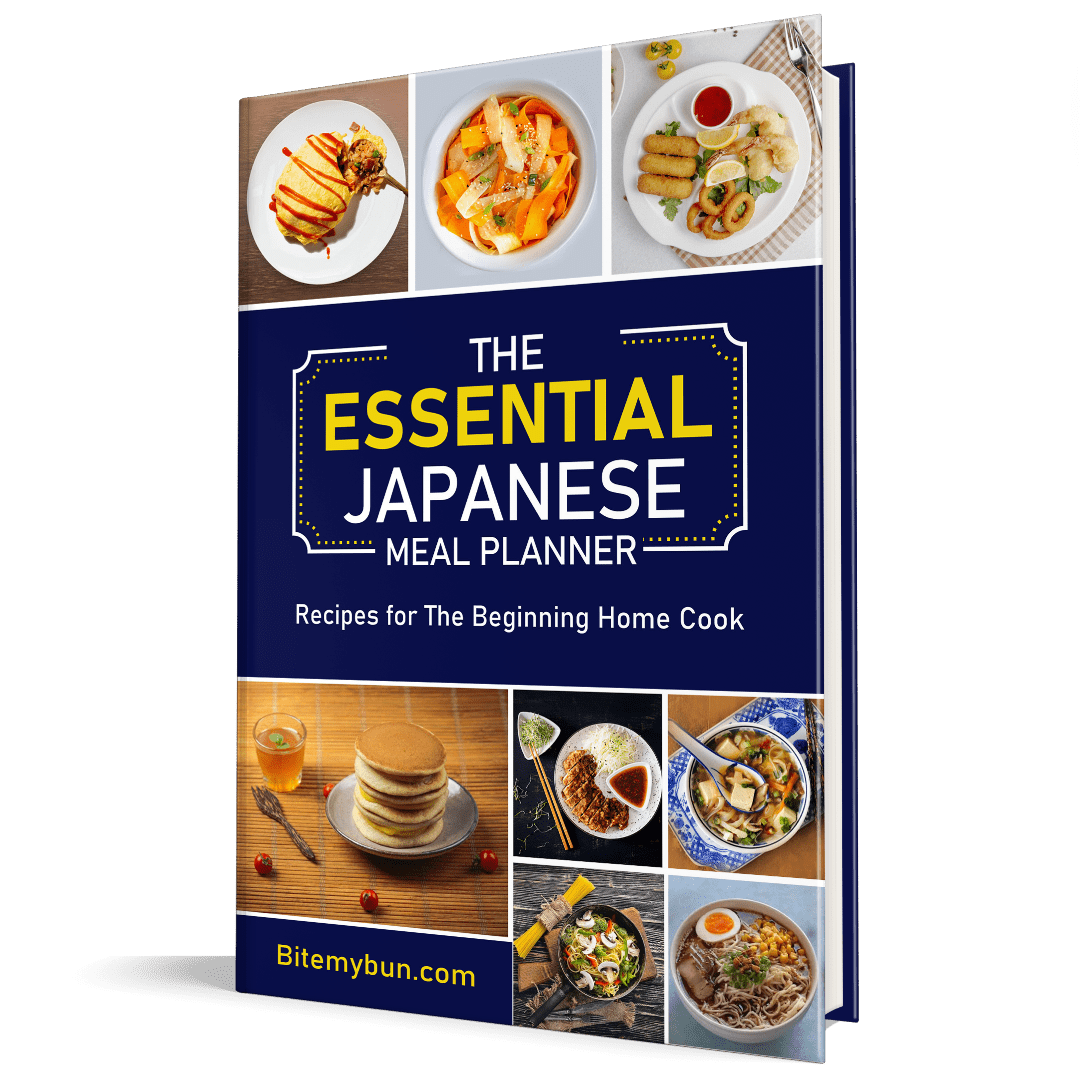 Check out our new cookbook
Bitemybun's family recipes with complete meal planner and recipe guide.
Try it out for free with Kindle Unlimited:
Read for free
Joost Nusselder, the founder of Bite My Bun is a content marketer, dad and loves trying out new food with Japanese food at the heart of his passion, and together with his team he's been creating in-depth blog articles since 2016 to help loyal readers with recipes and cooking tips.