I love creating free content full of tips for my readers, you. I don't accept paid sponsorships, my opinion is my own, but if you find my recommendations helpful and you end up buying something you like through one of my links, I could earn a commission at no extra cost to you.
Learn more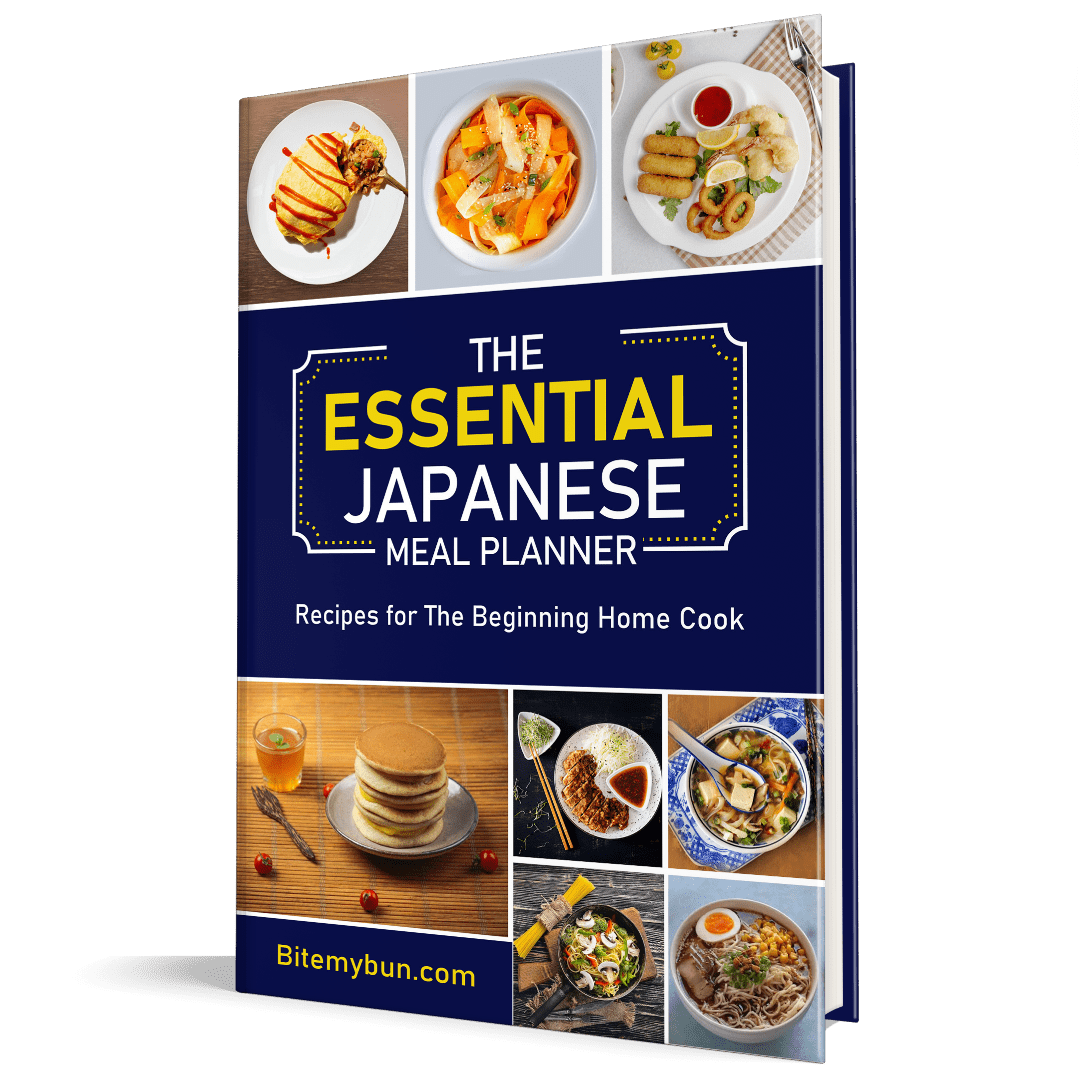 Check out our new cookbook
Bitemybun's family recipes with complete meal planner and recipe guide.
Try it out for free with Kindle Unlimited:
Read for free
Tofu is a very useful plant-based food and is a traditional component of East Asian and Southeast Asian cuisines.
It is believed that tofu originated in ancient China and according to Chinese legends it is the Prince Liu Ann of the Han Dynasty that invented the coagulated soy milk blocks around the years between 179–122 BC.
When soybean is mixed with water to form coagulating soy milk the resulting curds is then pressed and formed into solid white blocks of varying softness.
The tofu can be made to have varied texture ranging from silken soft, soft, firm, or extra firm depending on which food recipe it will be incorporated with later on.
Since the tofu almost has no natural flavor of its own, it can be used in savory and sweet dishes that chefs often seasoned or marinate in order to blend it into the dish and its flavors.
The tofu has similar properties with sponges and therefore it can also absorb the flavor of the recipe that you prepare when you incorporate it into the hotpot or saucepan.
This is the reason why many people love to eat it. It is also a low-calorie vegetable that sometimes mimic certain meat types, which makes it delicious to consume.
Tofu in Teppanyaki
For over a thousand years the Chinese, Japanese, and other Asian countries have been using the tofu as a vegetable additive to their dishes and it would not be until the word "tofu" would be recorded in the letter of English merchant James Flint that he wrote to Benjamin Franklin in 1770.
Interestingly, tofu would also not be included in teppanyaki-style recipes in Japan until the teppanyaki iron griddle was invented after WWII.
Today, however, tofu can be seen in just about every teppanyaki recipe that teppanyaki restaurants offer!
Can you make tofu on an Hibachi grill? You'd have to use a teppanyaki stovetop plate
Health Benefits of Tofu
Tofu comes from soybeans and soy protein is an enzyme that helps reduce LDL or low-density lipoproteins and keep our hearts healthy.
For women, the phytoestrogens (also called isoflavones) are chemical compounds found in plant foods that helps fight breast cancer, which is why doctors recommend women who will be entering their menopausal stage include soy-based foods like tofu in their diet.
If you eat tofu that's included in teppanyaki recipes, then you will in effect gain more health benefits besides the ones mentioned above as teppanyaki foods are mostly vegetables, seafood, and white meat.
Some Teppanyaki Tofu Recipes to Try at Home
If you already own a teppanyaki grill or are still in the process of getting one, then you may want to take interest in some of the tofu teppanyaki recipes we've prepared for you below.
Japanese Teppanyaki tofu & veggies recipe
Very healthy and great if you want to go meatless in your Japanese cooking.
Ingredients  
1

tbsp

mirin

1/3

cup

tamari or low sodium soy sauce

1

sesame seeds

1

tsp

maple syrup

1/2

tsp

ginger

grated

1/2

tsp

garlic

finely minced or pressed

1 1/2

tsp

lime juice

2

tsp

cornstarch

1

large

red onion

12

ounces

tofu

extra firm, drained, patted dry and cut into 24 1-inch cubes

16

mushrooms

cleaned with stems removed

1

zucchini

sliced

2

red bell peppers

sliced
Instructions 
Heat up a small saucepan with low heat and combine the lime juice, garlic, ginger, maple syrup, 1/4 cup of water, tamari, and mirin in order to make the tamari-ginger glaze. Bring the ingredients to boil and allow to simmer for 5 minutes.

While you're preparing the tamari-ginger glaze simultaneously mix the cornstarch and 2 teaspoons water in a very small bowl and whisk them for 60 seconds. Afterward, pour the cornstarch mixture into the tamari mixture in the saucepan and cook it until it becomes a thick and syrup-like sauce (this should only take about 1 minute). Transfer the mix from the saucepan into a clean small bowl and let cool.

Preheat the teppanyaki grill.

Use a water bottle spray and put cooking oil inside to spray the teppanyaki grill surface with oil in order to prevent the vegetables from sticking to it. Add the vegetables to one side of the teppan and the tofu next to it (or use two separate pans if your using skillets). Place a lid to cover the tofu and allow to cook turning once to cook each side for about 5-6 minutes.

Once all sides have a brownish tint, then transfer the tofu into a sheet pan and brush them with the tamari-ginger glaze that you've prepared earlier. Then add some sesame seeds.

Add salt and pepper to taste to the vegetables and serve alongside the tofu with some steamed rice.

Serve as is or you may choose to add one or more Japanese sauces to satisfy your taste.
Grilled Tofu Teppanyaki skewers
Ingredients:
1 cup balsamic vinegar
1/2 cup malt vinegar
1/3 cup Worcestershire sauce
3 tbsp tomato paste
1 tbsp brown sugar
2 tsp garlic powder
2 tsp onion powder
1/2 tsp salt
1/4 cup teriyaki sauce
For Grilled Teppanyaki:
wooden skewers
firm tofu
teppanyaki sauce
yellow zucchini
red onion
Cooking Instructions
To make teppanyaki sauce:
Heat up a large and wide frying pan in the stove and set temperature to high heat. Pour the balsamic vinegar and boil it for 2-3 minutes until the liquid is reduced by half.
Toss in the remaining ingredients into the pan and keep cooking.
Whisk the mix contniuously for another 2 – 4 minutes until the mix thickens. Turn off the stove and transfer the mix into a clean bowl, then let cool.
To make grilled tofu teppanyaki:
Soak the skewers in water for about 20 minutes, and then pat the 340 grams firm tofu dry with paper towels.
Slice the tofu into large cubes and add the 1/2 cup teppanyaki sauce into the freezer bag to marinate.
Refrigerate the freezer bag with the sliced tofu in to for at least 4 hours or keep it in the fridge overnight.
Pre-heat the teppanyaki grill to medium heat.
Take the skewers and thread the vegetables and tofu into it. You can alternately impale the tofu, yellow zucchini, and red onion slices into the skewers or in whichever order you would want them to be.
Sprinkle the vegetable oil over the grill and BBQ skewers and grill it for 2 – 3 minutes for each side until the tofu and vegetables are cooked and has a brownish color to it.
Teppanyaki Sesame Tofu with Soba
Ingredients:
1 Teaspoon sesame oil
2 Tablespoon teriyaki sauce
410 Grams cut into 4 thick slices firm tofu
2 Tablespoon sesame seeds
1 Tablespoon mirin
2 Teaspoon reduced salt soy sauce
1 Tablespoon extra virgin olive oil
1 piece Carrot cut into thin strips
16 yards long snow peas/snake beans
1 Cup (16 tbs) Bean sprouts
2 Green onions white parts cut into 2 inch batons and green tops shredded
2 Cup (32 tbs) watercress broken into sprigs
8 Ounce (250 Gram) cooked soba noodles/rice noodles
Cooking Directions:
Pre-heat the teppanyaki grill and set the temperature to high heat.
Combine 1 tablespoon of teriyaki sauce and sesame oil in a small bowl, then mix thoroughly. Brush this miz on both sides of the tofu and then sprinkle the top side of each tofu piece with the sesame seeds. Pour the soy sauce, mirin, and the remaining teriyaki sauce into the small bowl where you mixed the sesame oil and teriyaki sauce earlier, then mix thoroughly and set aside for later use.
Take a basting brush and brush the teppanyaki grill with some olive oil. Put the tofu in after 20 seconds (the side where the sesame seeds are sprinkled facing the grill surface) and cook for 120 seconds. Sprinkle the rest of the sesame seeds over the tofu and then turn it over to face the grill surface also and cook for 2 more minutes until the tofu becomes crispy. Transfer the tofu into a clean plate and keep warm.
Brush the grill with some more oil and stir-fry the vegetables. Add the green onion batons, bean sprouts and snow peas and stir-fry for 2 – 3 minutes or until they become tender and crispy.
Pour the soy sauce that you've prepared earlier and stir-fry the vegetables for another 60 minutes.
Divide the hot soba between individual noodle bowls. Top with watercress. Fill a spoonful with the stir-fried vegetables and top each noodle bowl with it and the tofu. Garnish with shredded green onion tops.
Tofu Steak
Ingredients:
15 ounce block extra firm tofu
Salt and pepper
2 tablespoons grated or finely minced garlic
3 tablespoons all-purpose flour
3 – 4 tablespoons sesame oil
Choose a topping/garnish with this vegetable selection: soy sauce, ponzu, sambal oelek, grated daikon radish, sliced scallions, sliced leeks, shichimi togarashi, lemon zest, etc.
Cooking Directions:
Soak the tofu in water for about 30 minutes, drain it afterward and then pat it dry with paper towels. Cut the tofu into 4 large cubes and pat them dry again with paper towels, then let them sit on some more dry paper towels, so they can absorb any remaining moisture and to ensure that the tofu will be dried out thoroughly. Drizzle the tofu this time with salt and pepper on all sides and sprinkle the minced garlic over them as well. Lightly coat the slices with the flour.
Pre-heat the teppanyaki grill and pour the sesame oil on the grill surface. Once the oil is hot enough to cook the tofu, then add the tofu slowly and cook it until it gets that brownish tint to it and becomes crispy. Make sure to cook all the sides and then let it sit on top of paper towels over a clean plate to remove excess oil.
Add your toppings of choice or garnish it with any of the vegetable combination above, then serve the tofu.
Also, check out these vegetables grilled on a teppanyaki plate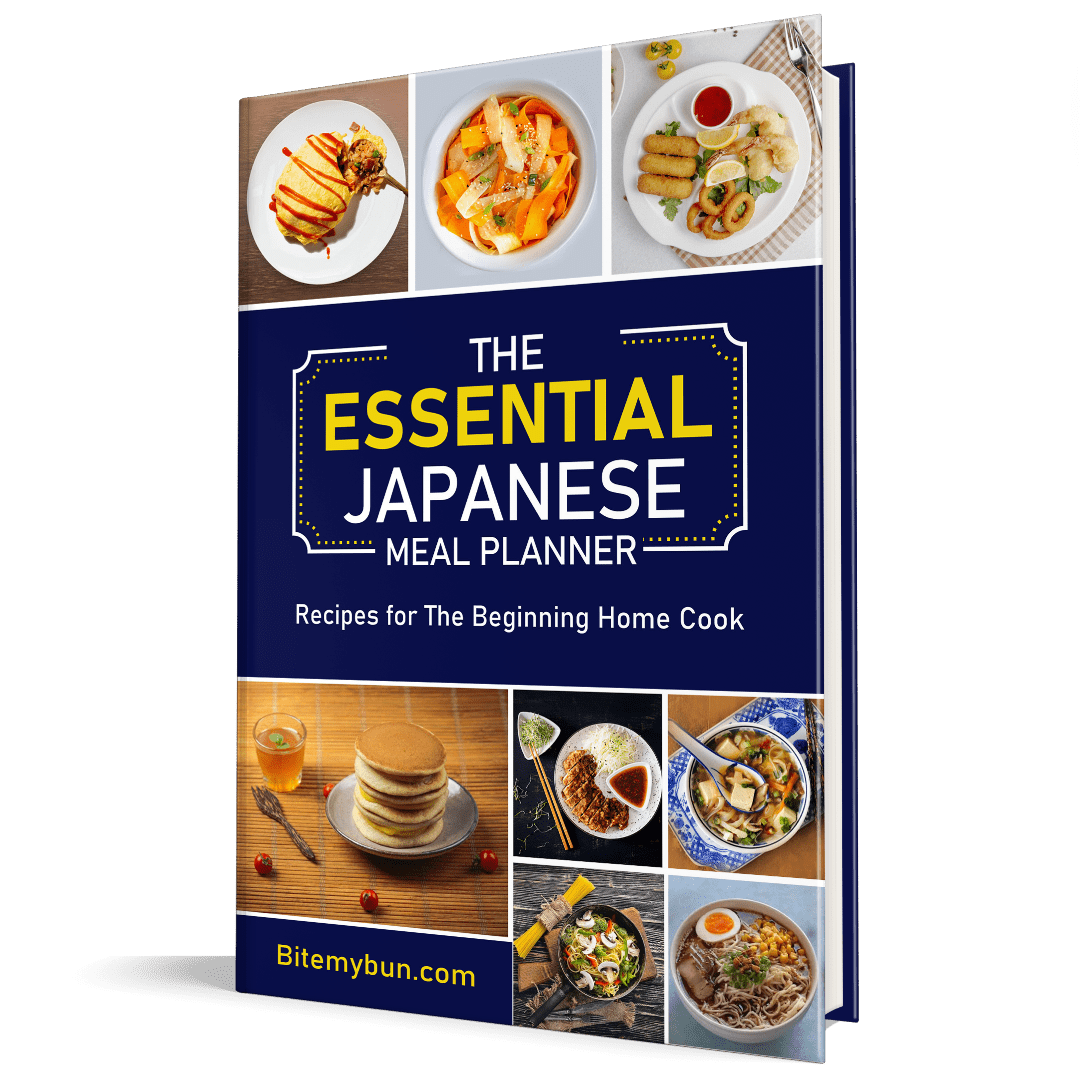 Check out our new cookbook
Bitemybun's family recipes with complete meal planner and recipe guide.
Try it out for free with Kindle Unlimited:
Read for free
Joost Nusselder, the founder of Bite My Bun is a content marketer, dad and loves trying out new food with Japanese food at the heart of his passion, and together with his team he's been creating in-depth blog articles since 2016 to help loyal readers with recipes and cooking tips.