9 Best Teppanyaki Grills For Your Home: Electric Indoor & Built-In
I love creating free content full of tips for my readers, you. I don't accept paid sponsorships, my opinion is my own, but if you find my recommendations helpful and you end up buying something you like through one of my links, I could earn a commission at no extra cost to you.
Learn more
Teppanyaki is AWESOME and perfect for those long dinner parties where you can just chit-chat and eat all night.
I use stovetop grills myself now but bought a tabletop grill when I first started and would advise you to get the Zojirushi Gourmet Sizzler, which is one of the best premium Japanese tabletop electric teppanyaki grills I've found for such a great price.
For beginners, I'd recommend starting with a tabletop grill and seeing if it suits you, but in this article, I'll cover all bases while I review the 9 best teppanyaki grills.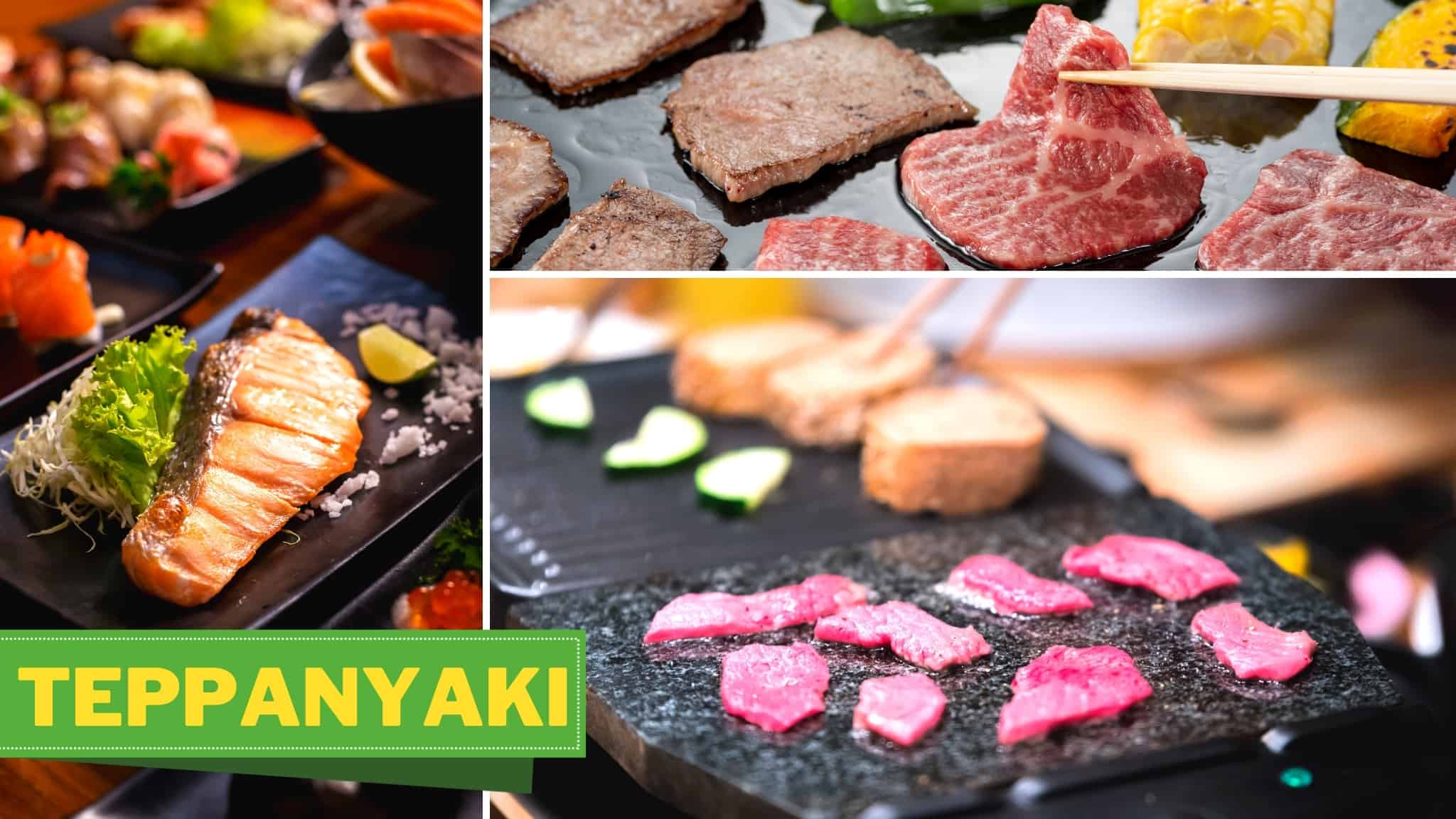 This way you can start creating your own teppanyaki dishes with ease and see if it's for you, and eventually maybe upgrade.
Let's take a quick look at the different options you can buy. Each of these I found to be the best in their category. After this overview, I'll discuss each option more in-depth:
You can see the stovetop grill that I'm using right now is on there as well, but be sure to start with a tabletop grill if you're just starting out. Especially if you want to use it for parties.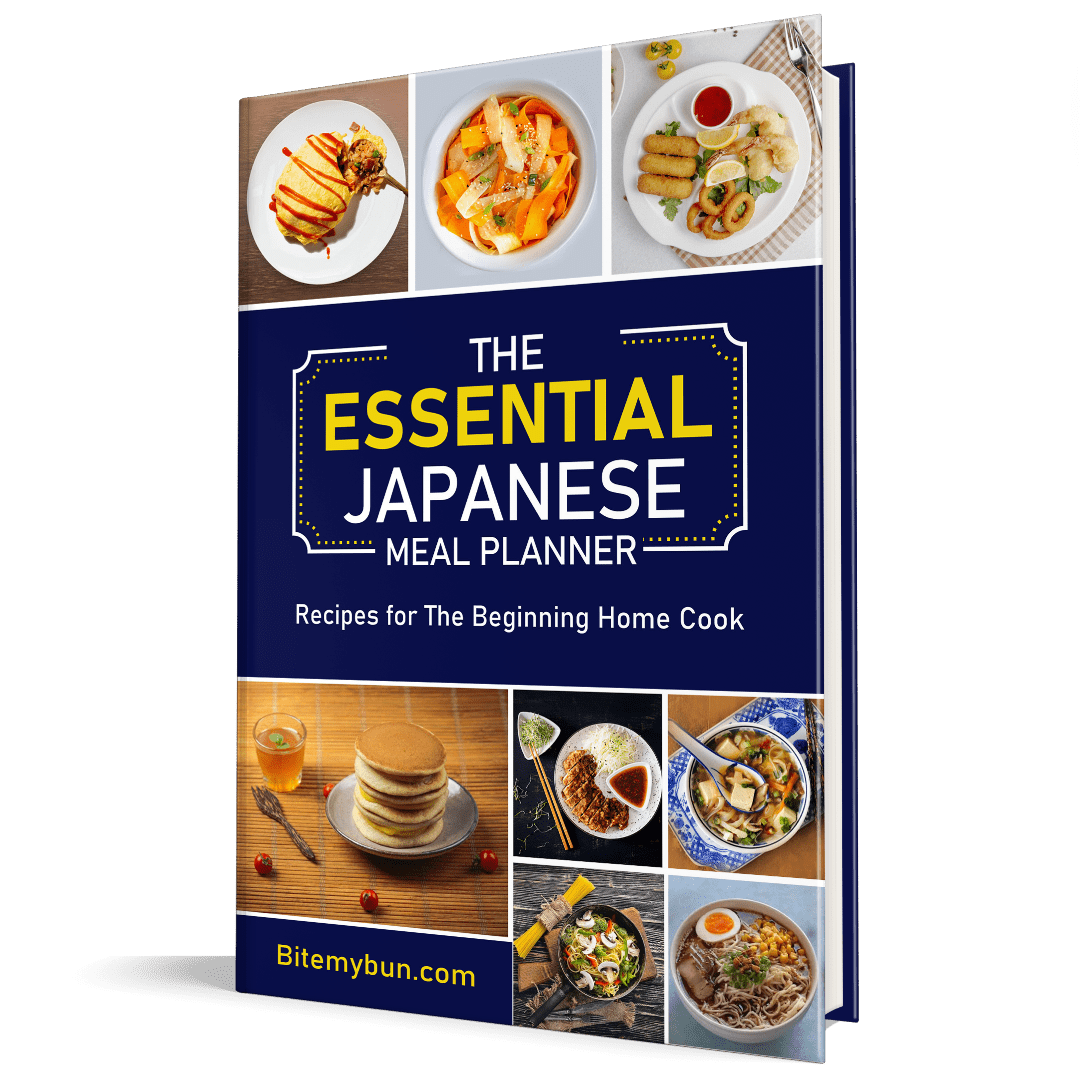 Check out our new cookbook
Bitemybun's family recipes with complete meal planner and recipe guide.
Try it out for free with Kindle Unlimited:
Read for free
Teppanyaki grill buying guide
There are a few things that go into the cost of a tabletop teppanyaki grill:
Tabletop vs stand-alone vs built-in teppanyaki grill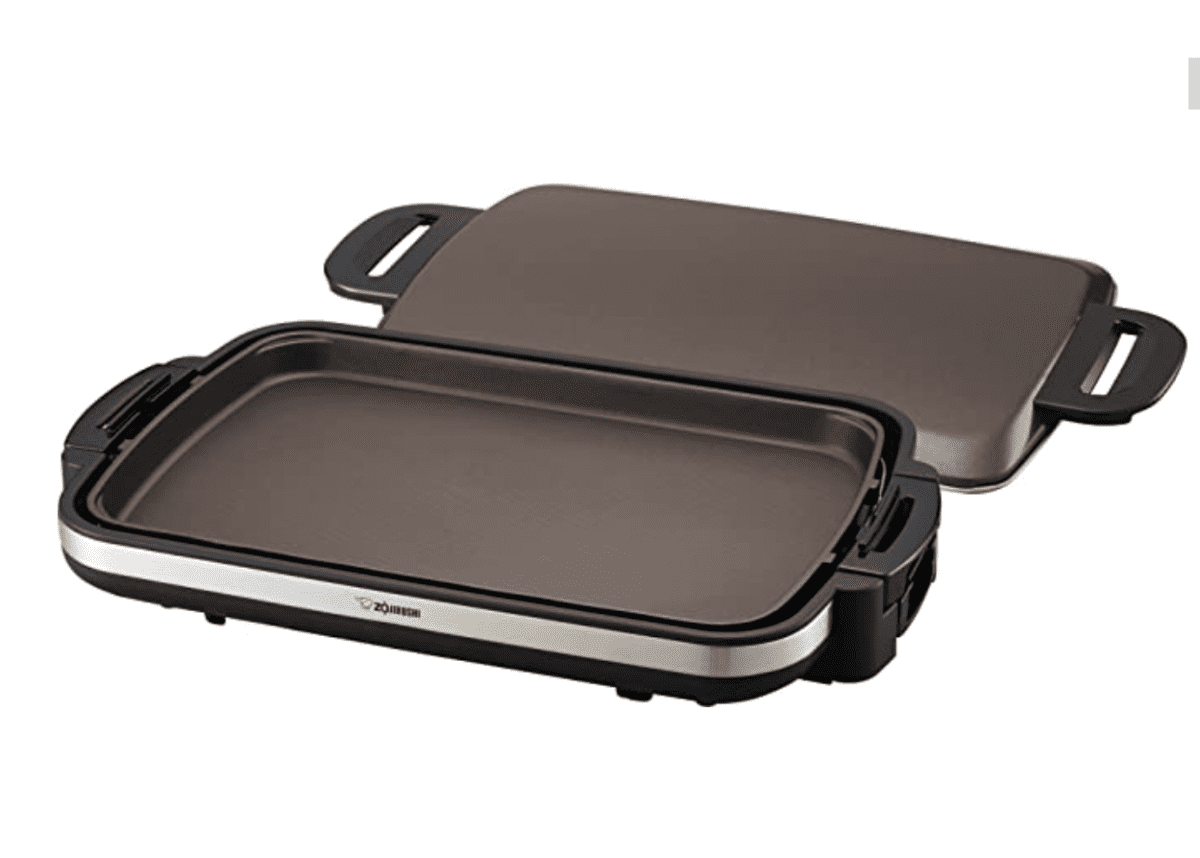 If you're using your teppanyaki grill indoors, it should be an electric device because this is the only safe choice for apartments and indoor settings.
With this kind of indoor electric cooker, you can start grilling in a couple of minutes. 
That's one of the major reasons these became so popular so fast. Plus, everyone can join in at the table, cooking their own pieces of meat and vegetables, although that's not very traditional.
These grills are efficient as they maximize the available heat and very little energy goes to waste.
Tabletop electric grills are the cheapest option.
An outdoor teppanyaki grill is usually fueled by natural gas or propane burners. These require a propane tank so you must have a full one on hand to ensure you don't run out of fuel mid-cook. 
A standalone outdoor grill in your yard incorporates the best things about grilling outside, while still letting you be able to cook semi-solid foods like noodles and eggs.
They are usually larger than tabletop grills and lend themselves better to larger parties, although only one person will be doing the cooking mostly.
A standalone grill is adaptable to suit any outdoor area. It is a very portable grill that can just be moved to any location for camping or caravanning or if you want to use your deck or patio.
This is the medium-priced option.
A built-in Teppanyaki grill is quite a package. It is spacious and can be partitioned into a counter and a space for the actual grilling. It also safeguards the components of your grill from getting damaged.
Built-in grills add sophistication to your outdoor space, make an area for indoor and outdoor cooking, and create a boundary between your grilling space and deck or patio.
If you have a large yard that you intend to use for barbecues, then a built-in grill in an actual outdoor kitchen is probably the way you want to go, and some space for the grill should be kept in the design.
This is the most premium-priced option.
Quality of the cooking surface
This is probably the most important part of the grill as it is where you'll cook your food (although it won't do you any good if it can't reach the right temperatures).
It needs to be of good non-stick quality so your teppanyaki dishes will be easy to move around (that's a big part of the cooking style), and it should be easy to clean afterward.
The two best materials for stovetop teppanyaki grills are:
stainless steel which is very easy to clean and you can use the Teppanyaki spatula and scraper on this type of surface. Plus you have the option of creating warm and cold spots to grill on one side and keep things warm on the other.
cast iron. Cast iron is an excellent heat conductor and that's why it's the best material if you want the griddle to heat up and cook food evenly. With a cast iron grill though, the whole cooking surface will have the same temperature, so there are no hot or cold spots you can utilize to your advantage.
The best material for a tabletop teppanyaki grill is a ceramic grilling surface with a nonstick coating. It's what separates the premium Zojirushi from the cheap Presto Slimline, which is full aluminum.
The size of the grill
Another thing to look out for is the size of the grilling surface. You will probably need a fair amount of room if you're going to be cooking teppanyaki style.
This way you'll be able to move around all of the separate food you're preparing without them interfering with each other.
The other thing about a large surface is the ability to use it at a party where you or your guests can all cook at the same time.
Outdoor teppanyaki grills are much larger than small countertop or tabletop electric cookers. But, those are more practical for couples and small apartments because they are easier to store and you can always batch cook if you need to make more. 
Wattage
The grill's wattage is calculated in watts and refers to how powerful the grill's heating element is. 
Most small appliances like these electric grills use between 1000 – 2000 watts so they're quite energy efficient. However, ones like the Princess brand uses 2500 watts so it's powerful and you can cook at high temperatures. 
The higher the wattage, the better, because the grill can cook at higher temperatures and distributes the heat more evenly. 
Cleaning
Aside from the right cooking surface for cleaning, ideally, your grill should be able to be taken apart for easy cleaning.
At least the cooking surface should be able to be removed so you can thoroughly clean it without damaging any electrical parts.
Some grill plates like Little Griddle even have removable side handles, so it's easy to clean.
Some electric griddles have components that are dishwasher safe. However, for most teppanyaki grills, you can clean the cooking surface with soapy water by hand. 
Handwashing is the best way to ensure the grill doesn't get stretched and damaged. Then, while you're cooking, you can always use the grill scraper to rub off stuck-on foods.
Best types of teppanyaki home grills
There are 6 types of choices you can make when looking at a teppan grill for your home:
type: electric 
watts: 1350
size: 23.63 x 15 x 4.38 inches
cooking surface: 19″ x 12.5″ 
material: aluminum + titanium nonstick 
If you're looking for the best authentic Japanese electric teppanyaki grill, the Zojirushi is the one that performs best, cooks the food fast, and doesn't make the food stick. 
Unlike Teflon or other similar cheaper nonstick coatings, Zojirushi uses a titanium ceramic coating that is truly nonstick and you can depend on it.
Be sure to use suitable plastic utensils to avoid scratching them but there's not much sticky mess you need to remove. 
The Zojirushi stands out from other similar grills because it also has a lid which is great if you want to make juicier foods, not just pancakes, and Japanese BBQ. You can also cook healthier because when you put the lid on, you can steam meats and vegetables. 
Actually, you can make anything on this thing, so you don't just have to use it for Japanese cuisine.
If you're looking for an electric grill that actually heats up evenly on the entire cooking surface, the Zojirushi is great. It's one of the few electric teppanyaki machines that has a heating element located separately from the plate.
Therefore, the flat plate heats up from hot air, not the heating element so air spreads out evenly and doesn't get hotter over the element. 
You can cook at 325 – 350 degrees without worrying about hot oil splattering all over the place. Even if you make sausages and eggs or greasy bacon, you won't get oil splatter and the grill doesn't get smoky. 
Unfortunately, the grill doesn't quite reach 400 degrees as advertised so it takes longer to cook some foods. Also, the titanium nonstick coating is fragile and gets scratched easily. 
This grill is extremely easy to clean because all the pieces are removable so you can simply wash them. Just be sure to handwash everything to protect the nonstick surface. 
So, overall, this is the best teppanyaki tabletop electric grill and it is more versatile than other similar products. It has a large cooking surface and you can make any type of food!
Best cheap tabletop Teppanyaki grill: Presto Slimline
type: electric 
watts: 1500
size: 22 inches
cooking surface: 13×22 inches
material: aluminum + nonstick 
If you want a cooking area as large as the grill itself so you're not wasting space, the Presto Slimline 22″ flat griddle is the best way to cook all your favorite Yakiniku dishes at once. 
The Presto is one of the best teppanyaki flat griddles because it has a nonstick coating, heats up fast, and has temperature control settings so it's easy to use for everyone, even beginners. 
This product is great for indoor parties and the occasional grilling, especially if you love making breakfast and grilled foods at home.
It's not quite a professional grill plate, but very close and a lot of fun and great to get you started.
And why would you need a professional piece of equipment for home cooking? If you're looking to have a great time entertaining your guest, this one would be my choice.
You can use it to cook dinner at the table, as they would do in a restaurant, and maybe even try your knife tricks :)
Or you could have everyone cook their own meats and vegetables each on their own corner of the cooking surface. That's also always fun to do.
The electric ceramic griddle is a great family-size cooker. It's very inexpensive and you can use it to cook all of your favorite teppanyaki dishes like sirloin steak in the comfort of your kitchen. 
Since it has a non-stick surface, it's easy to cook on this grill without the meat and vegetables getting stuck on the grill's surface. 
The griddle also has a drip tray that collects the fats and juices so the grill is easy to clean after each use because it's removable.
One disadvantage is that the electrical cord is quite short so it might be hard to place on the table if your power outlet is farther away. 
Now that you have an idea for a grill, you can get excited about the tools!
It's the best cheap teppanyaki because you can use it on your table or countertop and it's very budget-friendly but more durable than similarly priced griddles. 
Check out the latest prices and availability here
Zojirushi vs Presto Slimline
If you like to cook Teppanyaki on your countertop or tabletop, your best options are the Zojirushi and the Presto Slimline electric grills.
The first major difference between the two is the price: the Zojirushi is double the price of the budget-friendly Presto. 
But, you have to consider the fact that Zojirushi is a traditional Japanese brand and this teppanyaki grill is specifically designed for this style of authentic cooking.
Thus, it has a lid too which is a feature that none of the other grills on my list have.
If you just want a simple flat griddle that heats up quickly and evenly, the Preso won't disappoint. Actually, the Presto is a bit more powerful than the Zojirushi.
The Japanese grill is much better when it comes to clean cooking because it doesn't require much oil and it doesn't splatter at all.
If you put the lid on, then you can even steam your food. So, you can make delicate foods like fish and seafood (like these delicious Teppanyaki salmon recipes) without any of it sticking to the grill surface. 
At the end of the day, these grills are very similar and made of the same aluminum nonstick material. It all comes down to what you're willing to pay for a teppanyaki electric grill and if you're a stickler for traditional teppan-style cooking. 
Best infrared Teppanyaki grill: Princess Japanese & Korean BBQ
type: electric infrared
watts: 1300
size: 24.17 x 8.74 x 2.76 inches
cooking surface: 209 sq. inches
material: wood base and stone plate
If you want to cook the healthiest Japanese and Korean foods using as little oil as possible, the Princess stone teppanyaki grill is the most efficient infrared griddle. 
Japanese and even Korean cuisine is known for its healthy dishes, but you'll need the right tools to make sure you get the most out of your food.
If you like to make sure you can get great grilled vegetables and meats on skewers that don't stick or even be able to toss your ingredients with great ease around on your cooking surface, without using a lot of oil, Princess Grill is your best bet.
Its ceramic non-stick surface is one of the best I've seen so you don't need to use a lot of oil in the first place, but there's a strategically placed hole right in the middle of the grill plate that just carries away all of the cooking juices, even from your meats.
This grill is more expensive than most other electric tabletop cookers but for a good reason. It's made of natural and healthy materials that offer amazing heat distribution and retention. 
Unlike the other electric grills, this one cooks via infrared and this infrared effect draws out the juicy flavors of the meat.
The grill base is made of sturdy bamboo wood and it has a stone ceramic flat plate. This offers amazing thermal conductivity so your foods sizzle on the whole cooking surface.
There are no hot spots and you can cook faster than with other electric teppanyaki griddles. 
The ceramic plate is infused with crystals. These crystals increase the plate's heat storage capacity so the one downside is that it takes longer for the grill to cool down after use. So, you need to be careful not to touch it for a while. 
You can pick up the grill via the wooden handle-shaped edges and carry it around the kitchen because it's pretty lightweight at 9.5 lbs. 
The grill temperature can be adjusted in steps and it goes up to 482 degrees F, which is higher than all the other electric grills on the list. So, if you like to make sizzling steaks and Yakitori, this stone plate is the best choice. 
Best kitchen countertop Teppanyaki grill: WeChef Professional
type: electric 
watts: 2500
size: 23.9 x 18.9 x 9.3 inches
cooking surface: 23 x 16 inches
material: stainless steel & cast iron plate
If you prefer an American-style stainless steel griddle, the WeChef is the electric grill many people rely on for the tastiest breakfast. 
This griddle is at a similar price point to the Princess stone grill, but it's a fully electric alternative for those of your more comfortable with a cast iron plate.
The advantage is that you can use your teppanyaki tools and accessories with this grill without scratching the cooking surface. 
WeChef is the perfect electric Teppanyaki countertop grill for cooking meat, vegetables, scrambled eggs, and grilled cheese.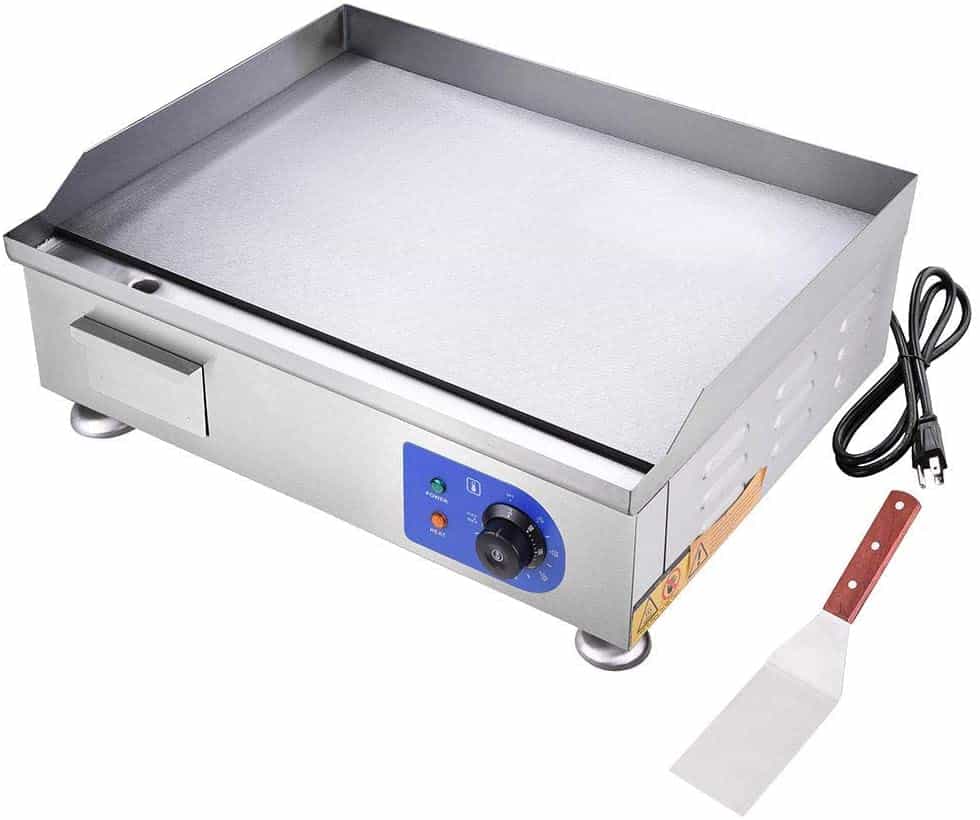 This is a powerful griddle and it comes equipped with thermostatic control that enables you to adjust its temperature to fit the desired cooking requirement for your different meals.
The grill is easy to use and is ideal for both commercial and home use. It fits onto most kitchen countertops because it's a compact grill. 
Also, my favorite feature is that it has special splash guards that prevent oil and grease splatter from getting all over your kitchen, furniture, and walls.
This is the feature all the other electric griddles lack and it makes the WeChef much more heavy-duty, even if you decide to make a ton of oily bacon. The splash guards are 2 inches tall and located on all 3 sides of the griddle. 
This grill has adjustable feet so you can incline the cooker to make the grease drip into the grease collector pan. 
When you're done cooking, you can remove the grease tray and wash it. Overall, it's just very convenient to use for any type of cooking. 
Just be sure to wipe down the elements after cleaning and dry it well because the stainless steel gets rusty so I'm not convinced it's made of the highest quality materials but the cast iron plate stays in good shape as long as you use plenty of oil when cooking. 
But overall, this is like having your own small restaurant griddle station in your own home. 
Princess Stone Grill vs WeChef Electric
These two teppanyaki grills are very different from each other. The WeChef is a restaurant-grade countertop grill with a stainless steel build. It has three side walls and splash guards for easy, mess-free cooking, even when you use lots of oil. 
The Princess ceramic grill is a traditional Japanese and Korean stone cooker. This material is superior to steel because it offers amazing heat retention, distribution, and a hot spot-free cooking surface. 
WeChef has a traditional grease trap whereas the Princess has an interesting grease slot in the middle of the plate which lets all the oil and fats drip down.
That's the reason why the Princess is considered to be one of the healthiest electric infrared cookers on the market.
So, if you want to make very healthy Japanese bbq and are generally interested in healthy cooking methods, the Princess griddle is worth the investment. Ceramic material is great for oil-free grilling, especially for delicate meats, fish, and seafood. 
If you want a speedy and practical restaurant-style griddle for bacon, eggs, hashbrowns, and pancakes, the WeChef is much more powerful and will make your food sizzle. Just be prepared to smoke up the house a bit so avoid cooking right near the fire alarms.
You've got to decide between a premium stone grill that's very well built or a simple yet durable American griddle. I guess it depends on your cooking style!
Best large electric Teppanyaki grill: Costzon 35 inch
type: electric 
watts: 2000
size: 35 x 9 x 4.4 inches
cooking surface: 316 sq. inches
material: aluminum & nonstick coating
If you have a large family or you love to entertain guests with tasty indoor barbeque, you have to try the extra-large Costzon grill which at 35″ can fit meats, veggies, and even foods like cheese and tofu. 
This electric Teppanyaki grill comes with 2 nonslip egg rings and 8 wood spatulas. That means you can cook your favorite meals on these grills for your family and friends, including restaurant-style breakfast. 
It has a large cooking area (316 sq. inches), which is enough for you to entertain your family or guests at a party.
Since this grill comes with several spatulas, it means that you can get everyone involved in the cooking, which can make everyone happy. Interesting, isn't it?
Japanese yakiniku traditions are all about communal cooking where each person can cook his or her own foods. 
The Costway electric Teppanyaki grill has a non-stick surface, which means it requires very little or no oil when cooking. This means you can make healthy dishes with no added fats.
In addition, it comes with a drip tap that helps in draining any excess oil and fat when cooking.
This means the grill assists in offering healthy and low-fat meals. In addition, the non-stick surface allows you to clean the grill without any challenges after cooking.
One interesting thing about this grill is that it has an adjustable thermostat, which features 5-temperature settings ranging from low to high. 
Therefore, you can easily adjust the suitable temperature you need for the food you are cooking.
So, you don't have to worry when cooking things like beef, chicken, vegetables, and fish since the temperature control ensures that you cook every meal to perfection.
The grill's handles are covered with an insulated cover, which means you can move the grill to your kitchen or garden conveniently and safely.
Furthermore, its legs have non-slip pads that protect your cooking platform from the heat produced by the grill. In addition, the non-slip pads ensure that your grill is stable when cooking.
One interesting thing about this grill is its portability as it is ideal for camping, caravanning, and traveling as well.
Some customers note that the cooking plate has some uneven heating spots around the edges and it takes a bit longer to heat up than the Preso Slimline grills but overall since it is a larger cooking surface, it's to be expected.
If you want to have fun entertaining at home with an easy-to-use grill, I highly recommend the Costzon because it performs better than the competing Mellcom grill. 
Best indoor & outdoor Stovetop Teppanyaki grill: Everdure Furnace
type: stovetop & grill top
size: 17.1 x 10 x 3.4 inches
cooking surface: 170 sq. inches
material: stainless steel
Are you uninterested in electric teppanyaki grills? If you want a portable griddle plate you can use on the stovetop or on your outdoor grill, the Everdure Furnace is the one flat griddle most pitmasters recommend. 
Though it's designed for the Everdure outdoor propane grills, it's a very thick plate that heats up fast on other heat sources too. 
I like how versatile it is because when you don't feel like firing up the patio barbecue, you can prepare food in the kitchen for your family.
It's also great for use on the barbecue since it's easy to move and quite large. Since it has handles, you can move it from one side of the grill to the other easily.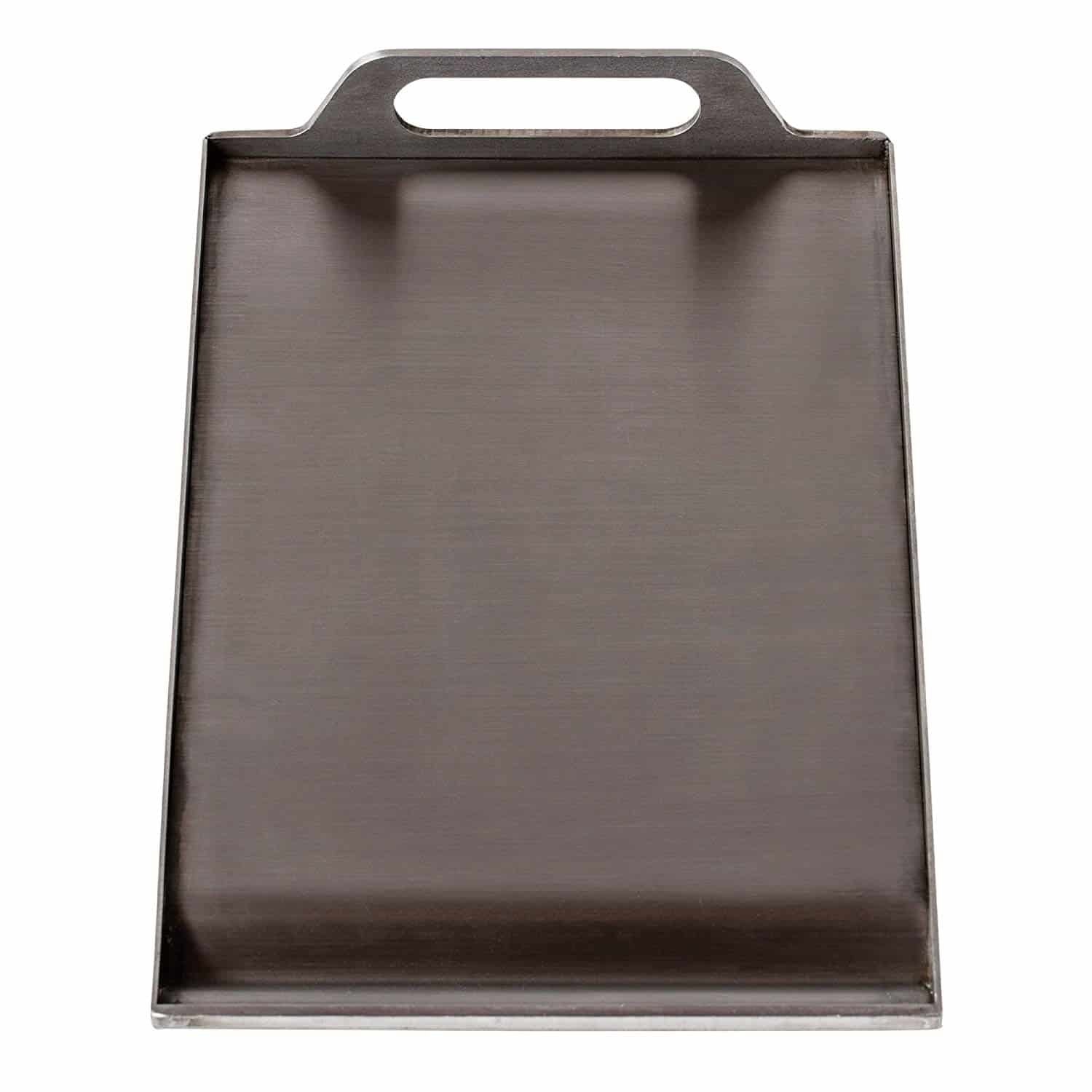 It's also great for using on a regular charcoal barbecue so you have some extra space to grill Teppanyaki style on a charcoal grill.
You can use it on any type of fuel, because of its very sturdy stainless steel construction. It can literally withstand any temperature you would want to throw at it so you just have to focus on moving your food around so it doesn't get burned in the heat!
The stainless steel surface is durable and doesn't scratch easily so you can use spatulas and grill scrapers just like a Japanese chef. 
Also, since it is 304-grade stainless steel, it doesn't rust and has anti-corrosion properties so even though it's a pricey grill plate, it will last you for many years of barbecuing. 
It's not the largest teppanyaki plate but it's suitable for cooking for up to 4 or 5 people. If you're making skewers you can squeeze even more of them on there. 
There's not much to complain about with this product except the price which is a bit high for stainless steel but compared to the competition, it's much more heavy-duty and doesn't warp at all under high temperatures. 
Check prices and availability here
Best stand-alone outdoor Teppanyaki grill: Blackstone 1554
type: propane grill
number of burners: 4
size: 62.5 x 22 x 36 inches
cooking surface: 720 sq. inches
material: alloy steel
If you're looking for the ultimate outdoor Teppanyaki gas grill to replace your regular grill, then there's no better option than the Blackstone 1554. This extra-large grill is every barbecue lover's dream!
With 4 burners and a huge cooking area, it's a full-size grill for fun backyard or camping grilling experiences with family and friends.
Imagine that you can make up to 72 hot dogs at once or 28 hamburgers. That's enough for an entire softball team and then some!
This is just amazing when it comes to outdoor cooking. If you're into grilling at all, you'll love the features of the Blackstone 1554.
Most griddles have 2 burners but this one has 4 burners so you can easily make different cooking areas for grilling your ingredients and then letting them rest on another part of the grill, which is the essence of teppanyaki cooking.
The design is very practical and portable because the grill has 4 sturdy legs and they all have wheels so you can move the cooker around without any heavy lifting. 
People who own this grill are saying that it's a great value for the money because it offers amazing heat distribution from all 4 burners and you don't get hot spots or burning oil flareups. 
A cool feature with this griddle is that it has a battery-powered push-button which just means you push the button and it turns on so there's no prepping required on your part. 
The grill has a good grease management system – either a front grease drain or a rear grease drain but it collects it all so you can empty it out and wash it easily. 
Overall, it's a very well-built grill – the body is made of black powder-coated steel which holds up well in inclement weather but the actual cooking surface is made of rust and scratch-proof cold-rolled steel. That means you can use your metal tools to scrape and scrub as needed.
Although it's a propane grill, you can also convert it to natural gas by following the manufacturer's instructions.
One thing you should know is that running teppanyaki grills is different so the controlled burners are useful because you don't have proper ventilation like with charcoal grills. 
The only thing that is a bit problematic is that you have to season the griddle with oil. This is unclear to many people so they wonder why the food sticks. Don't worry you can still make healthy recipes but just add a bit of your favorite vegetable oil first. 
Check out all of the features here on Amazon
If you're looking for a tabletop teppan that can be used on outdoor gas you should check out these we wrote about
Best portable Teppanyaki grill: Little Griddle SQ180
type: grill top 
size: 13 x 18 x 3 inches
cooking surface: 234 sq. inches
material: stainless steel
Do you love the grill you have at home already and don't want to switch it out for a flat-top teppanyaki griddle? The Little Griddle is the ideal solution because it's portable and has side walls so grease doesn't drip over your good grill. 
The Little Griddle SQ180 Professional Series Griddle is the perfect Teppanyaki grill for outdoor cooks who want to have quality and professional results. Although it's very affordable, it's made of real stainless steel so it's heavy-duty and scratch-proof. 
This is one of the ultimate performers when it comes to outdoor cooking and it's easy to bring with you as an addition to any normal BBQ.
It is made of heavy gauge stainless steel and has a decent cooking area. It's smaller than the surface of the large Blackstone freestanding grill but still has enough space, just like an electric grill. 
One notable thing about the Little Griddle is that it transforms your griddle into an outdoor kitchen, where you can cook a wide range of meals. This grill allows you to bake and even saute, just as you can do on your normal cooking stove.
Therefore you can make breakfast classics like hashbrowns and sausages, or make steak and even grill fresh fish. 
The reason I personally prefer this one over the simple reversible plates is the high sidewalls. These prevent the grease and oil from dripping off onto the grill surface below so you don't make a smoky and sticky mess while grilling. 
You also get a wide grease tray to trap excess fats and it makes clean-up easier. 
In addition, it has an underside cross-bracing that promotes even heating. If you use it on your charcoal grill, you'll have to control the temperatures well but it's a bit easier on propane and gas grills. 
The grill is easy to clean and it delivers gourmet results for any serious outdoor cook. Plus, when you're finished, the removable handles allow you to move the grill easily. 
Check out the latest prices here
Best reversible teppanyaki grill: Legend Cast Iron Griddle
type: grill top & stovetop 
size: 20 x 10 inches
cooking surface: 200 sq. inches
material: cast iron
I'm sure you've heard people raving about cast iron griddles – they're known for superior heat distribution and retention and since they require seasoning, the food, especially meat is more flavorful when grilled. 
So, if you want the alternative for the Little Griddle stainless steel griddle, then I recommend the Lodge cast iron reversible plate which allows you to cook teppan-style or using ridged grates. 
Cooking teppanyaki-style food at home is great and when you feel like having bbq, you can use this plate on your gas stovetop.
Note that this is not induction friendly (find induction-friendly Teppanyaki grill plates here) but you can use it outdoors over a campfire. 
The Legend Cast Iron Griddle for gas stovetop is a 2-in-1 reversible teppanyaki plate you can use to cook the best foods at home. It's a really good size because 20 x 10 inches fits over two burners at once so you can cook plenty of yummy food. 
One side has a smooth griddle which is exactly like Japanese teppanyaki pans and the other has a ridged side for Western-style steaks and grilled foods. 
This type of griddle will last you a lifetime because it's made of a durable cast iron material but it has a scratch-free finish. This means you can use it will all the tools I will recommend later on. 
You have to season this griddle yourself with vegetable oil every once in a while but trust me, the food will taste amazing!
Also, since it's real cast iron, there's no toxic or unhealthy nonstick coating on it so if you want a simple and healthy way to prepare food, this plate is a great option!
Little Griddle Stainless Steel vs Legend Cast Iron
If you're looking for the most versatile portable griddle plate, the Legend Cast iron is a universal plate – therefore, it can be used on gas cooktops, outdoor grills, campfires, and firepits.
Thus, whenever you feel like making teppanyaki, it's ready to go in minutes. 
On the other hand, the Little Griddle Stainless Steel is a great portable griddle that you place on top of your charcoal, pellet, or propane grill.
It's got one major advantage over the cast iron plate – it has tall sides so the greasy drippings don't get all over your grill underneath. 
The cast iron plate is flat on one side and ribbed on the other but it has flat edges so you might get some oil splatter now and then. 
Another factor to consider is that you need to season the Legend cast iron plate before use.
With the Little Griddle, you can practice authentic Japanese-style teppan cooking using all your favorite tongs, spatulas, and scrapers because that cooking surface is durable. 
So here's the bottom line: 
If you want to cook on the stovetop more, choose the Legend Cast Iron reversible plate because you can cook Japanese-style or Western-style.
If you like to grill outdoors, the stainless steel Little Griddle offers great heat distribution and easy cleanup without having to get your regular BBQ grill dirty. 
Best built-in teppanyaki grill: Blaze Premium LTE 30
There are almost no affordable built-in teppanyaki options, so when one did come along I immediately pounced on it.
The Blaze Premium might not be traditional Japanese, but it's has a 30 inch griddle surface so you can cook up anything you want, and with the slightly elevated edges you can scoop up and move around the ingredients with ease.
Also read: this is the best built-in teppanyaki hibachi grill and what to look for
Conclusion
There are a lot of complex and hybrid cooking units available out there, and this makes it very challenging for people who choose to cook their food in a more traditional style to find the necessary cooking equipment.
Some of these grills are ideal for both indoor and outdoor use, some for one or the other, but you should choose depending on your budget and needs.
Actually don't feel like cooking at home? These are the 10 Best Teppanyaki Restaurants in America worth a visit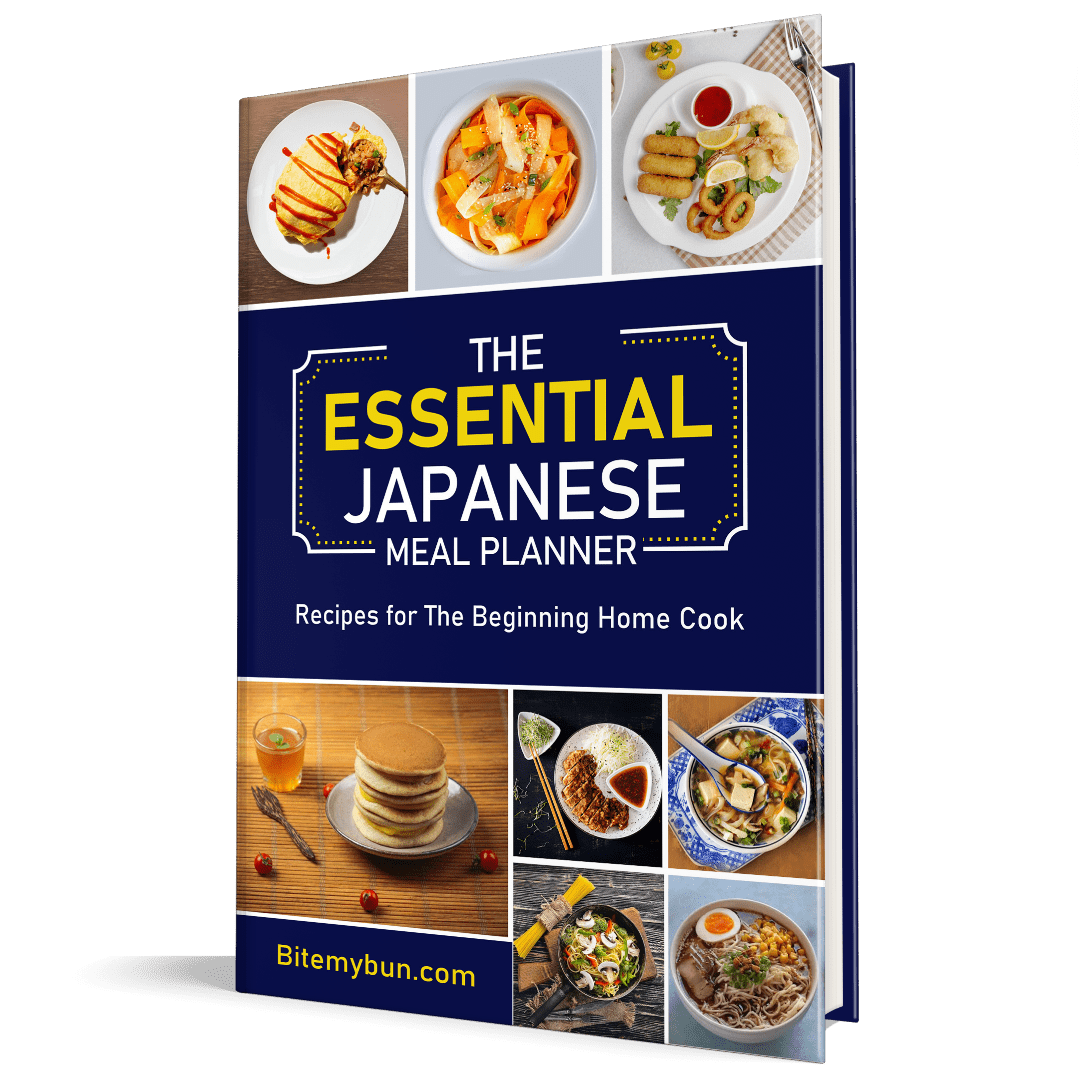 Check out our new cookbook
Bitemybun's family recipes with complete meal planner and recipe guide.
Try it out for free with Kindle Unlimited:
Read for free
Joost Nusselder, the founder of Bite My Bun is a content marketer, dad and loves trying out new food with Japanese food at the heart of his passion, and together with his team he's been creating in-depth blog articles since 2016 to help loyal readers with recipes and cooking tips.