I love creating free content full of tips for my readers, you. I don't accept paid sponsorships, my opinion is my own, but if you find my recommendations helpful and you end up buying something you like through one of my links, I could earn a commission at no extra cost to you.
Learn more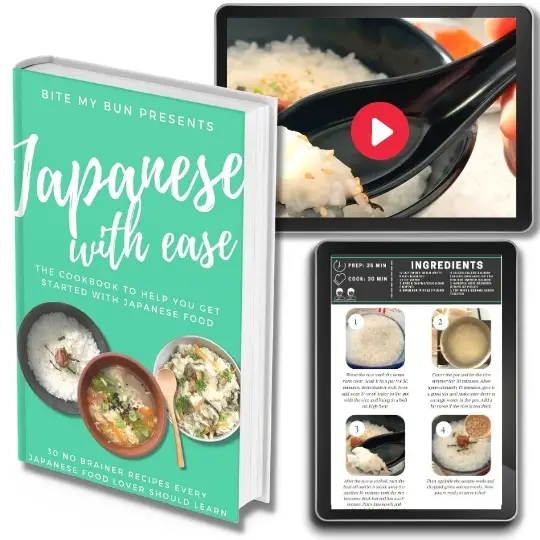 Ever had trouble finding Japanese recipes that were easy to make?
We now have "cooking Japanese with ease", our full recipe book and video course with step-by-step tutorials on your favorite recipes.
You can bring the Japanese way of cooking to your home with a mind-blowing invention: the Teppanyaki Grill.
It's just used all over the world and you can't walk into any diner without seeing a flat surface grill plate.
And who can blame them for wanting to use the large cooking surface of this Teppanyaki grill and being able to cook multiple ingredients at the same time?
You can, of course, use this cooking style for several types of meals, and it's just the best for hosting your dinner parties or doing a barbecue-style dinner with added stir-fry food.
It's easy to get started in this type of cooking, and for beginners, I would recommend to start with a tabletop grill and see if it suits you.
I use stovetop grills myself now but bought a tabletop grill when I first started out and would advise you to get this Presto Slimline Electric Teppanyaki Table Top Grill from Amazon, which is the same design style as the Andrew James I bought (not available now though).
If you're unsure if Teppanyaki is for you and you want to try it out, maybe the less expensive Chefman electric flat top grill would be a good fit for your home.
It's less durable than the Presto, but it has a grilling surface that's just as large and might be the way to go at first.
This way you can start creating your own teppanyaki dishes with ease and see if it's for you, and eventually maybe upgrade.
Foods like:
beef
chicken
fish
prawns
and chopped vegetables
They all taste fabulous when cooked on the Teppanyaki Grill.
Just check out this video with the tabletop grill:
The non-stick surface means not much oil is required while cooking.
Also, the drainage holes coupled with an oil drip tray ensure that your food stays fat- and grease-free, so actually the food cooked Teppanyaki style is way healthier and retains its natural nutrients and flavor better.
You would simply love all these great meals that you can cook with a flat top grill plate.
Teppanyaki uses very light seasoning and it mostly relies on using very fresh ingredients that are just full of flavor in and of themselves.
This style of cooking relies heavily on the ingredients and tries to enhance, instead of adding to the original flavor of the ingredients used.
Seasonings are however limited to:
wine
vinegar
soy sauce
salt and pepper
and garlic, which is the main flavor when making stir-fried bean sprouts, or meat and chicken breast.
Let's take a quick look at the different options you can buy. Each of these I found to be the best in their category. After this overview I'll discuss each option more in-depth:
You can see the stovetop grill that I'm using right now is on there as well, but be sure to start with a tabletop grill if you're just starting out. Especially if you want to use it for parties.
Teppanyaki grill buying guide
There are a few things that go into the cost of a tabletop teppanyaki grill:
The quality of the cooking surface
this is probably the most important part of the grill as it is where you'll cook your food (although it won't do you any good if it can't reach the right temperatures).
It needs to be of good non-stick quality so your teppanyaki dishes will be easy to move around (that's a big part of the cooking style) and it should be easy to clean afterward.
The best materials are ceramic and non-stick Teflon coating.
The size of the grill
Another thing to look out for is the size of the grilling surface. You will probably need a fair amount of room if you're going to be cooking teppanyaki style.
This way you'll be able to move around all of the separate food you're preparing without them interfering with each other.
The other thing about a large surface is the ability to use it a party where you or your guests can all cook at the same time.
The temperature
The temperature settings are an essential part of any electric tabletop grill and for teppanyaki, you'll want some extra flexibility.
This style of cooking involves playing around with the heat levels so it should be able to get hot enough for quick searing, but the settings also need to be flexible to be able to get precise temperatures.
Cleaning
Aside from the right cooking surface for cleaning, ideally, your grill should be able to be taken apart for easy cleaning.
At least the cooking surface should be able to be removed so you can thoroughly clean it without damaging any electrical parts.
The OZQP has this feature, which is why it's one of the best tabletop grills on the market at this time.
What goes into the cost of a stovetop teppanyaki grill?
A lot of the same things that go into the cost of a tabletop teppanyaki grill also go into determining the price of a stovetop one, although it's also quite different.
The quality of the cooking surface
Of course, you'll want a quality cooking surface here as well, but the materials you're looking for aren't the same non-stick or ceramic coatings.
For a stovetop teppanyaki grill, you'll want to look for cast iron preferably, or a good quality stainless steel.
The size of the grill
Obviously you'll want to look for a bigger grilling surface to be able to make a lot of side dishes at the same time and prepare meals for your family or even a party at once.
Just remember that you'll also have to fit it onto your stovetop so you should make sure that it fits your kitchen.
The added benefit of a larger stovetop grill plate is that you can set it atop of a few different burners at the same time and get different heat levels on each of them for searing, grilling or resting your food.
The temperature
The temperature doesn't play the same role here as it does with a tabletop grill because you can't set the temperature on the grill surface itself.
Instead, you'll want to look for a quality material that can withstand high temperatures on your stove burners.
Best types of teppanyaki home grills
There are 6 types of choices you can make when looking at a teppan grill for your home:
Best indoor tabletop Teppanyaki grill: Presto Slimline
Great for: (indoor) parties and the occasional grilling. Not a professional grill plate, but very close and a lot of fun and great to get you started.
And why would you need a professional piece of equipment for home cooking? If you're looking to have a great time entertaining your guest, this one would be my choice.
You can use it to cook dinner at the table, as they would do in a restaurant and maybe even try your knife tricks :)
Or you could have everyone cook their own meats and vegetables each on their own corner of the cooking surface. That's also always fun to do.
The electric ceramic griddle is a great family-size cooker. It's very inexpensive and you can use it to cook all of your favorite teppanyaki dishes like beef in the comfort of your kitchen. 
Since it has a non-stick surface, it's easy to cook on this grill without the meat and vegetables getting stuck on the grill's surface. 
The griddle also has a drip tray that collects the fats and juices so the grill is easy to clean after each use. Now that you have an idea for a grill, you can get excited about the tools!
Check out the latest prices and availability here
Best cheap Teppanyaki grill: Chefman tabletop electric grill
Great for: the occasional family dinner at the table to have some fun cooking your meals.
Ok, just don't expect too much from this one, but I wanted to get a grill plate on this list that would be significantly cheaper than the NetSC19 but still would be able to do enough for your occasional grilling.
You can make anything on this thing, so you don't just have to use it for Japanese cuisine.
It does have a very handy slide-out tray for all of the oil collection, which makes it very easy to clean after your done.
It's not the best scratch-free, non-stick surface you can buy, but if you remember to clean it right after use it should last you several years of enjoying making family meals right at the table.
Check out the lowest price here on Amazon
Healthiest Teppanyaki grill: Princess Japanese & Korean BBQ
Great for: healthy cooking using as little oil as possible.
Japanese and even Korean cuisine is known for their healthy dishes, but you'll need the right tools to make sure you get the most out of your food.
If you like to make sure you can get great grilled vegetables and meats on skewers that don't stick or even be able to toss your ingredients with great easy around on your cooking surface, without using a lot of oil, the Whitsunday is your best bet.
Its ceramic non-stick surface is one of the best I've seen so you don't need to use a lot of oil in the first place, but there's a strategically placed hole right in the middle of the grill plate that just carries away all of the cooking juices, even from your meats.
Best indoor & outdoor Stovetop Teppanyaki grill: Everdure Furnace
Great when you grill more often so you can prepare food in the kitchen for your family. Also great for use on the barbecue since it's easy to move and quite large.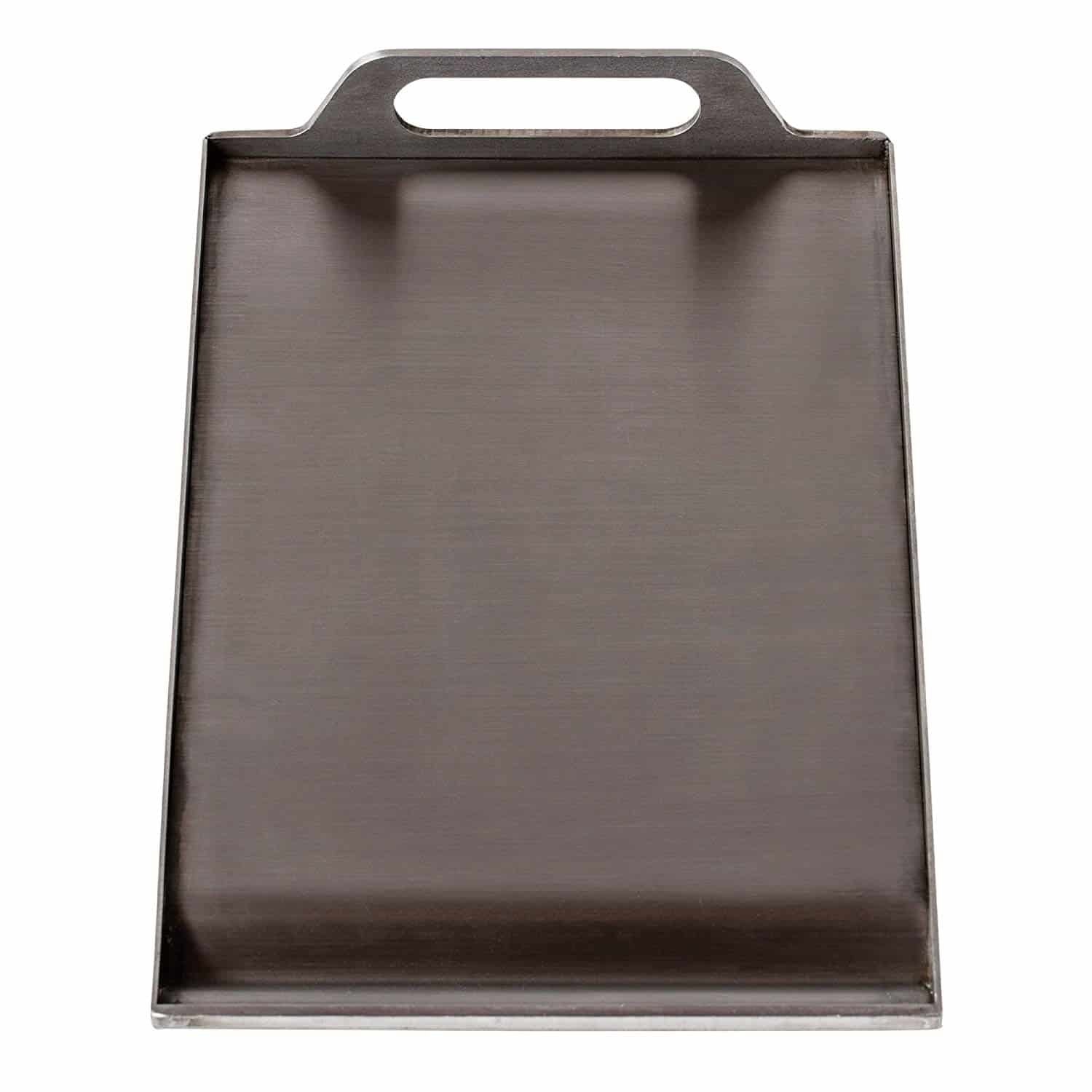 It's also great for using on a regular outside barbecue so you have some extra space to grill Teppanyaki style on a charcoal grill.
You can use it on any type of fuel, because of its very sturdy stainless steel construction. It can literally withstand any temperature you would want to throw at it so you just have to focus on moving your food around so it doesn't get burned in the heat!
Check prices and availability here
Best Built-in Teppanyaki grill: Broil King drop-in
If you really love grilling and are looking to get a built-in plate for you kitchen, you can buy it built into your gas stove or build one in your outdoor kitchen.
It's actually a really tremendous quality and definitely commercial grade. This machine will last you a lifetime if that's a chef's life or just a teppanyaki enthusiast life, like mine.
This one is for those who regularly want to make teppanyaki and probably want to make almost all of their dishes on a flat grill surface instead of using their skillets.
Best stand-alone outdoor Teppanyaki grill: Blackstone 1554
This is just amazing when it comes to outdoor cooking. If you're into grilling at all, you'll love the features of the Blackstone 1554.
It has 4 burners so you can easily make different cooking areas for grilling your ingredients and then letting them rest on another part of the grill, which is the essence of teppanyaki cooking.
Check out all of the features here on Amazon
Best backyard Teppanyaki BBQ: Blackstone gas griddle station
This grill comes with a flat-top grilling area of 720sq inches, which makes it the perfect grill for preparing breakfast, lunch, and dinner.
You can cook pancakes, eggs, grilled cheese, quesadillas, potatoes, steak Teppanyaki style meals and other different types on meals on this grill.
In addition, the grill comes equipped with two side shelves and a bottom shelf, which assists in food preparation and storage.
If you buy this grill, then forget about your BBQ and grill since it can do all that without much struggle. The grill is straightforward to assemble and to use, which reduces the time you spend while setting up and cooking.
Also, the grill helps you to do away with the issue of charcoal, matches, and kerosene.
The Blackstone grill comes with an easy-to-use push start button for ignition, which is battery powered.
So, what you need to do is to push the button and then you will be good to go.
In addition, this is a perfect grill for outdoor uses, which eliminates the stress of indoor cooking.
You can easily move this grill around your backyard or even move to a campsite – thanks to its removable top, foldable wheels, and caster wheels.
The Blackstone grill comes with a stainless steel frame and burners.
In addition, it is equipped with a thick cold-rolled cooktop which makes cleaning the grill effortless.
The grill has 4 stainless steel burners that are independently controlled from low heat to high heat.
Features
Secure footing
Durable
Controllable heat zones
Easy to ignite
Large cooking top
Easy to clean
If you're looking for a tabletop teppan that can be used on outdoor gas you should check out these we wrote about
Largest electric Teppanyaki grill: Costzon 35 inch
This electric Teppanyaki grill comes with 2 nonslip egg rings and 8 wood spatulas. That means you can cook your favorite meals on these grills for your family and friends.
It has a large cooking area, which enough for you to entertain your family or guests at a party.
Since this grill comes with several spatulas, it means that you can get everyone involved in the cooking, which can make everyone happy. Interesting, isn't it?
The Costway electric Teppanyaki grill has a non-stick surface, which means it requires very little or no oil when cooking.
In addition, it comes with a drip tap that helps in draining any excess oil and fat when cooking.
This means the grill assists in offering healthy and low-fat meals. In addition, the non-stick surface allows you to clean the grill without any challenges after cooking.
One interesting thing about this grill is that it has an adjustable thermostat, which features a 5-temperature setting.
Therefore, you can easily adjust the suitable temperature you need for the food you are cooking.
So, you don't have to worry when cooking things like beef, chicken, vegetables, and fish since the temperature control ensures that you cook every meal to perfection.
The grill's handles are covered with an insulated cover, which means you can move the grill to your kitchen or garden conveniently and safely.
Furthermore, its legs have non-slip pads that protect your cooking platform from the heat produced by the grill. In addition, the non-slip pads ensure that your grill is stable when cooking.
Features
A large cooking area which allows you to cook several meals at the same time
A non-slip surface which allows healthy cooking and easy cleanup
It has an adjustable thermostat for temperature control
It comes with protective legs and handles
Best Teppanyaki cooker: Costzon griddle plate
The Costzon 35″ Electric Teppanyaki Table Top Grill is an ideal electric grill for both parties and families.
The grill is very spacious with a surface of 35" x 9", which means you can cook more food on it.
It has a nonstick surface, which allows you to cook meals like vegetables, fish, meat and fried dishes without being worried of them getting stuck.
With the Costzon 35″ Electric Teppanyaki Table Top Grill, you only need to use very little oil on its nonstick cooking surface and then you will be good to go.
That means the grill helps you to cook healthier food.
Cleaning the grill is also very easy because of its surface. The Costzon 35″ Electric Teppanyaki Table Top Grill is ideal for cooking breakfast and also barbecues without any struggle.
One interesting thing about this grill is its portability as it is ideal for camping, caravanning, and traveling as well.
This grill comes with an adjustable thermostat, which has 5 temperature settings. This allows you to cook different dishes at their recommended temperatures.
In addition, it has insulated handles on each side that allow you to conveniently move the grill around without burning or heating your hands.
Furthermore, its 4 anti-slip feet provide more stability to this grill and they protect your furniture from heat produced by the grill.
Features
Detachable power cord
Ideal for individual, family or parties
It is very versatile as you can cook a different number of meals on the grill
Easy to clean
Cool-touch handles
Anti-slip feet
Adjustable temperature control – 2000 watts
Extra-large cooking surface
Comes equipped with 6 wooden spatulas
2 nonstick egg rings
Check the latest prices and availability here
Best kitchen countertop Teppanyaki grill: WeChef Professional
This is the perfect electric Teppanyaki countertop grill for cooking meat, vegetables, scrambled eggs, and grilled cheese.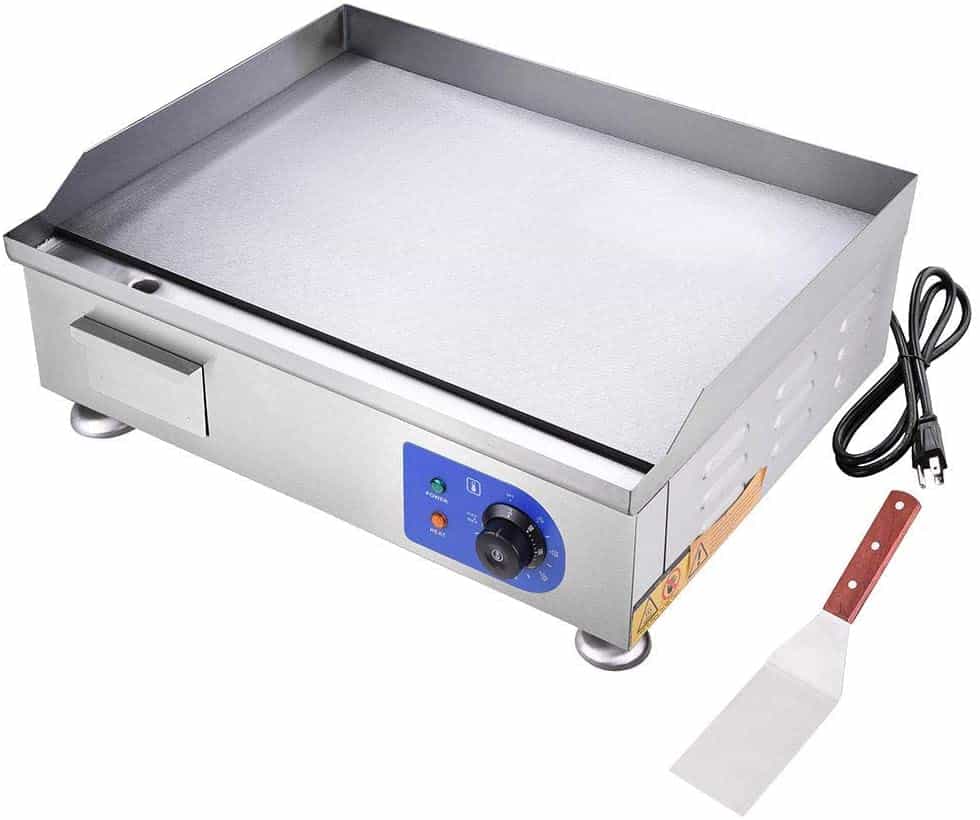 It comes equipped with thermostatic control that enables you to adjust its temperature to fit the desired cooking requirement for your different meals. The grill is easy to use and it ideal for both commercial and home use.
Features
Commercial flat grill – its thermostatic controls makes it easy to control and regulate the temperature depending on the food you are preparing.
It comes with a US standard plug.
Temperature range from 50 – 300 degrees Celsius.
Overall dimensions – 17 11/16″ x 14 3/16″ x 9 13/16″ (L x W x H). Cooking plate dimensions – 14 15/16″ x 14 3/16″ (L x W). The cooking plate has a thickness of 3/8".
The grill has additional splashguards on its back and sides to protect you and the surrounding walls from hot oil and grease splatters.
Detachable grease tray for quick and easy cleaning.
4-feet stands give the grill stability.
Best portable Teppanyaki grill: Little Griddle SQ180
The Little Griddle SQ180 Professional Series Griddle is the perfect Teppanyaki grill for outdoor cooks who want to have quality and professional results.
This is one of the ultimate performers when it comes to outdoor cooking and its easy to bring with you as an addition to any normal BBQ.
It is made of a heavy gauge stainless steel, which makes the grill to of the highest standards.
One notable thing about the Little Griddle SQ180 Professional Series Griddle is that it transforms your griddle in an outdoor kitchen, where you can cook a wide range of meals.
This grill allows you to bake and even saute, just as you can do on your normal cooking stove.
This grill has 100% stainless steel material, a wide grease well as well as high walls.
In addition, it as an underside cross-bracing that promotes even heating. Its removable handles allow you to move the grill easily.
In addition, you can remove easily for better cleaning. When you use the GQ230, you will realize how fun it is to cook using a Teppanyaki grill.
The grill is easy to clean and it delivers gourmet results for any serious outdoor cook.
Product features
An underside cross-bracing which allows the grill to heat evenly
Removable side handles which promote easy movement
4-inch sidewall height. However, you should measure that grill's interior to make sure that it fits well. also, you should allow a space of 0.5 inches on every side to allow proper airflow.
A wide grease well which allows effortless cleanup.
100% stainless steel – restaurant grade.
Check out the latest prices here
Best reversible teppanyaki grill: Legend Cast Iron Griddle
Cooking teppanyaki-style food at home is great.
The Legend Cast Iron Griddle for gas stovetop is a 2-in-1 reversible teppanyaki plate you can use to cook the best foods at home.
One side has a smooth griddle which is exactly like Japanese teppanyaki pans and the other has a ridged side for Western-style steaks and grilled foods. 
This type of griddle will last you a lifetime because it's made of a durable cast iron material but it has a scratch-free finish. This means you can use it will all the tools I will recommend later on. 
You have to season this griddle yourself with vegetable oil every once in a while but trust me, the food will taste amazing!
Features of a Teppanyaki grill
They have a smooth surface that is either ground or polished. This ensures easy cleaning after use.
The edges are raised stainless steel plates which effectively contain oil during the preparation of your meals.
It comprises a removable stainless steel drawer that holds and enables easy disposal of waste and food residue.
Cast iron gas burners at the center of the grill plate provide the heat.
As items are placed further away from the cooking center, temperature drops.
The burner system is conveniently adjustable to modulate the cooking temperature.
A push-button igniter is furnished onto the burner controls.
It is environmentally friendly since it used clean electric energy.
It is easily installed and requires only a cutout and one drilling for fastening. It fits most counter surface materials.
As we have seen from above, many grills can cook such meals. However, why is a Teppanyaki grill so special?
First and foremost, a Teppanyaki grill assists you to cook food very quickly, and this makes the grill ideal for individuals who are always in a hurry or anyone cooking food for the family or at a party. Therefore, this allows you to avoid having ready food sitting on a grill for long before people start eating it.
Teppanyaki grills are suitable for individuals having cookouts or camping trips. Even though you might be forced to serve one person at a time, you don't have to make each person wait for long.
Teppanyaki grills are made of durable and strong material. In addition, it is very easy to clean the grills because of their design and the material used to design them. In addition, you can easily scrape off food from a Teppanyaki grill compared to scraping off food from a BBQ. Lastly, most Teppanyaki grills are smaller than BBQs, which makes it very easy to grease them up.
Because it is very easy to clean a Teppanyaki grill, you don't have to worry about cleaning your Teppanyaki grill after using it as you would worry about cleaning your BBQ. If you fail to clean your BBQ after using it, the food particles can harden, which makes it even harder to clean the grill. However, the food residue is very easy to clean when it comes to a Teppanyaki grill. In fact, most of the Teppanyaki grills come with a drip tray or grease tray for catching oil and grease dripping from food. This makes your cooking experience even better.
It is very easy to use a Teppanyaki grill in your home kitchen. They are the perfect cooking accessories for cooking seafood like prawn and shrimp, skewers, beef, vegetables, and other meals. In addition, Teppanyaki grills are perfect if you want to have an additional meal course. Let us say you are hosting a party and all your vegetables get finished. You can easily cook an extra batch of vegetables long before anyone notices it.
This makes a Teppanyaki grill the ideal cooking partner for parties or big social gatherings. This is because you don't have to worry about cooking excess food since you can always prepare something when people get hungry.
Another distinctive feature of a Teppanyaki grill is the unique taste of the food you cook. One thing you should know about using cooking using a Teppanyaki grill is that it allows you to use spices, which still using fresh food products to prepare your food. When you combine this with the Teppanyaki cooking style, you get the opportunity to enhance the flavor of the food you prepare instead of destroying it because of the spices and seasonings.
Teppanyaki grills usually use beef as their primary source of meat. In addition, they use dark-leafy green vegetables as well as onions and carrots for their vegetables.
Table Top Teppanyaki Style Barbecue Grills
No kind of weather should hinder you from enjoying your favorite grill. Then why not equip yourself with an indoor tabletop teppanyaki grill?
Why choose a Table Top Open Grill
This kind of grill is the best for all social gatherings and there is no greater joy than having everyone chipping in to do some cooking.
Minimal ingredients are required and there is an option of getting pre-made ingredients from hypermarkets.
Since the size of the grill doesn't take up much space, it can also be used to make sit down meals where guests can cook and talk during the meal. A more spacious grill can cook more than 8 portions at a time while using a wooden spatula.
The Table Top Open Teppanyaki Grill is easily portable and this saves a huge chunk of time used to move equipment fro and to the kitchen, because you just enjoy the food at the same place it's cooked.
They also incorporate a unique flavor, and if you need a grill there are online stores with a variety of options to choose from.
To sum everything up, a tabletop Teppanyaki grill is your go-to grill for entertaining guests no matter the weather, and it also does not require rocket science to install and maintain.
Some pointers when using a tabletop teppanyaki grill:
These grills are efficient as they maximize the available heat and very little energy goes to waste.
It can be used both indoors and outdoors with equal performance. The weather may be a hindrance for outdoor use as they are electrical.
No oil should be added when cooking meat. On the grill, the fat melts and it is sufficient to have the meat cook on its own juice.
Start grilling from low heat as you gradually increase it.
Do not directly turn on high heat since if there is no food on the surface, the cooking station may warp. Turn off the grill as you finish.
If there are stubborn food residues on the surface, scrub lightly with warm water and washing liquid.
Use the right equipment modified for non-stick cooking to avoid chipping off the non-stick layer.
There are some grills that have a combination of grooved and flat surfaces. Food prepared on this kind of surface has grill marks similar to those on a charbroiler.
Almost all grills and griddles are open excluding those with a combination of closed griddle and grill.
Stand Alone Grills vs. Built-In teppanyaki Grills
It's great to have a fun and innovative way of cooking, or just getting to know a new style of cooking could be an amazing pastime.
Having a grill at your outdoor cooking space or just in your yard incorporates all the normal kitchen activities while letting you unwind.
If you will work from an existing deck or patio then a standalone grill is the best option. However, a Built-in grill is better suited for new designs of a deck or patio.
The following is a dissection of each type of grill, with all the pros and cons of both.
Benefits of a Standalone teppanyaki Grill
A Standalone grill is adaptable to suit your outdoor area. It is a very portable grill that can just be moved to any location for camping or caravanning, or if you want to use your deck or patio.
Having a Standalone grill for your deck or patio is more economical. However, it will not have all the features of the Built-in grill.
Benefits of a Built-In teppanyaki Grill
A built-in grill is quite a package. It is spacious and can be partitioned into a counter and a space for the actual grilling. It also safeguards the components of your grill from getting damaged.
Built-In grills add sophistication to your outdoor space, make an area for indoor and outdoor cooking, and create a boundary between your grilling space and deck or patio.
This protects your family from having to be around the hot grill all the time. A Built-In grill is perfect if you are designing a deck or patio.
What fits your home better?
Deciding which kind of grill is best suited to your needs may get overwhelming. These are some of the considerations to have in mind before getting one:
Budget
The role of your outdoor space
Design of your patio or deck
The intended time at which the grill might be in use
A standalone teppanyaki grill is economical for budget constraints and having it in your deck or patio is more suitable.
If you have a large yard that you intend to use for barbecues then a Built-in grill in an actual outdoor kitchen is probably the way you want to go, and some space for the grill should be kept in the design.
Taking your time into consideration is also important. If grilling absolutely is your thing and it's possible for you to do it every other day, purchasing a built-in grill would be the best choice.
If the grill might be in use less often, it is much better to invest in developing another area for your home with that same space, like a play area or a lounge area with a nice sofa.
Benefits of using a Teppanyaki grill
It adds inventiveness and presentation to cooking: The Teppanyaki grill is very suitable for parties and is very fun to cook with.
It can be used both indoors and outdoors:  Since all of the electric components are well fixed and are also well insulated, the Teppanyaki grill is safe for use anywhere. Other features such as high-quality stainless steel make this kind of grill durable and useable in all climates.
Heat maximization: All the heat generated is only transferred to the food and nothing else. Food is always in direct contact with the heat of the cooking surface and cooks regardless of the temperature.
Cooks a vast number of dishes: A Teppanyaki grill can cook anything according to the conventional Japanese way of cooking. Vegetables, meats and even seafood can be conveniently prepared. The number of dishes that can be cooked on a Teppanyaki grill is immense.
Multi-functional space saver:  A Teppanyaki grill can be used as a warmer or extra space for preparation when there is nothing cooking.
Energy-saving: The Teppanyaki grill requires just a single source of heat and all the heat is directed to the food.
Healthy: Since all food cooked is freshly prepared, and you need little oil on the cooking surface, it is mostly very healthy.
Universal design: There is no need for lifting and moving pans and other stuff to and fro the kitchen. This also allows even the physically challenged to prepare a meal within a short time.
No chemicals and low maintenance: The cooking surface is easily cleaned with available kitchen stuff like cooking oil, no toxic material is used. Wiping regularly before and after use increases its efficiency.
Everyone can help to grill Teppanyaki at home
Gone are the days when you have friends coming over and you're doing all the cooking, and they're doing all the partying!
Now, you can cook food and kick it at the same time. And, this has all been made possible by Teppanyaki.
You can stir fry your vegetables; in fact, all your friends can each get their own little portions that they want to do and cook all on their own.
It allows for cooking your fried meals all on one appliance with a minimum of hassle.
So, if you don't want to stay trapped in the kitchen when everyone else is having fun, take the food and make it part of the party with something like this, and you're good to go!
By and large, Teppanyaki grilling is perfect for traveling, especially for camping and caravanning holidays.
Most Teppanyaki grills also feature an adjustable temperature control and a removable oil drip tray. They are easy to clean with their non-stick coated surface and have a large cooking surface.
It's very much like a stovetop in a dining table, all in one. It lets you be a chef and a host at the same time, without even leaving your seat.
You would like this grill a lot for preparing your dinner over the weekend. It lets you entertain your guests and it's fun for others too. The grill can be safely used outdoors or indoors, since it has no open flame and uses electricity instead of gas.
It's easy to assemble and can use it on porches, decks and patios almost anywhere.
Since all you need to operate it is a power source, you plug it in, turn your heat on and you're set.
As it heats up, the center of it gets the hottest which allows to hold all the sauce, all the meat and everything that you have there.
The center can reach up to 430 degrees, which is just the right temperature to sear meat fast. Whereas, a stove or gas grill would have to be much hotter than that to get the same results.
Use the grills warm inner ring or cooler outer areas
Just outside the center is a ring three and a half inches wide to keep the cooked food warm, while the outer area always stays completely cold. At least, on one of the professional models, I recommended earlier.
It usually comes with different cooking and temperature settings, so if you don't want it too hot to burn everything, it's really easy to use it.
If you are new to Teppanyaki style cooking and this is the first time you'll be using it, it's best to heat it up to about 250 degrees Fahrenheit, which is 120 Celsius.
This way, you can get the protective coatings off they apply at the factory.
You need to turn off the griddle when the coating starts to melt and wipe the surface clean with a good quality commercial cooking surface cleaner.
You must rinse the griddle top well before seasoning. Then, you can use some oil to begin seasoning the surface before cooking.
What temperature does the teppanyaki grill need to be?
The griddle works best when you heat it up to 300 degrees Fahrenheit, or 150 Celsius and add a small amount of vegetable oil.
You can rub that in on the griddle surface with a soft cloth so that it's rubbed right into the cooking surface of the teppanyaki plate.
This seals the surface and helps to make it non-stick.
Then, you have to wipe away excess oil and repeat it until the cooking surface appears shiny.
Remember to preheat the griddle 10 minutes before cooking, cut up the food prior to cooking and not cut directly on the teppanyaki cooking surface.
Initially, place the food onto the preheated surface toward the back of the griddle, that way you can cook your food almost the same as on a skillet. With the large surface though, you can stir it in a continuous motion.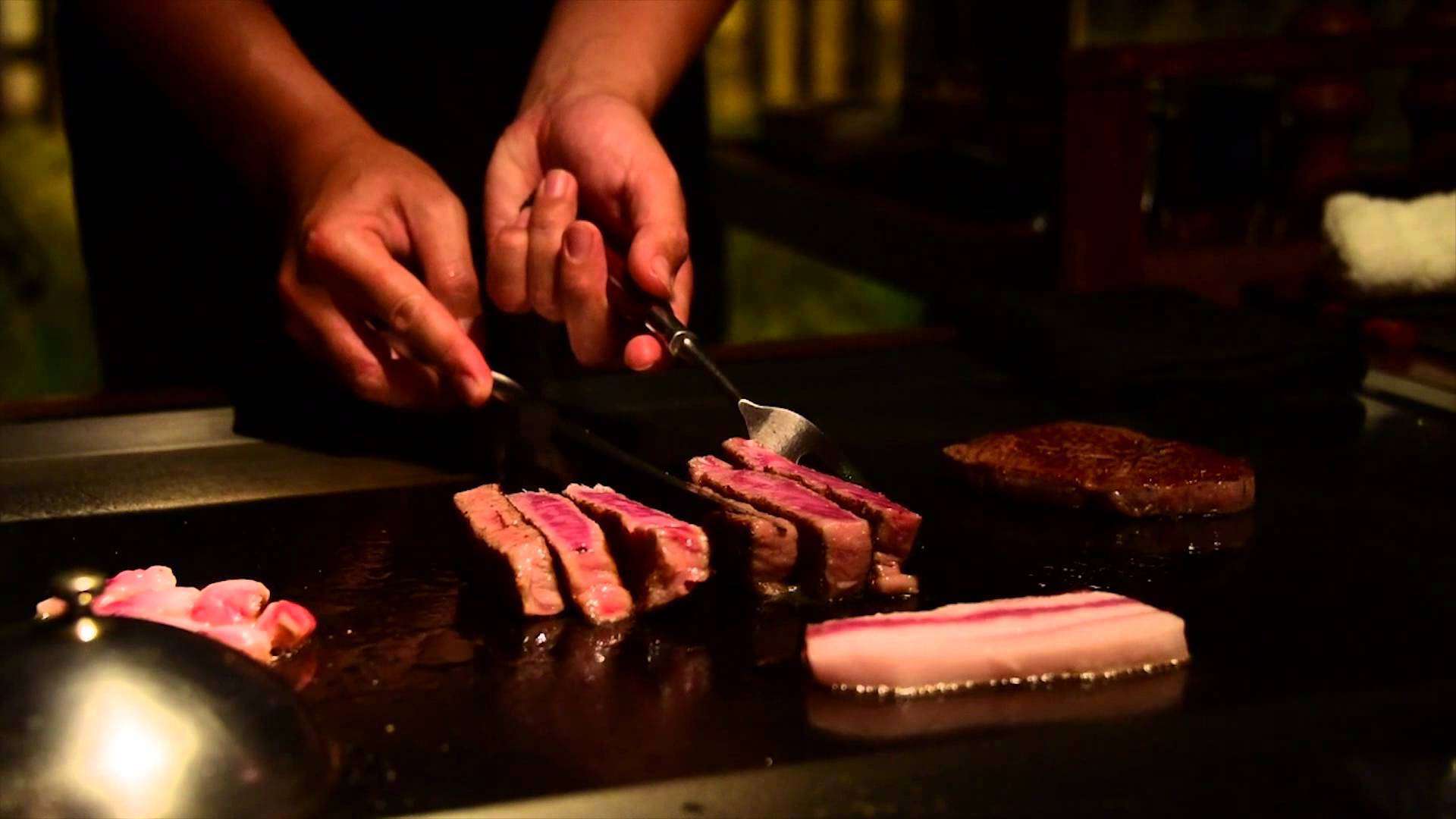 It works just like a stovetop since this gadget is like a skillet and a grill, all in one. They are also very portable with their easy-grip carry handles.
You can't use pots and pans on it and over time the shiny surface may get some scratches from regular use.
But, cleanup is pretty simple – all you have to do is wipe it down with a rag dipped in a little hot water. You can also rub a scraper over the top surface to remove any burned food that might still be on there.
However, it is best to just go ahead and clean the top coating with a commercial-grade cooking cleaner and rinse well.
Off and on, you must rub a light coating of vegetable oil over the surface of the grill to prevent rust when not in use.
Teppanyaki comes in many varieties and sizes. In regions with hot temperatures and a lot of bad weather or rainy seasons, you just don't have to worry because it is like a stainless-steel grill that you can keep outside all the time.
You don't even have to cover it.
This disruptive invention has truly transformed the way cooking is done at home.
Not only does it facilitate partying and having a good laugh with your friends, but it also adds flavor to the food by enhancing cooking quality.
Teppanyaki Grilling indoors
The most common grilling method over the centuries has been directly cooking over a flame.
This was the basis for Japanese housing which had a multipurpose fireplace that served both in domestic chores as well as cooking.
The fireplace was ideally located at the center of the main room which was a gathering place for the family.
With time, approximately 2000 years or so, charcoal derived from wood became the most used source of fire in Japan.
This was convenient since it facilitated the evolution of grilling methods to the ones which we know currently.
The Teppanyaki grill is widely used to prepare foods in most restaurants just in front of the diners.
In the United States, restaurants that have this custom are known as Japanese Steak Houses.
Although the Teppanyaki grill has a flat top griddle cooking surface, it still is often mistaken for a Hibachi grill. But that has an open grate surface.
Hibachi grills have their heat derived from sources not essential to the Teppanyaki grill such as charcoal.
Popular foods cooked on a Teppanyaki grill
Food cooked on the Teppanyaki grill is made in front of the guests after making their orders. There are a variety of meat dishes, vegetables, and seafood that can be made on this grill.
Steak, fillet, fish, and beef mignon are some of the meats: these are cut into suitable sizes and sauces are added during, but mostly after preparation.
Veggies include onions, zucchini and much more. Meals include steamed or fried rice, salad and soup. It is important to have prepared the vegetables before cooking them.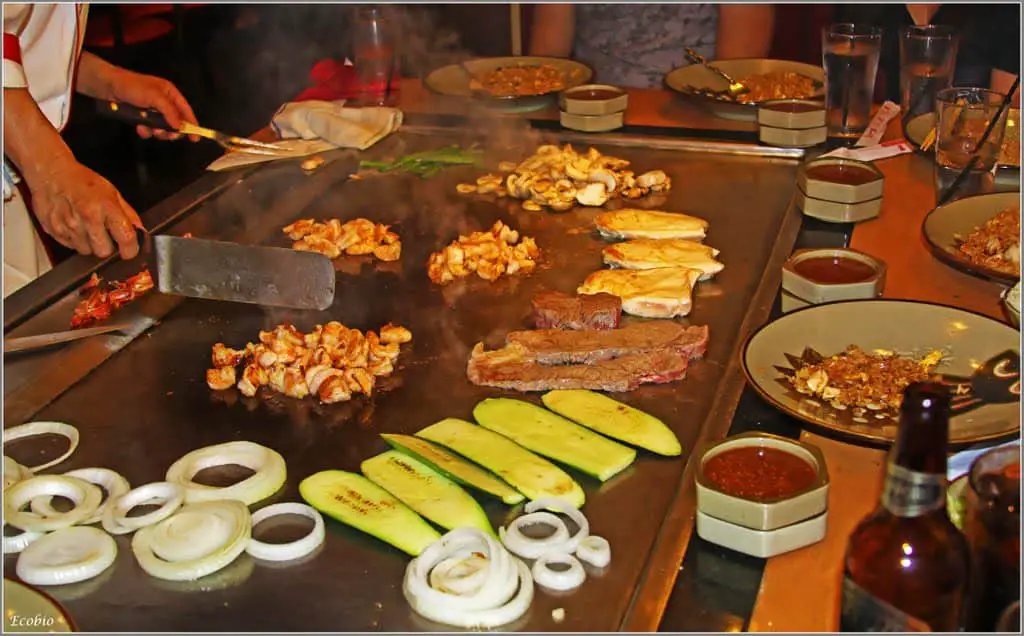 Teppanyaki grills are not only reserved for commercial places, but they can also be used privately as long as it is within the outdoors.
What type of oil can I use?
When grilling your meat and vegetables on a grill plate, like with Teppanyaki, you need to use some type of oil to put on the plate.
Here's the best oil to use:
Soybean oil is the most chosen oil to stir fry the ingredients on a Teppanyaki grill. Often times stir-frying noodles or cabbage with sliced meat is prepared with vegetable oil or animal fat and you see the use of a mixture of both fat and vegetable oil a lot.
Soybean oil is used more often than you think and is not limited to the use in Japanese cooking. It's also an ingredient in many salad dressings and baked goods.
It's available all year round and it's low in saturated fats. I buy mine from Amazon and have it delivered to my house.
Cleaning and using your Teppanyaki grill
To remove food residues, add some water around the cooking station. Reheat until there is some clear bubbling in the water going on.
Tongs should be used to grasp a paper towel or rag since the surface and liquids are still hot. Continue cleaning until all remaining food particles are gone.
The stubborn stains should be removed when the surface is cold. Utilize a non-scratch nylon mesh cleaning pad.
Scrub the cooking section while moving along the direction of the grain from one edge to the other. Avoid moving in concentric circles. Use a wet cloth to rinse.
Make a paste to remove difficult stains. Let it sit on them for about 60 seconds and rub gently. Rinse well afterward. Remember all work should be done edge to edge following the direction of the grain, and on a cold surface.
A lemon can remove heat discolorations. Cut a lemon in half and rub it gently on the discolored part. A better shine is obtained if you use vegetable oil and a rag.
Non-stick cooking spray can be applied on the surface or on a paper towel to avoid over application.
Remove all oil remnants using a paper towel or a clean rag to avoid staining your clothes.
General maintenance
Ensure that you clean your cooking station regularly since even the smallest stains can have an impact on the stainless steel with time.
Also, do not use common steel pads, wire brushes or scrapers since they might alter the integrity of the invisible shield making it susceptible to corrosion.
Bleaches are also advised against. These can be chlorine bleaches, Ajax or any abrasive and household acids since they also damage the stainless steel properties of the Teppanyaki Grill.
Conclusion
The Teppanyaki grill is very fast when it comes to food preparation and you won't need to keep a constant eye out as you wait for the food to be ready.
Another good thing about this grill is that it's made from materials that are easy to clean, and this means that you don't have to waste much effort to remove a lot of stains.
In the end, you are at liberty to use the Teppanyaki grill to its fullest capacity without worrying about the cleaning aftermath.
It sometimes feels that you are spending more time cleaning than cooking, am I right?
All this has been eliminated for the ultimate cooking experience. Also, cooking food on a Teppanyaki grill is a healthier option since excess fat drain into a drip tray, removing all unwanted oil.
Today, we have seen most of the trading cooking methods being overshadowed, mostly because of advances and changes in cooking technology.
There is a lot of complex and hybrid cooking units available out there, and this makes it very challenging for people who choose to cook their food in a more traditional style finding the necessary cooking equipment.
Teppanyaki grilling is one of the traditional cooking methods that are very interesting. Yes, you might have heard about the Teppanyaki grill before, but most of the people have not.
This cooking method is very common in Japan since this is where it started. However, some people in the western world have not heard of it or seen it.
I use a stovetop grill plate myself nowadays, but some of my friends have the Costzon and it's just great fun at a party.
Also read: how to clean your teppanyaki grill
All these grills are ideal for both indoor and outdoor use. Therefore, your Teppanyaki grill choice will depend on the features and your budget. In addition, the size of the grill will also be a big determinant for the grill you choose.
Looking for a Teppanyaki plate for your induction hob? Read our full review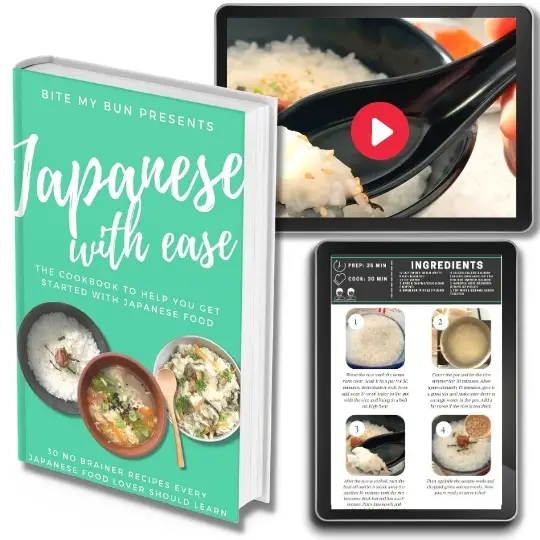 Ever had trouble finding Japanese recipes that were easy to make?
We now have "cooking Japanese with ease", our full recipe book and video course with step-by-step tutorials on your favorite recipes.
Joost Nusselder, the founder of Bite My Bun is a content marketer, dad and loves trying out new food with Japanese food at the heart of his passion, and together with his team he's been creating in-depth blog articles since 2016 to help loyal readers with recipes and cooking tips.