I love creating free content full of tips for my readers, you. I don't accept paid sponsorships, my opinion is my own, but if you find my recommendations helpful and you end up buying something you like through one of my links, I could earn a commission at no extra cost to you.
Learn more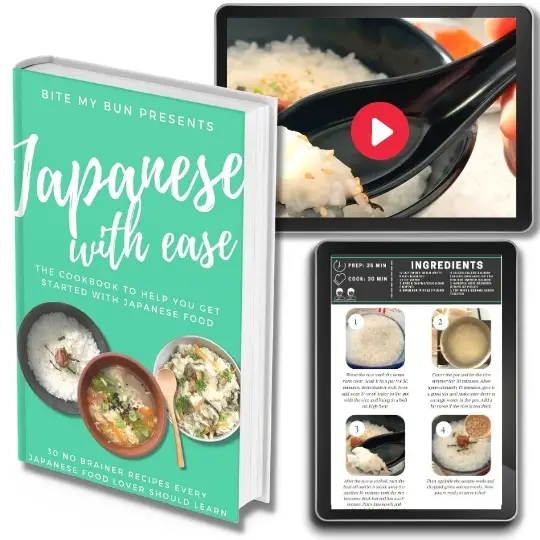 Ever had trouble finding Japanese recipes that were easy to make?
We now have "cooking Japanese with ease", our full recipe book and video course with step-by-step tutorials on your favorite recipes.
People often get confused between Teppanyaki and Hibachi, and that's understandable.
We've been lied to by big "hibachi" restaurant chains like Benihana.
Ok, maybe "lied to" is a bit extreme. However, these establishments label themselves as hibachi restaurants when what they're famous for, in fact, is teppanyaki-style cooking.
I'll take you through all of the differences between these two cooking styles.
Japan has blessed the world with a lot of innovations- no doubt. In the world of food, they have certainly earned their place. Two of the most recognized Japanese cuisines are teppanyaki and hibachi.
Just because the origins of these two cuisines are rooted in Japan, many people mistakenly think that they are the same thing.
Teppanyaki and Hibachi are two completely different cuisines, each with its unique flavors and culinary history.
In this article, I'll clear up your confusion about the differences between teppanyaki and hibachi.
One of the first main differences is that teppanyaki requires a solid flat top griddle, whereas hibachi requires a barbecue-style grill with grates.
Let's look through examples of various grills, and you'll see the difference:
Difference between Teppanyaki and Hibachi
Here's the most significant difference between teppanyaki and hibachi:
Teppanyaki is grilled style food on a flat surface, while Hibachi uses a round bowl or stove with a grate
Teppanyaki is relatively young (1945), whereas Hibachi has been around for hundreds of years
Teppanyaki focusses on entertainment and knife skills, while Hibachi has a more traditional style
Hibachi grill buying guide
The type of hibachi grill you purchase depends on what better suits you and your specific cooking needs.
I have tested many different grills, and I picked two favorites, both with different uses.
In this article, I'll go in-depth into all of these beautiful hibachi grills and let you decide which one best suits your needs.
Types of Hibachi grills
To better understand the pros and cons of these various grills, it's important to highlight that they can come in different shapes, configurations, and sizes.
Some have a cheaper build made of aluminum, but this can cause problems since they tend to rust and end up falling apart.
To make sure you get an excellent hibachi grill, spend a little more money and get a cast iron or a ceramic grill.
Some hibachi grills have racks with adjustable height, allowing you to change the distance between the food and the heat from the flames.
However, many of the grills with adjustable racks aren't very durable. So if you plan to take your hibachi grill anywhere with you, you will need to make sure you buy a sturdy one.
Specific hibachi models have bottom or side vents to help you adjust your fire. The vents will allow air to increase the fire's heat by rising through the grill.
And if you're serious about getting into Japanese cooking, you should check out my review of the best Hibachi knives right here. It's one of the first things to get when starting out any Japanese cooking adventure.
Material
Your hibachi grill's material will affect its durability and cooking efficiency. Cast iron is the best choice if you are looking for a traditional hibachi grill.
Cast iron is durable and can withstand high heat without cracking or buckling. These durable hibachi grills can also enhance the taste of your food.
Cast iron is also an excellent material for making the grates on your grill.
But there are some downsides. It is heavier than aluminum and requires more maintenance.
Aluminum hibachi grills are available, but they won't last as long. They will need to be cleaned regularly to prevent rust and wear.
Some people prefer aluminum hibachi grills for camping because it's easier to carry.
The third popular material is diatomaceous earth. Although this natural clay-like material is used mostly for konro and shichirin grills, you'll find hibachis like this too. 
You have to be careful about washing this grill. You can only hand wash it gently because it's sensitive. When dropped or exposed to water while hot, it can crack. 
Hibachi grills with wooden handles are also preferred over those made of metal. Wooden handles will not transfer heat as well from the grill to their material. As a result, your hands are less at risk of burning.
Gas vs. charcoal
The traditional charcoal flavor in food prepared on a charcoal grill is unbeatable.
You will need to bring charcoal to make charcoal hibachi grills and it takes longer to get started.
But, when it comes to tasting all the real flavors of Yakiniku, the best choice is by far an authentic small tabletop hibachi. 
The downside is that temperature control of charcoal hibachi grills is slightly more challenging.
But, personal preference is the most important factor. If you're looking for an indoor charcoal grill for your home, the charcoal ones are less convenient whereas propane ones are safer overall. 
Propane is the primary heating source for gas hibachi grills. Gas grills offer a few benefits: they are quick to ignite and are easier for you to manage the temperature. This is the case for restaurant grills that are built into the table. 
Gas hibachi grills are easier to use for beginners. However, experienced cooks may prefer the added flavor of a charcoal hibachi barbecue grill.
Portability
Hibachi grills tend to be lightweight. For easy transport, you should look for one with handles. 
Hibachi grills have the greatest advantage of being portable. You can bring it along on camping trips or to your friend's house to cook outside or when you go camping in the woods. 
A heavy hibachi grill is not worth the effort. You can buy a regular charcoal or gas grill at a certain point. This grill will be lighter than a hibachi grill but have a larger cooking surface.
Cooking space
Before you make a purchase, check the total surface area of the hibachi grill. The amount of food that you can grill at once is limited by the surface area.
Usually, hibachi grills have a small grilling surface because they are designed for 2-5 people to grill at once. 
Taller hibachi grills may have different spaces in the charcoal bowl.
These areas can be used to stack or remove charcoal, allowing you to have different heat levels in different parts of your grilling area. This setup allows you to sear certain foods and warm others simultaneously. 
Drip tray
If you're getting an electric grill, it's important to consider whether it has a drip tray or not and how easy it is to remove and clean. 
Usually, the drip tray slides out so you can remove the fat and grease and clean it with dish soap and hot water. 
Cost
Cast iron hibachi grills are a great investment and offer excellent value. They are often more costly than the cheaper plastic hibachi grills.
But, the good news is that hibachi grills are more affordable than most outdoor grills and smokers like Webers or the Green Egg, for example. 
Best Teppanyaki grills reviewed
Best traditional-style smokeless Teppanyaki grill: SEAAN Teppanyaki Griddle Grill Smokeless
type: electric
grill size: 19 x 11 x 3 inches
cooking surface: 19"x10″ (for up to 10 people)
handles: yes
material: aluminum, steel & non-stick coating
drip-tray: yes
Authentic teppanyaki cooking involves making all kinds of meat and vegetables at once on the same cooking surface. With your usual electric grill, you just can't do that because you're limited by the size. 
The SEAAN teppanyaki griddle is a large griddle with enough space to cook for up to 10 people at once. Therefore, it's the best party grill but also the best way to enjoy an authentic Japanese dining experience. 
The teppanyaki experience is all about delicious chicken, beef, fish cooked alongside foods like monjayaki pancakes.
With this extra-large grill, you get two grilling surfaces. Half of the griddle has a flat striped area for cheese, vegetables, seafood, and pancakes and a grate-like area for meats and skewers.
The honeycomb design tends to absorb more heat but it also locks in the flavors and ensures the nutrients aren't seeping out of the food. 
There is a 1350 Watt heating element which is quite powerful but still energy efficient so you won't spend too much on electricity. 
The grill offers excellent temperature control features. There are five heat settings so you can cook all types of ingredients. As a safety feature, once the grill reaches the desired cooking temperature the power is automatically turned off. 
Another great feature you don't get with cheaper Black & Decker or Presto models is that you can adjust the baking tray height so you can cook tasty desserts too at the perfect temperature. 
As with other teppanyaki electric grills, you don't need to use much cooking oil with this one but there is also a special drip pot that is located at one side of the grill.
You can actually tilt the grill surface so that all the oil and fats are collected separately.
The grease and extra oil all drip down from the striped area into the grease collector pot and thus your food can cook in its natural juices and never taste like fried food. Therefore, this cooking style makes healthier dishes and you can also cook oil-free. 
All the heating elements are well-sealed and waterproof. Thus, cleaning is quite easy as long as you ensure the power is turned off first. 
If you're wondering about the handles, they are scald-proof and taller, with a hole so you can fit your oven mitts in there too. However, some people say that the handles tend to get very hot, so handle carefully. 
This grill is suitable for apartment cooking too because it's smokeless and won't make your home smell like a BBQ restaurant. So, if you want to have the full Japanese teppanyaki experience with friends and family, you can get this affordable large grill. 
Best budget tabletop teppanyaki: Presto Slimline
type: electric
grill size: 11.31 x 22.43 x 2.37 inches
cooking surface: 10 1/2-x 20-inch 
handles: yes
material: aluminum & ceramic coating
drip-tray: yes
Imagine having teppanyaki-style grilled foods any time of day in less than a few minutes on an electric grill that costs less than a mid-range frying pan. 
There's no better way to cook using the teppan method than with this budget-friendly Presto ceramic top flat top griddle.
What makes it really convenient is that you can move it around and after you're done cooking, you can leave the food on it and use it as a buffet serving table. 
It's a family-sized grill with a pretty large cooking surface so you can simultaneously cook for at least 5 people. Although it has a larger cooking surface than smaller electric griddles like Presto Little Griddle it's still not overly large so it's great for countertop and tabletop use. 
In terms of value though, it's only a few dollars pricier than the smaller Presto griddle so that's why I recommend this 20″ model. 
There is plenty of space to cook multiple dishes at once, whether it's breakfast, lunch, or dinner. 
This style of flat top griddle is very versatile and you can use it to make breakfast foods like French toast or pancakes or delicious Yakitori skewers and all kinds of BBQ meats and vegetables. 
The entire cooking surface has a ceramic non-stick coating so you don't need to worry about foods like chicken skins sticking to the plate. The Presto electric griddle is made from cast aluminum but the ceramic non-stick coating is healthier than Teflon. 
This cooking surface heats up really quickly and evenly so you don't need to worry about cold spots. 
Its nonstick coating reduces oil consumption and makes food healthier. 
The Presto grill stands out from the competition because it has an innovative Cool-Touch feature which means that the front and both sides of the grill stay cool and you don't burn yourself. 
There's also a built-in backstop ledge that makes it easy to handle food and prevents the grill from tipping over. 
It can draw 1500 watts of power, and it works with any 120v outlet. 
The temperature can be controlled by the thermostat. It maintains heat up to 400F so you can cook any type of food. 
It doesn't have rubber stoppers on its legs so it slides around when placed on uneven surfaces. The safest way to grill is to place it on a smooth, even surface. 
The drip tray is removed by sliding it out. However, it slides out rather easily so be careful when moving it. You can remove the drip tray from your griddle and place it on top when carrying it.
Overall, the grill is easy to clean and even the heating control is removable so you can then submerge the whole grill in hot soapy water and clean it with a sponge. The detachable drip tray is dishwasher-safe so you don't even need to worry about scrubbing. 
Just note that the nonstick coating is rather sensitive. Therefore, it's important to take safety precautions not to scratch the surface so never use metal utensils. These can scratch or peel off the nonstick coating. 
When it comes to safe and easy-to-use Teppanyaki grills, Presto is always a nice affordable option with all the features of more expensive models.
SEANN vs Presto 
You're probably wondering what makes the SEANN the best overall griddle and why the Presto comes in second. Well, the larger SEANN grill is similar to a traditional Japanese hot plate. It can fit a variety of foods.
On the other hand, the Presto grill is better for couples and small families with a limited countertop or table space. Realistically, if you're not keen on parties or large gatherings, the Presto budget-friendly grill is ideal. It's compact and ticks off all the essential features. 
Both grills have a nonstick coating and similar temperature control features. The SEAAN's advantage is that you can adjust the baking tray height. 
Another difference is that you can tilt the SEANN's grill plate so the grease drips into the special side pot. But, the Presto grill has a simpler built-in drip tray so it's less messy and the fatty grease automatically drips into the pan. So, you simply remove it after grilling and you don't even have to tip it. 
Customers prefer the SEANN grill for its durability and even heating properties. The Presto tends to heat up unevenly after prolonged use but it's half price so you still get a good value product. 
With these two grills you can experience Yakiniku in the comfort of your own home. 
Best for stovetop teppanyaki:

Legend Cast Iron Griddle for Gas Stovetop
type: stovetop 
grill size: 20 inches
cooking surface: 20 inches
handles: yes
material: cast iron
drip-tray: no
Are you looking for a simple way to make teppanyaki at home without having to use special electric or charcoal cookers? Those are costly and maybe you just don't have the space for it. 
The good news is that if you have a gas cooktop, you can use the reversible cast iron griddle and grill your favorite meats, veggies, and more in minutes. 
The Legend plates are some of the top-rated griddles because they are actually made of a quality cast iron that can last a lifetime with proper maintenance. 
I like that this grill is fairly large (20 inches) so it can fit over two hobs which helps with heat distribution. Thus, you can cook at even temperatures and ensures the food is well cooked through.
It also makes searing easier compared to using an electric grill. Gas is a great fuel source for high-temperature cooking, especially searing. 
You get two reversible plates but for teppanyaki, I prefer the flat smooth top. It lets meat cook in its own juices so your steaks and skewers are never dry and overly chewy. 
Each plate comes with two handles. Now, these are useful but they are on the small side and since they get very hot, you have to handle them with care. 
If you're looking for a versatile plate, then you'll be glad to know these cast iron griddles are oven-safe and you can even use them over an open fire while camping. 
You must know that these griddles require regular seasoning. Use vegetable oil to season the cast iron or else it can rust and get damaged. 
Finally, I want to talk about durability. Unlike electric cookers, these plates don't warp and you really can't put dents in them. So, these are long-lasting and sturdy whether you use them indoors or outdoors.
Best hibachi grills reviewed
Best traditional hibachi grill: Hitachiya Japanese Ceramic Grill
type: charcoal
grill size: 21 x 9 x 7.8 inches
cooking surface: 189 sq. inches
adjustable vents: yes
handles: yes
material: diatomaceous earth & metal components
drip-tray: no
If you can't travel to Japan for real hibachi, you can bring a piece of it into your home with this diatomaceous earth large hibachi grill. 
If you haven't tried charcoal-grilled foods cooked on this grill, you're truly missing out because it's definitely a unique cooking experience. 
Diatomaceous earth bricks are the best natural thermal insulators. This has been a traditional material for making hibachis for centuries. The ceramic material has to be fired at exactly 1000 degrees to ensure the grill doesn't crack. 
Not only does this ceramic material offer amazing heat retention, but it's also very durable and gives the effect of cooking with infrared rays.
In Japan, this particular hibachi grill is used to cook fish, chicken, beef, and vegetables for lunch and dinner. It's known for bringing out the umami flavor of the meat because of the infrared effect. 
The best way to use this charcoal grill is with real binchotan charcoal. While it's true that you can use any type, nothing compares to the light wood aroma of binchotan white charcoal.
It's mostly smokeless and you can cook indoors safely as long as you have ventilation. 
Compared to other grills, this one is a bit heavier (24lbs) so it's best to keep it in its own place as it's not the most portable. 
The best feature on this grill is probably the adjustable air vent, which sports a handy slider. It allows you to control the temperature. 
The cooking grates are pre-seasoned, which means they're ready to use.
Cleaning the grill is a bit harder than electric grills because you don't want to put the ceramic material in water as that will cause it to break. Also, avoid dropping it or it will crack but if you're careful this kind of hibachi can last for many years to come. 
It's very durable and made out of ceramic, just like traditional hibachi grills. It can withstand the super high heat of binchotan charcoal and offers an authentic Japanese hibachi experience. 
Best for modern hibachi & best for camping: Marsh Allen
type: charcoal
grill size: 3.4 x 18.75 x 10.62 inches
cooking surface: 157 sq. inch
handles: yes
adjustable vents: yes
adjustable cooking grills
material: cast iron
drip-tray: no
Not a fan of heavy diatomaceous earth grills? No problem, the Marsh Allen is the perfect portable cast iron hibachi for home use and camping. 
It's fully portable and lightweight (16 pounds) so you can use it as your favorite outdoor grill. 
The hibachi has more than 150 sq inch cooking space which means there's plenty of room to make meat and vegetables at once. 
The wooden handles are an excellent addition since they make it easier to adjust the grill plate and keep you safe. But, the handles are also the worst feature of this affordable grill. They are rather flimsy and some customers complained that they fell off after a while. 
Also, assembling this grill can be tricky since it's heavy. Additionally, some of the components seem a bit cheap because the pain may start chipping after you use it. This doesn't take away from the functionality though. 
This grill features adjustable cooking grids that can be positioned anywhere and help you quickly and efficiently cook your meals. This means you have better control over the cooking temperature even though you're using charcoal. 
In fact, this is the main feature: you can divide the grill into two halves. Each half can be adjusted separately for height. You can move the grilling surface from below the charcoals to above them in three different intervals using the adjustment bracket.
 This is ideal if you need to use the large 157-square-inch cooking area to cook two types of food at different temperatures. For example, you might want to cook fish at a lower temperature than beef.
Also, another helpful feature is the two adjustable air vents that assist in controlling the rate at which the charcoal burns.
This control, combined with the fact that you can move the grill grates makes this grill much easier to work with compared to a hibachi like the Fire Sense which has fixed grill grates. 
For beginners, this is much easier to use and probably more practical. 
And the final feature I want to discuss is that this inexpensive hibachi also has some interesting design details. The upward curved sides actually help keep the food in place as you cook. 
Hitachiya vs Marsh Allen
Here are two opposing options: the Hitachiya is an expensive real diatomaceous earth traditional hibachi whereas the Marsh Allen is a budget cast iron camping-style grill.
You have to choose between an authentic dining experience with the Hitachiya or convenience with a light and portable Marsh Allen grill.
The Hitachiya has a larger cooking surface and better temperature control features with the vents. However, the grill mesh is fixed and cannot be moved up or down or adjusted at all.
If you are a grilling beginner, it's easier to use the iron hibachi because you can move the grate up or down and so your food won't get burned and overcooked.
With the ceramic hibachis, the binchotan charcoal gets really hot and there's not much you can do besides use the vents. 
Another difference is the portability factor. The lightweight cast iron Marsh Allen grill is very easy to move around and you can use it for outdoor cooking almost anywhere. There are wooden handles you can use to maneuver the cooker even when it's hot. 
You can't move the diatomaceous earth grill around while it's hot because it's much more fragile and also a fire hazard. 
Just be aware that compared to the Hitachiya, the components of the camping grill are much flimsier because they're a lot cheaper. 
The bottom line is that if you want the real deal, the Japanese grill is your best option but if you are after a simple, cheap grill to try out, start off with Marsh Allen and you won't be disappointed. 
Best cast iron hibachi grill: Update International
type: charcoal
grill size: 4 x 4 x 6 inches
cooking surface: 12″ – 14″ platter
handles: yes
adjustable vents: no
material: iron with wood base
drip-tray: no
Do you have limited space for a grill in your home? If you live alone but want to cook high-quality yakiniku for yourself, I recommend this small Update cast iron gill. 
It's so small you can even heat it with tea light candles and boil water for coffee or tea. But, you can also cook your favorite meats and vegetables using real binchotan charcoal. 
This grill closely resembles an original iron Hibachi grill. If you feel like experiencing both cooking and the culture at its finest, this grill is the one for you.
This hibachi grill is made from cast iron and is the perfect size to fit in the center of a pu pu platter. This is a traditional Hawaiian-inspired platter to place the food on. 
Visually, it's a marvel due to the dark cast iron body featuring an appealing dark wood base. It's also available as a dragon set with an antique brass finish. While it looks like a collectible or decoration, it's still very functional and portable so you can take it with you anywhere.
This set includes both the grill and fuel holder and can cook a variety of appetizers.
On the other hand, we also need to point out that some have said that food tends to stick on the surface or that the top rusts easily. I guess the grilling grates need lots of seasoning to prevent stickiness.
While others have complained that the cooking surface is tiny, this makes it ideal for personal use or traveling. However, it may be an issue for people cooking large amounts of food.
If you're curious about how to clean it, well it has a removable tray and you can easily clean the grease drippings and food residue with soapy water. 
Overall, it's a great small-sized hibachi for singles or people just using this type of grill. It's easier to learn to cook hibachi-style on these smaller cookers. 
Check prices and availability here
Best tabletop hibachi: NOTO DIA table-top charcoal grill
type: charcoal
grill size: 11.4 in × 6.3 in × 5.1 in
cooking surface: 63 sq. inches
handles: no
adjustable vents: no
material: cast iron, diatomaceous earth with a paper exterior
drip-tray: no
When you hear the term hibachi, this Noto Dia grill is the first thing that comes to mind because it resembles traditionally hand-painted hibachis from centuries ago. It's definitely a beautiful grill that also acts as a decorative piece in your home. 
This small hibachi grill by NOTO DIA is made in Japan and has that traditional wooden base which makes it safe for use on the table or countertop. 
It is also built in a traditional Japanese style with a cast iron frame and diatomaceous earth construction and so it looks and feels like ceramic clay. 
This means the grill is fragile and should be used only indoors. 
Some users have reported that the lovely Japanese characters printed on the sides of their grills had become brittle due to the fact that they are not permanently inked into diatomaceous earth material but are printed on paper. 
It's an unfortunate design detail but it keeps costs low and makes this a very budget-friendly product for your home. 
This grill is very compact with only 63 square inches of cooking space, but that's perfect for couples and small families. 
It's a great hibachi grill for making a quick dinner or healthy meals. 
One issue with it is that it's quite fragile. Using it daily with high heat will quickly cause damage to the fragile material. In addition, you have little control over the ventilation, charcoal height, or cooking surface.
But, if you're familiar with charcoal cooking, you should have no problem with temperature control through the little ventilation holes because the grill is small and doesn't really overheat. 
Overall the grill is appreciated by users. It's authentic in design and construction and works well for occasional cooking, especially if you're tight on space. There's no need for a big bulky hibachi.
Although there are no handles, you can pick up this lightweight grill and move it around the house as needed. 
Also read our article on a built-in teppanyaki hibachi grill
Update vs Noto Dia
These two tabletop hibachis are both common in Japanese homes. The notable similarity is that they are small, compact, and easy to use. 
However, if you want something practical, the Noto Dia is a better choice. It has a beautiful design but it also has a larger space for charcoal.
The Update cast iron mini grill has a tiny charcoal bin and you can barely use a handful. Actually, it's so small you can heat it up with tealights. 
But, people like the Update grill because it combines a heating device with a small cooker. Some customers use it to heat up their tea kettle and make a hot sandwich. But the good news is that you can grill small quantities of meats too, especially yakitori skewers. 
If you want the full hibachi experience in your home, then the Noto Dia is the bestselling grill for couples and small groups. It has plenty of space for the charcoal and the wire mesh is like that of classic Konro and Shichirin grills. 
The downside of using both of these grills is the lack of temperature control features but the Noto Dia is better because it has ventilation holes along the sides. So, there's no real issue with overheating with this one.
It's also a great hibachi for amateurs looking to get into this style of cooking. Overall, the Noto Dia is better value for money because it's versatile whereas the Update grill is a better fit for very tight spaces. 
Charcoal hibachi
Now you may have noticed that the grills mentioned above all use charcoal. There are more charcoal-fired hibachi options compared to electrical ones.
However, unlike many similar grills, they don't have a lid.
Most hibachis have enough space to allow you to control your fire at different temperatures (i.e., two-level fire). This lets you control the number of coals on either side of the grill, making one side hotter than the other.
For example, this would allow you to grill your items on one side while keeping them warm on the other side before serving. 
Why cook hibachi?
Smaller hibachi grills offer a unique and effective solution for those who love the taste of charcoal-grilled foods but don't have enough space for a full-sized one.
These small grills have become very popular in recent years due to the advantages of using actual fire and their easy-to-carry size. No matter what size of hibachi grill you choose for your next stir fry, these grills transform your meals into an experience.
Also, read on for my top 4 Hibachi Chefs knives you might want to consider.
Popular side dishes for hibachi
Yakiniku (Japanese BBQ) is a whole meal but there are many tasty Japanese side dishes you can try as well. 
Rice
When it comes to the classic Japanese side dish, rice is the first that comes to mind. You can keep it simple with plain steamed white rice to complement the meaty barbeque.
Or, you can opt for Chahan which is Japanese fried rice with egg, spring onion, leek, carrots, ginger, and some soy sauce. 
Stir-fry
A vegetable stir fry with onions, broccoli, carrots, peppers, and mushrooms is another top choice as a yakiniku side dish. It's perfect for those looking for healthier options. 
Stir-fried or sauteed zucchini is another popular side dish, especially alongside the hibachi-grilled chicken. 
Japanese salad
Kinpira Gobo
While most Americans don't know about this salad, I'm telling you it's a must-try if you can get your hands on burdock root (gobo). 
It's a basic salad made with thinly sliced burdock root and carrot which is lightly stir-fried in oil then seasoned with soy sauce, sugar, and mirin. 
Although it's stir-fried, it's still considered a healthy salad.
Namasu
Namasu is a type of raw Japanese salad that uses uncooked vegetables and sweetened vinegar. 
The most common is made with daikon radish and carrots. The vegetables are first julienned and then marinated for several hours in a mixture of rice vinegar, sugar, salt, and garlic. 
This allows the vinegar and sharp flavors of the daikon-radish to become milder and the texture to soften. It's easy to make and there's no cooking involved. 
Goma-ae
This refers to a blanched vegetable salad, usually made from spinach. It's topped off with a tasty and nutty sesame dressing and you can serve it cool to offer freshness when having lots of hot bbq foods.
What is teppanyaki?
Teppanyaki is all over the world nowadays, but what exactly is it?
Teppanyaki is a type of Japanese cuisine that uses an iron griddle to cook food.
The word "teppan" means iron plate, whereas 'yaki' means grilled food.
If you're thinking this makes it a simple cuisine, you would be very wrong. Teppanyaki is one of the most complex forms of food out there, and it takes high levels of skill to master this form of cooking.
The history of teppanyaki
Teppanyaki originated in Tokyo, Japan, in 1945 at a restaurant chain called Misono. This makes teppanyaki a relatively recent addition to the culinary world.
Interestingly, many locals didn't fancy teppanyaki at all when it was first introduced. Teppanyaki was criticized for being an inappropriate and unhygienic form of cooking.
However, American soldiers and later the tourists adored this cuisine due to the entertainment factor involved in teppanyaki. This includes all the classic tricks like knife throwing and the 'playing' with fire.
Mind you, these types of tricks require incredible skills! I have a whole article here on the best teppanyaki tricks you've ever seen, including a great video of knife skills.
Misono took advantage of this and focused mainly on these entertainment factors. With chefs juggling knives and ingredients and pulling off the risky stunts with the intense hot flame, their rebranding certainly paid off.
Teppanyaki blows over to the Western culture
Teppanyaki was a massive hit in western cultures. Soon, restaurant chains focusing specifically on teppanyaki were opening worldwide.
Although these types of restaurants technically specialize in teppanyaki cooking, many people mistakenly refer to this type of cooking, where the chef cooks in front of you on an iron grill, as hibachi-style cooking.
Teppanyaki is still very popular today, and chefs still include stunts for the guests' entertainment.
You might be wondering if you can make teppanyaki at home, and you definitely can! Although teppanyaki may look highly sophisticated, you'll see that it's not all that hard if you take the entertainment factor out.
Can you cook teppanyaki yourself?
With a bit of practice, you can enjoy the sublime taste of teppanyaki at home.
You need to purchase the particular teppanyaki grill, but it's not that expensive. I just bought the Everdure Stovetop grill from Amazon, which is just easy to use.
Before this, I owned an electric grill, which is excellent for getting you started but more for a party environment or cooking around the table. This new grill can be used on the stove as well as outside on my BBQ.
There are tons of delicious teppanyaki recipes for you to try with a wide range of ingredients from which you can choose. Try out meats like beef, shrimp, lobster, chicken, or scallops alongside assorted vegetables. I have many teppanyaki recipes on my blog that you can check out to get you started.
Get your quick start in enjoying Japanese cuisine here with our top recommended tools
If you're a rookie chef, start with either regular beef or chicken. When choosing a side dish, it largely depends on the main ingredient and also personal preference. If you are unsure what to choose, then assorted veggies are always a safe option. 
I also recommend you use fireproof gloves and keep a fire extinguisher nearby in case any accidents occur.
You can find more info on cooking teppanyaki at home here.
What is hibachi?
Unlike teppanyaki, hibachi is not a newcomer in the culinary world. On the contrary, hibachi is believed to have been around for hundreds of years, tracing its origin back to ancient Japan.
Hibachi is simple to make, mainly because the Hibachi grill requires little or no skill to operate.
Who invented hibachi?
Hibachi first came to the scene when the Japanese began to use metal cookware.
There are also indications it was invented even earlier, around 79–1185 AD in the Heian Period, and that the first grills were made of Cypress wood lined with clay.
Due to its simplicity, hibachi became one of Japan's first contributions to the culinary world. Over time, hibachi was mixed with the rich Japanese culture to result in food that's still popular to this day.
How to cook hibachi
Hibachi involves grilling meat, seafood, and vegetable dishes on a hot cooking surface on top of a ceramic or wooden bowl filled with burning charcoal.
Though any type of charcoal will suffice, the binchotan type of charcoal is popular because it gives the food a unique flavor and smokiness.
One of the main appeals of hibachi is the intimate dining setting. All guests sit around the hot grill and join in for the same dining experience, whether you're friends or strangers.
When you sit down for a Hibachi dinner, you are guaranteed to have a great time.
Hibachi throughout history
Ancient hibachi grills are still available today, and their excellent craftsmanship and design still baffle people to this day.
Historically, hibachi was mainly used for heating up a house. As time progressed, the uses of hibachi grew and became very diverse. During the world war, hibachis were used by troops to cook their food on the battlefield. 
In fact, before World War II, Hibachi was the most common cooking tool used by the Japanese. It was typical to spot a hibachi grill in public places like train stations, bus stops, hospital waiting rooms, etc.
Hibachi grilling skills at home
Like teppanyaki, hibachi is also easy to make at home. A significant reason for this is that hibachi doesn't involve that all the fancy maneuvers required in teppanyaki.
The main things you'll need are the hibachi 'fire bowl' and some charcoal. I would love to try out this more traditional one in the near future just to get the whole feeling of Japanese cooking.
You can also use this tabletop version if you want something more portable for your at-home cooking.
For a beginner, simple veggies or steaks are often recommended for your first dish. Normally, people use a special sauce when making food on the hibachi, referred to as "hibachi sauce". If you can nail this sauce, then your food will definitely be delicious.
Hibachi restaurant experience
Hibachi isn't just about grilling fish and meat. Actually, it's a fun and exciting dining experience everyone has to try. I promise it will be educational but also entertaining and of course, delicious!
In the United States, hibachi is often associated with drop-in Teppanyaki griddles that are frequently integrated into dining tables. 
All the diners gather around the tables to see a master chef cook on these griddles almost like a performance. They offer interactive and unique dining experiences as you can interact with your chef as he or she cooks for you.
The hibachi restaurant table is like a community table where friends, family, and strangers all gather around the table to eat together. 
In Japan, you can expect fellow diners to share their meals, toast drinks, and cheer on the master chef as he performs. This type of atmosphere is great for socializing at restaurants and meeting new people. It's also a great way to try new foods. 
Hibachi meals usually start off in a similar manner. The chef first covers the griddle with oil using a squeeze bottle, then ignites the entire thing in one spectacular inferno. 
Once you see the flame you know the meal has started. People usually marvel and express their excitement vocally. 
The chef maintains this dramatic flair while cooking to keep diners interested.
The chef
Master chefs are not just skilled chefs. They also manage the Teppanyaki griddles in hibachi restaurants. These chefs are skilled at cooking with flair and have enough charisma for a full day worth of entertainment. 
Chefs know that providing great food is only half of their job. Hibachi restaurants are the perfect place for you if you enjoy trying to catch food and sake in your mouth, or watching others attempt it. You might even see some food flying around the griddle. 
The drinks
Hibachi is almost always accompanied by sake.
 Sake, also known as Japanese rice wine or sake, is Japan's national drink. It's more like beer than wine in the way it's made. It is usually served in sake bottles and cups made from white ceramic and with an Eastern flair. 
Sake can be chilled, heated, or kept at room temperature. It all depends on what type of sake you are drinking and how expensive it is.
Decor
Hibachi restaurants often have a strong Japanese heritage. The traditional ornaments and colors are paired with minimalist architecture that doesn't really stand out.
You can expect very simple furniture and a dim lighting setup. The delicate lighting allows patrons to concentrate on the meal, their fellow diners, and the experience. In fact, the decor isn't nearly as important as the food. 
Many of these establishments offer hot towels that have been heated via towel steamers. Some restaurants provide Chinese soup spoons or sauce dishes with a variety of sauces for your table.
The food
There will be something to suit your taste preferences, whether you like soy sauce, duck, or hot and spicy sauce. Yakiniku sauce is quite common and you usually dunk once if you share it with others. 
Hibachi meals are usually prepared with white or fried rice. You can re-read the best side dishes section again for reference. 
Instead of watching the rice being cooked in a commercial rice cooker you can watch the chef prepare the rice on the Teppanyaki grill. 
Noodles and a protein-dense dish are next up in the dining experience. Common choices include chicken, beef, pork, and fish. A serving of vegetables can add some nutrition to the meal.
What is better, teppanyaki or hibachi?
Now the question stands – which one is better?
While both teppanyaki and hibachi have excelled in their very own ways, it ultimately depends on your geographic location, preferred cooking method, and personal flavor preferences.
Although teppanyaki is popular in western culture, hibachi makes up for this by being a star in Japan! Considering that hibachi is one of the oldest creations of Japan, it lends itself to be the traditional winner between the two dishes.
On the other hand, teppanyaki has bloomed in western culture and become the epitome of Japanese food in many western countries. It also represents the splendid entertainment skills of skilled Japanese chefs.
It is fair to say both teppanyaki and Hibachi are fantastic in their very own ways. It's difficult to argue which one is truly the best, as they both bring great flavors to the table.
Also read: Did you know these Japanese table manners?
Your hibachi dinner at home
Ready to create some delicious hibachi-inspired dishes at home without the high restaurant prices?
First, you need to make sure to have all the ingredients on hand for an authentic Hibachi experience at home. Yum Yum Sauce is, of course, one of the first things on the list of must-haves.
You can pour that stuff over absolutely everything you have on your plate, and it'll taste delicious!
If you choose to make this sauce yourself, make sure to do it about a day ahead of time to give all the flavors some more time to marinate and develop.
Any of the grills we have outlined above would be great to use for at-home hibachi. There is no need to pull out separate pans, skillets, a wok, or other electric griddles when you can cook everything on your new hibachi grill.
You will also want to have both vegetable oil and sesame oil handy for your hibachi dinner. Sesame is used for flavor and is an ingredient found in a lot of Hibachi dishes.
Soy sauce, teriyaki sauce, and hibachi sauce should also be within reach for your dish. These sauces have a thicker consistency than the oils and go a long way in developing more flavor for the grilled meats and vegetables.
Fried rice is another staple in Hibachi cooking. Make sure that your cooked rice is at least a day old and cool before using it. You may find that fresh rice will clump up too much and will not offer the correct consistency. 
If you don't want cooked rice, you can always opt for hibachi noodles and some onion instead. Noodles make a great addition to your hibachi dinner and are incredibly easy to make.
Carrots, broccoli, mushrooms, zucchini, onion – there is no limit on the vegetables you can use on your hibachi grill. Steak, chicken, and shrimp are all popular choices for your hibachi dinner, along with lobster, beef, and scallops.
Hibachi grilling is super easy once you get used to this cooking style, and all you will have to watch out for is the cooking time for each different protein you use.
Pro Tip: Garlic butter makes a great addition when you are grilling your proteins! Additionally, sprinkle on some sesame seeds for a bit of crunch for your final dish.
Related hibachi questions
Many readers had questions related to the difference between teppanyaki and hibachi, so I've here's Q&A section to answer a few of them:
Is Benihana hibachi?
Although people call Benihana hibachi-style cooking, the cooking in front of you on the iron grill plate is actually considered teppanyaki.
Benihana does offer some hibachi-style dishes you can choose from, but the main attraction and the show you witness is teppanyaki.
What is the difference between teriyaki and teppanyaki?
Teppanyaki is a style of cooking where meat, seafood, and vegetables are cooked on a "teppan," a flat surface cooking grill.
Teriyaki includes anything grilled with a shiny, sweet soy sauce glaze and refers more to the sauce itself rather than a particular cooking style.
I explain more about the differences between teriyaki and teppanyaki here. 
Is hibachi actually Japanese?
Hibachi is certainly Japanese. Here in America, you'll often see teppanyaki grills (or "teppan") being used in hibachi restaurants and the two terms being used interchangeably. They are both, however, Japanese cooking styles.
Do they eat hibachi in Japan?
Yes, they eat hibachi in Japan, and it actually originates from Japan. Here we mostly eat grilled red meat when we go out for hibachi, but Japanese cuisine consists more of vegetables and fish rather than meats.
How hot is a hibachi grill?
A hibachi grill can get very hot, with heat varying from 450 degrees in the center of the grill to 250 degrees around the edges.
Part of hibachi cooking is playing with the temperature by moving ingredients around across the cooking surface.
What equipment do teppanyaki chefs need?
A skilled teppanyaki chef needs a full set of Japanese knives, spatulas, scrapers, chopsticks, sauce bottles, cooking and plating vessels, a knife sharpening whetstone, and cutting boards.
If you plan on making this at home, you should have some of the same utensils on hand.
Conclusion
When buying a cooking appliance, you need to analyze your particular needs and preferences to ensure that your new item results in delicious meals you're willing to try.
Hibachi and teppanyaki grilling are two examples of wonderful grilling methods that are unlocked when you purchase a new high-quality grill. 
Always remember to stay safe when using a hibachi grill by keeping on a sturdy surface clear of nearby dangers.
A small and portable hibachi is ideal for camping trips and smaller events. Experiment, find out what works better for you, and enjoy concocting fantastic meals in your new hibachi grill.
I hope you give both of these cuisines a try, if you haven't already, as both of them are great in their very own ways. Try to cook these various cuisines in the comfort of your own home!
And be sure to visit my buying guide for more grills and utensils you just have to have to get started in this area of cooking!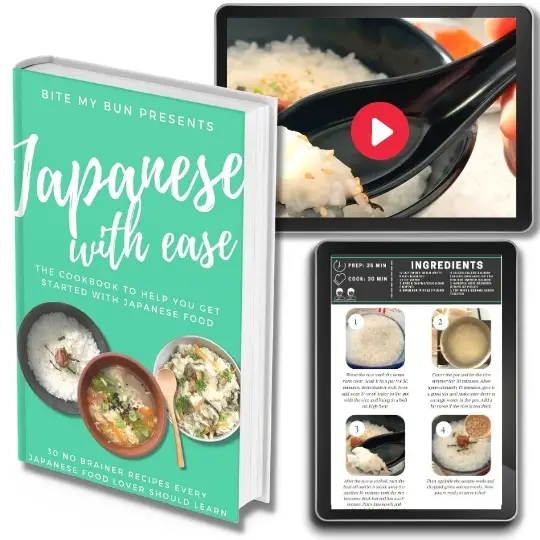 Ever had trouble finding Japanese recipes that were easy to make?
We now have "cooking Japanese with ease", our full recipe book and video course with step-by-step tutorials on your favorite recipes.
Joost Nusselder, the founder of Bite My Bun is a content marketer, dad and loves trying out new food with Japanese food at the heart of his passion, and together with his team he's been creating in-depth blog articles since 2016 to help loyal readers with recipes and cooking tips.